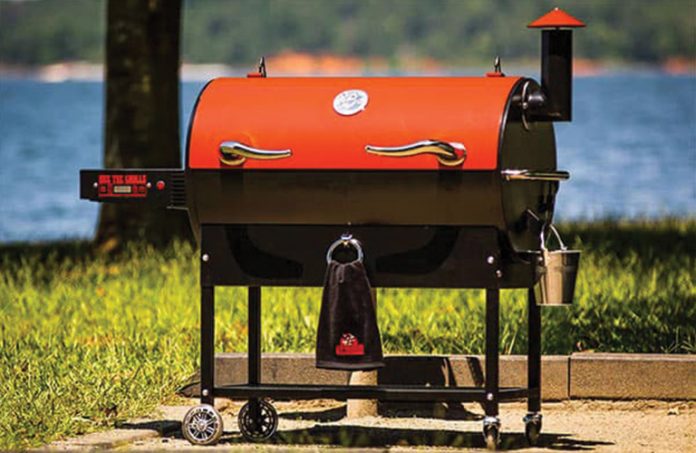 Everyone wants the best pellet smoker that money can buy. This can be a tedious process, as you cannot just make this decision based on a single review or advertisement. And REC TEC Wood Pellet Grill is another one of those wood pellet grills that claim to be the best. Now we will try to find out whether it is true or not in this detailed and informative REC TEC Wood Pellet Grill review.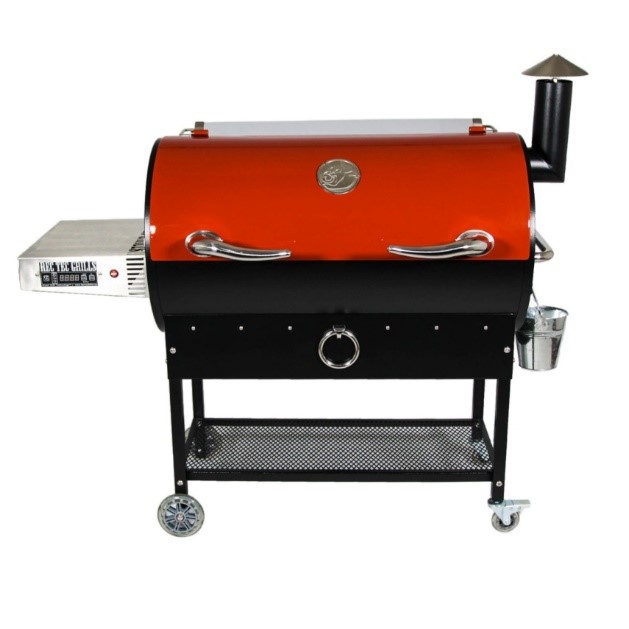 Key Features
Some of the top features of this pellet smoker include:
1. Precise temperature control and even cooking using Smart Grill Technology™
For wood pellet grills, it is essential that they come with the best possible temperature control system. The Smart Grill™, coupled together with the auto-lighting feature and a temperature range of 180 to 500 degree F in 5 degree increments makes it even better. The fire pot has a blower fan along with heat deflector that helps prevent hot spots on the meat being cooked. All you need to do is select a temperature and press a button, and the REC TEC Wood Pellet Grill will heat up to the desired temperature itself. Once the desired temperature is reached, this grill will maintain it throughout the cooking process.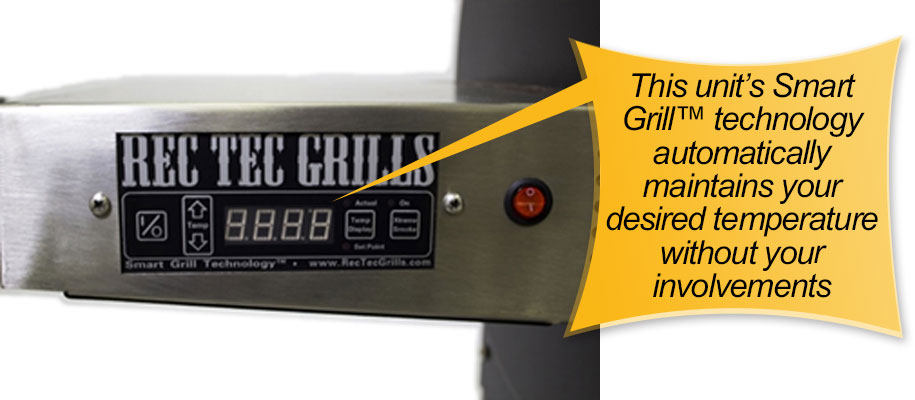 2. Durable and functional exterior
The exterior of this pellet grill smoker is made of a durable and high-temperature resistant powder coat finishing, along with stainless steel handles. It has 4 tool hooks as well as large shelves on its sides and bottom to be more functional. Its lid stoppers are fail-proof and help lock and secure the lid firmly. Moreover, its hopper lid can be used as an additional warming surface. This lid also comes with handles that allow you to grip more easily.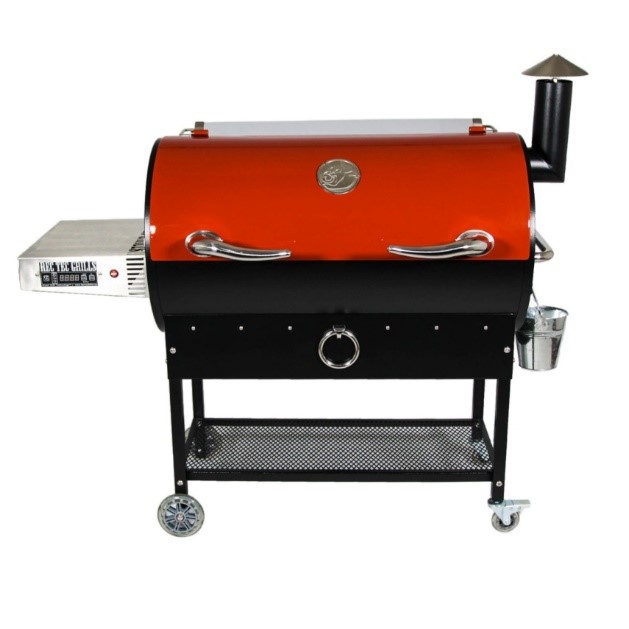 3. Spacious hopper for housing more pellets
It is always irksome to load pellet several times during a single cooking session. And this smart cooker is loaded with a 40 lbs. hopper that can house enough amount of pellets to last for long cooking sessions e.g. those for parties. You will not need to reload pellets in the middle of a cooking session.

4. Automatic auger and ceramic igniter
Since this is a set-it-and-forget-it type smoker, once you set the temperature for your food, the digital temperature control system will take over the control of the built-in auger that channels pellets into the fire pot. The pellets in the fire pot are ignited by a ceramic igniter. The build quality of the igniter is very strong and can last for a very long time. It repeatedly lights the pellets in the burn pot consistently keeping the level temperature intact.

5. Powerful auger motor
The auger in this smoker is powered by a powerful motor. As a result, it can carry pellets smoothly into the fire pot. This keeps the temperature steady.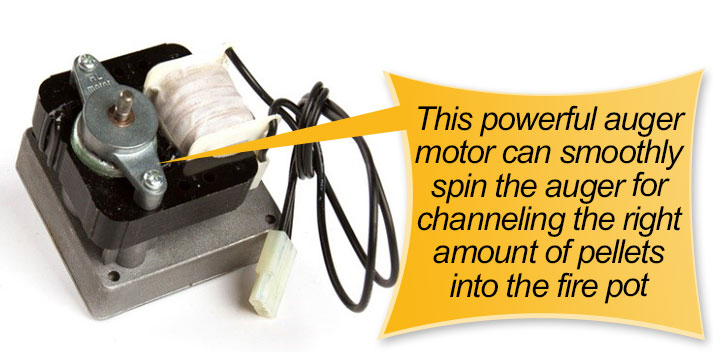 6. Stainless steel cooking grid
The cooking grid is highly durable as it is made of stainless steel. It is designed to transfer right amount of heat inside the meat during grilling. It also leaves nice burn marks on the meat. Due to being made of tough material, it is easy to clean it with detergent, you will not have to worry about rust.

7. Nicely built drip pan
The drip pan is one of the common features of any grilling unit. The drip pan of this smoker is of premium quality that covers the burn pot. It catches all the grease and oil dripping from the meats above.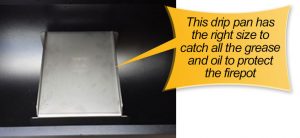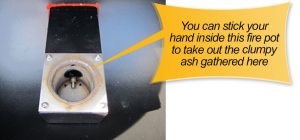 8. Smart grease management system
For any grill, cleaning features are among the major points one should consider before buying. REC TEC Pellet Grill has included a smart grease management system in the cooking unit. This drains all the grease and oil out of the grill and fall into an outer bucket. So, you will not have to deal with internal cleaning which is really difficult.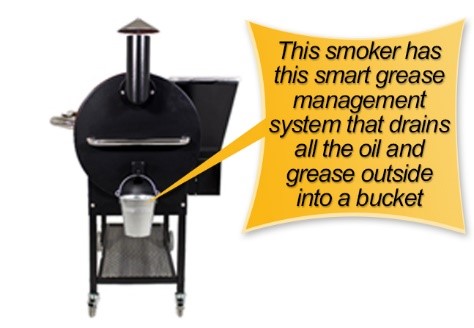 9. Stainless steel bullhorn handles
The lid of the grill is made of stainless steel and is shaped like a bullhorn. Two bullhorn handles on the lid of the grill manifests the bullish vigor the machine carries inside. They are not only aesthetically beautiful, but also highly functional in terms of ease of handling and increasing portability like the portable smokers. However, it is always recommended that you keep the lid closed as much time as possible for the best result.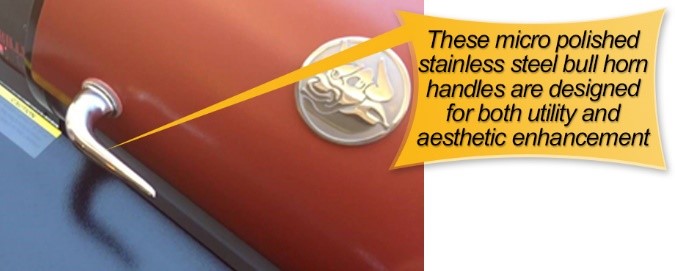 10. Grill light
Grilling requires proper observation of the cooking meats. The color and texture of the meat should be checked before taking them out of the unit. You also need to brush the meat in the middle of grilling when the meat is still inside the cooking chamber. You need right amount of light to perform all these. To provide visual aid the design of this grill has a grill light included in it that allows you to see what you are cooking.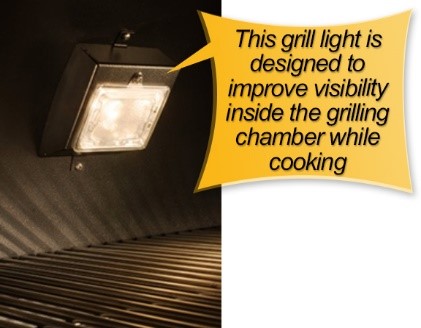 11. Convenient mobility
REC TEC Wood Pellet Grill is easy to move around and transport with its rollerblade style wheels. It also has front locking casters that you can use to firmly position it in a place.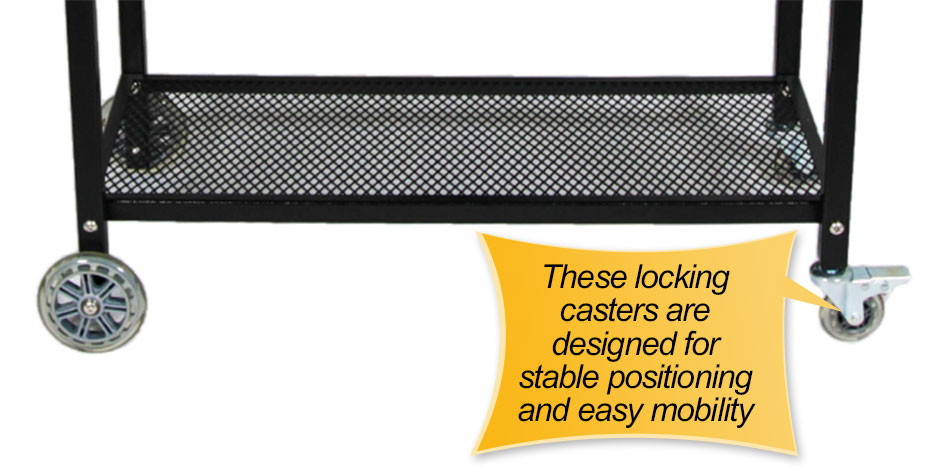 Maintenance and Cleaning
This part of the REC TEC Wood Pellet Grill review focuses on what you will have to do for cleaning and maintaining your pellet smoker grill. It is essential that you read the instructions carefully prior to using it. Before you cook in it for the first time, you should remove and wash the cooking grates using a mild detergent and a soap. Once done, put them back, turn it on and run for an hour. This will remove any residues that the grill may have accumulated during the shipping and manufacturing processes.
As far as regular maintenance instructions go, you just need to remember a few simple things to ensure this pellet grill's peak performance. These include:
Clean the cooking grates using a wire brush after each cook.
Cover the drip tray using aluminum foil and ensure that you change it frequently.
For cleaning the coated parts of the pellet grill, it is best to use water with a mild soap.
Its stainless steel surface can be cleaned using stainless steel polish.
Before using pellets, check that they are not wet. Otherwise, they will swell up and cause the auger to be jammed.
The best way to store it is to cover it when not in use.
Do not use any abrasive cleaners, especially near the bullhorn handles, as it could make the finishing dull.
Before using any cleaner or agent on your REC TEC Wood Pellet Grill, read its contents to ensure that it does not have any abrasive or harsh chemicals.
Pros
Some advantages that make it one of the best pellet smokers presently available in the market include:
Large cooking area
The total cooking area of the grill is 702 square inches or 36" x19.5", which is large and tall enough to accommodate beer can chickens and turkeys. Along with that, the large bottom and side shelves coupled together with tool hooks add to the total storage space and working area.
Functional interior
The interior area of it is light and has dishwasher-safe glass lens that can be removed easily. Its grill grates are made of ¼ inch stainless steel rods. It also has a 10 gauge stainless steel fire pot, 12 gauge stainless steel drip pan and heat deflector.
Sturdy and durable construction
In order to increase the durability and lifespan of its pellet smokers, Rec Tec has added some of the best possible features in its construction, including welded and coated seams, stainless steel hardware as well as heat vents for protecting the electronic parts.
Easy and hassle-free replacement
One of the best features of this pellet grill from a cost-effective point of view is the ease of repairing it. Its plug & play feature makes it possible to replace individual components with ease, and the component access panels make this process even better.
Read our review of top 10 Pellet Smokers
Cons
Almost every other review talks about only the benefits that come with the REC TEC Wood Pellet Grill, but that is not the complete picture. Considering the money you have to pay for it, it may be the best pellet smoker. But there are a few downsides of it, including:
Peak temperatures may be harder to reach and maintain
If you are specifically looking for the best smoker grill then this one may not be the best out there. Reaching the peak temperatures and maintaining them are a bit of a hassle with this model.
Costly accessories
A few functions, such as getting a preferred smoke flavor are not easy to accomplish with this grill. You may need separate accessories for many other tasks, which adds to the price
User Friendliness
Using this grill is a simple and hassle-free task. It never takes more than 30 minutes for setting the entire thing up. Moreover, using the smoking and grill functions does not take a lot of time to figure out and all the important instructions you need to read are elaborated in the REC TEC Wood Pellet Grill manual.
Warranties
It is essential that you read the warranty period of the REC TEC Wood Pellet Grill.  It comes with a 6-year warranty that begins from the day of purchase. In case a customer is not satisfied with this pellet smoker grill then returns are possible within 30 days of purchase.
Value for Money
All the above-mentioned features, along with a 6-year warranty and a host of additional benefits come together to make this pellet grill smoker a worthy purchase. While the price tag may seem a little too high at first, REC TEC makes up for it by providing a highly durable and functional smoker grill.
Replacement Parts Availability
In case you require any replacement parts or spare accessories then these can be purchased from the REC TEC website. It is advised that you only purchase through them or a trusted retailer, as using non-genuine parts or accessories could void the warranty.
Verdict
Overall, this review indicates that the REC TEC Wood Pellet Grill is a worthy product. If it fits your budget then you can surely consider buying this pellet grill. With a range of features, including functional exterior and interior along with a durable construction, there is little that the users can ask for in any pellet grill.
FAQ's
Q: Can a water pan be placed inside the grill safely while smoking for a long time?
A: Yes, this can be done with ease provided the container used is oven-proof.
Q: What type of pellets should be used to get the optimum heat from this grill?
A: Optimum heat can be gained using mesquite or oak or hickory. Oak is commonly used for BBQs.
Q: Approximately, how many pellets can be burned in one hour at 250 degrees Fahrenheit?
A: Generally, a bit less than one pound of pellets burn out in one hour if the outside temperature is normal. Any brand of pellets can be used with this grill safely and you will get the same performance every time.
Q: What is the best way to store and maintain this grill?
A: There are no complicated steps that need to be taken for storing this grill for a long time. Regardless of the duration, keeping it covered when not in use will be required at all times.