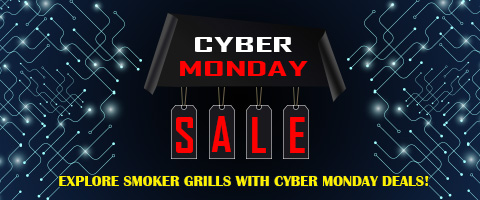 Why Should You Trust Us?
You're looking for the best smoker grills, that's why you're here. Welcome. But you're wondering why this site is the place for the best smokers in 2019. That's OK, keep reading.
There is so much advice out there on the internet, so many guides and tips, so many people clamoring for your attention, it is hard to trust anything you read anymore. With the news full of "fake news" and corporate marketing techniques, how do you choose the genuine guide from the one trying to sell you the product they have been paid to sell to you?
It is difficult, we, the grills forever team, admit this too. But you should be able to trust us because we're transparent in what we do. Our business model is that we test, gather data on and review lots of different smoker grills, and tell you about the best smoker grills. We don't have any affiliation with any manufacturer or product, we just find the best grills for you.
To help our readers find the right products, we spend a lot of time on each review. It is around 55 hours per article, we think. That's not including all the volunteer hours our dedicated team of product finders and reviewers put in. All in all, it is a lot of work for these smoker reviews 2019. It is about a week per guide, giving us time to personally test each product. All this adds up to a very comprehensive set of data that you can read for free and we use to write these best smoker grills reviews.
What Makes a Good Smoker?
When it comes to the best smoker grills, there are a lot of options on sale. It is bewildering sometimes, but the amount of choice and the wide availability of all these different styles, types, capabilities and price ranges make it a smoker griller's paradise.
Cooking Area and Sizes:
There are a few things to think about when it comes to the area of the grill you want to buy. First up, will it make the grill too big to fit in where you want it to? Secondly, how much food are you wanting to cook? Parties and social events need a big cooking area, home grilling doesn't. Thirdly, the amount of fuel you use is dependent on the size of the grill, so if you're cooking small amounts but on a big grill, you're wasting precious pellets.
Portability:
Some grills you can wheel into place and just leave them, they aren't designed to be portable. Others you can stick in the back of the truck and take to the park if you want. It is all worth considering. How are you going to use it? Do you want a big or small one? Different sizes are available. Small is portable but can only cook small meals and vice versa.
Reliability:
Generally, the more you pay for a smoker grill, the more reliable and longer-lasting it will be. This is not always true, we have tested some really expensive grills here at Grills Forever that fell apart the first time we used them, but it's a good rule of thumb for the best smoker grills. Check for good welding, tight seals, non-squeaky joints, snug fits and "feel" (you know what we mean) when you're looking for a reliable machine.
Materials:
What your best BBQ smoker is made from, or what the best outdoor smokers are constructed with makes a big difference to both how well the smoker works and how long it will last. Stainless steel is good to look for, but also quality paint and enameling prevent rust and look good. If there are plastic parts, are they cheap looking? If they are, they probably won't last.
Easy to Clean:
Cleaning a smoker grill can be a task and a half if you haven't kept on top of the cleaning. An easy to clean smoker will make a wipe-down at the end of a session much less hassle and help you keep your smoker in top condition for longer. Look out for nooks and crannies that fat and dust can get into, hard to reach places and a complicated design. The simpler it is, generally, the easier to clean.
Modern Features:
Smokers have come a long way from primitive brick ovens or wooden contraptions. You can get timers, temperature gages, remote controls, smoker pellet compartments and more for your grill.
Temperature Range:
How hot you cook something on a smoker grill affects the flavor hugely, so having a good control over the temperature and the knowledge you can keep it at that temperature for however long you need to get the right effects is really helpful. A temperature gauge is a must.
How We Picked and Tested
For our best smoker grills list, we tested more grills than we can remember. Each of Our Picks comes from its own review and guide, so each one is accompanied by a lot of testing. This review is a compilation of all our top rated smokers, so you will be able to make a quick and easy choice for your top smoker grills.
In four years of compiling and writing these reviews, we have looked at a lot of different smokers. We didn't test all of them, some were clearly no good, others way too expensive or cheap to justify in this list. And none of the smoker grills 2019 we tested were perfect but there were some really impressive choices.
In our months of testing, we employed our volunteers to gather information and potential smoker grills, used community usage data to guide us and built a system of comparison that let us make good distinctions between the top smoker grills. We measured the performance for each grill and developed the research report you can read.
For this we looked at capacity, appearance, sizes, weight, manufacture, utility and usability, portability and others. With all this assembled, we could make our choices for the best smoker for the money, best outdoor smoker, best grill and smoker, best home smoker, every kind of smoker you could need.
We carefully consulted our testing team, asked our volunteers and staff alike for their honest opinions, and argued a lot about what should be Our Pick. In the end, we came up with the best smoker reviews on the world wide web.
Our Best Choice List
Since we have reviewed so many top smokers 2019 and written so many guides and lists to the best smoker grills, we thought we should put together a definitive guide to Our Picks here on Grills Forever so you can choose the best in every category easily. For the top 10 product reviews in each category, take a look at our reviews page. We will provide a link at the bottom of each review.
Types of Smoker Grills
Let's start with the easy stuff and work from there. There are more than one type of smoker grills and they all have their own pros and cons. In the following, I'll explain about major types of smoker grills and their distinctive features in details.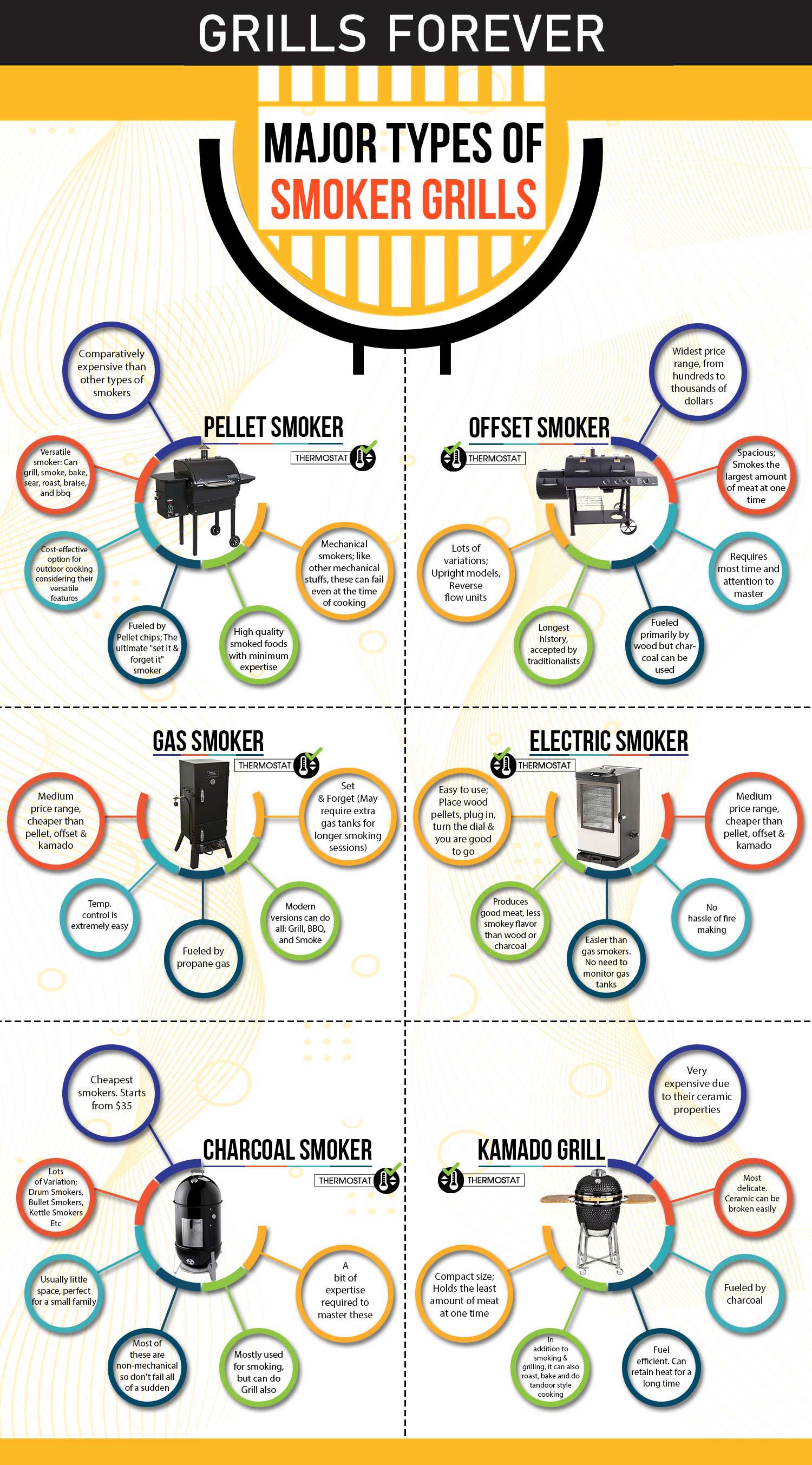 Primarily, barbecue smokers can be divided into 6 categories-
The huge varieties of smoker grills available for sale are stunning. These categories are based on fuel type and other different features. If you like electric products with low maintenance and little hassle you might go for an electric smoker grill. Similarly, if you like a gas operated machine than a gas smoker will be the one for you.
But if you have not decided which type of smoker will best suit your needs then read on, because you will be surprised how different all these types of grills are.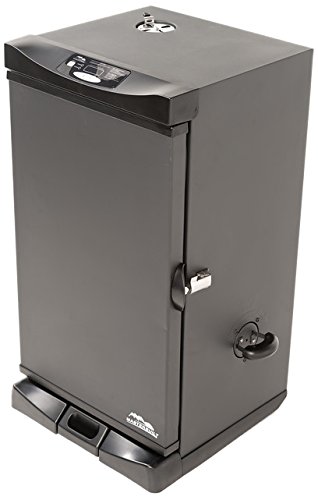 While the 3 of us were searching for the best smoker grill, we were in deep trouble. Why? Because it seemed impossible for us to find the right smoker grill out of these hundreds of varieties.
We started with electric smokers. We heard that these were the easiest to use. Diving right in we was determined to find out everything there was to know about these simple to use grills. Now you can too.
Electric smokers could be really easy to set up. That's the best and most important feature about them. You won't have to light up the charcoal or check on fuel every now and then, and you won't even have to clean up the ash dust. You can simply turn it on, forget it and go on to do other works. Seriously, just leave a brisket before heading out to work. When you come back home, you'll find a juicy, smokey and really delicious meal. Just 2-4 ounces of wood would be enough for electric smokers to produce that smokey flavor. If the insulation is well set, you won't have to wait for the summer months; you can use them all year-round.
If you're looking for an easy-to-use and low-maintenance smoker grill, then an electric smoker may be the right one for you.
Our Grills Forever team found that most electric smokers have these features:
A set and forget feature– set once as per your required settings and the smoker will do the rest itself.
Fuel friendly– electric smokers require electricity and wood chips to make smoke. Add your favorite wood chips for the desired smoke flavor.
Precision controls– electric smokers have a range of precision controls that allow you to control the cooking process exactly the way you want.
Fuel refills aren't required– just plug in and use the electric smoker the way you want.
Simple to use– even beginners can use any electric smoker as per their requirements.
Safety– many conscious neighborhoods may not allow gas lines to be used for safety reasons, which leaves electric smokers the only sensible choice.
Affordability– compared to other smoker grills that use gas, electric smokers are more affordable.
The electric grill has a lot going for it, but we found it wasn't for everyone.
Electric smokers use quite a bit of electricity, thus the cost per use can be high.
Using them outdoors may be a hassle as not everyone has an outside outlet.
The last one sounded odd to me. If I cannot use it outside then what would be the point to buy it? Whatever, electric smoker was not my first purchase but later on, I found out that electric smoker can be helpful for me in personal everyday use. So I picked up one after finalizing my decision with my friends.
This Masterbuilt 20077515 Electric Smoker makes for a one-of-a-kind grill and made its way into the top of our list among all the other electric smokers that we have reviewed. To check out our top ten list and see which products it had to compete against to reach the top, check this link.
Why this is the Best Electric Smoker?
The Masterbuilt 20077515 provides you with great features from the more expensive alternatives and an easy maintenance solution. Its built-in sensors provide greater control over your cooking temperatures and allow you to control your cooking time more accurately. Apart from that:
We looked at 30 product features and this one had the maximum No. of positive features in our list. The smoker came with a whopping 21 features, which makes it the most resourceful and useful product on our list.
While prices of Electric Smokers can range between $100- $600, this one came with a price tag around $250. Such a price tag, combined with the great features, no one can blame us for choosing this as our top pick.
After looking at the user ratings, plus going through the reviews, we noticed that this product had received its ten reviews within five days, 10 reviews before that in another 5 days, and the first five reviews within just 7 days. A low review frequency as such shows a clear demand for this product, making it a popular choice for grillers everywhere.
This product comes in a compact, convenient and remote-controlled setup with an efficient cleanup system that also comes with grease controlling features. Although it is an average-size product, it comes with an LED display in blue that can be viewed clearly even in direct sunlight. Since, it's easy to use and highly convenient, it's the perfect option for rookies and pros.
Read Customer Reviews on Amazon
Masterbuilt 20077515 Smoker Review: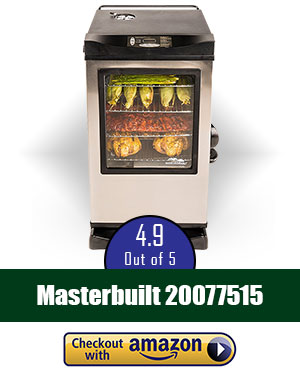 Masterbuilt 20077515 is a spacious smoker vault with a huge 721 sq. in. of grill area. But even if that's not enough to satiate your grilling needs, it also comes in a forty-inch version with a 975 sq. in. of cooking area.
It's very easy to assemble right out of the box, saving you some precious time Googling and Youtubing for that one elusive nut placement instruction. It comes with a digital user-friendly control panel on top along with a remote control feature, which makes it very convenient to use and operate even when lounging beside the pool. Apart from its ease of control and assembly, There's a drip pan for grease management, which will ease your cleaning efforts in the long run. All-in-all, this product is very easy to use and thus, managed to reach the top of our list.
This product has a 90-day warranty, which could be useful for you, specially if you face any issues regarding the material type and build. You could also add additional features by purchasing the other versions of this product.
According to our surveys, users have a preference for a windowless smoker, however, we would always suggest this product despite it having windows. An easily accessible window allows the user to monitor their cooking as it cooks.
In short, everything that you need, you'll find it in Masterbuilt 20077515 – as we've found when we finished reviewing Masterbuilt products.
Pros
The large grilling space (975 sq. inches)
Wood chip tray
Easy to clean drip catching system
Remote control and front view
Internal lighting system
Dishwasher-safe components
Big and small sizes available
Cons
The front controller is not waterproof
Front view window can fog up
Verdict:
The Masterbuilt 20077515 has the perfect combination of size, power, user-friendliness, and affordability. If there's only one product you had to choose from among the stream of products, we'd definitely suggest you go for this one.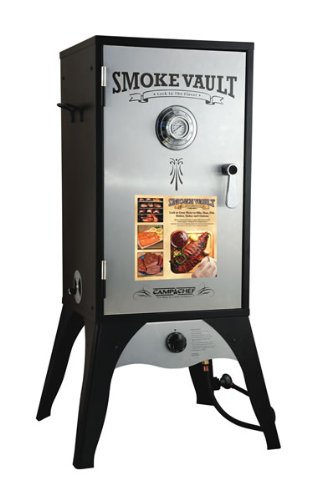 I was thinking that electric was the way to go. Who doesn't like easy and cheap…right? Then I met the first gas smoker operation. It happened by accident and I'm glad it did. My girlfriend and I attended a party at her parent's place. When we arrived, we were greeted by her father and the smell of smoked pork.
My girlfriend told me her dad had just purchased a gas smoker and he loves it. I followed the smell of smoke to the grill master himself. Her dad was checking on the meat and this was my chance to ask him about his new smoker grill.
Unlike the electrical ones, I was familiar with, this one ran on a small tank of gas. Her dad told me it was perfect for him because he liked to grill more than one meat at a time and he often brought it when going to large family gatherings. Unlike the electric smoker, it was perfect if you want something portable.
My girlfriend's dad was in love with his new smoker grill and so was I. Although I still wasn't convinced this was the perfect one for me. When I got home I did some research of my own. Here is what I found out. Decide for yourself if this is the ultimate smoker grill.
Gas smokers appear to be more like the high school hallway locker cabinets. You'll see a burner positioned at the bottom which could be made of brass or aluminum. The burner is very durable and comes with several jets. There is a shelf above the burner, where you could keep wood. On top of this shelf is a drip pan. There are shelves of food on top of the drip pan. There's no need to adjust the bottom vents to ensure that enough oxygen is being used by the gas. At the very top, you'll see a chimney or damper. Never close the top vent, otherwise, soot would accumulate on your food.
While researching gas grills I came across these incredible features:
In the best gas smokers, you will get features, like precise temperature control, temperature displays, easy cleaning, and so on.
They are easy to use and there is no learning curve in these gas smokers to cook your favorite food.
All you need is a small gas tank to power these smokers. There is no need to bring any pellets or look for electrical outlets.
Here is an updated blog post on hot reasons to get a vertical gas smoker. Read about all the amazing features these smokers have to offer.
One of the best things about gas smokers is they are among the most economical smokers. This doesn't mean that you will get an inferior product, but propane is an inexpensive fuel and the and tanks are sold separately.
Here are the major pros of gas smoker grills we found:
Aside from being cheap in price, precise temperature control and display make it quite easy to use.
If you are on a tight budget, this type of smoker grill will suit you best.
Portability is one of the most amazing things you will find about gas smokers.
With gas smokers, a small portable propane tank is all that's needed to power it.
The major disadvantages of them are:
The amount of smoke is less than charcoal or pellet smokers.
Despite the low cost for the body, you must pay regularly for the heat source.
Some people are not comfortable using gas as a heat source.
I recently prepared a tip guide on how to get that smoky flavor from a regular gas grill. The guide on adding smoke to a gas grill will take you through the steps of turning a regular propane grill into one that will infuse your meat with that smoky flavor we all crave.
Little Reminder:
I'll let you know about this guy named Byron Fuchs. On the Fourth of July, he held a grilling party at his Florida home. When he went onto light up the barbecue, an explosion occurred. His body was engulfed in fire and he observed how his skin started to melt off. This shows how the propane smoker can be dangerous.
The Masterbuilt 20051311 GS30D 2-Door Propane Smoker has managed to become our top pick among all the other gas smokers that we have reviewed. To check out our top ten list and see which products it had to compete against to reach the top, click on the link here.
This gas smoker's performance and build quality amazed us. It definitely made an astounding first impression. With a lot of positive user reviews, The Masterbuilt 20051311 GS30D made it into our hearts (and topped the list) for the following reasons:
Why this Gas Smoker Is Our Top Pick?
Among the 43 products, this came in at the number 1 spot in terms of its built usability, quality, and price. It received its latest 10 reviews within 38 days, 10 reviews in previous 24 days, and 18 days for the ones before. This high reviewing rate shows people's satisfaction for this product and how much they are willing to recommend others to use it.
This is the most inexpensive product in this list with a price tag of around $170. But it's definitely not sacrificing quality for cost, as it comes with 10 really good features. Looking at its value per dollar" and its warranty of 90 days, it will definitely satisfy any user.
It comes with a regulator for gas supply and a system for cooking temperature control, so you could easily control the temperature throughout the entire smoking process.
The product gathered over 1000 reviews, which made us feel confident about our decision because we know that this product has been tested, tried and reviewed by others before.
Read Customer Reviews on Amazon
Masterbuilt 20051311 GS30D 2-Door Propane Smoker Review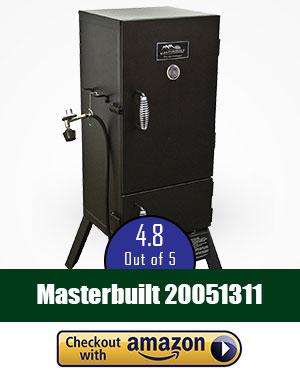 This propane smoker is cabinet-styled, with steel construction that's guaranteed to last for a long time. Several users reported that this gas smoker came with many parts which didn't require modifications. This suggests how well-received this product is. You could also use the multiple cooking trays available with the product, for cooking multiple items simultaneously.
It has a 717-sq. in. of cooking area with four chrome-coated smoking racks. It has dual doors that can be used to seal and lock heat inside so that the cooking procedure is consistent. This would allow your food to develop a tasty and smoky flavor. The temperature gauge built-in allows easy monitoring of the temperature inside the smoker grill. Additionally, the porcelain wood chip tray along with the water pan makes for hassle-free cleaning. We also liked the fact that it has an air damper which could allow you to control how smoky your food should end up being. So whatever you are cooking, whether it's turkey, salmon or pork or anything else, you could achieve your desired level of smoky flavor.
Pros
Removable water pan and base tray
Expandable Grilling Space
Competitive Price Point
Excellent Temperature Control
Protected Burner Drum
Verdict:
Without a doubt, this product is the best among the rest and truly deserves the title of the king of the smokers. With its feature and a low price tag, it's worth every dollar that you spend on it.

Have you heard of the gold standard smoker? You are about too. I present you the charcoal smokers. Though charcoal smokers are quite difficult to figure out in comparison to the easy-to-use electric smoker and cheap and portable gas smoker, these types of smokers are the queen of all smoker types.
Look at the shapes mate! The barrel or drum-shaped smoker is enough to make you stand up and see what is it! Charcoal smokers are not box-shaped or conventional chimney styles, these are more than that.
Before I ever tasted what, they could do, I fell in love with the design of the charcoal smokers. They stand out against the other two versions I was familiar with.
Have you ever heard the name, Noah Glanville? My friend fought in Iraq as a Gunnery Sergeant in the United States Marine Corps. We were gossiping in a local pub with beer and having smoked ribs. I was telling him all about my quest for the perfect smoker grill.
He dropped the name Noah Glanville and asked if I have heard his name. I said, "no." My friend was excited to tell me that he fought in the same place in Iraq where Noah Glanville was. And Noah is the maker of the best charcoal smoker in the USA!
I was amused to know the story and since charcoal smokers were next on my list to check out it, it seemed the best place to start. The more I found out the deeper in love I fell with these smokers. They are the real deal, used by those who are the most serious when it comes to grilling and smoking meat. Have a look at the history of charcoal grills, it's a fascinating look at the history of these popular smokers.
Once you taste your first bite of something that has been placed in one these flavor inducing grills you will never want to use anything else again. Charcoal smokers may not be the cheapest smoker grills, but they offer a few features that make them worth using, such as:
They have a distinctive taste that other types of grill cannot reproduce.
They use charcoal for heating the wood chips, which in turn creates the smoke. Thus the volume of smoke produced is much greater, creating a smoky flavor.
There are many different looks of charcoal smokers to choose from, depending on your needs and wants.
There are both low-budget and expensive options available for you.
There are thousands of adjectives I can use for a charcoal smoker, but for now, let me introduce with some of the advantages that you may get from charcoal smoker grills:
They can produce more smoky meat than any other type of grills or smokers.
Depending on your budget and requirements, there is a large variety of charcoal smokers to choose from.
Though they are not easy to use, the taste you get cannot be forgotten.
Using charcoal smokers is relatively inexpensive.
However, they are not perfect either. Here are some cons that come with charcoal smokers:
Starting a fire with these smokers can be a hassle, taking up quite a bit of time.
If starting the fire is one problem, maintaining it at the right temperature is another challenge.
Well, to be honest, the cons are only a problem for novices. These grills are for someone who wants to perfect the craft of smoking and after some experimenting, you will be grilling with the best of them. I faced the same problems too when I tried a charcoal smoker for the first time. But after some practice, I was grilling with the best of them. Check out my guide on how to set up a charcoal grill for smoking in just 5 steps.
Important:
Many people have asked me if a charcoal smoker is the healthiest option. They feel that gas smokers are a much healthier option. To be honest, the health factor depends on your expertise. If you want to keep the meat away from getting burnt then you need to know what you are doing. I have written a post on this. Get the facts and then you can decide which smoker is healthier.
Why this Mountain Cooker for Our Top Pick? We will give you a little of our reasoning before we start raving in the smoker grill reviews. It came top of our Top Ten Charcoal Smoker's list for a reason: It is one fine, fine smoker.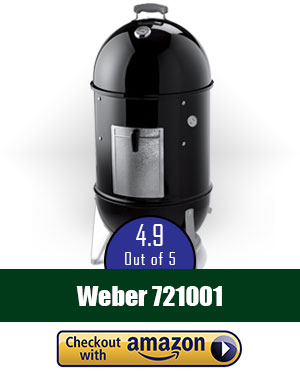 Why was this Our Charcoal Pick?
This charcoal smoker comes in for less than $300, one of the cheapest in our review, but for the money it had a surprising amount of great features and quality construction.
As you can see from our research report (check the link below), you can see we compared fully 49 features for charcoal smokers, and this one clearly wins, hands down. It is easy to use, easy to clean, stores nicely, has a convenient thermometer, has a cool look and feel to it, it is tough as hell and incredibly efficient. It can go on one load of charcoal for fully 8 hours. That's going to be some intensely smoky stuff after 8 hours.
Our trick is to look at the frequency of positive ratings on the internet for any product, this one got a really high frequency, meaning a lot of people liked it in a short amount of time. A great indicator of reliability and quality, as well as good customer service. It got 10 positive reviews in the first 18 days, 10 more in 8 days, and 10 more in the following 16 days. That's very positive for a charcoal burner.
The mini porcelain enameled water pan produces steam to add to the smoke during the long process of curing. This keeps the meat moist and absorbing beautiful flavors. This is the only product from our list that offers this great feature.
Read Customer Reviews on Amazon
Weber 721001 Smokey Mountain Cooker 18-Inch Charcoal Smoker
While you can get a charcoal grill for less than $10, it will be terrible and won't give you even close to the smoky flavor you want. That's why you've got to spend just a little more to get the proper results. For between $250 and $330 you can pick one of these up, depending on what features you want, and it will pay for itself again and again. It's one of the best outdoor smokers too.
For many purists, nothing compares to a charcoal burner, and while we're inclined to agree (though any of our Top Rated Picks will give you incredible results), we think that the smoker quality itself is a big deciding factor. In other words, it is the features and build quality that make the big difference when it comes to how smoky your food gets. This wins both arguments. It is charcoal and it is really well made. When it was delivered, we thought it would be one of the more expensive lot, but it is actually relatively affordable.
Fully 481 inches of grilling space come packed into this black beauty, giving you ample opportunity to smoke large proportions of a large animal or many, many vegetables. This machine could dole out delicious and smoky meals to a very large party. Can you imagine how many happy people that would be? It's a good thing.
The thermometer built into the lid gives good, accurate readings, which is cool, but the really cool thing about this grill is the water pan that steams away and keeps everything moist. This adds an extra dimension to a long smoke session, it is really worth seeing (and tasting!).
One thing about this grill: it weighs a ton. It's not small. The grates are solid and heavy duty, perfect for those great grill stripes everybody loves. It is not designed to be portable, it is designed to sit somewhere comfortable and smoke stuff. So it is not too portable, but that's OK, you can take the grill enthusiasts to the grill, not the grill to the enthusiasts. It will be worth the trip, we promise you.
Pros
Incredible flavor
Long smoke times
Solid construction
One of the best rated smoker grill
Steam pan
Looks cool
Even cooking and temperature
Built in thermometer
Really good value (you get a lot for the money!)
Cons
Too expensive for some
Weighs as much as a small tank
Verdict:
Clearly, this had to be our Top Charcoal Pick. It has amazing quality smoke, a really solid construction, a cool mini look, the brilliant feature of a porcelain steam pan for extra delicious moisture, and it is efficient! Good stuff.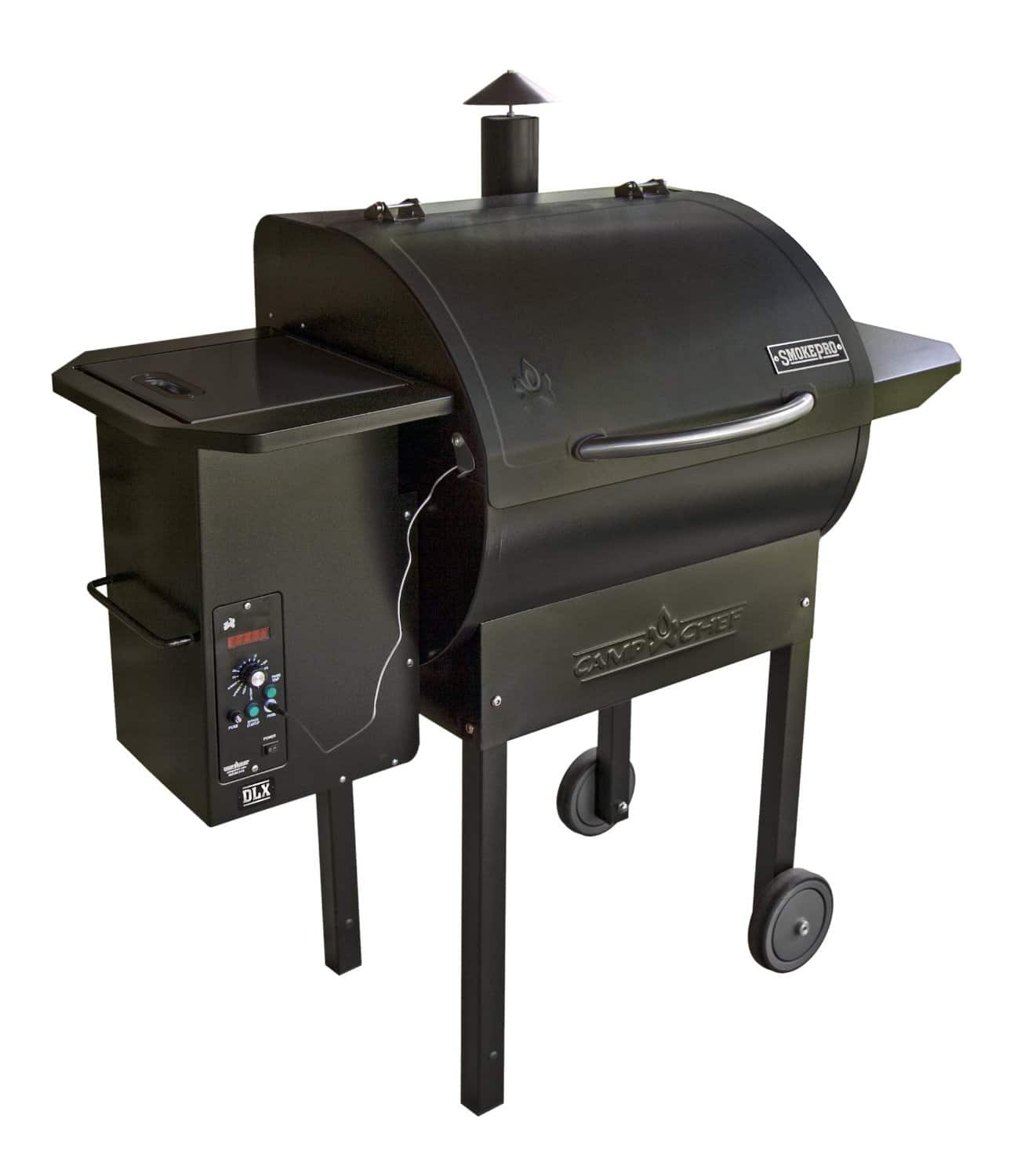 If you are still with me, then you must love smoker grills as much as I do. What could possibly beat the queen of all BBQ smokers? I have described the easy to use electric smokers, affordable and portable gas smoker and the queen of smoker grills that most of the experts prefer, but there is still one more smoker grill I had yet to consider.
Are you ready to see where all my hard work and research has led? Do you want to know who is the KING?
Pellet Smoker Grills are the king of all 4 types of smokers. You can get hundreds of variations of pellet smokers at all price points. You can get a pellet smoker for as low as $100 or you can shell out as much as $7000 for the king of kings. The difference you will find in the taste of food and ease of use.
The pellet smoker grill is the king smoker grill, because it combines the pros of all the other grills. I know once you read all the good things there is to know about this type of smoker you will agree.
A good pellet grill will grill, roast, and smoke. Wood pellet are small pieces of hardwood with 0.25 inches diameter. They look like long pills, and due to their smaller size, they burn clean and quick, forming fine ash.
While the pellet smokers may not be the cheapest grills that the market has to offer, they have a lot of other features that make the cost of buying them worth it in the long run.
Let us look at some of the awesome features of a common pellet smoker.
Wood pellet smokers primarily use pellets that are available in bulk, thus making them less expensive to use.
In new models, you can set the wood pellet smoker to your desired setting and leave it to cook without any other interference.
Wood pellet smokers can help you cook smooth and delicious meat, and the flavor can be varied using different pellets.
They are a source of indirect heat, making them ideal for cooking all types of meats.
Using wood pellet smokers is easy. You just have to set them as per your preferences and then no further effort is required.
Wood pellet smokers are more eco-friendly as compared to their counterparts that use gas.
You can get a variety of flavors in the meat being cooked- only different types of wood pellets are required for it.
They are the best choice for cooking various types of meat.
However, just like everything else, a wood pellet grill is not perfect in every aspect. Using it comes with a small disadvantage:
In manual pellet smoker you need to control the pellet feed in the smoker continuously.
With this small and ignorable con you will find that pellet smokers are the best smoker grills you can rely on.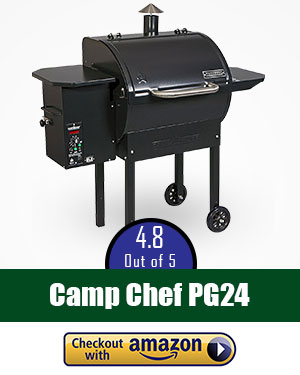 Why was this Our Pellet Pick?
We have been doing a lot of barbecuing lately, and while there is no such thing as too much barbeque, some of the products we review tend to blur into one. They all do roughly the same thing, working in a similar way. They can be forgettable. Then a smoker comes along that really stands out and we look back and think: "yes, that was a good smoker grill". This is one of those grills. So, of course, it ended up as Our Pick for pellet smokers, and if you want to see the rest of the Top Ten, take a look at this link.
This is the pellet smoker of the future. It is fully automated from start to finish. From clicking the ignition to getting rid of the ash, it is all conveniently taken care of. Usually, you would be expecting to pay at least a thousand bucks for something that does that, but not this time. The PG24 is relatively affordable.
Easy cleaning: there is a trap door for all the ash and the whole thing is designed to be as low maintenance as possible, while still having really good features. Often, when they get automated they get really complicated and it takes away from the simplicity needed to be easy to use. Not this one.
The auto-pellet feed. These are really common but this one is particularly reliable. Check the reviews, it lasts forever!
A mini built-in timer gives the grill master the chance to put their food on for a good smoke, go out, do whatever and not have to worry about their food being immolated. This is because of the auto-shut down. Really useful.
Did we mention it didn't cost very much money? Because it is when you consider what it is capable of.
Read Customer Reviews on Amazon
Camp Chef PG24 Pellet Grill and Smoker BBQ Review
This is a serious pellet smoker for the serious smoked food enthusiast. Standing tall among the more expensive alternatives, this Camp Chef PG24 combines a rare set of attributes: solid construction, capability and value. It will give seriously good smoked meat or vegetables to anyone who wants to spend a minute or two getting to grips with the intuitive design. It is not cheap, but it is not expensive either. It is good value.
As any pellet smoker knows, getting the temperature set right is crucial. It will all go wrong if you can't get that right. The Camp Chef PG24 has a built-in digital thermometer and fully controllable temperature settings. Put it to the temperature you want on the screen and let it get on with it. No lifting the lid to peer at the pellets, letting out precious heat and smoke. It is all in hand, if the smoker detects it is getting too cold, it can feed itself more fuel. This is quality smoke made easy.
And how about that meat probe? An amusing name for a very useful thing. It lets you gauge the temperature of the meat inside without having to lift the lid and cool the entire grill. Massively useful and makes for really consistent cooking.
As for the grill itself, it is sizeable, coming in at 560″. This is enough space to be able to grill a party's worth of food. You of course don't have to, you could cook any amount you like in this versatile pellet smoker. It is well designed, having a table for cooked meat and a table for uncooked, helping you stay food poisoning free! Camp Chef has a good reputation and this is why. This is something we also realized when our team thoroughly tested and reviewed the Campf Chef grills and smokers.
This smoker grill is not only capable but portable as well, having a pair of sturdy wheels that can take the grill anywhere you'd want it to. It can keep 20 pounds of pellets in the hopper itself and with the automatic feed, that will give you a very long smoking session.
Pros
Automatic pellet feed is very efficient
Easy cleaning
Large cooking area
Internal meat probe
Digital temperature control
Top value
Cons
Needs a mains or big battery hook up to start
Verdict:
No surprises this was Our Top Pellet Smoker Pick. Portable, powerful, advanced and easy to use. And that's without mentioning the consistent grilling temperature, the controls and the automatic pellet feed. Clear winner for not much money.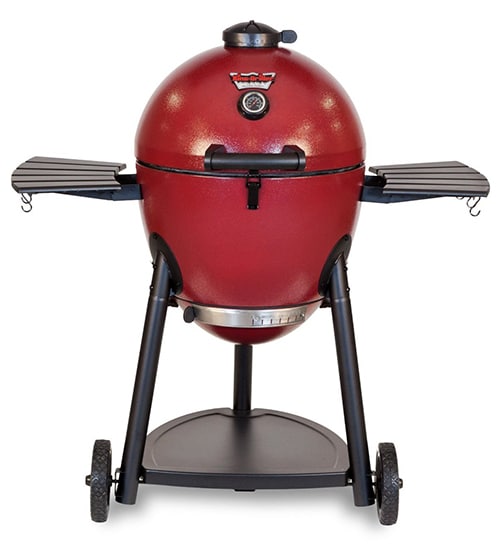 Kamado smokers came into being after World War 2 during the American occupation of Japan. The GI's who were stationed there took the all-American love of grilled food to a country that did not have the tradition of barbeque like the Yanks. So, there weren't any grills like the ones back home to be had. Getting them shipped from the States would have been extremely expensive, so the cunning squaddies made do with what they had, which were the traditional Japanese ceramic mushikamado wood stoves. They did the job, and with a little tweaking, spread around the world as the GI's took them with them as they left.
What Does Kamado Mean?
Kamado means, "place for the cauldron", though some would have you believe it means "bowel obstruction".
Design
A kamado is a round ceramic, steel or clay pot, usually fuelled with charcoal, that comes in an oval or egg shape and in different sizes.
Types of Kamado
There are gas, wood or electric versions but the traditional version is the charcoal grill.
Versatility
Regarded as an extremely versatile ceramic grill, you can:
Grill,
Smoke,
Bake bread, or
Cook pizzas
A heating stone is needed for baking bread or cooking pizzas but they can easily be purchased.
Prices:
Low priced versions are available for as little as $200
Expensive Japanese ceramic kamados can cost thousands.
Technology
All the modern conveniences of grills are available on kamados:
Temperature controls
In-built thermometers
Timers
Remote control
Pellet feeds
Automation
Efficiency and Temperature Range
The round ceramic shell makes them very efficient heat retainers, making very high temperatures possible. You can get a kamado up to about 750° Fahrenheit, hot enough for a wide range of uses. They are controlled temperature-wise through vents, and when automated or used by an experienced practitioner, they can give extremely precise temperatures.
How to Use a Kamado
To operate a kamado, the lid usually hinges open to reveal a ceramic or metal bowl that contains the charcoal. A vent in the lower half feeds oxygen to the charcoal and the vent in the roof lets air escape.
These vents are controllable, giving the ability to change the amount of air in the grill and therefore how hot the charcoal burns.
A grid is hooked onto the sides and extended over the charcoal, upon which food is placed for smoking or grilling.
Upsides and Downsides
Kamados are easy to light and get working, they are as simple as a grill can get. This simplicity can be a downside sometimes, and the generally smaller grilling space is less than what a lot of people want. For a small, efficient grill for a garden or yard, a kamado is hard to beat. Plus, they look great and produce fabulous tasting meat.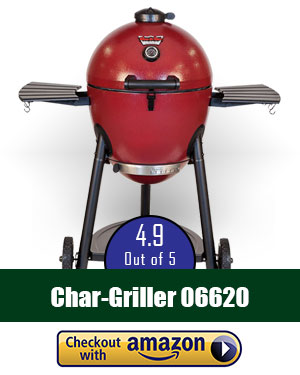 Why was this Our Kamado Pick?
We love a kamado grill. They give such good results and look totally awesome. They are amongst the easiest grills to use, clean and operate, plus being efficient and versatile. What's not to love? This is the best of all the kamado grills we tested, so let's tell you why!.
Take a look at our research report (it is free!), it will show you that this product doesn't have the most positive features. But then why is it an Our Pick? Because it is not just the sale price, it is the combination of factors that makes up an excellent kamado grill. This had what we think is the most important.
This is a very good looking kamado. It is also versatile, has a large cooking space of 314 inches on the main grill and 133 inches on the warming rack, adding up to a sizeable amount for a kamado. This will serve a decent party well.
Solid steel construction, it is a tough kamado that can take some punishment, as well as giving it the right heat retention properties to get that even cooking that is so characteristic of the kamado. It is enameled on the inside for years and years of use and the outside is powdered, making this a grill to last. The grill itself is cast iron, so it will give great grill lines.
Portability: it has two huge wheels and a mini caster to take it anywhere easily.
Surprisingly, this is the lowest priced kamado smoker but one of the best.
All taken together, you can see already why this is our favorite kamado. On to the review!
Read Customer Reviews on Amazon
Char-Griller 06620 Akorn Kamado Kooker Charcoal Barbecue Grill and Smoker Review
This is a cute but capable kamado. It doesn't skimp on the grill size, giving a full 314 inches of pure grillage under the hood, but it is still portable and light enough to wheel into position on a sunny day. The triple layered 22-gage stainless steel body, faultlessly covered with porcelain enamel, retains and emits heat evenly and efficiently, giving a beautiful, consistent grilling experience.
For under $310, it is definitely in the affordable range of kamados, which don't come cheap. Even though it is relatively cheap, it has a build quality and standard of materials that places it well above the price range it can be found in. This kamado characterizes value.
This kamado can be taken all the way up to 700 degrees Fahrenheit and as low as 200 degrees, so it is a very capable machine. This is alongside the high degree of control you can get by adjusting the two vents, one on the roof, the other at the rear, that control the amount of air being taken into the kamado. With a little practice, you can set your smoking conditions with real precision.
Another great thing about Our Kamado Pick is that it can be up and running quicker than nearly any other in our kamado list (check the link) and is really easy to use when it is running. The thermometer is nicely placed and has a clear dial that is easy to read, even when it is getting smoky.
Everything our Grills Forever team grilled with this red devil came out perfect. We could control the intensity of smoke, the temperature, whatever we liked with ease. Especially good is the portability, it can be wheeled really easy and then locked straight in place for some quick fire kamado action. Even with its solid construction, it is not immensely heavy. It is a great value grill.
Pros
Affordable value
Precise control
Temperature sensor
Solid build
Consistent cooking
Portable
High temperature range
Decent sized grill
Cons
Not many accessories
Not ceramic
Verdict:
A really high quality kamado for a ridiculous sale price, it has everything we want from a kamado: even cooking, precision, control and great flavors. It has it all, it is maneuverable when it needs to be, solid where it has to be, overall, it is great. So what if it isn't ceramic?
Parts and Accessories Will Ease Your Task in a Smoker Grill
Knowing the different types of smoker grills and what was ultimately the best for our needs was the 1st and the biggest step for all 3 of us, but not the end of our journey. Now we needed to know what accessories would make our BBQ experience the best it could be. You will want all of these accessories to make your summer the best it can be.
Wheels:
The 1st step to civilization was the invention of wheel. This will be applicable too when you want that your smoker gives you less hassle. Wheels on a smoker grill will make it easy for you to move it around with ease. If you are planning to get a smoker to take around different places, try getting a unit with wheels to make the portability easier.
I have chosen the pit barrel smoker package without any wheels, but that smoker is so great that I could skip this step. It will depend on you if you want your smoker to be portable.
Grill:
If you do not already have a grill but would like a smoker that has one then you can go for a grill-smoker combo. The downside of it is that it will cost you some extra money. It might cause some problems if you are on a tight budget.
On the other hand, it may not cause any problem because you can always buy or make a custom grill pallet when you require one.
My suggestion is, grab a suitable smoker that suits you best and then if required get a grill pallet at a later date.
Cover:
You should cover your smoker to keep it clean and avoid any damage from outside elements. Most smokers do not come with a cover. The manufacturers or third parties will sell them at an extra cost.
I made a custom a cover for my smoker grill. If you do not want to take that hassle, then grab one from Amazon. It will pay for itself, by prolonging the life of your smoker by protecting it from the elements.
Side racks/tables:
This is really an important factor to look at. Side racks and shelves can help increase the total working area, thus helping you do multiple tasks while using it. They can also be used as a place to store food and other condiments, accessories and tools within reach.
But most of the cheaper smokers do not come with an added side table. Making a custom one will certainly meet your needs. Buying one from Amazon is another decent option.
Interior Movable Shelves:
Shelves will need adjustment as per the kind of meat you will cook. Adjustable shelves help you move them as needed to cook your preferred meat.
Though it is not a major consideration, because the smoker grill companies are smart enough to produce grills with interior movable shelves. But it is always better to look before you leap.
Check my blog post on the top features of the best grills and smokers for more information about all the extras that can make your smoking experience a better one.
What to Expect in Different Budget Ranges of Smoker Grills?
You now know which is the best smoker grill I chose. Maybe you agreed with me and my friends or maybe you thought another type was the best for you. Now you must decide how much you want to spend. While researching smoker grills, I saw that you can really own your personal smoker at any price. From 60$ to 7000$. The more you spend the more features like automatic start, auger control, temperature control you will get. Size will also increase with price. You can get 7-8 smoker grills under 100$. But all of them are too small to meet a family's needs.
Before you take that final leap and buy yourself that smoker grill ask yourself these 10 questions. Check the details here.
I'm about to make the final step in purchasing your smoker grill so easy that it will be like I did it for you. I'm going to list the smokers by price and features. Now you can pick the best smoker grill to meet your needs and wallet.
1. Smokers less than $100
Below the $100 price range, you can get a low capacity smoker. A good small propane gas smoker can serve up to 4 or 5 people. You can get only basic features in this price range. These small smokers are basically popular for their portability.
Some of the under 100$ available smokers are:
2. Smokers between $100 and $200
In this price range, the real features begin to show up and you can expect a decent smoker of all types. You will get a durable smoker that offers a range of features, including precise controls as well as decent cooking capacity.
This is also the starting line for family size electric smokers. So if you are looking for a good and decent electric smoker, you will have to raise your budget over 200$. You can get a variety of smokers with basic controls in this price range.
3. Between $201 and $400
If you look back on my best picks on each type of smoker grills, I have chosen the best electric smoker and the best charcoal smoker in this price range. It is really a decent price range for a smoker to buy.
You can get anything from electric to charcoal in this price range and the variety of options is vast here. If you are a beginner with a lot of cash to spare then this range will offer everything that you need to fall in love with American Gourmet. Authentic BBQ with capacities that can cook above 8 stacks of ribs at once is what this price range offers.
4. Between $401 and $800
If you're looking for the best smoker grill in this price range then it is obvious that you have a lot of love for gourmet (with plenty of cash to spare!). In this range, you can get the best of all the 4 types of smoker grills with capacities that can help you feed 10 to 15 people with ease. This range will give you some of the most high-quality smokers.
My choice of the best pellet smoker falls in this price category.
5. Above $800
In this price range, the higher you go, the more you will get. There are some smoker grills that cost above $10000, offering unique features like Wi-Fi control, automatic settings, alarms, LED displays that can be viewed even in sunlight, multiple stacks and compatibility with both charcoal and gas. In fact, some of them work with electricity too. Check out the Summerset or Hasty Bake grills to get an idea of what to expect. The best part of purchasing the high end smokers is that you can use it in the winter too. These smoker grills are well made to run in extreme weather conditions.
To be honest I have barely looked or researched for these high-tech grills. My main concern is the common people who want to pass a lovely weekend with their family members. For this smoker grills available within 700/800$ is worthy enough. For commercial use people may look for those high end smokers but for now I am happy with this.
You now have an understanding of all the smoker types that are on the market. Novices are still are still known to commit these 3 blunders. Read my guide to avoid these rookie mistakes.
Update
Recently, as a part of the Grills Forever team, I have made a connection with some of the local BBQ house and smoker houses that use high-tech smoker grills. Hope to work with them and give you an update.
Now we come to the end of my smoker quest. I used a combination of online research and real-life experience to bring you the most in-depth information you will get anywhere. This quest was long, but it was worth it.
Summer has almost come around again and I am excited for the first night, where the air is still warm and the sky is clear. The sound of friends laughing and joking mingle in the air with the smell of the promise of a perfect meal. Thanks to the King of Pellet Smoker Grills, my summer is going to rock. Happy BBQing