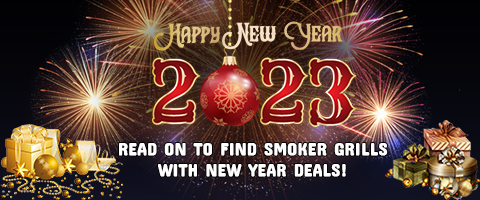 Why Should You Trust Us?
You're looking for the best smoker grills, that's why you're here. Welcome. But you're wondering why this site is the place for the best smokers in 2019. That's OK, keep reading.
There is so much advice out there on the internet, so many guides and tips, so many people clamoring for your attention, it is hard to trust anything you read anymore. With the news full of "fake news" and corporate marketing techniques, how do you choose the genuine guide from the one trying to sell you the product they have been paid to sell to you?
It is difficult, we, the grills forever team, admit this too. But you should be able to trust us because we're transparent in what we do. Our business model is that we test, gather data on and review lots of different smoker grills, and tell you about the best smoker grills. We don't have any affiliation with any manufacturer or product, we just find the best grills for you.
To help our readers find the right products, we spend a lot of time on each review. It is around 55 hours per article, we think. That's not including all the volunteer hours our dedicated team of product finders and reviewers put in. All in all, it is a lot of work for these smoker reviews 2019. It is about a week per guide, giving us time to personally test each product. All this adds up to a very comprehensive set of data that you can read for free and we use to write these best smoker grills reviews.
What Makes a Good Smoker?
When it comes to the best smoker grills, there are a lot of options on sale. It is bewildering sometimes, but the amount of choice and the wide availability of all these different styles, types, capabilities and price ranges make it a smoker griller's paradise.
Cooking Area and Sizes:
There are a few things to think about when it comes to the area of the grill you want to buy. First up, will it make the grill too big to fit in where you want it to? Secondly, how much food are you wanting to cook? Parties and social events need a big cooking area, home grilling doesn't. Thirdly, the amount of fuel you use is dependent on the size of the grill, so if you're cooking small amounts but on a big grill, you're wasting precious pellets.
Portability:
Some grills you can wheel into place and just leave them, they aren't designed to be portable. Others you can stick in the back of the truck and take to the park if you want. It is all worth considering. How are you going to use it? Do you want a big or small one? Different sizes are available. Small is portable but can only cook small meals and vice versa.
Reliability:
Generally, the more you pay for a smoker grill, the more reliable and longer-lasting it will be. This is not always true, we have tested some really expensive grills here at Grills Forever that fell apart the first time we used them, but it's a good rule of thumb for the best smoker grills. Check for good welding, tight seals, non-squeaky joints, snug fits and "feel" (you know what we mean) when you're looking for a reliable machine.
Materials:
What your best BBQ smoker is made from, or what the best outdoor smokers are constructed with makes a big difference to both how well the smoker works and how long it will last. Stainless steel is good to look for, but also quality paint and enameling prevent rust and look good. If there are plastic parts, are they cheap looking? If they are, they probably won't last.
Easy to Clean:
Cleaning a smoker grill can be a task and a half if you haven't kept on top of the cleaning. An easy to clean smoker will make a wipe-down at the end of a session much less hassle and help you keep your smoker in top condition for longer. Look out for nooks and crannies that fat and dust can get into, hard to reach places and a complicated design. The simpler it is, generally, the easier to clean.
Modern Features:
Smokers have come a long way from primitive brick ovens or wooden contraptions. You can get timers, temperature gages, remote controls, smoker pellet compartments and more for your grill.
Temperature Range:
How hot you cook something on a smoker grill affects the flavor hugely, so having a good control over the temperature and the knowledge you can keep it at that temperature for however long you need to get the right effects is really helpful. A temperature gauge is a must.
How We Picked and Tested
For our best smoker grills list, we tested more grills than we can remember. Each of Our Picks comes from its own review and guide, so each one is accompanied by a lot of testing. This review is a compilation of all our top rated smokers, so you will be able to make a quick and easy choice for your top smoker grills.
In four years of compiling and writing these reviews, we have looked at a lot of different smokers. We didn't test all of them, some were clearly no good, others way too expensive or cheap to justify in this list. And none of the smoker grills 2019 we tested were perfect but there were some really impressive choices.
In our months of testing, we employed our volunteers to gather information and potential smoker grills, used community usage data to guide us and built a system of comparison that let us make good distinctions between the top smoker grills. We measured the performance for each grill and developed the research report you can read.
For this we looked at capacity, appearance, sizes, weight, manufacture, utility and usability, portability and others. With all this assembled, we could make our choices for the best smoker for the money, best outdoor smoker, best grill and smoker, best home smoker, every kind of smoker you could need.
We carefully consulted our testing team, asked our volunteers and staff alike for their honest opinions, and argued a lot about what should be Our Pick. In the end, we came up with the best smoker reviews on the world wide web.
Our Best Choice List
Since we have reviewed so many top smokers 2019 and written so many guides and lists to the best smoker grills, we thought we should put together a definitive guide to Our Picks here on Grills Forever so you can choose the best in every category easily. For the top 10 product reviews in each category, take a look at our reviews page. We will provide a link at the bottom of each review.
Types of Smoker Grills
Let's start with the easy stuff and work from there. There are more than one type of smoker grills and they all have their own pros and cons. In the following, I'll explain about major types of smoker grills and their distinctive features in details.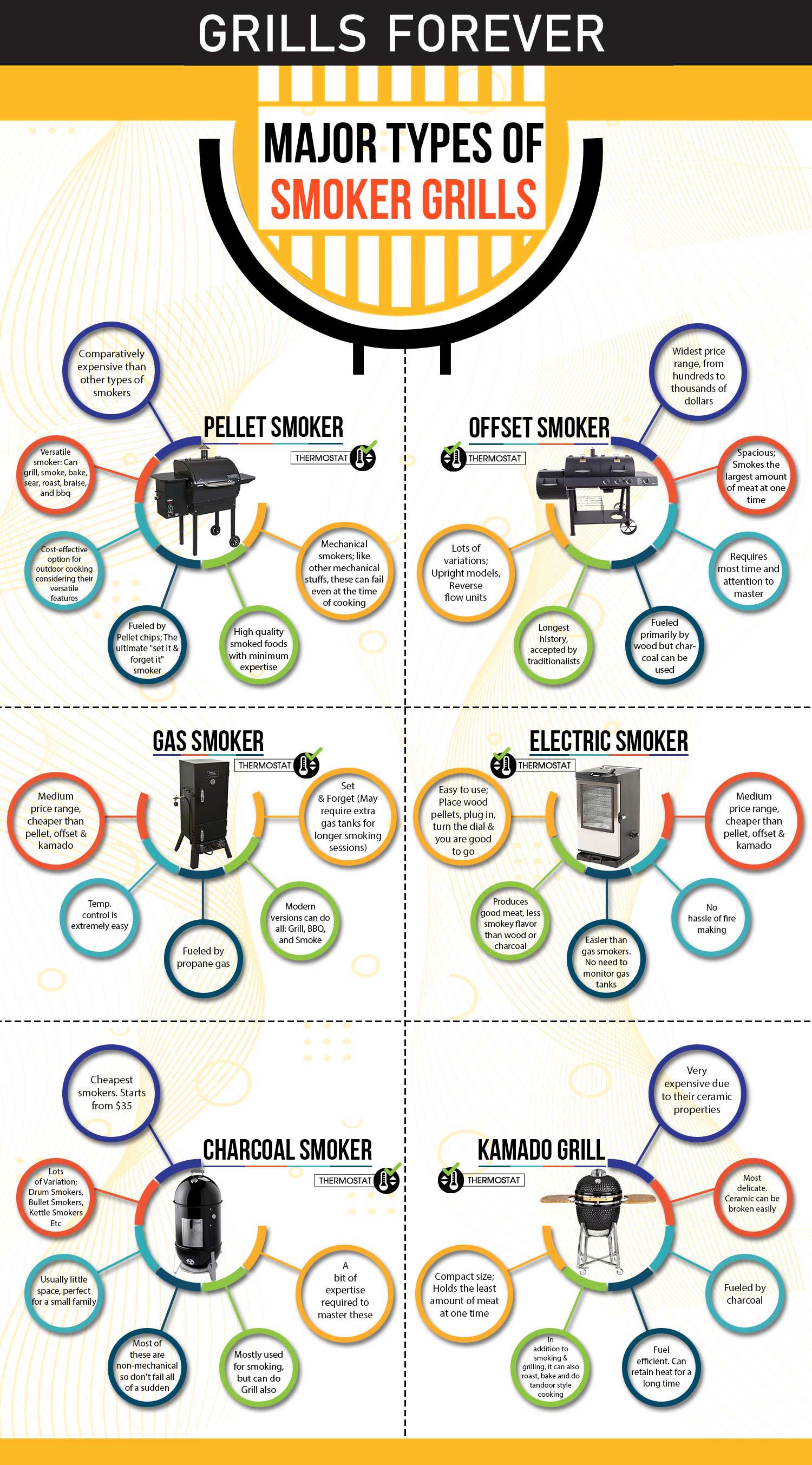 Primarily, barbecue smokers can be divided into 6 categories-
The huge varieties of smoker grills available for sale are stunning. These categories are based on fuel type and other different features. If you like electric products with low maintenance and little hassle you might go for an electric smoker grill. Similarly, if you like a gas operated machine than a gas smoker will be the one for you.
But if you have not decided which type of smoker will best suit your needs then read on, because you will be surprised how different all these types of grills are.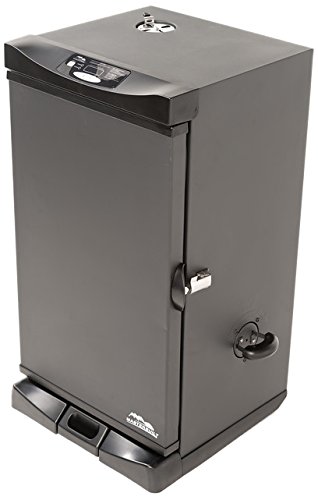 While the 3 of us were searching for the best smoker grill, we were in deep trouble. Why? Because it seemed impossible for us to find the right smoker grill out of these hundreds of varieties.
We started with electric smokers. We heard that these were the easiest to use. Diving right in we was determined to find out everything there was to know about these simple to use grills. Now you can too.
Electric smokers could be really easy to set up. That's the best and most important feature about them. You won't have to light up the charcoal or check on fuel every now and then, and you won't even have to clean up the ash dust. You can simply turn it on, forget it and go on to do other works. Seriously, just leave a brisket before heading out to work. When you come back home, you'll find a juicy, smokey and really delicious meal. Just 2-4 ounces of wood would be enough for electric smokers to produce that smokey flavor. If the insulation is well set, you won't have to wait for the summer months; you can use them all year-round.
If you're looking for an easy-to-use and low-maintenance smoker grill, then an electric smoker may be the right one for you.
Our Grills Forever team found that most electric smokers have these features:
A set and forget feature– set once as per your required settings and the smoker will do the rest itself.
Fuel friendly– electric smokers require electricity and wood chips to make smoke. Add your favorite wood chips for the desired smoke flavor.
Precision controls– electric smokers have a range of precision controls that allow you to control the cooking process exactly the way you want.
Fuel refills aren't required– just plug in and use the electric smoker the way you want.
Simple to use– even beginners can use any electric smoker as per their requirements.
Safety– many conscious neighborhoods may not allow gas lines to be used for safety reasons, which leaves electric smokers the only sensible choice.
Affordability– compared to other smoker grills that use gas, electric smokers are more affordable.
The electric grill has a lot going for it, but we found it wasn't for everyone.
Electric smokers use quite a bit of electricity, thus the cost per use can be high.
Using them outdoors may be a hassle as not everyone has an outside outlet.
The last one sounded odd to me. If I cannot use it outside then what would be the point to buy it? Whatever, electric smoker was not my first purchase but later on, I found out that electric smoker can be helpful for me in personal everyday use. So I picked up one after finalizing my decision with my friends.
This Masterbuilt 20077515 Electric Smoker makes for a one-of-a-kind grill and made its way into the top of our list among all the other electric smokers that we have reviewed. To check out our top ten list and see wh