A Short Summary of Our Findings
Before we delve into the detailed buying guide, let's first have a look at the summary of what we found from our research.
At Grills Forever, we've had over 4 years of experience with all kinds of turkey fryers, and around 50 hours of extensive research of more than 20 of the world's best turkey fryers. Why? Because we're passionate about our grilling just as much as you are. We know that a good turkey fryer should satisfy criteria including usability, size, appearance, capacity, and other important features. After two months of testing our top products, we've decided to name the Char-Broil Big Easy Oil-less Liquid Propane Turkey Fryer as the best turkey fryer in the market to date. Anyone who loves their turkey will thank us for introducing this excellent product.
Our Pick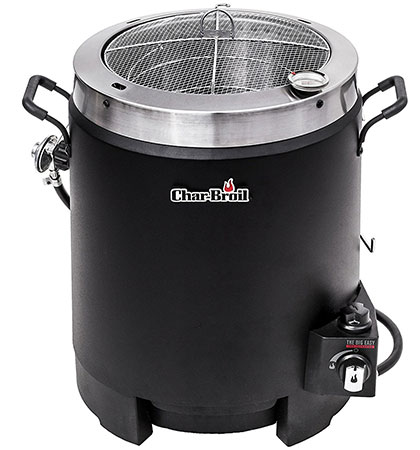 This affordable turkey fryer deserves our top spot because of its impressive variety of functions that any great turkey fryer should have. At under $100, this turkey fryer delivers juicy meat and crispy turkey skin every time with its TRU-Infrared Technology. It can hold massive weights of up to 16 lbs., perfect for different kinds of meat including turkey, chicken, roasts, and more. In under ten minutes, you can have a perfectly-cooked meat without the hassle of oil burns and spills. It even lets you inject marinades without making a mess! This product is perfect for anyone who wants a safe and healthy turkey frying experience!
Runner-Up Pick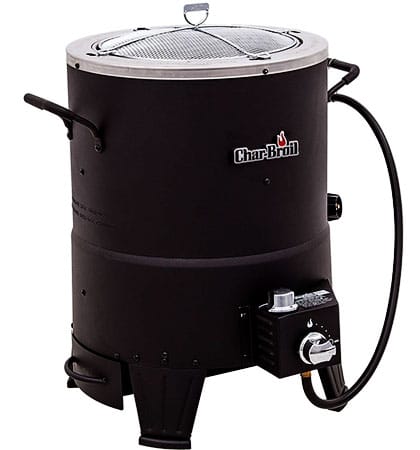 With similar features as our top pick, this turkey fryer from Char-Broil takes second place because of its strong functions such as TRU-Infrared Technology, which ensures that heat is properly distributed, giving you an evenly-cooked turkey each time. We ranked it slightly lower because the time it takes to cook using this fryer is slightly longer than similar products. Despite those, it still impressed us with its 16-lbs capacity and convenient control knobs that easily adjust the intensity of the burner.
Budget pick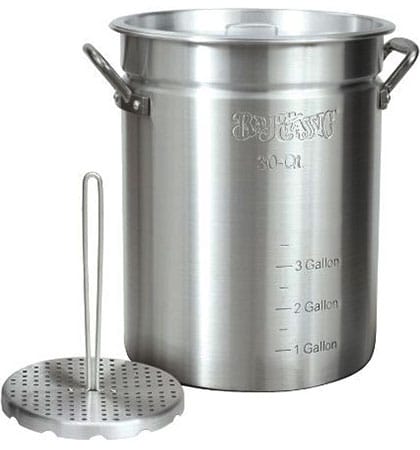 Made of the finest high-grade aluminum, this turkey fryer is best used as a commercial turkey fryer because it's able to fully cook a 20-lbs turkey in under 45 minutes. We tested the Bayou Classic and were surprised at how juicy and tender the turkey came out after cooking it with oil. This product is highly convenient, with a build that includes grab hooks and a poultry rack, so you don't have to spend on more accessories. It's safe to use around the family because of its leak-and-spill-free design. But, because it has such a large capacity, it isn't suitable for cooking smaller poultry.
Large Pick
Although we prefer using gas and propane fryers for their energy efficiency, we included this electric turkey fryer because of its incredible features. With a durable build that locks in the heat to properly cook the turkey on all sides, this oil-free turkey fryer creates the healthiest and juiciest turkeys, perfect for those who are keeping their calories in check. We also liked this products 2-in-1 feature — it acts both as a turkey fryer and a turkey roaster, adding to its versatility. But, because it's oil-less, it does require a bit of lubrication oil to stop the turkey from sticking inside.
Advanced Pick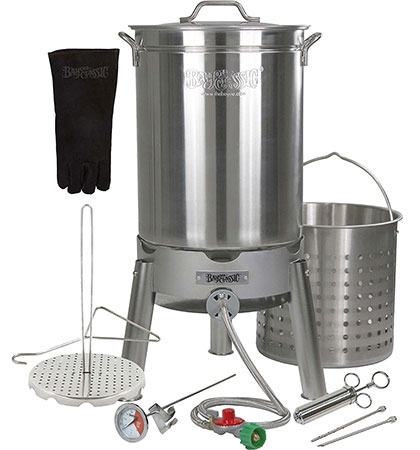 Among all of the turkey fryers we tested, this had the largest capacity of 25 lbs, allowing you to cook a massive turkey in one go. Made of fine aluminum, this well-built turkey fryer also enables you to do several things, including brewing, steaming, frying and boiling. One of the things we liked about this was its decent height at 12 inches above ground. It provides the ideal cooking surface and height, making it convenient to cook and prepare turkey meat on the spot. We actually found no flaws to this product, but rated it 5th (Advanced Pick) because it's a bit pricey and more ideal for big Thanksgiving parties.
End of Summary
Top 10 Turkey Fryers (May 2018): Detailed Buying Guide
Interested in frying your own turkey this summer? You have managed to come to the right place. On this website, we take our readers seriously and make sure to provide them with the best solutions for their purchasing requirements. We love turkey and that's the reason why our team has managed to come up with the best buying guide you will find on the entire internet.
Turkey fryers may be thought of as large-sized deep fryers. They come in different sizes and types. This guide features some useful details on 10 of the best turkey fryers available on the market to help you figure out the best pick according to your requirements.
Why Should You Trust Us?
This website has been active for almost 4 years now. During this span of time, we considered over 20 of the best turkey fryers. In order to ensure the legitimacy of the results, we have tested the majority of these products. This guide discusses various features on 10 of the best turkey fryers out there. These fryers have been selected after we spent more than 50 hours conducting comprehensive research work on the internet. Moreover, our team of professionals spent about a week in performing different tests to figure out the credibility of our choices. The main purpose behind this extensive amount of pre-work was to make sure our loyal readers get the most out of their purchase. Promotion of a certain product or brand is not the aim here.
Keeping that under consideration, we have come up with 10 of the best turkey fryers available on the market. A report containing a comparison of technical specifications provided by various models is also available for our readers.
Propane Fryer vs. Electric Fryer – Choosing Between These Two:
If you are planning on buying the best turkey fryer, there are two different options for you to choose from: electric and propane-based models. In case you haven't used a turkey fryer till now, there is a good chance that you might not be able to figure out the perfect fit for your requirements. Both these types of fryers are associated with their own pros and cons.
Majority of the users find electric turkey fryers to be a more convenient option. Using these fryers, all you need to do is plug them in and put in some oil. You are all set to cook just like that. Electric turkey fryers are created to use indoors as well. However, since we care about our readers, we don't recommend you to use a turkey fryer inside your house unless you like your house smelling like turkey grease for several days.
Electric turkey fryers offer safer operations in comparison to propane based models where you want to take some additional safety measures. Electric turkey fryers are placed on a table or the ground rather than sitting on some sort of stand. So there aren't any chances of the fryer tipping over in case a kid or a pet bumps into it accidentally. An automated safety shutoff feature is also instilled into the product in case the oil gets hotter than the required level.
Propane turkey fryers are meant to be used outdoors. They need you to have a good amount of propane to take your turkey all the way across the process of cooking. Running out of fuel is one of the worst things that could happen while frying your turkey. In case you have a propane smoker or a grill, it is always recommended to have some extra fuel lying around just in case.
One major advantage offered by a propane turkey fryer is its ability to achieve the right temperature quickly and then maintain it at the right levels. When a turkey is dropped into a fryer, the temperature of the oil drops down significantly. Therefore it is important for the fryer to bring it back up to the optimal level immediately so that the bird doesn't absorb lots of oil. Unlike electric turkey fryers, propane based models take care of this situation right away.
Important Considerations While Choosing a Good Turkey Fryer
Size and Capacity:
While buying an electric fryer for using indoors, you might want to get a model that might be able to fit on your countertop conveniently. In such a scenario, you might have to make a sacrifice on the capacity since majority of the fryers may accommodate only 14 pounds of turkey at most. Fryer pots and propane fryers may vary sufficiently in capacity. Some of these products may fit turkeys up to 18 lbs. while others are large enough to accommodate 20 lb. birds as well. When deciding the right capacity for your product, it is important to consider the number of people you normally prepare food for. 14 lb. turkeys usually feed almost 10 people while 18 lb. ones are good for 12 people. 20 lb. turkeys are large enough to be enough for 14 people.
Oil vs. Oil-less:
Oil-less fryers are now seen commonly in the market but turkey cooked using those fryers does not taste as good as the one prepared using oil fryers. Unlike conventional cooking methods like ovens, both oil-based and oil fewer turkey fryers have the ability to cook any turkey recipes, including ground turkey at an extraordinarily fast pace.
Oil-less turkey cooking products are usually safer in comparison to oil fryers since they do not incorporate the use of hot oil. These products may produce fine turkeys but if you are a fan of the typical deep-fried turkey, you won't be able to get that from an oil-less cooker. They use radiant heating techniques for cooking the turkey till it becomes golden brown. The cooking speed is also slower in comparison to that provided by oil fryers.
Indoor vs. Outdoor:
Our comparison includes both outdoor as well as indoor turkey cookers. Indoor cookers use electric power to operate while outdoor cookers burn propane. Keeping that in view, indoor cookers are safer in comparison to outdoor units.
The outdoor and indoor fryers reviewed in this guide use oil for cooking. However, after the turkey has been lowered into the unit, outdoor cookers need some extra effort for operating. Indoor fryers feature built-in timing modules that sustain the oil temperature at the right levels all the time. In case of outdoor fryers, it is your job to keep the temperature at the optimum levels manually. As far as safety is concerned, indoor electric powered turkey cookers are safer in comparison to outdoor propane based units. Indoor fryers come with a number of safety features especially an automated shut off function. Moreover, they do not make use of an open flame to cook the turkey unlike outdoor fryers. Outdoor turkey cookers do not usually possess a UL certification. This suggests the fact that they are not safe for operations. Finally, you also need to consider that outdoor fryers cannot be used out in the open when the weather is not right. This is because you need to operate these cookers about 10 ft. away from your building for safety concerns.
Other Features and Accessories
Majority of the turkey cookers feature wired cooking baskets along with a hook to manage the bird easily. They also come with a thermometer to make sure the bird is cooked properly. A few of the models also feature marinade injectors so that you might be able to infuse the turkey with a marinade of your choice before cooking it. You might also be able to spot sets including skewers for smaller birds like chickens.
Most of the fryers come with drain valves to make cleaning more convenient. Using such a valve, you might drain off the oil after cooking your turkey. A few of the indoor electric powered models also offer built-in timers. They may be used to ensure the turkey is not overcooked.
Who is Turkey Fryer for?
A turkey fryer is something that is not an essential requirement for a household. It is more of a luxury for people with a taste for cooking their own food. Some of the best-suited users who might want to buy a turkey fryer are discussed below.
Outdoor Adventurers:
Outdoor adventures like camping, hiking, and hunting are associated with great fun. People who like to spend time on such expeditions are usually willing to cook their own food. Portable outdoor turkey fryers come in handy for such people as they allow them to cook some delicious meat on the move.
Large Families:
Families with a large number of members tend to make their own turkey every now and then. Buying a turkey fryer would surely enable large families to satisfy their appetite for turkey on different occasions, especially Thanksgiving Day.
Cooking Enthusiasts:
Turkey fryers are a must for people who love to cook good food. These products offer a high degree of versatility when it comes to cooking. Majority of the turkey fryers enable you to fry, boil and steam different types of meat including turkey, chicken, and other birds. This surely widens your eating choices by a whole mile.
People who like to eat healthy:
Foodies who find it hard to put a stop to their cravings for meat must buy the best turkey fryer out there to satisfy their urges while eating healthy. Oil-free turkey fryers cook up the most delicious turkey while going easy on the calories. Turkey cooked using such an appliance is not only delicious but it is also free of extra fats and calories to keep your diet controlled and balanced.
Benefits of Using the Best Turkey fryer
This section provides some useful details on some of the advantages of using turkey fryers.
Frying a turkey takes up lesser time in comparison to roasting it using an oven. It takes almost 3 hours to oven roast a 12 pounds turkey while fryers cook it in about 30 minutes.
When you are cooking the turkey using a fryer, the oven may be used for preparing side dishes like casseroles, dressings, and desserts.
Unlike ovens, fryers make sure that the turkey sustains all its juices and moisture
Fryers cook turkeys in the perfect way possible. The turkey gets cooked properly from all the sides, leaving you with a golden crispy skin.
Turkeys cooked using fryers are more delicious since the hot oil heats up all the sugars and proteins present in turkey skin.
How We Picked and Tested
The process of selecting our products involved a good deal of practical testing that was carried out by our volunteers. We have been working on this website for over 4 years now. During this time, more than 20 different turkey fryers were considered by our team members who later tested the majority of them to come up with the right results. We don't say these products are perfect. But these are definitely among the best ones available in the market.
Over two months were utilized for testing these products through community-based usage. We figured out the performance of these products with and without their operation guides. The performance of these products was tested while analyzing their usability, type, weight and size, appearance, cooking capacity, accessories and other important considerations. In short, the products were chosen after going through a whole lot of focused hard work.
The confidence we have in our products may be counterchecked by going through our research report that is attached with this guide. It contains an overview and comparison of the features offered by our chosen products.
Our Top Ten Product List:
The selected products were analyzed on the basis of 39 of the essential features required in a turkey fryer. The research report compiled by our team members offers valuable information on how to make the right purchase on account of turkey fryers. Our readers are requested to like our social media pages for accessing our research report and learn all about our new posts and updates.
See the research report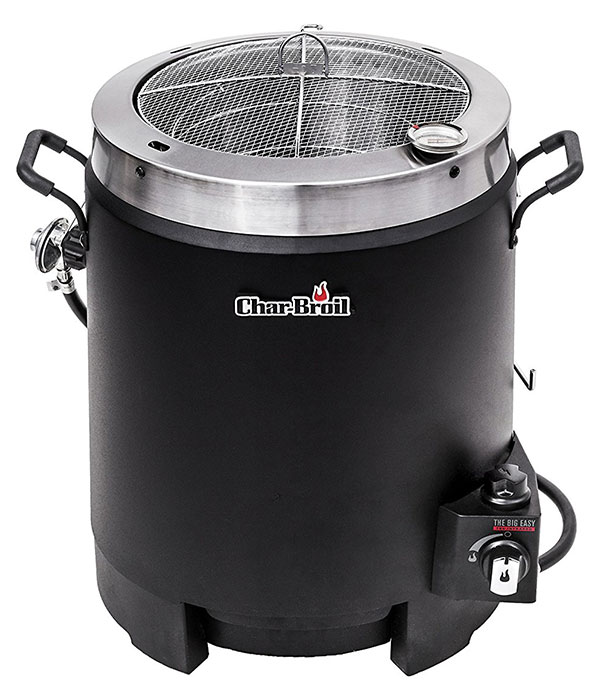 Char-Broil Big Easy Oil-less Liquid Propane Turkey Fryer
Get It On Amazon
Why is This Product Our No 1 Pick?
We carried out an analysis of this product on the basis of 39 important features that are a must for good turkey cookers. The Char-Broil Big Easy Fryer holds true for most of these features which make it one of the best turkey fryers in the market. An overview of the technical rating and features depicted by this product is shared in the research report as well.
The product offers a variety of some of the essential functionalities but at the same time, it comes with an affordable price tag. The product may be bought off the market for under $100.
When the rating frequency for the 30 latest ratings on Amazon was analyzed, we came to learn that the product is being rated by new customers at a fast pace. The first ten ratings were received by the product in only 4 days while the 2nd and 3rd ones were received in 7 days and 1 day respectively.
The product offers a variety of high-end features but some of the most compelling to list it as our number 1 pick are listed below.

This is an infrared, oil-less turkey fryer with TRU-Infrared technology that ensures juicy meat and crispy skin with every cook.
Since this is an oil-free turkey cooker, the cooked turkey is free of extra calories. Moreover, cleaning up the product is easy in comparison to oil-based models.
The fryer is large enough to hold a 16 lb. turkey.
Allows you to cook a turkey, chicken, roasts, etc. with a great degree of convenience.
Features a rotary ignition that offers easy and quick light with a simple knob turn.
Comes with a front access tray that offers convenient cleaning of the grease

Detailed Review:

Size and Capacity:

This Char-Broil turkey fryer allows you to prepare a turkey up to 16 lb. in size. We particularly liked the fact that it provides you with versatile cooking options. In addition to turkeys, you may also use it for cooking chicken and other types of roasts.

Type:

The Char-Broil Big Easy Fryer is a liquid propane based model. We found it to be equally good for operating indoors as well as outdoors. All you need is a liquid propane cylinder to operate it anywhere.

Oil vs. Oil-less:

This is an oil-less turkey fryer that provides you with a healthy and convenient way of cooking. When we prepared this guide, we considered many oil less turkey fryers but not all of them provided a cooking experience that was both healthy as well as delicious at the same time. This Char-Broil Turkey Fryer caught our attention since it had this unique ability.

Convenience:

When we tested different turkey fryers under different conditions, we found it to be convenient to use. It does not use any oil, so there are no risks of spills or burns. It also saves you from the trouble of spending money on lots and lots of oil. The operational facilities incorporated in the product are handy as well. This turkey fryer's whole structure is easy to clean and the parts come off easily. It also features a front-access tray to catch grease drippings that may be removed easily to clean the fryer.

Safety Features:

Since this is an oil-less model, there are no risks of oil burns or spills. It lets you enjoy the hassle-free experience of cooking your meat in only 10 minutes per lb. In order to provide you with safe repositioning facility, it also features cool touch handles, one of its many amazing features.

Accessories:

The whole package of Char-Broil Oil Big Easy Fryer includes a high-end turkey cooker, lid, meat thermometer, cooking basket, lifter, and an operation manual.

Pros

Oil-less model – offers safe and healthy cooking
Easy 2-button operations
Perfectly even distribution of heat
Allows you to inject marinades
Fast cooking

Cons

May cook turkeys weighing up to 16 pounds only
Doesn't feature a smoke box to house wooden chips

Finally

We selected the Char-Broil Turkey Fryer as our number one pick since it passed our 39 parameters test required to become a good turkey fryer. We had a good experience using this unit while its Amazon reviews tell the same story. It has a cooking capacity of 16 pounds. Using the liquid propane based oil less cooking technology, this fryer cooks crispy and juicy turkey that is both healthy and delicious. We recommend that you buy the Char-Broil Turkey Fryer since it provides a pleasant experience on accounts of using, maintaining and cleaning it.




Char-Broil The Big Easy TRU-Infrared Oil-Less Turkey Fryer

Get It On Amazon

Why is This Product Our Runner-Up Pick?

If you go through the research report provided with this guide, you will come to know that this product is a great choice for taking care of your turkey cooking needs. It offers a variety of features that are found in any good turkey fryer. As a matter of fact, this model offers almost the same features as those offered by our number 1 pick.

The Char-Broil TRU Infrared turkey fryer has a cooking capacity of 16 lbs. It cooks using a high-end TRU infrared-based technology that ensures the proper cooking of your turkey from all angles. It also features rotary ignition that helps in the accurate cooking of your meat.

As far as the rating frequency received by this product is concerned, it is pretty good. It received its first 10 ratings within only 12 days. The 2nd and 3rd 10 ratings were received in 11 and 10 days respectively.

The reason behind listing this one as the runner-up pick is because it is a bit expensive in comparison to our top pick. Moreover, it weighs heavier as well.

Detailed Review:

Size and Capacity:

The Big Easy TRU Infrared Turkey Fryer is large enough to cook up to 16 pounds of turkey at once. Its performance rate is satisfactory. When we tested this product, we found out that it takes up about 8 to 10 minutes to cook each pound of turkey. So, for a 16-pound turkey, the fryer took almost 2 hours but the end result was worth the wait.

Type:

The Char Boil Turkey Fryer works on the principle of patented TRU infrared technology. This cooking technology makes sure the heat is spread all across the entire turkey in an even fashion within leaving any cold spots. While working on this guide, we considered many turkey fryers with different features. Upon testing this particular model, we experienced a vivid difference in the cooking quality as the turkey cooked by this Char-Broil Turkey Fryer was properly cooked from all sides.

Oil vs. Oil-less:

Just like a few members of our research team, if you are concerned about eating the right food, you will find this model to be of particular interest. This is an oil-less turkey cooker so it helps you keep your calories in check. In contradiction to the common misconception that oil less turkey fryers don't cook good tasting turkey, we found the turkey cooked by this model delicious and well-cooked.

Convenience:

When we tested this model, we found out that it offers an easy and convenient cooking experience. It comes with 2 control knobs that are used to switch on/off the fryer and control the intensity of the burner. The turkey fryer comes in a compact size that provides easy storage of the turkey.

Safety Features:

The product does not make use of any oil so there is no chance for any oil burns or spills. The overall build of the product is of fine quality as well.

Accessories:

The packaging comes with a turkey fryer, cooking manual, thermometer and a cooking basket.

Pros

Oil-free turkey fryer – doesn't need you to buy lots of oil
Easy to operate
Easy to clean and maintain
Uses TRU infrared technology that ensures proper distribution of heat

Cons

Takes longer to cook than oil fryers
The thermometer is not so accurate

Finally

While researching on oil less turkey fryers, we found this particular model to be very interesting since it incorporates the TRU infrared technology. It is very similar in features to our top pick but comes with a higher price tag and a heavier weight, hence being our runner-up pick. This oil less turkey fryer makes use of TRU infrared technology that ensures an evenly cooked, delicious and healthy turkey. Upon testing this product, we found it in accordance to the claims made by the introductory packages. You can buy this turkey fryer if you are not willing to make any compromises on the taste as well as healthiness of the meal you are going to serve your family.

Bayou Classic 3025 30-Quart Aluminum Turkey Fryer

Get It On Amazon

Why is this product Our Budget pick?

Taking a look at our research report would give you some idea about the different features offered by the Bayou Classic Aluminum Turkey Fryer. You will also find out how it comes at the lowest price while offering the best possible features this guide has been looking for. That's the reason why we chose this product as our budget pick.

The Bayou Classic is a commercial grade turkey fryer. It is a lightweight product that is capable of frying an entire in only 45 minutes at most. It has a 30-quart capacity and is manufactured using fine quality aluminum that ensures the proper circulation of heat for accurate cooking without leaving any cold spots.

The product is also doing great when it comes to ratings. The first 10 ratings were received in only 10 days while the 2nd and 3rd 10 ratings were received in 9 and 12 days respectively.

Detailed Review:

Size and Capacity:

This product has a capacity of 30 quarts and is capable of frying a 20 lb. turkey in about 45 minutes. While working on this buying guide, we considered a number of both oil based as well as oil less turkey fryers. It not only has a large bucket to house a massive turkey of 20 pounds but also has the capability to get it cooked in less than an hour.

Type:

When it comes to the type, the Bayou Classic is a portable turkey fryer that is light in weight. The overall build quality is pretty decent since quality aluminum is used in the manufacturing of this fryer. Its large size and quick cooking capacity make it a perfect choice for both domestic and commercial users.

Oil vs. Oil-less:

This model uses oil for frying turkeys. The commercial grade build makes sure that the oil heats up at even temperature ensuring juicy and tender meat. When we tested its performance, we were impressed by the taste and the quality of the turkey cooked by the Bayou Classic.

Convenience:

When using the Bayou Classic, we realized that it offers a high degree of convenience when it comes to using the product. It has a grab hook along with a perforated poultry rack that provides for convenient handling of the meat. Upon trying to fry a turkey using this fryer, we found the entire experience to be easy and simple.

Safety Features:

The product is constructed in a way that there is no room for any leakage or spilling of the hot oil. This makes it a safe choice for frying turkey.

Accessories:

It comes with a grab hook, a perforated poultry rack, and a high-end SS thermometer as well.

Pros

Large capacity – may cook a 20 lb. turkey easily
Convenient oil gauging
High-end construction quality

Cons

Not suitable for preparing smaller birds

Finally

The Bayou Classic is a massive turkey fryer that uses oil for cooking turkey and a variety of other meats. We listed the Bayou Classic as our budget pick since it comes at a budget-friendly price while offering a massive capacity and versatile cooking options. Upon testing this product, we had a convenient experience while it also had a number of positive reviews posted online. We recommend this product for both domestic and commercial users considering its affordable price, and large and quick cooking capacity.

Masterbuilt 20100809 Butterball Electric Turkey Fryer

Get It On Amazon

Why is This Product the Best Electric Fryer?

When you go through the research report attached with this guide, you will come to learn that the Masterbuilt Butterball is a fine oil-free electric turkey fryer that offers several positive features. The best part about this product is that it may serve you as a turkey roaster as well. The 1650 watt powered electric element is capable of cooking an 18 lb. turkey easily. The product also received a number of positive ratings within only a small time span. The 1st 10 ratings were received in only 10 days. The 2nd and 3rd 10 ratings were received in 10 and 11 days respectively.

Detailed Review:

Size and Capacity:

Out of all the products we tested while coming up with this review, the Masterbuilt Butterball is one of the fryers that offer the largest cooking capacities. This fryer is capable of cooking a large turkey having a size of up to 18 lbs. conveniently.

Type:

While working on this guide, we preferred to choose gas and propane fired turkey fryers since they are energy efficient. But the features offered by the Masterbuilt Butterball were compelling enough for us to include it in our top ten products even when it is an electric turkey fryer. It is powered by 1650 watts of electricity and features a two-wall construction. This fine build quality seals the turkey's outside using radiant heating and cooks the turkey properly from all sides.

Oil vs. Oil-less:

This is an oil-free turkey fryer that is designed to provide healthy turkeys for your family. If you are one of those people who keep every single calorie in check, buying the Masterbuilt Butterball might be the best choice.

Convenience:

The product is easy and convenient to use. It comes with an analog control that allows user-friendly operations. There is a removable drip pan that allows you to clean up the fryer without going through any trouble.

Safety features:

The Butterball features a lid clip that provides safe handling of the turkey. There is a tempered glass covering that enables you to safely look at your turkey while cooking.

Accessories:

The packaging for this oil-free electric turkey fryer includes a fryer, a wooden chip box, a manual booklet and a removable drip pan as well.

Pros

2 in 1 – fryer and turkey roaster
Comes with good operational instructions
Allows infusion of seasonings during the cooking process

Cons

The oil-less fryer needs you to apply some lubrication oil on the wired basket to keep the turkey from getting stuck

Finally

We listed the Masterbuilt Butterball as our best oil free electric powered turkey fryer since it serves as a roaster as well as a turkey fryer while offering some amazing features. With a cooking capacity of 18 lb. and a powerful 1650 W electric element, this fryer cum roaster is capable of making evenly cooked turkey efficiently. Our team members found this product to be amazing in operations while its online reviews also tell a similar tale. If you are concerned about the health of your family and like to eat yummy food without having to worry about refilling liters of oil, you can give it a try.




Bayou Classic Oversized Turkey Deep Fryer

Get It On Amazon

Why is This Product Our Advanced Pick?

As evident from our research report, this model comes with the largest capacity among the other tested cookers. Using this fryer, you might be able to fry turkeys up to 25 lbs. in size. It comes with a number of stainless steel accessories along with an aluminum hook and rack.

This commercial grade turkey fryer, as well as its accessories, is safe for dishwashers. The packaging includes a bunch of accessories that aren't usually provided by competing models. These include insulated gloves, a seasoning injector, thermometer, grab hook, poultry rack, etc.

The legs of the fryer are convenient to assemble since they use a single bolt. If you like it to serve you as a portable turkey fryer, disassembling it is equally convenient. Keeping all these features in mind, we chose this model as our advanced pick.

Detailed Review:


This section provides an in detail review on some of the major features illustrated by this outdoor propane fryer.

Size and capacity:

The Big Bird Kit by Bayou Classic offers one of the largest capacities among all the products we tested ourselves. With a capacity of 44 quarts, this commercial-grade turkey fryer is capable of cooking up to 25 lbs. of turkey in a single go. This amount of storage capacity makes this model a viable choice for large families and commercial establishments.

Type:

The big bird turkey fryer is manufactured using fine quality aluminum and is capable of frying large birds with a high level of convenience. Upon testing this turkey fryer, we found the entire cooking experience to be easy and simple. The aluminum build is pretty elegant and designed to last for a long time.

Oil vs. Oil-less:

This product may be thought of as a hybrid model that enables you to brew, steam, fry and boil a turkey as per your own requirements. Unlike the other products tested by our team members, this fryer was found to be unique in its working operations, yet the delivered performance was satisfactory.

Convenience:

We especially liked the fact that this outdoor turkey fryer stands at a height of 12 inches from the ground, providing you with a convenient cooking surface to do your turkey just right. Assembling and disassembling the fryer is also easy. This feature makes it a good choice for people who like to cook food on the move.

Safety Features:

This product offers high-end safety features that make the cooking process simple. It is manufactured using aluminum while the entire build is ultra fine and flawless. The structure is designed in a way that it is less likely to go through an accident.

Accessories:

The accessories included in the packaging are grab hook, poultry rack, thermometer, seasoning injector, etc.

Pros

Allows multiple cooking options – frying, brewing, boiling
Large capacity
Fine build

Finally

Out of all the turkey fryers we reviewed for this guide, the Big Bird Kit by Bayou Classic offers the largest cooking capacity of up to 25 lbs. There are numerous stainless steel accessories included in the packaging. The fryer is dishwasher friendly and easy to disassemble. We recommend this product to users with large families, commercial establishments and people who like to cook their own food in large gatherings.

A List of 5 Other Turkey Fryers We Reviewed

Masterbuilt 20010109 Butterball Turkey Fryer

Get It On Amazon

Size and Capacity:

When researching the Masterbuilt Butterball Professional Series, we found this product to be an interesting choice for home users. This device is large enough to cook a 14 lb. turkey properly. Its cooking rate is only 4 minutes per lb, which means it can cook a turkey in less than an hour. Upon testing this turkey fryer, we were able to cook our turkey in about 50 minutes. This proved that it is a practical choice for home users.

Type:

Just like the other Masterbuilt Butterball products we reviewed above, this model also is an electric based stainless steel fryer that comes with porcelain coating on the inside which we liked since it adds up to the elegance and makes it more durable. It is powered by a 1650 watt electric system for heating up the oil at a fast pace.

Oil vs. Oil-less:

The butterball requires oil to fry the turkey. Its high-end cooking technology cooks up a turkey with 33% lesser oil in comparison to other similar models. In the research phase of writing this review, we discovered this fact and decided to include it in our guide since we focus upon products that cook healthy turkey.

Convenience:

The fry basket comes with an inbuilt drain valve that offers convenient drainage. Wrapping it up is also easy as it offers a storage compartment to put in the cord.

Safety Features:

This model is designed to work indoors. Therefore, it is associated with a number of safety features. The components used in its manufacturing are of high quality to make sure the mechanism does not burn up with the flow of extensive electricity.

Accessories:

It comes with a wired basket, carry handles and a detailed and informative operating manual.
Check customer reviews on Amazon

Pros

Can be used indoors
Cooks turkey in lesser time than oven
Cooks better-tasting turkey

Cons

Above the ground oil drain – leaves some oil even after draining

Finally

This particular model is a good addition to the Masterbuilt Professional Series of turkey fryers since it is designed to cook turkeys with 33% lower consumption of oil. We recommend this fryer for homeowners since it is capable of cooking a medium sized turkey in less than an hour.

Masterbuilt 23011114 Butterball Turkey Fryer

Get It On Amazon

Size and capacity:

This XL model introduced by the Masterbuilt Butterball Series offers a larger cooking capacity in comparison to the model we just reviewed above. It is large enough to fry a turkey up to 20 lb. in size. When testing this product, we found it delivered a very similar level of performance and efficiency that the Masterbuilt line of products is known for.

Type:

This one here is an electric turkey fryer that uses 1650 watts of energy to operate. Considering the larger size and the powerful cooking capabilities, we recommend this turkey fryer to domestic users with medium sized families. We like the fact that the Masterbuilt series of turkey fryers is manufactured in a way that it consumes only a small amount of oil in the process of frying a turkey. This model also cooks a turkey with lower oil consumption which makes it a useful choice for people who are concerned about their health.

Oil vs. Oil-less:

The product makes use of oil to cook a turkey. We like the fact that the Masterbuilt series of turkey fryers is manufactured in a way that it consumes only a small amount of oil in the process of frying a turkey. This model also cooks a turkey with lower oil consumption which makes it a useful choice for people who are concerned about their health.

Convenience:

We found this fryer to be easy to use while our team members took it for a test run. In addition to easy operations, the fryer was found easy to clean up after cooking. It offers a vent and a drainage valve to get the oil out without any hassle.

Safety Features:

The design offered by the product is pretty unique and the construction is carried out to ensure operator's safety. It is made up of stainless steel while the interior is coated using porcelain to make sure there is no spilling or dripping of the oil.

Accessories:

The package includes the turkey fryer along with a turkey basket, an operation manual, a breakaway cord and a double lifting hook.

Check customer reviews on Amazon

Pros

Easy to maintain and clean up
Generates little smell
Uses 33% lesser oil

Cons

The cord is small in length

Finally

This XL model by Masterbuilt Turkey Fryer series offers a comparatively larger capacity. We recommend this product for medium sized families since it is capable of cooking a large turkey with efficiency. Its low oil consumption feature makes it a healthy choice for your family members.

Bayou Classic 1118 32-Quart Turkey Fryer

Get It On Amazon

Size and Capacity:

This is a 32-quart turkey fryer capable of frying a large turkey. We found this turkey fryer to be a viable choice for cooking medium and large sized turkeys as well as other birds. The performance delivered by the 1118 was satisfactory since it properly cooked the turkey for us in a short period of time.

Type:

While testing this product, we found it to be particularly interesting since it is capable of doing more than just frying a turkey. The Bayou Classic 1118 offers multiple functionalities including frying, boiling and steaming turkey. We were intrigued to try all these functions and the product seemed to work just fine in all respects.

Oil vs. Oil-less:

Upon researching the turkey fryers made by Bayou, we concluded that the company is inclined towards manufacturing oil less products. Just like most of the other turkey fryers produced by the company, this one also oil-less turkey fryer. We recommend it to families that are conscious about their health since it helps cook healthy turkey recipes.

Convenience:

During the testing phase, we found this fryer to be easy to operate. We especially liked that it comes with durable handles that provide easy transportation and make it safe for the user to operate the turkey fryer while it is in the middle of cooking. There also is a vented lid which adds up to the ease of use.

Safety features:

The product is created using stainless steel that is one of the most reliable materials for such devices. It can withstand a temperature up to 750 degrees F. The perforated basket is strong and capable of providing safe operations.

Accessories:

The packaging includes the fryer itself, a marinade injector and a thermometer.

Check customer reviews on Amazon

Pros

Multiple cooking solutions – boiling, frying and steaming
High-quality stainless steel build
Portable turkey fryer

Finally

The Bayous Classic 1118 is a large turkey fryer with a 32-quart capacity. We found this product to be an easy fix for domestic users since it provides hassle-free operations and amazing cooking results. It offers a number of safety features as well, which makes it an amazing choice for beginners and home users. The turkeys we prepared with it were well cooked and tasty at all times.

King Kooker 1265BF3 Propane Deep Fryer

Get It On Amazon

Size and Capacity:

The King Kooker is a medium sized turkey fryer. We found the overall build and structure of the product to be well suited for outdoor use. This portable fryer has a 29-quart capacity. It may be used for cooking turkeys of all sizes along with other types of meat.

Type:

This is a high-end welded outdoor portable propane fryer that comes with a cast burner of 33000 BTUs. Our team members found this fryer to be a good fit for people who like to cook outside their houses. The product is fired up using propane and the burning mechanism incorporated in this fryer consumes the fuel very efficiently, making it an energy efficient product.

Oil vs. Oil-less:

The King Kooker uses oil for frying up the turkey. Unlike the traditional turkey fryers available on the market, it is capable of cooking a turkey without absorbing lots of oil. The turkey that we made using this fryer was not only delicious but also contained the optimum amount of oil.

Convenience:

When testing this product, we concluded that the King Kooker provides convenient cooking operations to its owners. It is easy to operate and perfect for use by first-timers. It also features a large pot with a fill line to avoid over filling. The controls are pretty simple too.

Safety Features:

The product is safe to use. It comes with a stand that allows you to operate the device from a safe distance. The build quality is extraordinary. It is properly sealed to avoid any spills or leakages during the runtime.

Accessories:

The accessories included in the packaging are the King Kooker itself, a lifting hook, a turkey rack, a turkey basket and 2 aluminum pots.

Check customer reviews on Amazon

Pros

Budget-friendly
Easy to use
Comes with 2 aluminum pots

Cons

Uses lots of fuel
Small in size

Finally

The King Kooker is a portable propane fired turkey fryer. With a cooking capacity of 29 quart and a cast burner of 33000 BTUs, it is perfect for outdoor use. We especially liked the fact that this fryer is completely portable and carrying it around is not a problem. We recommend you to buy this product if you often like to have people over for dinner or lunch.

Bayou Classic 4225 Grand Gobbler Turkey Fryer

Get It On Amazon

Size and Capacity:

The Bayou Classic 4225 is the largest turkey fryer available in the range of fryers offered by Bayou. It has a capacity of 42 quarts which makes it one of the largest turkey fryers available these days. When we tested this product, we realized that you may fry a large 25 lb. pound in this cooker easily. The large capacity of this fryer makes it a viable choice for commercial users.

Type:

This large-scale turkey fryer is designed using aluminum to house large turkeys. Upon testing the product, we found that it provides proper cooking with an even distribution of temperature among the whole chunk of meat. Since this is a large capacity turkey fryer, the company seems to have made some special effort on designing its working mechanism.

Oil vs. Oil-less:

The Bayou Classic 4225 uses oil for frying up the turkey. Unlike the usual low-end turkey fryers on the market, this one consumes oil intelligently. It would be better if you know all aspects of turkey fryer oil to make the best use of it.

Convenience:

The design and build of the fryer are pretty sturdy. The well-adjusted handles since they are capable of providing a safe operation and easy management of the turkey. When our team members tested this turkey fryer, they found the cooking experience to be simple and easy. In addition to cooking, the product offers convenience when it comes to cleaning and disassembling it.

Safety Features:

The construction of the product is designed to ensure the safety of the user. It comes with properly oriented handles and lids to make sure there aren't any safety hazards during the cooking process. Considering the safety features incorporated in the product, we recommend it to first timers as well as pros.

Accessories:

The fryer comes with a heat-resistant glove, a lifter hook and a thermometer.

Check customer reviews on Amazon

Pros

Massive in size – ideal for frying large birds
Comes with a safety glove
Convenient design

Finally

We recommend the Bayou Classic 4225 to commercial establishments owners and people with large families since it offers a large cooking capacity of up to 25 pounds. The product is up to mark when it comes to performance and safety features.

List of Other Products We Tested

Maintenance Tips and Tricks

In order to get the most out of your turkey fryer, it is important to deploy the right tips to carry out their proper maintenance. Some useful tips and tricks are given below for your convenience.

Majority of the turkey cookers come with fill lines to give you an idea about the right amount of oil. In case there are none in yours, put a turkey into the pot while keeping its legs upwards. Now take a measuring cup and start putting in some water till the turkey is completely soaked into it. Count the number of cups and drain the water. Now put in the exact quantity of oil to start cooking your turkey.
Propane based turkey cookers are meant to use outdoors. It is important to put the cooker at a distance of 10 ft. from any structures like your garage or your house. The cooker must never be placed on a wooden deck as well.
Water and oil do not mix. Therefore, you need to dry up your turkey before putting it into the fryer.
If you are planning on frying your turkey, peanut oil might be the best way to go. It comes with a neutral flavor and high flash point. Vegetable oils might also serve you well.
Majority of the propane-based turkey cookers do not feature a built-in thermometer. Get your deep-fry fry thermometer to keep the temperature in check all the time with the right way of use.
Turkey fryers are prone to catching fire. So never leave it unattended.
In case you come across a fire, never try putting it out using water. Always keep a fire extinguisher by your side while you are using a turkey cooker.
The outer layer of turkey cookers tend to get extremely hot while operating. Never touch it with bare hands. Use mitts or potholders if you must touch the handle, pot or lid of the fryer.
Cooking your turkey at the optimum temperatures is also important. The optimum temperature for dark meat is around 175 to 180 degrees F while you may cook your dark meat somewhere around 165 to 170 degrees F.
After cooking a turkey, leave it for about 20 minutes before you remove it from the fryer's rack or the wired basket.

Should You Upgrade Your Turkey Fryer?

When it comes to upgrading a turkey fryer, there are a number of considerations. If you believe your family is getting bigger and your existing turkey fryer is not large enough to cook a turkey for the next Thanksgiving, maybe its time for you to get a new turkey fryer. Similarly, if you are facing some health issues or willing to eat healthy, upgrading your existing model to an oil-less turkey fryer might be a good call. Last but not the least, if you believe your existing turkey fryer fails to deliver safe cooking operations, you might want to get it upgraded immediately.

Wrapping it Up

This guide has provided you with some useful information on some of the best turkey fryers available on the market. If you are interested in healthy grilling and smoking, maybe it's best to choose an oil-less turkey fryer since it cooks delicious turkey in a healthy way. Going for an oil fryer would be the right call if you can't afford to make any compromises when it comes to the taste of your turkey. Either way, this guide provides the best information on which fryer to go for. You may also check out the research report to develop a better understanding on which turkey fryer to buy for your next Thanksgiving.

ADD_THIS_TEXT