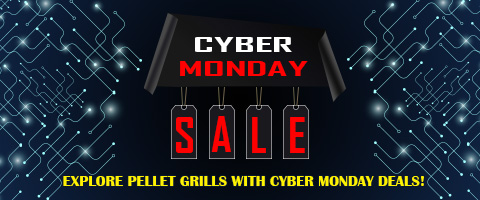 If you want the perfect steak- a seared exterior with grilled marks, then you need the best pellet grill for searing. This grill must be able to reach the high temperature and haves grates to which the food does not stick to while searing or during rotisserie. Finding the best grill to sear is easier said than done- there are just too many to choose from. To remove that obstacle between you and delicious steak, we have compiled a detailed review of the best pellet smoker with sear box variants in the market.
Comparison of the best pellet grills for searing
Depending on your needs and preferences, consider checking the following reviews as well:
The Best Overall: Camp Chef SmokePro DLX Pellet Grill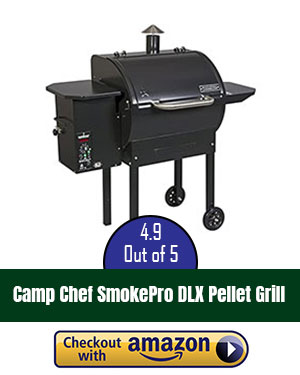 The Camp Chef SmokePro DLX Pellet Grill gives you over 570 square inches of the best cooking area with temperatures from 160 to 500 degrees Fahrenheit. The upper and lower rack provide you with an area of 141 square inches and 429 square inches, respectively. This Camp Chef Sear Box has a digital temperature display and employs an advanced chip with a PID controller to allow for a consistent temperature. One of the best features for both home and professional users it eh Ash Can Cleanout mechanism. This allows for simplified and quick cleaning of your grill.
The large pellet hopper allows you to spend more time grilling and less time refilling it. The pellet auger dispenser is automatic and shuts off when complete. It is also uses a Grease Management System. In case of a power failure, it also restarts automatically so that you can continue cooking without any issues. Camp Chef also backs it with a 3-year warranty, so you can be sure of getting a perfect steak for several years.
Pros
Large cooking areas, sufficient for 2 turkeys
Easy to clean
Wide temperature range
Precise temperature control
Cons
Removing pellets from the hopper for storing can be hard
Value for Money: Green Mountain Davy Crockett WiFi Control Portable Wood Pellet Grill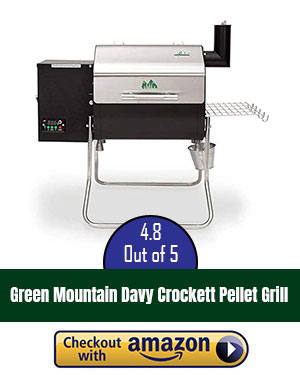 This pellet smoker with the sear box from Davy Crockett comes with a thermal monitor for constant monitoring of the inside temperature. What makes it one of the best grills for your travels and outdoor use is that it weighs only 68 lbs and you can fold it easily to fit in any trunk. The cooking area is 219 square inches, sufficient for 4-6 steaks or 2 racks of ribs. The temperature controls work in 5-degree increments and go all the way from 150 to 550 degrees Fahrenheit.
This grill is also WiFi-enabled. You can control and monitor it using the GMG Smart Control application. It runs on 12V/120AC, and you can easily power it with just a small solar panel or even the car battery on your camping trips. At just $300, this is one of the most feature-rich grills in the segment.
Pros
Low power consumption
Portable
Precise temperature control can be monitored from your phone
Pellet hopper with view window to check usage
Best for Professionals: PIT BOSS BBQ Pellet Grill and Smoker 71820FB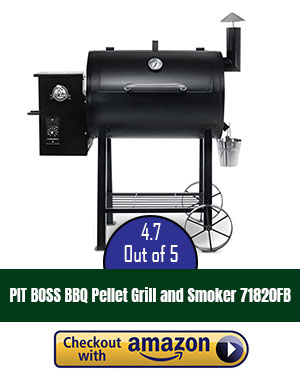 With 820 sq. in. of cooking area, this Pit Boss 71820FB smoker grill is the best pellet grill for searing for professionals. You get 580 square inches in the main rack and 240 square inches of cooking area in the upper rack, which is removable. The temperature range on this grill goes from 180-500 degrees Fahrenheit. The shell is made of cast iron which allows the grill to maintain temperatures easily.
You also get sufficient space on its bottom rack to store other items such as utensils and cleaning accessories. This grill also has a frame broiler so that you can grill on open flames, using the direct heat when required.
Pros
Large cooking area with removable rack
Extra storage space
A cast-iron grid that maintains the temperature
Flame broiler to allow open flame cooking
Cons
Hard to move, wheels can get dented
Best for Beginners: Camp Chef Woodwind Pellet Grill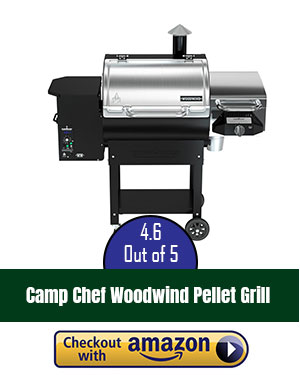 The Camp Chef Woodwind grill comes with a wide temperature range up to 900 degrees Fahrenheit and excellent temperature control. This makes it a great choice for beginners looking to get the best smoker grill for searing. The pellet feeder system used by it burns the meat slowly that gives it the perfect flower. It works with all standard 120V outlets.
Its ash cleanout system makes cleaning the grill simple and hassles free. Just pull a lever and all the ashes fall into its removable cup. The attached searing box lets you grill and sear meat to perfection. Just flip the meat over the burner and you are done.
Pros
High temperature range up to 900 degrees Fahrenheit
Easy to clean
Caster wheel for portability
Smart Smoke Temperature monitoring
Cons
Accessories are expensive
Best for Outdoor Use: Z Grills Wood Pellet Grill and Smoker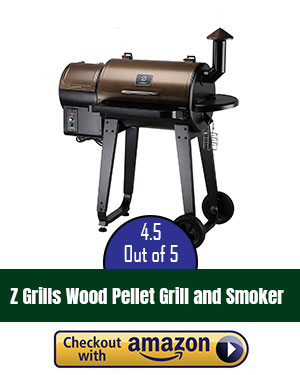 The ZPG-450A from Z Grills provides you 450 sq. in. of cooking area and a temperature range from 180 to 450 degrees Fahrenheit. It has heavy-duty wheels and is portable, making it ideal for outdoor use and camping. With just 20 lbs of pellets, you get a cooking team of around 20 hours which decreases the extra stuff that you have to carry with this grill. The hopper capacity is 15 lbs.
This searing grill has automatic temperature control so that both beginners and professionals can cook easily. It has a one-button start-up to eliminate the need for any starter fluid. The stainless-steel build of this sear box and grill makes it exceptionally durable. Thus, it is easily the best pellet grill for searing for outdoor use.
Pros
Easy to move around
Efficient pellet utilization
Digital temperature control
Versatile- can be used to grill, bake, smoke, braise, roast and barbecue
Cons
Grill handle heats up after prolonged use
Best Pellet Grill for Searing Buying Guide
What to look for when searching for the best pellet grill for searing
As you begin searching for the best searing grill, the number of choices in the market can be overwhelming. Apart from checking out the Amazon reviews for your preferred grilling appliances, there are a few other features to consider. Let us see what some of those are.
Temperature Range
For a good sear, you need a grill that can go to temperature levels of 500 degrees Fahrenheit or higher. The best choice would be to get one that can reach 800-900 degrees Fahrenheit.
Digital Temperature Control
The right temperature is integral to searing and cooking in any grill or oven. You will need a grill that has digital temperature control to give you the perfectly seared meat.
Ease of cleaning
Many searing grills have features like ash control systems, grease management, etc. Features like these make it easier to clean and maintain your grill and sear box.
Cooking Area
Depending on how many people you plan to cook for at a time, choose the cooking surface. 400 square inches or so is ideal for searing/cooking for 4 people. If you plan to cook for 6 or more people, go for 600-700 square inches of cooking space.
Cast Iron Grates
Cast Iron heats up easier as compared to stainless steel and retains the temperature. It also provides a non-stick surface, which makes it the ideal choice for searing all types of foods.
How to Sear on a Pellet grill
Even with the best pellet grill for searing, you cannot guarantee to get the perfectly seared meat. The technique is also important if you want that- and the following are a few steps to help you sear on your pellet grill for a delicious meal.
Ensure that the grill is preheated.
When it is preheated and ready to sear, set the temperature between 350-450 degrees Fahrenheit. Open the lid, put meat on the hot spot, close the lid, and cook for 3-5 minutes without any interruption.
Flip the meat and repeat the above steps.
For a tender/medium-rear steak, cook until its internal temperature reaches between 125-135 degrees Fahrenheit. Let it rest for approximately 15 minutes before you start cutting.
Thus, with these reviews and tips, you now know what to look for in the best pellet grill for searing and how you can use it to make the perfect steak.
FAQs and their answers
1. Do we need to use pellets all the time?
Yes, with a pellet grill, pellets are the only food source. You do not have any alternate heating sources like in a gas grill.
2. Can I use some other pellet brands except the ones recommended by the manufacturer?
While you can do that, different pellet brands and flavor burn differently. You may want to stick to the ones recommended by the grill manufacturer.
3. For how much time should the grill be preheated?
For most grills, it takes around 8 minutes to light the pellets and another 15-20 minutes to preheat it for searing.
4. Does the grill put off smoke?
Yes, especially when the pellets ignite, your grill may give off more smoke. This is normal and should decrease within a few minutes. It will give off little or no smoke once it reaches higher temperatures.