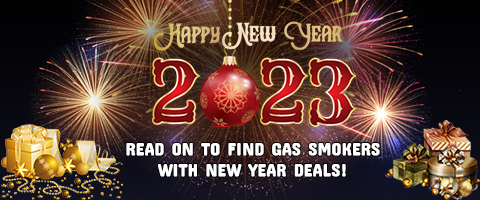 One day, I was walking through my neighborhood: it was a rather hot summer day and I was out enjoying the scenery. And that is when the smell of delicious BBQ smacked me dead across the face like a hot, heavy brick launched from a automated crane. My neighbors were grilling on their front lawn, the smell was so alluring and the BBQ looked so good that I could not help ask them what they were cooking.
Well, the question led to a conversation, and ultimately to a free BBQ tasting. I was so impressed by the quality of the food when I tasted it, the perfection of the sear marks, and the ease of cooking that I decided I would have one soon!
A few years have passed since then and me and my teammates have tested a few dozens of gas smokers during this period. Today, I am going to review the top 10 of them and tell you which one is good for which cases.
A Short Summary of Our Findings
The Masterbuilt 20051311 GS30D 2-Door Propane Smoker comes with a large cooking space of 717 square inches, but that's not all there is to it. Our favorite pick is affordable, in fact, our Top Pick actually has the lowest price in our review list. Still, the smoker offers tons of fantastic features such as great temperature control, heat seal-in features, and hassle-free clean-up. Most of all, this gas smoker always gives smoky and flavorful results, which will keep you coming back for more. Our top pick comes in larger versions for your larger parties so that more people can experience this smoker's stellar performance.
With damper valves that control the heat, several smoking racks, and adjustable heat control dials, this is one smoker that's easy to adjust according to your preference. How smoky do you want it? How much flavor do you want in your food? All of that is within your grasp. The Smoke Vault comes at a very affordable price yet it delivers top chef-level performance. Weighing in at only a 65 pounds, this little compact smoker is ideal for home and outdoor use. It could even work as a portable pick because of its light weight.
We consider the Char-Broil The Big Easy TRU-Infrared Smoker Roaster & Grill as our Beginner's Pick because of its TRU-Infrared Technology, which really elevates the smoking experiences and takes all of the effort out of your hands. With this smoker, you can rest easy and be assured that your foods will come out tender, evenly-cooked and juicy. For its small size, it can accommodate as much as two whole turkeys, which we think is a good size for beginners. We still think even the pros would love this product because of its smart technology!
With 7 adjustable cooking racks, this well-constructed gas smoker has the most number of cooking racks in our entire review list. It also comes with sausage hangers at the very top, so you don't have to worry about buying them anymore. Using an auto-ignite system, the Weston gas smoker also comes with a fully-adjustable gas propane system that makes it easy to control the heat. If the smoker is too large for your liking, you have the option to buy two smaller versions but still have the same features. Worried about its price? This smoker is actually the most durable in our review list, so it's actually a great investment if it's going to last you years.
Why Should You Trust Us to Get the Best Gas Smoker?
There are a lot of BBQ review sites out there on the web. And all of them will claim that they are the BBQ authority and that they are experts when it comes to getting the most accurate and honest information available. What a lot of those sites will not tell you is that they get paid to write positive reviews for certain products, or that they are endorsed by certain manufacturers.
The worst thing is if you search for the best gas smoker review on Google, you will see most of the so-called smoking & BBQing experts are mixing gas smokers with gas grills.
At Grills Forever, we can offer you the most informative and in-depth reviews because we write from first-hand experience! There are only two of us, but we pride ourselves in cooking and eating great quality BBQ! So when we review a gas smoker, you can rest assured we put our hard earned money, time, meats, and tastebuds on the line for you!
Who are Gas Smokers For?
With a gas smoker, all you have to do is insert your wood chips (if applicable), set the desired cooking temperature and timer, throw your meats in the smoker, and let it cook!
So you might consider getting the best gas smoker if:
If You Need "Set It and Forget It" Feature
You are looking for a less involved grilling experience while still getting that authentic BBQ taste that we all love! With the best gas smoker out there, there is little maintenance that needs to be done. All you need to do is set the temperature, set your timer and insert your meats. The smoker takes care of the rest!
If You like to have an Easy to USE smoker
Gas smokers are extremely easy to use. With these, you can easily control the temperature. Also, you don't need to be expert in fire management, etc when it comes to gas smokers, unlike charcoal smokers. This is the reason Gas smokers are not allowed in competitions because of them being too easy.
If You don't want to spend big
Most of the Gas smokers are priced between $150-$300 so they are cheaper compared to wood pellet or offset or kamado smokers.
Factors to Consider When Selecting the Best Propane Smoker
The most important features to consider when you are shopping for a new gas smoker are:
Capacity
The capacity of your gas smoker determines what you can cook. If you mainly grill hamburgers or filets, then grilling area may not be as important. But, if you like to do it big like me, you want to ensure your smoker is spacious with adjustable racks.
Dependability
You want the best gas smoker on the market that is going to offer you consistency: when it comes to using a gas smoker, you want to be able to "set it and forget it", knowing that when the timer goes off, your meats will be thoroughly and evenly cooked every time.
Price
Like I said, there are some gas smokers out there, whether cheap or expensive, that will share some of the same features. That is why our reviews are helpful: they weed through the sales points manufacturers want to get across and offer genuine feedback on the product.
Build Quality
You want a well-constructed smoker that will cut back on smoke and grease leakage. Make sure the cabinet captures and maintains the heat, smoke, and humidity because these three factors are the recipes for great BBQ!
Easy to Clean
When you are shopping for the best gas smoker as per your needs, you want to make sure that it is easy to clean. Check for features like removable racks and a grease pan. Certain grilling racks are also non-stick and dishwasher-safe, which is convenient!
The Burner
Determine what type of fuel you will want to use for your gas smoker beforehand. Another consideration when it comes to the burner is its size proportionate to the cabinet of the gas smoker for even heating. You also want to make sure that the burner is not too exposed to outside forces.
How We Picked And Tested?
The way we see it, there is only one way to pick our grills and smokers, and that way is hand-picking.
Here at Grills Forever, we take pride in personally testing out every smoker that we review. Not only does it force us to eat some of the best BBQ around, but it also lets us provide you guys with genuine reviews and accurate information. Additionally, We search the web and look up reviews for the top smokers on the market to cross check our experience with the rest of the crowd. We do not get paid to do what we do, so our focus is on serving our readers the best way that we can!
You can rest assured that if it is a smoker worth mentioning, we have bought it, grilled with it, and tested it to the greatest extent! We bust our butts and fill our guts testing and reviewing the greatest of the great and the latest smokers on the market. This is our passion and the quality BBQ we get to eat is the only benefit we need.
And because it is our passion, we go to just about any extent to get our job done right! Even when I was testing the Weber Genesis 61016001 E-335 (which belonged to one of my uncles), I was so excited to get this smoker home that I could not even wait for my friends to help me carry this 181 lbs monster from the car to the house. And in the process of unloading it, my heart dropped because the box almost fell out the car, but I was able to catch it and didn't have any problem with the smoker, thankfully!
The Best Gas Smoker Overall: Masterbuilt 20051311-GS30D Double Door Propane Smoker
So Why Is It Our No 1 Pick?
Before we get into the details, let us tell you first what made us put this in our top spot:
After analyzing over 43 products, Masterbuilt 20051311-GS30D Two-Door Gas Smoker stood first as to build quality, usability, and price. When compared to other gas smokers, it has a combination of the most important and useful positive features.
Its price is less than $180, which is, in fact, the lowest in our list of top 10
The unit comes with a gas supply regulator and a cooking temperature control, which both make it super easy to control the temperature all throughout the smoking process.
It has over a thousand positive reviews just on Amazon (the highest rating in our list), which shows other people tried, tested and loved this as well. Also, its review frequency is very high which gives an indication of how fast it's getting sold.
Masterbuilt 20051311-GS30D Double Door Propane Smoker Review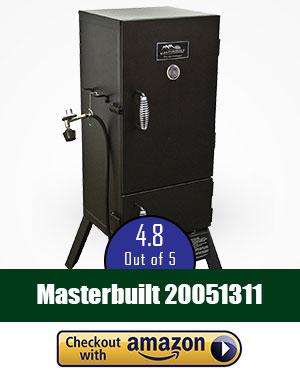 Build Quality
This cabinet-style, vertical gas smoker comes fully assembled. Constructed with steel, this is the kind of gas smoker that will last you a long time. Many users have reported that the Masterbuilt 20051311 came with several parts that did not need any modification. Overall, user reception has been positive.
Weight and Item Dimensions
The 22.75 x 30.7 x 56.02-Inch smoker weighs in at roughly 90 pounds, which is a bit on the heavier side, but in this case heavy means heavy-duty. If the 30-Inch version is too small for your liking, you can choose to buy either the 40-Inch or the 44-Inch version at a slightly higher price. The features are similar, but the 44-Inch version does come with two stainless steel burners, which is handy if you're cooking multiple dishes at once. We would recommend buying the size that fits your major needs.
Other Features
This 717-square inch gas smoker comes with four chrome-coated smoking racks. Its dual doors lock can seal heat easily and keep cooking consistent at all times, giving you a smoky and tasty flavor. Temperature is easily monitored using its built-in temperature sensor gauge, which allows you to find the temperature inside the smoker. In addition, it comes with a porcelain-coated wood chip tray and a water pan, which make clean up hassle-free. We liked that it came with an air damper which can be used to control the amount of smokiness of your foods. So, whether you're cooking turkey, pork, ribs, trout, or salmon, you'll always have that smoky aroma.
Ease of use
Assembling the Masterbuilt 20051311 was straightforward and easy. It comes with a manual that contains concise English instructions as well as a separate Spanish booklet. Its parts and hardware were packaged neatly and labeled accordingly. Assembling it took less than an hour. Its push-button ignition made starting the smoker extremely convenient. Additionally, you can easily add smoke to this grill and it has gas controls which easily control the cooking temperature. However, we found that the 40-Inch version's gas gauge was inaccurate at times.
Accessories
This smoker comes with one type 1 regulator as well as a hose. Its knob is designed to be cool to touch, ensuring your safety. You do not have to purchase accessories in order to use this product because it comes with everything you might need.
Price (affordability, Customer Perceived Value)
At under $180, this is easily a fantastic pick. It's actually the cheapest gas smokers in our list (check the latest price here).
Warranty
The Masterbuilt 20051311 does not come with a warranty, but this shouldn't be a problem because users, including ourselves, have not experienced receiving damaged parts.
Finally, There's no question why this product made it to the top of our list. With so many great features that only the best gas smoker should have, this affordable gas smoker is worth every dollar.
Runner Up: Camp Chef Smoker 18-Inch Smoke Vault (SMV18S)
Why we consider this to be the runner-up?
This product came extremely close to becoming our top pick. But, after spending more time for research, we came to the conclusion that, even if it has more positive features than our top pick, it's just a little less affordable with its price being above $180.
With two adjustable cooking racks, this small smoker can cook up to a whole turkey or four chickens at once. It's the perfect choice for both home and outdoor smoking — it can cook for as much as five to six people, making it ideal for dinner parties. That's pretty impressive considering its compact size. In fact, this gas smoker actually works as a portable smoker, too. In addition, it is powered with up to 18000 BTUs, making it the right product for slow cooking. One of the tricks to getting the best taste is temperature control. With its temperature gauge and dumper, controlling internal heat is very easy, so you're assured that you'll have smoky and tender flavor each time.
We also looked at how real users perceived this product. We found that it has several positive reviews, as well as an impressive review frequency. If it didn't disappoint them, then it definitely won't disappoint you. This was the best choice for an amazing smoking experience that we noticed when we reviewed other Camp Chef smokers.
Camp Chef Smoker 18-Inch Smoke Vault (SMV18S) Key Points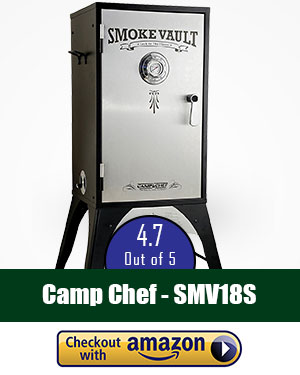 This vault-style gas smoker from Camp Chef is a durable steel beast that cooks your meats to have that delicious mesquite, cherry or hickory flavor. Overall, the smoker was built using the most durable materials, which makes it a great investment. Its door has been secured tightly and spot-welded to prevent warping caused by extreme heat. In addition, it uses heat resistant black paint both inside and outside.
With dimensions of 18 x 16 x 30, this large gas smoker offers a large cooking area. It weighs only 65 pounds, which is considerably lightweight, making it easily portable though it would have been more convenient if it came with attachable wheels. In addition, its racks have dimensions of 15 x 14 inches each, which is large enough to fit one whole turkey.
This gas smoker comes with two smoking tacks that are easily adjustable, as well as a separate jerky smoking rack. The Smoke Vault also features three damper valves, one on top and on each side, that can be adjusted to the user's convenience. We found that the damper really helped with the richness of smokiness of the flavor. Turning on this vertical gas smoker is easy; all you need to do is use its matchless snag-ignition system. To further control the heat, which can reach temperatures ranging from 160 degrees to 400 degrees Fahrenheit, you can use the protected drum. Cook as much pork, beef, steak and more — this gas smoker ensures that your internal temperature is maintained using its fully-adjustable heat control dials and its door thermometer, so that you get fully-cooked food every day.
Assembly was a breeze — all we had to do was follow the clear instructions in the manual. It's safe to say that this gas smoker is pretty easy to use. Cleanup is no hassle at all; the smoker features a wood chip tray, porcelain base tray, and water pan which are all easily removable so you can empty them at once. We also appreciated that the smoker came with several cooking tips and recipes which were all easy to follow.
Although this smoker does not come with free accessories, users do have the option to purchase a Camp Chef patio cover and a pack of smocking chips for only a few dollars more. If you're going to buy this product, we recommend investing in the patio cover to protect your gas smoker from rain and dirt. Additionally, users who want a bigger version may buy the Extra Large Camp Chef at a slightly higher price.
At under $190, this gas smoker can be considered quite affordable. For its price, it offers great functions, convenience, and most importantly, smoky flavor. It's rare to find cheap gas smokers that are well-built and durable these days, so this is definitely a steal.
Unfortunately, this gas smoker does not come with a warranty.
Very similar to our Top Pick, this smoker from Camp Chef is a great alternative. It offers convenient features and wonderful taste, but for the same features, we would still go with the top pick. For users who want a more compact version of our top pick, this could be a smart choice.
View a Detailed and Illustrated Review
Best Propane Smoker For Beginners: Char-Broil The Big Easy TRU-Infrared Smoker
Why is this the best choice for beginners?
With all of the gas smokers on the market, it can be difficult to identify which smoker does what. If you don't like spending your time researching and figuring out how to use complicated smokers, then this pick is for you. It's simple, affordable, and won't have you guessing "which adjustable rack goes where" for countless hours.
Although this product has only four positive features, one of those features is cooking temperature control, which we think is the most important. With it, you can already have great tasting food without having to understand other technical stuff. This is why we think it's perfect for beginners. In addition to its portability and compact size, the Char-Broil Big Easy uses TRU-Infrared Technology and is the only product in our list to have that feature. This technology prevents overcooked and undercooked food, which is ideal for less experienced home cooks.
Char-Broil The Big Easy TRU-Infrared Smoker Features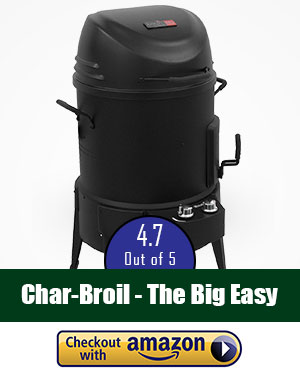 This gas smoker isn't just a smoker. It's also a roaster and a grill. The Big Easy features a total stainless steel construction with premium steel grates that prevent burning of food. For added durability, it sports a porcelain-coated hood that is easy to clean. There are also safe, cool-to-touch handles. We checked online reviews from users and found that users had no problem with its build. Although this smoker features plenty of removable parts, its overall construction is impressively strong, making it worth your money.
At only 58 pounds, this is a fairly lightweight smoker which makes it convenient for when you need to transport the Big Easy. It measures roughly 23 x 23 x 36 inches, making it a good sized gas smoker that doesn't take up too much space. For its size, it can hold up to 25 pounds of meat — enough to fit two whole turkeys in its total 180 square inches of cooking space.
This is the only gas smoker in our best gas smokers review that uses TRU-Infrared technology. TRU-Infrared technology assists in cooking food evenly, avoiding flare-ups, over-cooking and under-cooking. This technology also makes sure that food is always juicy. In addition, the smoker features temperature control of up to 18000 BTUs which can be easily manipulated to control the desired temperature. The smoker also features an internal meat thermometer, grease collection tray, and rotary ignition system.
It won't take you a long time to set up this smoker because the instructions are very clear, so you can get it started in no time. The Char-Broil doesn't use any charcoal or oil, which helps with cleanliness because you don't need to deal with an air damper and a water pan every time you want to smoke your food. Instead, it uses an internal smoker box that uses wood pellets, which are automatically loaded without the hassle of having to lose heat whenever you have to replenish the wood pellet supply.
In the box, you'll find additional accessories which include a double-stack roasting basket, instructions, and basic operating manual. Users can opt to buy its matching cover for less than twenty dollars, as well as its turkey fryer accessory kit for around $25.
At under $200, this gas smoker is cheap and would fit easily in anyone's budget. Although you might be wondering why it costs more than our top pick, that's because this smoker features TRU-Infrared technology, which is primarily what's adding to its price.
For any beginner, this is a perfect choice. It's a less complicated way of smoking your food, and you get foods that are never burnt, undercooked or overcooked. Its main star is its TRU-Infrared technology which even professionals will find interesting.
Advance Gas Smoker Pick: Masterbuilt 44241GW 2-Door Propane Gas Smoker with Window
How it Grabbed Our Advanced Pick Spot?
This Masterbuilt 44241GW Smoke Hollow Smoker is considered to be one of the best gas smokers on the market. It has all the necessary features to satisfy your grilling requirements. With its huge cooking space, grilling for lots of guests is not a problem at all. Although it costs a little bit more than our top pick, considering its extra features and performance it is a good bargain for the money.
The Masterbuilt 44241GW Smoker is a performance-driven product. The window at the door is a game-changer for this type of smokers. The two independent burner and two doorways enhance the user experience by many folds and make grilling easy for you.
Masterbuilt 44241GW Key Features
This gas smoker provides lots of space for grilling without taking too much space. It offers 7 cubic feet cooking space with a 60-inch height, 33-inch width, and 24.5-inch depth. With 2 standard grids, 1 rib grids, 2 jerky grids, and 1 sausage hanger, you can smoke any part of the meat with this smoker. This smoker can cook for 15 persons at once! This smoker is perfect for BBQ parties.
Flexible interior design is another top feature of this Smoke Hollow Smoker. You can adjust the internal racks up to your grilling meat requirements. Smoking meat with specific meat preferences is not a problem with this one.
The front window of this Masterbuilt 44241GW smoker is a game-changer feature. This window and the temperature gauge lets you judge the meat from outside without opening the door which helps to keep the texture of the meat.
This gas smoker has 2 separate independent 12 000 BTU burners. This enables you to reach the targeted temperature to smoke meat according to its tenderness. Moreover, both of the burners are Piezoelectric Ignition, which means both will ignite at the first attempt.
This smoker is perfect to cook a hefty lot of food at once. Durable, easy to use and heavy-duty, the Masterbuilt 44241GW 2-Door Propane Gas Smoker is a bang for your buck, especially if you're using it for commercial purposes.
6 Other Gas Smokers We Found Good
We have ranked these according to their performance.
No.5: Smoke Hollow LS2016-2 2-Burner Propane Gas Smoker
This barrel-style propane gas smoker was constructed with quality in mind – something this brand always take care of in all of their products. With a black steel body, this smoke box is well-made, heavy-duty, and reliable. It comes with two side tables that are safe to touch even when the smoker is being used.
At a light 41 pounds, the Smoke Hollow LS2016-2 Propane Gas Smoker is easy to lift and move around. This makes it a good choice for outdoor barbecuing at different places like campgrounds or at the beach.
This Smoke Hollow Propane Gas Smoker features a 285 square inch of cooking space, large enough to fit several vegetables, salmon and some steak. To make the most out of the smoke, it features two 7500 BTU stainless steel burner, allowing for the right amount of smokiness.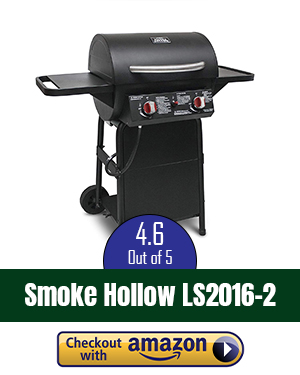 Compact, well-constructed and convenient, this gas smoker from Smoke Hollow is a good fit for anyone who wants a reliable propane gas smoker. But, for its price, we would still prefer the previous picks because they feature more functions at a cheaper price.
No.6: Smoke Hollow 44241G2, 44-Inch Gas Smoker
The Smoker Hollow 44-Inch Vertical Propane Gas Smoker flaunts a heavy-duty steel construction. With dual doors, it gives access to both the main cooking area and the wood chip panel and water pan stations. Its burners are made of stainless steel for optimum performance.
This propane gas smoker weighs a solid 100 pounds, and measures 33 x 24.5 x 60 inches. This is a fairly large smoker, which makes it ideal for big parties.
With five cooking grids that are adjustable and removable, the smoker gives you plenty of space to cook your fish, meats, and vegetables. This 6.5 cubic-feet gas smoker features two basic cooking grids, two jerky grids, one rib rack, and one sausage hanger. To control the temperature, it uses dual burners and gives your food that rich smoky flavor through its two wood chip pans. The external temperature gauge accurately displays internal temperature. A large glass window offers users plenty of viewing space so that they can check on the progress of their cooking whenever they want.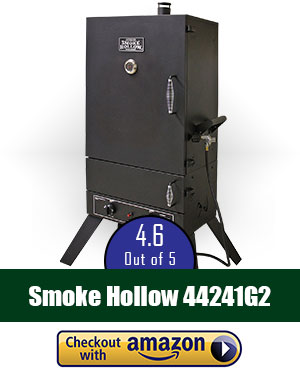 We checked online reviews and found that some users were given faulty items which needed immediate replacement. But other than that, assembly was easy to follow. This smoker uses a push-button ignition system so that you can get started instantly. Cleanup is also a pinch — the water pan and wood chip tray are accessed through a different door, and can be removed and emptied conveniently.
This product is a bit pricey at around $250 but it offers similar features as other products in this review. We think that its price draws heavily from its solid construction, reputable name, and multiple cooking racks.
It does not come with a warranty, but customer service will gladly replace any products which have malfunctioned or arrived damaged during shipping, as reported by customers.
For a little more than $250, you do get plenty of cooking space and durability, but for its price, we would still go for the other items in this best gas smokers review. If you have money to spare and want a solid smoker from a reputable brand, then you can choose to buy this smoker.
View a Detailed and Illustrated Review
No.7: Dyna-Glo DGY784BDP 36″ Vertical LP Gas Smoker
This vertical gas smoker is made of heavy-duty steel for optimal durability. It flaunts a powder-coat finish which increases its lifespan. Its shape allows heat to naturally rise for improved smoke flavor and efficiency. It was designed to enable air to flow and be distributed all throughout the smoker.
With a total cooking space of 784 inches, this large LP gas smoker weighs – surprisingly – only 54 pounds, which is quite lightweight for its capacity. It measures 19.2 x 27 x 46.5 inches, making it a tall smoker that does not take up too much space. This smoker actually comes in other sizes, large and extra large, if the standard size is too small for your liking.
The Dyna-Glo DGY784DBP Vertical Liquid Propane Gas Smoker features an impressive grease management system as well as a smart heat maintenance system. It uses a 15000 BTU cast iron burner and push-button ignition to easily fire up the unit. Its 'Smoke Zone' feature identifies the ideal temperature for smoking. For better cooking control, it offers two doors which locks heat in and makes refilling of wood chips more convenient. Its wood chip box is porcelain-enameled, making it burn heat most efficiently, perfect as low-maintenance cooking. In addition, its water bowl can carry a large volume of water, so you don't have to refill it again and again.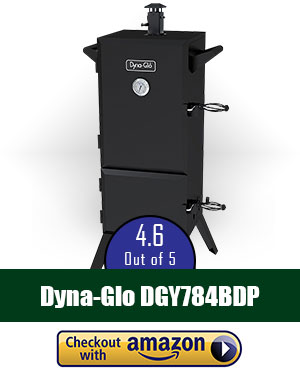 Assembly would take less than an hour, however, several customers have complained that they received minimally damaged items during transit. However, customer service is generally responsive and accommodating, so there shouldn't be a problem if you need assistance. During cooking, you can expect consistent temperatures and convenient monitoring. It's not entirely a "Set it and Forget it" kind of smoker, but it does offer great convenience and ease.
The Dyna-Glo comes with a hose and a regulator, but it does not come with a propane tank. Users can buy the version that comes with a gas smoker cover to protect it from the elements. The cover is custom-fit to ensure that it stays on and protects your smoker for years.
It's a bit on the expensive side of our product review list, but when you buy this Dyna-Glo gas smoker, you're buying several things: customer service, quality, convenience and ease, and tasty flavor. It's definitely something worth buying if you want fantastic-tasting food without the hassle of standard smokers.
Its warranty is CSA-verified and is valid for one year.
If it weren't for the price tag and customer reviews, we would have chosen this as a top pick. It offers great convenience and ease when cooking, and maximizes its features in order to give the best tasting, smoky flavors.
No.8: Smoke Hollow 30164G, 30-Inch Propane Gas Smoker
This one piece, cabinet-style propane gas smoker is constructed using high-quality steel for maximum protection. It features a spring wire door handle which is cool to touch, making it safe to use even without gloves. Its legs are eighteen feet deep, and are not removable for extra stability.
The Smoke Hollow 30-Inch Propane Gas Smoker measures 39.5 inches tall and 21 inches wide, which makes it a relatively small gas smoker. It features side handles which make it easy to carry when transporting the gas smoker, but it does not come with wheels.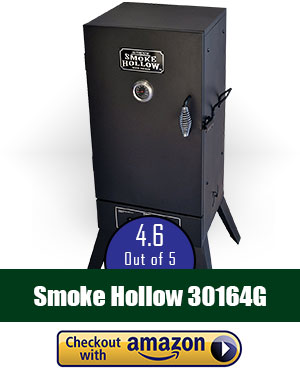 This auto-ignite gas smoker uses a 10000 BTUs stainless steel burner for optimum temperature control. Temperature is controlled by using the knob on the gas smoker, similar to what you would do when grilling using a gas grill. It also features 3 chrome-coated smoking grids which can be easily adjusted and removed for varied grid levels. To monitor the temperature, it uses a built-in thermometer, which then displays the temperature on the external temperature gauge.
Assembly is easy to follow, but customers have said that they have received broken parts. But, management was quick to respond and replace the broken items. It also features a water pan that sits above the wood chip pan. We would have preferred if it had a separate door for both the pans, in order to retain the heat.
This is the cheapest gas smoker in our review list, priced under $170.
A good ol' dependable gas smoker, the Smoke Hollow 30-Inch Propane Gas Smoker is easy to use and good for families. But it just offers only the basic features. Our Top Pick costs the same yet offers much more.
No.9: Smoke Hollow PS4415 Propane Smoker
The Smoke Hollow PS4415 Propane Smoker sports a painted steel body. It has one handle on each side, in case you want to move the smoker around. It also has 18.5 inch deep legs which cannot be removed.
At 93 pounds and measuring 24 x 33.5 x 60.8 inches, this is a fairly larze smoker that weighs a lot. Compared to our other picks which were weighed lighter, this one is more compact yet solid.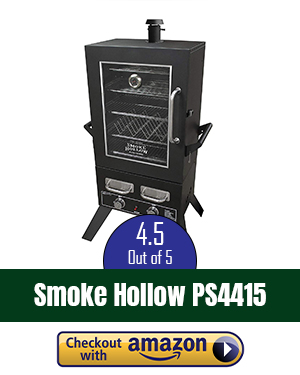 The Smoke Hollow is perfect for larger groups of around eight to ten people. This 6 cubic feet capacity smoker features 4 chrome-plated cooking grids that have multiple adjustments levels, and can be removed at your convenience. Get multiple cooking heights and be able to cook whatever you want, whether that's fish, ribs, or poultry. Additionally, it has a porcelain coated water pan and wood chip tray, which are both accessible through a separate door, which helps lock in the heat when smoking.
With a price tag a little higher than $300, this is little bit costly for this kind of product with its array of features.
Reliable and efficient, this 6 cubic feet gas smoker can be used for all of your large parties. Have fun cooking as much as you want for hours on end. It's easy to use, so even your beginner guests can have a go at it.
No.10: Camp Chef Smoker 24"
The Camp Chef Smoker was designed to lock in the flavor of hickory, cherry and so much more in your gas smoker. It's made of heavy-duty steel for protection. This simple smoker can reach temperatures of up to 350 degrees Fahrenheit.
This gas smoker weighs 75 pounds, which is a bit heavy for its small size. It stands a total of 44 inches tall, with cooking racks of 21.5 x 14 inches.
A small, dependable smoker, the Camp Chef Smoker comes with two adjustable smoking racks, a jerky rack, and three damper valves on each side that can easily be cleaned up. To monitor your cooking, you can easily check the external temperature gauge on its door. In addition, this smoker features a protected burner drum which gives maximum temperature control. Cleanup is easy; the smoker has a water pan and steel wood chip tray which are easy to empty after use.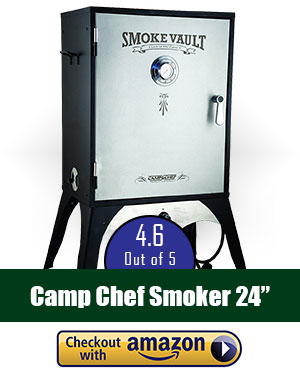 The smoker starts with a click of a button. Its matchless snap-ignition system makes it easy to start the smoking process. In addition, the smoker comes with lots of cooking tips and recipes, which users can quickly follow through illustrated manuals.
As mentioned, it comes with cooking tips, recipes, and tricks that make cooking a more fun experience. It comes with a gas line, but you'll have to buy the propane tank yourself.
We found this gas smoker to be a bit expensive for its features. It is an overall basic beginner gas smoker, but costs more than $240, which is quite expensive as compared to other items on our list.
This product is quite expensive, but if you're a beginner looking for something very dependable and easy to use, you might want to splurge on this gas smoker.
Honorable Mentions
No. 11: Masterbuilt 20051316 Thermotemp X-Large Propane Smoker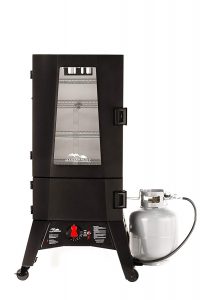 When we were researching gas smokers, we noticed that traditional gas smokers often lacked some important features that could bring more convenience to the overall grilling experience, such as automatic temperature control, the auto-shutoff feature (so that gas doesn't leak when the flame is extinguished), tank fuel level indicator, and more. We did some more digging and found this smoker that could be of great help in this regard: Masterbuilt 20051316 Thermotemp X-Large Propane Smoker.
With so many new additions to the industry and with people's changing tastes, we had to carefully reconsider whether we'd still keep it in our list or not. Finally, we chose to place it in this honorable mention section.
No. 12: Weber Genesis 61016001 E-335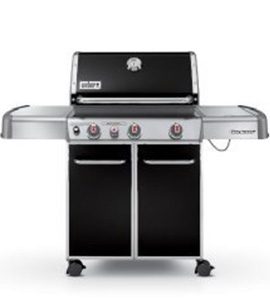 Be warned: this smoker is not for the faint of heart or the shallow of pocket. But Weber is well-known for manufacturing some of the highest-quality gas smokers on the market, and this model lives up to that expectation!
The Weber Genesis E-335 features 2 side tables for extra work space, offering you the convenience of preparing your meat while still grilling. With a total cooking space of 5077 sq. inches and a warming rack measuring 130 sq. inches, you aren't going short of space anytime soon.
No. 13: Char-Broil Performance 300 2-Burner Cabinet Liquid Propane Gas Grill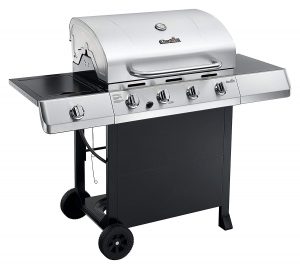 Everything that glitters is not gold, and everything that looks chrome is not platinum. While this grill has some impressive features, tenure with this smoker will expose some major flaws. But let's first look at some of the positive features that this gas smoker has to offer:
When you first get this smoker, you'll notice it has a sleek stainless steel design that is very functional. It offers a storage cabinet where you can keep your propane tank out of sight. There is also extra space in the storage cabinet for other items you may want to store. This smoker has a side burner and extra workspace which is useful when cooking big meals and preparing sauces or cooked vegetables on the side.
Other Notable Gas Smokers
When it comes to the Smoke Hollow Pro Series Lp Gas Smoker, we really do not have much negative to say, except for the price of this smoker. While it offers great grilling space, ample grilling grids and a great design, you can get a comparable gas smoker for a cheaper price.
There are many reasons to get a vertical smoker and the features of Char-Broil Vertical Gas Smoker make it more obvious. Char-Broil has really gone the extra mile to make sure that this smoker is a convenient product for its users: with its cool-touch handles, warming rack, diverse grilling racks, and snap-ignition, there is no wonder why so many grillers recommend this smoker.
Some of the drawbacks of this smoker, including inaccurate temperature gauge and difficult assembly made us hesitant to rate it higher.
A List of Other Products We Tested
Wrapping it up:
Overall, gas smokers are a great addition to your outdoor cooking equipment. They are easy to use, offer that savory, authentic flavor, affordable, and are better than charcoal grills. They produce clean heat, which is why they're quite popular in restaurants. In addition, they require as little maintenance as an electric smoker, and have that similar "set it and forget it" feature. When looking for the best gas smoker for you, you should consider several things like ease of use, temperature control, build quality, cooking space, accessories, and value per dollar.
After testing and reviewing the best gas smokers in the market today, including those from famous brands like Pit Boss, Masterbuilt, Char-Broil, Camp Chef, and so on, our Grills Forever team concluded that the MasterBuilt 20051311 GS30D 2- Door Propane Smoker is the best of the best. It's our favorite because it always delivers flavorful food, has so many useful features, and comes at a surprisingly affordable price. Its larger, 44-Inch version is equally good if you want a bigger cooking space for your grander parties. It's definitely something you can keep in your backyard for ages!