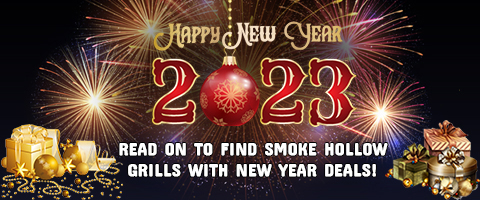 A Short Summary of Our Findings
When it comes to innovation and variety, Smoke Hollow is one of the names that definitely live up to the standard. Smoke Hollow has been manufacturing different types of outdoor grills for more than ten years. Their grills are well-built, innovative, and cater to different grilling needs.
We made it our job to look at the grills from Smoke Hollow to give you a preview and summary of what they have to offer. If you've been wanting to buy one but didn't know which grill will suit your family or your needs, then sit back and relax because this list is everything you need to make that decision. We picked one best product from every type of grill Smoke Hollow has, and why it's the best choice. We did this through testing them with our team, and comparing our experience with that of users everywhere through research and online feedbacks. Here's a summary of our findings to help you:
Top for Tables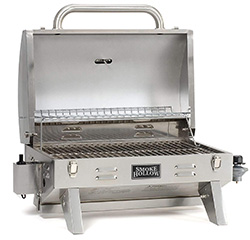 Our top choice Grill
Smoke Hollow 205 TableTop Grill
This grill is not only great value, it is also really durable and has a great level of heat output. It will be perfect for most people, as it works well, is affordable and easy to move around too.
Check It on Amazon
Portable, lightweight, durable, and efficient – the Smoke Hollow 205 is a sturdy, compact, and highly portable grill. It's perfect for small families, or people who like to go out camping, having a picnic at the park, enjoy a backyard barbecue from time to time. You can literally bring it with you anywhere you go. It's made of stainless steel, from the body to the grates. The hood has a locking latch and a carrying handle for convenience. Best of all, it has a total cooking space of 305 square inches and can cook an entire meal for a small family.
Super Smoker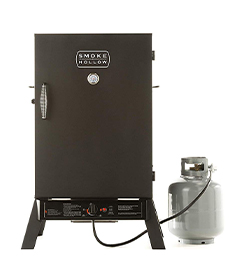 Perfect for smoker lovers
Smoke Hollow PS40B Propane Smoker
This grill has a huge space to cook all of your food, as well as top-notch heat control. Although it isn't insulated it does have high-quality temperate controls, and uses both wood chunks and chips.
Check It on Amazon
This 2-door smoker vault is made of welded steel and a cast brass burner that make it extra durable. The 3.4 cubic inch cooking capacity which lets you smoke large chunks of meat, entire rib racks, and other dishes easily. Two vents let you control the temperature and moisture inside the vault, and you can check the temperature on the heat indicator. It quickly reaches the desired temperature in a short time, so that you can cook efficiently every time. The best part is, it can cook a lot of dishes at one time without being too bulky.
Runner Up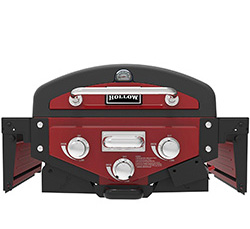 Second place table top grill
Smoke Hollow Vector 3-Burner
This is another good table top grill. It is built really solidly, and is also easy to use. The cooking is always even, but its main downside is that it isn't so portable, because it is quite heavy.
Check It on Amazon
A close second for table-top grilling, the Vector 3-Burner is another great product with a good build and larger cooking area. It's a versatile piece, being a table top grill and smoker at the same time. It has two burners that you can use for grilling, and the third one is for smoking. It has porcelain coated wire racks, and chrome-coated warming rack. For added convenience, it also has a folding table on each side and a folding stand too. Its portability, durability, and excellent cooking performance makes it a great grill and smoker to invest in.
Close behind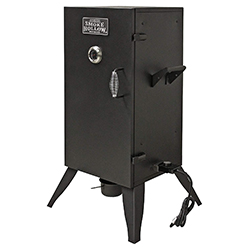 Second best of the smokers
Masterbuilt Smoke Hollow 30162E 30-Inch Electric Smoker
This grill is another great smoker. It looks really good, and is also a reasonably priced grill. The heat is consistent, but again this grill isn't insulated, which lets it down.
Check It on Amazon
This 3 cubic feet gas smoker comes a close second to the 38202G 38-Inch 2-Door Propane Gas Smoker. What makes it different is the large viewing window made of tempered glass that lets you see what's cooking inside, so you can check without having to open the door and letting heat escape. Also, you can easily load your wood chips on the smoke tray. With four chrome-plated racks, you can cook several dishes at a time, easily feeding a large family. Temperature range is 175 to 350 F, which you can set and measure efficiently with the heat indicator and temperature gauge. Best of all, it is easily affordable, with a price of around $150 and below $200.
End of Summary
Top 10 Smoke Hollow Grills (March 2021) – Detailed Buying Guide
So, you're looking for a grill. Where do you start? You have managed to narrow down your choices to Smoke Hollow Grills but which one do you go for? Carbon, gas, pellet grills, smokers, portable, table-top, or a combination? Today we are delving in deep amidst the Smokey Hollow Grills to answer that very question for you. I know that when I first got into grilling after going to a neighbor's barbeque, I did not know where to start looking. He had a Smoke Hollow Grill and the food was amazing. So much so that I wanted to recreate that flavor and succulent taste in my own backyard. I looked into grills and decided that the taste from my neighbor's Smoke Hollow Grill couldn't be beaten so a Smoke Hollow Grill it had to be! But which one?
Smoke Hollow Grills offer such a vast range of grilling products to suit every need and budget that I simply did not know which one to choose and there was no easy-to-read review of all of their products to help me. So, today we're filling that void and are looking at ten of their best grills today with our Smoke Hollow Grills reviews. Prepare to have all of your questions answered, even if you have yet to decide what type of grill it is that you are looking for. If only these reviews existed when I was searching for answers!
Why Should You Trust Us?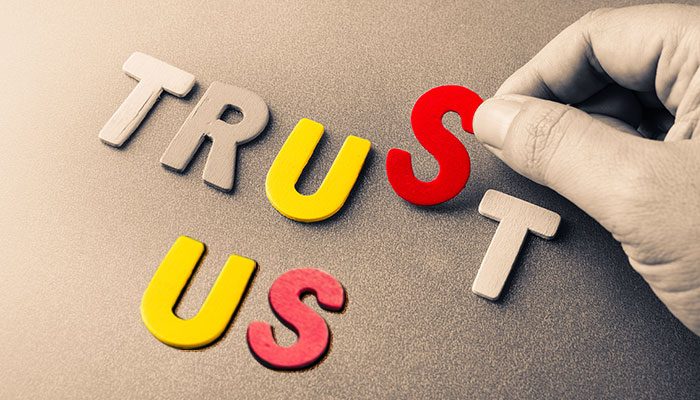 Yes, why should you? Well, simply put, I've been where you are: looking for reviews and comparisons of the best Smoke Hollow Grills out there. I did not know who to trust and which reviews were valid. However, here at grills forever I know that I can trust the research methods and standards. Why? Because we have been carrying out similar research for over five years. That's a lot of reviewing of grills and a lot of grilling experience all coupled together!
Grills Forever's sole purpose is to help you out in our search for the best grills that you can buy for your money, after all, a grill is an expensive purchase and one that should last you for a decent length of time. For this review of Smoke Hollow Grills, we have spent 24 hours researching the products so that you know that our conclusions are the right ones that they can be relied upon. Also, we have had several people involved in the reviewing process in order to remain neutral in our decisions and to eliminate any bias over one type of grill or another.
We began by shortlisting the 20 best Smoke Hollow Grills products after a lot of research. We wanted to provide you with a review of the most popular products so that we are able to provide the pros and cons of each grill in order to help you make an expensive purchase decision, no matter who you are or what your grilling needs are. After doing this, we chose what we believe are the best ten products from Smokey Hollow Grills so that we can help you make your buying choices.
Types of Grills: Which One Is Right for You?
Firstly, if you are overwhelmed by the choices available, it is important that you first decide what type of grill it is that you want. Once you have made such a decision then it will be easier to make your choice and purchase that grill that you're longing for. There are several different kinds of grill, primarily based on their type of fuel:
Combination Grills: These grills use a combo of gas and charcoal as fuel for the grill.
Pellet Grills: Pellet grills are a combination of a smoker and a grill that uses a pellet feeder to feed wood pellets into the heat source which gives a great woody smokey and yet juicy flavor to the meat.
Portable Grills: These can sit on your table top and are great for parties, buffets and even camping.
Charcoal Grills: These are great for all kinds of cooking and grilling, using charcoal as their fuel source.
Gas Grills: Gas grills use propane gas or other gas to heat up the grill and cook.
Smokers or Smoke Vaults: These are large appliances which have fixed racks and a door that you use to smoke and slow cook meat over a long period of time. They come in a variety of different models, some which use gas as the source of heat and some which use electricity.
What Should You Look for in a Smoke Hollow Grill?
When you're looking for a grill from Smoke Hollow Grills, there are several things that you should consider. Firstly, let's consider the materials that the grill is made from. Many Smokey Hollow Grills are made from either porcelain-coated cast iron, cast iron, chrome-plated steel or heavy-duty stainless welded steel. The decision as to what type of material would suit you is dependent on several factors: whether you want to have sear marks on steaks, the amount you want to spend, and lastly, the amount of time you are willing to dedicate to maintaining your grill. Generally speaking, the heavier and thicker the grill the better. Of course, this means that it will take longer to reach the right temperature but it will therefore also retain heat better. Corrosion will also take longer so the grill will last for a longer time.
Chrome-coated steel
Grills that have chrome-coated components look shiny and thin. These aren't ideal unless your budget it tight as these materials are cheaper and less durable, meaning that your grill will not stand the test of time in comparison to other models. These grills have a tendency to rust and flake on the surface more and therefore your food can stick after a while.
Cast Iron
Cast iron is generally a good cooking surface, giving precise and 'wow' sear lines when it's heavy and thick cast iron. The weight can put some people off as the grids can become dangerous when hot and you're trying to replace any charcoal. Untreated cast iron does eventually rust so you do need to spend a bit of time cleaning it and oiling it as you would with any cast iron cooking appliance or pan. Bringing the grill inside when not in use is also preferable. If your budget allows, a porcelain-coated grill would make a better option.
Porcelain Coated Cast Iron
This is more expensive than other options but if you are careful with your grill, the cast iron is protected by the porcelain coating; thus preventing and degrading or rusting over time. They also transfer heat very well and are much easier to clean and maintain, with less food sticking. You must be careful when using any utensils however as porcelain is very easy to chip and damage and then the cast iron below can rust.
Stainless Steel
If the stainless steel of your grill isn't very good quality it will degrade quickly and its non-stick nature will be no more. If you're opting for a stainless steel grill then you should pick one with high quality, heavyweight steel. Stainless steel has a good transfer of heat and is easy to use and clean. The downside of a stainless steel grill is that it is more expensive. You should be looking for stainless steel that uses ¼ inch stainless steel minimum but 3/8" would be better. Of course, no material is perfect and they all have their downsides and faults due to the bashing that the grills come under in terms of heat, moisture and the weather (if kept outside). Hopefully, this will give you an insight into the type of materials to look for in your Smoke Hollow Grill choice to help you narrow down your chosen grill.
Accessories
Next, we're going to talk about accessories. Many grills these days come with accessories and Smoke Hollow Grills are no exception. Some accessories are included but others can be purchased separately. Many grills have a side table, some of which are folding, which is a significant plus meaning you can use it easily for your other utensils and accessories while you are grilling. Some models also have removable ash catchers which make the grill easier to clean.
At Smokey Hollow Grills, their accessories that are extra to purchase include all-weather covers, extra cooking grids, additional heating elements and controllers, meat probes to check when your food is cooked and lastly, a warming rack which fits onto certain grill models.
BTU/Square Inches
Of course, if you're looking for a grill you want one that's going to deliver in terms of heat and power. Some models of Smoke Hollow Grill have between 3-7,000 BTU burners and side burners that are 11,000 BTU. Whatever the BTU/Square Inch, make sure you do your research and check it's powerful enough for your needs.
Cooking Area
Perhaps the most important part when selecting a Smoke Hollow Grill is having a large enough cooking area to suit your needs and purpose. Some of the SHGs have a surface area of 720 sq. in. or have more than one cooking area depending on the grill. We will look at the size of the cooking area of each of the grills that we have selected as our top picks below.
Warranty
All Smoke Hollow Grills are covered for one year's warranty from the date of the purchase for any of the parts that are crucial to the unit's functioning. The exterior of the grill is covered for 90 days for the paint surface, but not for rust damage as this may appear after use.
Price
The costs of the grills that we have picked usually range between $92 to $419, with the majority being between $150 and $180. Of course, sometimes you get what you pay for but, that said, we all have different needs and budgets!
Safety
There are risks everywhere but knowing what risks grilling may bring and how you can reduce them is what's important. When you are cooking outside, whether a slow barbecue or fast, hot grilling there are a couple of things that you should do to make sure nothing goes wrong. Combining a heat source, food, explosive fuels and people could be a disaster waiting to happen if the right care is not taken.
Firstly, you should be in control of any fire as we all know what a destructive force fire can be. Make sure that you have a fire extinguisher (or bucket of water!) to hand in case things go awry. Every year there are hundreds of fires, injuries and even deaths caused by home grilling. We don't want to scare you, but it's important to be mindful. You need to know how to cut the fuel supply for your grill and how to extinguish any fire. Also, make sure you are up to date with your first aid knowledge on how to treat burns, just in case!
Next, you need to be aware of food safety. Bacteria are everywhere in meat and if you're grilling, that tends to be what you're cooking. So, remember to store your food in a cool place until you come to cook it. Once it's served up, if it's not to be eaten straight away it should be refrigerated. It's also worth bearing in mind that you are more likely to suffer from food poisoning at your own hands that you are of catching the flu!
Instructions! Yes, instructions are everywhere but they're there to keep you safe. Make sure you read your grill's manual and call or email any support lines if you are unsure. Don't assume that your Smoke Hollow Grill works like your old one! To make it even easier, Smokey Hollow Grills manuals are all on their website!
Next, charcoal. Charcoal grills cause more fires than any other. The biggest problem is lighting them. Lighter fluid only adds to this problem as it turns to a gas at relatively low temperatures and can cause explosions. Please follow all the instructions for lighting charcoal grills very carefully.
Smoke:
smoke gets everywhere! Our clothes, hair, eyes and even lungs. Of course, smoke is all part of cooking outdoors but you must be careful too. Smoke contains many dangerous substances such as carbon monoxide and PAH (Polycyclic Aromatic Hydrocarbons), which are carcinogenic. As much as the smell of grilling is relished, try not to breathe it in too much. Make sure you clean grease off your grill too as this can cause flares of fire which can be extremely dangerous. Also, PAH are released when grease burns, adding to the risk.
Gas is also a risk as gas is extremely flammable. The main cause of fires with gas grills is an obstruction where the path of the fuel runs, behind, inside or underneath the grill. Because it's not always visible, you should make sure you inspect your grill often to look for problems. Sometimes insects can get into the grill and meaning the gas flow is compromised. If there are any suspected problems, make sure you turn off the gas tank and disconnect all the lines.
The location of your grill is important too. Every year there are hundreds of garage or house fires because the grill was placed somewhere risky. Each manual will give you a typical radius distance whereby there should not be any obstructions or material posing a risk. Of course, it should be said that children also need supervising around the grill's location.
We've mentioned carcinogenic smoke but there's also the risk of HCA (Heterocyclic Amines) which are another cancer-causing substance that is produced when the surface of meat is charred by very high temperatures. To reduce the risk you should use a marinade as this can reduce the risk by almost 98%. Make sure that you don't overcook any foods and keep the grill temperature low (less than 600 degrees F). Using thinner or smaller cuts of meat are best too, such as kebabs.
Last but by no means least: alcohol. It should go without saying that grilling and alcohol do not mix. But the reality is that, for many, drinking alcohol is all part and parcel of the outdoor grilling experience. Please try to refrain from indulging. Save your drinking for when the fire has been put out.
If you follow all of these safety rules then we are sure that you'll get the best out of your Smoke Hollow Grill in next to no time.
How We Picked and Tested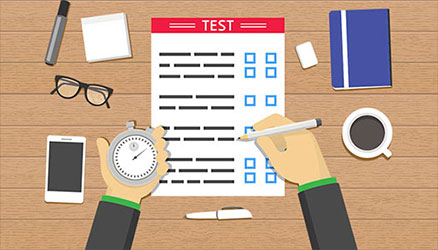 In order to pick the best 10 Smoke Hollow Grills for you, we went through over one thousand reviews of the product to determine the most important features that reviewers were commenting on from their Smoke Hollow Grill. We then shortlisted the best 20 SHG products and visited the website pages and went through their descriptions on different store pages as well as reading more individual critic reviews. We then analyzed our data collection and produced side-by-side comparisons of the grills. A diverse group of volunteers then provide us with feedback on these specific models after using them at their home. We then compared their reviews and matched and compiled the data together that we had accumulated from the web. With all of this data in hand, we then selected the best 10 Smokey Hollow Grills products and are ready to present you our verdict. What will be our number one Smoke Hollow Grill?
Our Top 10 Smoke Hollow Grills Product List
Before we present our top ten, let's have a closer look at what we found. In choosing our top ten we looked for 32 qualities that a Smoke Hollow Grill can have. The chosen qualities were selected from the features given in the manuals and on pages online. The remaining features were the ones that were not necessarily mentioned in the manuals but are ones that concern the users who would be buying the product. We also looked at which of the machines would bring the best in terms of monetary investment and would give you the best value for money. Lastly, we considered the opinions of the customers and reviewers who have tried these products and are presenting you with our accurate reviews of the best Smokey Hollow Grills for 2018. If you would like to take a closer look at our research report you will find it attached to one of our social media pages. Simply like one of the pages to gain access.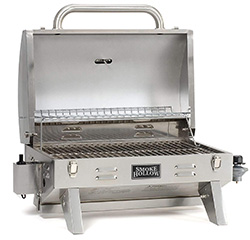 Smoke Hollow 205 TableTop Grill
Our top choice Grill
Smoke Hollow 205 TableTop Grill
This grill is not only great value, it is also really durable and has a great level of heat output. It will be perfect for most people, as it works well, is affordable and easy to move around too.
Why is This Product Our Best Table Top Grill?
Well, of all the products that we tested and the 32 features we were looking for, this product had 12 of those features which was the highest number of any Smoke Hollow Grill that we looked at. Furthermore, on our day of research, the product came in at around $90, which makes it the lowest priced Smoke Hollow Grill too as well as the lowest price table-top design.
In terms of reviews, this table-top grill had over 1000 reviews on Amazon on the day of research with the second highest star rating (3.9/5) of the table top smokers. The reviews are frequent with every ten reviews happening in just a number of days. This is a clear indication to us of just how popular this product is and how often these grills are being sold.
This grill is built for BBQ-Grillers on the move and it's the lightest weight product of all of our grills in the top ten. It also has the best features when compared to its price and being the most feature-rich product in an affordable price range is what makes it our top pick.
Smoke Hollow 205 Review
Build
The Smoke Hollow 205 is a portable, table-top stainless steel grill measuring 32" x 19" x 33.5", meaning it's compact but sturdy. All parts are made from high quality, durable stainless steel including the burner, grates, firebox and the lid, which is actually double layer stainless steel. With one burner, it has a primary cooking area of 205 sq. in. (hence its name as the Smoke Hollow 205!) which fits about eight averaged-size hamburgers on nicely. This grill uses 16oz. disposable gas cylinders (which are not included in the price but are relatively cheap to pick up). The stainless steel of this grill makes it incredibly easy to clean and it's virtually rust-free too. There's also an easy-to-clean grease tray that's removable.
Features
This grill has a chrome-plated warming rack and a locking hood latch. There are also folding legs and a large carry handle on the front to maximize its portability. You really can take this grill anywhere, from camping to the beach! In fact, it weighs less than 20lb!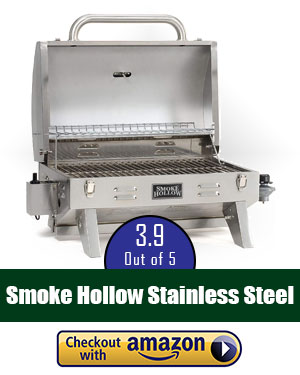 Temperature and Control
The Smoke Hollow 205 features a temperature control and can reach high temperatures of over 500°F in less than five minutes, which is pretty impressive for a small grill! Whilst the grill is very portable, there isn't as much control over the temperature as other grills in our list but we think that the other features that this grill has more than make up for it. The single burner can reach up to 12,000 BTUs.
Other Factors
This grill has Smoke Hollow's one-year limited warranty. The company also guarantees against any parts that are broken or damaged at the time of purchase. As mentioned, this product is lowest priced of all the Smokey Hollow Grills that we have reviewed. But that doesn't make it cheap and nasty either – it would not be our top choice if it was! The review frequency and star rating speak for themselves and show that this is a popular little grill, despite its cheaper price tag.
Pros
Great value
Reasonably priced
Good heat output
Table-top portable design
Made from durable materials
Cons
Small in terms of size if cooking a large amount
Verdict
This Smoke Hollow Grill has everything you're looking for in an affordable, portable grill. Of course, if you're cooking big, for parties or large gatherings, or you want a top of the range choice, then this grill won't be for you. But, for a bit of backyard BBQing, it certainly ticks the box and hits our top spot too.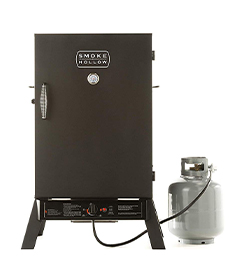 Smoke Hollow PS40B Propane Smoker
Perfect for smoker lovers
Smoke Hollow PS40B Propane Smoker
This grill has a huge space to cook all of your food, as well as top-notch heat control. Although it isn't insulated it does have high-quality temperate controls and uses both wood chunks and chips.
Why is This Product Our Best Smoker Vault Pick?
In terms of smokers, Smoke Hollow Grills produce ten smokers currently and we think that this smoker is the best of them all. Why? This smoker has all the things you need for your family grilling at a very reasonable price. The product has four chrome-coated racks which deliver long term service in your grilling work.
This Smoke Hollow PS40B Propane Smoker has 15,400 BTUs stainless burner with which you can cook slowly or fast according to your needs. Such versatility in a smoke vault is something that is rarely seen.
Smoke Hollow PS40B Propane Smoker Review
Build
In terms of cooking capacity, this smoker has a 15″ Width, 23″ Height, and almost 14″ deep cooking space and is made for long-term use due to its welded steel and cast iron unit. There are four cooking grids which are chrome-plated and the wood and water pans are coated with porcelain for added durability.
Features
This smoker has a two-door opening system which lets you feed the wood and water pans without opening the upper door and releasing any heat or smoke. There's also a push-button ignition and a cool-to-touch sprung door handle. You even get a sausage rack included in your purchase!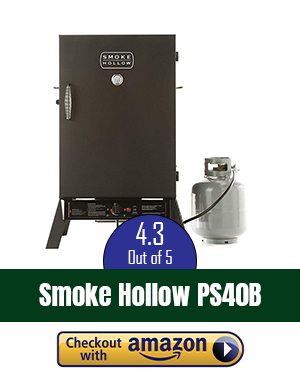 Temperature and Control
There are lower and upper vent controls which make it easy to control the moisture and heat inside the smoker. There's also the gas control which is cast brass, giving you the utmost control and this actually increases the low and high temperature ranges. There's also a heat indicator on the smoker for maximum awareness of temperature, and it reaches the desired temperature in only a few minutes!
Other Factors
The wood chip and water pans are included in this model, which is pleasing for the price that you are paying. As mentioned, this smoker comes in at around $200, which is about average for a smoker. Its reviews are pleasing and it has the same one year warranty as all other Smokey Hollow Grills products for added peace of mind.
Pros
Lower and upper vents for precise temperature control
Chrome plated grates for searing
Superb heat control
Uses both wood chunks and chips
Verdict
This smoker is fantastic, offering a big cooking space whilst not being bulky in its dimensions. It reaches the right temperature in only a few minutes! It's ideal for those of us who love smoking our food without limits. With this size, you won't have problems trying to smoke larger joints of meat or racks of ribs for your family. This smoker makes for easy smoking, without the added hassle of charcoal too! It's easy, whether you're a pro smoker or an amateur too!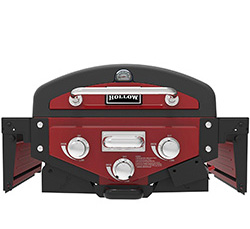 Smoke Hollow Vector 3-Burner
Second place table top grill
Smoke Hollow Vector 3-Burner
This is another good table top grill. It is built really solidly, and is also easy to use. The cooking is always even, but its main downside is that it isn't so portable, because it is quite heavy.
Why We Chose This as Our Table Top Runner Up Pick?
Our table-top runner up is the Smoke Hollow Vector 3 Burner Grill. If you are looking for a pricier Smoke Hollow smoker grill in a table-top design then this one really is for you. It's a really excellent product, but it might not suit the tighter budget as it comes in at around $180. But, it does have 11 of our 32 positive features and its review frequencies are around ten reviews over a space of a couple of months at its best. Despite that, this product still came close to the top due to the greater cooking area, better build quality and materials and the higher heat delivery of 13,000 BTUs.
Smoke Hollow Vector Review
Build
This is a heavy duty model which is not only a grill but a table-top smoker too thanks to its wood chip tray. It is sturdy in its design and can be used with a 20-gallon propane gas tanks. It has a unique V-shaped design which allows for greater transference of heat and is fuel-efficient too. The wire racks are porcelain coated, making them easy to clean. The warming rack is chrome-coated.
Features
There are two burners for grilling and an additional burner for the smoker. There are also two folding tables on the side and folding legs too. Furthermore, there's a wire rack for warming and an inbuilt thermometer.
Although this is a table-top design, it is not as portable as our top pick as it weighs 38lb. It's a little too awkward to carry by the lid handle, unlike the top pick choice. It's also not designed to use the smaller propane canisters and therefore you will need to transport larger tanks which also adds to its not-as-easy portability in comparison to our first pick but, let's not forget that this is a powerful piece of equipment with an added smoker too!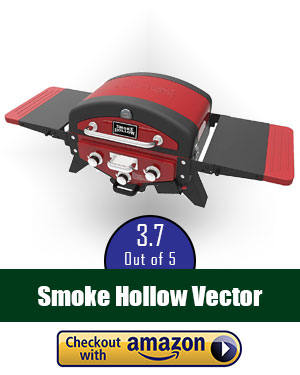 Temperature and Control
The grill is easy to control and has three burners which start easily every single time. The propane gas hose is also easy to connect as there's a large wrench-less tightening handle.
Other Factors
This product also comes with the Smoke Hollow Grills one year warranty. As mentioned, it is more expensive than our top pick table-top design at around $181, but for that you do get a robust grill with two burners and an added smoker burner too.
Pros
Strong build
Convenient to use
Allows even cooking
Above-average performance
Verdict
If you want to smoke food on a portable grill then this is the one for you! Its third burner and wood chip tray ensures that this is possible and gives an added dimension to grilling on the go. That said, it is heavy in its design and can be rather cumbersome to transport, not to mention the greater expense, and this is why it didn't quite make the top spot.
Second best of the smokers
Masterbuilt Smoke Hollow 30162E 30-Inch Electric Smoker
This grill is another great smoker. It looks really good, and is also a reasonably priced grill. The heat is always consistent.
Why We Chose This as Our Runner up Smoker?
This smoker is just as good as our top choice smoker vault. It has a better frequency of reviews and is slightly more affordable, costing around $290 at the time of our research. However, after carefully going through the features of both of these smoker vaults, we decided to give it the runner-up spot.
Masterbuilt Smoke Hollow 30162E Review
Build
This model has 30″ tall, 16″ wide and 14″ deep inside-cooking space and therefore can easily achieve professional BBQing results. It is a standard electric smoker with two cooking grids, 3 temperature settings, and a magnetic latching system. In terms of its construction, the cabinet is made from welded steel with a stainless steel burner and chrome-plated grates. The door handle is conveniently large and is made from aluminum.
Features
This design has a smoke tray where you load wood chips externally. This makes for better heat and smoke retention. Furthermore, there's push-button ignition to make it even easier to smoke your favorite foods.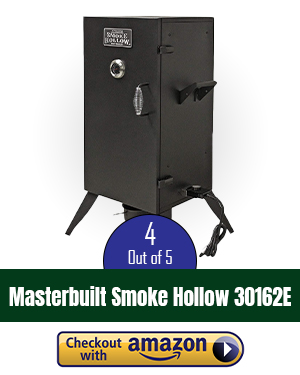 Temperature and Control
The temperature range of this smoker is between 175 to 350 degrees Fahrenheit and it has a professional heat indicator and inbuilt temperature gauge, making for exceptionally easy smoking and grilling.
Verdict
There isn't much to set it apart from our top choice. It really couldn't be any easier to use this model. As mentioned, in terms of its reviews and features, it was just pipped to the post by our top choice smoker. But, this one doesn't come far behind and would make an excellent choice if funds are a little more limited.
Pros
Aesthetic looking
Easy to load to maximize heat and smoke retention
Reasonably priced
Consistent heat production
Cons
Need little attention while cooking
6 Other Smokers We Found Good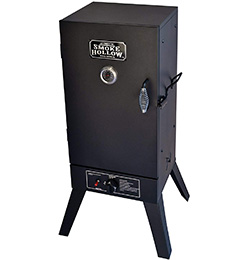 Smoke Hollow 30164G Gas Smoker (30-inch)
An easy to use choice
Smoke Hollow 30164G Gas Smoker (30-inch)
This smoker is durable, and also simple to use. If you are new to smokers, then this could be the one for you. It has a powerful burner and is also nice and lightweight, eking it easy to move.
Build
This is a smoker that's an ideal size for a small family or would be ideal for beginners due to its compact size. It has 1.7 cubic feet of cooking area and is powered by propane gas. It is robust in its construction and is made from durable double walled steel with a stainless steel burner and chrome-plated grates. There are three cooking grids, giving it that little bit of versatility that the family can enjoy. The water bowl is porcelain-coated and the door's handle is cool to the touch. It can produce 10,000 BTUs.
Features
There's a nice auto ignition for this smoker, making it super easy to use. The wood chip and water pans are included in the price of this design.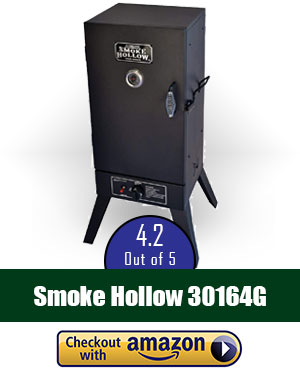 Temperature and Controls
There's a temperature indicator to help you get the perfect temperature for slow and low cooking. It might not be the most accurate of temperature indicators but it will give you a good idea if you're new to smoking and want something simple and easy to use.
Other Factors
The cost of this smoker is slightly less than our top pick at $176 at the time of writing. Additionally, it's very well received with 4.2 out of 5 stars on Amazon at the time of writing. This smoker comes with Smoke Hollow Grills one year limited warranty on the parts and 90 days on the water pan and paint, except for any rust which does tend to appear after longer term repeated use.
Pros
Easy to use
Durable build
Perfect for low and slow cooking
Powerful burner
Ideal for a small family or as a first smoker
Cons
Quite lightweight rather than heavy duty
Verdict
This is a nice little smoker, perfect for if you're new to the smoking game. It has everything that you would want for an easy-to-use, simple smoker. However, it might not hit the spot if you're an experienced griller wanting that little bit extra.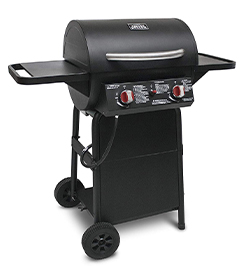 Smoke Hollow LS2016-2 Gas Grill
Perfect for tighter budgets
Smoke Hollow LS2016-2 Gas Grill
This option is really well priced, but still has lots to offer. It cooks really well and is easy to clean, which is always a big bonus! It lacks storage and locking wheels, but it has a good amount for the money
Build
This is a two-burner barrel grill powered by propane gas. It has a total of 285 sq. in. of cooking space which is an ideal size for any backyard BBQ. The two-burners, which are independently controlled, offer 7,500 BTUs of heat. The cooking grids are made from cast iron that has been coated in porcelain for added durability. The barrel design is 20" x 16", making it a large grill in comparison to many. To top it off, this grill looks smart with its black design.
Features
There's an additional warming rack which is chrome-plated, increasing the space available to use on the grill. There's a large side table attached too for extra storage and ease of use. There's an electronic ignition which heats up the grill really quickly as well as 6" wheels to make it more maneuverable.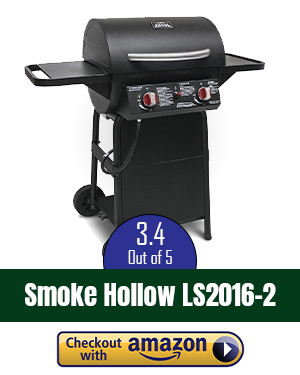 Temperature and Controls
There is a black control panel with red and chrome knobs for each burner. There's also an added inbuilt thermometer but it does not reach too far into the grill, so you should keep checking your food regularly.
Verdict
This is a nice grill, fully powered by gas and is perfect for your grilling needs if you are on a limited budget. But it is just a grill and not a smoker. So bear this in mind as you consider your individual grilling needs.
Pros
Reasonably priced
Two Individually controlled burners
Cooks well
Easy to clean
Cons
Not great for cabinet storage underneath the grill
Wheels without locking mechanism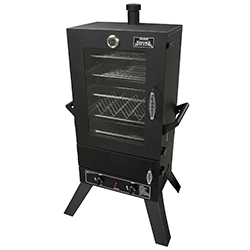 Masterbuilt 44241GW 2-Door Propane Gas Smoker
The one for first-timers
Masterbuilt 44241GW 2-Door Propane Gas Smoker
This pick is great for beginners in many ways. Firstly, it isn't a lot of money and secondly it is easy to use. It can cook all types of meats well, and it is nice and easy to get up and running.
Build
This is a a great windowed smoker choice for a family who likes to grill. Like other choices in the Smoke Hollow Range, this one features the two doors that allow you to feed the wood and water pans without releasing any smoke and heat from the top door in the process. The window makes it easy to see just how your food is doing, minimizing the risk of overcooking! It has a 6.5 cubic feet capacity and is made from durable, welded steel to stand the test of time. It's powered by propane gas and measures 33" x 24.5" x 60" in size.
Features
There are four cooking grids which are coated in chrome and a spring wire handle that is cool to the touch. There's also a heat indicator and push ignition button. There's a hanging rack for sausage cooking inside it too!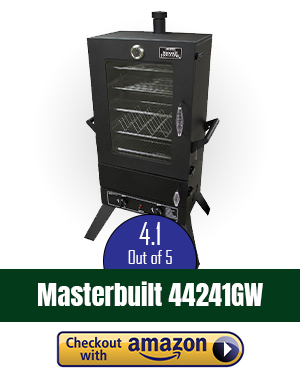 Temperatures and Control
The lower and upper vents make it super easy to manage the moisture and heat inside. This model features a control system made from cast brass, which gives you ultimate control, easily switching between low and high ranges in temperature.
Other Factors
This grill is also covered by Smokey Hollow Grills' one-year limited warranty, as mentioned with other models above. Coming in at around $300 at the time of writing, it's not dissimilar to other smoker/grill prices in our top ten.
Pros
Easy heat regulation
Great at cooking all meat types
Viewing window
Easy to assemble and use
Cons
Heavyweight
Little Bit Costly Than its Peers
Verdict
This grill would be a perfect smoker as it's not too expensive and is so easy to use. Furthermore, it is well-liked on Amazon and the window means that you shouldn't burn your food easily as you can always keep a close eye on it.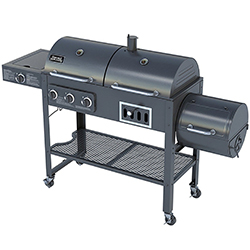 Smoke Hollow 1800CGS Smoker Grill
A large high-tech smoker
Smoke Hollow 1800CGS Smoker
This choice is perfect for BBQ lovers. It has a side smoker and runs on both charcoal and propane. So it is no surprise when we reveal the downside is that it is quite expensive!
Build
This smoker measures 66 x 22.5 x 45 inches and as such offers a lot more in terms of versatility and cooking area. Powered by three 10,000 BTU stainless tube burners, this smoker has 860 square inches of cooking space. Built with sturdy materials, this all-round smoker can serve you for a long time.
Features
The unique thing about this Smoke Hollow Smoker is that it can run on both charcoal and propane. It, therefore, offers versatility in terms of fuel with impressive smoking and grilling capabilities. There's a large wood-chip box that delivers the pellets and therefore the perfect smokiness that you're looking for.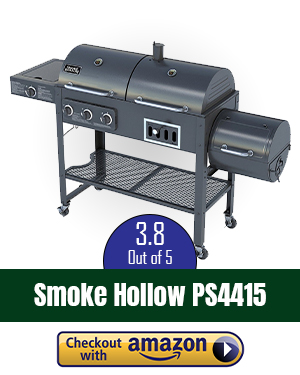 Other Factors
These mod cons don't come cheap! This is our most expensive item in our top ten, coming in at around $450 at the time of writing. It's also the heaviest of all the smokers, weighing in at over 110lb! That's pretty heavy! As a result, its portability is not the best, though it does come with attachable wheels. It comes with the same warranties as all Smokey Hollow Grills products.
Pros
Runs both on charcoal and propane gas.
Three 10000 BTU Stainless Tube Burners
Has Side Burner
Cons
Little Bit Expensive
Heavy to move
Verdict
This is a great, large smoker grill with some incredible capabilities. It's probably better for the more advanced grillers among us but is easy enough to use for a novice too. It'd be a perfect choice for those who are passionate about smoking meat.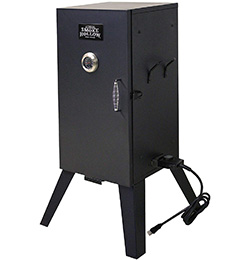 Smoke Hollow 26142E Electric Smoker
A simple grill choice
Smoke Hollow 26142E Electric Smoker
This grill is cheap and a simple choice if you are looking for a grill that runs on electric. It isn't hugely versatile, but it is easy to clean and is made well, so is a safe pick if you want this power type.
Build
This is another top-class electric smoker, this time on a smaller scale. It has a cooking area of 1.3 cu. ft. with two cooking grids made from robust stainless steel that are chrome-coated. It's ideal on the smaller scale, particularly for a small family or little gathering. It measures 19" x 16.5" x 35.5". The cabinet is made from thick welded steel for enhanced durability. It weighs about 33lb so it is much easier to transport than some of the other grills in our list.
Features
This unit has the added bonus of a wrap-around heating element to give evenly dispersed heat. There's also the cool-to-touch door and the water and wood chip pans are included too.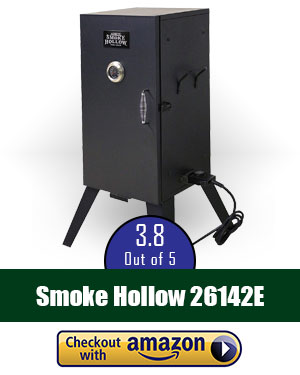 Temperature and Controls
This unit has an in-built temperature indicator and is fully adjustable in terms of temperature.
Other Factors
With it being electric powered, you don't need to worry about having enough fuel ready! As long as you don't suffer any power cuts then you are good to go and grill to your heart's content. Surprisingly, this is the cheapest of all of the grills/smokers in our best Smokey Hollow Grills reviews, with a price tag of just less than $80 at the time of writing! As with other Smokey Hollow Grills, this one has the same one-year warranty.
Pros
Good build quality
Inexpensive
Easy to clean
No risk of running out of fuel
Verdict
This is a great little electric smoker that works incredibly well without the added complications or gimmicks that other grills sometimes have. It's inexpensive and there's no separate fuel source, electricity aside, so you couldn't possibly run out at a crucial moment. If you're just starting out and want an electric, then this smoker grill is a great choice and won't cost the earth either.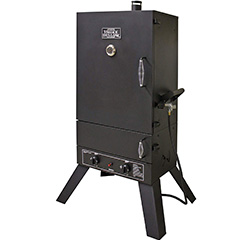 Smoke Hollow 44241G2 Gas Smoker
Packed with grill capacity
Smoke Hollow 44241G2 Gas Smoker
The last pick on our list has a huge grilling capacity, as the cooking surface is really big. The only negative is that being so big it is quite heavy and hard to move around easily.
Build
Our last pick is by no means least. It has powder-coated steel making it strong and durable and able to withstand the elements and extreme temperatures outdoors too. It measures 33" x 24.5" x 60". It has two gas burners and has been designed for serious smokers. It's actually the largest double door dual burner smoker of its kind and has an impressive 7 cu ft cooking capacity. The two burners as well as the bottom door, allowing access to the wood chip tray and water pan, are there to make it easy to effortlessly manage the heat.
Features
Mentioned, this smoker has a large capacity and two doors. Furthermore, it is really easy to set up especially given its larger than average size. There are five cooking grates which are made from chrome-plated steel, ensuring that they are not only robust but are easy to clean too.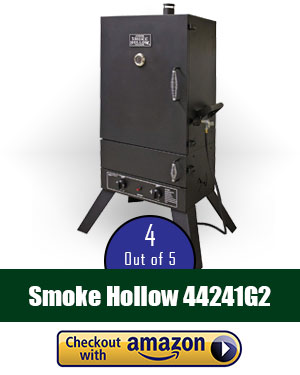 Temperature and Controls
In comparison with charcoal smokers, gas smokers are much easier to control and maintain temperatures. The only potential difficulty is that there are two independently controlled burners which may take a little getting used to. There's a simple red button for the piezoelectric ignition which is so simple to use and a great, fast way of lighting the fire. There's the added bonus of a temperature reader to make it even easier for you to get the perfect temperature for your meat.
Other Factors
While this one isn't the cheapest gas smoker, the fact it is so easy to use and so easy to clean justifies its price tag. Of course, if you want a high-end product like this one, you're going to have to factor in that this will come at a cost. But this should not be the sole focus as efficiency is very important too. This unit comes in at around $269 at the time of writing, making it the second most expensive item in our top ten list. However, it has some decent reviews and an Amazon rating of 4/5 stars, which is very pleasing for an expensive product. Though the reviews are largely spaced, this isn't uncommon with larger, more expensive products.
Pros
Large cooking surface
Easy to assemble and use
Well temperature and moisture level maintenance
Cooks evenly
Cons
Heavy and difficult to maneuver
Verdict
It goes without saying that this is a top quality smoker. It has an enormous capacity! However, it's not so great if you're cooking on a smaller scale. Of course, its lack of maneuverability can be problematic for some people too. It holds our last place in the top ten simply because of its cost and heaviness.
A List of Some Other Products We Tested
Additional Information
Smokey Hollow Grills have great customer service with their phone numbers and email addresses clearly visible on their website. Let's not forget their limited one-year warranty, with the exception of exterior paints which are prone to rust after using the grill regularly.
Having said that, they also have some tips on their website about how to get the most from your Smoke Hollow Grill. Let's have a look at some of their advice about cooking meat.
For meat, you should always use hardwood chips that have also been seasoned for six months at least. SHG recommend using Hickory, Pecan, Apple, Alder, White Oak or Mesquite wood chip but they suggest you should never use resin woods such as cedar or pine. You don't need to treat the wood before using it too. The moisture in the wood will cause the release of the smoke as it heats up. For meat, you should also have a probe thermometer to ensure all meat is cooked thoroughly. Good tongs or a meat hook are an advantage too as well as some good quality oven mitts!
Smokey Hollow Grills: Care and Maintenance
If you want to get the best out of your Smoke Hollow Grill and extend its life as long as possible then you really need to ensure that you take care to clean and maintain it regularly. By cleaning regularly here we mean that it will need cleaning after every single usage! Furthermore, many smokers have the additional need of being seasoned. Some will also potentially need repairs or repainting too. What do we mean by seasoned? Well, seasoning smokers is rather like seasoning a pan made from cast iron. The whole surface should be coated with oil. This should be any one type of cooking oil. Once the oil has coated the grill, it needs to be heated to the perfect temperature so that it seeps into all the imperfections on the smoker's metal surfaces. This oil creates a moisture barrier, repelling water and therefore preventing rust.
If you do spot any rust when cleaning, you should remove it as soon as you can. You can use a wire brush or sandpaper to scrub it off. It needs to be removed completely. Once the area is cleaned it should be painted immediately with a special barbecue or heat-resistant paint. Remember, it's important to get to the bare metal before applying any paint to the area or it won't stand the test of time.
Wrapping it Up
So, there you have it! Our complete guide to the best ten Smokey Hollow Grills that you can buy online or in stores too. Whether you're on a budget or money is no object; whether you want a Smoke Hollow gas smoker or electric; and whether you want a smoker or just a portable grill, there is something for everyone in our top ten list. Of course, we couldn't possibly include all the designs in our top ten so we've picked what we think are the best ten. But be mindful that there is always the Smoke Hollow Pro Series to consider too!
Now all that remains is for you to make your choice. You'll be cooking a ton of meat and food in no time thanks to Smokey Hollow Grills products and accessories. See what you can cook today! Don't forget to let us know how you get on!