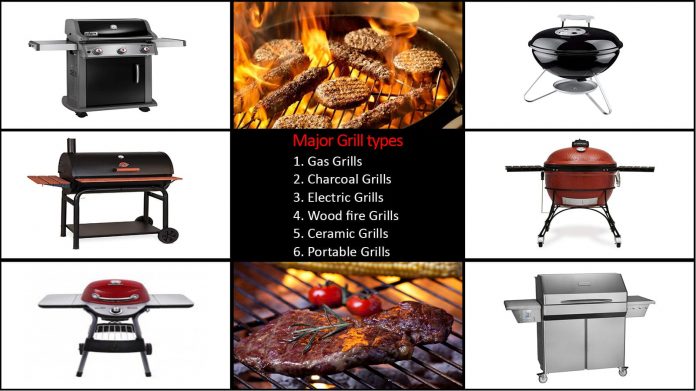 Picking the right grill for yourself can be a challenging task! For many it's almost the same as purchasing a new car. There are a ton of different aspects that must be considered when making your perfect selection. Ranging from the material of the grill, surface area, energy consumption, and a plethora of other criteria. Different types of grills suit different user's needs, that's why there are so many options out there!
Any barbecuer who has been around the block would tell you that the most important thing to look for when considering to buy a grill is to decide what matters the most to you such as speed, efficiency, convenience, and flavor.
However, everything comes down to personal preference and that's why it's important to choose a grill that fits your lifestyle perfectly and that will make every meal an amazing one.
Types of Grills
Gas Grills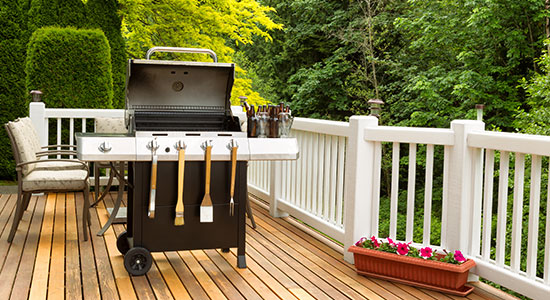 Gas grills are the most popular grills being sold in the United States. Quick to reach optimal heat temperatures and efficient liquid propane consumption makes gas grills an attractive purchase for the casual barbecuer who likes to make some burgers and ribs for a family get together or a party without putting in too much time or effort. On top of that, they cool quickly and are easy to clean. There are a lot of different variations to the types of gas grills, let's get started.
1.Freestanding Gas Grills
Freestanding gas grills have a major advantage over your classic big grilling that they can be easily transported and moved around without extra hassle. Easy, and convenient, like an outdoor high powered microwave.
2.Built-In Gas Grills
A built-in gas grill is much smaller than a freestanding or full sized gas grill. They are designed to take up a minimal amount of space and to sit soundly on top of an island cooking base. Perfect for barbecue aficionados who are limited by space but still want to experience the pleasure of delicious home cooked barbecue food! Generally, freestanding grills are less expensive than your standard grill. The flexibility built in gas grills provide is perfect for those who are looking to design a backyard cooking space.
3.Infrared Gas Grills
Infrared gas grills work by igniting elements such as propane or natural gas in order to head ceramic tile. The benefit of this is that the heat from the grill spreads equally across the entire cooking surface, allowing users to quickly sear and prepare their foods and cook burgers, steaks, vegetables, kebabs, veggies, fish, and sausages the same way a normal gas grill can.
4.Natural gas grills
Natural gas grills have been seeing an increase in popularity during recent years. Efficient, fast, functional, and easy to use. Natural gas grills are usually powered by the same pipeline that connects the gas line that you use inside your home.
Things to be considered
Best for:Anybody who wants some delicious and healthy grilled meat, vegetables or fish fast and conveniently made without any extra hassle during a weeknight or weekend. Perfect for anyone who wants to pop out a tasty quick burger or steak without spending too much time on grilling.
Disadvantages:The heat from gas grills does not get as hot as charcoal grills, also consider high costs. The general consensus is that foods cooked on gas grills carries less of a "classic bbq" taste than charcoal grills.
What to Look for:We recommend looking for a grill that has various heat sources, good propane consumption. Pay attention to the grill material – is it stainless steel? Is it thick or thin? Does the size of the grill fit within your constraints?And of course, how many burgers you can cook at the same time.
Price range:Gas grills can cost anywhere between 100$-2,000$+ Depending on the size, type, quality, and name brand.
Charcoal Grills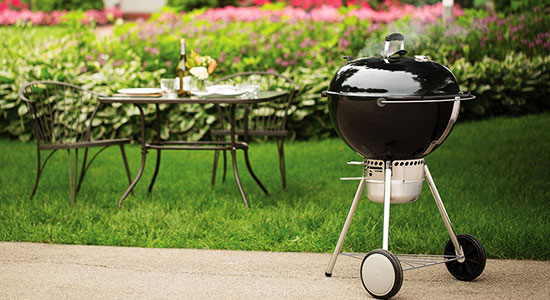 Charcoal type grills are the second most popular type of grill. They require store bought charcoal to function. The coal is lit with fire and lighter fluid, and burns out over the course of a few hours. These grills are best suited for people who have a little bit more time on their hands to mess around with the whole coal process. However, after getting their hands a little dirty, barbecuers get to enjoy fine, smoky, classical barbecue food of a unique quality that's hard to match on other grills!
1. Charcoal Kettle Grills
Charcoal Kettle Grills are much smaller than your standard sized charcoal grill, and thus are easier to transport around. Ideal for those wanting to bring that classic smoky barbecue flavor with them wherever they go. Perfect for an on the go bbq.
2. Kamado Grills
Traditionally Kamado grills were designed to be a movable type of grill. The idea for these grills originated in Japan, though it has become rather popular in the United States as of recent. Sometimes known as the Kamado style cooker. It's recommended that lump wood charcoal be used when utilizing these grills so that the food retains its natural taste and doesn't get contaminated with metals or charcoal residue.
3. Traditional Charcoal Grills
Aah, the traditional charcoal grill. For those seeking the ultimate flavor. Usually made with thick cast iron. These grills are heavy duty, and the quality of the food made in these is pure mouthwatering pleasure.
Things to be considered
Best for: Those who want a little bit of extra flavor once in a while and don't mind spending the time or getting their hands a little dirty with charcoal for those extra elements of flavor to satisfy the taste buds. Definitely for the more serious and experienced grillers out there.
Disadvantages: Takes longer than a gas grill to get started, usually followed with a messy cleanup process. Coals can take up to 30 minutes to heat up. Difficult to keep hot in cold temperatures and heavy winds. Charcoal can sometimes cost more than propane gas.
What to Look for: When buying a charcoal grill, it's important to not cheap out, as this is an investment. Keep your eye out for the type of grates your grill comes with, cast iron or stainless steel are the best. Make you sure you're ready to put in the effort to clean these grills. And remember to always have some coal on hand!
Price range: Small portable charcoal grills are usually cheap and cost anywhere from 20$-200$. You can get a standard grill anywhere from 150$ – 1,000$+. Depending on the size, type, quality, and name brand.
Electric Grills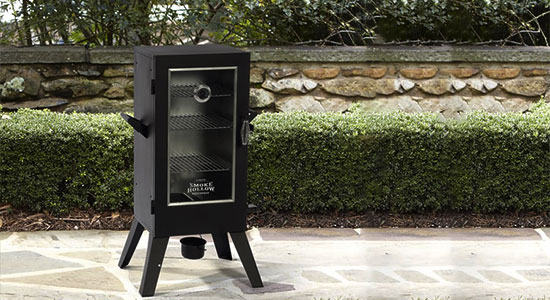 These types of grills are easy and simple to operate. Perfect for people who would like to use a grill indoors. Traditionally, Electric grills draw their grilling power from a 120v or 220v power source, such as a power outlet. Generally, the 120 models are usually smaller and more compact than the 220 ones. But these grills are so easy to use, its literally plug and play, perfect for an in-house bbq.
Things to be considered
Best for:Apartment dwellers, and for those who don't want anything to do with the inconvenience of most traditional grills. Electric grills equal plug and play.
Disadvantages:You don't get the traditional bbq experience. And you can't use these grills if you don't have an outlet or power source nearby. So forget grilling in the middle of nowhere!
What to Look for:Look for electric grills that are easy to start up, have a timer, doesn't hog power, and matches your price.
Price range:Most Electric grills can be purchased for below 200$, Depending on size, type, quality, and name brand.
Wood fire Grills(Pellet grills)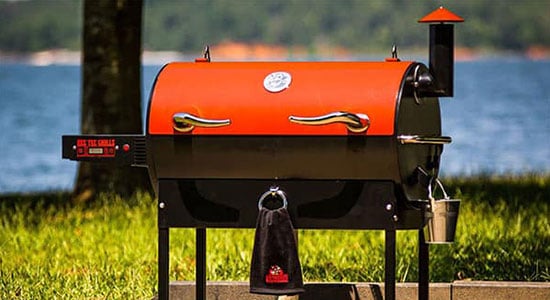 Wood fire grills were the first grills ever used by man. Probably because no barbecue tastes as good as a wood fire barbecue! Usually these types of grills are sold as open grills without a good. Wood grills provide a unique smoke taste to anything that they are used to cook. It's hard to beat that flavor.
Things to be considered
Best for:Anyone who is interested in traditional old style grilling and bbq'ing and being a little fancy and doesn't mind spending time to get that irreplaceable woody, smoky taste.
Disadvantages:Takes a long time for the fire to get roaring and to burn down well enough to start cooking. However, you need to constantly keep an eye out for when you need to replenish he wood. Can be costly.
What to Look for:Wood grills are pretty easy to pick out. Make sure it's safe and that the flame is easily controllable. Go by something stylish and within your price range.
Price range:A Wood grill can cost anywhere between60$-1,000$ Depending on size, type, quality, and name brand.
Ceramic Grills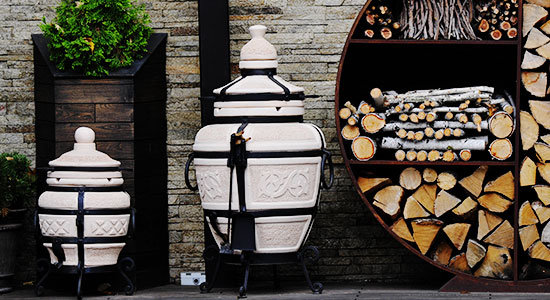 Ceramic grills have been seeing a growing increase in popularity recently. They work wonders retaining optimal temperatures, the air flow on these grills is usually more limited than on others, and thus the meat comes out juicier. Perfect for maintaining steady temperatures over many hours. These grills are ideal for cooking efficiently and fast.
Things to be considered
Best for:Barbecuer's who like to cook large amounts of food over a long period of time without having to go through a setup process over and over.
Disadvantages:Ceramic grills are more expensive than most other grills on the market. They also weigh a lot so they aren't easy to move, which can be a big drawback for many users.
What to Look for:When buying a ceramic grill, you need to look for size and thickness of the material, and figure out how much food you are going to cook at the same time to make sure that the high cost of a ceramic grill makes sense.
Price range:Ceramic grills can cost anywhere between400$-2000$+Depending on size, type, quality, and name brand.
Portable Grills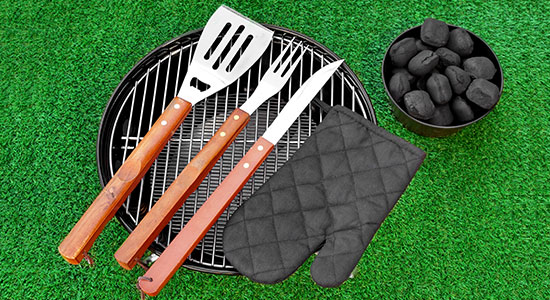 All general grills come in a portable size. Some are actually provided with inbuilt gasoline or charcoal heat sources.
Things to be considered
Best for:Those looking to cook on the move or anyone who simply wants a smaller grill. Ideal for beach trips, parties, and tailgating.
Disadvantages:These grills are much smaller in size compared to their counterparts, so the surface area would be limited affecting the amount of food you can cook at the same time.
What to Look for:It all depends on preference and the amount of bang you can get for your buck. Pay attention to material, energy consumption, and surface area.
Price range:Portable grills can range anywhere from10$ + Depending on size, type, quality, and name brand.
What's your style?
In the end picking a grill all comes down to personal preference and style of cooking. For those who are looking for something quick, easy, and efficient, a gas grill would be the way to go. Want to enjoy a juicy steak or burger from the comfort of your apartment? Check out electric grills. Don't mind spending some time to get that awesome smoky flavor to your food, consider ceramic, wood, and charcoal grills. Like to travel and cook on the go? Anything portable will fulfill your bbq needs.
Final words
There's a lot to consider when picking out the perfect grill for your needs. Approach your decision with care! Hey, and if you pick one grill and decide that you fancy another, remember, there's no wrong in having two grills if you have enough space! In fact, the most important thing is to enjoy your food and have fun – exactly what the Grills Forever team always cares about!