A Short Summary of Our Findings
When we first tried the Green Mountain wood pellet grill – A Davy Crockett – several years ago, it was love at first sight. Since then we have tried the rest of their products, and we love how versatile their grills are. Their grills mostly run on electricity but those also give you the option to use charcoal, if that's what you prefer.
This is why we decided to come up with this review to help our readers out in deciding which one will best suit their needs. We tested these models ourselves, together with our team of researchers. We compared their features and user feedback to get a feel of what the general public thinks of these grills.
Here we reviewed all their models for their awesome features and functionality. They have only five grill models, but there's definitely one that will suit your needs and budget.
All-in-one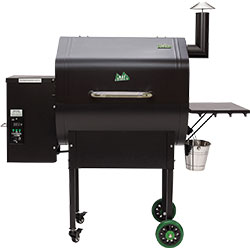 All purpose pick
GMG Daniel Boone
This grill is great for using at home for a family, as well as preparing food for larger groups. It is a good all-rounder, although it struggles when it comes to portability. A good option for beginner grillers!
Check it Out
Named after an American pioneer woodsman, the 110V Daniel Boone grill is the most popular of the GMG line. This electrical smoker/grill has a cooking area of 458 square inches, which is large enough to cook for a moderately sized party. You can barbecue, smoke, and grill on this beauty! Another feature of this grill is its peaked roof, which adds height to your cooking area. It can fit an upright chicken, a large fowl, or another rack of ribs under its lid. Other awesome features include its 17-lb hopper capacity, automatic electronic igniter, 14 gauge steel body and SS lid, a temperature range of 150 – 500 Fahrenheit, meat probe and digital temperature controls, which can be programmed and even controlled remotely if the Wi-Fi option is chosen. All in all, the Daniel Boone is a versatile grill that will definitely make a great cooking companion in any home.
Hard core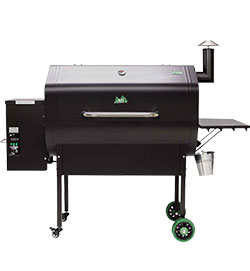 A professional pick
GMG Jim Bowie
This model is greater the seasoned griller. It is perfect for someone with great grilling skills, as it boasts a large area to cook a lot of great food on. It isn't good for trips away as it needs to be plugged in, but overall a safe bet.
Check it Out
If you like being the life of the party, hosting large gatherings and feeding friends and family members all together, then this GMG Jim Bowie is for you.
With its huge size comes a great capacity of 658 square inches. It boasts of the same features as the Daniel Boone, like a peaked roof, 17LB hopper, 14 gauge steel body and SS lid, digital temperature control with meat probe, and option to use charcoal instead of wood pellets. The Wi-Fi option also lets you monitor and control your cooking temperature thru your smart phone or gadget. Basically, the Jim Bowie shares the same functions and features as the David Boone, but on a much larger scale and capacity. It's the best grill for seasoned grillers who cook barbecues or smokes meat at least three times a week.
Camper's choice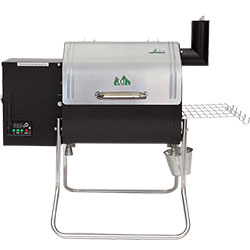 This GMG grill is the most portable out of the five picks we made. This 12V grill has a cooking area of 219 square inches and is the ideal cooking partner for camping trips, beach trips, or a quiet family barbecue dinner. It's small and weighs about 68 lbs., which means you can literally bring it anywhere with you at the back of your car. It also has the same peaked roof as the Daniel Boone and Jim Bowie, thermal controls and meat probe, Wi-fi remote control, and easy to fold legs. It's the best grill for small families and people who love their grilled meat as much as they love the great outdoors.
Big option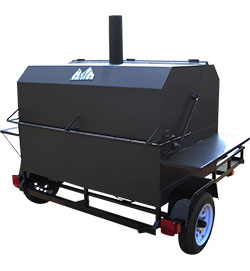 The Big Pig Trailer Rig is a grilling monster! This 6 feet long by 5 feet wide cooking machine is definitely for home cooking, but for large scale barbecue parties where your goal is to feed the multitudes. It's big enough to hold a whole pig or goat! Its large capacity means that it weighs a ton, too. That's why it has massive, 12-inch wheels for when you need to bring it with you, in trailer fashion. As such, it has all the trappings of a trailer like brake, turn, and tail lights and side reflectors.
It has a cooking area of over 20 square feet – which means you can grill 200 burgers or 150 steaks at a time. If you are thinking of setting up a grilling business or a food stall then the Big Pig Trailer Rig is for you. It's the best GMG for commercial cooking purposes, and comes with a hefty price of over $5000.
Pizza pick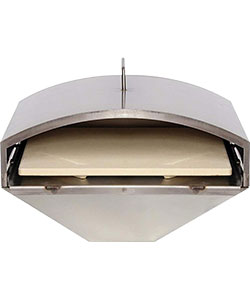 Like the name says, this is an attachment that you use together with the David Boone or Jim Bowie grills only. It turns your GMG pellet smoker into an instant pizza oven. This pizza attachment uses the heat from the grill's firebox and funnels it into the pizza stone's chamber. Temperature inside this chamber can go up to 800 Fahrenheit and more, giving you a perfectly cooked pizza with that added smoky flavor in four minutes or less. Aside from pizza, you could also bake bread and pies, and even sear some steaks in it. It's a worthy investment in addition to your David Boone or Jim Bowie that you'll definitely not regret, especially if you're a pizza lover!
End of Summary
Top 5 Green Mountain Grills (Sep. 2019) – Detailed Buying Guide
You know when you just 'click' with something and you have that 'wow' moment like "wow, this really is for me!"? Well, this is exactly what happened with Green Mountain Grills. It was all started by someone who just plain LOVED grilling with wood pellets. But when the wood pellet grill needed a few improvements, they decided to make their own. It spread from there: from one avid fan to setting up a whole company based on the love of wood-pellet grilling. They're not the only ones who love their products! Lots of others do too, including us!
At Grills Forever, we have reviewed hundreds of grills over the years from the best grills in terms of their category, the best individual grills, and also the best individual brands and all their products. As a part of our brand reviews, today we've decided to review Green Mountain Grill's products in one handy, easy-to-read guide so that if you're a lover of wood pellet grilling as much as the GMG team are, then you'll be able to find the perfect grill for you just through reading our Green Mountain Grills review.
Why Should You Trust Us?
There are hundreds of wood-pellet grills out there with hundreds of reviews. So, what makes our reviews different and stand out from the crowd? Why should you trust us and our research? Our name should give you every reassurance that grills are our thing! We really are all about the grills and will be forevermore! In fact, we have been running methodical grill product research for the past five years. If there's something to know about grills and grilling, we know it.
Our sole purpose is to pass on our love for grilling and helping you, our readers, with choosing the right product for you that will suit your every grilling need. We are a dedicated team of grillers and researchers and for this Green Mountain Grills review, we have completed over 48 hours of research (you could grill a lot within that time). We have had many people involved in this process in order to eliminate any biased or subjective reviews.
Here, we have reviewed all of the GMG products including their different sizes before compiling our Green Mountain Grills review article here. We have tailored our reviews to suit everyone and all kinds of grillers, ranging from the occasional griller to the hardened grill masters. Whoever you are and whatever you grill, there's something for you in this review.
Green Mountain Grills Products
Grills:
If you're reading our reviews, you're wanting a grill, right? If you're not too experienced in the grilling field but have found yourself here, it's important to note that Green Mountain Grills are usually electric wood pellet smokers. They can also be used as multi-purpose smokers. There are many types of grill out there: gas grills, electric grills, charcoal grills and pellet grills but, as we mentioned, the specialty of GMG is their wood pellet smokers. It's what they started with and it's their passion in the grilling world.
Additionally, GMG's Daniel Boone product line can be run using electricity or charcoal too, and this one is a combination pellet grill. Green Mountain Grills do other types of grill products too such as small and portable grills as well as heavy large grills which are ideal for cooking for a large number of people. In terms of price, the grills start from $300 up to around $5000, so you can see that GMG have a range of grills to suit everyone, for every occasion and every purpose.
Accessories:
Green Mountain Grills doesn't just produce the grills that make it so famous. There are also many accessories in its range, including grill covers and oven mitts. You can get anything grill-related from their website or in the local stores. There's even a highly popular fired wood pizza accessory!
Parts:
Green Mountain Grills produce all the different parts for your grills should you need a replacement as well as some additional parts in order to upgrade your grill. There's really nothing that they haven't thought of when it comes to grilling!
Pellets:
As we have mentioned, GMG grills are usually wood pellet grills. Wood pellets are small pieces of wood which are manufactured from sawdust and wood shavings. They are fed into the grill by a pellet auger. This enables a smoky flavor to impart slowly into the meat. GMG has its own line of home-produced wood pellets with different hardwood sawdust combinations for amazing premium flavors.
Dry Rubs:
As well as traditional sauces, GMG produces some fantastic seasoning blends which are a mix of dry spices which are spread over the meat before it goes on the grill. They are tailored for all kinds of meat and some are suitable to be used with any kind of meat too!
Sauces:
It doesn't stop there, GMG are also interested in what you cook on your smoker. They have a line of different grill sauces that you can use to brush over the meat once it's on the grill or marinade the meat in advance too.
GMG Product Variants
Green Mountain Grills have different series of products, each with different variations. The variants are related to the sizes of the available grills in that series, with some even having Wi-Fi support. However, most of the variations adhere to the original specifications within each line of products, barring a few minor differences.
Daniel Boone:
These grills come in two different color choices with two different options available: Wi-Fi enabled control and Non-Wi-Fi enabled. They both come with either a regular matte black lid or a stainless steel lid. This is GMG's best-selling model and the Wi-Fi enables you to control it with your smartphone!
Jim Bowie:
Similar to the above models, the Jim Bowie is available in a Wi-Fi and a non-Wi-Fi version with two material forms and two color options: stainless steel and black. This is the largest model for backyard grilling that GMG makes, so is ideal for parties and large families.
Davy Crockett:
This one is a portable grill and therefore there is not much in terms of options and variants here and it's only available in one specification in one standard color. However, Wi-Fi control is standard. Given its portability, this is an ideal choice for campers, RVers, and travelers.
Big Pig Trailer Rig:
Similar to the Davy Crockett grill, this one is a specialized product and it is only available in one size and one specification.
How We Tested the Products to Prepare This Green Mountain Grills Review 
At Grills Forever, we have personally tried and tested all of the products that Green Mountain Grills offer in order to write this Green Mountain Grills review. In doing so, we have taken into consideration the features that pellet grills are renowned for and we have looked at the optimum use for the products to see how each grill fits the bill.
In turn, we have looked at user feedback from different users and have therefore come to the conclusions over which product is the most popular amongst grill users and why. This has helped us to segregate the products based on their target demographic and how they fulfill their purpose. Furthermore, we tested the results of our cooking using these grills and this helped us to determine which grill suits different cooking needs. What might suit one griller will be different from what suits another.
With all of this data in hand, we have come up with our reviews on GMG products that buyers can use as a guide if you are considering buying a Green Mountain Grills product. With so many grills out there, and so many grills from just one company, you can see how our guide should help narrow down your choice if you've decided to go the Green Mountain Grills way.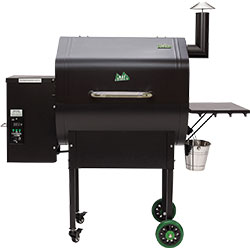 GMG Daniel Boone
All purpose pick
GMG Daniel Boone
This grill is great for using at home for a family, as well as preparing food for larger groups. It is a good all-rounder, although it struggles when it comes to portability. A good option for beginner grillers!
The Green Mountain Grills Daniel Boone is named after the American explorer, pioneer, and woodsman. Boone is famous for his exploration exploits and he used to supplement his income through trapping game and hunting. He's remembered as one of the first early frontiersmen. The GMG grill lives up to its namesake in that it paves the way for grilling!
Uses:
The Daniel Boone is an all-purpose best-selling grill by GMG. It's essentially a pellet smoker and uses electricity as its source to ignite and slow burn the wood pellets so that the best flavor from the chipped pellets is imparted on the meat. However, as well as wood pellets, the Daniel Boone has a chamber for charcoal so it can also be used as a charcoal griller too if that's what takes your fancy. If you're feeling more adventurous, like its namesake pioneer, you can use soaked wood-chips on top of the charcoal to turn it into a smoker that way. However, we believe that this is a little redundant given that this grill comes with a pellet auger which feeds them directly into the fire.
This grill is ideal for grilling steaks, burger patties and even for smoking a brisket too. Aside from this, it's suitable for those who like smoking pork butts frequently. You could even smoke the occasional chicken, lobster and corn too. It'll BBQ, grill and smoke all of it for you with such ease. Just don't expect to be able to cook a whole cow rump or full-sized hog!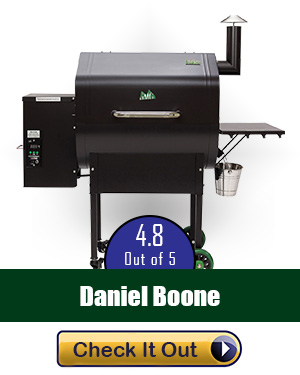 Features:
When looking at the spec sheet of the Daniel Boone, you can see that it has some fantastic features. Firstly, let's talk number. It has a voltage of 110V and a Wattage of 240W, meaning it has some awesome cooking power. In terms of its weight, it weighs in at 155lbs so it's sturdy enough to withstand a lot of use too.
Made from steel, it's also plenty robust with its lid being 13 gauge steel, the SS lid and body being 14 gauge steel and the grease tray being 12 gauge steel. Its grease bucket is also made from stainless steel.
The Daniel Boone comes as standard with digital controls and a peaked lid, meaning that large fowl, rib racks, and stand-up chicken can fit nicely under. There's also an all-important meat probe to test the temperature of your cooking and a convenience tray with hooks where you can hang all of your utensils for easy use.
In terms of its combustion, the Daniel Boone has a venturi-style firebox where the cyclone combustion takes place. Inside, it has a Sense-Mate Platinum resistance thermal sensor as standard in each unit. This monitors the temperature outside meaning that if it is cooler weather-wise, the sensor boosts the grill putting it into Turbo function. This way, the grill heats up a lot quicker. There's also the inclusion of a pressure hopper fan (this prevents burn-back) and a 'fan-only' function which has an automatic shut-off after you have finished grilling, blowing ash out of the firebox.
In terms of pellets, the pellet hopper can hold 17lb of pellets and feeds them into the auger via its sloped design. The auger is built with a great high revolution motor and optimal torque in order to feed the pellets into the fire consistently and smoothly. A hot rod then ignites the pellets automatically and they're kept burning by the combustion fan. As for its controls, the digital controller has a range of 150-500° F, changeable in 5-degree increments. In fact, all Green Mountain Grills have this same temperature control with the exception of the Davy Crockett which can go up to 550° F.
| | |
| --- | --- |
| Voltage | 110V |
| Wattage | 240W start/60W cont. |
| Weight | 155 LBS |
| Dimensions | 51"H x 56"W x 24"D |
| Surface Cooking Area | 458 sq in. |
| Auger Motor RPM | 4.7~5.2 |
| Fan Motor RPM | 0.45A; 4100 RPM |
| Grease Tray | 12 Gauge Steel |
| Lid | 13 Gauge Steel |
| SS Lid | 14 Gauge Steel |
| Body | 14 Gauge Steel |
| Igniter | 110V; 240W |
| Igniter (Hot Rod) Diameter | .625 in. |
| Height of Cooking Surface to Lid | 13.5 in. clearance |
| Hopper Capacity (LBS of pellets) | 17 LBS |
Capacity and Price:
In terms of size and capacity, the Daniel Boone series falls in the moderate capacity. It isn't big, nor is it too small. With a cooking area of 458 square inches, it helps you prepare a decent sized meal for a group, or just for a party of two. Whether you're cooking for the family or partying with friends, this one can help you with both. In fact, it does everything that your regular family kitchen can do, making it a great investment if outdoor dining and barbecues are your thing.
Among other factors, its cooking capacity makes this item incredibly popular. Priced in the medium range of $500 to $700, this one won't be too heavy on your wallet either.
Verdict:
For the best all-in-one solution, we think that the Daniel Boone is the best choice. It's just the right size for both parties and home use. However, it won't win any portability contest as it needs to be plugged into a 110V socket even though it comes with a set of wheels for transport. Due to that issue, you really can't take this out in the wild for a camping trip. Considering its price and all the other factors, this product will be the best choice for anyone who is starting out with grilling or who wants to grill occasionally at home. You really can't go wrong with this product.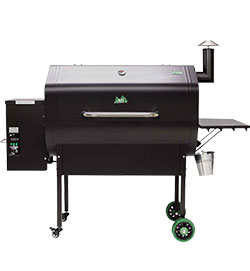 GMG Jim Bowie
A professional pick
GMG Jim Bowie
This model is greater the seasoned griller. It is perfect for someone with great grilling skills, as it boasts a large area to cook a lot of great food on. It isn't good for trips away as it needs to be plugged in, but overall a safe bet.
The Green Mountain Grills Jim Bowie grill is named after another American pioneer, James Bowie, who was a prominent figure in the Texas Revolution, which culminated in him dying at the Battle of the Alamo. He has become legendary due to tales of him as a frontiersman and fighter and even has a knife named after him. You can see that there's another strong, pioneering folk hero behind the name of this grill.
Uses:
The Jim Bowie, a more expensive solution to your grilling needs, will definitely be an overkill for the occasional griller. It's bigger and better than the Daniel Boone without a doubt. But it's not for everyone. It would be the perfect choice to smoke a large-sized brisket and grill burgers for the whole frat house or the sorority.
Although this product wouldn't be winning any 5 stars at a commercial restaurant, this bad boy would definitely be the biggest and the baddest choice for any household. You can even cook the whole leg of cow and a pair of lamb roasts in it. With its two racks, the large pieces of meat can be cooked simultaneously. Impressive for a home grill!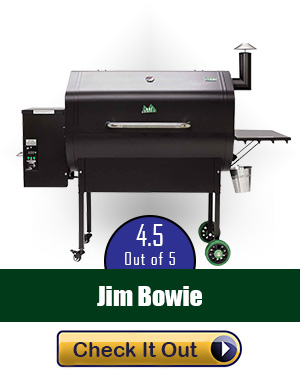 Features:
The Jim Bowie model has all similar features to its Daniel Boone brother: digital controls, peaked lid, meat probe, hard rubber tires and a convenience tray with hooks too. The sensor is the same Sense-Mate Platinum thermal sensor monitors the temperature in order to boost up when it's particularly cold outside. The steel components and gauge of steel is identical to the Daniel Boone too. In fact, the main difference in this model is its sheer size.
| | |
| --- | --- |
| Voltage | 110V |
| Wattage | 240W start/60W cont. |
| Weight | 185 LBS |
| Dimensions | 51"H x 70"W x 24"D |
| Surface Cooking Area | 658 sq in. |
| Auger Motor RPM | 4.7~5.2 |
| Fan Motor RPM | 0.45A; 4100 RPM |
| Grease Tray | 12 Gauge Steel |
| Lid | 13 Gauge Steel |
| SS Lid | 14 Gauge Steel |
| Body | 14 Gauge Steel |
| Igniter | 110V; 240W |
| Igniter (Hot Rod) Diameter | .625 in. |
| Height of Cooking Surface to Lid | 13.5 in. clearance |
| Hopper Capacity (LBS of pellets) | 17 LBS |
Capacity and Price:
In terms of size and capacity, the Jim Bowie series falls among the larger group. With a cooking area of 658 square inches, it helps you prepare a large amount of food for that awkward family gathering. This product, however, wouldn't be such a great one if you're just planning on cooking for two or a few people because firing up such a large grill definitely has a larger upkeep and a greater expense. Even then, it wouldn't be as bad if you opted to use charcoal to cook instead of firing up the pellet hopper with the right wood chips. That way, you can save when cooking for a smaller number of people. Regardless, this big boy is best left for big tasks.
Priced in the upper range of $700 to $1000, this one won't come cheap. But it's definitely the best the money can buy for your household grilling needs.
Verdict:
For the hardened griller that likes to show off his grilling skills and party hard almost the whole summer, this product would be perfect. This product has a large cooking space, a larger pellet hopper and a good tray for charcoal grilling. It comes with wheels for easier transport, but needs to be plugged in to be used. Due to that issue, you can't take this out in the wild for a camping trip. Besides, it's a little on the large side to be doing that! If you're a cooking and grilling enthusiast or a party thrower, then you should most definitely opt for this product.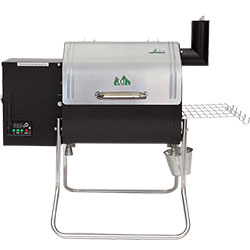 GMG Davy Crockett
A grill for outdoors
GMG Davy Crockett
This grill is a great choice if you are going camping or on a trip. It can cook up a good size meal, whilst being portable too. At its cheap price it is one of the best you can choose on the market.
The Green Mountain Grills Davy Crockett is also named after a 19th Century American frontiersman and folk hero Davy Crockett (have you spotted the theme yet?). He was also involved in the Texas Revolution and died at the battle of Alamo, like his Jim Bowie counterpart.
This grill is the go-to for smaller families or those who are wanting a portable grill for camping, tailgating, traveling via RV or anyone who basically wants to cook on the smaller scale. Wi-Fi is included as standard on this piece of kit.
Uses:
The Davy Crockett is the smallest and the most portable product among the GMG pellet grills. It can run on a 12V battery unlike the Daniel Boone and Jim Bowie, making it ideal for grilling on the move. With this grill, you can grill on the back of your running truck, out in the wild, partying around a bonfire or in your backyard or a porch. Its portability makes it a great option for taking it along on a picnic.
However, the smaller size means a smaller cooking area and a smaller pellet feeder. You can neither cook for many people here, nor cook for too long without having to refill the pellet hopper or the charcoal tray. However, the size of the hopper and the tray is enough for the cooking area it offers, making it a self-sufficient device for the smaller gathering.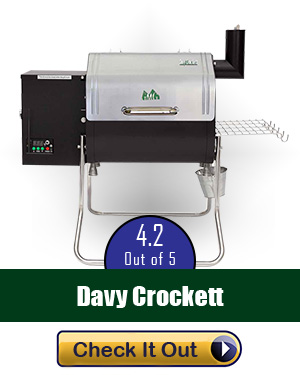 Features:
With this grill being portable, it has the advantage of being lighter weight too. This one weighs only 68lbs (as opposed to the 155lb and 185lb of its GMG brothers above). This is exactly what you want in a portable grill, after all, it's hardly portable if it's too heavy. It still comes with some of the great features of the larger grills, such as a peaked lid, convenience tray, Sense-Mate thermal sensor, a meat probe and Wi-Fi controls. It also has foldable legs, making transportation even easier as it'll fit in the trunk of almost any car. You can purchase some open flame grease trays if you wish to make cleaning it even easier (a must when you're traveling and on the move!). As mentioned, a big difference is the fact it is battery operated – you'd struggle to find a plug in the wild!
To look closely at its size, with the legs open it measures 31.75 x 34 x 23 inches and folded it's just 20.5 x 27.75 x 17.5 inches.
| | |
| --- | --- |
| Voltage | 12V |
| Wattage | 60W avg |
| Weight | 68 LBS |
| Dimensions w/ Legs Open | 31.75" H x 34" W x 23" D |
| Dimensions w/ Legs Closed | 20.5" H x 27.75" W x 17.5" D |
| Surface Cooking Area | 219 sq in. |
| Auger Motor RPM | 4.7~5.2 |
| Fan Motor RPM | 0.45A; 4100 RPM |
| Grease Tray | 13 Gauge Steel |
| Grease Tray Function | Open Flame Technology |
| Igniter | 12V; 100W |
| Height of Cooking Surface to Lid | 7.75 in. clearance |
| Hopper Capacity (LBS of pellets) | 9 LBS |
Capacity and Price:
With a cooking space of 219 sq in. This product isn't cooking for your whole friend circle without giving you a ton of headaches. Every time you finish cooking a batch, you'd have to take the time to replace the charcoal, clean out the drip bucket, refill the pellet hopper, and wait for them all to heat up before you can start cooking up your next batch. But if grilling experience means a good family time with your partner and kids, this definitely should be your first choice. This one here is not for the partygoers but for the small family.
Of course, it's small size and capacity also means that it has the lowest price among all the GMG pellet grills with a price tag below $400.
Verdict:
If you're going camping but don't want to burn your meat on a fire pit by mistake, taking along this product would be a great option. It can cook a good meal for a family while giving them the satisfaction of grilling out anywhere. With its lower power consumption, this product is saving you some money, and with a lower price, it's saving you even more. Altogether, it's a great, portable pellet grill: one of the best on the market today.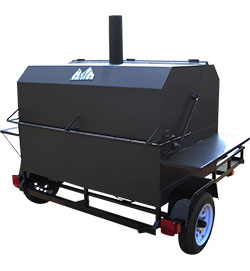 GMG Big Pig Trailer Rig
Our choice for commercial
GMG Big Pig Trailer Rig
This model is great for big feast cooking or grilling on a truly commercial scale. It is only for people who really need a big grill, as it comes in at a higher price than most. But there is no doubt this is a grill for a party!
Siding away from the frontier name theme, the Big Pig Trailer Rig lives up to its name with no explanations whatsoever. It's Big, has a trailer attachment and wheels, and can cook a whole pig!
Uses:
This is not a grill for any household. It's large enough to feed the whole neighborhood and cook a whole hog, goat or all four legs of a whole cow at once if necessary. It comes with large wheels, allowing it to be dragged along behind a vehicle like a trailer.
It's perfect for commercial grilling at a carnival, as a roadside food stand as well as for large party occasions. It's definitely going to benefit hotel and restaurant owners to fill in the large number of orders from the customers.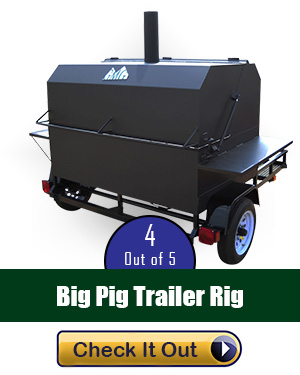 Features:
Looking at the spec sheet of the Big Pig Trailer Rig, you can see it has some impressive features. It is 6 feet in length and 5 feet wide. It's massive! Of course, that means that its weight is pretty massive too and it weighs in at 1120lb. It is on a 200lb axle too with a 2-inch ball hitch and 12-inch tires.
As it's a trailer, it has brake lights, turning and tail lights as well as side-reflectors. It also has a useful front area for storage measuring 1'10" by 5'. The outer material of the grill is made from 1/8 inch thick steel and measures 3' 5" by 5'. The lid has hydraulic openers too.
In terms of temperature, it has the same range as the other two larger pellet grills at 150 to 500 degrees Fahrenheit and the Auger is 2' long with a 5.5" firebox. There's a dual igniter and induction fans and it holds an impressive 84lb of pellets. There are also two side shelves. Everything about this grill is big! It's called Big Pig for nothing! Finally, its exterior finish is covered in a high temperature-resistant paint of up to 1200°F.
| | |
| --- | --- |
| Trailer | |
| Dimensions | 6'L x 5'W |
| Weight | 1120 lbs on 200lb axle |
| Hitch | 2" Ball |
| Tires | 12" |
| Driving Signals | Brake, Turn, and Tail Lights (4-pins) & Side Reflectors |
| Front Storage Area | 1'10" x 5' |
| Grill | |
| Outer Material | ⅛" Thick Steel |
| Dimensions | 3'5" x 5' |
| Lid | Hydraulic Openers |
| Main Cooking Area | 3' x 4'6" 13.5 sq ft; 2 Stainless Steel Grates |
| Top Cooking Rack | 1'6" x 4'10" 7.25 sq ft; Single Stainless Steel Grate |
| Total Cooking Area | 20.75 sq ft |
| Digital Temperature Controller | 150 to 500 degrees |
| Meat Probe | Included |
| Sense Mate Dual Program Control | Included |
| Fire Box w/ Vertical Grooves | 5.5" |
| Auger | 2"; 5.3 Revolution |
| Dual Igniter & Dual Combustions Fans | Included |
| Large Pellet Hopper | Holds 84lbs of Pellets |
| Side Shelves | x2; 12" x 41" |
| Exterior Finish | High Temperature Paint up to 1200°F |
Capacity and Price:
This is the perfect rig for cooking competitions, carnivals, catering, and restaurants. With over 20 sq. ft. of cooking area, this can cook 150 steaks, 25 briskets or 200 burger patties at a time – enough to hold a large grilling party.
With a price over $5k, this is surely not for the average household. It's going to be a good commercial investment though.
Verdict:
For a massive feast or commercial cooking, this product is the perfect choice. Its price tag will set the average user back a massive amount so unless you're really in need of a huge cooking facility then it's probably best to choose one of the other Green Mountain Grills products. If you're a huge party thrower, a restauranteur or wanting to set up a portable grilling business, then this would be a perfect choice. It can be transported anywhere thanks to its trailer, despite its size. Of course, you'll need a power supply or generator too. It is certainly a product that lives up to its name. It may not be a frontier folk hero, but it's paving the way to creating its own legendary status in terms of its grilling prowess.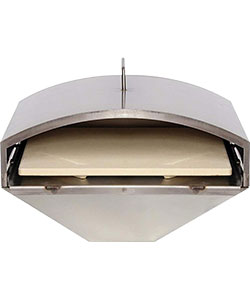 GMG Wood Fired Pizza Attachment
Must have for pizza
GMG Wood Fired Pizza Attachment
This extra attachment is a great shout for anyone who already owns a GMG grill. It is a good value extra that allows you more versatile cooking options, and to get you that perfect pizza without buying a pizza stone.
Uses:
This is an attachment that you can use on your GMG grill to get a makeshift pizza stone. With a wooden tray and being cooked using the pellet feeder, this product gives you the option to get your pizza fix without having to buy a whole new pizza stone.
Features:
This attachment turns your wood pellet smoker into a pizza oven! The wooden base does get charred with use and therefore loses a little of its visual appeal with time. However, it continues to work as intended for a long time, cooking great pizzas with a pleasing smoky flavor. The attachment captures and then funnels heat from the pellet smoker's firebox up into the baking chamber which encases the pizza stone.
This increases the temperature inside the grill to that of a real pizza oven. It reaches temperatures above 800°F which lets you cook a pizza worth of a ristorante in just 2-4 minutes! You can also use it to bake bread between 400-600°F and to sear steaks at 900°F. Please note, this product fits the Jim Bowie and Daniel Boone GMG grill models only.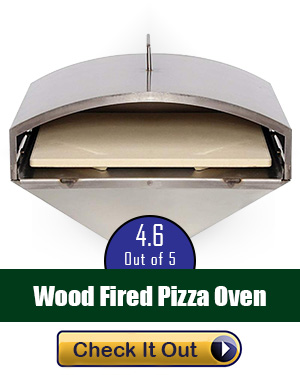 Capacity and Price:
This product can cook one large sized Pizza at a time. It can also be used to cook some small meat pies at a time (around 6).
Priced around $150, it's a worthy buy for someone who already owns a GMG grill. A regular pizza stone would cost you way more than that and, as such, if pizza's your thing, it's a sound investment.
Verdict:
For making pizza, this product is a must-buy. If you already own a GMG grill (either the Jim Bowie or the Daniel Boone models), we don't see any reason for you to not buy this accessory, because it will help you kill two birds with one stone.
Glossary
Pellet Hopper: A pellet hopper stores the wood pellets that fuel the grill. The bigger the pellet hopper capacity, the longer your grill can cook without refueling. It's important to consider that you pellet hopper holds enough to cook your chosen food and that it is engineered specifically to feed the pellets accurately into the attached auger.
Pellet Auger: A pellet auger is a rotating device at the bottom end of the pellet hopper which delivers pellets to the firepot. Then they are lit by an ignition rod. The fan stokes the fire and the heat and smoke are distributed through the grill.
Wood Pellets: Wood pellets are the fuel used in wood pellet smokers and grills. Wood pellets give true smoky flavors to your food. This isn't an acrid or heavy smoky taste. It's derived from guaiacol (pronounced gw-eye-a-kol). This is the flavor molecules that are released when the lignin in the wood is burned. Green Mountain Grills' pellets are completely natural and contain no additives at all.
Care and Maintenance
GMG grills all come with a 2-year warranty. Having said that, you will need to follow some regular maintenance and care instructions in order to keep your grill working at its best.
Firstly, you should ensure that you read the instructions before attempting to put the grill together. If you've bought a Wi-Fi enabled model, you should make sure that the firmware is up to date before starting up your grill for the very first time. Likewise, you need to make sure that you have attached the Wi-Fi aerial!
To ensure optimum airflow, you should ensure that the chimney cap is on correctly at the right setting and that there's some clearance at the grease tray. Also, the sensor for the temperature should not be obstructed. The lid of the hopper must be firmly closed too. When starting your grill, you should leave the lid open. It should only be closed once the pellets are ignited.
You should also not cook at low temperatures while the grease tray is in open position.
The firepot should be cleaned regularly and pellets should not be left in the auger or hopper tube if the grill isn't going to be used for over a couple of weeks (and less often than that if it's damp outside).
Grease should be removed regularly, especially if you are intending to store the grill for any period of time. You should use a light detergent to wipe it clean and ensure it's dried before storing. You could purchase a weatherproof cover to protect it from the outside elements. However, condensation cannot be prevented and so you should double check and air or dry off your grill if you need.
Finally, a really good clean will do your grill wonders every once in a while. You should always ensure that the grill is cool. All the grease trays, grates, bucket and heat shield should be removed. You can then just use a household vacuum as appropriate. It should only take about 10 minutes. As a guide, you should clean it for every two or three bags of pellets that you use (or 80 to 100lbs of pellets). If you follow all of these instructions, you should have a clean and sparkly grill in no time, and a grill that more than outlives its 2-year warranty. GMG also have a support line should you need any additional help with cleaning and understanding your grill.
Wrapping it Up
So, there we have it. All of GMG products in one handy Green Mountain Grills review article. If you've decided on a Green Mountain Pellet Grill then we've certainly ticked all your boxes here. They're pioneering, rather like the fellows after whom they are named. Whether your choice is a Davy Crockett for traveling, a Daniel Boone for everyday usage, a Jim Bowie for a bigger gathering or the Big Pig Trailer Rig, we are sure that you won't be disappointed. After all, Green Mountain Grills was set up by someone whose passion in life was grilling. They won't disappoint. Get grilling today! If you'd like to see more information or contact GMG, their website is really informative.