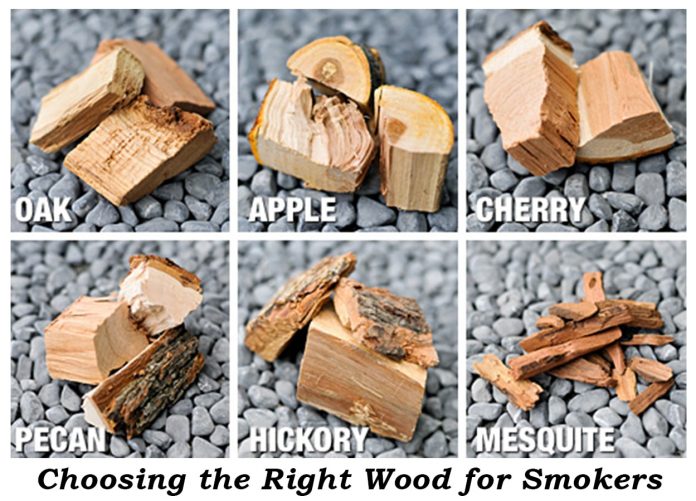 Many of us get excited about just thinking about barbecues. Nothing gives a better feeling than the smell coming from cooking a meat on a bright summer day. From the point of view of a pit master, the anticipation that he or she gets from the guests as they cook and serve is much more thrilling for them. The selection of the right kind of wood is the most commonly faced question for any new barbecuer. Woods are available in varying options to serve the purpose of smoking meat. Most of these woods can be procured from any local supplier.  But the most important aspect is to decide on what kind of wood would go along with what kind of meat. You should also know which pellet smoker has a large hopper capacity.  Grills Forever has prepared this guide especially for you that would help you find the right wood for smokers.

Alder
This particular kind of wood has gained quite some popularity in the Pacific coast as it is slightly sweet.  It is most commonly used for seafood, especially salmon. However, it even works well for lighter meats like poultry as well as pork.
Almond
This wood has a very good nutty as well as sweet flavor which can complement any kind of meat. However, it is very good with turkey as well as chicken.
Apple
This particular kind of wood is known for its light smoke along with its fine fruity flavor.
Crab apple, Mulberry, Pear
They are similar to apple wood in both use as well as flavor. A lot of smoke is emitted by crab apple. Hence it is advised to use it carefully till you quite familiar along with it.
Cherry
This is the most popular choice of wood amongst the smoking crowd. Instead of offering a simple smoke flavor which is quite strong, it offers a smoky sweet flavor. It can be used with any kind of meat, from lighter meats like chicken as well as port to heartier meats like game and beef.
Citrus woods- Grapefruit, Orange and Lemon
This particular kind of wood works well with pork, poultry, beef as well as fish. It is known for producing a mild smoky flavor along with subtle citrus notes.
Coconut
It is not a commonly employed wood when it comes to barbecue. Coconut hulls are basically used along with lighter meats like seafood, pork as well as chicken to offer a fruity coconut flavor.
Corn cobs
This particular kind of wood is known to provide sweet and fruity smoke. This fine flavor is extended to the meat, making it ideal for poultry as well as pork.
Cottonwood
This soft wood serves better as a fuel and imparts very less flavor. Hence, it is better to use it along with another wood like hickory.
Grape Vines
This particular kind of wood goes well with any kind of meat due to its fruity and tart flavor, including game, red meats as well as lamb. When you are working with grape vines initially, it is better to use it quite sparingly.  To obtain more subtle flavor try soaking the lightly flavored chips into some wine before smoking.
Guava
This particular kind of wood is quite difficult to find and is found in the tropical regions. It has partially sweet aroma as well as flavor and belongs to the Myrtle family. It works well with fish, beef, poultry as well as pork.
Hazelnut
It works well with chicken as well as pork and offers a hazelnut to the meat.
Herbs
Unique tastes as well as herbal flavor is offered to the meats by using herbs line basil, oregano, rosemary, sage, marjoram as well as thyme.  Sage as well as Rosemary work well due to their woody steams which are quite thicker. Try to use it sparingly at first as herbs will strengthen the taste of lighter meats. Once you get idea about the strength of the flavor imparted by any particular herb of your choice, you can use it as you desire.
Hickory
It is commonly referred to as the king of barbecue woods and is the commonly employed wood for the barbecue. It offers a sweet and hearty flavor and works well with game, pork, beef as well as poultry.
Pecan
It is quite similar to hickory in flavor but offer a robust yet subtle and sweet flavor. It works well with cheese, poultry, pork as well as beef.
Sweet fruit woods- Plum, Apricot, Nectarine, Peach
These possess a flavor that is similar to hickory the only difference being in the fruits notes and results in milder smoke. These woods are ideal for turkey, fish, pork and chicken which are lighter meats. The flavor of the wood dissipates with time. If you want to flavor your meat, then older supplies would not prove out to be effective. These are ideal choices of many people looking for wood for smokers.
Lilac
A very light smoke is produced by this wood. Subtle floral overtones work great with lamb and seafood.
Maple
This wood produces a slightly sweet smoke with maple syrup overtones. This is ideal for poultry, pork, game birds and cheese.
Birch
This wood is ideal for lighter meats such as poultry and pork.
Walnut
This is used in small amounts along with lighter woods because of its heavy smoke. Using more concentration can make it bitter. This is best for hearty red meats.
While looking for right wood for pellet smokers, one needs to ensure that the wood is ready to be used and is well seasoned. You need to store wood that is freshly cut when looking for wood for smokers. Bulking will result in woods that may be inappropriate. Purchase from reputed stores while looking for wood for smokers. Do not use soft woods as they produce resins and tars. These can ruin the smoker as well as food.