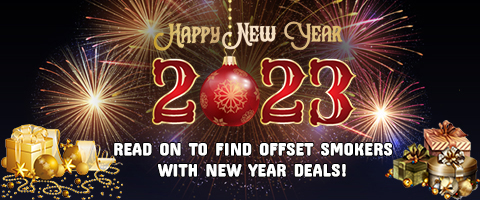 You've no doubt found this page because you're looking for a smoker – and one that will set you apart from the rest! Smokers are everywhere: barrel, pellet, box, water smokers… but there's nothing quite like an offset smoker to tip you in to the league with the pros. Offset smokers are a great choice if you're wanting to cook like a smoking master. Made to the traditional smoker design, they're one of the more popular types of smoker out there.
The story goes that the first of these offset smokers were most likely made by workers in the oil fields in Oklahoma and Texas. These workers were far from any restaurants or home cooking but it did not take them long for the welders to see a smoker in the steel drums. Their design was based on a traditional barbecue pit with the fire in one chamber allowing the heat and smoke to cross over to cook the food in a separate chamber. With an offset smoker grill, food smokes and cooks in a horizontal, long chamber while the smoke is created through the burning of charcoal and wood in an attached firebox on one side. Usually, the smoking chamber has many shelves which means that you can cook large quantities of food at the same time. You can cook briskets, pork shoulders, and racks of ribs like a pro at home!
Here, at Grills Forever, we have looked at the best offset smokers out there in 2018. We've done the testing and the hard work so that you don't have to! You can dedicate more time to cooking up a storm in your smoker instead.
A Short Summary of Our Findings
If you're the type who likes meat that's juicy and tender with a really flavorful smoky taste, offset smokers are the perfect grill for you. These traditional smokers are characterized by a horizontal barrel where you place your food for cooking, and an attached firebox to one side. Indirect heat cooks and smokes your food for that mouthwatering flavor that you'll truly love.
Since the holidays are just around the corner, we know that a lot of our readers are thinking of getting a grill to give them more options for food preparation. And we really think that an offset smoker is one of the best investments you can make, not just for the holidays, but for future get-togethers as well.
Here we rounded up our favorite offset smokers from different brands. We've tried these out for ourselves, and in addition, we gathered a team of testers and researchers who compared their actual experience with these smokers and reviews from people who bought them. Here's a short summary of our picks, and how they made it to the list.
The Dyna-Glo charcoal offset smoker takes outdoor cooking to a whole new level. First off, it's very reasonably priced at just under $200. Also, it has such a large cooking area that you can literally cook up a feast of about 100lbs of food on this alone. Temperature control is also one of its advantages; it's great for slow cooking and smoking, and you can be assured that your food won't be overcooked or burned in it. It's vertical orientation makes it a great space saver, while its simple lines and sturdy build makes it quite an eye-catching centerpiece for your outdoor deck or patio.
A close second is the American Gourmet Offset Smoker from Char-Broil. Just like our number one pick, among its top features is its affordability. Priced under $160, it is very affordable and comes with many positive features that give you bang for your buck. It has a 670 square inch of cooking space on its main smoking pit, plus another 255 square inches of direct grilling space on its firebox. This means you can also cook up quite a feast on this thing. It also has efficient temperature control features, and is quite big and heavy, but that's okay because it stands on two wheels that make it easy to move around.
The best combination grill for smoking, grilling, and searing, Oklahoma Joe's Gas and Charcoal combo smoker is very versatile, very flexible, and very efficient. If you're thinking of searing or barbecuing your meat, the firebox can do that for you. If you want some smoked goodies, you have 750 square inches to do that. If you want to smoke a whole turkey, yes, you can definitely do that, too. If you want it to last as long as you're alive, it can even do that, it's built to last! At $500, it's a bit expensive, but only because it's worth all that and more. It's a good investment that will give you returns for years to come.
Another versatile smoker, this one from Char-Griller is great for smoking or grilling food. What makes it our beginner's pick is how easy it is to use, even for first-time smokers. It also has a reasonably large cooking area of 830 square inches with two adjustable racks, and it also comes with wheels that makes it easy to move around if needed. Priced at around $200, it's an affordable choice for beginners and budget-conscious grillers alike.
End of Summary
Top 10 Offset Smokers — Detailed buying guide
You've no doubt found this page because you're looking for a smoker – and one that will set you apart from the rest! Smokers are everywhere: barrel, pellet, box, water smokers… but there's nothing quite like an offset smoker to tip you in to the league with the pros. Offset smokers are a great choice if you're wanting to cook like a smoking master. Made to the traditional smoker design, they're one of the more popular types of smoker out there.
The story goes that the first of these offset smokers were most likely made by workers in the oil fields in Oklahoma and Texas. These workers were far from any restaurants or home cooking but it did not take them long for the welders to see a smoker in the steel drums. Their design was based on a traditional barbecue pit with the fire in one chamber allowing the heat and smoke to cross over to cook the food in a separate chamber. With an offset smoker grill, food smokes and cooks in a horizontal, long chamber while the smoke is created through the burning of charcoal and wood in an attached firebox on one side. Usually, the smoking chamber has many shelves which means that you can cook large quantities of food at the same time. You can cook briskets, pork shoulders, and racks of ribs like a pro at home!
Here, at Grills Forever, we have looked at the best offset smokers out there in 2018. We've done the testing and the hard work so that you don't have to! You can dedicate more time to cooking up a storm in your smoker instead.
Why Should You Trust Us?
My team and I have researched and tried various types of smokers & grills during last 5 years to prepare this bbq offset smoker review. Over these years, we have come across many bbq grill brands that are truly remarkable and also the brands that were not worthy enough. All our experiences as well as our methodological research have helped us to come up with an empirical review that will help you to choose the best offset smoker.
For research, we have considered 42 best offset smokers that are currently available on the market. Among those we shortlisted 19 for practical testing and rest were excluded while initial screening. A total of 60 hours of research were done by our team to prepare this top 10 best food smoker list based on different benchmarks.
This 60 hours were utilized for our web research on the best offset smoker reviews from customers as well as hands-on evaluation. While evaluating, we have taken a few factors into consideration. The factors such as the budget that you're likely to spend, how you going to use the smoker, the capacity of the smoker, the storage space it gonna take and the versatility that it offers.
So, considering these factors and some other less important factors, we were able to pick the 10 best offset smokers out of the 19 we picked for hands-on testing. You can choose any of these 10 top rated smokers depending on the features that are more important to you.
Keep one thing in mind. We have prepared this list only to help you buy the best offset smokers on the market. We haven't been paid by anyone to promote any specific brand or to provide any information that is biased.
What is an Offset Smoker?
The reason it's called Offset Smoker is because on the right hand side of the smoker, you will find a firebox that is attached to your cooking chamber. The wood gets burnt inside this firebox producing heat and smoke. Inside of your cooking chamber where all the meats are being cooked has no heating source of its own. So, your foods are cooked through indirect heat from the firebox that are being transferred to your cooking chamber.
The firebox is where you light your charcoal and you also put your wood chips/chunks. Heat and smoke are generated from the charcoal and wood chunks will provide you with that extra dimension of smoky flavor. You will need to regulate the temperature by opening or closing the side vents on your firebox. Side vents allow you to control the amount of air that goes into your firebox. As you know fire needs oxygen to burn, the more you open the vent, the more fire is going to build up and eventually the temperature will go up.
The heat and the smoke from your offset firebox get sucked into your cooking chamber through a hole that is present between them. The amount of smoke and heat that gets pulled into the cooking chamber will differ depending on how open or close your smokestack is.
A great feature of an offset smoker is that you can use it for grilling or searing your meat by using charcoal just like a normal barbecue. A disadvantage of cooking in an offset smoker is that typically you're going to get hot spots closer to your firebox. But some particular offset smokers have tuning plates that help eliminate the hot spots by moving them around.
Offset Smokers are great if you need a decent size grilling area and if you want that authentic charcoal smoky flavor. They're not so favorable for persons who love to have the "set it and forget it" feature in his/her smoker. You have to keep your eye on top of your charcoal and food consistently. It's a manual process of burning wood; like other smokers, offset smokers don't have any gas or electric element that may improvise the heat. So, the only way you can maintain the temperature is by stirring the fire and adding more charcoal from time to time.
Which Smoker Type Suits You Best?
Choosing the right smoker can make all the differences when it comes to your grilling and bbq adventure. There are a lot of things to consider before choosing a specific type of smoker. Each type of smoker has its own set of pros and cons. So make sure that you know about each smoker types before selecting one to go for. The following infographic (Click on the image to enlarge it) might help in this regard.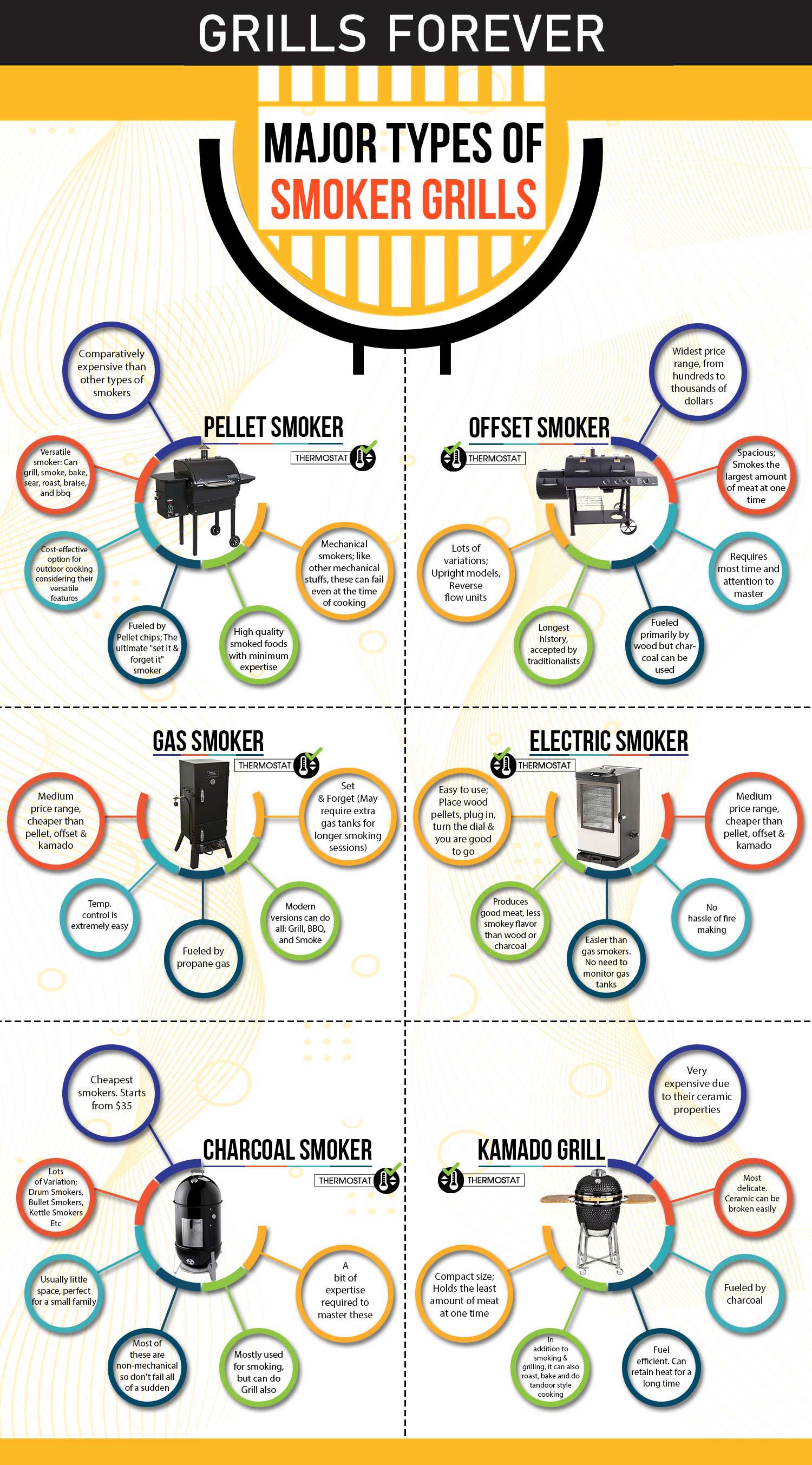 Charcoal Smoker: Charcoal smokers will provide you with that great charbroil taste but lighting & cleaning them will require a little work. There are different types of charcoal smokers such as- a standard charcoal grill like Kettle, a Kamado which features a ceramic housing that helps retain heat & smoke and the last one is offset smokers which we have reviewed here.
Most of the offset smokers allow you to smoke and grill your food. As you may know, some people swear by the taste of food cooked over real hardwood. The offset smoker is the most traditional type of smoker and it's completely wood-fired. Texans love to smoke with it the most. It has a firebox off to the side, where you lit your fire and the smoke from the firebox moves to the smoking chamber to cook your food. It's fueled by real hardwood that comes in a variety of flavors like mesquite, cherry, and hickory to name a few.
In a reverse flow offset smoker plans – the smoke from the firebox moves all the way underneath a metal plate and comes out from the other side of the smoking chamber. Then the smoke moves in a reverse direction and escapes out through the chimney while smoking your foods.
If you like the wood fire taste, prefer smoking your food for long periods of time and are familiar with the fire management, then you'll want an offset smoker.
Pellet Smoker: A pellet smoker is where you fill the end with pellets. Pellets are made of compressed wood and available in a range of different flavors. An electronic spark ignites and moves the pellets through the burner to create smoke. You can set the temperature and leave the smoker overnight. You do not have to worry or manage the fire as it will take care of itself.
Camp Chef Pg24, Green Mountain Grills Daniel Boone Pellet Smoker, Backwoods Smoker Chubby, Memphis Wood Fire Grill and Bradley Smoker are some of the reputed pellet smokers on the market. For more information, you may check our detailed buying guide on the best pellet smokers.
Electric Smoker: You will not require to be a master to control the temperature since most of the electric smokers come with an automatic temperature control. When it comes to an electric smoker, you can add or remove racks. Another thing that makes the electric smoker wonderful is that you can use wood chips with the help of a smoker tray. For more information, you may visit our top 10 best electric smokers review page.
Gas Smoker: Gas smokers are also a popular option today. They provide a consistent heat and often require a little more than turning on the gas and pushing an ignition button. Gas smokers are a great option if you're in a hurry or if you grill frequently. It can be fueled by a propane tank which can simply be replaced when empty or by a direct feed from your home's gas line. Some gas grills offer side burners that operate much like your home's range.
There are also combo smokers that offer gas grilling when you're in a time crunch and charcoal grilling when you're not. To name a few gas grill smoker combo, Weber, Masterbuilt Smoker, Kalamazoo Hybrid Fire Grill and Napoleon Rogue 425 are some of the best propane grills on the market. Consider checking our review of top 10 best gas smokers for more information.
How to Use an Offset Smoker?
If you like a smoky taste in your food, then cooking with an offset smoker is for you. All you will need is cook in a lower temperature over longer periods of time.
The temperature for smoking is usually between 225 to 250 degrees and this method works best for cooking large cuts of meat. The temperature can be regulated using the dampers which are mostly situated at the at the top of the smoking chamber and the side of the firebox chamber. You can adjust the temperature up and down by regulating the airflow. To increase the heat open the lower damper which will allow more air to flow to the offset smoker fire box. To lower the temperature open the upper damper which will allow more heat to escape. A good practical method is 1 to 1 ½ hours of smoking for each pound of meat. Cooking times will vary based on the exact temperature, the type of meat and the particular smoker you will be using.
It's easier to maintain a consistent temperature using a propane or electric smoker than it is with an offset smoker. The heat generated by the natural fuels (wood log) will fluctuate more than the steady consistent heat generated in an electric or gas smoker. The offset smoker will take a little longer to light but will add that charbroiled taste to your food.
To get the most succulent smoky flavor, add wood chips/splits to the hot coals. For a maximum smoky flavor, you can soak the chips in water for half an hour and add them to the preheated coals after straining them before cooking. Keep a pan of water inside the smoking chamber to keep the food moist from drying up over the long course of cooking time. You can also add some flavor by mixing spices and herbs into the water pan. To hold the drippings from the meat, place the meat over the water pan. Try to resist the urge to check on the food often. Remember, keeping a constant temperature is the key to nicely smoked meat and each time you open the lid, heat and smoke will escape.
Measure the temperature inside the meat with a meat thermometer once in every hour to ensure it is cooked properly. This is also a good time to check and refill the water pan if needed. Wood chips can also be added every hour or two to generate smoke and charcoal may need to be added when cooking for more than four hours. When your food is ready, clean the cooking grate with a steel brush while it's still warm. This will make it much easier to remove any food smudge.
Wood Chips Flavor Guide:
There are many different wood smoking options available when it comes to smoking. Most wood chips have unique smoke potency and flavor which varies from mild to strong. It is essential to bring harmony between the smoking flavor and the tenderness of the meat. Choosing the wrong wood or smoking excessively can ruin your meats. We have prepared a wood chips flavor guide to help you in your smoking ventures.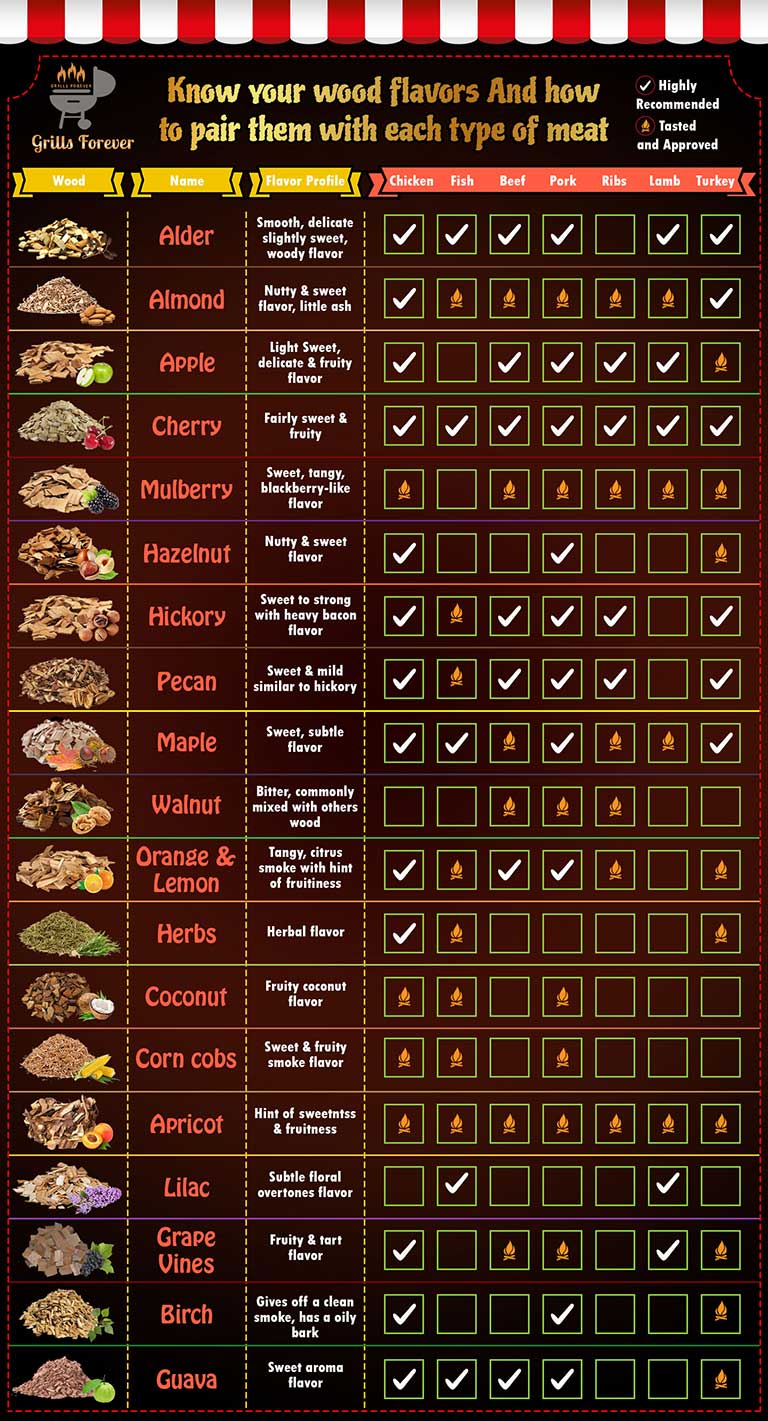 How to Start and Manage Fire on the Offset Smoker?
The offset smoker is totally different than any other kind of smoker. You will require some knowledge and patience to use it, but with the right information, you can master offset smoking only after finishing a handful of smoked recipes.
The number one problem is that you may struggle to build and maintain a fire in the offset cooker. So, I am going to break it down and give you a few simple guidelines to make it easier for you no matter what brand of cooker you're using. But one thing to note that a thicker gauge smoker is going to maintain and hold temperatures far better than a thinner gauge offset smoker.
First thing, start your pit with two chimneys of nice oak lump charcoal. This will provide you with a clean hot base for your fire. This is a key step in building and maintaining a fire. Don't skimp on your coal bed or you'll be firing up more chimneys during mid cooks to keep things running smoothly. As the charcoal heats up on the rear side of the firebox, place two split logs to preheat on the front side. Always try to use kiln dried wood in an offset due to its consistency and moisture content which will give you a clean burning log that won't produce a heavy white smoke.
Now, move the logs to the fire that were preheated and raise the temperature. The reason why you build the fire on the backside of the firebox is during the cooking process, when you need to open the firebox, the fire will be at the opposite side of your lid. So, it will retain some heat and you won't need to reach the flame. Once the pit reaches the desired temperature, you're going to maintain the fire by rolling over a preheated log one at a time. Another great perk to have the fire on the far side of the firebox is to allow preheat another log in the firebox. A warm log is going to combust much faster and it also limits the harsh white smoke that a cold log produces when it first catches fire.
Once you have these logs on fire, leave the door open just a bit to get the heat up. But as soon as you start getting closer to your target temperature of 250 degrees, you will need to shut the door down. Open the vent on your firebox to about one third and make sure your chimney cap is half open to control the temperature.
Pro-Tip: Using wood for offsetting is an art that should be within your grasp because every log is different and the weather too. Wind and other factors are going to play a great role while smoking and how your pit is operating. So, you'll need to make adjustments each time while cooking to make sure you're burning a clean fire.
A general rule is not to open the chimney cap fully (opening it partially, somewhere between 30-45 degrees is preferable) or you will risk producing some acrid white smoke. Just remember to make some small adjustments as you're getting to know your pit. For example, if you open the cap too much, you're going to shoot the temperature sky-high and you'll be scrambling to get your fire under control.
Once your pit comes to the desired temperature, you'll need to take a peek at the fire and see if you need more log. You may add more logs to maintain your pit's necessary temperature. Usually on an average, you will require a new log for every 45 minutes or for an hour.
Hope the instruction given above will help you out as you try to master offset smoking or work as a refresher for those who have been into offset smoking for years.
How We Picked and Tested
In the section "Why Should You trust Us", I already mentioned the number of hours we spent in researching on this specific type of smoker. Now let me tell you how we have picked and tested the best offset smokers. We have considered many factors to find the best smokers on the market but ended up figuring out that there's no single smoker that's gonna fit everybody's needs. Therefore, we have considered those factors to help you narrow down your search and to explain you which offset smoker is good for what.
So, the very first thing that we have considered is the price. It is an important factor to consider because within $150 to $300 range there are a lot of options available and it's also a great starting point but these low priced offset smokers often come in thinner gauge metal. We have also considered mid-level smokers that are a great value for the money in terms of durability. And there is the higher-end smokers, anything around thousand bucks are thicker gauge smoker that lets you insulate the heat much better. Thus, I can assure you that you will find the best offset smoker under 1000 dollar range in our top 10 best offset smokers list.
Secondly, we considered the size. While testing we have come to know that a grilling surface of 400 to 500 square inches is usually sufficient for an average-sized family. If you often throw BBQ parties or have a large family, consider a grill with a cooking surface between 500 and 650 square inches.
Thirdly we considered those features that may suit your cooking style like fixed or collapsible side shelves, warming trays and built-in thermometers, wheels for easy maneuver.
We have done numerous amount of smoking with our 10 best BBQ smoker products to find pros & cons of each of them and have compared them with each other to understand the differences. We have come to know how these best outdoor smokers perform while smoking real food in terms of insulation, durability, cooking time, flavor and other additional features that make it convenient to use.
Our team worked extensively and cooked many delicious items to come up with this 10 best offset smoker list. We believe our research will pay off when you will purchase the best charcoal grill with smoker for you and your family.
Best Offset Smokers: Our Top 10 List
We have analyzed 31 of the most important features for all 19 products that we have shortlisted. You can have a look at our detailed research report to learn more about the features that are taken into consideration for evaluation. We, at Grills Forever, request you to unlock our research report by sharing/following our social media page. We believe this report will give more insight information about the best offset smoker and let you decide to purchase the smoker that best suits your need.
Why Is This Our No 1 Pick?
The Dyna-Glo DGO1176BDC-D offset smoker is our pick for many reasons. This vertical smoker with offset firebox offers quality performance and versatility with up to five cubic feet of cooking space. Besides that, it has a bigger vertical smoking space which is ideal for giving you maximum smoking flavor. Here comes the reasons why we believe it to be the best vertical offset smoker:
After researching on 42 offset smokers, we compiled a list of 31 positive features that are essential to look into before buying an offset smoker. Although we got some other products in our list with a higher number of positive features, but we couldn't fully enjoy cooking with those like we could with this one. For example, for hours of maintenance free cooking, it comes with a removable ash pan designed to handle large amounts of ash. It is designed to keep the direct heat away from cooking. This makes it ideal for slow cooking and infusing more smoky flavor. It also prevents your food from burning or cooking too fast.
The product costs around $200 which is very affordable considering all the pros it comes with. It surely blows away other products in terms of price.
The average rating and rating frequency of this insulated vertical smoker is pretty good. Of all the offset smokers on Amazon, this product stood second with a total of 852 ratings and a 4 out of 5 average rating. In terms of rating frequency, it received its latest 10 ratings in 33 days, previous 10 in 30 days and earlier 10 in just 22 days. This gives an idea of its popularity i.e. how frequency this product is getting sold on Amazon.
It comes with height-adjustable grates that can hold many pounds of food in each of the grates. The charcoal chamber is coated with porcelain and designed for burning efficiently.
Detailed Review:
With Dyna-Glo vertical smokers with side fire box, you're about to take your outdoor cooking to the next level. It will provide a durable centerpiece for your patio or deck where your friends and family will gather for many years to come. Consumers have consistently rated this as a long-lasting product that also helped them get the perfectly smoked, savory food.
Budget:
Costing just under $200, this smoker has the largest smoking space among our listed products. In our research, we did not find any other smoker with such a large cooking space in this price range. It has several awesome characteristics that make it worth the price. To be more precise, it has a total of 11 significant positive features that a standard smoker should have. This is impressive because most of the heavy smokers either cost much more or do not have the same great features.
Capacity:
Your friends and family will enjoy the maximum smoked flavor due to its vertical charcoal smoker design that is easy to use with a cooking space of 1176 square inches. With six adjustable cooking grates that can be raised or lowered to accommodate up to 25 pounds of food per grate, this smoker is just awesome.
Design, Dimension & Weight:
Vertical offset charcoal smoker design helps disperse the heat evenly, improves efficiency and brings a great smoky flavor. Offset design keeps direct heat away from the food which is perfect for slow cooking. It has an adjustable smoke stack and a side damper that work together to improve the airflow and to transfer even heat and smoke into the primary cooking chamber. The body is made with high-temperature, heavy-duty steel to ensure a long life.
This smoker is designed with a unique charcoal and ash management system that includes a removable ash pan, charcoal grate, and an enameled steel charcoal chamber. The chamber improves the burn efficiency of the briquettes by keeping them packed tightly together on the charcoal grate. Raised edges on the grate keep the chamber in place when it is pulled out from the smoker box. Ashes from charcoal and wood are collected in a high-capacity ashtray. The tray of this best smoker list is removable for convenient disposal of ashes before and after use.
Additional Features:
This vertical wood smoker is made for ease of use with quick-release door latches for easy access and easy to read temperature gauge with smoke zone that indicates the ideal temperatures for infusing smoke flavor. In addition to being easy to use, this smoker is also stylish with a powder coat black finish, beveled primary and offset doors and chrome plated wire handles. This smoker also comes in a wider version that has a total of 1890 square inches of space. So, if you're looking to take your smoking experience to the next level, then this Dyna Glo charcoal offset smoker will be your pick from our best offset smoker list.
Why is this our Runner-Up Pick?
Char-Broil was the first brand that brought charcoal grills into the market and since then, it has been over 65 years that they have been innovating outdoor cooking products. Along the way, they have listened to their consumers and learned about the features that needed to start barbecuing with confidence.
In terms of the number of positive features, this smoker came extremely close to our top pick. With the highest number of reviews among our researched products, great price and large cooking space, it's the first choice of many smoker enthusiasts.
In spite of having a better price and cooking space, it lacks some recognition as compared to our top pick. It has only 3.4 average user ratings with a review frequency of 10 reviews in 33 days at the time of our research. It has about 1282 ratings till date (at the time we are writing this review).
Altogether it has enough space for you to serve each member of your family, making it a great choice for backyard cooking every weekend. With this smoker, you can also grill on the firebox and smoke or barbeque on the main pit with a swing-away rack. It also has a rack that is useful for storing extra charcoal and cooking utensils close-at-hand.
Detailed Review:
Budget:
Priced below $160, it possesses almost all the standard positive features making it the second best in our list. Despite having a lower price than our top pick, this smoker is going to surprise you with the advantages it has to offer you.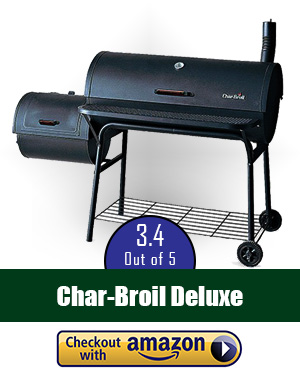 Capacity:
The smoker firebox design allows classic indirect cooking through the cooking chamber by transmitting low heat, smoke, and flavor. The main cooking pit has a 670 inches porcelain coated wire rack and a 355 inches chrome wire rack. The firebox also has a third cooking surface of 255 square inches for direct grilling. With a total cooking space of 1280 square inches, it can easily satisfy any big group of people.
Design, Dimension & Weight:
For easy heat and smoke control, the smoker has multiple dampers and a heat indicator so you can keep your eye on the temperature. It is 28.25 x 60.25 x 51 inches in dimension and 102.1 lbs in weight which makes it very heavier than our Number One Pick.
Additional Features:
The offset smoker box has a side door to easily remove ash, two wheels for easy mobility, a convenient front shelf and a wire base. Or you can check out this
newer version of this smoker that has ash drawer for ash removal and easy cleaning that cost around $200.
We will recommend you to use a cover to protect your investment and keep the firebox clean to avoid any flare ups.
Considering all the features, you don't need a texas-sized backyard for smoking any more, now you can easily become a pitmaster with this Char-Broil backyard offset BBQ smoker. So, live it up and get one for yourself today.
Why is this our Advanced Pick?
No matter if you're smoking, grilling or searing, Joe's Longhorn Combo is the best smoker grill combo will make your day. This 3 in 1 smoker and combo grill combines the convenience of a rugged offset firebox with an electronic ignition that lets you cook any outdoor menu just the way you want to. It has two different cooking chambers, one for gas grilling and one for smoking, also it has an additional sideburner for optional use. This gives you a wide scope to choose your preferred cooking method for your meal.
Being a combo charcoal smoker and gas griller, it does not lack any important feature that a standard smoker should have. All the must-have features are built into it give you a high-end cooking experience. Both the gas grill and smoker chamber has lid-mounted temperature gauges to keep track of the inside temperature, cool-touch steel handles to protect your fingers and hand from the heat that also help you have a firm grip.
Since this smoker grill combo propane with a side burner comes with a higher mid-range price, it is one of the best grills under 500 dollar in our best offset smoker list. The total number of reviews it has and its review frequency are lower than our Top & Runners Up Pick since it has a higher price. It got 10 reviews in 84 days that indicates it is a slow-selling product. But we were pleased to find the average user ratings that were 4.4 out of 5. These facts strongly reflect users satisfaction level with this smoker and these also make it the best gas charcoal smoker grill combo in our list.
Detailed Review:
Budget:
The Joe's Longhorn Combo is one of the more versatile products in the Oklahoma Joe's lineup, offering you three different cooking methods in one nice package. You will have a gas grill and the burner on one side, a charcoal grill with offset smoker on the other side. It costs around $500 which makes it worth the value it offers.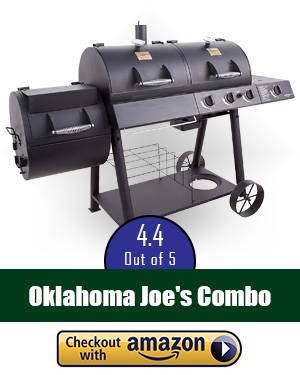 Capacity:
You're gonna get 1060 square inches of cooking surface. The firebox has 310 square inches of two porcelain coated grates for grilling. The charcoal smoker and gas grill also has two porcelain coated cast iron grates for each and each measures 375 square inches of cooking space. The cast iron is great for heat retention and produces a great sear on your meat while the porcelain coating is rust resistant and easy to clean, thus making it a great choice for a cooking surface.
Design, Dimension & Weight:
This combo is 73 inches wide, 30 ½ inches deep and 51 inches tall to smoke stack and weighs around 205 pounds. The body of the cooking components is made of a two millimeter cold rolled steel while the lids are two and a half millimeter cold rolled steel. All the parts are coated with a high temp paint across the three cooking chambers.
You have the option to use the firebox as a charcoal grill or to heat the smoke chamber. The firebox has a door with a built-in air damper to control the temperature. The fire door also gives you access to fire grate in the firebox, to clean out the ash. After a cook or during a cook, if ash is building up and impeding, the vent can be easily cleaned by opening the door.
The smoke chamber and gas grill has a high-quality temperature gauge which gives you an accurate reading of the air temperature. It also has an additional charcoal grate to build the fire and to use it as a charcoal grill.
The gas grill also has the same high quality temperature gauge and three stainless steel burners producing a 36,000 BTUs with an electronic ignition. The gas grill will give you the option to cook something quick if you don't have time to do smoking.
The side shelf includes a 12,000 BTUs side burner to offer you even more cooking options and it can also provide you a nice and big work surface when you are not using it.
Additional Features:
All the lid comes with a cool touch spring handle for better insulation. So, it's a nice and easy surface to grab without worrying about getting burned. There is a carry handle at the convenient place on the firebox to grab the smoker and move it around. At the front, it has a towel /tool rack and comes with a grate lifter tool which is great for moving the grates when they're hot.
Entire combo is supported by four two and a half inch tube legs that also hold a large storage shelf at the bottom with a wire shelf rack. It's great for storing charcoal or logs you might need throughout the cook. It also has a place for a 20-pound LP tank and a grease tray to collect grease. Last but not least, it has 10-inch wagon style wheels that really complete the look of any Oklahoma joe product.
So, if you're really looking for a versatile option that can handle a variety of different cooking styles, this combo will be the ultimate choice for you.
Why Is This Our Beginners Pick?
Nothing brings people together like a great game day food. These are the times you just don't want to miss. This is a good time to start grilling when your favorite team is playing and your friends are at your place. But if your grill doesn't smoke, your bbq will be a joke!
So, we picked this smoker for the beginners. Char Griller offset smoker is one of the hard-working grills which will make you a bbq pitmaster right from your first cook.
This two-in-one portable grill from Char-Griller gives you the option to grill or smoke. You can expect a heavy duty steel construction barrel and cast-iron cooking grates that will give you the superior heat retention.
The firebox/griller can be used as an attachment which will convert most Char Griller grills into a Texas-style smoker for tender brisket, ribs, and turkey. Or you can just attach the legs to the offset firebox and it will become a tabletop grilling option. This is ideal for tailgating or camping and when it's time to pack up the camper or the party is over the slide-out ash drawer will make cleanup easy.
The cost of this grill cum smoker is around $200 which making it affordable for the first-timers. We also found 13 good features that give a real value over price. Over 300 users have rated above average for this product. We also found 10 reviews in 67 days which makes closer to our Runners Up Pick. It is also backed by a one-year warranty for craftsmanship defects or material.
Detailed Review:
Budget:
This would be the perfect grill to master your grilling techniques and to learn the preferences of a grill and smoker functions. Interestingly, we had noticed many were into modifying this smoker. This will let you take an educated decision when you will be looking to get a more permanent and expensive grill. Therefore, the price of this grill is very much reliable for the beginners whether it's for grilling or smoking.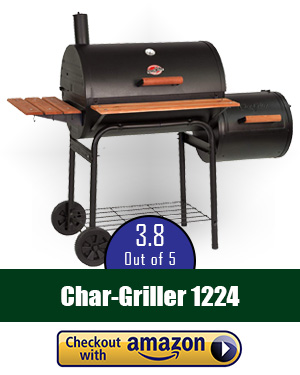 Capacity:
To step up your outdoor grilling with the option of indirect smoking, this versatile outdoor grill features large space for cooking. It gives you 580 square inches of primary cooking space with 250 square inches of space on the offset firebox for grilling.
On the other side, you don't have to spend time running back and forth between the house and the grill, which is why it is equipped with two side table. This side table measures 370 square inches of space in total to work on. There are also utility hooks for hanging your utensils or grate hooks which are also included with the grill.
Design, Dimension & Weight:
It is designed to withstand high heat since it has double-bottom. It is black powder coat finish gives substantial look and extends the life of this grill. It has a cool to touch handle on the lid of the smoking/grilling chamber and cast iron grates that are designed to hold heat, so you'll have even heating. It is also adaptable to warming rack and rotisserie.
It has horizontal Texas-style offset smoker where you hold the charcoal and the wood chips for indirect smoking but it will also offer you a grill space. It is also black powder coat finish, easy cool handle, cast iron grates, and removable charcoal tray.
Another great feature is that the charcoal grate is easily adjustable so you can control temperatures and when the cooking is done simply remove it for cleaning. The temperature is the key, which is why there is a built-in thermometer to measure high temperatures for sear cooking or low temperatures for smoking. The smoke stack allows you to get proper airflow for high heat or close it down for fish or cheeses for low heat smoking.
The grill measures 29 by 62 by 50 inches and weighs around 146 pounds. We found the body of the grill a bit flimsy and difficult while assembling but every time we cooked on it, the flavor and taste came out really amazing.
Additional Features:
The steel constructed cart features wheels, so you'll always be ready where the action is and the lower shelf is great for storing larger things like wood or charcoal.
Finally, you can add the optional cover that's highly recommended to extend the life of your grill. The cover is made from heavy-duty vinyl and it's designed to fit perfectly over your grill for all weather protection.
6 Other Products We Found Good
Budget:
The Oklahoma Joe's Highland Reverse Flow falls in the above mid-range price category and expensive than most of the best offset smoker in our list. We also found it is one of the trusted brands for the barbecuing enthusiasts who love authentic smoking. If you are a pitmaster and looking for the next level of challenge and performance this professional offset smoker will be a perfect choice. On top of that this is the best reverse flow offset smoker on the market.
Capacity:
It has a cooking space of 620 square inches in the smoking chamber and 260 square inches in the firebox. For a total of 880 square inches of cooking space. Whether you prefer even heat and smoke in a reverse-flow or desire to smoke with a standard setup, the removable baffles and large charcoal basket gives you the flexible configuration yjay allows you to control heat and smoke however you want. For more bigger cooking space you can go for the Longhorn Reverse Flow Smoker which will give you a total of 1060 square inches of space.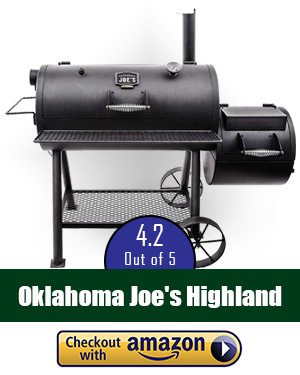 Design, Dimension & Weight:
What is a reverse-flow offset smoker? Well, to answer that let us understand about traditional wood smoker plans. A traditional offset smoker creates fire inside the firebox to produce smoke and heat. It then travels through the smoking chamber while cooking and smoking your food and exit through the smokestack. Smokestack are usually mounted on the opposite side of the firebox of an offset smoker.
Whereas in reverse flow smoker design, the smokestack is mounted on the firebox side. The smoking chamber comes with four porcelain coated baffle plates which are placed under the cooking grates. These baffles in conjunction with smokestack directs all the smoke and heat from the firebox to the other end. From the other end the smoke then disperse and travels back around your food and exit through a smokestack which is mounted on the firebox side. This process results much more consistent heat across the smoking chamber and also some radiant heat off the baffle plates.
The dimensions of the smoker are 57 inches in width, 33.5 inches in depth and 53 inches in height after it is assembled and it weighs around 181 in pounds.
Additional Features :
So far this the best charcoal grill smoker combo we enjoyed cooking with because you have the option to use the Highland Reverse Flow as a traditional offset smoker as well. You just need to unscrew the smokestack, screw back on the secondary exit and remove the baffle plates to use as a traditional smoker. Or you can choose just the
traditional version without the reverse-flow option, if you are not comfortable to smoke on a reverse-flow smoker.
Other enhancements are the stainless steel charcoal basket to use in your firebox. The basket helps contain the fire and makes it more easy to maintain throughout the cook.
The smoker is made with two and a half millimeter cold rolled steel. This is one of the thickest metal that we found in our best offset smoker list. The firebox and smoke chamber are all coated with a high temp paint. It also has cool touch handle, high-quality temp gauge and expanded metal shelf in front.
Budget:
You must be thinking why this Pit Barrel smoker doing in our list since we are reviewing for the best offset smoker. The reason why we choose this- it's simple, it's easy to use and the quality of food is outstanding. We really enjoyed while cooking as it can offer two different styles of cooking. You can hang your meat for incredible smoking flavors or you can take the lid off and use it for grilling steaks and burgers. We were amazed to find that same old flavor and tenderness just like a traditional classic barbecue smoker.
This smoker is kinda expensive but it comes with a whole lot of accessories and convenient design that makes it simple to operate. It cost around $550 at the time of our research. Let's not forget the option of a smoker and a grill together that makes it incredible combination and adds value to your budget. Besides that, it has a porcelain enamel coating which is the same coating you will find on a lot of traditional offset smokers that are just made to last a long time.
Capacity:
This is a 30-gallon cooker and has maintained high-quality standards in every little piece. It comes with two rods that can be slide through the top of the barrel for hanging your meat by using 8 separate hooks that come with the barrel. Using this hanging method lets you cook up to eight different racks of ribs, that all fits within the pit barrel cooker. You can also use these hooks to cook other things like pork shoulders, brisket, and whole chicken.
The overall flavor is just phenomenal when cooking food by hanging because your meat isn't cooking on top of a hot grill grate rather its hanging open into the air. The barrel provides a convection cooking style that helps to cook your food evenly.
The other method of cooking with the barrel is by using the classic grill grate that comes with the barrel. The size of the grate is 240 square inches. Using the grill method you can raise the heat for searing flavors just like you would want with a traditional charcoal griller.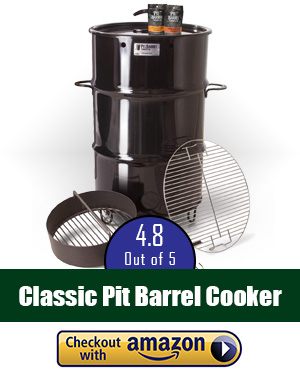 Design, Dimension & Weight:
You don't need to worry about breaking down or falling apart. From the barrel itself to the rebar to the high gauge steel charcoal basket all are made to last longer.
Another thing that we really love about this type of barrel cooker is- set it and forget it. It means you can fill it up with charcoal to hold consistent temperatures for 5 to 8 hours without having to add any extra coals or adjusting.
There's only one vent for air venting system on the bottom and it's really easy to set up. You just need to open the vent on the bottom as per your desired consistent temperature from 275 to 310 degrees.
It got nice solid handles on the side as well as one on the top of the lid. These handles are pretty cool because it is actually made from horseshoe which gives a western classic barbecue style look. It has four small stands attached to the bottom to raise it off the ground. The size of this barrel is 6930 cubic inches, equivalent to 30 gallon and weighs around 57 pounds.
Additional Features :
Other accessories that are included- a wooden hook remover to help remove the hooks and the meat out of the barrel and a charcoal basket to burn the charcoal and wood chips.
To help make your cooking experience better you may want the accessories that are not included like a charcoal starter, pit gloves, turkey hanger specially designed for turkey to hang and the hinged grill grate which has a half hinge door so you can hang your meat on one side and still be grilling on the other. Finally, there is the must-have accessory – ash pan – that makes the cleanup process much simpler and easier.
Budget:
How can anyone say no to the tempting smell of charcoal grilling? This Royal Gourmet offset smoker with charcoal grill is ready to help you create great cooking memories with family and friends. This grill comes in at around $100 which is the best budget smoker for the features and huge grilling space it offers. The Royal Gourmet Grill is also Amazon's Choice– Amazon recommends this product as highly rated and well priced that can be ship instantly.
Capacity:
It has 438 square inches of space in the main chamber, 179 square inches warming rack with chrome plated and 183 square inches of extra space with porcelain steel cooking grates on the offset smoker. Offering a horizontal barrel design, that increases the available cooking space with a total of 800 square inches of cooking surface and allows you to cook for up to seven or eight people. A warming rack gives you extra cooking space. Whether you're grilling or smoking, give your family exceptionally delicious food at every meal.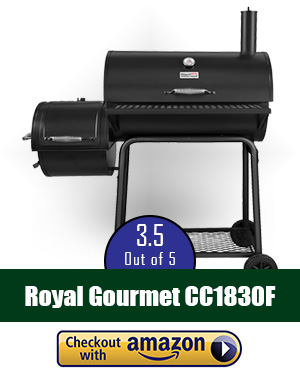 Design, Dimension & Weight:
A space-friendly design that will fit on most of the patios and balconies. It can be easily assembled within half an hour before you're all set to begin grilling. It has adjustable charcoal pan that can easily adjust the temperature inside the cooking chamber for better and more even grilling. This grill is constructed of heavy-duty steel and is made to last longer. It has 1/4" diameter porcelain-enameled cooking grates that heat well to give your food lovely sear marks.
The steel mesh from shelf keeps all of your grilling essentials within easy reach. The built-in thermometer allows for precise temperature control and cool touch spring handles to protect your hands from heat.
Additional Features :
The smoker has a built-in vent and side door to let you easily control the temperature. The firebox together with the offset smoker forms an efficient heat transfer system. Hassle-free cleanup each time before and after use. Two wheels allowed the grill to be moved easily for convenient storage.
This charcoal grill with offset smoker perfectly suits your entire grilling and smoking needs. You can prepare appetizers or side dishes with the offset smoker and enjoy charcoal grilling and smoking at the same time. We can guarantee your next barbecue will be a success with this Royal Gourmet.
Budget:
Broil King offset smoker and grill belongs to the premier group of smoker and very pricey. With tons of quality features, it cost around $800. For many of us, it may not be suitable but it would be for those who are crazy about authentic southern cooking classes- like fall off the bone ribs, delicious pulled pork, and mouth-watering brisket.
Capacity:
The large cooking chamber provides 625 square inches that is plenty of space for low and slow smoking as well grilling. It has 330 square inches of space for high temperature charcoal grilling on the offset that also infuses your food with unmistakable smoky flavor.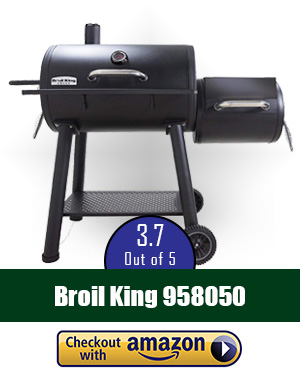 Design, Dimension & Weight:
The lid and body are made from durable 2 mm steel and finished with a quality high heat black finish. Having 2 mm steel is one of the thickest in our best offset smoker list. We are sure that it is made to last and designed for authentic BBQ flavor you deserve from a charcoal smoker. Another thing we really love about the smoker is its grate- the cast iron grids that are reversible, one side is pointed to give you perfect grill marks while the other side is grooved to capture juices for continuous basted while you are cooking. Each lid is equipped with a heavy-duty stainless steel handle.
The fully adjustable dampers are made of heavy-duty cast aluminum. They will allow you to cook precisely by controlling the airflow throughout the cooking chambers. This offset smoker also comes with an easy access charcoal tray in the larger cooking chamber and charcoal grids in the smaller chamber.
Additional Features :
Easy access slide up tray to quickly and easily remove ash are located in both the large and small cooking chambers. The large front shelf has ample space to prepare grilled and smoked foods. This convenient shelf also comes with four tool hooks to keep any grilling necessities close at hand. Two eight-inch crack proof wheels provide easy mobility while the two leveling feet stabilize and secure the grill in one place. A sturdy lower shelf provides added strength and storage to the cart base.
It has a handy bottle opener made of durable chrome-plated steel to quench your summer thirst with a cold beverage. Finally to protect your investment we would suggest you to get a cover for your best offset smoker and grill. This will keep it safe from the elements and keep you grilling and smoking delicious food for years to come.
If you are the person who loves smoky cuisine and premiere stuff then simply indulge yourself into this smoker.
Budget:
The Landmann's new Vista charcoal grill with an offset smoker offers many features and benefits at an affordable price. It costs around $180 which makes it closer to our Top Pick price but we were disappointed to find the total cooking space of 733 square inches, which was way smaller than our Top Pick. One thing I really liked about this smoker that you can always grill with a precise temperature.
Capacity:
This offset smoker is the best home smoker for small patios. It has a cooking space of 363 square inches on the smoker/grill chamber, around 200 square inches on the warming rack and 169 grilling space on the offset firebox. Compared to other smokers in the list the total cooking space is much smaller. But the smoker is built with a foldable side table which will give you an ample space to prep your food.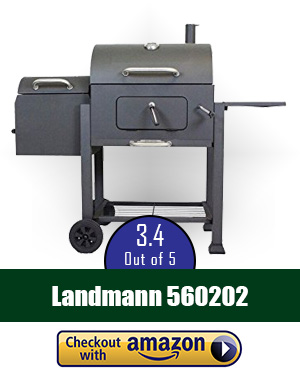 Design, Dimension & Weight:
The grill itself is made from a solid and weather-resistant steel with a protective black finish for added durability. Simply by opening the access door you can load and maintain your charcoal. The charcoal grate is cranked adjusted to control the distance between the cooking grate and the charcoal. This provides you control over the cooking heat by letting you decide how close you want to cook your fish, chicken, or beef. The cooking grate is made of a cast iron with a porcelain coating to give you a nonstick surface. It weighs 82.4 lb and has dimensions of 30.7 × 25.5 × 21.4 inches.
Additional Features :
There is also an adjustable damper on the chimney will give you ultimate control over your temperature. The built-in temperature gauge gave us a perfect reading when we found out the food was cooked thoroughly. It has detachable offset smoker that can be easily removed if you are not smoking. To protect your smoker from the weather spend some extra bucks to get this cover.
Summer isn't summer without the barbecues so get this best offset smoker with grill if you have a small family of 5 members.
Budget:
Yoder Cheyenne Smoker is another high-end smoker with the quality of craftsmanship won the race against Lang offset smoker and Horizon offset smoker in terms of affordability. Both Lang and Horizon cost more than 1100 bucks whereas Yoder Cheyenne Smoker cost around $1000 but it is the best meat smoker in the higher end price range. I personally operated this grill and realized it was actually built solid that could serve your whole lifetime.
Capacity:
The smoker has a total space of 703 square inches, including both smoker and firebox. It has a cooking grate of 25 square inches in the smoking chamber and 206 square inches in the firebox. The rest of the space is for the warming rack. It has quite big shelves at the front of the smocking chamber, on the offset firebox lid, and also at the bottom which is ideal place for spare logs.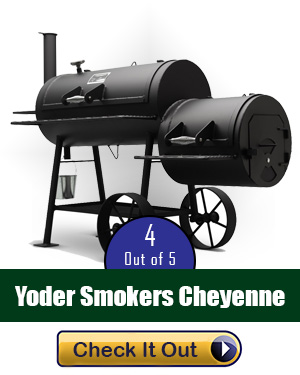 Design, Dimension & Weight:
This smoker is indestructible, constructed with 3/16 inch plate and pipe, that is another thickest metal construction among our best offset smoker list. Due to thick metal it weighs around 315 lbs that is twice the weight of most smoker in our list. It has 68 by 48 by 30.75 inches in total dimension. When we closely inspected, we found the whole smoker is welded heavily making it a single firm unit.
It comes with dual damper to control the airflow for the temperature and thermometer mounted on the smoking chamber for accurate temperature reading. It has an easily removle cooking grate for using the smoker for charcoal grilling. Last but not least having a stainless handle gives this smoker more sleek looks.
Additional Features :
There are tons of additional features that come with this smoker. First of all, it looks like a old style locomotive from 90's that has oversize wheels with large handles for easy maneuver. For draining out the grease it has grease drain out features. With some extra bucks you will get some optional features that will make this smoker more outstanding, such as- heat management plate, charcoal grate for cooking chamber, propane log lighter, pot warmer, probe port, and charcoal basket for firebox.
If you are minimalistic and love classic stuff that will last for a lifetime then this would be your pick. Yes, the cost is very high comparing to other smokers in the market but once you will start cooking on it you will notice the difference as I did.
A List of Some Other Products We Tested
How to Clean Your Best Offset Smoker?
Everyone loves smoking out whether it's with your family or a large gathering of friends. To keep your charcoal smoker in the best condition you must clean your smoker thoroughly before every smoking season starts. Regular cleanings will help extend the life of your smoker parts.
The grates can be cleaned using a long handle stiff wire brush and grate cleaner. If you don't have a brush you can use a ball of aluminum foil held with long handle. Once you have cleaned the grate, season by spraying or wiping with the cooking oil. Next time when you will cook, the oil will prevent your food from sticking to the grates. It will also prevent your grates from rusting and will not give you a metallic taste to your food.
After smoking remove all the ash from the base of the firebox. If you do not clean up these ashes, it will block the vents in the firebox and will make it hard for you to control the temperature while cooking. Remove the charcoal grate from the firebox for easy cleaning. After cleaning use a brush with dish soap to clean inside the smoking chamber and its lid. Put the grate back into firebox and you'll be ready for the next smoke.
When inside cleaning is over, you can now clean the outer shell of the smoker and firebox using a grate cleaner or simply with soap and water. Dry with a towel and prevent from rusting by covering the smoker until its next use.
Clean the grates while they're still warm and before stuck-on food and grease hardens after every use. If you grill often it's best to replace this grate brush each season as it wears down over time. Once the grate is clean apply a coating of oil. If the grates are still too warm use long handle tongs or use a cooking oil spread. You have to protect your smoker from weather if you store it outside, so a grill cover would be a good idea. This will help protect the color and help extend the life of your smoker.
Wrapping it Up
We get asked all the time- what is the best smoker out there? Or what shall I consider to buy offset smoker? Well, there's really no perfect answer for that because there's not one smoker that's gonna fit everybody's needs. So, here are few questions, you should be asking yourself before buying a new smoker and never forget to grab our research report for a detail information about wood smoker reviews that we have listed above.
First thing, you have to make sure whether you have that passion for low and slow cooking. In an offset smoker managing temperature and fire require skills, experiences and most importantly, patience. Whereas in an electric smoker you will find less hassle and easy to operate.
Secondly, think about your budget- you've got to figure out where you're at. Do you want a lower end or high-end something like competition grade smoker. In our list we have reviewed lower end smoker from $100 to $300 which is a great starting point. We also featured some mid-level smokers from $300 to $600 which are great value for money and there are higher end smokers anything around thousand bucks which are going to serve you for a lifetime.
The third thing you need to consider- how you going to use your smoker. Whether you will be cooking at your backyard or you will be taking it around on a truck for tailgating. Or maybe you're going to try to make some money with this smoker by catering, fundraising or using it on a food truck. If you're hauling your smoker around a lot make sure to get a lighter one with wheels or if you want to use it at home, get something that's more permanent and heavily built which will give a higher span of life. Also, make sure to get the best commercial smokers for your business because your offset smoker recipe quality will strongly depend on these offset smoker recipe.
Lastly- how much food you are going to cook and for how many of them. Your smoker capacity will depend on the no of person you are going to serve. Look for the cooking space as per number of friends and family members or the party that you are going to arrange. A bigger smoker will take bigger space so you may need to consider the space where you will be storing it. Big size smokers may also be difficult to load or may not fit inside your truck or trailer. Therefore, find the best wood smokers from our best offset smoker list that matches your requirement.