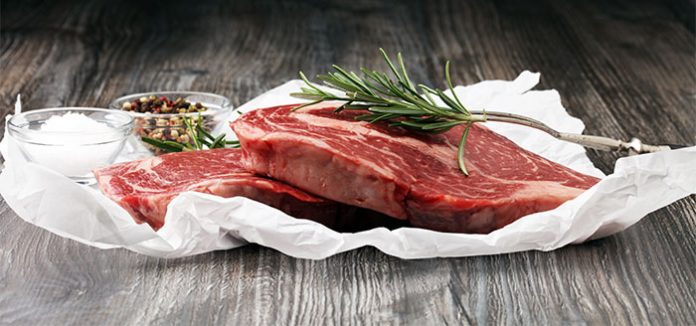 Why Choose Dry Aged Steak?
Compared to other cuts of beef, dry aged steak is usually considered to be better tasting. It's also a perfect opportunity to exhibit your grilling expertise for guests. Dry aged steak can take two months to prepare, and is very hard to find. Many supermarkets don't sell dry aged steak, and some people prefer to make their own at home because it can cost almost double the amount of money you would pay for a regular steak. Aged steak may sound unsafe at first, but the purpose is to make it aged, not faux rotten. This is done using a big chunk of beef and trimming away the rotted, leathery parts, leaving an even more delectable cut of beef behind. You would also need a dedicated space in your fridge where the steak can sit comfortably since it will be staying there for quite some time. With that, let the Grills Forever team dive into how to buy and cook dry aged steak.
What to Look for When Buying Dry Aged Steaks?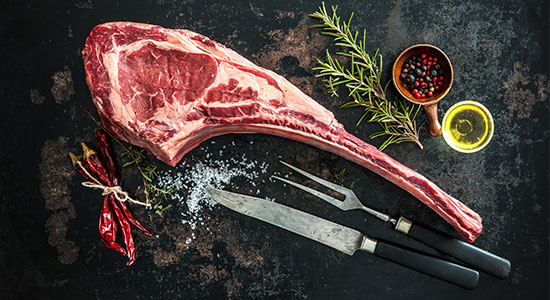 Due to the difficulties of making your own dry aged steak, you will probably end up buying it. This way, you can at least get to taste something prepared by professionals. Here are some tips on buying Dry Aged Steak:
Find a shop that you can trust. There are many vendors out there that try to mislead customers by incorrectly labeling other types of steak just to make a sale. These steaks may look the same, but they definitely don't taste the same. Finding a trustworthy local or online shop is a huge advantage.
Dry aged steak can be amazing, but only if made from a superior cut of beef. Try something with more flavor and tenderness like T Bones, Ribeye, Porterhouses or Tenderloins to make sure your dry aged steak will be a succulent dish to serve your family.
If it's your first time trying dry aged steak, then you must know that how long the steak has been aged is extremely important. The taste can change drastically as it ages, so the first time you go shopping and see dry aged steak, check the label or ask an employee how long the steak has been aged before buying. Choose something that hasn't been aged for too long, a month and a half at the most when you're starting out. If you think you like it, try getting one aged even more.
When shopping for dry aged steak, look for the USDA Prime logo. The USDA only approves safely produced steaks with plenty of flavor and tenderness to them.This way you can be sure to buy only the best.
How to Cook Dry Aged Steak?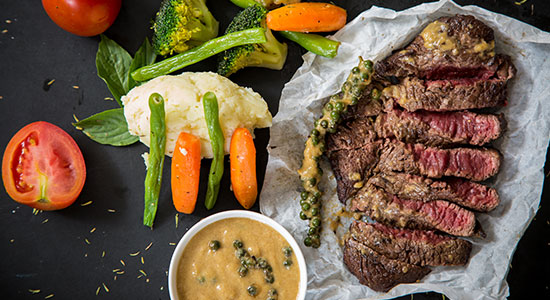 To buy & cook dry aged steak really doesn't require a culinary degree, and it's much like cooking any other type of steak. But since you have such an exquisite grade of steak, there are certain tips and tricks to make sure you prepare the steak in a way that complements its high level of quality.
Your steak is probably frozen, but that doesn't give you the right to just toss it in the microwave to defrost. Leave it in the refrigerator for a couple of days. Before cooking, give it about an hour to reach room temperature.
Make sure to set up a two-temperature grill and season the beef to your taste.
Sprinkle a little salt on the steak right before putting it on the grill. It's important that you don't do it too soon. Salt absorbs water and doing it before the proper time can suck the moisture from the beef.
Before putting the steak on the grill, sear all the sides on a hot pan so that all the edges are sealed to prevent the good juices from escaping onto the grill.
When cooking the steak on the grill, use a pair of tongs instead of a fork or anything that will pierce it.
Also, don't forget to use a thermometer to make sure it cooks to your desired temperature. If you don't have a thermometer, you can use the hand trick: press your index finger to your thumb and press a finger from your other hand gently to the base of your thumb, then press on the steak. This means it's cooked rare. If touching your thumb with your middle finger, it's cooked medium rare. The thumb with the ring finger means it's cooked medium, and the thumb with the pinkie means it's well done.
Remove the crunchy brown crust and allow steak to rest on a wire rack.
That's pretty much all you need to know if you want to buy & cook dry aged steak. There isn't that much to learn, but it can still be easy to make a mistake, so make sure you follow all these steps when planning to buy & cook dry aged steak for dinner.