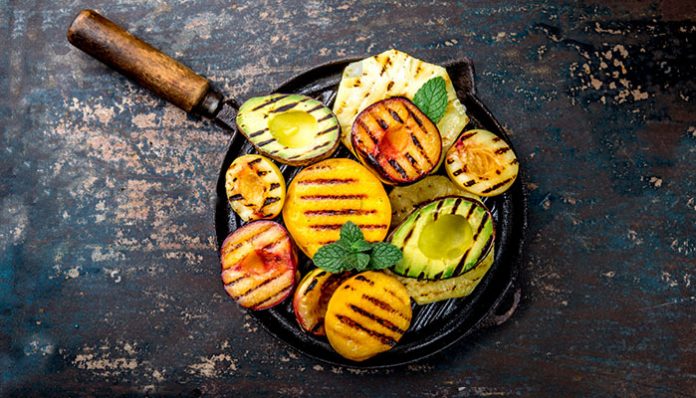 Grilling Season Is Just Around The Corner
And while there are a plethora of meats, including seafood, you can just slap on the grill to great effect, there's also a fantastic option that tastes just as good grilled than fresh, if not better – with a delectable, luscious flavor that just works perfectly with the flame.
We're talking about fruit – and it seems like fresh fruit and flame are simply a match made in heaven.
Rightfully so; the rich, juicy flavors of certain fruits intensify as its fructose caramelizes in the blazing heat. Fruits burst with flavor with its juice drawn right where its flesh is, and that delicious char that wraps up the fruit with smoke from the grill is what makes it a treat meant for the gods.
Those enticing grill marks make the fruits it even more gorgeous – just make sure to use the right grill to seal those juices in. We've reviewed several Weber grills, which definitely offer some of the best gas grills for this purpose. Don't take our word for it though, you can also check allthestuff.com, and you'll see that we're not the only ones who like Weber so much.
That's not to say you should just slap on random fruits on the grill willy-nilly – naturally, there are fruits that work better than others…. but some fruits were just made to be grilled.
Here are some of our best fruit to grill that will do in a pinch:
Pineapples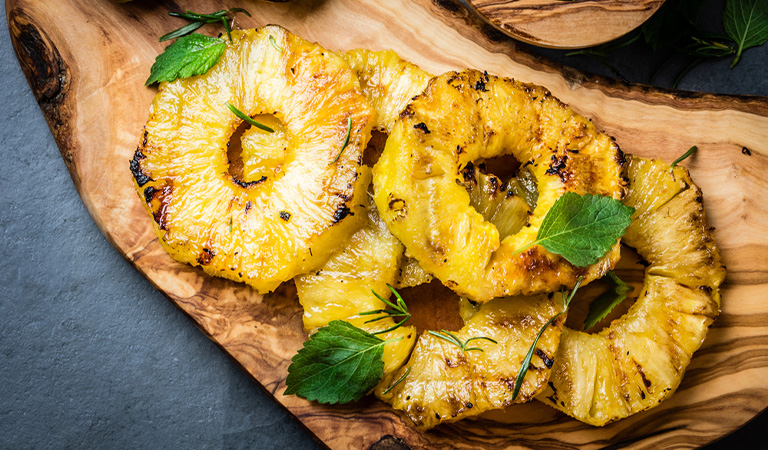 Pineapples are not just for kebabs – it can hold its own when grilled alone. Pineapples are unimaginably delicious whenever grilled over an open flame, as its natural acidity and tanginess turn to a deeply fragrant and sweet flavor. It is the best fruit to grill for the perfect accompaniment to a robust cut of meat.
Stone fruits
Nectarines, peaches, and apricots are actually among the most common fruits you'll most often see on the grill – they are of course a divine accompaniment to meats such as pork chops and meats. Simply cut several fruits in half, skin on, discard the pit, and grill with its fleshy side down for about 2-3 minutes. Their sweet, tart flavors are the perfect counterpart to the robust flavors of the meat.
Avocados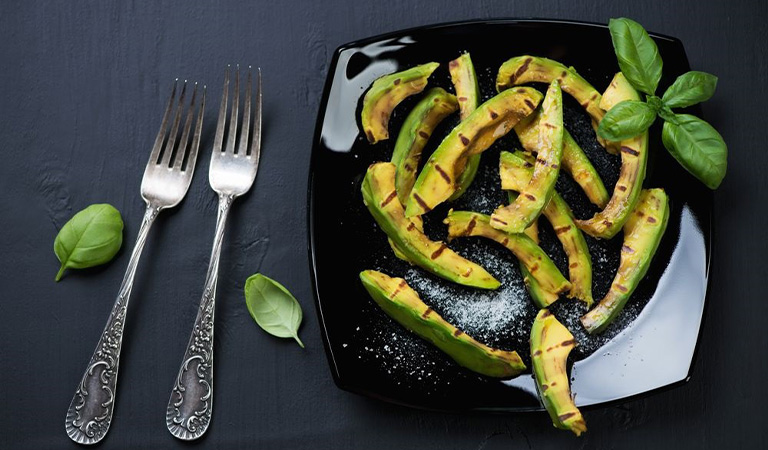 We know we already did stone fruits – and we know avocado is one. But it's just so good grilled that it deserves its separate mention. Avocado's fatty, rich, and mildly sweet flesh is delectable when grilled over coals, and turns it into a very creamy, warm treat. Plus, char marks give it a nice roasted flavor. Throw it on a salad for a real treat!
Bananas
Grilled bananas are the perfect way to finish off a sumptuous, hearty grilled meal. There's plenty of applications using grilled bananas for dessert, including grilled banana splits, or simply as they are, drizzled with a little maple syrup and toffee sauce. Or anything analogous to such a delectable treat.
Apples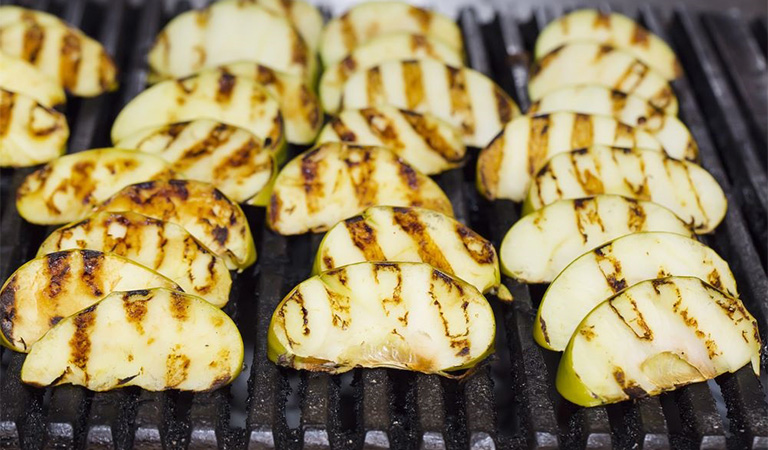 Apples are crazy good whenever they're cooked in any way, shape or form. Candied, baked, caramelized – it doesn't matter. Well, the same is true when they're grilled because the intense heat makes the sweetness of the apple shine. Simply cut into slices and grill for a minute or two.
Pears
Just like apples before it, pears are just as good as apples when they are cooked – particularly when grilled. Their similar textures and taste guarantee a winner when you pop some slices on the grill for an appetizing dessert that goes perfectly with your grilled meal. As with apples, drizzle with a little bit of syrup and a dash of cinnamon, and you've got a barn-burner of a palate cleanser.
Tomatoes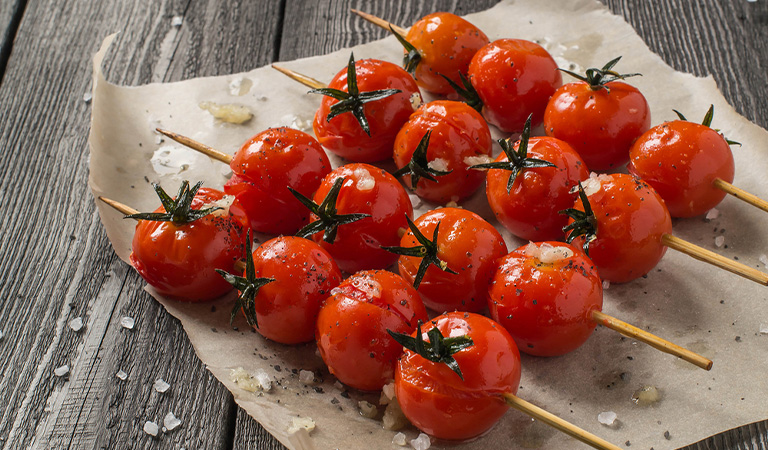 Let's make one thing perfectly clear – tomatoes are fruits in the botanical sense of the word. And they are the best accompaniment to grilled meat. Simply cut them in half, throw in some olive oil and a dash of salt and pepper, and grill both sides for about 4-5 minutes each… and voila!
Cantaloupe
Cantaloupe makes for a perfect accompaniment to ice cream or yogurt when grilled, just like bananas and apples before it. Cut them into wedges and grill each side for not more than 2 or 3 minutes per side. Elevate it into a divine dessert with a light sprinkle of unfiltered honey and pair with a cold scoop of ice cream or yogurt.
Mangoes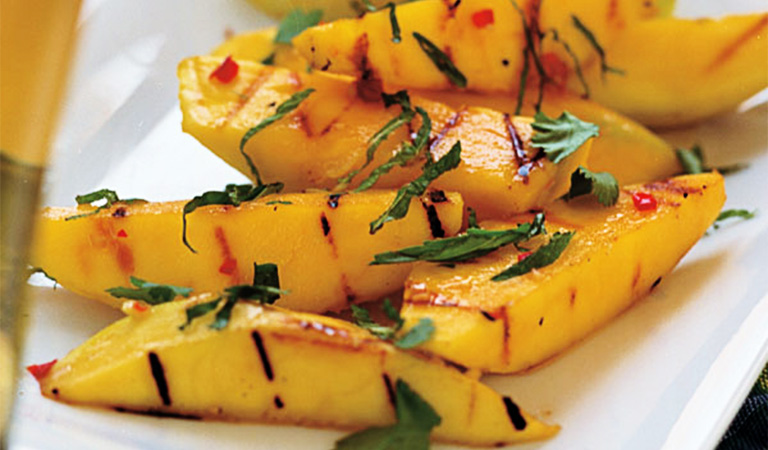 It's not uncommon to see a slice of grilled pork or chicken dish come with a mango sauce, so it should come as no surprise to know that grilled slices of mango make for the perfect marriage with grilled pork chops. Or think about putting a really mean grilled mango salsa together – simple, easy, and quick. That's something for your guests to write home about, right?
That said, just about any fruit can be slapped on a gas grill for as long as they are firm and not mushy nor overripe – anything for as long as they will maintain their shape over the flame. Let your imagination run wild and try other similar fruit – you might just stumble into an appetizing, enticing, and healthy treat.