I know the feeling of not liking store-bought BBQ sauce and yet having to buy one. Well, those days are behind us. With the availability of the internet, many homemade recipes are out there for a grab. I'll talk about a simple homemade spicy BBQ sauce recipe that has been in our family for two generations. This healthy homemade bbq sauce will take your grilling experience to the next level. You can also enjoy this sauce with other kinds of foods of your like. And you can pour, slather or dip your favorite grill or  BBQ meat or seafood to add the rich sweet, sour and spicy flavor of the BBQ sauce. So, start making your own BBQ sauce by following this recipe and feast!
Basics of Making Homemade Spicy BBQ Sauce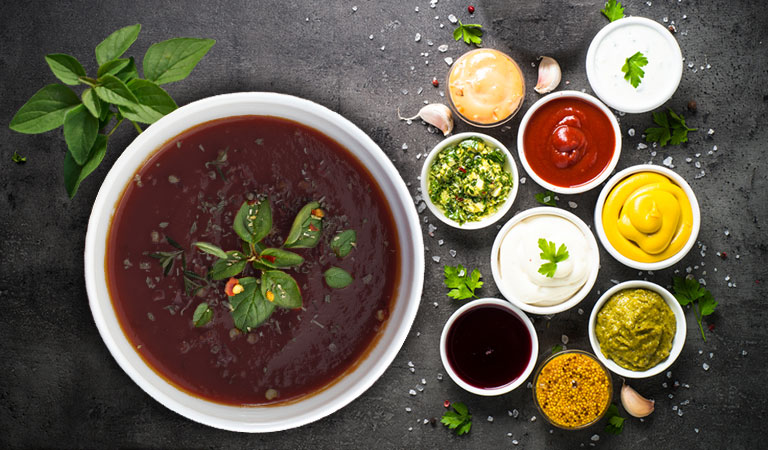 Making a good BBQ sauce is not that difficult. Typically, a simple BBQ sauce recipe contains a base of tomato (ketchup/paste), acid, spice and sweetness. You can make your own adjustments to the ingredients according to your preference.
My spicy BBQ sauce recipe resembles the Western South Carolina sauces because of its tangy, sweet and hot taste. I promise you'll get a kick out of this sauce. While you're at it, make sure you follow the steps below to ensure you make a quality sauce.
1. Base
Most of the online BBQ sauce recipes you'll find use tomato sauce as their base. But in my recipe, I've used the old fashioned tomato paste, so you can skip on the high fructose on the ketchup. Tomato paste will also provide a consistent thickness to the sauce. I've used orange juice for diluting the tomato paste and add both acidity and sweetness to the sauce. If you're going for a homemade sweet BBQ sauce, use more orange juice. Choose the freshly-squeezed tomato. Don't go for the ones that have added sugar to them.
2. Sweetness
Don't use any unnatural sweetening agent. It will make the sauce lose its flavor. Use maple syrup to naturally sweeten the sauce. You'll also get a great depth of flavor with pure maple syrup. If you're looking for a sweet BBQ sauce recipe, you can use this recipe.
3. Acidity
To add a sharp taste to the sauce, use Worcestershire sauce, Dijon mustard, and apple cider vinegar. The acidity will not only give that zesty taste to your BBQ sauce but it will cut down the unnecessary sweetness of the sauce and you will get a balance of taste. The acidity will also work as a flavor enhancer.
4. Heat
You can adjust the spice level of capsaicin according to your preference. Some like it very hot while others just crave for a mild kick. I'll use jalapenos and chipotle powder for more stinging spice, smoky flavor, and sustainable heat.
5. Aroma
If you add garlic, sauteed onions, and paprika, you'll get a unique layer of flavor in each serving. If you use a dry-heat cooking process, you can bring in new flavors to your sauce which you can't get out of simply simmering.
Making Homemade Barbecue Sauce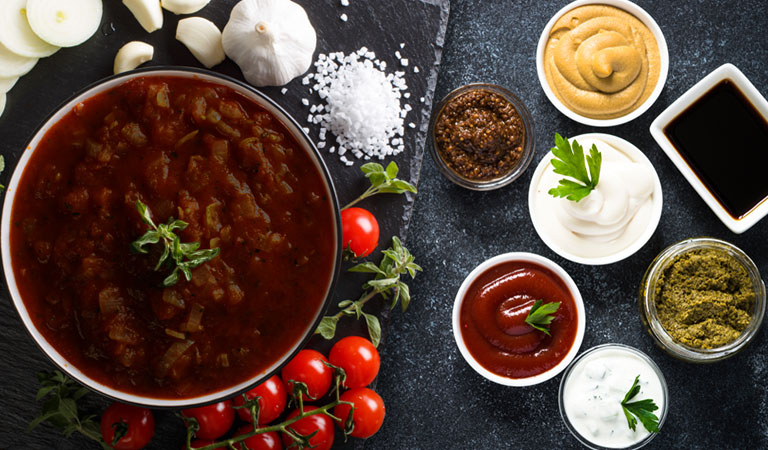 The homemade BBQ sauce we're going to make goes fantastic with any meat but it goes especially well with grilled meat. It brings in both spicy and sweet flavor to the meat. And now, we'll discuss the homemade bbq sauce recipe in details.
Ingredients
You'll need these ingredients to make one cup of the easy BBQ sauce recipe:
Vegetable Oil – 1 tbsp
Chopped Onion – ½ cup
Minced Jalapenos – 1 tsp
Minced Garlic – 2 cloves
Apple Cider Vinegar – ¼ cup
Dijon Mustard – 1 tbsp
Worcestershire Sauce – ¼ cup
Maple Syrup – ¼ cup
Paprika – 1 tbsp
Chipotle Powder – ¼ tsp
Kosher Salt – 1 tsp
Tomato Paste – ¾ cup
Orange Juice – ¾ cup
Required time:
Preparation: 10 minutes
Cooking: 30 minutes
Total: 40 minutes
2. Direction
For this healthy BBQ sauce recipe, follow these steps:
Take the oil over a medium-sized saucepan and heat it over a medium temperature
Add sauteed onion to the pan and stir it for about 5 minutes until it gets softened
Put the jalapenos on the mixture and cook the mixture for 30 seconds
Add the minced garlic and cook for 30 seconds, so the mix gets fragrant. Lower the heat to a medium-low temperature
Add the apple cider vinegar, mustard, Worcestershire sauce, paprika, maple syrup, tomato paste, chipotle powder
Bring the mixture to a simmering temperature. Cook over low heat until the sauce gets thickened and the acidity level reduces
Stir the sauce occasionally for 20 minutes
Use a mesh strainer to strain the sauce
Let the sauce cool down to room temperature
Serve the sauce with your favorite meat
For storing the sauce, keep the sauce in an airtight jar or container. Use the sauce for 4 days and keep it in a refrigerator
3. Nutritional Value
These are the nutritional contents of the homemade spicy bbq sauce for each serving (each serving= 1 tbsp of sauce):
| | |
| --- | --- |
| Calories | 44 |
| Total Fat | 1g |
| Sodium | 133mg |
| Potassium | 74mg |
| Total Carbohydrates | 8g |
| Protein | 1g |
4. Tips
For a spicier taste, increase the amount of chipotle powder
You can use cayenne or chili powder instead of chipotle powder
For a more smoky flavor, you can use smoked paprika to make the sauce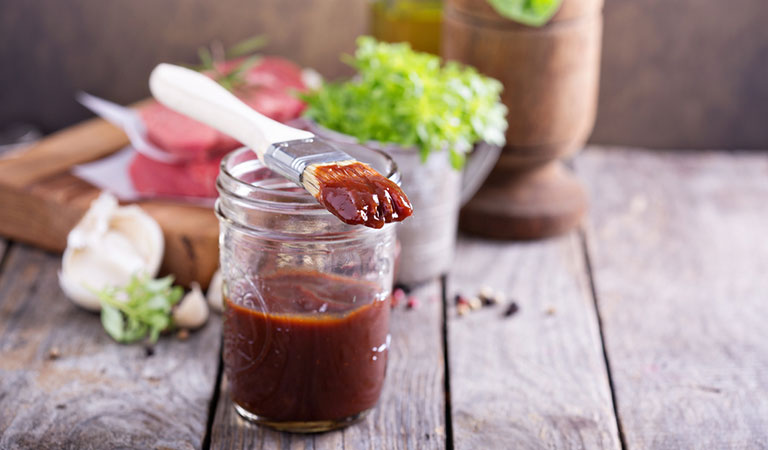 Summer is just knocking at the door and the grilling season is about to start. You love grilling but why don't you make your own barbecue sauce on top of grilling the meat? This homemade spicy BBQ sauce will make your grilling experience more interesting. You can never go wrong with this sauce as it goes with both meat and seafood.