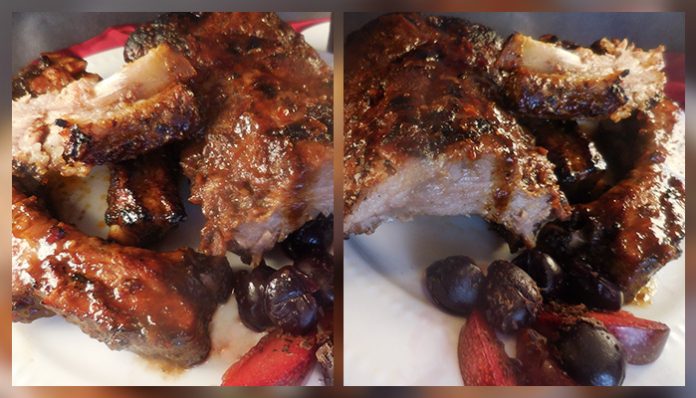 Black Forest Cake is one of the favorite desserts of all my family members. Having a German lineage from my mother's side, I have always had a soft corner for the rich heritage of black forest recipes. Some time ago, as part of my effort to up my BBQ game, I tried to add the delicious cherries, rich flavors of plums and a hint of chocolate to my another favorite barbeque dish which many of you now know as the Country Style Pork Ribs Recipe. I was nervous and tentative to try something new. These ribs were falling off the bone and as my kids said "slap yo mamma so good," it felt so decadent and delicious!
Encouraged by my family, I served my 'Baby Pork Ribs Recipe – Black Forest Edition' to my friends. All who tested have loved it. Now, I am sharing my Black Forest Pork Ribs Recipe with you guys.
This recipe is perfect for serving four people.
Ingredients
2 racks of baby back pork ribs (perfectly membrane removed)
For the Dry Spice Rub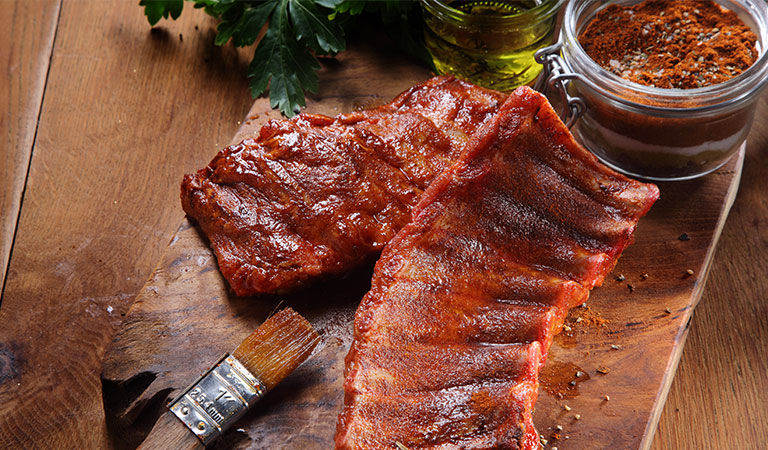 Packed brown sugar — One-fourth of a cup
Sweet paprika — One tablespoon
Dried roasted garlic — One tablespoon
Dried ground chipotle pepper — 1/2 tablespoon
black pepper, freshly ground — Two teaspoons
Ground celery seeds – 2 teaspoons
Ground mustard – 2 teaspoons
Kosher salt – 2 teaspoons
Herbs de Provence – 2 teaspoons
Ground cinnamon – 1 teaspoon
Nutmeg, freshly grated – 1/2 teaspoon
For the Mop Sauce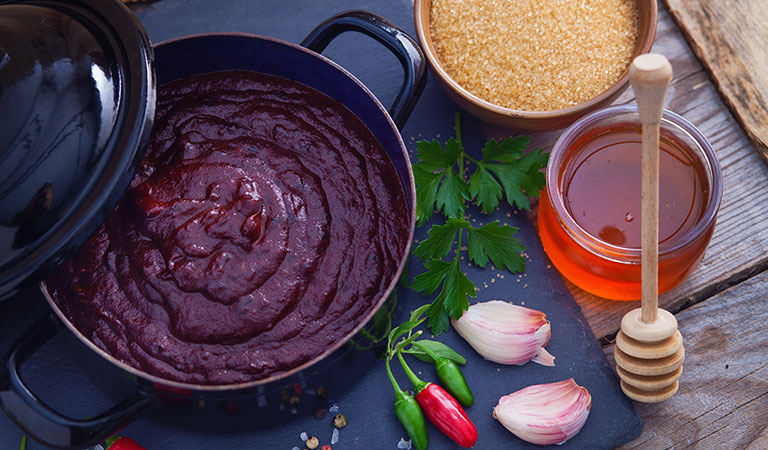 Dark Sweet Pitted Morello Cherries – 1 1/2 cups
Red plums, (skinned, pitted and chopped) – 3 medium size
Chipotle peppers (canned, seeded and chopped) – 4 medium size
Gnarly Head Pinot Noir wine – 1 cup
Prepared honey barbecue sauce – 1 cup
Tomato paste – 3 tablespoons
Packed brown sugar – 2 tablespoons
Prepared mole sauce – 1 tablespoon
Sorghum – 1 tablespoon or you can use Molasses – 1 tablespoon
Orange Zest, freshly grated – 1 tablespoon
For Garnishes
Dark Sweet Pitted Morello Cherries – two-third of a cup
Red Plums (pitted and sliced) – 3 medium size
Dark chocolate, grated or shaved – one-third of a cup
Baby Pork Ribs Recipe: Directions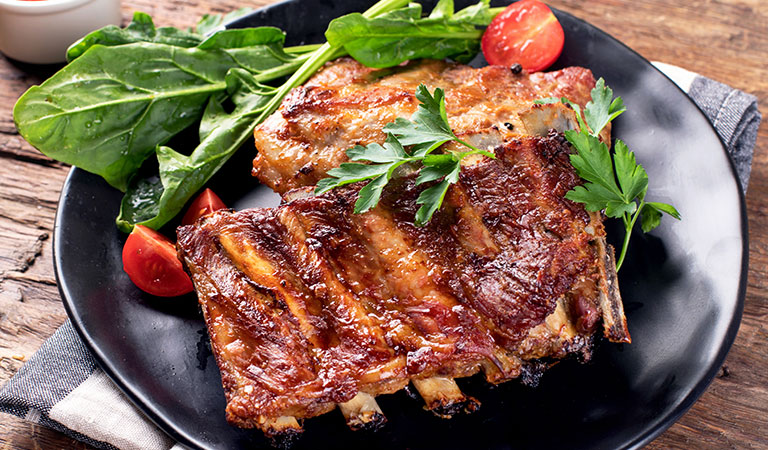 Place the ribs bone side up on a flat work surface. Make sure that their membrane is well removed. Otherwise, the membrane would not allow the spices to mix up well. In a small bowl, combine all the dry spice rub ingredients, tossing together well until they are well blended. You can use a food processor to ensure a perfect mixture.
Now, sprinkle the dry spice mixture generously over the meat and bones of the pork ribs. Gently rub them with hand and make sure that spice is applied to every area of the ribs. Set the ribs aside for 2 or 3 hours to marinade. This will let the spices enter into the meat.
In a medium-size bowl, combine all the mop sauce ingredients. Using a hand-held immersion blender, blend the mop sauce ingredients until well blended and smoothened or you can add mop sauce ingredients into a blender and process until well blended and smoothened and then pour mop sauce mixture into a medium bowl.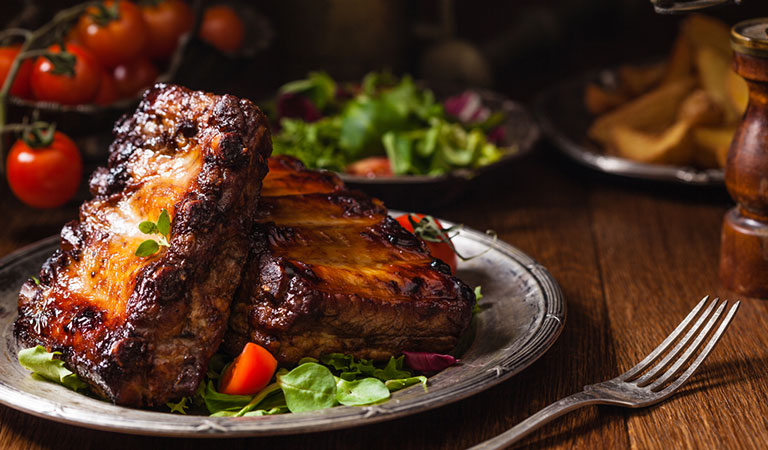 Heat your smoker or grill to a temperature of 325 degrees Fahrenheit. Remember, this is for indirect cooking. So this recipe will be best cooked in smokers that offer you the indirect cooking option. Pellet smokers are best in this case because of the way they work. I personally use PG24 by Camp Chef Pellet Grill and Smoker BBQ. After heating up your pellet smoker, toss 1 and 1/2 cups smoked cherry wood chips on to the fire to heat. This will provide you a smokey bbq flavor. You can try different wood chips to have variation in smokey flavor. My personal favorite is the Hickory wood pellets with this dish. Mesquite pellets are also good but its smoky flavor is strong. So, don't try it if you are not okay with the strong smokey flavor.
Place the prepared spice rubbed pork ribs on to the grate. For equal cooking, you must make sure that they do not overlap and cover each other. Cook for half an hour. In the meantime, adjust the vent holes and coals to maintain an even heat of 325 degrees F.
After half an hour of cooking, generously rub the mop sauce mixture to all sides of the pork ribs and put the lid on so it starts to be cooked again. Continue applying the mopping sauce mixture to the pork ribs after every 30-minutes. Keep them covered after applying sauces until prepared. The cooking process generally takes about 2 to 3 hours.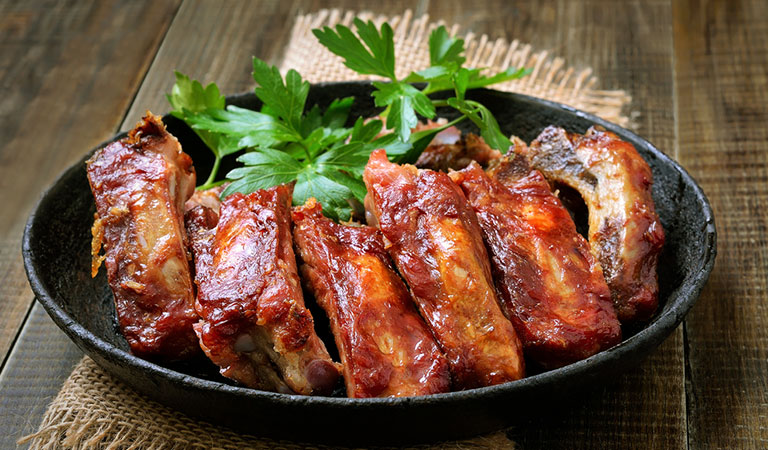 Transfer the cooked pork ribs to a large cutting board. Cover them with a large sheet of aluminum foil loosely. Allow the pork ribs to cool down for 10 minutes. After cooling down, cut the cooked pork ribs into pieces and serve each individual pieces with some morello cherries, plum slices. Sprinkle a little grated or shaved chocolate over the cherries and plums. Your Black Forest country style pork ribs are ready to enjoy!
Let me know how you feel after you tried it and don't forget to try our pork butt recipe as well!