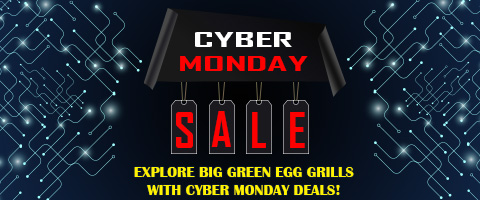 A Short Summary of Our Findings
When it comes to great tasting grilled food and amazing durability, one of the brands that come to mind is none other than Big Green Egg. Big Green Egg (BGE) grills are the premium maker of ceramic kamado grills that hail from the Japanese grilling technology. These grills impart a distinct, delicious flavor to the meat that is cooked in them.
We wanted to compare each of these grills, checking out their features and functions. To do this, we needed to purchase them, get a team of volunteers to do a cook fest, and compare these results with online feedback, testimonies, and product descriptions. We tested and evaluated each one of them in terms of performance, cost, and results. All seven of the Big Green Eggs are amazing, and can be used with accessories such as their racks, grids, baking stones, and other specialty cookware to maximize the features of each grill.
Unique product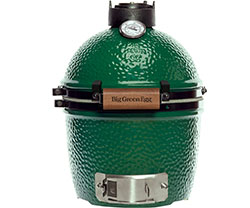 One of a kind
Big Green Egg- Mini
This model is perfect for single people and those living alone, as it is a mini model for small scale cooking. It still gives you a good amount of space, but it is still quite expensive.
Check it Out!
The Mini is the perfect grill for beginners who want to try out kamado cooking for the first time. It's compact, but still delivers a cooking space of 78.59 square inches. It's great for bringing to outdoor camping trips, or for small gatherings in your backyard. At a price of $400, it's still a bit hefty for its size, but you are sure to get your money's worth with this Mini Big Egg grill.
Staple pick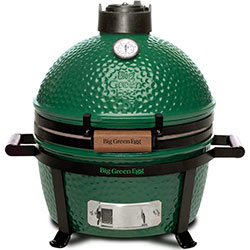 On the go
Big Green Egg- Minimax
This model is bigger than the mini, so perhaps slightly less portable, but it is still great for cooking on the go. It has a good amount of space, and some super handy handles, making it easy to carry around.
Check it Out!
The Minimax is slightly larger than the Mini – and comes with a bigger cooking area at 132 square inches. It also weighs more, and comes with two side handles that make it easy to carry, even with the additional weight. It's not as good a choice for outdoor camping trips, but it is great for family backyard parties. It could cook enough meat for a medium sized family.
Backyard bonus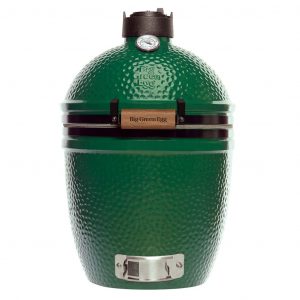 Lasts a long time
Big Green Egg- Small
This model is great because it is good for having the grill alight for longer periods of time. However it is less portable than the mini or minimax, so isn't a good choice for taking on trips or camping.
Check it Out
The Small Egg grill has the same 13" diameter as the Minimax, but only taller that it. Its height of 23 inches makes it more energy-efficient. It can retain a larger amount of fuel for a longer period of time, making it an efficient cooking tool. It's taller height means it's also heavier than the Minimax, which means it is less portable. It has no handles since it's not ideal for moving from place to place.
Top end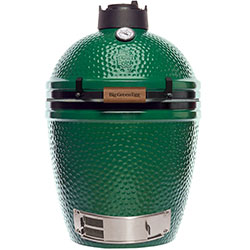 Loads of space
Big Green Egg- Medium
This model may loose some of the portability features of the smaller models, but what it looses here it gains in space to cook. It is more expensive, but it is a good option when cooking for a larger family.
Check it Out
With a cooking area of 176 square inches, this grill can easily cook 12 steaks at once. It's the perfect grill for those who like to have barbecue parties in their backyards. It's not portable, but it comes with caster wheels so you can easily push it around to where you need it.
Big bet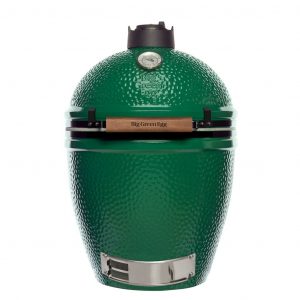 The huge choice
Big Green Egg- Large
This model really does take it up a notch when it comes to size. It has a huge space to cook on and weighs a lot more to give you this space, but also gives you the option of a tonne more attachments.
Check it Out
This Large grill from Big Green Egg definitely lives up to its name. With 261 square inches of cooking space, you can grill 24 burgers, a heifer rack, or two briskets at once. It's the perfect grill for large families and neighborhood parties. It can accommodate two stone attachments at the same time, so that makes it great for two more pizzas for your party. It definitely lives up to its name, and being huge, is not portable like the smaller ones.
Beast grill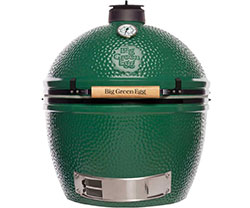 As big as it gets
Big Green Egg- Xlarge
This model is quite expensive because of the amount of space that you are paying for. It is perfect for big events and group cooking, but lacks any sort of real portability.
Check it Out
This one definitely a beast of a grill! With a diameter of 24 inches that's easy to assemble, it has 452 square inches of cooking space and is perfect for cooking large servings of different dishes on the go. It can hold up to two racks of beef in one go, and two large stone plates. You can basically run a restaurant with this beast of a grill from Big Green Egg. Its worth over a thousand USD, but it's all worth it for all the cooking that it can do.
Immense pick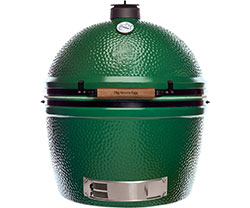 Large is the limit
Big Green Egg- 2XL
This model really pushes the boundaries of what is possible. It is so big it is perfect for commercial catering or hire events. To invest in this option you need to be a really keen griller!
Check it Out
This is definitely the ultimate Big Green Egg of them all! It is literally twice the size of the XL. In it, you can cook 35-40 burgers, about 15 whole chickens, and even a suckling pig on its 672 square inches of cooking space. Its large diameter of 29 inches can cook up to three 10 inch pizzas. You can run a catering business with this monster grill. It's priced at 2000 USD, understandably expensive but definitely gives value for your money.
End of Summary
Big Green Egg Grills- Detailed Buying Guide
No backyard is complete without the one thing that ties every family gathering together; a good grill. We have researched grills here time and time again; the different types, the different brands, even the different sizes these things come in have all been investigated thoroughly. We've actually settled with one brand that we think stands above all the rest not only in its notoriety, but its exceptional quality and uniqueness in product – we're talking about Big Green Egg of course.
Big Green Egg make grills unlike any you've ever seen, and exceed all expectations in regards to cooking, turning the simplest hunk of meat into a mouthwatering Michelin-style delicacy.
Imagine the Space Age technology and the practices of an ancient civilization combined. It's paradoxical, right? I mean, there's no way the two complement each other? And yet, Big Green Egg have fathomed a way to combine Ancient Japanese cooking styles with NASA's ceramic technology to create a grill that pushes all boundaries and works to an unbelievably effective level. Let's consider fuel, for Big Green Egg charcoal is the only logical way to go as it won't smoke much and imparts the most gorgeous flavor time after time. Above all, it's easy to access and purchase. If you're looking for a grill that you can trust, you'd better keep on reading.
Why Should You Trust Us?
Let's step back from our Big Green Egg charcoal run machine for just a second. It's so important that you, as our readers, feel comfortable knowing that all of the information to follow is not only valid, but exceptionally reliable.
Trusting strangers online isn't something that the wisest of us do, but here at Grills Forever, we've cultivated a team of experienced research analysts that really do know just how to find out the tidbits of information that other sites may miss.
We've actually been operating for over five years in this very field of conducting methodological product research, which makes us no stranger to the prospect. We focus on writing about information that informs, educates and prepares our readers for whatever purchases they may, or may not make. All of the information here has been diligently acquired personally by our team. We actually spent a full 12 hours of scouring the internet for more info on the mechanism of Big Green Eggs, customer reviews, product manuals, Big Green Egg prices and whatever data we could find that might help lend us some accuracy to our assertions.
Bias is another thing that often taints even the most prestigious of research; our team is diverse, and no one person is in charge of the entire research process. Instead, each step is done cohesively, or by individual people before being deliberated, checked for validity and put together. By employing reliable research methods whilst gathering up all the data we could on these Big Green Egg charcoal run beauties, our results are definitely to be trusted.
We know that not everyone knows their grills; I mean, doesn't a Big Green Egg BBQ sound a little complicated? And exactly how much will these Big Green Eggs cost? We're here to help with the confusion by providing clear, accurate information on what really matters in making an informed purchase. With our support, you can depend on this article in helping you make the best decision for you. Be you an occasional griller, or even a hardened grill master who knows exactly what we're talking about already; we've got a comprehensive guide waiting just for you.
What is a Kamado Grill?
A Kamado grill really isn't a Kamado grill at all if we're speaking in strictly traditional terms. Kamado means stove in Japanese, and the direct equivalent would be a fixed stove cooker within people's homes. Okay, we're being facetious, there is an alternate type: the Mushikamado, and this is what the modern kamado grill is based of.
A transportable, free-standing ceramic grill that has the most wonderful egg shape. It's actually this Mushikamado type of grill that modern kamado grills are based off. Their popularity actually surged post World War Two, when American soldier brought back the innovation straight from the shores of Japan. The grill works effectively due to its integrated ventilation, as well as the thick insulated walls provided by layers of ceramic.
Now, to the technicalities of why exactly the Kamado grill is so efficient, it's all about that ventilation; with vents located both on the top and the bottom that allow you to control the temperature to an exact measurement.
Air flow is maintained through a removable ceramic insert that rests just above the charcoal. The key to it working so well is the way this insert deflects heat away from the meat; meaning that there's not really much direct contact heat wise and that the meat is able to retain as much moisture as humanly possible. If you like cooking a little more directly and want a direct flame, feel free to pop out the insert and grill away! Safe in the knowledge that if you ever want to change things up, all it takes is the quick laying back of the insert.
The thick ceramic walls allow you to slow cook meat at a consistent temperature, or even safely grill the heck out of a piece of meat without having to worry about damaging your grill or setting your backyard ablaze.
The brilliance and uniqueness of a kamado grill lie in its very versatility; for it not only grills, it can smoke just as well all in the same pit. To add to all this, it doesn't even compromise on either one; it really does smoke just as excellently as it grills. Kamado grills cook in a way that no other grill can quite live up to; the way it seals the moisture in the meat and the extent of insulation involved with the ceramic, all helps to impart a really deep but subtle charcoal flavor time after time.
Advantages and Disadvantages of Kamado Grills
A grill dating back thousands of years might not be the first thing to spring to mind when you're shopping around. But think of this, why exactly has it endured so long? It can't just be because it looks cool (although the egg shape is pretty ace), it's because kamado grills are efficient and unique in the way they cook. It's about the distinctly delicious flavor they impart on any old hunk of meat time and time again.
We've hyped Kamado grills up quite a bit already, but we're logical here and we'd like to give you the full picture. That said, here's a full list of the advantages and disadvantages of investing in one of these big, green egg charcoal fueled beasts.
Advantages:
The ceramic body of the grill doesn't leave behind any residues that affect the meat negatively like some metallic grills do. The ceramic allows that charcoal smoke to bounce back into the meat without hindrance.
Ceramic is an incredible insulator and will allow the grill to maintain a consistent temperature to a far better degree than any metal grill would. This means effectively, thoroughly cooking at searing heats, or even the lowest flames.
The way the kamado grill is designed is to both ventilate and insulate, allowing it to heat all the way up above 750°F; as well as maintain the lowest temperature you might require. Focusing back on 750°F; that's a temperature most other grills simply can't reach, safely anyway.
Lump charcoal as the main fuel source ensures that you can reach a stable, high temperature whilst minimizing on ash and maximizing flavor for a premium grilling experience.
Think of a kettle grill; a kamado grill is pretty similar design wise. If you're looking to upgrade from a kettle grill, a kamado is definitely your next step.
A kamado grill integrates perfectly into a backyard kitchen set-up; meaning you can have this little contraption as a permanent deck staple knowing that it won't let you down.
Kamado grills are very weather resistant and really easy to maintain. The charcoal causes little ash which also makes them pretty simple to clean.
The benefits of ceramic come into play with weather resistance; your kamado grill simply won't rust, and can last an awful lot longer than metal grills due to the minimal upkeep.
You can use a kamado grill to not only grill, but steam (rice cooked in this thing is sublime), bake (think of all the pizza), smoke, and cook! It's so ridiculously versatile it shouldn't be possible! (But it is!)
If you live in a particularly cold climate, or you just get really cold winters, kamado grills have got you covered with that prime ceramic insulation meaning that you can cook reliably and thoroughly all year round.
It doesn't take much charcoal to power one of these due to the extent to which it insulates. Fuel efficiency basically means lower costs for you making a kamado grill pretty economical in the long run.
Disadvantages:
You don't get much cooking space for your money, Kamado grills are reasonably large but for the same price, you can get grills that are huge and would allow you to cook up a far greater amount of food for large parties.
The ceramic can sometimes be fragile in some models of Kamado grills and pretty much irreplaceable.
Cooking with a kamado grill isn't like cooking with your conventional gas grill – it will take adjustment and a little learning before you've mastered it.
Kamado grills cook evenly, which is great! But also means that you can't make use of different heat zones as you would on conventional grills.
They are pretty gosh darn heavy – this thing won't be moved without a lot of muscle. It's definitely heavier than your average kettle grill.
Quickly removing the lid can sometimes result in the charcoal flaring up from the surge of oxygen; this may pose a danger in some circumstances. To avoid this from happening, never pry open the grill suddenly and always follow the manufacturer's instructions carefully and diligently.
If the temperature gets really high, it's not easy to bring it back down again and you won't really be able to make use of cooking or smoking meat at a low temperature until the grill naturally cools itself back down.
The thick ceramic walls insulate a little too well, it can mean waiting a little longer than your standard electric grill to get things ready. Kamado grills take an average of 15 minutes to heat up enough for use so do bear this in mind.
Accessories and Features of the BGE Grills
Let's bring things back to our favorite; the big green egg bbq.
Big green egg's kamado grills avoid a few of the above-mentioned disadvantages, notably the issue of the ceramic being fragile. By engineering their grills with combined ceramic technology from NASA, as well as traditional Japanese artisans, big green egg have the perfect balance between functionality and endurance – these grills really won't break (unless you're literally trying to do just that of course).
The Big Green Egg BBQ makes the most of the versatility of the kamado grill by manufacturing a complementary range of accessories that all but enhance the ease with which you can switch up how you're using your kamado. They manufacture a high-quality baking stone which works ridiculously well for making traditional pizza. It's also amazing for griddling delicate meats; fish especially. The stone itself works as a secondary flavor base in addition with the Big Green Egg charcoal fuel source, infusing food with a delicate earthy undertone.
Big Green Egg also create their own dishes; these aren't typical plates though; oh no, these are refined contraptions that allow you to transform your kamado grill into the perfect big green egg charcoal fueled steamer you've always dreamed of. Cook rice with meat all in one without having to fuss over a pot!
The Big Green Egg also comes with cast iron grills which mirror the kettle grilling experience; this can be a good place to start out with cooking if you've already got a kettle grill and want a comfortable way to learn the ropes. Cast iron griddles are also available; these let you stir fry or whip up the BBQ classic of a good old hamburger.
Big Green Egg don't stop there, they also sell wok attachments that clip on perfectly and safely onto the grill itself. These work attachments can be used to stir fry, or even deep fry so you can conjure up a full 3 courses in one go!
They manufacture these attachments and accessories using only the finest materials that best befit their brand image. A range of metals and ceramics intertwine to create layers that prioritize insulation, longevity, and durability. This means that the equipment lasts just as long as the grill and won't really need replacing.
You can even get extra nets and caster lock kits for the accessories in case you want to focus on portability or stability for the items.
How We Tested The Products
We couldn't present you with our review on a product without first ensuring you know every detail of our process. When we say we're transparent, we mean it! You can even check out our full research report in excel format if you want to be completely sure.
We based a great deal of our research via online data; this is because it's so easy to access a huge, varied demographic of users online. This doesn't mean we just clicked through a few customer reviews, we went from site to site collating customer reviews as well as analyzing manuals and product descriptions against a strict checklist of ideal criteria; looking through the Big Green Egg cost range, as well as the general efficiency of the Big Green Egg BBQs.
We also purchased each and every Big Green Egg Grill we've written about and used a group of eager volunteers to personally put each grill to the test. By giving them our ideal criteria checklist along with the grill, our volunteers ticked off those qualities they felt that the charcoal grill had – providing us with directly reliable data we were able to reference and draw our conclusions from.
As a final hurdle for these fantastic Big Green Egg charcoal run contraptions, we asked our volunteers to whip up some perfectly cooked meat using their new big green egg bbq. We had every volunteer cooking with meat we purchased for them; so it was all pretty much unbiased in that regard. We then had a group of local food critics try and rate the meat in regards to moisture retention, taste, and quality amongst other categories. We used this extra data to ascertain just how good food in these grills is likely to be. As well as determine which grill seemed to produce the best-tasting food.
Using this multi-faceted approach to collating data, we were able to piece everything together to come up with the top big green egg grill products currently available on the market.
Big Green Egg Charcoal Grill Review
Innovative, unique and iconic. Big Green Egg epitomize all three of these things in the most wonderfully distinct way. Combining both the efficiency and brilliance of NASA technology with the authenticity of Japanese tradition, Big Green Egg have created a one of a kind product with a cult status. The Kamado grill is reimagined, gone are its days of fragility and inefficiency, it's now durable, beautiful and works well for years to come.
Investing in a Big Green Egg means investing in a name that simply won't let you down. With thousands and thousands of customer testimonials acclaiming the brand's brilliance, you can rest assured you're in safe hands.
We're going to walk you through the brand's best sellers, referencing our own personal research as well as the internet data to deliver a comprehensive review of these BBQs that you can really trust.
Build Quality and Design
Let's think about the structure of a grill.
Big Green Egg grills are constructed using a 3 layer design. This consists of ceramic on the outside; giving the classic glazed aesthetic, and a layer of terracotta on the very inside layer. This works to keep heat inside the grill limiting fuel wastage; the ceramic reflects back any heat and the inner terracotta inhibits any heat that does make it through the ceramic from going any further. This brilliant process also cuts down your cooking time and means that the grill itself is ready for use pretty quickly; usually after about 15 minutes.
Ceramic cracks though right? I mean, it's a brilliant material for a little while but it's certainly not known to last. Big green egg thought outside the box with this one, and integrated technology initially developed by NASA to reinforce their ceramic so effectively that it's simply just as durable as metal. This means you can make the most of having a beautiful ceramic kamado grill without having to worry about over-usage and breakage.
Ventilation is another key thing that makes the Big Green Egg so utterly efficient. There's a smoke chimney atop the grill that allows smoke to escape during cooking. This means that there's less of a chance of the grill flaring up as soon as the lid opens and therefore, less of a chance of you getting hurt. Air flow from the chimney is circulated around the grill; with vents at the bottom allowing heat to escape and fresh oxygen to enter. There's also the ceramic insert we mentioned earlier that inhibits direct heat contact with meat and allows hot air to rebound around the meat as it cooks instead of directly searing. This traps in moisture and ensures that the meat itself stays as juicy as possible.
Ceramic is a brilliant insulator and with terracotta added to the mix, this grill doesn't get all that hot on the outside. Opening the grill is a different story, with the interior being quite literally, searing hot. To help ensure your safety, Big Green Egg have installed a large wooden handle to help you open and close the lid without having to come into direct contact with anything that might be hot. There's also a handy temperature gauge atop the lid so you can keep track of the temperature and judge the safest time to open the lid.
Features:
The infamous egg shape serves not only as an aesthetic wonder, but allows you to squeeze in a surprisingly large amount of food; especially due to the cross section and the variety of removable trays. You can pretty much cook a three course meal using just this one brilliant contraption.
When it does come to cooking with a kamado grill, most people struggle to control the temperature; it takes a whole lot of know-how regarding fuel to accurately maintain temperature. Big green egg like things to be accessible, and in line with this have installed a brilliant temperature control mechanism of which allows control between 158F all the way up to 750F, making the most of a modern convenience to bring this traditional product up another benchmark.
We mentioned the little air vent at the bottom just a few seconds ago, and we're coming back to it now to reinstate the functionality of it. The air vent controls the amount of oxygen let into the grill, as well as the amount of heat allowed to escape. It essentially controls the oxygen burning rate of the grill, and through this, the temperature. It's controlled automatically, although can be controlled manually should you want to make any adjustments. Another nifty thing about this vent is the fact it requires little assembly and is actually constructed from a durable mesh; this stops any charcoal or bits falling down onto your deck or staining your patio – keeping everything clean and efficient.
Available Sizes:
You can trust the build quality and feature of every Big Green Egg grill to be essentially identical; with the same quality of food churning out of each BBQ. The difference between each Big Green Egg lies in its size. Every Big Green Egg model comes in a completely different size with different food capacities. In order to cater for every possible need and individual, Big Green Egg manufacture seven different grills to serve every possible purpose.
We're going to be going through each of the seven below, listing their general criteria: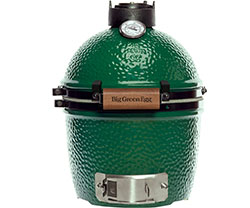 Big Green Egg- Mini
One of a kind
Big Green Egg- Mini
This model is perfect for single people and those living alone, as it is a mini model for small scale cooking. It still gives you a good amount of space, but it is still quite expensive.
If you're a bachelor or bachelorette, or simply have a very small family, this may be the grill for you. It's the smallest size manufactured by Big Green Egg with a diameter of a cute 9.84 inches. Surprisingly enough, even with this very small diameter, you're still going to have a good sized cooking space at around 78.59 square inches. Being the smallest grill; it's also the lightest with a total weight of 37.48 pounds. This makes it utterly perfect for bringing along to the great outdoors on your next camping trip. With a height of around 1.25 feet it's the perfect size to pack up into your trunk for use on the go.
Thinking back to use at home, it's the perfect way to start out with kamado cooking. The size and weight mean you can pack it up pretty easily should you want a break in between seasons. Big green egg transfer all their kamado knowhow into every grill they produce, and so, despite the size and the limited cooking space, this grill does come with a fairly hefty price tag of around 400 USD. Do bear in mind that kamado grills do tend to retail at this price and above so despite it seeming expensive, you do get a lot of quality for your money.
Verdict:
The mini is perfect should you be a single guy or gal just looking to hone in your grilling skills for yourself or a few friends. It's small, but not so small that you can't cook anything. It gives you a good amount of space for meal prep that can be accentuated by the accessories offered by Big Green Egg. The grill itself is reasonably expensive at around 400 USD, but for that money you get something authentic and innovative under the name of Big Green Egg.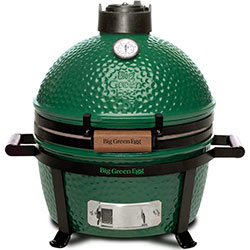 Big Green Egg- Minimax
On the go
Big Green Egg- Minimax
This model is bigger than the mini, so perhaps slightly less portable, but it is still great for cooking on the go. It has a good amount of space, and some super handy handles, making it easy to carry around.
Going one step up from the mini, we're at the minimax. The minimax has a larger diameter than the mini with an overall 13 inches. Alongside this, the cooking area is also a substantially larger 132 square inches. The size upgrade also means a weigh upgrade; this grill is almost double the weight of the mini, weighing in at 77lbs. Big Green Egg have tried to maximize the portability options of the grill despite the additional weight with fixed carrying handles, making the grill fairly easy to move around.
The addition of the handles and extra cooking space tie into an increase in budget, with the minimax retailing for an average of 600 USD. For this money, you do get the best of both worlds really; there's portability, as well as a hell of a lot of space to cook with. It's really not a bad option for a small family cookout!
Verdict:
This one maximizes all the benefits of the mini grill, it's nowhere near as portable so maybe not as suited for camping life, but it is pretty suitable for packing up into a car for on the go meals. It offers a substantial amount of space, as well as some brilliant handles on the sides which make carrying the grill all the easier. For close to 600 USD, it could be your next family staple.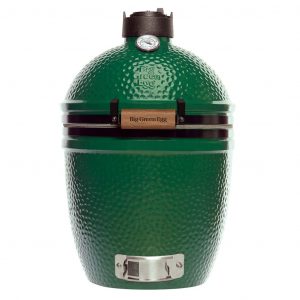 Big Green Egg- Small
Lasts a long time
Big Green Egg- Small
This model is great because it is good for having the grill alight for longer periods of time. However it is less portable than the mini or minimax, so isn't a good choice for taking on trips or camping.
Big green egg's small grill has the same 13 inch diameter and 132 square inches of cooking space as the minimax. The difference lies in height with this grill. It sounds like a random alteration to make, but there's a lot of sense in this! Because the grill is taller (and less portable as a result), it's capable of retaining a larger amount of fuel and therefore able to burn for longer time periods. When we were experimenting with this grill, our volunteers were unable to get this grill to exceed 730F; so it's worth bearing in mind that there does seem to be a lower temperature limit with this one.
The increase in height instantly makes this grill pretty much grounded. There's little option for portability, and as a result, Big Green Egg haven't included handles. Surprisingly enough, not including fixed handles actually substitutes for the added height and allows the grill to weigh in at around 79lbs; only slightly above the minimax. It also comes along with a cheaper price of around 560 USD, making this grill a pretty good option should you want a backyard staple.
Verdict:
The small grill has the same dimensions as the minimax, with a greater height, and through this, a better fuel efficiency. This grill can be great if you're planning on having the grill alight for a substantial time period. It's not as portable, but with a lower price than the minimax, at 560USD, it may be the perfect option for your backyard.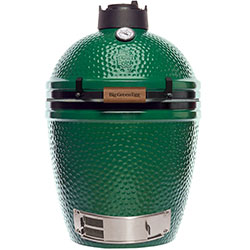 Big Green Egg- Medium
Loads of space
Big Green Egg- Medium
This model may loose some of the portability features of the smaller models, but what it looses here it gains in space to cook. It is more expensive, but it is a good option when cooking for a larger family.
We're almost abandoning the concept of portability with this grill. With a height of 23 inches, there's no way this grill will squeeze into your sedan backseat or even your wagon. It's also pretty heavy, with a weight of 112lbs. If you are determined to carry this grill along with you, you're definitely going to need more than one person to lug it around.
To counteract this little issue, Big Green Egg have attached caster wheels to allow you to make the most of this grill wherever you may please. (Although, it may be wise to limit moving this grill around to your backyard as it's really going to be a battle to get it into any sort of car).
To compensate for the portability issues, this grill gives back in a huge way with a cooking space of 176 square inches, and a diameter of 15 inches. This is enough to pile on 12 steaks all at once, or even cook a large brisket! If you've managed to procure big green egg's stone attachment, this grill is perfectly suited to making a 14-inch pizza alongside all your meat grilling.
When you consider the wheels, as well as the cooking space, it makes sense that this grill is sort of pricey. It's not extortionate though, and retails at around 660 USD, making it a perfectly reasonable option for a large family household.
Verdict:
This grill is perfect for large family gatherings, with a large grill space and good burning time. It, however, is not portable enough for popping into your trailer, unlike the Big Pig Trailer Rig from GMG. It does come equipped with some handy wheels so you can pop it out of the way to make the most of seasonal use and ensure that it's kept in tip-top condition, protected indoors.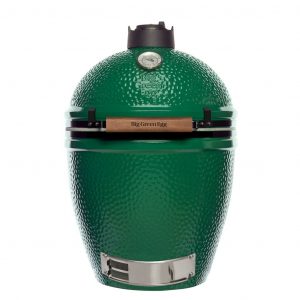 Big Green Egg- Large
The huge choice
Big Green Egg- Large
This model really does take it up a notch when it comes to size. It has a huge space to cook on and weighs a lot more to give you this space, but also gives you the option of a tonne more attachments.
This grill lives up to its name and is indeed large. It has an immense cooking space of 261 square inches and a diameter of 18 inches. If you've a large family or just enjoy a neighborhood grill session, this might just be what you're looking for.
You can fit an entire heifer rack on this thing, or if you're a brisket fan, have two on the go!
This grill can take two stone attachments at the same time, so you can cook two pizzas, or one pizza and a few fillets of fish – all at the same time!
In line with the versatility and size of this item, weight can be a bit of an issue. It weighs in at a grand total of 161lbs and has a price tag to match at 850 USD. Comparing back to the medium grill, you're getting a lower space: price ratio for your money which can be a bit frustrating. Despite this, this grill really is the perfect large size and if you're intending on cooking huge amounts of food and don't plan on going over a grand – it's your best bet.
Verdict:
The large grill is pretty amazing if you're planning to cook for a lot of people. It's very heavy mind so there's no wheeling this one out of the way or carrying it off for a camping trip. It does offer a huge amount of cooking space though and for just under a grand, you get a lot of flexible space for your money's worth.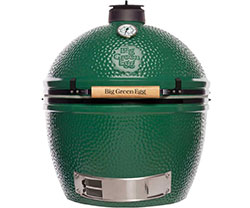 Big Green Egg - Xlarge
As big as it gets
Big Green Egg- Xlarge
This model is quite expensive because of the amount of space that you are paying for. It is perfect for big events and group cooking, but lacks any sort of real portability.
This grill really is huge. It's practically a big green egg charcoal run beast of a kamado grill, with a cooking area of 452 square inches and a diameter of 24 inches. It is, however, shorter by a tiny 3 inches than our medium grill, measuring up to 30 inches tall. The volume of the charcoal holder compensates for the height loss and optimizes fuel consumption for a longer cooking time.
With the amount of space you're getting, it does make sense that this grill is pretty expensive. You can expect to pay around 1200USD for the Xlarge, but! Consider the amount of food you can cook with this thing! It would be perfect for a restaurant considering you'd be able to whip up 2 entire racks of beef, as well as two extra large stone plates. This grill really would be perfect for events, or even for an extraordinarily large household.
Verdict:
This grill is really big and would be perfect for larger scale events. It offers no portability but a lot of run time, fuel efficiency, and space for extra attachments. This makes it great for cooking a large amount of different things on the go. It might just be perfect for your small business if you're willing to splash the cash and go over a grand.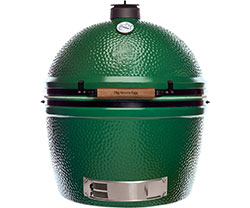 Big Green Egg- 2XL
Large is the limit
Big Green Egg- 2XL
This model really pushes the boundaries of what is possible. It is so big it is perfect for commercial catering or hire events. To invest in this option you need to be a really keen griller!
Big Green Egg have reached their limit with this grill; it's the absolute largest grill they manufacture, standing at a full 40 inches tall. This grill is a dream come true for any heavyweight grill fanatic, with a huge cooking area od 672 square inches, as well as an impressive diameter of 29 inches.
Big Green Egg have improved the price: space ratio with this grill, with a fairly reasonable (but understandably expensive), price of 2000USD. Its expansive diameter allows for up to 3 10 inch pizzas to be cooked at the same time; making it great for large parties. In fact, it's so huge that you could cram an entire hog, or even lamb inside this thing and cook it to perfection without any issues.
The build quality of this thing is completely in line with big green egg's general standards; you can accessorize it to your heart's content and optimize on its enormous capacity, safe in the knowledge that it's really going to endure the years.
Verdict:
Take everything we've said above about the Xlarge, and times it by two. That's basically the 2XL for you; it's huge. Immense. You could potentially fit an entire hog in it; that's how big it is. The size would work amazingly for large events, or even a restaurant. Or, if you should be a hardcore grill fanatic, this might just be the thing you've been looking for (if you've got the dosh of course).
Glossary:
Ceramic: Is a non-metal solid material that works great to conduct heat effectively, evenly and quickly. Ceramic is a material that complements cooking due to its high conductivity which needs less heat and therefore, less fuel, to cook.
Terracotta: A reddish fired clay that works perfectly in cooking. When integrated in a cooking utensil (such as the big green egg grills), it inhibits vapor from escaping and forces food to cook in its natural juices. The steam that does escape circulates and rejuvenates the food resulting in moisture rich food with less fat and calories.
Kamado: A traditional Japanese stove, that was later translated into a mushikamado; a transportable version. Post WWII popularity in America surged and it's been refined slowly ever since.
Open FlavorTM: Refers to Big green egg's commitment to consistency of flavor. They can promise this with every grill due to the nature of construction best allowing for flavor to marinate with each and every use.
Caster Wheels: A type of wheel on a rotating mount that allows for easy transportation.
Care and Maintenance
Big green egg grills are brilliant for mess minimization, with the charcoal fuel often burning completely cleanly. It is, however, necessary to clean out what little ash that may have gathered in the lower fire chamber. You can do this using any ash pan as well as a brush after around 3-4 cooks. Do not clean out the ash tray whilst the grill itself is still warm. Be sure to wait for everything to cool completely, and to sweep the ash using a non-flammable brush, and into a non-flammable container.
If you want to completely clean the grill, you're going to need to disassemble some things. Remove the fire box, the grate, as well as the cooking grid. Shake each of the items off and wipe them down using grill brushes – do not use soap or water as this will damage the ceramic. Be sure to pay careful attention to the holes in the fire grate and box, to ensure that none of them are blocked by buildup.
Keep your grill covered with a weatherproof grill cover to ensure that it doesn't come into contact with any debris, nor corrodes over time (it won't due to the materials, but sometimes can be aggravated by poor weather – you don't want a rain-soaked grill).
If you tend to move your grill around a lot, you're going to want to double check the nuts and bolts – tighten them every 90 days or so just to ensure that nothing's going to fall apart on you.
The last thing we'd advise you to double check when maintaining your grill, is the felt gasket. This is the things that'll be lining the rim of the base, as well as the dome of the grill itself. It's constituted from an extremely heat-resistant material that technically lasts forever, but it's really best to be safe than sorry. Should the gasket show any signs of deterioration, replace it using the big green egg gasket kit; of which you can purchase through their site.
Wrapping it Up
Just to mention, these grills are all fantastic for a variety of cooking styles, but slow cooking is not amongst them. You can smoke, bake and grill to your heart's delight, but due to the high insulation and the way in which the grill maintains heat, you cannot slow cook in any Big Green Egg grill.
If you're planning on investing in one of these fantastic grills, it may be the dreaded Big Green Egg cost that's putting you off. There's no other really negative aspect about these grills; and the price itself really isn't all that unreasonable when you consider the amount of research, expertise, and care that goes into making each and every one of these fantastic machines.
Big Green Egg grills are made to last, and with that in mind they epitomize the best of modernity by replenishing an antiquated mode of cooking with the Space Age scientific knowledge.
Buying one of these grills means investing in a refined version of a cooking technique that has served countless generations in not only grilled food, but smoked food, baked food; pretty much in any way they could think of. Big Green Egg make all of this accessible with a range of add-on equipment, allowing you to make the utmost of this particularly brilliant investment.
We hope our review here has allowed you a comprehensive insight into the wonders of this brand, as well as the reasons behind its deserved cult status.