A Short Summary of Our Findings
If you're ready to cook some Texas-style barbecue at home, no other grill can help you achieve barbecue better than Oklahoma Joe's grills. These heavy-duty grills from the multi-awarded pitmaster himself, Joe Davidson, have been around for over 20 years. We have become fans of these grills, and have tried as many of their products as we can get our hands on. These grills are made of black 12-gauge oil pipes and are simply built to last.
To help you decide which of Oklahoma Joe's grills are suited to your needs, we have made a list of their top five grills. We spent over 48 hours in research, product-testing, review-gathering, and comparing online feedbacks with personal experience in order to come up with this list. Grills Forever has made it our goal to help our readers choose wisely, realistically, and hopefully, with no regrets. Read on to see which Oklahoma Joe grill is for you.
Long-lasting Choice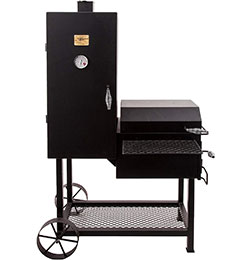 The Bandera is a unique, vertical grill that boasts of almost 1000 square inches of cooking space. With 4 cooking grates, it lets you smoke or grill different types of food with its large space. Features include an advance damper, a smoker set composed of rib racks and meat hooks, handles that stay cool, a charcoal pan and ash tray that can be removed, professional temperature control, a front shelf, and adjustable cooking grates, among others. It also rests on two large wheels that make it easy to move around in your backyard. Priced at $380, it is well worth every penny with its durability and long lifespan.
All round winner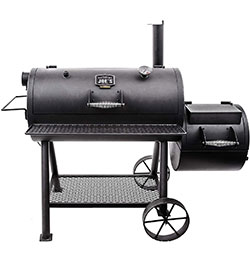 This amazing smoker is one of a kind and delivers a one of a kind smoking experience. It lets you cook two ways – using the traditional way by offset smoking, or by the reverse flow smoking procedure by simply moving around the smokestack location. This smoker has 5 cooking racks, multiple dampers, a removable ash bin, a bottom shelf, firebox access door, a temperature gauge, and a warming tray over the wood box as additional cooking space. All in all, it has 879 square inches of cooking surface, enough to cook up a party for your family and friends. Priced also at $380, it's definitely a good buy as it will last many years with its sturdy built.
Trio Pick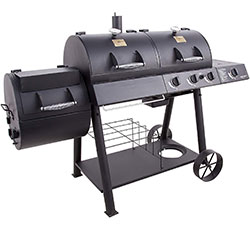 Unlike the previous models which use wood, wood chips, or pellets as fuel, this smoker combo offers gas, wood, or charcoal options to choose from. It has a smoking chamber, and another chamber for gas grilling, plus a gas side burner and offset firebox. Its versatility lets you use it as often as you wish for your family dinners, or weekend barbecue parties. Features include an electronic ignition, access to the fire box, stay cool handles, east to clean porcelain-coated cast-iron grills, airflow and temperature regulator, plus a workspace and shelf. Whether you use the side burner or the smoker, you have complete control over how you cook your food.
Unique Features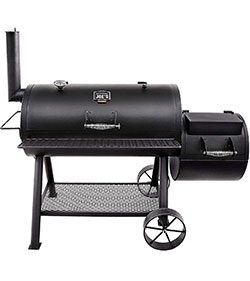 The Oklahoma Joe's offset smoker gives you 740 square inches for grilling or smoking your food. Using wood or charcoal as fuel, it it has a vertical pipe, four porcelain coated grates, dampers, a side door for adding fuel, and large, sturdy wheels for mobility. It gives you maximum control over your cooking temperature with its multiple baffles and temperature gauge. A shelf also lets you conveniently prepare your meat or vegetables for cooking, and can also be used to place your cooking utentils for easy access. A bottom shelf under the smoker provides even more strorage space for your charcoal or wood, pans, and accessories. Like the rest of the Oklahoma Joe grills, it is durably made of tempered steel and promises years and years of grilling and smoking service.
Large Scale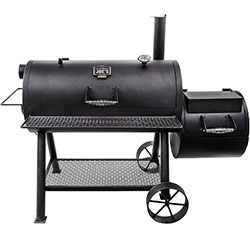 The Longhorn Reverse Flow Smoker from Oklahoma Joe's is made of heavy duty steel and offers a total of 1060 square inches of combined cooking space – 751 square inches on the main smoking/grilling chamber and 309 square inches on the firebox. It has a movable pipe with customizable dampers that lets you control airflow and circulate smoke evenly over your food. Similarly, the temperature gauge can be moved around to let you check the cooking temperature in the entire chamber, making sure that it is cooking evenly. This smoker comes with four porcelain-coated racks, a side shelf for your convenience, an easy access firebox door, warming tray, removable ash bin, and steel wheels.
End of Summary
Top 5 Oklahoma Joe's Grills — Detailed buying guide
Texas Style Bar-B-Que! Just saying the words makes my mouth water. How could you get this amazing flavor at your home? There are so many grill makers out there who want to sell you their products, they will make sometimes exaggerated claims, or 'fake news' to pull you in. I know from experience that finding the right grill, at the right price, with all the accessories I needed, was just mind-boggling. Then I found Grills Forever! Thank goodness I did, because I found just the grill I was looking for. Read on to find out how easy it was to find my fabulous smoker/grill.
Check out Oklahoma Joe's! Started in the late 1980's, this company began by drawing up the blueprints and building a dozen cookers to display at the Oklahoma State Fair. All premade units sold, and more than 99 orders were taken. The revenue was reinvested into the company and over time, the maker became well known for the quality of the product and the meat their cooker produces.
We chose this company for several reasons. We reviewed the best grills in all the categories. We reviewed individual products, and based on our brand-based product reviews, we've chosen to thoroughly review Oklahoma's Joe. Why are we reviewing Oklahoma Joe's products individually? Because we think they are suitable for all kinds of grilling and grillers.
So, no matter if you are a novice griller, or an experienced smoker, read on to find out why Grills Forever chose this brand and how these grills and smokers can make good grillers great!
Why Should You Trust Us?
Like I mentioned earlier, I remember the time when I was searching for a grill/smoker. It was just so confusing to me because frankly, I was a novice at grilling. I read review after review, and I really didn't have a clue on which site I could trust and which one's I couldn't. When I did manage to find a site and felt I could believe what they were saying, my instincts gave me that funny feeling in the pit of my stomach that told me I couldn't trust them. If you're like me, you need to be convinced that we know what we are doing.
How can I be sure? Well, we have the experience. We have been conducting research based on scientific methodical product research for the past 60 months, so we have years of experience. We are focused on you, our friends and readers so that our sole purpose is to help you with picking out the product that is right for you.
We are also dedicated and invest over 48 hours of research into the products you are about to read about. We included several people in the process, including a team of dedicated volunteers, eliminating any subjective or biased views which could affect our findings.
We are methodical in our approach and reviewed all of "The Oklahoma Joe's Products" including different sizes, before placing data in this review. Plus, we have tailored our reviews to help all kinds of users, ranging from the novice backyard griller to the tournament champions of grilling. Whoever you maybe, this review will help you.
The Oklahoma Joe's Story
Since the late 1980's Oklahoma Joe's has been a growing company. In the mid-1990's the company constructed a modern building in Stillwater, Oklahoma where they employ over 140 people and produce over 999 thousand unit's in 12 months. During this time, Joe entered and won numerous cooking competitions across the US. In fact, Joe won over 299 titles and championships.
The original (and modern units too) are made from heave gauge pipe. Their inspiration came from the men who worked the oil rigs who made grillers and smokers from things near to hand. So, as you can see, they are built by tough guys and meant to last!
The owners of the company drew from their vast experience in competitions such as the Jack Daniels Championship, the American Royal World Championship, and Memphis World BBQ Championship to make the best smokers and grillers on the market today. There is a wide range of products depending on your tastes and tailored to meet your needs. If you are a professional or just a backyard griller, they will have something for you!
There are a variety of grills available. It will not be difficult to find the right one for you. For example, Smoker grills which use wood of different kinds to give the meat a rich smoky taste, Gas grills which use propane to sear and cook fast, and Charcoal grills which also give a unique flavor to foods, using a low heat and slow cooking process.
The Oklahoma Joe's not only makes different types of grills, they also make different types of covers, oven mitts, and other accessories for your grilling use. If you are a beginner, like me, or a seasoned smoker/griller, you will find just about any add on item you need on their website or at selected locations which sells their products.
Different Types of Oklahoma Joe's Grills
Did you know there are two types of grills manufactured by Oklahoma Joe's. These two types are the offset smokers and the reverse flow smoker. There is also a combination model that uses both of these concepts in one unit.
One of the best points to make about the smokers and grills made by The Oklahoma Joe's is that these well thought out and well-designed smokers and grills give you total control over the fire, the heat, the amount of smoke and ultimately, the taste, of the food you cook in them.
They are built to last and made of durable materials. That is important when you are cooking 'low and slow' with a smoker or grill. You do not want to invest your hard-earned dollars in a smoker or grill that will not stand the test of time. These grills and smokers are will be a sound investment that will turn your neighbors green with envy!
Now if you're a novice like me, you wouldn't really know which one you need unless you do more research. At Grills forever, we have done that for you. Keep reading to discover which one is best for you. Let's take a look at some advantages and disadvantages of types of smokers that you may not know.
Offset Smokers
An offset smoker is made so that the wood box or firebox is either on the side or bottom of the unit. The food is placed on racks in the main body of the unit so that smoke from the fire circulates around and through the meat. The racks hold large quantities of meat such as briskets, pork shoulders, and ribs. This configuration is one of the most used and long admired forms of a smoker because it provides a good heat flow which is easily controlled and stays even because the walls are make of thick metal like steel. They can be cumbersome to move, so keep in mind that wheels or casters will come in handy when trying to move the smoker from one place to another.
Reverse Flow Smoker
While this may sound complicated, the reverse flow smoker is simply a smoker which has an extra part which allows the smoke from the offset fire beneath the meat and then to circulate over the top of it before venting out of the smokestack.
The difference between these two smokers breaks down to how much and how long the smoke circulates around and through the meat. Some grillers believe that the reverse flow smoker adds more smoky tasting goodness to the meat since the smoke is retained in the smoker for a little longer than the plain offset smoker. We will explore options deeper in the Oklahoma Joe smoker review.
Advantages of Offset Smokers and Reverse Flow Smokers
Like most things in life, there are pros and cons to both the Offset smoker and the reverse flow smoker. Let's look at some of the advantages. Keep in mind that an offset smoker has a firebox situated either on the side of the unit or underneath so that the fire is kept separate from the meat in the body of the unit.
First of all, you can add more wood or fuel without having to open the cooking chamber door. This keeps smoke inside the chamber and helps to keep the temperature at a constant level. If you rather do direct cooking over the wood, you can add a grill directly over the blaze. Some units do come with grates included for this.
The cooking chamber offers a large space so that you can cook a large or small quantity of food at a time. You can use differing amounts of fuel depending on how much you are cooking at one time. Speaking of fuel, there is no electrical components that you have to worry about shorting out or breaking, so there are practically no repair problems.
Most companies offer a wide range of add-on items, such as mitts, spatulas and other cooking items. They also usually offer a customization choice if you want different configurations or build types.
Finally, think about the neighbors and how green with envy they will be! It is awesome to own an offset smoker that is make of steel, painted black and is noticeable! Think of all your friends at your next Texas style bar-b-que, and how much they will wish they had one of these fine quality smokers or grills in their backyards. You will be the talk of the neighborhood! How cool would that be, if all your friends wished they were in your shoes?
Disadvantages of Using an Offset Smoker
There are many cheap and not well-built offset smokers on the market. What you can expect from these are a lot of problems, such as paint flaking off, lids to come off, degradation and difficulty in regulating temperatures. A lot of these have to be assembled out of the box before you use them.
Truly well-built units can be expensive! Think over a thousand dollars for a unit which takes time to heat up to temperature. Even the median priced units are heavy and are hard for just one person to move. Another problem is that smokers can be affected by the weather and can take up a lot of space. We don't even want to go into how long it takes to build a fire! It is something with takes time, practice and yes—patience.
What are the Benefits of Reverse Flow Designs?
There are some advantages with a reverse flow smoker, such as more even smoke distribution into the meat, more even heat distribution and stability, faster stabilization of the cooking heat after the door is accessed, improved flavor and retained moister as the fat sears on the metal plate and adds to the cooking flavors and finally, you don't need a separate tray for such things as water and grease.
How We Picked and Tested
Reviewing The Oklahoma Joe's products we used several methodologies. Here is what we did.
We personally tried and tested all the products offered by the company named The Oklahoma Joe's. We took into consideration the features they usually produce and considered the optimum use for the products. The testing for the products in this Oklahoma Joe smoker review was rigorous.
Not only did we take into account the looks of the grill and smokers, but also the durability, ease of use and level of skill which the potential buyer could employ using the unit. Features such as temperature monitoring and control, fire management, baffles, dampers and ease of refueling were included in the criteria.
We have taken feedback from different users and our team of dedicated volunteers and decided which product is more popular and why this is so. This helped us separate the products based on their target demographic, and why they are important.
We have tested the results of our cooking and determined which products is the best type for which cooking method. With all this data in hand, we've come up with this review of The Oklahoma Joe's products that you, as a buyer, would use as a guide if you're considering buying The Oklahoma Joe's product for your bar-b-que needs.
The Oklahoma Joe's Product Review
After compiling all the data for the Oklahoma Joe's smoker review and considering the users' feedback, we are ready to present to you our review for the Oklahoma Joe's Products. These reviews will help you to decide which feature is the best for your needs, your budget, and along with your level of expertise, make the best bar-b-que in town!
As with a lot of things, keep in mind that the fine art of grilling and smoking may take time, patience and practice. It is up to you, the consumer, to make the decision of which product to purchase. Read on to find out more about these amazing products!
About: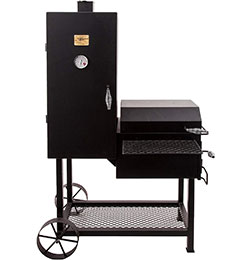 Oklahoma Joe's Bandera Offset Smoker
Our hard-working pick
Oklahoma Joe's Bandera Offset Smoker
If you are looking for a grill that will stand the test of time and last you many years, then this is the one for you. It is a versatile choice that can both smoke and grill, and the black design looks good in gardens!
This Offset Smoker has an original blueprint which has the cooking chamber on the vertical. This allows for a space greater than 999 square inches to cook the meat without the potential of heat loss. Made of heavy steel and an advanced damper, this model is built to last and to cook up to your expectations.
Perfect to grill hamburgers, steaks and to smoke brisket and shoulders, this unit is versatile enough to cook vegetables, as well as poultry and pig butts. It is easy to operate; but again, the size will not let you cook an entire pig at once.
Features: smoker with large racks, advanced damper system, easy side access to fire box. Smoker has set of rib racks and two meat hooks. Front shelf. Removable ash tray. Water Pan. Stay cool handles. More than one damper for heat and smoke control.
Build: Dimensions: 39.3″w x 28″d x 63″h. Heavy gauge steel construction. Greater than 990 square inch cooking surface. Greater than 744 sq in cooking surface in smoker. Strong 10-inch wheels for moving. 4 cooking grates which can be moved easily. Weight 198 pounds.
Temperature and Control: Professional temp control, uses wood, wood chips, pellets for cooking.
Other factors: $380.00, 4 out of 5-star rating on Amazon. 2-year warranty. Assembly required.
Specs and Details: Comes with the 2-year warranty from the manufacturer and requires assembly. It is heavy so expect the shipping to be around $150.00. While assembly may not be difficult it can be cumbersome, and a 2-person team would be better than trying to do it alone.
The Bandera is heavy but is also on strong wheels which helps with mobility. This is a plus when moving the unit around your yard or when loading or unloading for competitions.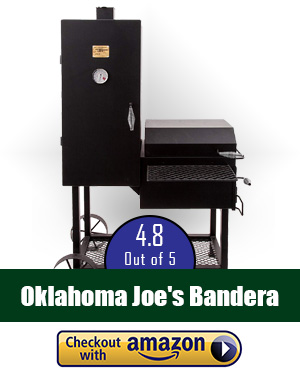 Review:
The Oklahoma Joe's are world famous for the design, construction and durability of their grills. Since the company's inception, there has been a high standard to which they hold all their products. Made of steel, these grills and smokers will last a lifetime. They also offer many accessories, such as covers and tools, like spatulas and mitts. These can be ordered on-line or purchased in stores.
Reviewing comments posted by verified users did highlight some problems. One customer stated that there were a few design flaws, such as the large brackets which run along the inside of the smoker interfered with the door closing completely. In other words, not all brackets for the racks were usable.
Another point often made is that it comes unassembled. While many pointed out, it wasn't really difficult to put together, but due to the weight and bulkiness of the parts it would have been easier with two people putting it together.
Another complaint involves the firebox. Several users state it is difficult to get up to a temperature above 225, and that if they did get the temperature up, the paint tended to blister at high heat.
This smoker can be used by anyone from the backyard novice to the grill masters who competes in local, state and even national competitions. The look of the smoker is one that will make people stop and stare, for it is that high grade quality which speaks volumes.
Ease of use is another feature we took into consideration for the Oklahoma Joe's smoker review as did many buyers like since it has large racks, and advanced damper system, and along with an easy side access firebox. Other complaints center around the air vent which does not seal well and will suck air inside the chamber even when it is closed. The reportedly makes it harder to control the temperature.
Even with all of these complaints, verified buyers state it is a good smoker and like most things of this nature, it has its quirks. They also recommend that is not for the novice smoker unless they have the time, stamina, and patience to learn how to work the smoker to get its best output when it comes to smoking and grilling food.
Pros
Large racks
Advanced damper system
Built to last
Cons
Not big enough to hold large quantities
Assembly required
High cost of shipping and handling
Verdict:
This smoker is a hard-working unit. Reviews from verified users report many years of use. It is moderately priced, when compared to other similar models. The black color works well in any back yard. It is also versatile since it can be used for either smoking and grilling.
Negative comments from verified purchasers relate mainly to having to assemble the product before use. They are concerned that it was time consuming and laborious but was happy with the grill/smoker and its performance once it was put together.
If you are looking for a moderately priced smoker/griller which will give you years of service, this maybe the one for you. There are some reported problems from verified purchasers, but even the one's who complain still like the smoker and state they would purchase it again.
About: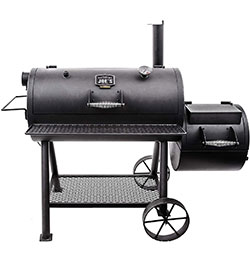 Oklahoma Joe's Highland Reverse Flow Smoker
Our pick for reliability
Oklahoma Joe's Highland Reverse Flow Smoker
This grill is another good choice. It is reliable and has a solid level of performance. If you are looking for another long lasting choice and a great all-rounder, then this is the one for you.
This Oklahoma Joe's highland smoker unit will amaze you! The smoking experience with this model is unlike anything you've see before. It has a system of 4 baffles, which can be taken out, and a smokestack which can be relocated to allow the hot air to combine with heat conducted by the chamber to maintain an even temperature during the cooking process. It has a large container to hold your charcoal to make it easier to add or remove fuel as needed.
Features:
You can switch from traditional offset cooking and flow reverse smoking process is like no other with different smokestack locations. This is certainly a different engineering concept with its four locations for the smokestack. The baffles are made to sit firmly under the heating grate and funnel the smoke all over the cooking chamber.
You can have longer stable cooking time while have finite control over the heat level with a large charcoal container which sits in the firebox.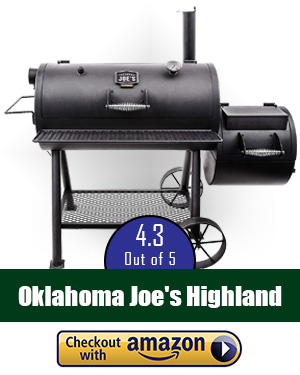 Not only does it have an easily removable ash bin, it is easy and quick to clean via the access door. With a warming tray on top of the firebox, you can cook an entire meal while your smoking the meat. How easy is that?
Build and maintain the fire without too much effort because you don't have to open the firebox door. With its vertically built chimney, which has dampers that can be tweaked to keep heat and smoke in by drawing it through the over 870 square inch cooking area. There is a handy shelf underneath for your spatulas, mitts and other needed items.
Features: baffle system which shifts smoke around and over food to provide stable heat and fumes over meat. Has 5 racks, side shelf, temp gauge, and over 879 square inches of cooking spaces. Outside access door to firebox. Quick, easy to clean. Warming tray on top of wood box for extra heating surface.
Build: Assembled Dimensions: 57″W x 33.5″D x 53″H. Barrel type body. Side shelf, water pan, easily removable ash pan, vertical smoke stack which can be moved to different locations on smoker. Made of tempered steel. Bottom shelf for storage.
Temperature and Control: Can be switched between offset smoking and reverse flow. Large Charcoal container, firebox access door, Temperature gauge on side of cooking chamber, Uses wood, pellets, etc. for fuel.
Other Factors: 2-year warranty, requires assembly, painted black, grate is porcelain coated, five grates. Steel wheels. Weight:196.2 pounds. $380.00 + shipping and handling of $150.00. Cost wise, this is one of the least expensive Oklahoma joe grills on our Oklahoma joe smoker review.
Review:
The Oklahoma Joe's Highland Reverse Flow Smoker is a quality-built product made from hardened steel, as are most of the smokers in this Oklahoma joe smoker review. With its unique build, it is truly customizable to you. You can move the smokestack to control the smoke. You can monitor the temperature with a built-in gauge, but which can also be moved to other places if you need to monitor in a different area.
This is a good cooker or smoker for any level of griller. You don't have to be an expert if you have the time, patience and persistent to learn how to use this fantastic grill! You will be proud to own this Oklahoma joe's highland smoker.
Pros
Baffle system
Can switch between traditional and reverse flow
Separate fire box door
Cons
Poor sealing doors reported
Reports of smaller size than expected
Comes unassembled
Verdict:
This smoker is also a median priced model at $380.00. It has a four-star rating out of 5 on Amazon.com. Verified purchasers were very pleased with the performance of the unit, except for the fact that this unit also comes unassembled. A couple of users state they had made some modifications to the smoker, such as sealing the doors to help prevent heat loss. There were also a couple of comments in that the smoker was not as big as they had hoped it would be.
Over all, this is a good smoker which will give you years of services. It may not be for the novice griller, since it has multiple dampers and locations for the smokestacks. It would take a good bit of practice to learn how to use these features correctly. However, if you have the time and patience, this would be a wonderful smoker for your backyard parties.
About: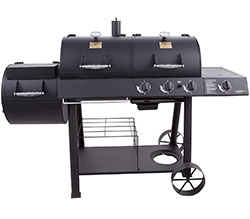 Oklahoma Joe's Combo
Our combo favourite
Oklahoma Joe's Combo
This grill offers a trio combo of smoking and grilling. It is a truly versatile grill that allows you to cook exactly as you want, using different fuel types. It has a lot more than other grills, and is a top of the range model.
The Oklahoma Joe's Longhorn Charcoal and Gas Smoker is the first combination charcoal/gas/smoker combo on our list. It is the best model for grilling and smoking just about anywhere! This grill and smoker are trouble free with the built-in igniter, and a durable offset box for the smoking fire. It is perfect for a day of smoking and grilling in your backyard or if you're brave and confident enough, competitions. You won't believe how easy it is to use. This is truly one of the best Oklahoma joe grills made!
Features:
This model has an easily removed ash bin that lets you quickly and easily remove the cold ashes from your grill. The hand grip is specially designed so that you can get a grip on the lid without burning your hands or fingers.
Stoke the flames without having to open the main door via the easy access portal to the fire box. This will keep the heat and smoke inside the main chamber, where it belongs. As with all the smokers in this Oklahoma joe smoker review the dampers also help with regulating the temperature and airflow throughout the cooking area.
Cooking racks are made from non-rusting material and covered in porcelain, so they are easy to clean and distribute the heat evenly.
Has a shelf to keep those things you need near to hand. You can use it as a workspace as well, to chop stir or store another foodstuff till you're ready to use them.
This unit must be preheated, and it has thermometers to help you track your progress in both cooking areas.
Has large strong wheels to help move your smoker/griller where you want it in your back yard.
Features: Grate Material: Porcelain covered cast iron, lid material Hi-temp steel. Steel wheels, 2 thermometers. Knob controls for gas.
Build: Assembled Dimensions: 74″W x 31.5″D x 50.6″H. Weight (lbs.): 205. Primary Cooking Area (cu. in.): 750 / BTUs: 36000, multiple cooking options.
Temperature and Control: Baffle system for temp control. Electronic starter for propane. Uses charcoal.
Other factors: 2-year warranty, assembly required. Price: 500.00. Assembly required. 4.5 stars on amazon.com.
Review:
This smoker/grill combo has a 4.4-star rating on Amazon.com. Verified purchasers really like this grill. Even when they state complaints about the small amount of rust on the firebox, or that the firebox is flimsy, they like the way the unit cooks. They also point out that the wheels maybe less than sturdy, and since the unit is over two hundred pounds, it is difficult to move.
Oklahoma Joe's grills are a favorite here at Grills Forever. The philosophy behind the company, their standards of construction and customer satisfaction are all ideals we believe in. We also believe in tasty, smoky flavor these grills can add.
This grill is an especially good one for those things. It's side burner, gas, charcoal and wood option give you a limitless avenue to make your food good at home. Texas style BBQ is more of a lifestyle than a food choice. This grill/smoker will add spice to any menu you choose even if you're a vegetarian! Add to that the space saving combination of three units in one, cannot go wrong.
If these are the type of things that do not bother you; if you just like the idea of good food being grilled and smoked, then this unit is for you. It can be used by any level of griller/smoker from novice to champion. So, go get grilling today and see how good it can be!
Pros
Trio functionality
Side burner
Extra work space
Cons
Comes unassembled
Less than sturdy wheels
Difficult to move
Verdict:
This is the first trio combination griller/smoker that we have seen on our list. It offers a limitless versatility in how and what you cook. You can smoke food on the low and slow side, or you can grill with gas for that fast summer supper. You can use wood, gas, charcoal or any combination to cook your food to perfection.
It comes unassembled, so plan to have an extra set of hands available to help. It can be put together by a single person, but keep in mind that it has big parts and is heavy. Another person would make the assembly much simpler and quicker.
This model has many bells and whistles that just available on other grills. It is made of heavy steel construction, with dampers to control the temperature and heat, a separate workspace for chopping, slicing and dicing, and a separate cooking space so that you can complete a whole meal at one time.
This bad boy has to be preheated if your planning on smoking food, so you have to prepared for that when you are planning your cook time. Any level of griller can use this grill, but it will take a little time, patience and planning to get the best out of this fabulous product.
About: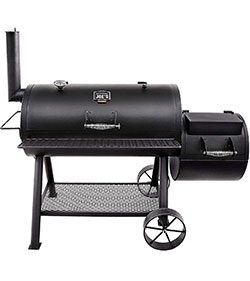 Oklahoma Joe's Longhorn Offset Smoker
A good-looking grill
Oklahoma Joe's Longhorn Offset Smoker
This grill has some nice features that you won't see on other grills, including storage areas and a big cooking area. On top of that it also looks great and is really well designed. This pick won't disappoint.
The unique offset smoker manufactured by Oklahoma Joe's gives you over 740 inches of cooking area to grill or smoke your food to perfection. This model is made from tempered steel and has a unique baffle system to help you regulate the temperature and the amount of smoke you want your food to have.
This offset smoker by Oklahoma Joe's provides you over 750 cubic-inches of grilling space to cook your food, to the exact parameters you like it. This high-temper treated steel smoker features multiple baffles and a temperature device to give you maximum heat and vapor control — so your barbecue is taken to the level of flavor and tenderness you expect it to be.
This grill is easy to clean due to the access door which leads directly into the firebox. This also makes it easy to add more fuel and you will not lose that wonderful heat or smoke from the main chamber. It has handles which allow a firm grip, to protect your fingers and hands from the heat. The hard-wearing porcelain coated cooking surfaces keeps the rust and bay and are also easy to clean. An upright pipe, which also holds the dampers, helps to keep the smoke and heat at the desired level by drawing air through the cooking chamber.
This unit also has a convenient workspace great for slicing and dicing needed veggies. You can keep you cooking tools and extra fuel close to hand on the metal shelf situated below the smoking and cooking chambers. Uses charcoal or wood to cook the food depending on your flavor preference and choice.
Some grillers use different types of wood, such as apple, cherry, hickory or pear. The sky's the limit when you chose the right wood to flavor your meat! If you prefer the conventional charcoal, you will get the best backyard hamburgers and hot dogs on the block?
Features: Uses wood or charcoal for fuel. Large cooking space, baffles and damper in vertical pipe for heat and smoke regulation. Individual door for adding fuel and cleaning. Has side shelf for storage
Build: Assembled Dimensions: 64.3″W x 36.5″D x 55.5″. Weight 237.7 pounds. Barrell body type. Ashe removal door, bottom shelf for storage and has addition work space. Total working space greater than 1050 inches. Has steel wheels for mobility.
Temperature and Control: Built in dampers and baffles in pipe helps to regulate heat and smoke. Uses wood or charcoal.
Other factors: $450.00 plus shipping and handling. Comes unassembled. 3.1-stars on Amazon.com. 2-year manufacture warranty.
Verdict:
The Oklahoma Joe's Longhorn Offset Smoker is a well-designed smoker/griller which can use either wood or charcoal for fuel. It has unique features which include: a firebox door to remove left over ashes, handles that protect your fingers and hands from the heat, a close storage area for your fuel and another for tools, and a large cooking surface for all your favorite foods.
The four grates are coated in porcelain which also promises to distribute the heat and make them easy to clean. Along with the upright stove pipe, the built-in dampers, temperature gauge and baffles help to keep the temperature and smoke at the right levels, so your meals come out tasting like a champ!
Like all the rest of the smoker's and grillers that Oklahoma Joe's makes, this one comes in the basic black color. The lid is constructed high heat tempered steel. It has heat resistant handles to keep you from burning your hands and fingers.
The four inside grates are made of wire and covered in porcelain for easy cleaning and heat distribution. The primary cooking area is generous with over 740 inches in size. It is truly one of the biggest cooking areas included in this Oklahoma joe smoker review.
This model has a 3.1-star rating on Amazon.com. Most complaints from verified users seem to center around having to put the unit together after they receive it. At 237.7 pounds, and with large pieces to handle, it should include a warning that more than one person is needed to put it together. There are also some comments that the unit had some rust spots when it arrived, but the buyer was not overly concerned. None of the lower ratings mentioned using the warranty or contacting the manufacture about these problems. It comes with a 2-year warranty which Oklahoma Joe's will stand behind if anything goes wrong with the unit.
This is a good, well made offset smoker. If you are looking for a model with an upright chimney, embedded temperature gauge and many features, this may be the grill for you. At $450.00, it is one of the higher priced models; but it does promise to give years of service for your grilling and smoking needs. Whether you are a novice or professional, you can smoke and grill like a champion using this offset smoker in your backyard or even for competitions if you are so inclined.
Pros
Easy clean access door
Multiple baffle control
Extra storage for tools
Cons
Hard to assembly with only 1 person
Heavier than other models
Reported rust spots
About: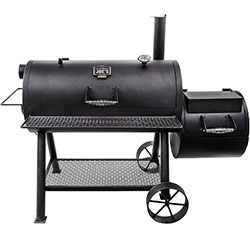 Oklahoma Joe's Longhorn Reverse Flow Smoker
A big choice
Oklahoma Joe's Longhorn Reverse Flow Smoker
This grill is the biggest on this list, and so it is no surprise that it weighs a lot and is harder to move around. As it is so big there is plenty of room to cook, but this model will cost you money and effort.
If you feel you are a master of the grill and smoker and are ready for the next step in your journey, the Longhorn Reverse Flow Offset Smoker maybe the model you are looking for. It doesn't matter if you like stable heat and smoke that this type of machine offers, or you'd rather go with the more conventional method, the customizable damper configuration and large fuel container will let you to take the heat and smoke to whatever level you want. The features of this grill makes it easily fit into one of the best in this Oklahoma joe smoker review.
This model has several features which will allow you to do things your way, such as moving the pipe between locations. The four nonconventional baffles hook under the grates and allow smoke and heat to circulate over and around your food to instill more flavor in the meat.
You can keep cooking for a greater length of time with more fuel availability in the firebox. Plus, when your done, you can remove the ashes from the chamber through an access door which is fast and easily cleaned. You can also add more fuel without losing heat and smoke through the same easy portal entrance.
Want to warm up a loaf of bread, beans, or sauce? There is a warming tray on top so that you can cook an entire meal while you smoke the meat.
The upright pipe with the customizable dampers helps to keep the heat stable by drawing more air through the cooking area of more than 1050 inches. The pipe can also be moved to different locations if the need arises to make sure that the heat and smoke is circulating in the chamber to fit your needs.
The temperature gauges are moveable from one location to another to make sure the temperature is the same throughout. This is crucial when you want the meat to be cooked and done at the same time, so that it will be a raging success at your competition or backyard BBQ party.
Features: baffle system which shifts smoke around and over food to provide stable heat and fumes over meat. Has 4 racks, side shelf, temp gauge, and over 750 square inches of cooking spaces. Outside access door to firebox. Quick, easy to clean. Warming tray on top of wood box for extra heating surface.
Build: Assembled Dimensions: 64.25″W x 35.5″D x 55.5″. Barrel type body. Side shelf, water pan, easily removable ash pan, vertical smoke stack which can be moved to different locations on smoker. Made of tempered steel. Side shelf for storage. Steel whiles
Temperature and Control: Can be switched between offset smoking and reverse flow. Large Charcoal container, firebox access door, Temperature gauge on side of cooking chamber, Uses wood and charcoal for fuel.
Other Factors: 2year warranty, requires assembly, painted black, grate is porcelain coated, five grates. Steel wheels. Weight:253.5 pounds. $600.0 + shipping and handling of $150.00. 2-year warranty.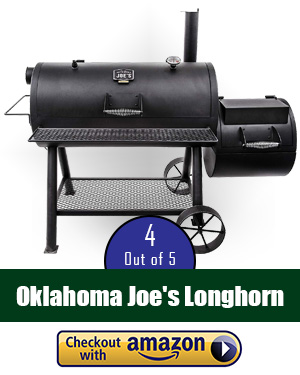 Review:
Keep in mind that this unit comes unassembled. Also remember that it is large, with heavy parts. It may be a good idea to have another person there to help you to put it together. This was one of the suggestions made by several verified users who filed reviews.
There were other mentions of spots of rust when delivered, but the purchaser was unconcerned about this and stated that to prevent further damage to treat it with cooking oil.
While the novice may find this unit somewhat complicated, if you are willing to put in the time, patience and experience you too can become an expert griller or smoker. Just like Oklahoma Joe's founder, you can be bringing home the winning trophies for your ribs or briskets.
Pros
Four rack design
Large cooking space
Quick easy clean
Cons
Hard to put together single handedly
Spots of rust when delivered
Heavy, comes unassembled
Verdict:
This is the biggest unit we have reviewed on the Oklahoma Joe's Grill Review. It is by far the heaviest weighing in at over 250 pounds and it has the price tag to match. However, this unit has a lot of convenient added details that the other does not.
While it comes in the standard black pain, it has 3 porcelain coated wire cooking grates. This will help to distribute the heat more evenly through the meat. You also have to remember that it is a reverse flow offset smoker, which means its upright pipe allows the smoke and heat to circulate up, over and around the food to give it more flavor and retain the moisture.
It has a lot of cooking room. You can probably get several briskets in here with room to spare. The choice of wood or charcoal is a definite choice. Woods, such as apple, cherry and pear can add a distinctive flavor, while charcoal can give you more of the backyard BBQ feel.
If you are ready to invest time, money and effort into advance your grilling and smoking experience, this is the model you may be looking for. It can be used in the backyard or in competitions, depending on what you wish.
Glossary:
BTU: An abbreviation for 'British thermal unit' or the amount of heat it takes to raise the temperature of 1 pound of water 1-degree F.
Temp Gauge: An instrument used to monitor the temperature of heat inside the cooking chamber of a smoker or griller. This type of instrument can be used for other measurements such as water and when making candy.
Cooking Grate: A device inside a grill, cooker, or smoker on which meat is either hung or laid so that it can cook.
Care and Maintenance
It is important to care for your griller/smoker according to the manufacture's instructions. Remember to clean the drip bucket, which is where the fat rendered from the cooking meat drips from the unit. It is also important to clean out the ash bin and scrap any remaining ashes to keep them from building up. A build up will affect the amount of heat put out by the fuel.
If you start to notice spots of rust on the fire box, you must remember that this is normal to a degree. To keep the paint from blistering and peeling, it is recommended to use a thin coat of cooking oil over the area between uses. This is one of the best tips from verified users and why it is included in this Oklahoma Joe smoker review.
Remember also to keep the smoker/griller covered. You can purchase a custom cover, or you can simple park the unit in a building to keep it out of the weather.
Wrapping it Up
In this article Grillsforever.com has taken an intensive look at Oklahoma Joe's Grills and Smokers. These are some of the best models on the market. In order to help you, our reader, decide which one is the best for you.
To determine this, we have looked at the individual types, the cost of each, and all the bells and whistles that come with each one. We also looked at what our volunteers, verified purchasers and reviewers had to say about these smokers/grills. Sometimes looking back is the best way to look forward. Past reviews and past buyers all have a story to tell.
I know that when I was looking for a smoker/grill, there was just so much confusion as to which model of Oklahoma Joe's I needed, I didn't know what to do. I am so glad I found Grills Forever. I'm sure, if you look and follow our review, you will be glad too.