A Short Summary of Our Findings
Here at Grills Forever, we're constantly on the lookout for the leading grill makers and their best-selling models. We make it our mission to research, try, and review each one of these grills so that we can help our readers decide which grill would suit their needs. That's why we've come up with this Top 10 Traeger Grills for 2018.
Traeger manufactures wood grills that really stand out for their signature smoky flavor using pure wood pellets. Whatever it is that you're roasting, smoking, barbecuing, baking, searing, Traeger has a recommended wood pellet that will bring out the best taste out of your dish. We have personally been using a Traeger pellet grill for more than ten years, and we can honestly say that it's one great investment for those who love to cook outside of their kitchen.
In order to come up with this review, we rounded up our team and started our research on Traeger's grills. Then, we scoured through the internet for product descriptions and features, critic reviews and user feedback. We don't want to bore you with the details, so here's a summary of our findings, and we hope it helps you choose what's best for you.
No.1 Pick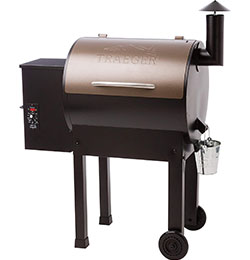 Out of the 48 features that a Traeger grill can have, this Lil' Tex Elite has 40! With 418 square inches of cooking space, its non-stick grate easily lets you cook a feast for a large group. It has digital controls, an automatic ignition, and various cooking settings to make cooking easier. The grill has a maximum temperature of 450 degrees F and LED digital display that lets you know how your cooking is going. All these features and more for a reasonable price of just under $700, complete with 3-year warranty. It's the perfect backyard pellet grill for both beginners and seasoned grilling enthusiasts alike.
Second place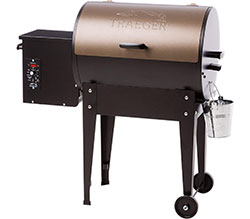 Out of the 48 possible features of a Traeger grill, our Runner-up Pick has 38, just 2 features shy of our Top Pick. Like the Top Pick, it's a 6-in-1 non-stick grill that you can use to grill, barbeque, smoke, braise, bake, and roast your food. It has a cooking area of 300 square inches, and shares the same features as the top pick such as automatic ignition, digital temperature control, and LED display. What sets it apart is its size – 36 x 39 x 18 inches and weighing only 60 lbs. It is easier to move around, making it ideal for outdoor barbecue parties and weekend camping trips. Plus, it's more affordable at a price of under $430 only.
Portable pick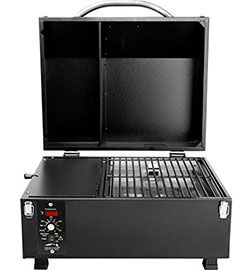 If you are a small family who loves grilling and who's always on the go, this portable electric grill is definitely meant for you. Or, if you're a newbie griller and want to try out something smaller and easier on the pocket, this is as great as any starter grill that you will ever get. With its lightweight and portable size of 19 x 20 x 13 inch., it has a cooking area of 173 sq. inches. With this space, you can cook six burgers, an entire rack of ribs, or a whole chicken. It has the same features as the bigger Traeger grills, with an additional shut-down mode that's helpful when you're moving around and tailgating at camping trips. And since it's the smallest of the three, it's also the most affordable at around $350, making it just perfect for beginners and small families.
End of Summary
Top 10 Traeger Grills (Sep. 2019): Detailed Buying Guide
Let's set the scene: it's a beautiful sunny day, you're lazing around in the yard, perhaps by the pool with a cool drink, enjoying your free day. Suddenly you're really hungry but you really don't want to go inside to make dinner. That's when you realize you need to buy a grill! Not only could you stay outside in the fresh air and enjoy the sunshine, but you wouldn't have to worry about cleaning up the kitchen either!
I remember moving from a city center apartment into my first house with a yard. My first purchase? A grill! I couldn't wait to invite my friends and family and spend some time outdoors. My first grill turned out not to be that great – I did no research and bought one on a whim. After that experience, I made sure that when I replaced the grill I did as much research as I could. That's where this Buyer's Guide comes in!
Here at Grills Forever, we've done all of the hard work for you and if it's a Traeger Grill you're after, look no further. This Traeger Grill Review will provide you with everything you need to know about the Top 10 Traeger Grills of 2018.
Why Should You Trust Us?
Trust is important when reading online reviews but we can guarantee that we are writing with one sole purpose in mind: to help you choose the product that is right for you. We have tons of experience in this field (I suppose the website title 'Grills Forever' gives that away!) and we are not affiliated with any brand or manufacturer.
For the past five years, we have been running methodical product research on a huge amount of grills and grill accessories. For this particular review and buyer's guide, we have arrived at our conclusion after carrying out online research for over 48 hours.
We have had several people involved in our research process and have made sure to check their reviews for subjectivity and bias. Any reviews that weren't objective have been eliminated to ensure you're getting the right information.
Finally, whether you're looking to purchase your first grill or update your existing grill, we've covered all bases and this guide is for you. In this Traeger Grill Review, we considered all of the models that Traeger offer. From them, we selected what we consider to be our Top 10 products and ranked them in the order you'll see below.
Why Wood Pellet Grills Taste Better?
Cooking with pure hardwood is a unique experience and is what gives Traeger grills their signature flavor. The possibilities are plentiful, you can choose from oak, mesquite, hickory, apple, cherry, maple, pecan etc. and many chefs choose different wood pellets depending on what they're cooking. Cooking with a wood pellet grill, therefore, means there are so many possibilities and flavors. No gas or charcoal grill can compare! So, consider oak with your beef, apple with your pork and pecan with your vegetables. Traeger even have a handy guide on their website as to some typical pairings but the possibilities are endless and you can try all sorts of combinations until you find your favorite.
What Should You Look for in a Traeger Grill?
Traeger were the first to introduce a wood pellet grills way back in the 80s so they are experts in their field and are still the number one manufacturer in the industry. Traeger offer a 6 in 1 product that not only allows you to grill, but you can smoke, bake, roast, braise and BBQ all of your favorite foods. With a Traeger you don't need a separate smoker or a roaster, one grill is all you need. It is even more versatile than your usual kitchen oven! Along with the different flavors of wood you can try, the 6 in 1 grill means your cooking experience is so versatile and the possibilities are countless. So, if you like baby back ribs, wood-fired pizza, smoky mac and cheese or even homemade apple pie, you can do it all on one piece of equipment!
Traeger have many grills on the market and they really cater for all sort of budgets and requirements. Before you begin reading up about the different grills they offer, it would be a good idea to have in mind what features you might want from your grill. Consider the size requirements of the grill, the number of burners and the accessories it comes with. If you are a small family unit or a couple, how you want your grill to perform will be very different to someone who wants to hold neighborhood parties!
Speaking more technically, you might want to consider the heat distribution of the grill, the materials it's made with as well as the durability and safety of the grill. If you have young children, the safety aspect might be the first thing you consider before anything else.
Finally, the price will be a key factor in deciding which grill to go for, but you should also look at the grill's warranty. You don't want to go spending hundreds of dollars on a grill with a poor warranty.
How We Picked and Tested
Carrying out our product research on Traeger grills was a long and arduous process. In the first phase, we pored over more than 1500 user reviews of different Traeger grills on sale and used these to determine what key features consumers look for and need when buying a grill, as well as what they got from the product they purchased and how satisfied they were.
After analyzing this background research, we shortlisted 10 grills that we considered to be the best buys. With these products, we carried out further and more in-depth research. We looked at the product descriptions of all the products and assessed all the objective reviews of individual users to determine each and every of these Top 10 products. We really wanted to make sure we knew what we were talking about before presenting the information to you!
With our shortlist, we compared each grill side-by-side in order to evaluate each of their features. We wanted to know everything there was to know about each grill before taking the research to the 'testing' phase.
During the next stage of the process, we had a diverse group of volunteers try each specific model in our shortlist in their own homes. Once they had tried the product, they provided us with feedback. We then analyzed our volunteer's feedback against the data we had accumulated through online research.
Backed by our researched information, we put the shortlisted products into a Top 10 list, which we are happy to present to you without delay.
Our Top 10 Traeger Grills List
Our research led us to analyze 48 different features among all of the Traeger grills in our Top 10 – that's a lot of different features to look at! We found many of these qualities from the summary that the products display on their manuals. Some of the features we discuss weren't necessarily mentioned in the user guides, but are features consumers consider to be important when buying a grill. You can find a comprehensive list of the features each product has by reading our research report.
It is also worth mentioning that we have gone through all of the machines that will bring the best return of investment. At Grills Forever, we really do care about getting value for money from a product.
We made sure to consider the opinions of customers of the products to determine which grills should and should not make the final cut in our Top 10. It is vitally important to us that we present an accurate review of the best Traeger grills of 2018. Without further ado, let's begin with our Top Pick: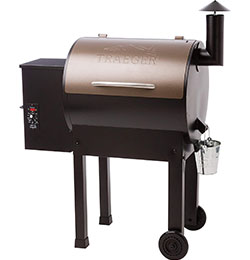 Traeger, Lil' Tex Elite 22 (TFB42LZBC)
Easy to grill
Traeger, Lil' Tex Elite 22 (TFB42LZBC)
This grill is great for experienced and beginners in the kitchen. It is a great grill to keep in good condition, and there are so many different options for cooking on it. The only downside is it lacks any portability.
Why Is This Our Top Pick?
Before I jump in with the review of this product, let me tell you why we have chosen it as our Top Pick.
As mentioned above, we found 48 different features a Traeger grill can have and you can't get better than this one! The Traeger TFB42LZBC has the highest number of positive features compared to any other Traeger grill on the market. If we compare all of the features with other Traeger grills, this has to be our number one. To clarify, it has 40 positive features out of a possible 48!
Despite its high number of positive features, it isn't the most expensive grill in our list. It costs around $700, which is very reasonable for a Traeger grill with 6 in 1 capability.
Even with all of these factors, the Traeger TFB42LZBC wouldn't have made it to our number one spot without good reviews. This grill has a great response on the market with over 400 reviews. It has an average rating of 4.6 out of 5, which is the highest rating among the Traeger grills on sale.
Finally, it is the perfect size suitable for cooking at home. You can enjoy a 418-sq. in. grilling space with this grill. This means that you have the space to cook four whole chickens, five racks of ribs or maximum 16 burgers! The pellet hopper also holds an impressive 18lbs.
All things considered, it just had to be our Top Pick. Here is some more detailed information about this top product.
Detailed Review: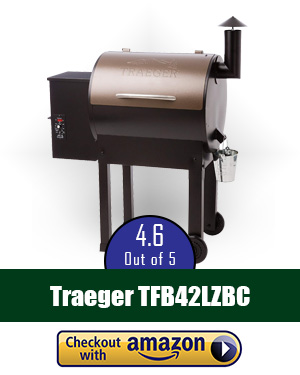 Features:
The hopper can contain 18lbs. of pellets, which will give you hours of grilling time without having to refill. To make it super easy to clean, it has a removable grease pan. Traeger also recommend that you line this with heavy duty aluminum foil to make cleaning even easier. If you need to, you can transport this grill, but it is not particularly easy. The burners are made of good-quality steel meaning it is durable and made to last.
Build:
This Traeger weighs a sturdy 98lbs and is constructed from steel with a durable powder coat finish. The grill measures 49 x 42 x 22 inches and the cooking space is an impressive 418 square inches, which is perfect for cooking for a large family or group. The grill is also non-stick making cleaning up much easier! There is also a warmer tray and a high-temperature door.
Temperature and Control:
There is an integrated digital controller that keeps the cooking temperature to within 20˚F. The controller means it is really easy to set your grill temperature. You can use the 'smoke' setting to cook food at a lower temperature for a longer period of time, or you can use the hot and fast setting. The maximum temperature of the grill is 450˚F.
The digital control means your cooking experience is always consistent. You can set it to your required temperature and get busy preparing other parts of your meal, or kick back and relax with a cold drink. The LED display is easy to read too, so you can easily check on your food.
The auto-start ignition means your grill is ready to go as soon as you are. You don't have to battle the wind with matches and firelighters!
Other factors:
Traeger TFB42LZBC costs just under $700 and comes with a 3-year warranty. The average rating of 4.6 out of 5 shows that customers are happy with their purchase and think that their money has been well spent. This is the most reviewed of all the Traeger grills in our Top 10, with over 420 reviews at the time of research. It is also reviewed frequently meaning that people are continuing to purchase this product and are happy with it.
Pros
Easy and convenient even cooking 
Easy draining of the grease through the tray on its bottom
Digital Elite temperature control
Large hopper and EZ drain grease system
Eco-friendly

Endless cooking options
Verdict:
This grill is both suited to the amateur backyard griller or someone with more experience. It is really easy to start grilling and is easy to maintain. If your budget allows and you're not wanting something very portable, then this would be the one to go for.
Why Is This Our Runner Up Pick?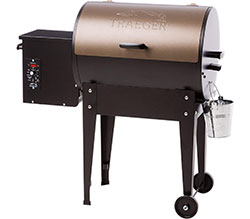 Traeger TFB29LZA Junior Elite
Cheap grill choice
Traeger TFB29LZA Junior Elite
This model is perfect for people who are looking for a more portable and less highly priced grills. It is well reviewed by many customers, so is a safe bet and a reliable choice.
Of the 48 possible positive features, we found in our Top 10 Traeger grills, our runner-up has an impressive 38, just 2 fewer than our Top Pick, which is why it didn't cinch our top spot. Given that it is such a great product with lots of positive features, it still maintains a strong position as our number 2.
This grill is priced around $430 (at the time of research), which means it's a good chunk cheaper than our champion and therefore might suit smaller budgets. However, its average rating is much lower than our Top Pick, with only 3.9 out of 5 compared to the Lil Tex Elite's 4.6 out of 5.
It does share many great features with our number 1, including the easy-to-use integrated Digital Elite Controller, which keeps temperatures within 20 degrees Fahrenheit.
Detailed Review: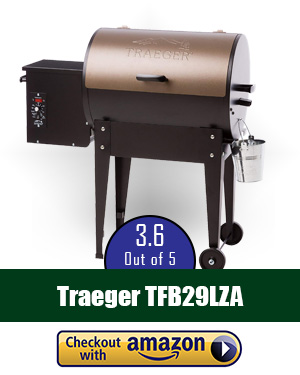 Features:
The Traeger Junior Elite offers the same six-in-one cooking experiences as the Lil Tex meaning you can grill, smoke, bake, braise and barbeque your food. Unlike the Lil Tex, however, this grill is much more portable and it is not only great for home cooking, but you can take it away camping or tailgating too. The burners are a sturdy steel and it also has a grease tray for easy cleanups. The hopper holds 8lbs. of pellets, which is less than half the size of that of our number 1.
Build:
One of the reasons this model is better for moving around than our number 1 is because it weighs only 60lbs. It measures 36 x 39 x 18 inches and still has an impressive 300 square inches of cooking space, meaning you can easily accommodate up to 12 burgers at any one time. The grill is non-stick and there is also a high-temperature door.
Temperature and Control:
The Traeger Junior Elite has much the same temperature and control features of our number 1. It has the easy-to-go electronic auto-start ignition and the same Digital Elite Controller, so setting up and getting going is really easy and you can guarantee the consistency of your cooking too.
Other factors:
Retailing at just under $430, this is a cheaper purchase than our Top Pick but, as already mentioned, the average rating is lower. However, this grill has the second highest number of reviews at 369 (at the time of research), meaning that many consumers are choosing this product above others. The review frequencies are good too and it is reviewed slightly more frequently than the Lil Tex. It comes with a 3-year warranty, which adds reassurance if the lower average review rating puts you off.
Pros
Cheaper than our Top Pick

Perfect for grilling, smoking, roasting, or baking

Good build quality
Easy assembly
Portable
Cons
The thermostat isn't so reliable
Verdict:
If cost is an issue for you with our Top Pick, or you're looking for something more suitable for transportation then look no further than the Junior Elite. It still has 38 fantastic features and is definitely a grill that people are choosing to purchase over others.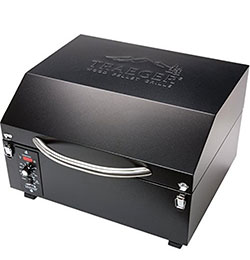 Traeger 15″ PTG+ Electric Grill
Easy to move around
Traeger 15″ PTG+ Electric Grill
This grill is made for being portable and taken to different locations or on various trips. Although there is less size and cooking space, it is still a good price for a family, and a cheap option too.
Why Is This Our Best Portable Grill?
If you're here reading this Traeger Grill Review because you're looking for a grill that is designed to be portable, then read on. The Traeger 15" PTG+ is the best portable grill that Traeger makes. Obviously being portable means you compromise on size and the cooking space is less than our number 1 and number 2 picks, however, most people looking for a portable grill aren't looking for something significantly large.
This grill packs in a good 28 positive features and at a price of around $360, it is the lowest priced grill in our Traeger Grill Review. Given the price, this is the most suitable choice for beginners as you get an excellent feature to price ratio. It still offers the six-in-one cooking experience of Traeger grills too! Read our research report to see a list of all the features the Traeger 15" PTG+ has.
When we compare with our top 2 products, we can see the difference in the cooking grid space and size, however, apart from these slight differences, this grill takes the best spot for affordability and portability.
Detailed Review: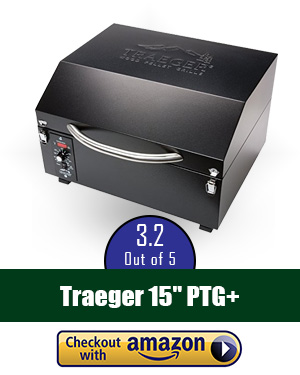 Features:
As previously mentioned, this grill is built to be portable! Its burners are made from the good-quality steel as other Traeger burners and it still incorporates a grease tray for easy cleaning. As this is a portable grill, the hopper has a smaller capacity and holds 5lbs of pellets. This should, however, still give you between 2 to 10 hours of use, depending on the temperature setting.
Build:
This grill is on the smaller side due to its portable nature. It measures 19 x 20 x 13 inches and has a cooking space of 173 square inches, which is enough to cook 6 burgers, 1 whole chicken or a rack of ribs, meaning it's the perfect size for a small family barbeque on the move. The grill is the lightest of all our picks and weighs 40lbs. This means it is a good deal lighter than our next lightest product in the Top 10 and so is definitely the one to get if you're intending to move it around a lot. The Traeger PTG still has the high-temperature door of the other grills but, owing to its smaller size, doesn't have a shelf.
Temperature and Control:
Just like the larger Traeger grills, the PTG+ comes with the Elite Digital Thermostat and has the same auto-start technology. One of the great benefits of this Traeger is that it runs a 10-minute shut-off cycle after you've finished. This is really important for a portable grill as you need to be able to pack it away quickly and get the ashes under control if you're moving around camping or tailgating.
Other factors:
At the time of research, this grill was retailing at around $350, making it the cheapest grill in our Top 10 by around $70. The average rating for this grill was 3.2 out of 5, coming from 94 reviews. If this puts you off, however, remember that there is a 3-year warranty with the product and many places also offer a 90-day money back guarantee if you're not completely satisfied. You surely won't be disappointed with this electric smoker.
Pros
Lightweight
Lowest cost in our Traeger Grill Review
The shutdown mode is great for camping and tailgating
Perfect size for a small family or a couple
Cons
Not so good at smoking
Lowest hopper capacity
Verdict:
If you're new to grilling and want to try out your first Traeger or you're looking for something portable then this would be the Traeger for you. It's still got lots of the great features of the larger Traeger grills and so is definitely worth considering!
A List of 7 Other Traeger Grills We Reviewed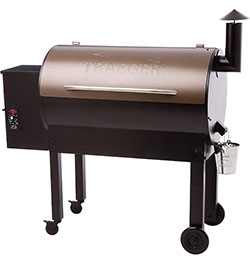 Traeger TFB65LZBC Texas Elite 34
Perfect for families
Traeger TFB65LZBC Texas Elite 34
This grill has a great big cooking area so you can cook away a whole tonne of food. On top of that it also has wheels, which make it easy to move around. The only downside is that it comes in at a high price!
Features:
As with our Top Pick, the Traeger Texas Elite 34 has a large 18lb. hopper capacity meaning you can enjoy hours of smoking without needing to refill the pellets. This grill is not designed to be portable. It is a heavy and robust grill but it does have easy-glide wheels so that you can maneuver it easily into position. You can also lock the casters to make sure it doesn't move when you've got it where you want it. It has an impressive 38 positive features, the same as our Top Pick.
Build:
The Texas Elite measures 49 x 54 x 22 inches and weighs a sturdy 125lbs. If cooking for a large number of guests appeals to you, you won't be disappointed with the size of this grill. It has an impressive cooking space of 646 square inches. This means you have the space to cook 30 burgers or 8 whole chickens at once! If you're not cooking for a large group, you could cook an entire meal all at the same time – appetizers, entrées, and even desserts! You can also buy a shelf to attach to this grill.
Temperature and Control:
The Digital Elite controller shows the inside temperature on the LED panel. As with other Traegers, the temperature is monitored by a probe that keeps it within 20 degrees. Like the other models, the auto-ignition is simple and easy to use too.
Other factors:
At around $899, the Texas Elite is one of the more expensive grills in our Traeger Grill Review, which is why it has secured a lower spot in our Top 10. It does, however, have excellent reviews and an average review score of 4.6 out of 5, which matches of Top Pick. There were over 320 reviews at the time of research and the review frequency was very good meaning that people are choosing to buy this grill and they are happy with its value for money. The grill also has a warranty for peace of mind.
Pros
Digital elite controller and LED display
Easy-to-clean porcelain grill grates
Durable, stable, and heavy

Wheels for maneuverability
Extra-large cooking area
Cons
More expensive than other grills in our review
Verdict:
If budget isn't an issue and you want something large then the Texas Elite 34 is a good choice. You can cook your whole meal at once or invite the whole neighborhood for a pool party without people waiting hungrily for their food!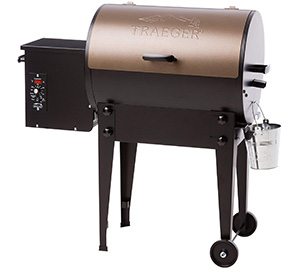 Tailgater 20, Portable
Pick for portability
Tailgater 20, Portable
This grill has some great fold away legs, making it portable, as well as great for cooking a good amount of food on. You have to make some sacrifices with this pick and those are its heavier and more expensive.
Features:
The name of this grill gives away its purpose: it is designed to be a portable, tailgater grill and it shares; therefore, many things in common with our No. 3 grill. As with the Traeger 15" PTG, the hopper holds 8lbs of pellets. However, this grill comes with Traeger's EZ-fold legs, meaning that it is easy to pack up and transport and you don't have to worry about putting it on a suitable surface. It has 35 out of 40 identified positive features and so it can be said that it has more packed into it than the PTG with 28 features.
Build:
This grill has the same dimensions as our Runner-Up. It measures 18 x 37 x 36 inches but weighs ever-so-slightly more at 62lbs. It is, therefore, heavier than the PTG by 20lbs., which may put some buyers off. The grilling area is 300 square inches, which means you can cook 12 burgers at once, so it's still big enough for a large family or a group of friends enjoying the outdoors!
Temperature and Control:
Again, this grill comes with Traeger's Digital Elite Controller so you don't have to worry about monitoring your cooking. Traeger have a motto of "set it and forget it" and you really can with the Digital Elite Control system. It's just like setting the temperature on your usual kitchen oven, no more turning a gas grill up and down and no more moving charcoal around to avoid hot spots!
Other factors:
This grill has a price tag of around $450, which makes it $90 more expensive than the PTG. It does, however, have a higher average rating score of 4 out of 5 at the time of research, coming from 132 reviews. It also has the Traeger warranty for reassurance.
Pros
Portable
EZ-fold legs
Largest cooking area of portable grills
Lots of positive features
Cons
Heavier than the PTG
More expensive than the PTG
Verdict:
For someone looking to be able to move their grill around as well as cook for large numbers of people, this would be ideal. It looks more like a standard grill than a portable and has lots of the same positive features, therefore it's ideal for showing off your grilling and smoking skills to a big group of friends on the go!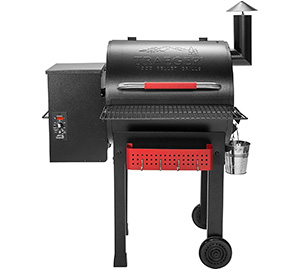 TFB38TCA Renegade Elite
Lots of options
TFB38TCA Renegade Elite
This grill has so many features all packed in! It includes a preparation rack and also a tool caddy rack, but it does lack customer reviews, so maybe read around before buying this one.
Features:
The good thing about Trager is that they really know how to pack in the features in their grills. For example, although this is our Number 6 Pick in our Top Ten Traeger grills, the Renegade still has a fantastic 34 features! It incorporates the Traeger EZ drain system for grease management and easy cleanup. Another nice feature that most others in our list don't have is the hopper cleanout door.
Build:
The Traeger Renegade Elite grill is one of the heavier grills in our Traeger Grill Review, but it does have wheels for easier maneuverability. It weighs 120lbs. and measures 42.2 x 23.5 x 9.8 inches. The cooking surface area is 380 square inches, meaning you have enough space to cook food for the whole family!
Unlike the grills we have looked at so far, the Renegade comes with a handy tool caddy rack, at the front so you can keep all of your utensils and sauces to hand in a convenient location! It also has a wire front prep rack, which is strong and robust. You can use this for prepping your food, testing it or simply resting it when unloading from your grill.
Temperature and Control:
The Digital Elite Controller is fitted as standard on this product, as is the auto-ignition system. You can cook up to 450˚F as with other Traegers and can also cold smoke down to temperatures as low as 150˚F.
Other factors:
The Traeger Renegade Elite grill retails at the same price as our No. 1: around $700. Its average review rating is a good 4.3 out of 5. However, this score only came from 11 reviews at the time of research, meaning we can perhaps feel less confident about it than our Top Pick, which is why it doesn't feature as high up our Top Ten list. It does come with the Traeger warranty.
Pros
Handy tool caddy rack
Preparation rack
High-quality porcelain coated grate
Cons
The user manual seemed complicated to us
Verdict:
If space to prepare is your thing, you'll love the caddy rack and preparation rack that this grill offers. It is worth reading around a bit more online about this grill, however, since there are only a small number of reviews.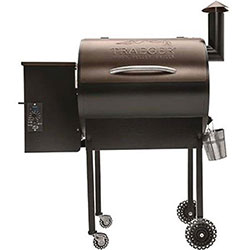 Traeger Pro Series 22
Packed with technology
Traeger Pro Series 22
This grill has some great advanced features including its digital pro controller, and dual meat probes, which you don't see on every grill. However it does come in at a more expensive price than other grills.
Features:
This is a professional and sturdy grill with 35 positive features. The Hopper can hold 18lbs. of pellets and has a cleanout system, meaning you can change the flavor of your pellets on the fly by opening a door to empty it. It has all-terrain wheels so you can roll it easily over many surfaces. It is constructed from high-quality steel and has a powder-coat finish. It comes in bronze or blue so if you're someone who likes to add color to your yard, this one fits the bill! Unlike other grills mentioned so far in this review, the Traeger Pro Series 22 has an extra grill rack. It is easy to clean with its angled drip pan too.
Build:
The Traeger Pro Series 22 has a sawhorse chassis, which makes for a sturdier grill. It also has a side lift bar to give even weight distribution. This grill measures 49 x 41 x 27 inches and weighs around 110lbs.
The extra grill rack means that this grill has a cooking area of 572 square inches making it one of the highest cooking areas in our Traeger Grill Review.
Temperature and Control:
This grill comes with Traeger's Digital Pro Controller with Advanced Grilling Logic to maintain your desired temperature. This means it maintains the grill temperature within 15˚F, therefore it is slightly better than the Digital Elite Control. The Pro Controller takes 60 readings in a minute, so you know that the temperature being displayed is highly accurate. You can also monitor the internal temperature without opening the lid of the grill. The Pro Series 22 also has dual meat temperature probes.
Other factors:
At just under $913 dollars, the price of this grill may be off-putting for some, which is why it features further down our list. It does, however, have an average rating of 4.1 out of 5 in its reviews, 70% of which are 5 out of 5. It comes with a warranty too.
Pros
Digital Pro Controller is more accurate
Dual meat probes
Sawhorse chassis
Side lift bar
Package includes the upper rack
Verdict:
The Digital Pro Controller and dual meat probes are definitely a pulling factor for this grill. If the price and number of reviews put you off, it is worth reading around different sites to see what others are saying about this grill to help you decide.
Get it on Amazon Before Stocks are out!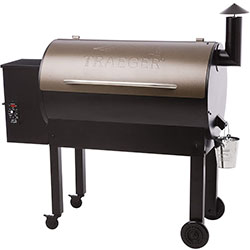 Traeger TEXAS ELITE 34
High priced pick
Traeger TEXAS ELITE 34
This grill is very expensive, but it does come with some great features to justify the price. It looks good, and has a big area to cook on, which makes it a good choice for people who want to grill for groups.
Features:
The Texas Elite 34 has a hopper capacity of 18lbs. and has upgraded legs and wheels to make it more sturdy and robust. It comes in bronze and black, which is a nice look for any backyard. Although it has one of the fewest numbers of positive features among our Top Ten Picks, it still has 33!
Build:
Dimensions-wise, this is a large grill measuring 22 x 54 x 49 inches. The cooking area is the largest available too at 646 square inches. That means you can invite family, friends and neighbors, and have enough space to feed everyone at the party. The grill adequately holds 30 burgers or 8 whole chickens!
It is one of the heavier grills in our Top 10 Traeger Grill Review, weighing in at around 125lbs, making it very sturdy but not so portable.
Temperature and Control:
Despite its size, you can be confident that the digital controller can look after your food and maintain the temperature within 20˚ – even if you are cooking 8 whole chickens! It really is consistent, so you can trust it to make your cooking experience easy.
Other factors:
This is the second most expensive product in our review and it retails at just over $1000. The average rating is 3.3 out of 5, coming from 152 reviews. It is definitely worth reading around sites for what people are saying in reviews before committing to purchasing this grill.
Pros
Very large cooking area, which is great for larger groups
A great choice for beginners
Easy great management system
Can be assembled without any hassle
Cons
Expensive
Inaccurate temperature rating
Verdict:
If money isn't an issue, the large capacity of this grill definitely gives it pulling power, as does the nice color design. The reviews are worth reading before deciding to buy this grill.
Check Customer Reviews on Amazon!
Traeger TFB29PLB Bronson 20
Good compromise choice
Traeger TFB29PLB Bronson 20
This grill is probably a good all-rounder and middle of the road choice for lots of people. It is both portable, whilst still having some good features and a nice capacity. It is a good in-between choice to suit most people.
Features:
This grill has a good 34 positive features. The hopper capacity is somewhat smaller than other grills in our list at 10lbs and falls into the more portable grill option.
Build:
The Bronson 20, like the Pro Series 22, also has a sawhorse chassis, which gives it stability. It also has all-terrain wheels and a side handle helping you to move and place the grill where you want it. It is one of the lightest grills and weighs 76lbs, making it more portable than many others in our Traeger Grill Review. It measures 38 x 35 x 22 inches, making it larger than the PTG and Tailgater 20.
It has 300 square inches of cooking space, which is the same as the Tailgater 20 and enough space to cook 4 whole chickens.
Temperature and Control:
This grill comes with the Digital Elite Controller. With this controller, you can set the temperature in 25˚ increments. The shutdown setting on this controller runs the fan for around 10 minutes so that excess ash is blown out from the fire pot.
Other factors:
This grill is slightly more expensive than the Tailgater 20 and sells for just under $500. The average rating is only slightly less than the Tailgater 20 at 3.9 out of 5 at the time of research. The warranty comes as standard, like all Traeger grills.
Pros
Portable
10lb. hopper capacity
Sawhorse chassis
Wheels
Cons
May be too large and heavy for some to use as a portable grill
Verdict:
This grill is a real in-between grill for those of you who are looking for something that can be portable but still maintains the great features of a standard backyard grill. So, if you intend to use your grill both at home and out and about then this might be the one you want to look into further.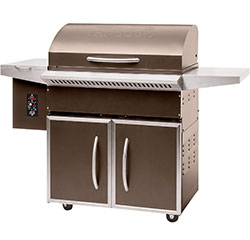 Traeger TFS60LZC Select Elite
No mess grill
Traeger TFS60LZC Select Elite
This grill is the choice for people who like everything clean and mess free. The storage option means you can keep everything you need securely and tidily in this grill's very own storage space.
Features:
The Traeger Select Elite has a different look to the other models in our Traeger Grill Review in that it has an enclosed storage space underneath that has 2 doors. You can use this to keep your grilling items close, or to store your wood pellets that you need to choose carefully. It is big enough to hold 2 bags of pellets. Due to its larger size and the storage space, I wouldn't really consider this grill to be portable.
Another different feature of this grill is its stainless steel side shelves. These are ideal for prepping food or putting down utensils whilst you're cooking. You could even rest a cold beer on them I'm sure!
Build:
The Select Elite measures 57 x 25 x 46 inches and weighs a hefty 170lbs. making it the biggest and heaviest grill in our Top 10. As this is a big grill, the wheels definitely help you move it into place. They also have locking casters so you can be sure the grill is secured where you want it before switching it on.
Temperature and Control:
Whilst not the biggest cooking area in our Top 10, the 586 square inches of grilling space that the Select Elite has is more than adequate and can fit up to 20 burgers! The grill also comes with Traeger's Digital Elite Control so you can set the dial and go.
Other factors:
This grill is the most expensive in our Top Ten with a price tag of around $1300 dollars. It is worth noting that the average rating from reviews is 4.1 out of 5, which means that people consider themselves to be getting value for money with this product. You can request the manufacturer's warranty on purchase.
Pros
Enclosed storage space
Side shelves
Locking casters
Large enough for backyard parties
Cons
More expensive
Heavy if you're wanting to move it
Verdict:
This is great if, like me, you love out-of-sight storage! No more tripping over pellet bags in your backyard! Although it's the most expensive grill in our Top 10, it does have really good reviews and people seem happy with what they get for their money.
A List of Some Other Products We Tested
Additional Information on Traeger Grill Review
We've mentioned a lot of different facts about Traeger's Controllers so now let me take the time to summarize the information all in one place.
The majority of the grills in this Traeger Grill Review are equipped with the Elite Digital Controller. This controller maintains the internal temperature of your grill to within 20˚F in ideal conditions. The LED display is a typical red color. You can set the controller in 25˚ temperature increments from around 155˚F to 425˚F. There are also two more settings: at the lower end, this is labeled as "smoke" and at the higher end, this is labeled as "high".
Traeger's other controller is called the Pro Series Controller. This controller has the added features of 2 meat probes so you don't have to open the grill to check the temperature. The LED display on this controller is blue, which makes it easier to see in bright conditions. It also has Advanced Grilling Logic, which holds the temperature better than the Elite Digital Controller as it is maintained within 15˚F, making it more accurate. You can also buy this controller to install onto your existing Traeger grill to upgrade from the Elite.
Care and Maintenance
Because burning wood pellets slowly can cause a buildup of creosote, it is important to know how to clean and maintain your grill as buildup could ultimately lead to a fire. Depending on usage, you need to inspect all elements of your grill, including the grease pan, drain and bucket at least every six months. Any visible signs of buildup should be removed to reduce the risk of fire. It is important to use a non-scratch tool (like a piece of wood) to scrape the buildup away and use a biodegradable degreaser where necessary.
It is easier to clean grease when the grill is warm. Be careful that the machine is off and unplugged and cooled down enough to prevent injury! It is a good idea to clean the grill straight after cooking (once it has cooled down somewhat). For this, it would be handy to have a long-handled cleaning brush near the grill to remind you.
Wrapping it Up
Now we've come to the end of our Traeger grill review, I hope it has helped you in your decision on what to buy. We've made sure to cover a wide range of budgets and grills from the easily portable to the backyard staple. If you're still undecided, our Top Pick is the best all-rounder and will surely satisfy many people's requirements. Whilst we have endeavored to make our review as comprehensive as possible, it is always wise to do your own research and read online feedback from people who have bought each product. However, it is worth bearing in mind that unlike ours, some reviews may be biased. Finally, for a quick look into the features we found for each product, and to find all of the information in one place, read our research report added above. We hope you find a Traeger grill you love! Happy grilling!