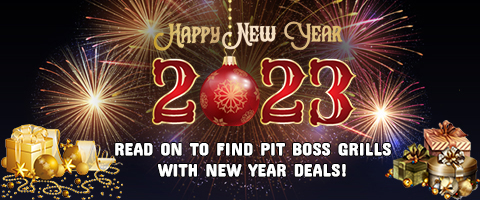 A Short Summary of Our Findings
When thoughts of the summer season pop into your head, what picture comes to mind? Summer always bring thoughts of lazy days by the pool, with a cold drink in hand and some meat grilling away in the backyard. The guys here at Grills Forever are definitely big grill fans, and we have made it our job to check out every brand and model of commercial grills possible. We all agree that one of the trusted brand names in terms of grills is Pit Boss.
Pit Boss has a vast array of grills, ranging from ceramic to gas to pellet grills. Not to mention the vertical smokers and smoking grills. We know you don't have all the time – and the resources – in the world to research or try out every single one of them in order to decide what's best for you. That's why we decided to do the dirty work ourselves. We did our homework, researched users' reviews and recommendations, and came up with the best Pit Boss grills according to type. You're welcome.
Favorite Pick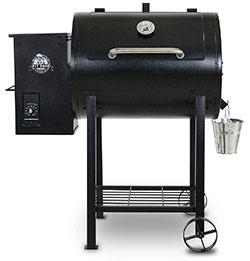 Our pick of the bunch
Pit Boss 700FB
This grill has eight different functions, making it really versatile. It has a ventilated system and only uses wood chips as fuel, however when you get so much you need to be prepared to spend more for this one!
Buy it from Amazon!
This pellet grill is an exceptional cooking machine. Utilizing only wood chips for fuel, it boasts of an extensive temperature range, letting you grill anywhere between 150 to 700 degrees Fahrenheit. Safety is not a problem, though. It has a digital control panel, letting you set the temperature and leave the grill to cook whatever it is you want to cook, the way you want it cooked! You can grill perfectly smoked ribs, bake pizza, grill some steak or burgers, and it's perfectly cooked every time.
This grill has even more smart features: a rack that converts into a slide-plate for direct fire grilling, porcelain-coated cast iron grills, and an air-circulation system that allows for uniform cooking all throughout the length of the grill all the way to the top rack. It's simply a one of a kind grill that will suit both beginners and experienced users alike.
Top Gas Grill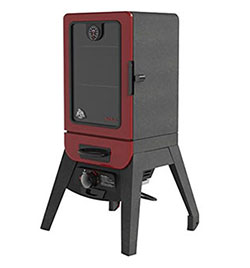 A great gas grill
Pit Boss Grills 77425
This dual burner gas grill is built to a very high standard. It has loads of space for you to grill on, and comes in at a good price too. The only downside is you have to build it yourself!
Buy it from Amazon!
Among all of Pit Boss' gas grills, this unit has an impressive review frequency – meaning a lot of those who bought it were definitely satisfied with this grill. It has four racks – all porcelain-coated, making it very spacious and easy to clean, a separate chamber for wood chips so you can easily refuel without disrupting the smoking procedure, and a viewing window on the door to let you see just how well the cooking is proceeding without opening the cooking chamber. This grill uses dual burners for uniform cooking, and has a temperature range of 100 to 350 degrees Fahrenheit. Best of all, this grill is unbelievably priced at under $200 – which definitely makes it quite a steal!
No.1 Kamado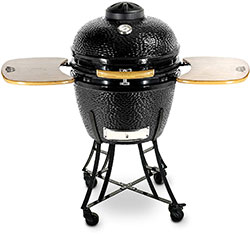 A good-looking pick
Pit Boss 71220
This grill looks really modern and is visually and aesthetically nice. It gives you loads of cooking options, and comes with some really unique features like its foldable bamboo shelves
Buy it from Amazon!
This ceramic Kamado grill is a thing of beauty that combines function and efficiency. It features a heavy-duty ceramic outer body with foldable bamboo shelves on each side, a cast iron damper that lets you control the temperature for cooking, and versatile cooking space with two layers of steel grates. Like ancient Kamados, it uses charcoal for fuel, and has an automated control dial that lets you increase or decrease the temperature inside the grill. The interior of the grill is well-insulated, resulting in well-cooked and flavorful meat every time. With around 567 square inch of cooking space and an extra grate made of stainless steel, you can easily prepare a feast for your family or friends.
Portable Performer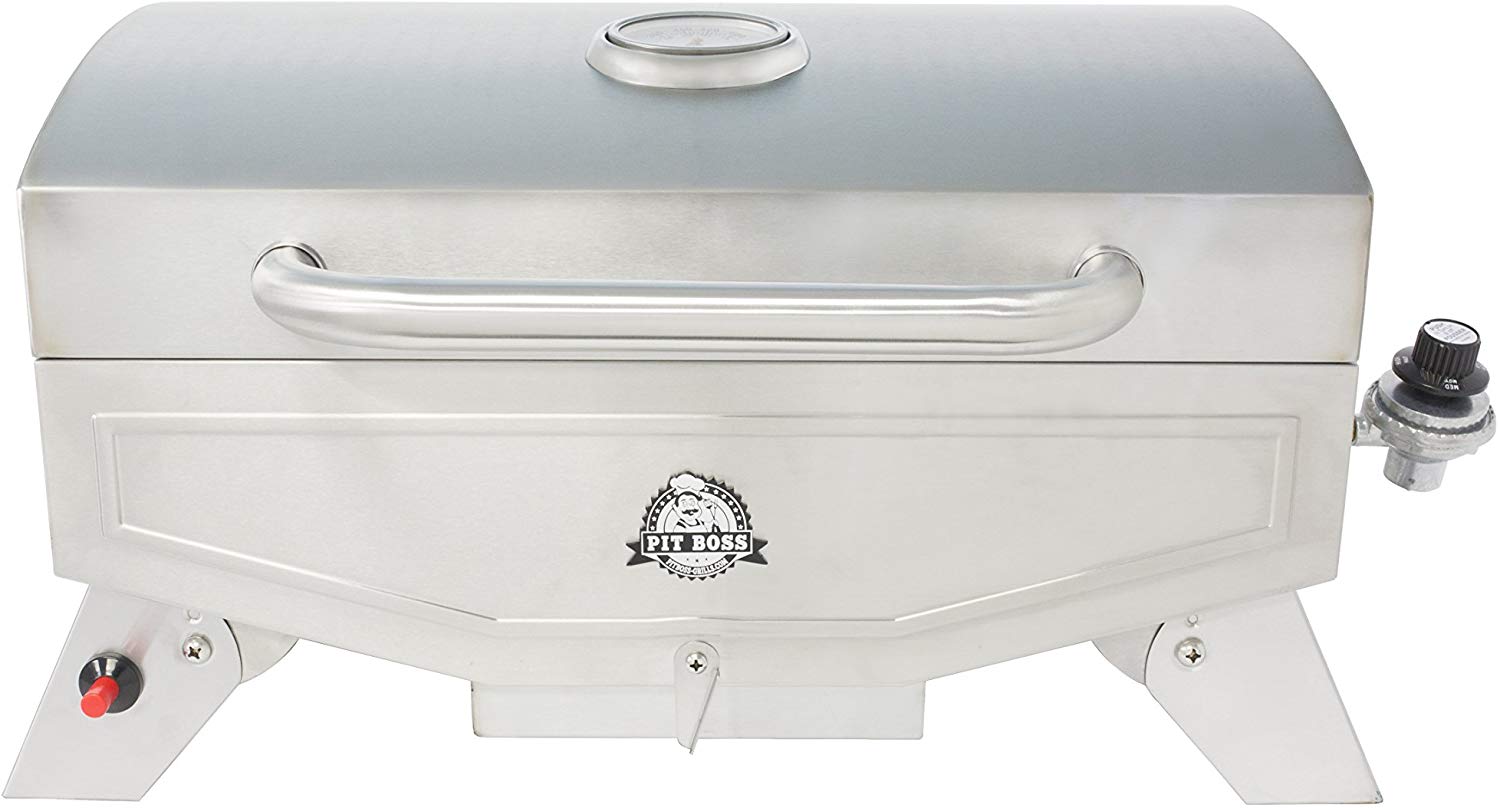 More than moveable
Pit Boss Grills PB100P
Although our most moveable choice, this grill is much more than just portable. It comes with a big area to cook on and one large burner, so it cooks well whilst still being super light and foldable.
Buy it from Amazon!
When it comes to portable grills, this one from Pit Boss definitely stands out. This stainless steel for each of the burners. It's also extra lightweight at only 27lbs, so you can carry it with you on a weekend road trip, to the park for a small picnic, or during a camping trip to the woods. It's very convenient, very nifty, easy to use, and most of all, it is reasonably priced at $125. Now, that's definitely value for your money.
Convenient Cook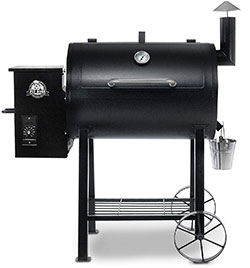 Easy to use
Pit Boss 71820FB
This grill cooks well and is efficient. On the downside you do need assemble some parts yourself, but the large cooking space, digital controls and porcelain coated racks more than make up for that.
Buy it from Amazon!
Another pellet grill that made it to our top 5 Pit Boss grills, this grill scored high on customer satisfaction rating. It has a considerable cooking space – 2196 square inches to be exact, with the use of its six porcelain-covered grates. The body is durable and fully insulated, letting you cook efficiently even at low temperature settings. It has a digital control unit that lets you set your desired cooking temperature, an electric igniter, and a hopper with 40lb capacity. Just like Pit Boss' Best Pellet Grill at number 1 on the list, this grill has 8 cooking options – so you can use it to grill, char grill, sear, bake, smoke, barbecue, roast, and braise meats and dishes by simply adjusting the settings. It's so easy to use, that even a beginner can whip up a feast on this grill!
End of Summary
Top 5 Pit Boss Grills (June 2020): Detailed Buying Guide
When I picture my perfect summers day, I can't help but think of a family grill. Settling in your backyard surrounded by good food, sun and the people you care about… Until maybe you realize your grill isn't as efficient as you thought it was and there's a huge queue of hungry guests.
Let's take a step back.
Pit Boss is one of the leading brands for grills and is highly reputable. They develop a variety of grills meant to fit every purpose and every possible customer, resulting in products that you can depend on.
With Pit Boss' expertise, so comes along a whole hoard of information that can be confusing to navigate. Who really has the time to read manual after manual and review after review to make the best decision possible? Wouldn't it be easier if you could just read a research article on it instead?
Here at Grills Forever we've done just that. By working away for days on end we've managed to compile a perfectly researched buyers guide for all the different types of Pit Boss grills that exist, so you don't have to.
Sit back and peruse at your own leisure to discover our ultimate Pit Boss grill review.
Why Should You Trust Us?
A reliable source can be a hard thing to come by online, especially when it's impossible to tell whether something has truly been researched or simply sponsored.
Here at Grills Forever, we take customer trust seriously and thus every research report we create is made available for public scrutiny.
As an independent team, we work around any bias through allowing different team members to review different grills. This process results in information you can really trust.
For this article, in particular, we toiled away for a full 48 hours compiling data. We scoured the internet and initially selected 15 of the top products available on the market, before shortlisting 10, and then cutting this down once more to the top 5.
If you're feeling at all curious to see which grills will serve you in the best way and why, follow this article through and use our expertise to guide you.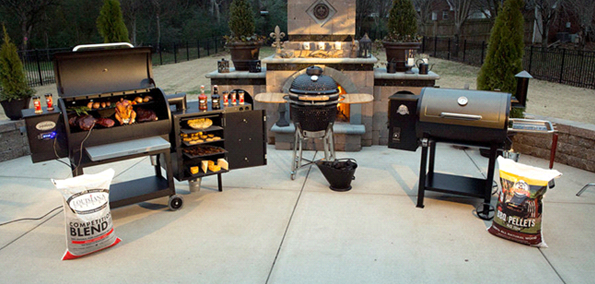 Types of Grills: Which One Is Right for You?
Pit Boss makes every type of grill available; if you're anything like me, you probably know very little about grills other than the fact they… grill.
Here's a quick little beginners guide to the different types to help you make an educated decision on which one suits you best.
Pellet grills are outdoor cookers in every sense of the word. In saying that, I mean that they can bake, smoke and grill all through the magic of wood pellets and an electronic control panel that deposits just the right amount of pellet to maintain the perfect cooking temperature. With the simple turn of a knob, you can conjure up the gorgeous complex flavor of wood smoked meat without having to deal with the hassle of manual smoking.
Despite the use of wood, the grill is actually remarkably easy to clean, with the flavored pellets burning away almost entirely leaving just a touch of ash. Some pellet grills even come prepared with a dial for you to adjust the temperature precisely; resulting in an always evenly cooked batch of smoked food.
Offset smoker grills are unique in that they can function as a comprehensive smoking machine, as well as a convenient grill. They feature an offset chamber which you can load with your charcoal/wood, and a separate chamber for your food. This set-up means you can easily use them and top up your fuel without disturbing the smoke levels with the food. Even cooking is achieved by a small miracle called reverse flow technology. This really just means there's a small perforated plate sliding between the food and smoke chamber at the perfect frequency to completely equalize the temperature.
Gas grills are the best friend of the busy (or easily confused) person. With just the turn of a knob, the grill flames alight ready to use. There's no added fuel cost and no worries with disposal of ash. With just a quick wipe post use it's all ready for another sunny day. They also preheat very quickly, within 10 minutes you'll be ready to start laying out your meat medley for grilling.
Kamado Grills are the Japanese, adorable egg-shaped equivalent of a grill. Kamado grills use wood as their primary fuel source and allow you to smoke and grill at the same time to an excellent standard. The thick walls of the vessel are also perfect for slow cooking, with the top and bottom air vents circumventing flow through the vessel using a large ceramic divide in the center of the 'egg'. This ceramic insert pushes heat towards the edges of the vessel, and away from directly hitting the meat, this results in the most beautiful cook.
These grills are the convenient, clean and easy way to grill meat quickly. If you're limited on space and budget electric grills are the perfect provider for your needs. The one downfall is that you don't get the same flavor as you would with wood chips or charcoal; the benefits for some outweigh this negative, in that the meat itself still tastes great and it's all in all, just so much easier.
They offer you the freedom of beautifully cooked food, regardless of your location. Why not take it with you on a hike or take it with you on a trip to the beach and whip up restaurant quality meat. Portable grills are also very affordable, most home-stores sell their own version that you can pick up for practically cents. The fuel source is usually charcoal, meaning you get an authentic barbeque flavor without having to invest massively, or sacrifice a lot of garden space.
What Should You Look for in a Pit Boss Grill?
Pit Boss grills are quality items, and with that quality, comes a large price tag. Ensure that the investment you're making is one you'll look back on with confidence, and not regret.
Check exactly what it is you're receiving, some grills come with accessory bundles; if you don't have much BBQ equipment stocked up, this can be really useful.
Measure your allocated space for your Pit Boss grill and check it against the measurements listed on the product description; you don't want to buy a grill you don't have the space for!
Warranties can be life-savers, especially if you're planning on using the grills commercially, or even just particularly frequently. Risking losing access to something that you will use on a regular basis isn't a wise choice. It's always better to pay a little more for peace of mind.
Some Pit Boss products will come with complimentary gifts, these can range from covers to even a provision of fire-lighters. Be sure to check what added extras you might be able to receive by fully reading the product descriptions.
How We Picked and Tested
In light of our full transparency, we're more than willing to reveal how exactly we reached our results.
The process was as follows –
To begin, we sifted through over a thousand Amazon user reviews of over 20 different grills, all from different categories i.e. some wood pellet, some gas, etc. Every review was considered, from the best Pit Boss grill review to the worst Pit Boss grill review. As we did this, we narrowed down what features exactly drive users towards a satisfied purchase. We then gathered an average of what people tend to look for in a grill, what they feel they need from a grill, and what sort of results they got cooking with different grills.
Then it was shortlisting time. We decided on our top 15 grills and searched for each grill on a variety of different websites. We used this process to accumulate data on both customer reviews, and to gain a comprehensive list of the features that each grill has.
Leaving no stone unturned, we fully researched the brand Pit Boss by going through their site with close scrutiny, as well as seeing what people online generally thought of the brand.
The next step was putting our research into practice. We had a diverse group of volunteers were actually using Pit Boss grills in their own backyards and homes!
We used this experiment to gather extra data to further enhance the accuracy of our article. We used this feedback from our volunteers to compare and contrast with the information we had gathered from the internet.
After much hard work, we were able to confidently decide on the best Pit Boss grills available and will convey this coveted information to you through Grills Forever.
Our Top Pit Boss Grills Product List
Preparing this Top 5 List was no easy task. Pit Boss products are exceptional, and to really hone exactly what makes a perfect grill from their range, we had to determine 32 different ideal grill qualities. Some of these qualities were things specifically mentioned by Pit Boss in product descriptions, other qualities are ones established as vital to consumers through our in-depth customer feedback research.
We used these ideal qualities as a checklist as we scoured the manuals of each of the 20 different Pit Boss grills we analyzed, before determining which ones are definitely worthy investments. We also explored any Pit Boss grill problems so you have a full understanding of what exactly it is you're spending your money on.
In reading this guide, you can rest assured that the products we've listed are truly the best Pit Boss grills currently available on the market.
Why Is This Product the Best of All the Pellet Grills Produced by Pit Boss?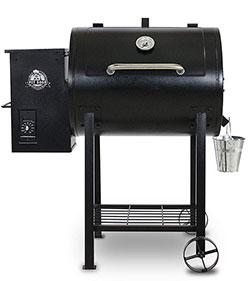 Pit Boss 700FB Pellet Grill
Our pick of the bunch
Pit Boss 700FB
This grill has eight different functions, making it really versatile. It has a ventilated system and only uses wood chips as fuel, however when you get so much you need to be prepared to spend more for this one!
This pellet grill has 19/32 of our ideal features, making it the best pellet grill we've encountered so far. The reviews for this grill are also exceptional, we were heavily influenced by the strong customer feedback when still in our shortlisting process.
Across Amazon, the customer response was the same, high frequencies of sales accompanied by a 4.1* average. When we compared this sort of response to other models, we were left with little doubt of this product's superiority.
This grill has a very wide temperature range, allowing you to grill between 150-700F; a huge leap. The digitally controlled burner system ensures that you're in full control of temperature changes, this adds an air of both convenience and safety that we feel customers would find very helpful. One small sacrifice to make with this wonderful grill is the cooking space. It is slightly smaller than average; but unless you're planning on cooking for a huge team of people, it's more than manageable. You could even argue the smaller cooking space to be more practical; as you're left with less fuel to use, and less mess to clean.
Detailed Review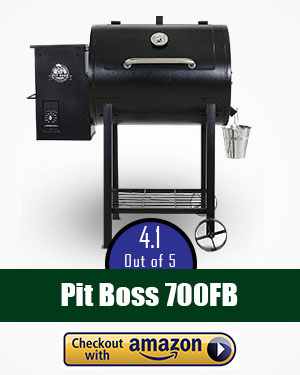 Features:
This pellet grill is not just functional, it's exceptional. With a digital control board on the front you can decide exactly what function (out of 8 available options!) you want to employ. One clever piece use of space includes a slide out plate, it converts a rack into a flame broiler for restaurant style, direct-flame grilling! The digital control board not only allows you to select a function, it actually automates the grill; meaning that after you've selected the temperature you can leave the pellet grill to perfectly cook whatever you want!
Build:
With an available cooking space of 700 sq ft you can expect to serve up to 6 people with just one round of cooking. It's therefore perfect for batch cooks, or even just for a family meal. To improve this even further, the cooking space is constructed from high quality cast iron; meaning you'll get all the extra benefits of cooking with iron without the expense! The total shipping weight for the item is 184lbs which is expected for an item of this quality and type. Although most of the grill is pre-assembled, there is a little bit of assembly involved so that's worth bearing in mind.
Temperature and Control:
This pellet grill allows you to cook between the temperatures of 170F all the way up to 600F. The idea of cooking at such high temperatures sounds like a scary concept; but with the automated control system regulating air flow, you can be assured of a clean, safe and flavorful cook. The use of fans within the grill not only ensure safety and flavor, but cook food completely evenly, meaning you can rest assured of perfection every time. Even deactivating the grill post-use is made simple; all you need to do is press a button and the grill will safely power down, cooling as necessary all automatically.
Other Factors:
Warranty is available upon request from Pit Boss so you can rest assured of your grill's longevity. Another benefit to this grill is the fact its sole fuel source lies in woodchips. There's no need for anything else to fuel this amazingly comprehensive machine. If you're not entirely familiar with woodchips, this machine has got you covered. Its automated system will control exactly the required amount of chips for an individual grill session, meaning you can spend more time getting on with your day.
Pros
8 different functions
Only uses woodchips as fuel
Warranty available
Ventilated system
Automated control panel
Wide temperature range
Large, cast iron cooking space
Cons
The price is a little higher than other grills
There is a tiny bit of assembly involved
Finally
Pit Boss have surpassed themselves with this creation. High-quality materials and innovative technology meld together to create the ultimate grilling experience. Even after scouring the web, we were unable to find even a single wholly negative review. This much-loved item's potential to replace up to 8 other machines, make it a backyard essential.
Why Is This Product the Best of All the Gas Grills Produced by Pit Boss?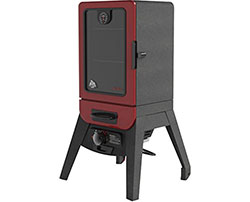 Pit Boss Grills 77425 2.5 Gas Smoker
A great gas grill
Pit Boss Grills 77425
This dual burner gas grill is built to a very high standard. It has loads of space for you to grill on, and comes in at a good price too. The only downside is you have to build it yourself!
Let's just pause for a moment.
Before we reveal our detailed review, perhaps you're intrigued by exactly why we chose this one grill, out of the countless many as the Best Gas Pick. We'll be giving you our reasoning for each of our top picks before getting to the main bit.
Remember the checklist I said we created? Well, this product managed to score 15 of the best of the best qualities, including stainless steel burner and dual valve system, porcelain coated grids, grease tray and wood chip drawer with external access, and large window with high temp. door seal. Despite it not ticking every single, possible box, this grill managed to score in the ones that customers valued the most, and this is what drove us towards placing it in the first place. Also, the price of this model is ridiculously reasonable – at under 200 USD this top branded grill is one of the lowest priced models for a gas grill; how amazing is that?
It has a really high review frequency and an overall rating of 3.7 on Amazon. This rating might seem low, but when you consider it's an average collected across the internet; it really is quite high. In fact, this particular grill is the highest rated Pit Boss gas grill currently on the market.
When you add in a stainless-steel body and 13500 BTU burners, all that remains is a clear winner.
Detailed Review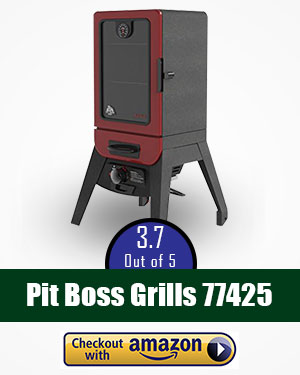 Features:
The temperature range is between 100-350, with the dual burners ensuring an even smoke. The burners themselves have a total BTU of 13,500. Even better, you can see them in action through the glass panel on the door. There's no need to worry about smoke leaking from the door either, as it's equipped with a high temperature seal – ensuring safety.
The total shipping weight of the item is 56.2lbs which is fairly high! You also do have to construct the item yourself, so be prepared to have some help on hand.
Build:
With four porcelain-coated racks, this smoker is both easy to clean, as well as having a great capacity for a large amount of food (the cooking area measures at 676sq!) You don't have to worry about disturbing the smoking process when refueling, as the smoker has as separate wood-chip burner tray, meaning you can smoke for days without disrupting the process.
Temperature and Control:
An even smoke means consistent temperature and control over the amount of smoke actually entering the chamber. This smoker accomplishes that through the integration of a single control knob, which allows you to control the temperature of both valves individually, meaning you can tailor exactly what you want quickly, and easily. Lighting the valves themselves, is also wonderfully simple – an ignition button situated just next to the control knob allows you to switch on the valves with just a push.
Other Factors:
The low price of the product hasn't impacted customer satisfaction, with consistently positive reviews across sites. You can even request a warranty through Pit Boss if you should choose to buy the grill from an alternative site. Another added bonus is the stylish burgundy color, it's muted just enough to add a touch of flair to any backyard.
Pros
Dual burner
Easy control knob
Door with window
Reasonable price
Positive reviews
Separate fuel chamber
Warranty available
Cons
You do have to assemble it yourself (it's apparently an easy build though!)
Finally
The quality of the build, paired with the cooking space and dual burner system are enough to justify this product as one of the better smokers on the market. However, that's not all this smoker has to offer – a reasonable price, and the level of customer satisfaction leaves us with an unbeatable winner.
Why Is This Product the Best of All the Kamado Grills Produced by Pit Boss?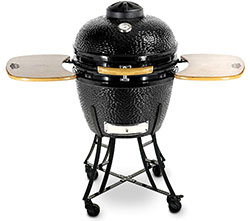 Pit Boss 71220 Kamado BBQ Ceramic Grill
A good-looking pick
Pit Boss 71220
This grill looks really modern and is visually and aesthetically nice. It gives you loads of cooking options, and comes with some really unique features like its foldable bamboo shelves
This ceramic coated beauty far surpasses all its contenders. It's durable, meaning you'll definitely get your money's worth of use out of it, functional and the perfect classic shape. It's also a good size for larger gatherings, so you'll always be prepared for any last-minute get-togethers.
All of this, however, does come at a particularly expensive price; especially when compared to other available items. Performance-wise, this grill knocks all others out of the water. It's perfectly efficient and safe to use that result in the perfect meat every time.
Kamado grills are almost artisan in the way they're constructed. The last thing you want to do is buy one on the cheap and end up with a faulty product. With the exterior being ceramic, budget models can chip quite quickly, or sometimes even arrived damaged.
The materials this particular model is constructed from, are of particular excellence. The construction is faultless and the cover is very secure. The two air holes in the grill are fully regulated by caps; meaning that air flow is rigidly controlled – you can rest assured your meat will cook very well.
This product measures around 567 sq. ft; so be sure to double check just how much space you've allocated in your backyard. It also has a great temperature range, meaning you should be able to fulfill even your wildest grilling dreams (grilling a steak at 900 degrees is apparently a popular one!)
Detailed Review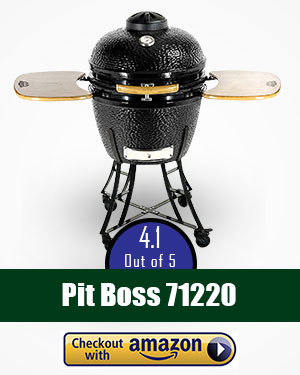 Features:
A heavy ceramic body ensures proper insulation that you can rely on. The side shelves are constructed from all-natural bamboo and can be folded downwards for convenience. Atop the beautifully textured ceramic lid, a large inbuilt thermometer can be easily read even at a glance. An upper flip lid allows you to add on stainless steel grates optimizing your cooking options. There is a total of 567sq" of cooking space available for this grill. A small removable tray allows for ash disposal; making for a quick clean.
Build:
The ceramic body has an integrated damper constructed from high quality cast iron. The grill itself is on wheels, meaning that it's easily transportable should you want to move it around your backyard. It even comes in 2 sizes; a 22-inch model (which is the one we've based this review on), and a slightly larger model at 24 inches. The grill allows for moisture-lock in, the heavily insulated walls and the heat from the charcoal uniquely seeps into the food infusing it with flavor and moisture. The incredible insulation qualities of the grills also mean that you get the most out of each lump of charcoal so you can save on fuel expenses.
Temperature and Control:
Temperature control is maintained through the damper, of which, with a twist, you can adjust the air flow. This will increase, or decrease the internal temperature depending on how far you twist, the thermometer is just underneath the damper so you have full control over your adjustments.
Other Factors:
The Pit Boss smoker's reviews are almost entirely positive, with people raving about the Pit Boss smoker's ability to make such a difference in food quality. The price is of course reflective of the quality and craftmanship, this is an investment worth making.
Pros
Visually appealing
Easy temperature control
Extra steel rack
Foldable bamboo shelves
Automated control panel
Large food capacity
Cons
Could be confusing to operate at first
A little bit of assembly is required
Finally
This is a completely modern retake on an ancient Asian cooking vessel. With this contraption, you have the benefits of the old and the new. This grill is incredibly versatile and with the addition of the extra stainless-steel grate, your options are completely maximized. The stylish look of this grill, coupled with the beautiful bamboo shelves, make this grill not only visually perfect but functionally great. Overall, this is definitely a grill you can trust, after all, it wouldn't have lasted thousands of years if it wasn't amazing.
Why Is This Product the Best of All Portable Grills Produced by Pit Boss?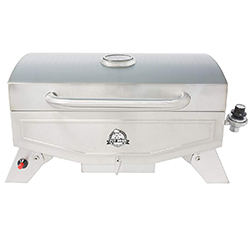 Pit Boss Grills PB100P1 Portable Grill
More than moveable
Pit Boss Grills PB100P1
Although our most moveable choice, this grill is much more than just portable. It comes with a big area to cook with one large burner, so it cooks well whilst still being super light and foldable.
The Pit Boss tabletop grill is admittedly rather small – but it's just this that makes the grill so portable. Although you can't cook absolutely everything for everyone all at once, the grill is still large enough to cook for at least two or three people; making it convenient for couple getaways.
Another fantastic benefit is that this grill is light; meaning that you could potentially pack it in a rucksack, go on a hike, and cook a good hot meal amidst the outdoors. It's all just so convenient.
Moving onto money; this portable grill is listed at a wonderfully reasonable $110, when you weigh up this kind of price with the number of different features the grill itself has, it's clear to see why this nifty little thing made our top 5 Pit Boss Grill list.
Detailed Review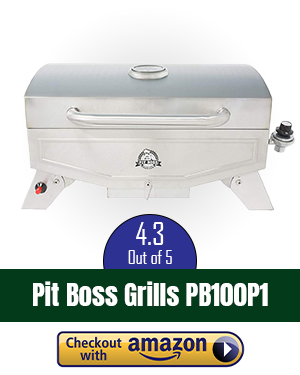 Features:
This grill is just small enough to pack away in a bag and prop up ready for use with its folding legs. The dome thermometer is clear and easy to read, and with just the click of a button the grill will flare up, ready for use. The grill has one 10,000 BTU burner that operates on a 1lb cylinder.
Build:
Made from high-quality stainless steel, this portable grill looks sleek and effective. The 205 square inch cooking area is an amazing amount of space for the price (it's just enough for a dozen burgers and hotdogs!). It weighs a very light 20lbs, making it very easy to carry around as you're on the move.
With nearly all positive customer reviews, this grill is a clear winner in our books. Another bonus is that the propane tank connector is included! So, you can get grilling as soon as you please!
Pros
Light
Foldable legs
Propane connector included
Large cooking space
One 10000 BTU stainless steel burner
Cons
Temperature measurements are not that much accurate.
Finally
Transportable, but not only that. This grill is light, well designed and affordable all while having a huge amount of space for cooking up outdoors. One small downfall being a lack of temperature measurements on the dials but this is by no means takes away from all of its positives.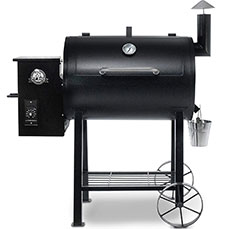 Pit Boss 71820FB Pellet Grill
Easy to use
Pit Boss 71820FB
This grill cooks well and is efficient. On the downside you do need assemble some parts yourself, but the large cooking space, digital controls and porcelain coated racks more than make up for that.
This pellet smoker grill met 14 out of our 32 criteria when we used our checklist. Although 14 isn't an exceptionally high score, the features that it did meet were the ones that were tied the most to customer satisfaction, encouraging us to look into the grill a little further. When the Grills Forever team did, we weren't left disappointed! The smoker grill has one of the largest cooking grid sizes available today! The body of the grill itself is of high quality and is completely insulated, making it very efficient. The wide temperature range reaches a considerable height. However, the grill is remarkably durable and well prepared so you can rest assured of your safety. The porcelain-coated grates are also very easy to clean and conduct heat very well; lying underneath are the high-quality burners which are controlled through an automated system, meaning you can kick back and relax.
All of this goodness does come at a rather high price, but it's hard to expect any less when the features are this refined.
Detailed review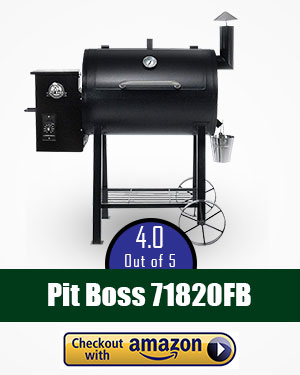 Features
The Pellet smoker includes 6 porcelain coated cooking grids, leaving 2196 sq inches of cooking space; more than enough to cook for the family and have some extra to store. The best bit about this vertical smoker is the digital controller. It's fully programmable and allows you to vary between temperatures safely and easily. The 40+lb hopper works brilliantly to ensure that you can smoke over a low temperature and a longer time period. The double walled blanket insulation ensures that your food is getting the absolute most out of your wood pellets.
Build
The full capacity of this smoker is 7.0 cu ft, it's total shipping weight is 160lbs and the item itself measures around 28 x 29 x 58.5 inches. The hopper has been innovatively repositioned optimizing space. The hopper is very efficient and allows you to maintain use of the smoker grill for over 24 hours, meaning that you can slow cook safely within the perfectly insulated walls. The igniter itself is also automated, meaning that it will both start and shut off automatically and quickly.
Temperature and Control
The temperature range of this smoker is between 150-45F. Temperature control is optimized by not only the digital monitor, but an in-built heat deflector and water pan. You can rest assured that your food will cook evenly, and at the exact temperature you desire with this brilliant system.
Other factors
Warranty is available upon contacting Pit Boss as always. There's a tiny bit of assembly required but most customers state that this to be very easy. This Pit Boss smoker's reviews are solely positive with the exception of a tiny minority, making it a very popular item, and deservedly so.
Pros
Large capacity for food
Porcelain-coated racks
Warranty available
Digital control panel
Inbuilt heat deflector
Double walled blanket insulation
Cons
A little bit of assembly required
Finally:
The Pit Boss grill's reviews say it all. It's both efficient, convenient and easy to use. The melding of technology with such a traditional apparatus works wonderfully to ensure customer safety, and ease of use. The innovative position of the hopper means a whole load of extra space for you to fill with food to your heart's content.
A List of Some Other Products We Tested
Additional Information on Pit Boss Grill Review
Pit Boss is a company worth trusting. They're a large corporation built around quality, efficiency and meeting customer needs. They even allow you to register any product with their brand on their website, for full warranty and online manual access. So, even if you've decided on buying one of their grills elsewhere, you can rest assured they've got you covered. Although Pit Boss grills often come only partially assembled, you really only need a screwdriver and a tiny bit of time to fit the pieces together quickly and easily. For the wood pellet grills, Pit Boss stock their own range of flavored, all American wood pellets that you can buy not only from their website, but all across the web (they're notoriously brilliant!)
Wrapping it Up
Purchasing a new grill can be scary. There's a huge list of specifications under every grill you see online, making it hard to know what you're really looking for when everything's listed in a way that makes it all seem so useful.
By letting us do the hard work, you're now relinquished of any anxiety around whether features are really necessary – If you like, you could even check our report for the full 32 features that we explored!
The grills that our Grills Forever team picked were chosen not only based on their efficiency and price, but in reference to customer satisfaction, as well as aesthetic appeal. Our in-depth analysis of all the Pit Boss reviews we found supplied us with reliable data that we were able to authenticate with the Pit Boss grills' individual manual specifications.
Our job is to ensure that the investment you make is practical but most importantly safe to use. With all the different types of grills out there, this article explores only the best Pit Boss grills, giving you the opportunity to acquire something that will only grow in your favor over time, as you reap countless successful events, parties or even just family dinners using it.
We hope our Pit Boss grill review has helped light the path a little and given you plenty of inspiration for your new backyard best friend.