A Short Summary of Our Findings
Over the past weeks, we've received a lot of questions and feedback about Louisiana grills. Here at Grills Forever, we make it our mission to give you all the information you need about the best and most recommended grills available on the market today. Since Louisiana Grills is a relatively young but awesome brand (since 2006, to be exact), we want to help you choose what's best for you, so we came up with this list.
Together with our team, we did our research both online and through actual testing. We also compared reviews by real users and compared these with the actual product specifications. There was definitely one model that stood out among the rest, which is the Louisiana Grills 60900-LG900 Pellet Grill, which quickly became our favorite. It is an advanced cooking machine with digital programming that really impressed us, plus top performance and affordability.
Here's the list that we came up with:
Our favourite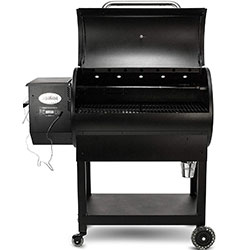 This cooking master has an impressive 900 square inches of cooking space, which lets you cook up a storm for a large backyard barbecue party! It's temperature range of 170 Fahrenheit to 600 Fahrenheit plus the open-flame grilling option lets you do a lot of cooking – from baking to grilling, broiling, searing, smoking, slow cooking – name it, you can cook it on this grill! It also gives your food that distinctive, woody aroma that makes it even more delectable and mouthwatering. To help you cook your meat to perfection, it has a digital temperature control center that you can set in increments of 5 degrees. It even comes with a meat probe that you can program to a certain temperature, plus set the grill temperature to go down when it's done. How amazing is that?
Super pick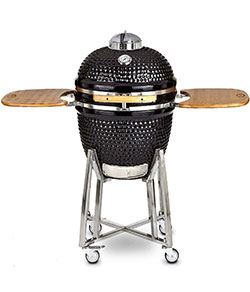 This classic Kamado BBQ Ceramic grill from Louisiana delivers the best slow-cooked flavor. Made of quality ceramic body, a wooden handle and side shelves, this grill has 567 square inches of cooking space. Its ability to hold heat for a longer period of time lets you save time and charcoal in the process. It's perfect for cooking for the family, is easy to use and doubles as a smoker, slow-cooker, and grill. It also has a built-in lid thermostat for temperature monitoring and precise cooking. This kamado grill is among the lower priced options, and is a great option for beginners as well as seasoned cooks and barbecue enthusiasts.
Great choice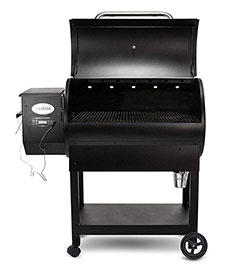 The Country Smoker is your typical open flame broiler that normally takes center stage in most backyard barbecue parties. Made of heavy duty stainless steel, it has a cooking area of 570 square inches, a bottom shelf for storage purposes, and caster stands and two wheels for mobility. The grill lights up with an automatic ignition, and cooking temperature can be controlled with the digital controller. It also comes with a meat probe that can be set to your desired temperature. It can hold up to 12 lbs of wood pellets that gives your food that smoky aroma for added taste and flavor. It's price of around $1000 makes it generally affordable compared to similar smokers in the market today.
Crowd pleaser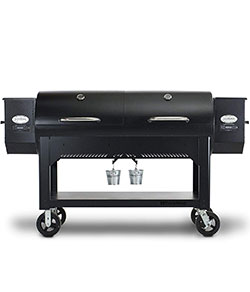 If you're fond of throwing large neighborhood parties, this one is for you! The Country Smoker Whole Hog has a total cooking area of 1700 square inches. That means you can cook a hundred burgers in there in just one sitting. The two-sided grill gives you the option to cook two different items on both sides, a unique feature that comes from an intensive manufacturing process. Each side of the grill has separate temperature control panels with their own meat probes. Side plates also give you the option to sear meat on an open flame. If you wish to cook a large batch of burgers, for example, you can simply remove the divider and use all that cooking space to feed a crowd. This heavy-duty smoker is definitely a must-have if you want to be the life of the party!
All-rounder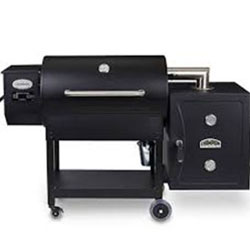 Aside from the usual grilling and smoking, this Backyard Pro goes the extra mile with its cold smoking function. Think of cheeses, sausages, fish, and bacon! The possibilities are endless with the addition of this cold smoke box on your Louisiana grill. The grids are made of cast iron with porcelain coating, and has about 914 square inches cooking area, including the detachable top rack. Plus, five more racks on the cold smoke box gives you an additional 1558 square inches of space. Now, that's a lot! Additional features include adjustable temperature controls, a built in thermometer, and meat probe that lets you cook your meats without worrying about overcooking them. This smokebox definitely gives you bang for your buck with its awesome features and cooking options.
End of Summary
Top 5 Louisiana Grills (Sep. 2019) – Detailed Buying Guide
Here at Grills Forever we pride ourselves on both our mouth-watering barbecue and our reputation for authentic reviews and recommendations. As our passion for grilling keeps growing we want to share that passion with you. Nothing compares to the satisfying comfort that radiates through your body when you inhale that smoky note just a split second before you take your first bite of that moist delicious fare that just came off your grill. We're here to support you in finding the grill that is perfect for you. Whether you are looking for something for the beginner or are a seasoned griller ready to up your game, we've got something for everyone. The Louisiana Grills offer a variety of options but we've narrowed it down to the top five for you to choose from.
Why Should You Trust Us?
If you are anything like me then you probably want to know that you are getting the right information for the right product. I can't tell you how many times I've gone out to research something and found completely opposite opinions on the very same product. At Grills Forever we discover the truth for you and provide you with the insider information to make your choices. We compare the products to make your buying easy. Afterall, we are two southern boys and BBQ runs through our veins! We take our BBQing seriously and we stake our reputations (and our Southern pride) on it.
We dedicate ourselves to making informed and well-researched decisions before we ever put it on this page. Seriously, we've been doing this for five years now. You can be assured that we are here to help you get the exact product you are looking for. Our amazing team, unbiased reviews and literally over 24 hours of combined online research got us to a shortlist of 8 products in the best Louisiana Grills of 2018.
But here at Grills Forever, that wasn't good enough. We took it a step further and narrowed down our list to the top 5 Louisiana Grills of 2018. We've done the research so you don't have to. Whatever grill you are looking for, you will find the information you need to make your choice from our comprehensive list and our comparison report.
Types of Grills: Which One Is Right for You?
Louisiana Pellet Grills
With all the grillers on the market, it can be overwhelming to try making a decision. If you are just starting out and wondering what type of grill is right for you, then the go-to grill for any amateur wanting to learn their craft is the pellet grill. The pellet grills offer amazing ease and function. When just getting started the pellet grill will give you the bargain price, an easy introduction to the world of grilling and great quality barbecue. Because the grill uses all natural Louisiana Grill Pellets, the pellet grill is environmentally friendly.
Louisiana Kamado Grills
These remarkable grills are based on a proven ancient design that has obviously lasted the test of time. It's been around in some form or another since its origin in China thousands of years ago. To read more about these interesting and amazing grills, go to our Kamado Smokers review page. These grills use the concept of heated clay pots that are still used today in many cultures. Although the shapes, materials and technology have evolved, they still retain the essence of full-bodied cooking. The Kamado grill has a very desirable feature, in that it can cook multiple types of foods, including: meats, vegetables, breads, and even pizza! While these grills offer sensational results and the option of cooking multiple food types, this might not be the first choice for the novice barbecuer since the costs can quickly range into the thousands.
Louisiana Smoker Grills
There are two main types of Louisiana smokers, those that are electric and those that are gas. The benefits of the electric smokers are they are basically a "set it and forget it" concept. No need to fret over this one, just get it set up and walk away. However, if you are the outdoorsy type (and I'm sure you are) then having to always have power could prove problematic on occasion.
The gas smokers are a more portable option if you tend to do a lot of travel cooking. Rather than needing an electrical source, they use a portable propane tank as fuel. Most people are familiar with propane tanks, as they are a common household barbecue item. They don't usually provide as much smoke as the other smokers and because of the type of fuel they burn, they aren't as environmentally friendly but you aren't limited to needing electricity. To learn more about which type of smoker best fits your needs, then read my Best Smoker Grills – Reviews & Buyer's Guide.
What Should You Look for in a Louisiana Grill?
Size of the Grill:
When looking for the perfect grill the Grills Forever team recommends you consider what you will use it for. Will it be used for only small family gatherings? Do you feed large groups for church or rallies? Are you going to be grilling every weekend or only a few times a year? These are all questions to help you determine what size grill you need. If you're going to be cooking large amounts and often, you will probably do better with a large capacity grill, like the Louisiana Grills LG-001000-1750 WH-1750 Country Smoker Whole Hog. Conversely, if your grilling is simply for your family backyard barbecues, then the Louisiana Grills 61220 Kamado BBQ Ceramic Grill Cooker, 22" might be a better choice for you.
Heat Distribution:
The distribution of heat in the grill is paramount to good even cooking and infused flavor. Kamado style grills trap the heat within clay walls and slowly infuse both the smokey flavor and the savory quality of a slow cooked meat. If looking at a pellet grill, then it's important to note whether it has a forced air fan and exhaust system to create the convection type cooking that will guarantee moist and tender meats.
Warranty:
We always recommend getting a grill that has a warranty. A warranty should cover the defects in the workmanship and parts and also include some kind of coverage for electrical components, should the model have any.
Durability:
When choosing a grill you definitely want durability. One thing to look for in any grill is a high-temperature powder coated finish. This is the painted finish used on the grill (which is usually black). Having the high-temperature finish means that the heat from the cooking will not weather the finish and begin to prematurely rust or flake. Another feature to look for is heavy duty steel construction. The grill should have steel construction, heavy-duty wheels and casters and stainless steel accessories. All of which ensures a durable and sturdy product.
How We Picked and Tested
In order to provide you with the most thorough and detailed product comparison, we did a ton of research so that you don't have to – because that's what we're here for. We have sifted through nearly 100 user reviews of Louisiana Grills to determine what the real user was getting from the product. We want you to know what you are getting before making your decision. We did a side by side comparison of the features of each model, we read through each description, store pages and even critic reviews.
After all of that, we asked our group of volunteers to use the actual products at home and review them first hand. We also looked at sales data and frequency and speed of reviews from actual purchasers. With all this information in hand, we then broke it down into a report, including evaluating the costs and came to our final 5 Best Louisiana Grills of 2018.
Our Top Louisiana Grills Product List:
Introducing the top five Louisiana Grills in our comparison study. Drum roll…but first, let me tell you what we did to come up with this list. We wanted to provide you with a quick and easy explanation of each of the products we compared so that you can make an informed decision. For this reason, the Grills Forever team set out to learn what grills had the best combination of features for you. We chose 27 different qualities among the grills and gathered our information from their manuals, product features reported by buyers, personally tested each grill, and considered the customer reviews. We weighed the value of each product to provide and authentic representation of what we feel is the best return on investment.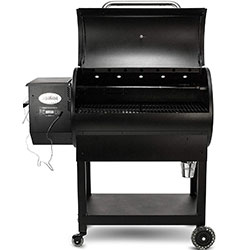 Louisiana Grills 60900-LG900 LG 900
The best of the best
Louisiana Grills 60900-LG900 LG 900
This grill has everything you need for a great grilling experience. It is the best on the market because it is affordable, big enough to cook on, tough, and has some good extra features.
Before I jump into the review, let me tell you why we at Grills Forever have chosen this as our No. 1 pick among Louisiana Grills. We have analyzed 27 features for every product that we have selected and this one topped them all. When it comes to recommending a grill to our Grills Forever audience we want to make sure you are getting a thoroughly researched recommendation. By doing side by side comparisons with the features of the other Louisiana products, this is the one that is going to leave your guests wanting more…and more…and more!
These are the reasons this one tops the list.
So Why Is It Our No 1 Pick?
As you can see in the comparison report, this product has 17 out of the 27 features that we have analyzed, which is the highest number of positive features among the Louisiana Grills category. It comes with features like the easy-to-operate Digital Control Center and its oven control gives you a precise control over its temperature, ranging from 170 Fahrenheit to 600 Fahrenheit along with 900 square inches of cooking space. With such great features, this was destined to be the number one.
The price of the product was around $1000 on the day of research, which falls in the affordable category when compared to the other products on the list.
This product has the highest number of customer feedback – over 70 and with a star review rating of (3.6).
Louisiana Grills 60900-LG900 LG 900 Pellet Grill Review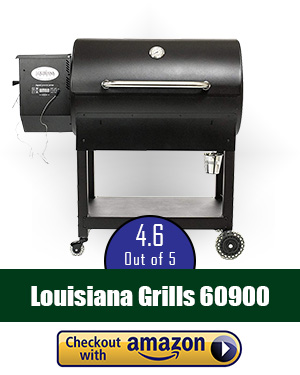 We think this grill really gives you everything you need for amazing cooking. Whether you're the one doing the turkey this year, or grilling up the steaks for the big game, this Louisiana Grill won't disappoint. It's packed with convenient features, it's quality built, and allows for open flame cooking as well as slow smoked cooking. If that isn't enough, it's even portable!
Build:
This top pick is made from heavy-duty 14-gauge steel. The main grids are cast iron with a porcelain coating and provide over 900 square inches of cooking area. To add to your creative options it comes with a removable upper cooking rack. The bottom shelf is solid so you can safely store your tools as you prepare your meal. It comes in three size options with the LG900 being 44 inch H x 39 inch W x 24 inch D.
Features :
Another feature we find exciting about this cooker is that it not only allows you to slow cook your meat, it offers a direct grill open flame option for those times when you want to cook a steak or some burgers. The LG900 hopper holds up to 14 lbs of natural wood pellets to giving the convenience and taste of real wood smoked flavor. While constructed to be strong and long-lasting, it is also designed to be portable. It has in-line skate casters and durable wheels so you can take it almost anywhere. The digital system allows for easy start and automatic cool down at the touch of a button. The unique exhaust system creates a circular airflow and directs grease away. This grill comes in different sizes in the Louisiana Grills LG 700 series.
Temperature and Control:
We know that being able to control the temperature of the cooking is vital in getting exceptional results. This Louisiana Grills pellet grill comes with a built-in digital control center that allows control of the temperature all the way from 170-600 degrees Fahrenheit. There is also a programmable meat thermometer that monitors the internal temperature of meat and then sends that information to the digital system to adjust the temperature in the cooker automatically. To add to the ease of use of this grill it comes with an electric ignition and fan-forced air that allows for an even, convection-style cooking.
Pros
Affordable price range
Enough cooking space to hold large grilling parties
Tough and durable build
PID temp. controller
Computer controlled auger feeder
Allows flame broiling
Cons
Pellet hopper is small in size
Requires three prong electrical outlet
Finally:
This pellet grill really provides the buyer with everything they need. With the amazing amount of features, the quality materials and the digital programming, you can't go wrong with this grill. This is our top pick for the BBQ enthusiast.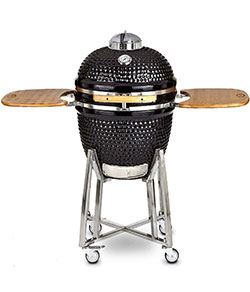 Louisiana Grills 61220 Kamado BBQ
This grill won't disappoint
Louisiana Grills 61220 Kamado BBQ
This Kamado grill is a reliable option for keen grillers. Although it lacks some advanced digital controls, it is a great price, efficient, sturdy and it is really easy to clean away any mess with its great slider feature.
This grill came became the best Kamado grill on our list of the best Louisiana Grills. Out of the 27 features we studied, this Kamado grill has 9 of the desirable traits we'd want in a kamado grill. But don't let the low number fool you because when compared to the other models of Kamado grills available on the market, this one is bigger in size and has more features like ceramic body for efficient burning of charcoal, top tamper made of stainless iron, foldable side shelves, and dual tier grates for cooking. Based on the analysis of everything we've compared in the report, this ceramic style cooker makes the list as the top Kamado type grill.
These are some of the features that made this guy stand out among the other Kamado Grills:
So Why Is It Our Best Kamado Grill?
The price of the grill is around $870 which is the second lowest among other kamado type charcoal grills. That's quite a savings for the budget conscious buyer.
This product has a star rating of (3.7) and the number of reviews is around 10. This is the highest percentage of response for any Louisiana Kamado grill on the market.
It also holds heat like the more expensive ceramic grills – this means that you grill more while using less charcoal for great meals. With all its combined features this product remains the best kamado grill in our list.
Best Kamado Grill: Louisiana Grills 61220 Kamado BBQ Ceramic Grill Cooker, 22" Review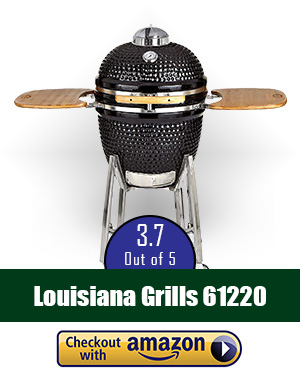 Down in the South we say, "If it ain't broke, don't fix it." That can definitely be said about this Louisiana Grills Kamado cooker. This cooker still uses the same basic design that was used in China thousands of years ago. Some things just stand the test of time. There is nothing that compares to the flavor of slow-cooked, tender and juicy meats, and that is what you get with this Kamado cooker.
Build:
The thick ceramic walls of this cooker literally trap the heat inside the cooker, infusing the food with amazing flavor and the perfect amount of moisture. It has a combined 567 square inches of cooking surface over two tiered high-quality stainless steel grids. It has a substantial wood handle that makes the lid easy to lift. It also has spring supports that allow the lid to be held in place. Additionally, it has a felt edging that helps protect the lid and acts as fireproofing. It is 45.9 x 29.1 x 52 inches and 172 pounds.
Features :
This grill sports two bamboo side shelves that add plenty of room for your food items and utensils. The shelves also fold down when not in use for easy storage. There is ease in removing ashes through the conveniently located bottom sliding door and the included metal tool for removing the ashes. It includes upper removable grids and allows for open flame and smoker cooking.
Temperature and Control:
It has a calibrated damper on the top for controlling the airflow allowing for temperature control. It has an easy-to-read lid mounted thermostat that ranges all the way up to 700 degrees Fahrenheit.
Pros
Lower priced
Sturdy body
Efficient lump charcoal burning
Easy access slider to clean ashes
Cons
Smaller cooking area of 574 square inches for groups of about 4-6 people
No digital features
Finally:
With the long history of great cooking from the Kamado cookers, this one is not going to disappoint. The price and quality really make this a winner in our book.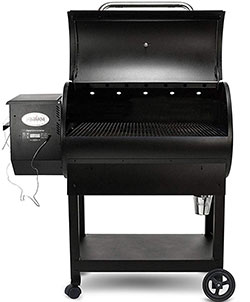 Louisiana Grills LG-001000-1570 Country Smoker
A top traditional model
Louisiana Grills LG-001000-1570 Country Smoker
This grill is everything you imagine from a traditional barbecue. It is a true country smoker with lots of features, great temperature options and even a digital control center. Whats more, it isn't expensive!
This Louisiana Smoker is the epitome of traditional backyard barbecuing. It's typically what we think of when we think of barbecues with a standard flame broiler.
Build:
As we'd expect with Louisiana Grills this smoker is built using Heavy Duty 14 Gauge Steel. There is a large stainless steel handle with cool vents for heat resistance. The whole unit sits on a pair of heavy duty casters at one end and wheels at the other for mobility. It has a solid bottom shelf to store your essential items. It measures 33.5 x 21 x 44 inches and is only 160 lbs.
Features :
When it comes to added features, this Louisiana smoker has quite a few features that make grilling easier. To begin with, it has an automatic start function using a 300 Watt auto igniter and also a cool down function for when the party is over. During the grilling, there is 570 square inches of cooking space and a fan forced convection cooking system with a proprietary exhaust that ensures controlled and even cooking. The hopper holds up to 12 lbs of natural hardwood pellets.
Temperature and Control:
Control of the temperature is done through the digital control center. While the easy-to-read dome thermometer with bezel is mounted on the lid. Creating delicious juicy meats will be a snap with this Louisiana smoker since included in the Louisiana Grill parts is a programmable meat probe for added control and convenience. The unit can range in temperature from 180 to 600 degrees Fahrenheit.
Pros
Affordable pricing
Multiple features
Wide temperature range
Digital control center
Cons
No stationary leveling legs
Finally:
Although the country smoker comes with many features and is in an affordable price range, the consumer ratings were consistent in showing flaws in the build and quick fail of components. When all things are considered this one isn't really one we'd feel comfortable recommending.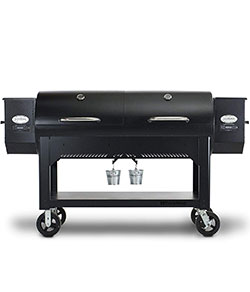 Louisiana Grills LG-001000-1750
Perfect for groups
Louisiana Grills LG-001000-1750
If you regularly need to cook in batches for lots of people then this is a grill for groups. Although it is a tad more expensive compared to others on the market, the heavy duty design and direct flame cooking are great features.
For those times when you need to do some serious cooking and feed a large crowd, this is the one that raises the bar.
Build:
As with the other Louisiana Grills, the Whole Hog is built with a sturdy heavy duty 14 gauge steel. Although this model weighs in at about 400 lbs, it is movable with heavy duty casters and wheels for portability. Each side of the grill has its own stainless steel handle vented for cool touch. There is a solid bottom shelf running the length of the grill allowing for ample room for tools, foods and BBQ accessories. The entire assembled grill measures 46″H x 82″W x 26″D.
Features :
The Louisiana Grills Hog is dual sided so you can do two things at once, or remove the inner divider and use all of the 1700 square inches of cooking surface. That is almost 100 hamburgers at once! While being an excellent option for smoking and grilling there is a direct flame option slide plate for when you need to sear those steaks. The main cooking rack is stainless steel as well as the upper cooking racks. With the fan forced convection cooking, the upper racks can be used to cook additional items while the main rack grills your meats. The proprietary exhaust system used throughout the Louisiana Grills pellets line, creates even heating and cooking. This massive grill has dual hoppers capable of holding 20 lbs of pellets each. The unique exhaust system creates a circular airflow and directs moisture back onto the food and keeps grease away.
Temperature and Control:
For those smooth smoky flavors to come through in each mouthwatering bite, you've got to be in control of the temperature. The Grills Forever team is impressed with the range of control options built into this product. The dual digital controls allow you to control each side separately, so you can create pure gastronomical magic. Each side also comes with a fully programmable meat probe. There is no limit to the imagination when it comes to the variety of options available options right at the push of a button with the auto start up and cool down features. You can go from 180 to 600 degrees Fahrenheit, direct or indirect flame cook or even use the open flame broiler.
Pros
Heavy-duty material construction
Dual digital controls
Convection cooking and direct flame cooking
Large size for big crowds
Cons
Higher price range
Heavy weight at 400lbs
Finally:
The Whole Hog delivers on just about everything the barbecue enthusiast could dream of. With the dual sides, digital controls, programmable thermometers and removable center divide this is definitely the go-to smoker for the large-scale griller.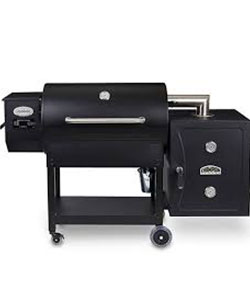 Louisiana Grills Backyard Pro with Smokebox
Lots of options
Louisiana Grills Backyard Pro with Smokebox
This grill not only comes with grilling and smoking, you can also cold smoke too, giving you a great range of versatility. This grill also has a wide temperature range and digital controls, making it a solid pick.
Along with the great features you'd expect with the Louisiana Grill, this product comes with a cold smoke cabinet. Now you can not only grill and smoke your meats, you can also cold smoke additional options like cheese.
Build:
As with all the Louisiana Grills we have reviewed, this too is made from heavy-duty 14-gauge steel. The main grids are porcelain coated cast iron and there is a removable upper cooking rack, providing 914 square inches of grilling space. Along with that, the cold smoker has additional five racks that make up 1558 square inches of cold smoking space. This one also has a solid bottom shelf to store your supplies. For portability, it has heavy-duty wheels and skate casters that lock for stability. The grill and smoke cabinet's combined size is 66.9in x 30.5in x 43.7in and weighs in at about 160 lbs.
Features :
The most exciting feature on this model is the cold smoker. With five trays to cold smoke on, you'll have endless possibilities. The model does have a direct flame option with an easy slide plate for when you want an open flame broiler. The hopper holds 14 lbs of wood pellets to give your food that delicious smoky flavor. Getting things going is easy with the push button start, automatic cool down and the digital control system. The proprietary exhaust system directs grease away while creating a circular convection heating environment.
Temperature and Control:
The digital controls allow for programming and adjusting of the temperature from 180° to 600°F. The programmable meat probe will monitor the interior temperature and adjust the system accordingly. There is also an easy to read dome thermometer with chrome bezel mounted on the main grilling unit. The smoke box has upper and lower thermometers allowing you to monitor the temperature in both areas of the cold smoke box. There is also a damper control that can be opened or closed allowing the smoke flow into the smokebox, or when not using the smoke box.
Pros
Cold smoke box with five grids
Digital controls
Programmable meat probe
Direct flame option
Wide temperature range
Cons
Smaller grilling surface than some larger models
Requires three prong electrical outlet
Finally:
Considering all this unit has to offer with grilling, smoking and cold smoking and still in the affordable price range, we definitely give this one a thumbs up.
A List of Some Other Products We Tested
Care and Maintenance
Now that you've chosen your grill and you've wowed the family with a sumptuous meal, it's time for clean up. To maintain your grill Grills Forever recommend cleaning your grill after each use. Make sure you wipe down any spills or liquids from cooking. Empty out the ash from the receptacle and dispose of any collected grease from the cooking. Your grill is meant to last and bring years of satisfying cooking, so remember to keep it out of inclement weather. Cover it during wet weather or bring it to a suitable storage area until it's grilling weather again. For more detailed information on how to clean your grill refer to your manual and the Grills Forever article on cleaning and maintenance, right here.
Wrapping it Up
We hope that this in-depth review and our data report with more insight into all the nuances of our conclusions have helped you to come to a decision when considering a Louisiana Grills product. The amazing Grills Forever team sifted through all the information we could get our hands on to bring you a short list of what we feel are the best candidates compared to other products out there. We are thrilled to be your go-to grill guys and will continue to bring you the best of the best when it comes to honest and no strings attached reviews. Whether you're a hardcore professional grill master or a new entry into the wonderful world of grilling we will continue to strive to bring you interesting and tasty information. Happy grilling!