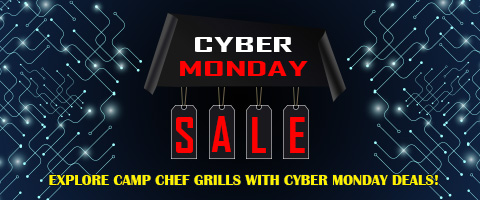 A Short Summary of Our Findings
The great outdoors is always better enjoyed when accompanied with good food. Thanks to outdoor grills and cooking gears, we now get to enjoy a variety of dishes at camp meals. One of the reputable manufacturers of outdoor cooking accessories, Camp Chef has definitely redefined the way we enjoy outdoor food.
Camp Chef is one of those trusted brands that we have personally tried and tested over the past years. We wanted to come up with a list of their best smokers and grills that we can recommend based on their features, performance, and user satisfaction. We had a team of people from all walks of life, both beginners and expert users, who had tested and given feedback on the different types of grilling units from Camp Chef. After rigorous testing and research, Camp Chef's PG24DLX Deluxe Pellet Grill came out on top, giving the best grilling experience among all the rest. This pellet grill is a very versatile cooking machine – letting you grill, bake, roast, braise – you get the picture. It lets you prepare food in more ways than one!
This deluxe pellet grill is the bomb! The body, for one, is built to last. It is made of thick steel that's solid and durable. You can get a lot of cooking done for many years with this sturdy grill. It also boasts of advanced features such as a digital temperature control, electronic ignition, an auto-shutoff mode, a meat probe, and ash cleanout facility. It is designed specifically to let you cook your food efficiently and effortlessly. The temperature ranges from 160 to 500 degrees Fahrenheit, so you can pretty much bake, braise, grill, smoke, sear or roast any dish without breaking a sweat. You can even let your food slowly cook in low temperature to get all the smoky flavor that makes all the difference in taste. You can never go wrong with this awesome pellet grill!
This smoke vault is a unique smoker that lets you enjoy the intense, smoky flavor of your favorite meats "cooked low and slow with your choice of wood chips. The large 15 x 14 inch racks are adjustable, and can be used to smoke your favorite ribs, roast turkey, or bake pies. Temperature ranges from 160 – 400 degrees Fahrenheit, and can be controlled with adjustable dials and damper valves. You can easily monitor the cooking temperature with its door thermometer that gives an accurate reading. This smoker is versatile, easy to move around, and easy to use. It's a great investment, with a price around $200, you'll definitely get your money's worth.
If you're thinking of a grill that can cook all sorts of meals, from pancakes to steaks and hash or stir-fried veggies, this flat top grill can do all that and more! It has the most number of burners in one grill compared to all other models in this list, making it a very versatile cooking station that's perfect for backyard barbecues, outdoor picnics, and camping trips. It comes with a premium grade cast iron griddle, which lets you cook burgers or pancakes by the dozen. It has a large cooking area so cooking in big batches is not a problem. Its price point is higher than most grills on the list, which is understandable considering that it's virtually a multi-purpose cooking station in one model.
If you're looking forward to outdoor cooking but can't afford to splurge on a grill, then this 2 burner modular cooking stove is for you. With an output of 30,000 BTU, cooking on this stove is a breeze. Aluminum burners pack a lot of cooking power, and with the addition of accessories like a griddle, Dutch oven, or a barbecue grill, you can cook up a feast on this stove. It's great for camping trips with large groups, or for backyard cooking at home. It runs on propane or natural gas, is sturdy and well-built, and can be used on its legs or placed on a solid table top. For the price of around $70, this 2 burner stove delivers excellent results at such an affordable price.
This simple 3 burner grill tops all the others in terms or cooking area – it has the largest at 608 square inches. This grill is very similar to the Explorer 2 Burner stove, but has added features like a matchless ignition, 3 aluminum burners, and an output of 30000BTU. It's powerful enough to cook for large groups and is ideal for camping and outdoor cooking sprees. With the addition of some accessories, this grill can cook multiple dishes all at once. It's easy to set up with its detachable legs and windscreen, too. If you're after the bare essentials of grilling, this Tahoe Deluxe 3 Burner grill from Camp Chef is for you.
End of Summary
Top 10 Camp Chef Smokers & Grills (June 2020) – Detailed Buying Guide
Nothing makes cooking more pleasurable than experiencing it in the great outdoors! Cooking outside almost feels like a leap back in time when cavemen of old stood cooking their freshly caught meat over a fire. These days we can enjoy the experience in a much more civilized – and accurate – way. No more guesswork of cooking temperature, or cutting into an undercooked brisket, we have much cleverer ways of enjoying outdoor cooking now. Not only is it easier than it ever has been, you can take pleasure from being in the fresh air without the stress of struggling to get it right.
It's been over five years now that we at Grills Forever have been trying different BBQ and grilling recipes because this is what we love to do. During this long journey, we put a number of grills and smokers to the test in order to identify the best ones. When reviewing different types of grills and smokers, including electric, gas, charcoal and pellets grills, we realized people not only care about the quality, features and durability of the grill they'd like to buy but also about the manufacturer that made it.
Consequently, it is said that a brand is able to become a "brand" only when it adds real value to its products. That's why, as consumers, we don't mind spending a bit more money buying from reliable brands. That extra cost pays for itself in terms of the value you get. When we're talking about top-class grills and smokers, certain names always come to our mind – Camp Chef, Masterbuilt, Traeger, Green Mountain Grills, Pit Boss, Weber, Smoke Hollow, among others. Yes, we laid our hands on products from all these brands during our years of testing and experiments, and that's when an idea came to our mind – what if we listed the top 10 products of each of these brands that you can use for an amazing grilling and smoking experience!
Why Should You Trust Us?
What you're now seeing is the result of that idea – the Top 10 Camp Chef Products you can use to grill in style. Anybody who has been grilling for some time now might be well-familiar with this brand and based on our years of grilling experience, we can say that Camp Chef is a brand you can put your faith in. But before that, you might be wondering why should you trust anything we have to say here at Grills Forever?
Well, we were nothing but novices in BBQing years ago; but through years of use, research and testing, we've become experts. If you take a good look on our site, you'll see our expertise speaks for itself. Just because we're reviewing the best Camp Chef grills and smokers doesn't mean that we're sponsored by this brand or any other manufacturer in the industry. We use this platform only to share our personal experience with you so that you are able to find the right grilling unit, no matter the brand, without going through the long and painstaking testing phase that we have gone through. So, we do what we do independently and we'll keep doing this as long as our audience will find our efforts beneficial to them.
Why Choose Camp Chef Smokers?
As any grill enthusiast would know, Camp Chef has been a proud manufacturer of grills and outdoor cooking accessories since the 1990s. Based in Utah, Camp Chef initially started with stove designs suitable for amazing outdoor cooking experiences. Over the past 20 years or more, Camp Chef has grown extensively. Now they are offering a wide range of products that can cater to all kinds of social gatherings, such as camping or cooking outdoors or even cooking in the backyard.
They have a wide variety of the latest grilling accessories and technologies, coolers and also seasonings, which have become fan favorites! Camp Chef has shown remarkable development in terms of cooking technologies, such as convertible stoves and multipurpose grills. Although the prices of their products could be a bit on the higher side, we all know good things usually come at a price.
Camp Chef generally offers a 'No Hassle Warranty' on all their products. This warranty guarantees Camp Chef products to be of top-notch quality, workmanship and void of any defects. If there is any indication of defects, the defective parts can easily be replaced by their dedicated customer service. Most Camp Chef pellet grills have a 3-year warranty period from the purchase date, higher than what most other grill manufacturers usually offer.
Also, Camp Chef grills have been known to reach a grilling temperature of more than 500 degrees F, which is quite higher compared to other grills out there. Many of their products now have the ability to run on more than one fuel source. For example, if you buy Camp Chef's pellet grills you will be able to run them on both wood pellets and propane gas, which makes them suitable for both outdoor camping and backyard cooking. Camp Chef grills are also known to be compact and portable, making them easier to store, clean and maintain.
Types of Camp Chef Smokers
Camp Chef offers several different types of smokers and grills so it really depends on your needs as to what you choose. If you're planning on cooking for large numbers of people then make sure you choose something appropriate. Likewise, there are smokers and grills more suited to slow cooking or fast cooking, for using wood pellets or chips, etc.
Types:
Pellet Smokers – Pellet smokers, as the name suggests, use wood pellets as their fuel. The pellets are essentially hardwood sawdust that has been packed down into pellets. They can maintain consistent temperatures and can be used for smoking, baking and grilling. The smokers plug into a standard outlet and often have a digital controller which keeps the temperature constant to your requirements. Many models also automatically feed pellets to the smoker to keep to your desired temperature.
Some examples of pellet smokers include the Woodwind Series, DLX (Propane + Pellet Smoker, High-end series), LUX series, SE and STX.
Flat-Top Grills – Flat-top grills are actually stoves with a griddle on top for stir-frying, burger patty grilling and all different kinds of searing and cooking. You can even make pancakes! The surface can get to extremely hot temperatures and the heat is even across the whole grill so there are no hot and cool spots. They have a non-stick surface and come in different sizes depending on your requirements.
Stoves – These are a popular choice as they are all-purpose gas stoves that can help you with a variety of cooking tasks.
Smoke Vaults – These are large closed containers for smoking your meat and prepare foods like smokers briskets. They are more specialized than your average stove and are great for locking in the flavor of your meats. Typically, they use gas to heat up the wood pellets and charcoal to provide a great smoking experience. They can also be used just like a kitchen oven, without the smoky flavor. You can bake, brown and crisp foods in it too so despite being sold as a smoker, it is actually extremely versatile.
How We Picked and Tested
Over the last five years, here at Grills Forever our team has personally tested a large number of grills and smokers of all types. We also engaged a team of volunteers, which consisted of people from all walks of life, from pros to experts. Given that we were unable to buy and test all of the grilling units on the market ourselves, this team was essential. Also, the feedback from these everyday people allowed us to evaluate the reliability of our findings.
Initially, we tested 15 Camp Chef grilling and smoking units before reducing them to become a Top 10 based on their features, durability and usability. There were basically three types of grilling units from Camp Chef that have the purpose of grilling and smoking. These are:
Pellet Grills
Gas Grills
Stoves with BBQ Accessories
Thus, we made sure to include all three of these types in our list of the best Camp Chef grills and smokers. We didn't want to limit our findings to our personal testing only, however. Once our Top Ten list was compiled we went online to look into the reviews and feedback of other real-life users in order to check the relevancy of our findings.
When testing Camp Chef smokers, we identified 50 useful features that give the best user experience. We checked the smokers against this list and prepared a research report that you can see below. It is worth mentioning that every one of those 50 features can make a difference to the overall performance of the grilling and smoking unit. You should also note that these features were chosen irrespective of the type of smoker tested i.e. pellet, grill or stove. We considered primarily which features could help you have a rich grilling experience every time you use that Camp Chef product. Through our rigorous testing process, we came up with a list of the Top 10 best Camp Chef smokers, which you can read below.
Our Top Ten Product List:
If you would like to know more about the 50 features of Camp Chef grills that we identified as the most useful and are interested in looking into the reliability of our reviewing process, please see our research report added below.
Before I jump into the review of the product, let me lay out for you why this product is our Top Pick:
Why is This Product The Best for Grilling Experience?
Camp Chef  PG24DLX, which belongs to the Deluxe series, comes with super convenient fully automated systems, requiring the user just to set the grill and let it do the rest all by itself.
Not only does it have the highest number of positive features that are found in Camp Chef grills and smokers, such as digital temp. control, grease management system, ash cleanout system, auto auger dispenser, meat probe, pellet hopper drain, etc.,  it also has a great review frequency – an indication that it's getting sold at a fast pace.
Its build quality is simply extraordinary because it has thicker steel than the STX series. We've been using this for 3 and a half years now without any issues. We faced some problems with other Camp Chef grills and smokers e.g. paint chipping away or other maintenance issues during a similar time period.
This grill can be used for smoking, grilling, roasting, braising, baking, and barbecuing – offering versatility at a reasonable price.
Only the DLX series comes with the auto shut-off mode, so the user never needs to waste their time waiting for the grilling session to end.
Detailed Review
Build:
Like many people who enjoy an outdoor cooking experience, I look for products that are going to last. You won't be disappointed in the build quality of our Top Pick; it is simply excellent. The parts are made from quality heavy metal and the whole unit feels really solid and sturdy, weighing a decent 127lbs.
Camp Chef has really invested in this product to make it durable and you can even replace some parts, such as the hinges and the burn cup to make it even longer lasting. The heat diffuser on this model is made from stainless steel, which makes it really tolerant to coping with the thermal stresses a heat diffuser endures.
This grill has some really nice features that many of the other grills in our research were lacking. One of the really nice features is its pellet hopper drain chute. Having this feature means you can easily change the flavor of the pellets you use, thus giving you a more versatile cooking experience.
With grill areas of 429 square inches and rack dimensions of 6 x 24 inches, you certainly have enough cooking space to meet all of your needs. This grill also comes with some handy side shelves, a utility rack and a sear box as well as some cooking ideas and recipes so that you can get the most out of your grill straight away.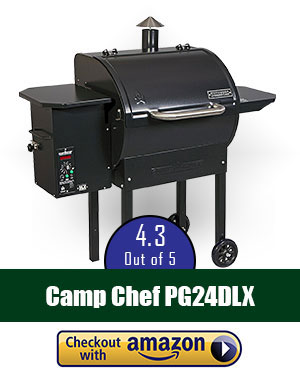 Temperature and Control:
A real selling point of this pellet grill is its flawless temperature control. The automatic auger feeds pellets into the grill to maintain your desired temperature. You can literally set it going and not interfere with it until your food is cooked. The temperature probe means you can check the temperature inside your meat and can toggle the temperature of the grill accordingly just by pushing a button. The convection fan helps this stove maintain its consistent and even temperature meaning that there are no hot or cool areas.
Additional features include an advanced digital control that has a built-in cooldown, high and low smoke settings as well as a shutdown mode. The output of this grill is 25,000 BTUs making it the 2nd highest in our Top Ten. The temperature ranges from 160°F to 500°F and during our temperature gauge accuracy tests, we were able to confirm its accuracy. This is a product that is designed to cook food slowly so it will have an excellent smoky flavor.
Ease of use:
You can get cooking almost right away with this grill. The assembly instructions are really easy to understand and have both pictures and words. As well as being easy to assemble, it is also easy to get going as it has electronic auto start ignition – no more hunting for matches and burning fingers!
This stove uses Camp Chef's patented ash cleanout system, which is the easiest way of cleaning a grill. It also has a grease management system and a catch bucket to ensure you can maintain it in tip-top condition with ease. Finally, you will also be able to move this grill around with ease thanks to its 2 wheels.
Other features:
You can bet you'll be satisfied with this product! It is reviewed both frequently and positively and its one year warranty will give you added peace of mind should anything go wrong.
Price factor:
In terms of price, this grill comes in at the $500 price range, which, whilst not the most expensive product in our Top 10 Camp Chef Smokers Reviews, it is certainly at the more expensive end of the pricing scale from all of the products. Don't let that put you off, however, you really do get a lot for your money given that it has 31 positive features – 5 more than the 2nd product in our list!
Finally
If it's diversity and value for money you're after then look no further! This grill will last through all weathers and is so diverse you'll be wanting to use it for all of your meals!
Why is This Product The Best for Smoking Experience?
There really was no way to compare this Camp Chef smoker vault to other types of grills in the list, since it isn't like a regular barbecue grill or a pellet smoker. This somewhat different product is a smoke vault, geared towards giving you the finest smoking experience using a gas power source. So, this product is a category in itself and as such, is the best smoke vault by default.
Considering that this product's unique nature meant that it appealed to only a specific target group, it's review frequency is very good, even though it might not seem so when compared to regular grills and pellet smokers. Apart from that, with a decent price tag around $180 and a high average rating, this product easily secures our number 2 spot.
Detailed Review
Build:
Despite the cooking area in this smoke vault being the smallest of our Top 10 Camp Chef Smokers Reviews at 320 square inches, its rack dimensions (15 x 14 inches) are one of the biggest. There is a second cooking rack, giving you more options with your smoking experience, as well as a utility rack. It has a fantastic heavy gauge woodchip tray and weighs in at a good 65lbs. This is described as a large smoke vault and measures 18 x 16 x 30 inches. You will be able to get a lot of cooking done with this unit!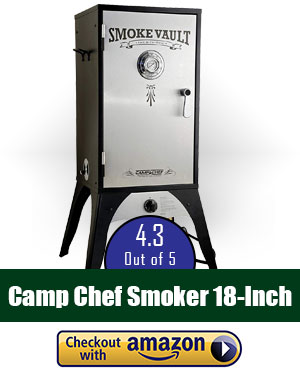 Temperature and Control:
The smoker has heat diffuser plates to ensure there is even cooking throughout the vault – no more hot and cool areas with this. It has a maximum temperature of 350˚ and an output of 18000 BTUs, which is actually one of the lowest in our Top Ten. There is a door thermometer so you can keep an eye on the temperature as well as 3 adjustable damper valves. It is also possible to use this smoker with natural gas with the purchase of an adapter.
Ease of use:
The easy assembly of this product means you can get started with your smoker straight away, even more so with its matchless ignition. Although there are no wheels, it is fairly lightweight and can be moved easily. It has a large water pan, which means longer cooking times without having to stop refill – a great convenience for busy chefs!
Other features:
You will really appreciate the adjustable smoking racks as this gives you more versatility in the items you're cooking. As with our Top Pick, this Smoke Vault also comes with a 1-year warranty as well as some recipes to get you started.
Price factor:
This Camp Chef smoker is one of the cheaper items in our Top 10 Camp Chef Smokers Reviews and is priced at around $200. The average rating of this smoker is 4.3 out of 5 which, is the same as our Top Pick. This product is one of the most frequently reviewed stoves in our list too, which gives you the added security that people are purchasing this product and are happy with it.
Finally
Overall, this smoke vault is sturdy, well made and big enough for your needs. It is worth the investment for the quality of smoking this product provides.
Why is This Product Best for a Versatile Cooking Experience?
If you're looking for a grill that can give you many different sorts of cooking experience, this would be the grill for you. If you know how to use a flat-top grill, you can do Chinese-style stir-frying, cook burger patties and even make pancakes alongside your regular grilling features.
Due to its all-in-one kind of nature, it comes with a higher price tag of around $360. When compared to other products on the list, this is actually on the more affordable side even if it is not the cheapest. Although it has a lower number of reviews when compared to the other products, this grill has still managed to get a great average rating due to its versatility and quality.
Detailed Review
Build:
This grill has excellent size cooking areas with 604 square inches for the griddle and 501 square inches for grilling. Altogether it measures 62.5 x 37 x 22 inches and weighs a sturdy 139.6lbs. It also incorporates two removable size shelves and a propane tank holder, although you have to buy the tank separately.
The Camp Chef griddle is high quality and is made of cast iron. There are also micro adjustable griddle levelers to ensure your surface is as flat as possible no matter what surface you place your grill on because, let's face it, oil pooling on an uneven griddle is somewhat frustrating!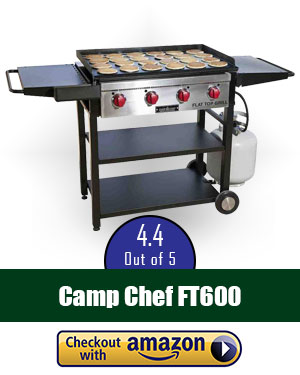 Temperature and Control:
The Camp Chef Flat Top Grill has the highest number of burners of all of the grills in our top 10 and the temperature of all 4 stainless steel burners was deemed to be accurate in our testing. This product does have the lowest output of all of our Top Ten Camp Chef Smokers Review with 12000 BTUs but this doesn't take away from its efficacy as a grill. Furthermore, it is possible to use natural gas with this grill if you have an adapter.
Ease of use:
This flat top grill is easy to assemble and you can get started right away thanks to the matchless ignition. There is also a grease management system for easy cleanup incorporating a grease tray and catch bucket. If you intend to move this grill, it is easy to do so as it has 2 wheels.
Other features:
With a 1 year warranty as standard, you can rest assured that Camp Chef are confident in their product and its durability.
Price factor:
Although this grill is more expensive than some others on our list at a little over $350, it is perfect for a versatile cooking experience with many different cooking options and the capacity to cook for a huge amount of people at once.
Finally
Love cooking for large groups of people? This is definitely the best option for you! You can keep your guests happy with the Camp Chef Flat Top grill. No-one will be left hungry or queuing up waiting for burgers with this grill!
Why is This Product Our Budget Pick for Summer BBQ?
When you're looking to save some money this summer without compromising a great grilling experience, this product is the one to go to. It does a great job bringing in all of the basic features at a price of around $70. It's also highly configurable in that you can add different features. Not only that, but it is lightweight, compact and is the only one in our Top 10 to come pre-assembled and ready to go.
With its lower price and great features, this has easily become the crowd's favorite with over 990 reviews and a great review frequency. With a rating of 4.6 (on the date of research), this has one of the highest ratings on the list. However, due to it lacking some of the more advanced features like digital control, internal temp. sensor, ash cleanout or grease management system, pellet hopper drain, auto shutdown, etc., this product just had to come down to our number 4 in the Top Ten. If you're looking to do more serious grilling, you're better off sticking to the products higher on this list.
Detailed Review
Build:
Despite its lower cost, this stove has one of the largest grilling areas at 448 square inches and a large rack measuring 14 x 32 inches. It is also the lightest product of our picks, weighing just 30lbs.
Temperature and Control:
If we are to compare the output to price, this stove wins hands down as it has the joint highest output of 30000 BTUs. To compare, it is over $130 cheaper than the other stove with this same output. This modular cooking stove has 2 patented aluminum burners which can even be used for pressure canning. It is great for a family camping experience when you need a lot of cooking power but is also suitable and rugged enough to cope with everyday cooking at home. It has fully adjustable heat-control dials too meaning you are in control of the cooking at all times.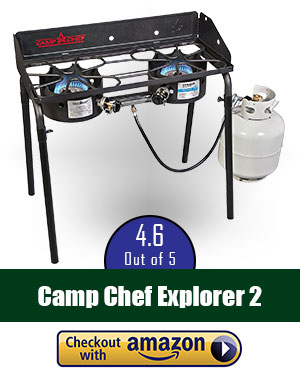 Ease of use:
This stove is the only one in our Top Ten that requires no assembly at all. It is really simple to get going, all you need to do is attach the removable legs. This is a great feature for arriving at your camping location and wanting a cup of coffee on arrival! As this grill is designed to be a more portable one than some of the others in our list it lacks some of the features we see with the others. For example, there are no wheels or ignition as it is much more like a traditional, portable camping stove.
Other features:
With the purchase of this stove, you will be the proud owner of an award-winning stove! The Camp Chef EX60LW has won a Fish Alaska Award for its design. It also comes with a one year warranty and a 3 ft. hose.
Price factor:
This is the cheapest of all of the products in our Top 10 Camp Chef Smokers Reviews, which is priced at around $70 and it is the most frequently reviewed product with 990 reviews. The average score over the reviews is 4.6 out of 5, which means that not only is it a popular product, but people are satisfied with their purchase too!
Finally
For excellent output at a basic price, you can't go wrong here. Perfect for family camping trips and everyday cooking alike, you won't be let down by the power of this product. If you are wanting more accessories, you can purchase them thanks to the modular design of this grill.
Why is This Product The Best for Simple Grilling Experience?
If you aren't looking for something expensive nor too cheap and something that's not too fancy, this product is for you. This is a top-class gas grill with a balance between its features: It doesn't have anything too advanced, nor is it too simple. With a median price of around $200, it's neither too expensive nor at the lower end of the price range.
This product hasn't been in the limelight for its simplicity but still managed to snag an average rating of 4.6 from among its 90 reviews at the time of research. If you're looking for something so simple to do the job in hand, this product would definitely be the go-to grill.
Detailed Review
Build:
This grill has the largest cooking area of all of our reviewed products with 608 square inches. This makes it a great option if you want to cook for large numbers of people or to cook lots of different items at once. The body itself measures16 x 38 inches.
Temperature and Control:
This shares the joint highest output of 30000 BTUs with our number 4 Top Pick but has larger cooking space and 3 cast aluminum burners that can be used for pressure canning. It is worth noting however that this product can only run on propane and not natural gas. There are fully adjustable heat controls too so you can be in total control over your cooking session.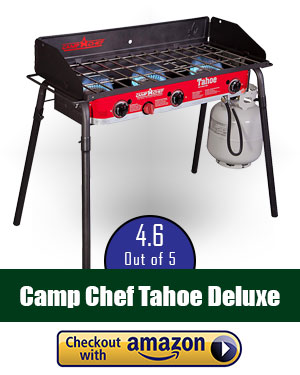 Ease of use:
You get slightly more for your money with this stove than our number 4 product as you get the advantage of matchless ignition. Although there are no wheels you can remove the legs for portability.
Other features:
As with our number 4 pick, this pick comes with a 1-year warranty and 3 ft. hose included.
Price factor:
Although similar in style to our number 4 product but with a larger cooking space and the ease of matchless ignition, this grill is more expensive. But it is still at the lower end of the price range of our Top Ten products. Since you can enjoy healthy grilling with this product, what else could you ask for?
Finally
Do you want power and a large cooking area? Look no further! You can also purchase accessories if you would like more features. What's not to love?!
5 Other Electric Smokers We Found Really Good
Build Quality:
The build quality of this smoker is what you would expect for the money; it is high quality and sturdy. The body is made from sheet metal but the inner accessories like the rack, water pan and pellet holder are made from higher quality materials such as heavy gauge steel. The unit measures in at 24 x 16 x 30 inches and weighs 75lbs. Inside, the rack measures 21.5 x 14 inches. There is also a second cooking rack as well as a utility rack adding great adaptability for diverse cooking needs.
Temperature and Control:
You can get going with this smoker right away! The unit heats up really quickly and maintains its temperature really well. It can go up to 350˚ and has an output of 18000 BTUs. The heat diffuser plates ensure that there are no hot and cold spots in the smoker and the convection fan and 3 adjustable damper valves ensure the temperature is maintained. Although there is no internal thermometer, it does have a door thermometer but it might be worth purchasing an additional thermometer as this can be inaccurate. This Camp Chef smoke vault has the added bonus of being able to be used with natural gas if you have an adapter.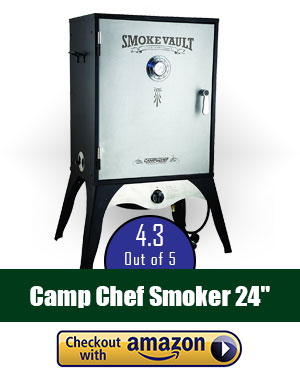 Ease of use:
This 24-inch smoke vault is really easy to assemble and, despite not having wheels, can be moved really easily. It incorporates matchless ignition, making it much simpler to get going with your cooking. It comes with everything you need to get started i.e. a water ban and base tray so you can get going straight away.
Other Features:
There are 2 adjustable smoke racks with this product and it also comes with a 1-year warranty for peace of mind.
Price Factor:
This smoker is a great bargain for the price of about $250 as it is really well built, large and will last a long time. It has a large number of positive reviews and an average rating of 4.3, which is the same as our Top Pick.
Finally
Overall, this is a great first smoker for an enthusiast! It is easy to assemble and start using and keeping the temperature stable is a breeze.
Build Quality:
With the largest grill area of all our reviewed products at 891 square inches, you will be able to cook and entertain to your heart's delight with the Camp Chef Smokepro. The rack measures 19.5 x 22 and has a total surface area of 429 square inches. This pellet grill weighs a sturdy 113lbs, is durable and designed to last.
Temperature and Control:
This is a great pellet grill in terms of temperature and control and is worth paying the extra for these features. It has a high output of 25000 BTUs and can go up to 500˚. There is an internal temperature sensor, convection fan as well as digital control. You also get the added security of a meat probe and can control the smoke to be a high or low level.
Ease of use:
There are many features of this grill that make it easy to use once it is assembled. Assembly itself, however, is not one of the easiest. What does ease its use is its ash cleanout and grease management systems. It also has a convenient catch bucket and wheels for easy maneuverability.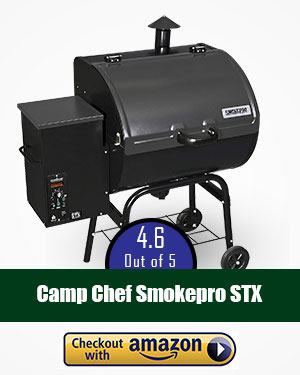 Other Features:
Camp Chef is so confident you will be pleased with this purchase that they offer 3 years warranty, which is the highest of all our Top Picks. It is also a full-size smoker with Smart Smoke Technology meaning you have a lot of space and can really control and experiment with smoking your food.
Price Factor:
At close to $400, this grill is one of the more expensive in our Top Ten yet you can be reassured by its 3-year guarantee that you will be totally satisfied with your purchase. Although it has a smaller number of reviews they are overwhelmingly positive and come out at an average of 4.6 out of 5.
Finally
You won't complain about the size of this grill nor its accuracy in terms of temperature and control. Once you've got over the small hurdle of assembly, you'll be good to go for many years to come.
Build Quality:
This pellet grill has a huge number of features to meet all of your cooking needs. It has an enormous rack space that measures 570 square inches, which is enough to be able to feed your family, friends and neighbors! It also has a second cooking rack as well as a sear box, meaning your cooking options are numerous.
To make it even more convenient, this pellet grill has a pellet hopper drain, auto auger as well as a convenient side shelf and a bottom shelf, meaning you have both convenience while cooking and you have loads of space. The grill also has a propane tank holder, although you do need to buy the tank separately.
Temperature and Control:
The single burner on this grill has a great temperature range and can be set to 160˚ to 500˚. The sear box can go up to 900 ˚. Overall, the output is 16000 BTUs. Once at temperature, the grill can be easily maintained with the internal thermometer and dual LED temperature readout. There is also a convenient convection fan and heat diffuser plates to maintain a constant temperature throughout the grill. Like many of our stoves, you can convert this to use natural gas with an adapter. You can control the smoke with Camp Chef's Smart Smoke technology too.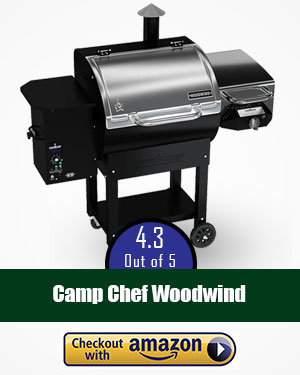 Ease of use:
Convenient ash cleanout and grease management systems with a drip tray help you out to keep this product in tip-top condition. It is easy to set up and get going with its matchless ignition.
The Camp Chef Woodwind Pellet Grill is the heaviest item in our reviewed products list however it does come with 4 wheels to make it easy to maneuver.
Other Features:
As with our No. 7 grill, this product also comes with the peace of mind of having 3 years warranty. It also comes with some handy cooking recipes to get you started and give you some grilling ideas.
Price Factor:
You get a lot of features for the money you spend on it, a bit over $100, it really is good value for money!
Finally
Our number 8 pick has 21 great features which prove that it is good value for money. The 3-year warranty also means you can be confident that Camp Chef rate this product as sturdy and built to last a long time.
Build Quality:
This grill and smoker is heavy duty in every way. It is one of the heaviest in our Top 10 list but is certainly made to withstand heavy use. It has a high total rack space of 570 square inches and there is more than one cooking rack as well as a utility rack, side shelf and bottom shelf for your convenience.
To make your cooking experience even more pleasant it has a large capacity pellet hopper drain, auto auger and a sear box. You can also attach a propane tank. The material of the grate is black porcelain, which makes it unique when compared to the other products we've looked at. Although porcelain coating cannot keep your grill safe from rusting, it gets much easier for you to remove the rust if it occurs.
Temperature and Control:
You can say goodbye to babysitting your grill with the technology that this grill offers! It has advanced digital temperature control and an internal thermometer with dual LED temperature readout. There is the convenience of a convection fan to help maintain the temperature as well as a meat probe to check the inside temperature of your meat. In our testing, the temperature was deemed to be satisfactorily accurate too so you can be really reassured and leave the grill to do its thing.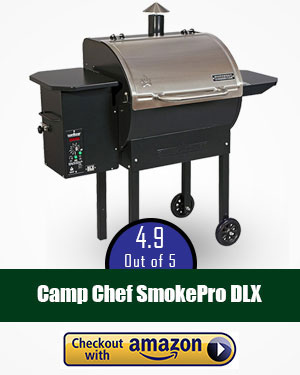 Ease of use:
This grill is easy to assemble and maintain. It incorporates an ash cleanout and grease management system as well as a catch bucket. You can start it up really easily with its electronic auto-start ignition and it also has a shutdown mode. For maneuverability, it has 2 wheels.
Other Features:
You have the added peace of mind with the 3 years warranty that comes with this product. There is also the added bonus of recipes that come with this grill.
Price Factor:
This BBQ grill and smoker is a bit costly at around $550. However, it has the highest average rating of all of the products in our Top Ten picks. The average rating of 4.9 means that customers are happy that it is worth the money spent.
Finally
This is a good quality product with lots of features and the best average rating – what more could you want?
Build Quality:
This is the lightest grill in our Top Ten and weighs just 49lbs, making it really portable for a camping trip. The cooking area is 384 square inches and the body measures 16 x 38 inches. It is the only stove of our reviewed items that comes with a BBQ box as standard. The grate material is cast iron and there is also a convenient side shelf.
Temperature and Control:
The name of this grill gives it away – it has 3 burners that have an output of 30000 BTUs, which gives it the joint highest output in our Top Ten Camp Chef Smokers Reviews. It has the added feature of the burner housing to limit hot and cold spots and also gives extra wind protection.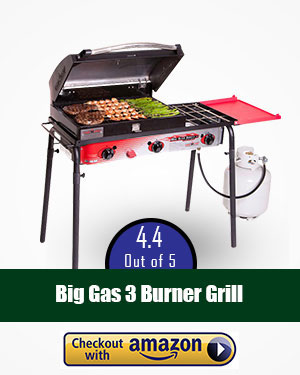 Ease of use:
With its easy assembly and removable legs for portability, you can easily take this product away with you on your next camping trip. You also won't need to worry about damp matches (or running out of matches!) with its matchless ignition.
Other Features:
If you are interested in purchasing this grill, it's worth shopping around as the warranty varies between sellers.
Price Factor:
This is the most expensive product in our Top Ten Camp Chef Smokers Reviews with a hefty price tag of a bit over $1100. It has an average rating of 4.4 out of 5 however, meaning that customers are happy with the value for money that this stove offers.
Finally
The Big Gas 3 burner is powerful and portable in equal measure but due to its higher pricing, it has worked its way to our number 10 spot.
A List of Some Other Products Grills Forever Tested While Preparing Camp Chef Smokers Reviews
Additional Information:
If you're reading this review because you've never used or purchased a Camp Chef stove before, or even if you have but want to know more, let me give you some more facts about who they are:
Camp Chef has been one of the leading manufacturers for stoves over 20 years, so they really know their stuff and know what their customers want. Originally they decided to invest in developing camping stoves that give you more than what was available for outdoor cooking.
Their first simple stove design has evolved into becoming one of the most versatile outdoor cooking experiences you can get.
After 10 years of focusing on portable camping stoves, Camp Chef expanded their selection to develop a range of stoves designed for outdoor cooking at home.
They now have an excellent range of products to suit all of your outdoor cooking needs both at home and away from home.
Wrapping it Up:
Before you head out to buy a grill, it's best you do some research and decide what features are necessary for your needs and what might be a nice added extra. Do you want a standard grill or something designed more for smoking? This complete guide provided by Grills Forever has a wealth of information about Camp Chef stoves and is based on a lot of research. Without a doubt, it can be informative to read online reviews on each stove too but it is worth bearing in mind there may be some bias. If you're still undecided and need to look at things in more depth, take a look at the research report we have created. Alternatively, our Top Pick is a great choice you can trust and we can guarantee you would be happy with this product; it has so many excellent features that give it real value for money.