For the grilling enthusiast, having the best vertical smoker is the most important thing. Vertical smokers not only offer a large cooking area, but they are also what you need to grill competition-winning meat. With so many vertical smokers to choose from, finding one out of the lot can get tough. To help you with that, we have shortlisted the 10 best smokers in the market that you can use anywhere- be it while on a camp amidst nature or in your backyard. Let us see what they have to offer. You can easily get most of these from Amazon with free shipping.
Comparison Table
Depending on your needs and preferences, consider checking the following reviews as well:
Best Vertical Charcoal Smoker: Dyna-Glo DGO1176BDC-D Charcoal Offset Smoker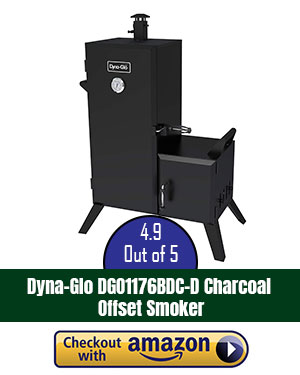 With a heavy-duty steel bod and powder coat finish for long life, the Dyna-Glo charcoal offset smoker is one of the best vertical smokers for beginners. It cooks the meat in a low and slow setting, thus ensuring that you get the perfect result each time. The offset design allows for uniform heat flow. It has got a cooking area of 1,176 square inches. This is spread across 6 different height-adjustable grates to accommodate any type of food.
This vertical offset smoker also has a removable ashtray and grease cup, which greatly decreases the cleaning effort and time. Its charcoal chamber stacks the briquettes to increase burning efficiency. The shipping weight of this smoker is just 57 lbs.
Pros
Large, height-adjustable cooking area
Easy to clean and maintain
Charcoal chamber ensures efficient burning
Electronic pulse ignition for quickly igniting the burner
Cons
Temperature control could be more precise
Best Vertical Pellet Smoker: Pit Boss Grills 77550 5.5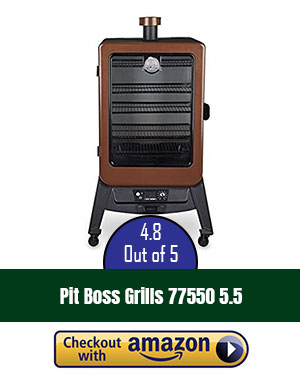 Pit Boss's best vertical smoker for beginners it the Grills 77550 pellet smoker. It comes with 5 cooking grids with a porcelain coating. These combine to give you a total cooking area of 1830 sq inches. The pellet hopper has a capacity of 40 lbs, enough for over 24 hours of continuous use. It has a 300pwatt auto-start igniter and automatic shut-off as well, which are one of these grills' best features.
This wood pellet smoker can read temperatures as high as 450 degrees Fahrenheit. It has digital temperature control and a double-walled construction with insulation that ensure the internal temperature is maintained while cooking. It is also one of the best selling grills from Pit Boss since 2018.
Pros
Large hopper capacity
Auto start and shut-off igniter
Insulated walls that maintain the temperature
Digital temperature control
Cons
No direct flame cooking/grilling possible
Best Vertical Electric Smoker: Cookshack Amerique SM066 Electric Smoker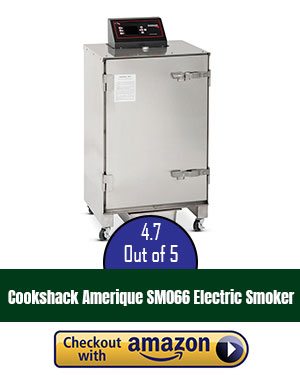 The SM066 electric smoker from Cookshack gives you 1,008 square inches of cooking area. You can use this electric smoker to cook over 50 lbs of food at a time. You can use this between a temperature range of 140 to 300-degree Fahrenheit. It has an electronic controller along with an LED panel. This keeps you informed of the cooking temperature, internal meat temperature, and the time left.
To bbq your food in this, you need a 120V/7AMP/1000W power input. Every cooking grate in it provides you a 5.5-inch vertical space to cook. This model is ideal for cooking fish, meat as well as vegetables for a variety of dishes. The included meat probe gives you the capability to set the internal meat temperature.
Pros
Digital temperature control for precise cooking
The outside surface does not get hot
Internal meat probe
LED panel displaying inside temperature and time
Cons
The maximum temperature is only 300 degrees Fahrenheit
Best Vertical Cabinet Smoker: Dyna Glo Wide Body Offset Smoker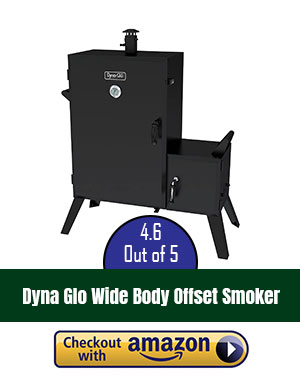 Dyna-Glo vertical cabinet smoker provides you 1,890 sq. in. of the cooking area across its 6 cooking crates. This xxl vertical offset pellet smoker provides an indirect heat flow to slow-cook the meat and infuse that smoky flavor. It has a charcoal chamber that ensures briquettes are stacked together for more burning efficiency.
The ash pan on this dyna glo vertical offset smoker is removable. It can store large amounts allowing you to cook for hours without any break. The rib rack and sausage hooks are chrome plated. The temperature gauge has a smoke zone that lets you know of the perfect temperature to infuse a smokey flavor in your dish.
Pros
Easy to clean and maintain
Temperature indicator helps in cooking
Grates can individually hold over 25 lbs. food each
The charcoal chamber provides efficient burning
Cons
Cannot be used for grilling
Best Vertical Drum Style Smoker: Weber Smokey Mountain Cooker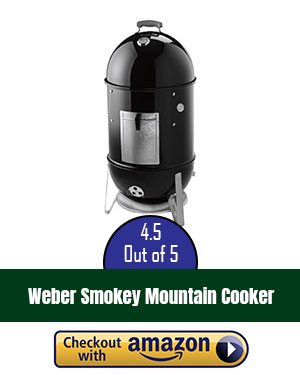 The best vertical smoker in a drum-style is the Weber Smokey Mountain Cooker. This charcoal offset smoker provides you a cooking capacity of 726 square inches. The lid, bowl as well as its center are porcelain-enameled. This makes them retain heat as well as resistance to rusting and peeling. There are 2 cooking grates that you can use to smoke 2 large items simultaneously.
It has a built-in thermometer on the lid. Temperature control is done by adjustment of the dampers. The fuel door on this smoker comes off to allow you to easily fill the wood/charcoal. You also have two other size options in this cooker- 14 and 18 inches.
Pros
Easy to use
Custom-fit cover included
Grates and surface are durable
Refilling charcoal and water pan is easy
Portable and lightweight
Cons
Does not have an ash cleanout mechanism
Best Vertical Gas Smoker: Pit Boss 77435 LP Gas Vertical Smoker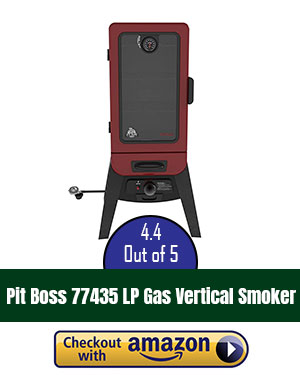 The Pit Boss 77435 is easily the best vertical gas smoker in the market. It is equipped with stainless steel burners with a total heat capacity of 12,500 BTU. You get over 800 square inches of cooking area spread across its 3 cooking grids that have porcelain coating. The dual-burner/valve mechanism gives you a 100-350-degree Fahrenheit temperature range.
For ease of access, it provides external access to the grease tray and the wood chip drawer. There is a large viewing window as well, with a high-temperature seal on the door. The handle and rear wheels increase its mobility and allow you to move it around as required.
Pros
Dual burner mechanism for more heat and control
Wood chip drawer and grease trays accessible from outside
Easy to move
Glass viewing window to check the progress of food being cooked
Cons
Low-temperature range only up to 350-degree Fahrenheit
Best Value for Money: Cuisinart COS-118 Vertical 18″ Charcoal Smoker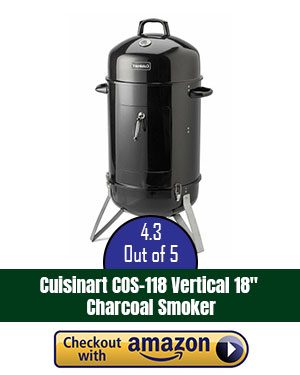 What makes Cuisinart COS-118 the best vertical smoker is not just its affordable price tag- but also the number of features that it offers in this range. You get 510 square inches of cooking space across its 2 racks. There are vents at the top as well as the bottom that create a dual ventilation system to allow for precise temperature control. The water bowl is porcelain-enameled and easily accessible.
There are vertically hinged doors for access and temperature adjustment.
This vertical smoker has a 2 lbs. hopper capacity. You can use wood chips instead of charcoal with it. The body overall is made of steel that adds to its durability and makes it easy to maintain and clean. It is among the best-reported grills from Cuisinart for 2019.
Pros
Affordable
Dual ventilation system to maintain a temperature
Easy access to the water bowl
Can be used with wood chips or coal
Cons
Low hopper capacity (only 2 lbs.)
Best Vertical Kettle Grill: Weber Kettle Premium Charcoal Grill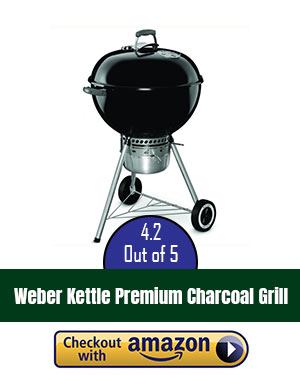 The Weber Original Kettle Charcoal grill comes with a capacity to hold 13 burgers at once. Its lid has a thermometer built into it to give you optimum cooking results. The bowl, as well as lid, are porcelain-enameled, thus retaining heat and avoiding rusting. It has a total cooking area of 363 square inches and a 7.5-inch height on the lid.
It has a 1-touch cleaning mechanism. The ash catcher is removable. The handle on this charcoal offset smoker is smoke resistant letting you barbecue without any hassles.
Pros
Easy cleanup
Heat resistant handle
Can refill charcoal while running
Durable construction
Internal temperature monitored with a thermometer.
Cons
Paint on the outside surface can get chipped easily
Best for Beginners: Masterbuilt 20071117 Electric Smoker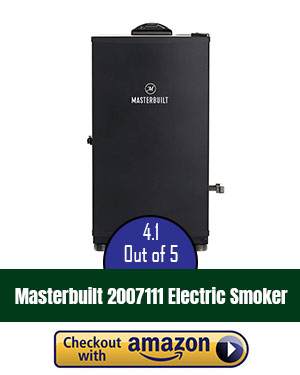 With 4 smoking racks and digital temperature controls, the Masterbuilt 207111 is an electric smoker that is ideal for beginners. Its thermostat control allows for a consistent and even smoking of your food. The woodchips can be loaded into it with the smoker door closed. You can use it to cook 2 full turkeys or 6 chickens at once.
It has 4 chrome-plated racks that combine to give you a total cooking area of 800 square inches. All you have to do is plug it in, make the temperature settings and the smoker will take care of the rest.
Pros
Easy to use
Wood chips can be loaded without opening the front door
Digital temperature control panel
Chrome-plated racks are durable
Best for Professionals: Backwoods Chubby BBQ Meat Water Smoker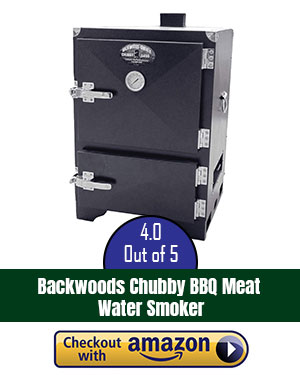 For the professionals, the best vertical smoker is the Backwoods Chubby 3400. This offset smoker and grill feature 4 adjustable racks. You can cook 8 slabs of back ribs at once in it. The hopper can hold over 10 lbs. of charcoal. The charcoal-fueled firebox lets you control the flavor and smoke. The outside thermometer allows for precise monitoring of the temperature.
The interior surface is all made of stainless steel which makes it durable and rust-resistant. You can use it to grill and smoke across a temperature range from 180 to 300 degrees Fahrenheit.
Pros
Stainless steel cooking area
Water pan removable for easy use
Heavy-duty hopper
Can be used as a smoker and grill
Cons
Essentials like drip guard must be purchased separately
Best Vertical Smoker Buying Guide
Benefits of using a Vertical Smoker
You may be wondering why you must go for the best vertical smoker and not any other type of bbq or griller. With vertical smokers, the source of heat/smoke is just under the cooking area. What benefits can you expect to get with this design? This is exactly what we have explored ahead.
Food cooks faster
With the heat source directly under the food chamber, the food quicks faster. If you want something for high-heat searing and grilling, a vertical smoker is the better choice.
Easier temperature control
Majority of the vertical smokers now have a digital temperature controlling mechanism. This makes it easy to control and use. Thus, both beginners and professionals can expect great results with a vertical smoker.
Compact design and energy efficiency
Vertical water smokers have a compact design as compared to other grills and BBQ appliances. It makes them more energy efficient. More energy is spent on cooking the food and minimal amount is wasted.
Affordable
Vertical smokers are affordable as compared to other types of offset smokers. They can be a great choice for those on a budget or just getting their first smoker grill but still looking for a great experience.
Durability
Products like Komodo Vertical Smokers are made of ceramics and are durable. These do not get damaged even when exposed to a variety of elements. If you look at the list of 12 top vertical smokers, you are looking at products that will last for several years with excellent features.
What to look for while purchasing a vertical smoker?
As you begin shopping for vertical smokers, it is important to look at the right features and reviews to compare the available options. Following is a list of the most important things that you must check while buying a vertical smoker.
Capacity
How many people do you plan to cook for? Are you generally going to cook for just your family of 4 or are you going to entertain a party of 10 or more people? This will help you to figure out the capacity you need in your vertical smoker.
Fuel Type
The type of fuel you prefer to use and its availability in your area will help you to decide what to use. Different types of fuels are used in vertical smokers like charcoal, wood pellets, electricity, and propane gas. The flavor level, any restrictions by your apartment, the time you can spare for cooking, etc. are all important considerations here.
Maintenance
You must check how easy it is to clean and maintain a smoker/grill. Ash cleanout and grease management systems greatly decrease the effort and time you need to put in for a cleaning and maintaining a grill/smoker. Brands like Camp Chef, Backwoods, Bandera, etc. have a history of great customer support and repair that you must consider.
Budget
Your budget is also a key consideration while shopping for a smoker/grill. You can get several options ranging from $200 to over $1000. How much you can afford to spend will greatly narrow down your choices.
Other features
Are you only looking for a smoker, or do you plan to grill and sear as well? Is portability a concern? What type of meats and food do you plan to cook? You must look at all these features before selecting a smoker.
How to get the most from your vertical smoker
Even with the best vertical smoker, you need to ensure that you are using the right technique to get the perfect flavor. Here are a couple of tips to help you get the most from your vertical offset smoker/griller.
Different meat needs different techniques
You must know the composition, texture, and color of the meat that you plan to smoke. Different cuts need different treatments. For instance, lean cuts like chicken breast dry quickly as compared to fatter cuts like pork butts.
Using the right wood
You cannot use just any type of wood. For smoking food, you must use food-safe hardwood. Further, the type of wood that you use- Alder, Maple, Hickory, Pecan, and so on- will each give a different aroma and flavor to your food.
Do not use salt in the rub
Rubs help to enhance the flavor of the meat. However- salt must be avoided in the rub and used during the preparation instead.
Avoid flipping the meat
Smoking slow and low is cooking indirectly. To ensure both sides are cooked evenly, avoid flipping your meat. If you open the grill to flip it, much of the heat is lost.
Cook using a thermometer
This is important especially with pork and poultry. You must cook until it attains a specific temperature- anything less than that can be potentially harmful. Use the internal temperature of the meat to know when it is done rather than the time.
Thus, with this, you should now know how to get the best smoker grill and what steps to follow to get the perfect meat in it. A couple of common questions that consumers ask are covered ahead. You can go through those to complete your knowledge of using and maintaining a smoker grill.
FAQs
1. I am a beginner- what type of smoker should I start with?
For beginners, gas or electric smokers are the easiest to start with. Temperature is easy to control, and no experience is required. With charcoal smokers, it takes time to master the technique of getting the perfect smoky flavor.
2. Smoker vs bbq- what is the difference?
In a BBQ, the food is placed directly on the grill above the heat source and cooked for a short duration. However, in a smoker, low and slow heat is used with smoke and some moisture to infuse flavor in the food.
3. What type of wood/wood-chips should I use?
Depending on the flavor you desire and the type of meat you are cooking, the type of wood to be used varies. For instance, for poultry, Alder, Cherry, and Oak are more suitable as compared to Beef which is best made in woods like Hickory and Mesquite.