A Short Summary of Our Findings
We at Grills Forever have been using all kinds of pellet smokers for over 4 years and have come up with different strategies to find the best pellet smoker. All of our reviews are so detailed because they come from the first-hand experience. After 72 hours of testing and researching numerous products, our team of outdoor cooking enthusiasts has decided to crown the Camp Chef PG24 Pellet Smoker as the best. It emerged as the perfect choice for beginners and pros, always delivering that rich BBQ flavor and fragrance.
This pellet smoker will take your outdoor cooking experience to an entire new level with its massive 560 cubic meter cooking area that comes with a removable rack. Its temperature range of up to 500 degrees Fahrenheit makes it an excellent choice for grilling, smoking, braising, baking, roasting and barbecuing. Reasonably priced, it's a great investment. It's made of high-grade materials and the most advanced digital controls, including an auto pellet feeder and LED controls. Cleanup is also 60% less demanding because of the convenient trap door for burn pot cleaning. With this efficient pellet smoker, every penny you spent will be worth it.
The Traeger Grills Lil Tex Elite 22 Wood Pellet Grill and Smoker impressed us the most with its "6-in-1" feature, which lets you braise, grill, smoke, braise, roast and BBQ all kinds of foods. With porcelain-coated racks, this durable grill offers top-grade functionality that you'd expect from the best pellet grills. It features 418 square inches, enough to cook for medium-sized groups. But if that isn't enough, there are other sizes available, all offering the same functions. It also comes with digital temperature controls, so you can leave it to take care of the rest while you relax and play. This durable pellet grill is 2nd not because it's not as good as our first pick – it just costs a bit more.
Most people recommend the Green Mountain Grills Davy Crockett smoker for its affordability, despite its plethora of features including Open Flame Technology, which ensures that meats are thoroughly cooked. But what impressed us the most was its Sense-Mate feature. For a budget pick, we were surprised to see that it had some of the most advanced technologies that even the most high-end products use. There's no denying that you'll get more than what it's priced at!
If you've ever wanted an 8-in-1 wood pellet grill that you can just "set and forget", then this grill is the perfect unit for you. This is the most hassle-free smoker we've used which is why it deserves to be one of our top picks. Digitally-controlled, this smoker ignites the unit and uses a Smart Smoke Technology™ to heat it up from 160 to 450 degrees F. This pellet smoker comes with a whopping 513 square inch grilling area, plus a 2nd cooking rack! While it doesn't have a cleanup system, its auto-shutdown feature makes it worth the value.
When you think of a portable smoker and grill, you think about basic features. But with the Traeger Grills Tailgater, you get more than what most portable grills have to offer. At 300 square inches, this portable grill is enough to cook decent and succulent dishes for small groups. It can even reach up to 450 degrees F, so you're never limited when it comes to the kind of meats you want to grill or smoke. We loved its EZ fold legs, which make it easy to throw into the back of a car, ready for the next adventure.
End of Summary
Top 10 Pellet Smokers (Aug. 2018) – Detailed Buying Guide
Warm summer nights call out for a get-together. The laughter of your loved ones and the smell of your favorite BBQ in the air. This can be you and here at Grills forever we want to be the one that helps you find that perfect smoker grill that will make your party the best of the summer. Wood pellet smokers are some of the most popular smoker grills on the market. Part of the reason they are in such demand is because there are so many to choose from. With so many out there how do you know which one is right for you?
We are going to take the guesswork out of it for you. Here at Grills Forever we have seared, smoked and grilled on grill after grill so you can have the latest information on what smokers are the best pellet smoker grills. Pellet smokers can sear and cook the most delicious foods, they are easy to control and convenient to use. We took all these features and more into consideration while compiling the top 10 wood pellet smokers.
Why Should You Trust Us?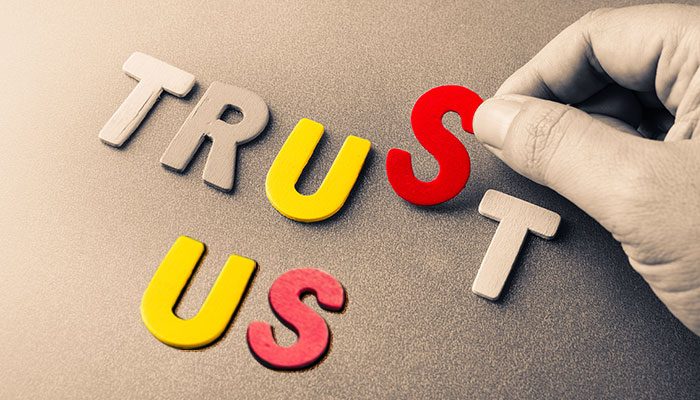 I remember a time when I was reading the reviews for a quad-bike; it was all so confusing and I had no clue on whom to believe and whom not to. And when I decided to put my faith in one of them, I kept getting second thoughts on whether or not they would fail me or not. If you're someone like me, let me give you three reasons why our reviews won't fail:
First, we are unbiased: We are not affiliated with any certain brand of grills or smokers, nor we are getting any money from them. Second: We know what we're talking about. Grills forever is run by hardened grilling enthusiasts and hobbyists. Third: We have burnt our foods and fingers; and while we were at it, we learned from our mistakes. In doing so, we've managed to master the art to perfection. Fourth: We're experienced. Our review website has been around for over 6 years now, still going strong.
Here, at Grills Forever, we independently promote only the best smokers out there, so that you, as a buyer can make the perfect buying decision. So, if you're looking for an objective and accurate review of the best pellet smokers out there, you're at the right place.
Who are Pellet Smokers For?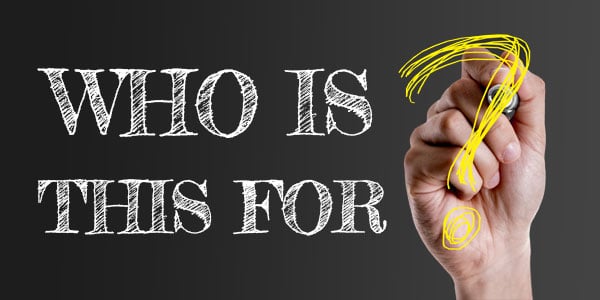 Who can benefit from pellet smokers? They are for anyone who loves the taste of BBQ.
Honestly, these smokers add a whole new milestone in the world of smoker grill. It represents an easy user and environmentally friendly method as well.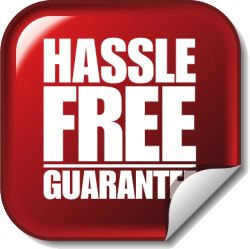 People who like easy and hassle-free smoking:
Do you enjoy hassle and stress-free living? If you want to enjoy the juicy smoked BBQ ribs with your friends and family without feeling disturbed, then the automatic smoker is perfect for you. The automatic smoker, a pellet smoker, makes for an ideal choice. Do you know why it has it has earned the reputation as an easy to use smoker? You will find the automatic features incredibly easy to use and this convenient product's simplicity stands out.
Automatic ignition
Auto fuel feed
Maintaining temperature consistency
Easy to clean function
Portability
You experience all of these benefits by using a pellet smoker.
One thing you must keep in mind: Do not forget to get a smoker with an electric start and auto auger control. These functions will make your experience better and your life easier.
Competition: If you are buying a smoker for participating in any competition, then pellet smokers are your best choice. Gas or electric smoker grills are not allowed in any competition as they are using automation. Though you are getting temperature control and electronic start in pellet smoker it is accepted in competition.
Novices: Do you consider yourself a novice with a smoker grill? If so have no shame, in fact, look at me, I started as a novice too! Realistically, no one becomes a geek in 2 weeks of studying or research. So as a beginner you must look for an easy to use smoker grill. Well, the primary concept of a pellet smoker lies in its easy to use features. Set it and forget represents the motto and the main aspect you crave, right?
Professionals: the pellet smoker has emerged as the best option for beginners. However, that does not mean that a professional will benefit from using it. Using a pellet smoker, the professional can turn normal pork into a mouth-watering dish with any kind of flavor. The precise temperature control will help any professional make the dish more accurate. A pellet smoker can display some delicious magic that will prove unforgettable.
Travelers: Hey travelers, we haven't forgotten about making your life easier. Have you ever tried smoked rabbit while jungle camping? If so, then you know the thrill and enjoyment in it, but you probably wouldn't go through the hassle of taking a smoker in the jungle. Wait a minute mate, I recommend the pellet smoker grills for a successful camping adventure with friends or family. I cannot count how many times we have done seen the advantages of this. It makes for an awesome experience every time. We recommend pellet smokers because of the lightweight and easy to shift aspects. It can fit easily in your car, which makes it the travelers dream.
Tech geeks: A tech geek will also prefer a Pellet smoker grill and some of the latest grills including Green Mountain Grills came up with some exciting tech functionality like Wi-Fi! Just imagine, hanging with friends and monitoring your pork with your smartphone? You can increase and decrease temperature and control pellet feed without even touching the grill. This gives you the ability to cook while you work!
Environment-conscious people: By the way, do you really care for the environment? If you do, then you should start burning pellets now. Have a look at the chart to see some amazing information!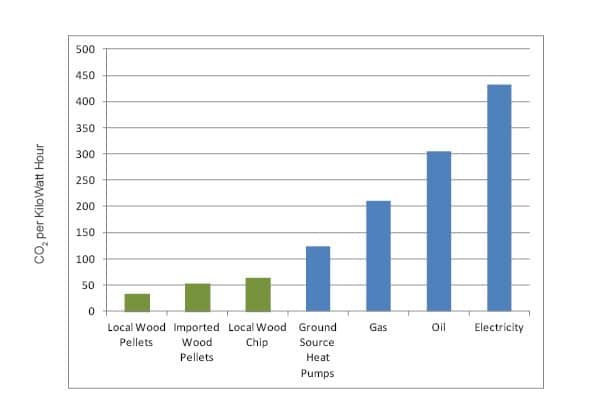 Figure: Adapted from "The Carbon Balance of Woodfuel," Northern Woodheat, 2010.
Burning wood pellets produces up to 90% less Carbon Dioxide than traditional fossil fuels such as gas or oil. Burning just one ton of wood pellets can replace approximately 400 liters of oil – saving up to 1,070kg of Carbon Dioxide from entering the atmosphere.
In other words, any smart person will choose the best pellet smoker out there for many reasons. You will get the best smoked trout or pork prepared by yourself with only one-third of the effort compared to other smoker grills. I am decently smart and I love pellet smoker because it works wonders.
Should You Upgrade or Change Your Current Smoker Grill?
Normally you will get 1- 3 years of warranty for pellet smokers from different companies. Traeger will serve you with a 3-year warranty while Camp Chef will give you only 1 year of warranty. Considered this the safe period for your pellet grill, so take advantage. If you own a quality smoker then you may need not to think of any replacement within 5 years of buying.
When you have owned your smoker grill for 5-6 years you start wondering about owning a new one. This might happen because you are facing problems with your machine and not getting the desired result. The first and primary advice in this situation remains to clean up your grill thoroughly. Open up each and every part then proceed to doing a thorough cleaning. Most of the problems like temperature inconsistency or jamming will get solved this way.
If you really want to replace your smoker grill then you should ask yourself these questions:
Will upgrading solve my problem?
If you have faced or currently face the problem with common things like pellet feed jamming or wear and tear of your smoker, then replacing the exact component will solve your problem. Thus, without changing your whole smoker you can continue with some $40 – $50 changes. It might seem complicated for you if you face a problem with your digital control system. Adding the element of professional knowledge will help tremendously. Solving problem with $150 is much better than spending $500, right?
Do I know how to perform this upgrade?
Like I said before, sometimes you will find it difficult to perform the upgrade yourself. Replacing the digital control system seems much more difficult than I thought when I did it. Your smoker manual will certainly help you in this regard. You should seek help from YouTube as you can see what exactly to do.
When is it the right time to change it completely and look for the best pellet smoker?
Honestly, it solely depends on what type of upgrade you need. If you do not get the desired amount of smoke, you need then check your induction fan. Maybe it does not function properly and changing one will cost you around $30 – $40, problem solved.
If you have an older smoker and need a lot of physical maintenance like changing the hopper and the digital control, then changing those two parts may not help. These two changes may cost you $200 – $250 and with a rusty hopper, you will continuously lose the smoke you produce. This is not safe for your health, so in this situation, you should definitely opt to get a new pellet smoker grill.
What Makes a Good Pellet Smoker?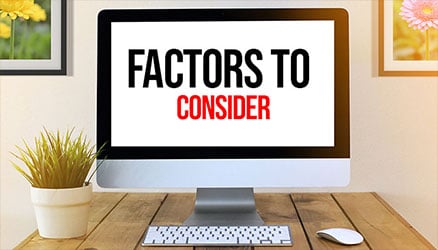 Mention a pellet smoker and what comes to mind is the rich taste of BBQ, better control and convenience. These are exactly what the best pellet smoker should give you. To find out the best, among the many that are out there, you must consider all the various features. A burner that can give you control, convenience, long service and great flavor for your food are just some things the best pellet smoker should have. Let's take a look at all the factors you need to consider when making your purchase.
Price Factor
Price is always an important factor. We all like to save money, but buying a low-quality cheap smoker grill will end up costing you more money in the long run. A high-quality grill at an affordable price will last longer and be used more because you will be satisfied with your purchase.
Temperature range
Temperature range is an important feature. What you'll need will depend on what kind of cooking you want to do. Most pellet grills can hit temperatures between 180 F and 425 F, an adequate range for smoking, baking, roasting, and grilling. If you like to sear your meat you need something that reaches the 500-550 F. A good thermometer is a must. You'll need to have an accurate reading so you'll know you're cooking your meat at the right temperature.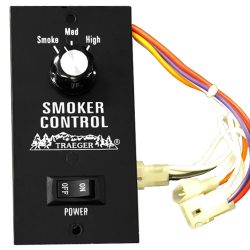 Controller type
Consistency is the key to having the best results. If you want a tender brisket, your cooking temperature should be close to 250 F during the whole 12 hour period of cooking. The control board is responsible for precision. There are one-touch Non-PID, PID multi-position, and 3-position controllers. Check out the different types of controllers for the one that is right for you.
Cooking area, size and portability
Pellet grills come in various sizes from the portable types for tailgating to the extra-large units for commercial use. If you are someone who wants to be able to take your smoker on the go, be it camping, partying or any other event you'll want something that's easy to lift and has wheels to facilitate movement. If you have lots of parties and gatherings at home, then you might want something bigger. Its all up to what your needs are.
Features and capabilities
Some people think simple is best and some love a smoker grill that comes with all the bells and whistles on the market. If you are someone who likes to have all the latest features have a look out for a smoker grill that has some of the extras below:
Control boards with meat probe inputs
Programmable meat probes
Direct grilling options
Ancillary cooking racks
Wi-Fi capabilities
How We Picked and Tested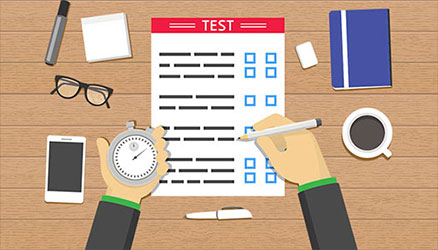 At Grills Forever, we thrive to bring you the best product reviews through an extensive online research. We go through countless online reviews and browse through different brands, both known and unknown. We then go through their features and the value they can provide to the users. Finally, we shortlist some of the said products to do physical testing.
That's right! Every time we have a BBQ party, we are reviewing something. But it's not all fun and games all the time. The process gets expensive pretty soon and these are the sacrifices we make to bring you the best value.
When reviewing pellet smokers, we've gone through over a thousand different user reviews to get an accurate understanding of how useful the products have been to them. With that primary data in hand, we did an extensive online research on the products with the highest number of reviews, ratings and features.
Among the top-class of the pellet smokers on the web, we've shortlisted 18 of the candidates and compared their features to each other to find the best 10. Finally, we've created this list of top 10 best pellet smokers considering their features, reviews, ratings, review frequencies and how great they were when we tested them out during a BBQ party.
Since we are barbecuing experts, our top pick will definitely be a pellet smoker that is appropriate for almost everyone looking for a pellet grill. Camp Chef PG24 Pellet Grill and Smoker BBQ is built to help the outdoor cooking buffs take their backyard cooking venture to a whole new level.
Why Is It Our Pick?
You must have thoughts in your mind centered around the thousands of pellet smokers and why Camp Chef PG24 is our no 1 choice. We will list the detailed features, pros and cons of this smoker. First, let me tell you why this smoker grabbed the number 1 spot on our list.
For you to understand we made point by point notes detailing why we like it so much.
This grill has full automation from start to clean the ash off. If you want that type of automatic smoker, you need to increase your budget over 900$ – 1000$. Camp chef PG24 is special because of its comparatively low cost.
The auto pellet feed is great. Though you can see this feature represents 80% of the present-day smokers, we relied on the fame of camp chef. Three years have passed with no jamming at all.
What we loved most is that it has a trap door for the burn pot cleaning after every cooking. It lessened our job of cleaning this pellet smoker by 60%. It is more than amazing because from our research we know that a feature like this will cost twice as much as the Camp Chef. Honestly, this emerged as our key point when we selected this smoker.
We also loved this smoker because it has an auto shut down feature. That means you can even go to the office and enjoy delicious smoked ribs by dinner time. Only 30% – 35% of the existing smokers have got this feature.
Many other features like its automatic control, built in meat probe etc. have made us select this smoker as no 1. And the most amazing fact is the price. In the price range (see the price here), we never thought that we could get all these features and benefits. We have used high-end smokers like Rec Tec smokers, but this Camp Chef PG24 can beat all through its performance and affordability.
Camp Chef PG24 Review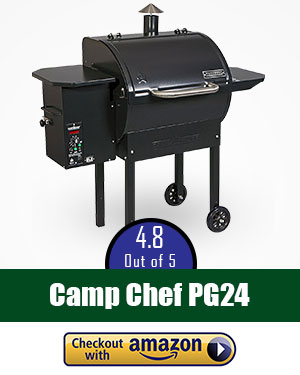 Camp Chef PG24 features tons of built-in features, designed to facilitate the cooking process. It is a smoker for cooks who are serious about getting the real taste of barbecues from their smoker grills. It is worth every penny. Let's look at its amazing features.
Temperature control
As we've already said temperature control is the key to getting a moist succulent piece of meat. This pellet smoker comes with a built-in thermostatic control with a digital thermometer, so you can exclude any guesswork while barbecuing. If the temperature sensors detect a drop-in temperature they feed more wood pellets into the burner. This allows you to place your meat on the grill and then let the smoker do the work while you relax.
If that wasn't enough, it features an electric dual ignition switch plus dual temperature LED displays to show you the cooking temperature at a glance.
Cooking area
This smoker comes with a cooking area measuring 560 cubic inches, large enough to allow you to smoke food for the whole family or a group. This is also enough to give you the best grilling experience, as we've found after reviewing the top products from Camp Chef. It also has a handy warming rack where you can keep your smoked food warm while your waiting for your whole meal to come together or that one couple who always arrive late for the party.
Digital control
Camp Chef PG24 Pellet Grill has an amazing digital controller. You simply have to set your preferred cooking temperature and the heat in the chamber will be automatically adjusted.
With this unit, meat can be smoked at a temperature of 150F for hours. You can also set the temperature to 500F for a searing and grilling. The heat is evenly spread using convection, thus removing cold and hot spots on the grill.
Meat Probe
With a temperature probe for the meat inside the chamber, this allows you to keep an eye on the temperature of your meat without opening the grill. Nothing ruins a brisket or roast faster than the grill who constantly fiddles with the meat on the grill. Opening the chamber lets the heat out and that can quickly make for some tough meat. This handy feature takes the guesswork out of how ready your meal is.
Convenience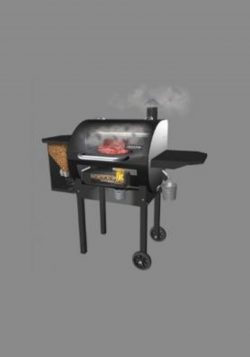 Camp Chef PG24 has a compact weight of 124 pounds and a pellet hopper with a 20-pound capacity. That's large enough that you don't have to worry about getting more before your meal is done. This set it and forget approach to cooking gives you the ultimate cooking experience. Each time the temperature drops down, a wood pellet is dispensed. This convenience is impossible to find in a gas, wood or charcoal unit.
With this unit, not even a single pellet goes to waste. Additionally, you don't have to worry about your pellets running out in the middle of cooking. The pellet hopper can hold up to 20 pounds of pellets and the digital thermostat control ensures that each pellet is efficiently used. Thus, it helps save a lot of money and allows you to smoke your food for a long time without refilling the pellets.
Cleaning and maintenance
Now we come to the part no one likes and that's cleaning. This smoker won't clean itself but it does make the process a lot easier. Camp Chef PG24 Pellet Grill is designed to give you easy access to the fire pot making cleaning out the ash effortless. It also has a trap door which allows you to clean the unit without digging through the grease and ash. Anyone who has ever had to clean a smoker grill knows how time-consuming and enormous the task can be. A trap door like this is only present in higher priced units, but you'll be glad you paid a little more when cleaning becomes effortless. You could also buy the other version that comes with a cover (which is $50 more expensive) to make sure your smoker is in top condition at all times.
Power outage bypass
This allows bypassing the relight feature in case of a power outage in your home. Power outages may not happen often but when it does, this feature can save the hot rod from any wear and tear. It proves that the manufacturers actually did a lot of homework when designing this unit.
Finally
Camp Chef PG24 Pellet Grill and Smoker is the ultimate choice for any expert smoker. Its reasonable price and amazing features make it a long-term investment. It comes with a lot of nifty features that facilitate, smoking, grilling and searing in your backyard. For all these reasons, it's our top choice for the serious BBQ buffs.
View a Detailed and Illustrated Review
Why is this our Runner Up Pick??
While the Traeger Lil Tex Elite does offer similar features as our top pick, such as a digital LED temperature control system and an auto-dispensing auger, there was one missing feature which we thought was necessary. This product has a smaller grilling area and lacks a removable upper rack, which gives you less grilling and prep space. I should mention that the unit does come in a bigger 700 square inch version for $200 more, as well as a smaller version that costs less. If this smoker is too big or too small for you, there are always other options available. Compared to our top pick, it's also more expensive despite offering similar specs. Aside from that, this is a very efficient and reliable smoker.
With over 375 reviews, this product had an impressive review rate. On its first 22 days, it got its first 10 positive reviews. Ten days after, it got its 2nd set of 10 positive reviews, and its 3rd set of 10 positive reviews after seventeen days. Online reviews have shown that, just like us, customers have been satisfied with the overall performance of this smoker from Traeger.
Quality-wise, the Traeger Lil Tex Elite comes very close to our top pick. It's a strong substitute for the Camp Chef Deluxe Pellet Grill. Here is our detailed review of this beast:
Detailed Review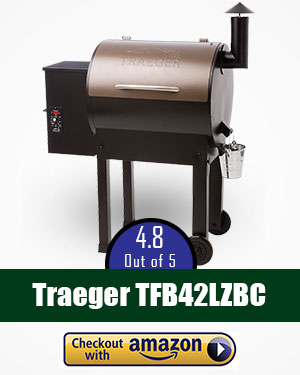 Grilling Surface
This smoker offers a decent 418 square inches of grilling space. This is enough to cook around sixteen burgers or four whole chickens. If the grilling space isn't enough, Traeger also offers a larger unit that offers the same features at a higher price range. But, the medium sized one is enough to cook for large groups of people already. Built to have a high capacity, this smoker allows for multiple cooking at the same time.
Set it and Forget it
The cooking process is made a lot more convenient with this smoker. To start cooking, all you need to do is flip the Traeger on/off switch, and you're good to go. Then, you can simply set your desired temperature through the digital controls. Enjoy your time and relax while you leave the unit to do everything else. With its efficient temperature control system and automated auger with an induction fan, heat remains constant throughout the cooking process. You'll have evenly-cooked foods that have that mouth-watering smoky flavor in no time.
Versatile Cooking
You aren't limited to basic barbecuing. For us, what really stood out was its ability to deliver pro chef-level cooking even at home. This smoker lets you explore all there is about cooking, letting you braise, grill, smoke, bake, roast, braise and BBQ all kinds of food. Using only pure hardwood pellets, you're sure to have the juiciest and tastiest meats and vegetables every time you host your outdoor parties. If you think you have to give up quality because of the quantity of foods it can cook, that's not the case. Quality is maintained whatever it is you're cooking.
This smoker also comes with two cooking settings: hot and fast, and low and slow. Its Digital Elite Controller makes setting the temperature a breeze — all you have to do is turn the dial to your desired temperature, and you can leave it for the rest of the cooking process. This smoker can reach the temperature of up to 450 degrees Fahrenheit. The digital display on top of the grill lets you monitor the heat conveniently.
Convenient Cleanout
Aside from coming with porcelain-coated grills that are non-stick in quality, the product comes with an ash cleanout system which makes it easy for you to simply dump the ash and get started on your next cooking.
Finally
Placed against our Top Pick, this Traeger smoker and grill is a worthy competitor. It offers a variety of useful functions that will allow you to smoke, grill, bake, braise, roast and BBQ anything and everything. It's definitely worth your money, because if you take care of it properly, it's going to last you a long time.
Why is this our Budget Pick?
The Green Mountain Grills Davy Crockett smoker lets you get more than what you paid for. At a surprisingly low price, you get to have tons of great features that are sure to elevate your BBQ experience. For its price, we were quite surprised to see that it satisfied most of the features on our list. We tested over fifty products, and even the expensive ones were no match for this product.
On its first 24 days, the Davy Crockett grill already gained its first 10 positive reviews. On the next 29 days, it got another 10 positive reviews, and it got even more positive reviews after 13 days. At Grills Forever, we like to take a close look at the review rate because this lets us know what other customers are thinking.
What we love the most about it is its Sense-Mate feature, which monitors the grill temperature. Usually, cheaper units don't come with digital functions, but we found it with this grill.
Let's take a closer look at some of the features that this budget-friendly smoker has to offer:
Detailed Review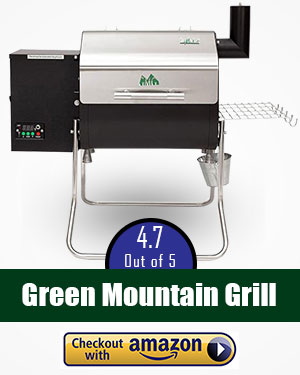 Portability
The great part about this smoker is that it is fairly light-weight, weighing in at 69 lbs, and its legs double as handles: all you have to do is fold the legs up and carry the smoker wherever you need to! Furthermore, this smoker comes with a 12V connector that you can plug into the cigarette lighter of your car, and a 12-foot alligator clips that you can connect to your car's battery if necessary. You can take this smoker anywhere!
Open Flame Technology
The Davy Crockett Pellet Grill offers open flame technology which uses infrared radiation to cook your food. The peaked lid not only allows for you to cook tall slabs of meat, but it also helps the convection process within the grill, making sure that your meat is thoroughly and evenly cooked. This technology ensures that you get that consistent and authentic tasting BBQ every time you fire up the grill!
Sense-Mate Feature
The Sense-Mate feature is another great addition to this smoker: it is a thermal sensor system that monitors and reads the internal temperature of the grill within 5ºF of the actual temperature! Once you set your desired temperature using its digital controls, the Sense-Mate technology reads and monitors the temperature, while displaying it on the LCD display. Sense-Mate makes sure that heat is kept at a constant temperature, so whether you are cooking at 150ºF or 550ºF, you can rest assured that your meats will be evenly cooked.
WiFi Compatibility
We were surprised to see that the pellet grill was WiFi-compatible. Usually, grills come with basic remotes, but this one comes with a digital WiFi controller. It allows you to control and monitor your cooking through an app on your iOS or Android phone. We found this convenient, since we didn't have to get up to check on our grill every few minutes. This is probably why it's one of the most popular pellet grills in the market.
Free Accessories
In addition, the Davy Crockett Pellet Grill comes with multiple accessories. These include a meat probe, peaked lid (which is useful for large fowls and stand-up chickens), rib racks, a convenience tray as well as utensil hooks. This takes away the trouble of having to order additional parts for modification.
Finally
While the Green Mountain Grills Davy Crockett Pellet Grill is compatible with most iOS and Android devices, I want to stress, check the compatibility of your device with the grill before purchasing because it would suck to buy this grill only to find out that this feature is not compatible. Also, if you do not plan on using the grill on some elevated surface, the legs are not tall so the grill sits close to the ground. Regardless, this is a GREAT smoker: your meat will come out tender and juicy with that authentic BBQ taste we all love! Neither of these cons affects the quality of your BBQ and both can be worked around.
Why We Chose This as Advanced Pick
The Z Grills Wood Pellet Grill and Smoker comes with Smart Smoke Technology, which lets you set and forget your grilling. It accurately sets and maintains the desired temperature using an automated electric feed system, heating your unit from 180 degrees F to 450 degrees F. We've gotten used to smokers taking around 30-40 minutes to heat up, but with this unit, it took only 20 minutes for the temperature to settle in!
This unit costs almost half of what most high-end smokers cost, but it offers equal (or even better!) features. This 8-in-1 smoker and grill lets you enjoy the fun of grilling, smoking, baking, roasting, searing, braising, barbecuing and char-grilling!
With just one push of the button, this Z Grills Wood Pellet Grill and Smoker uses its electric auto-ignition system to fire up your grill using authentic wood pellets. You got that right, it doesn't use gas, propane or charcoal!
Detailed Review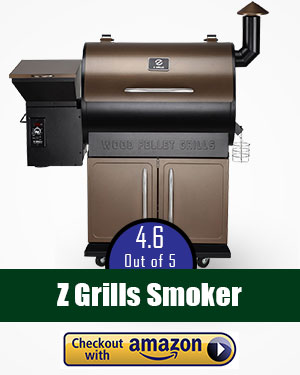 Complete with a variety of spectacular features, the Z Grills Wood Pellet Grill and Smoker redefines the whole concept of smoking. At a reasonable price, this smoker gives you more than what you paid for. It offers technology-rich features that ensure consistent smoking for that great smoky flavor. Plus, many customers – including ourselves – have attested to its durability. This smoker will serve you without failure for a very long time.
Every outdoor cooking enthusiast wants an affordable pellet smoker that has all of the key features that even a high-end unit would have. In most cases, this is just a dream and a result of false advertising, because most impressive smokers typically cost a hefty sum of money. The Z Grills Wood Pellet Grill and Smoker claims to be a reasonably-priced smoker that offers top-of-the-line features, and many users have agreed with those claims. With this review of the Z Grills Wood Pellet Grill and Smoker, we'll find out if it really does what it claims to do.
Key Features
Some of the top features of this pellet smoker include:
Smart automatic heating
Most traditional grills and smokers would have you struggling to reach the desired temperature, but with this unit, that problem is long gone. All you have to do is set your temperature using its digital controls, and press a button to get it heated up.
Internal temperature control for thorough cooking
Once it reaches the ideal temperature, it uses an Internal Temperature Sensor to maintain it throughout the cooking process. Forget about checking on the status of your grilling every few minutes, this unit makes sure your food is cooked thoroughly and evenly — no babysitting needed here! This way, you can enjoy your time with your friends, which is what a BBQ party should be.
Massive cooking area
The Z Grills Wood Pellet Grill and Smoker comes with a primary cooking surface of 513 square inches, plus a second cooking rack with 187 square inches. Its large cooking space makes it ideal for large events, letting you grill, smoke, bake, roast, sear, braise, barbecue and char-grill all sorts of food at once.
Authentic smoky flavor
No gas, charcoal and propane solutions here. This grill uses only wood pellets, letting you serve that pro-like, rich smoky flavor that your guests will enjoy. Do you want to cook more recipes? The Z Grills website features dozens of recipes for your indulgence.
Finally
With a large cooking space and the most advanced cooking techniques, this is easily one of our favorite products among our top ten. While it lacks some of the features that the other grills and smokers in this review have (such as an ash and grease cleanup systems), it does deliver fine-dining quality foods, which is the ultimate goal of every grilling enthusiast. For its price, it offers some of the best features you can find in high-end products.
Why is this our Portable Pick?
You might be wondering what the difference is between this grill and our runner-up pick. The Traeger Grills Tailgater is quite similar to the Traeger Lil Tex Elite (Which is our Runner-up pick), but it has lesser storage space, which is why it's been called Traeger's portable product.
Typically, most portable grills would give up certain features just to maintain their portability, but this wood pellet grill from Traeger actually had more than what high-end grills have to offer. Out of all of our features, it managed to tick 85% off the list. Its digital controls, versatile cooking features, and decent cooking space (perfect for outdoor adventures) all make it our best portable pick.
For a mid-range priced product, you get all the features you would need in a portable grill and smoker. Though it's a portable pick, one of its great features (which also makes it worth the price) is its durable build. If you're going to bring this grill with you on camping trips and hikes, you're going to need it to be as sturdy as possible.
Although it took quite some time for this product to receive its first ten positive reviews, the review rate quickly picked up. After over 200 days, it already gained 20 five-star reviews, which is a great accomplishment for any grill. We checked out comments online and found that they were mostly positive.
What we loved most about it was its versatile 6-in-1 feature. With the Traeger grill, you can grill, smoke, roast, bake, braise and BBQ all kinds of foods at ease. We tested all of those out and found that they all delivered the same juicy perfection that it promised.
Here's a more detailed explanation of why it deserves to be our Portable Pick:
Detailed Review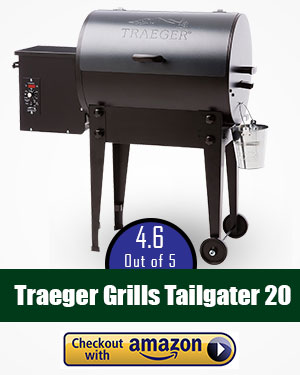 Portability
The Traeger grill and smoker is extremely easy to transport. It comes with EZ-fold legs which allow you to easily pack it up and throw it in your car trunk, ready to go. With a height of 38 inches, width of 35 inches, and weight of 76 pounds, this can quickly be transported to even the most rugged terrain.
Grilling Area
Being portable doesn't mean it has to be extra small. This smoker boasts an accommodating 300 square inches of grilling space. This is enough to cook around twelve burgers or three racks of ribs. Perfect for families going on camping!
Temperature Control
With its Integrated Digital Elite Controller, temperature is kept constant within + / – 20 degrees Fahrenheit. It also allows for low/slow and hot/fast smoking for up to 450 degrees. Checking up on your food's temperature is also made easy with the LED display, which clearly shows the temperature even under bright daylight.
Versatile Cooking
Using 100% hardwood pellets, this smoker gives you authentic, smoky flavored foods whatever you do with it, whether it's smoking, grilling, baking, roasting, braising, or BBQing. You get the wood-fired taste all of your guests are looking forward to each time.
Finally
Overall, the Traeger Grills Tailgater is an ideal choice for outdoor trips with small families or groups. While it doesn't deliver the most convenient and advanced cooking as compared to the other picks in this review, it does have the right degree of portability and functionality needed in any outdoor adventure.
A List of 5 Other Pellet Smokers We Reviewed
Temperature control
The Smart Smoke technology is one of the most convenient and easy to use features on the grill. It contains a dual LED temperature readout that keeps the heat at a constant temperature. This means you have more time for socializing and can sit back and relax. The temperature ranges from 160 to 500 degrees Fahrenheit. The grill uses a pellet feeder system that burns slowly to add intense flavor to your food. It also uses an electric auto-start ignition that requires the grill be plugged into a standard 120v outlet.
Versatile Cooking
With a temperature range of 160 degrees F to 500 degrees F, you can cook however you want. Braise, grill, roast, bake, smoke or barbecue your foods — that's entirely up to you. This smoker is powerful enough to cook even the most demanding dishes.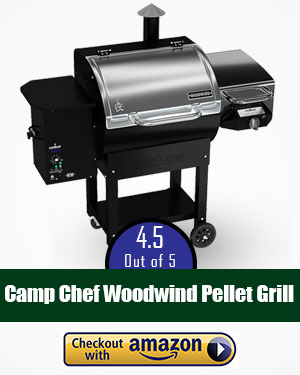 Aesthetic and Functionality
The grill is plated with beautiful stainless steel that gives the grill a refined and impressive look. The huge cooking area includes 570 square inches of surface area. That's enough to hold 20 burgers or 4 rib racks! It also contains a second warming rack and bottom shelf that provides the grill stability and extra storage. This version comes with a sear box that can reach temperature of up to 900 degrees Fahrenheit, which caramelizes your food. There's a cheaper version without a sear box that costs around $200 less if a sear box isn't a necessity for you. Additionally, the legs are built with extreme thickness giving the grill a grounded base. The caster wheels add portability to the grill so you can find that perfect place in the backyard.
Cleanout
The cleanout for both the pellets and ash is a huge perk to the grill. The patented "Easy Ash Cleanout" does not require the user to take apart the grill. Instead, they simply have to twist and dump the container. The 18lb pellet hopper is similarly an easy cleanout. The stainless steel also makes it easier to clean the grill because of the steel's properties.
Finally
The Camp Chef Woodwind Pellet Grill was chosen as our sixth choice because it lacked some features found in our Top 5 picks, especially when it came to cooking flexibility. While it does offer an impressive 6-in-1 cooking experience, it lacks an auto shut-off feature, which makes it less of a "set it an forget it" kind of smoker. The grill is rather heavy, at an overall weight of 146lbs. It's also more expensive than the rest, even though it offers similar (even less) features. It's a decent choice if flavor is the only thing you're looking for.
Grilling capacity
Another "set it and forget it" pellet grill, the Camp Chef allows you to set the temperature controls for up to a range of 500 degrees F, and leave it to do the regulating. With its efficient auto-dispensing pellet hopper and digital temperature controls, the pellet grill sets, maintains and adjusts the desired temperature for even cooking each time. With consistent and fuss-free temperature control, you'll sure to have the most perfectly grilled foods.
Temperature control
This smoker offers a massive 560 cubic inches of grilling area with a large-capacity pellet hopper. Even though it's the perfect starter grill, it's still packed with plenty of extras that even the pro chefs will enjoy. If the grilling space isn't enough, the removable upper racks can be turned into extra cooking space. The smokestack behind the unit can also be converted into a prep area.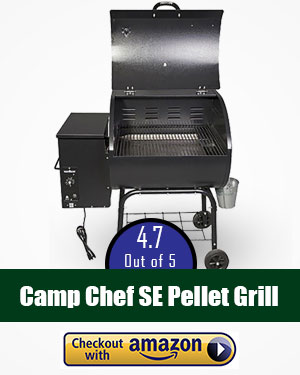 Efficient hopper
In addition, the pellet hopper can hold a large amount of wood pellets. This means that you won't need to frequently refill your hopper, which just adds to its convenience. It can hold up to 18 pounds of pellets. Its automatic mode allows it to disperse them throughout the cooking process as it maintains the desired temperature.
Mobility
Although this would not work as a portable grill, it does come with built-in wheels for convenience. You can easily transfer your grill to any part of your backyard and it will stay secured in place (as long as it's on an even surface, of course).
Cleanup system
Cleaning up after grilling is every cook's dreaded part of the process, but this pellet grill simplifies that. Its warming rack comes with a patented ash-catcher system, the Ash Can Cleanout System, that allows for an easier cleanup of the unit. Additionally, it also features a grease drip disposal system that comes with a bucket. You won't have to waste precious time cleaning up afterward!
View a Detailed and Illustrated Review
Finally
For a large-sized smoker, the Camp Chef SmokePro SE delivers excellent, smoky-tasting flavor that even beginners can accomplish. This is largely due to its automatic temperature control features and grease management system, allowing you relax while it cooks for you. With minimal cons (only weight and pellet price), this is a definite hit among professionals and newbies. The SmokePro SE is an unquestionable bang for your buck kind of purchase.
Temperature Control
The Camp Chef PG24S lets you set the smoker to your desired settings so you can leave it to relax while it does the rest for you. With an advanced digital temperature chip, it steadily monitors the temperature, achieving a constant cooking temperature at all times. Dual LED temperature displays allow you to easily check the temperature of the food kept inside your smoker without losing any heat. With an auto-dispensing pellet hopper that can hold around 18 pounds, your pellets are used efficiently. The grill can work in temperatures that range from 160F to 400F.
Grilling Space
This heavy-duty grill and smoker has a total cooking area of 429 square inches, which is large enough for cooking around twenty burgers at once. If that's not enough, it comes with a secondary rack of 144 square inches that you can use for smoking or warming. With a height of 32.5 inches, you can cook a variety of meats and foods to your heart's desire.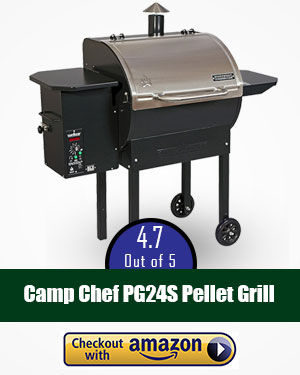 Hopper Capacity
With the Camp Chef PG24S, you won't have to constantly refill your hopper. Your pellets will be used as efficiently as possible, as this product comes with a hopper that can hold up to 18 pounds of wood pellets. With the digital heat control system, it instantly feeds the pellets into the grill to maintain the ideal cooking temperature. This ensures that food is cooked most satisfyingly.
Cleanup and Maintenance
The Camp Chef PG24S uses three cleanup and maintenance systems. The Ash Cup Clean Out System collects leftover ash in a cup for easy cleanup. The Grease Management System instantly drains grease into a bucket for easy disposal. Finally, the Pellet Purge System helps you clean out pellets from your auger with ease. Cleaning up has never been so easy.
Finally
The Camp Chef PG24S is one of the most high-capacity, heavy-duty smokers we've ever used. For its size, it's fairly easy to operate and won't require you much maintenance. Although it's quite heavy, it definitely cooks large amounts of food for big groups. Overall, a great investment that will last you a long time.
Cooking Surface
With a massive 700 square inches of primary grilling space, this grill impressed us when compared to other Pit Boss grills we reviewed. Its size is large enough to cook for large groups of people. It features a Flame Broiler that uses slide-plates which allow for direct flame grilling, which means you get an even cast-iron cooking each time. If the 700 square inches isn't enough, you can make use of the additional upper cooking rack space. The racks are made of porcelain-coated cast iron for optimum grilling as well as easier maintenance.
Versatile Cooking
Pit Boss's real wood cooking lets both beginners and pros cook and smoke everything from ribs to fish, bake biscuits to pizza, grill burgers to vegetables, sear and charbroil steaks and more. It's an 8-in-1 beast that will spice up your kitchen.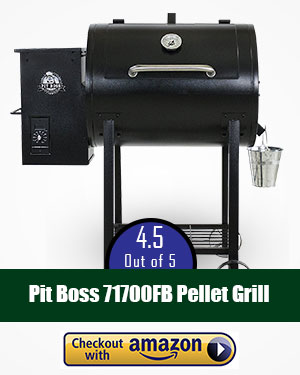 Temperature Control
The flame broiler uses a digitally controlled burn system. Its Digital Control Center lets you set the temperature ranging from 170F to 600F with ease. The desired temperature is set and maintained through an electric auto-start and fan-forced air mechanism. These, in addition, give that flavorful smoky taste to all of your foods. The auger automatically feeds pellets into the smoker, so you can pretty much let it take care of everything.
Pit Boss Advantage
Pit Boss takes pride in their top-of-the-line cooking process. The Pit Boss 71700FB uses a fan-forced air accelerate to maintain the flame, achieving that flavorful smoky taste. Its flame broiler also has two cooking settings, direct and indirect, that elevate the food's flavor while keeping excess grease away.
All-Natural Fuel
No gas, propane or charcoal used here. This smoker uses 100% natural cooking-grade wood pellets. You won't have to worry — the wood pellets don't contain any fillers, adders, scents or adhesives. This delivers that authentic smoky flavor without risking your health.

Finally
The rest of the product we reviewed offered 6-in-1 features, but this one surprised us with its 8-in-1 cooking versatility. If an efficient smoker that can do multiple things is what you're after, then there's no need to look further. The pit Boss Pellet Grill with Flame Broiler cooks almost all kinds of food with 100% genuine wood pellets. Talk about quality and quantity!
Smart Smoke Technology
The Camp Chef SmokePro utilizes its famous Smart Smoke Technology in using wood pellets efficiently. This makes sure that your foods are smoked to perfection. Because of this, you can "set it and forget it" so that you can sit back and relax.
Grilling Area and Capacity
Available in 24-inch and 36-inch units, the Camp Chef SmokePro is packed with great features for their size. It features a massive 811 square inch rack surface area, perfect for grilling multiple foods at once. Using an auto-dispensing pellet hopper that can hold 22 lbs of pellets, grilling is made convenient and efficient.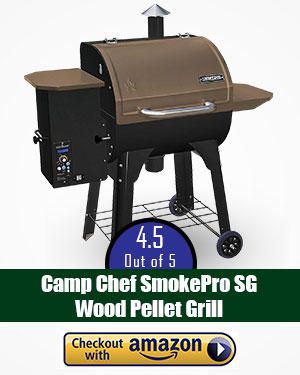 Automatic Features
The Camp Chef SmokePro's automatic features definitely set it apart and make it truly a "set it and forget it" kind of unit. It makes use of an electric auto-igniter system that lets you start grilling with just one button. The automatic auger instantly dispenses pellets to maintain the desired temperature and use your pellets the most efficient way.
Temperature Control
This smoker uses dual meat probes to determine the temperature, and then displays the internal temperature through a convenient dual-LED temperature readout display. You don't have to risk losing heat just to check on your food's temperature every once in a while, making sure that you get tender and juicy food all the time.
Cleanout
Just like most Camp Chef products, this pellet grill smoker uses a patented ash cleanup system that takes away the trouble of vacuuming. Ash is immediately stored in an ash clean-out cup that's easy to dump.
Finally
Some products feature the wood-pellet fuel system as a bonus, but the Camp Chef SmokePro SG makes its wood-fired function the star of the show. Using 100% real hardwood pellets, recreating 5-star-cuisine level dishes on a large scale is now made convenient. Though it still has limited reviews, it wouldn't be a surprise if this smoker quickly becomes a best-selling choice. It's the kind of smoker that you need if you want hassle-free and fast cooking.
Care and Maintenance for Pellet Smokers
We love recommending and reviewing wood pellet smoker grills, but we also want you to get the most out of them once you purchase. Without proper care and maintenance, even the best pellet smoker is bound to have a shorter lifespan. Therefore, how you use your smoker and how you maintain it after use greatly determines how long it will serve you. A little bit of work will go a long way to extending the life of your smoker. A thorough cleaning of the smoker should occur at least once a year. If you frequently use it, you should have it done at least three times a year. Buying quality pellets will extend its life as well.
Cleaning Before You Cook:
Most old-timers will tell you that a buildup of soot and grease will improve the taste of your food. This does not prove true, in fact, it's not good for you and can even be dangerous. At Grills Forever we want your grilling experience to represent a safe one. Therefore, before any cooking session, always clean your grill to optimize its performance and prevent any off-flavors. Check the grease pans or collectors before smoking, because the collector could be full and overflow, starting a fire. If there is a grease chute, then clean it for sure.
Inspecting Your Burners.
Burners represent an important component of your smoker grill and you need to inspect them often. Make sure there are no blockages or corrosion. Cleaning your burn pot with the proper methods will produce great benefits.
Replacing Your Gaskets:
Certain parts of your smoker grill will wear out faster than others if you use your smoker a lot. So, you may need to replace them every few years or so to have the best experience. The gasket represents the place where the dome meets the base. This makes for an easy fix and you can purchase a kit and have it repaired in no time.
The Instruction Manual is Necessary:
I know, I know, no one likes to read the instruction manual, but even as an expert you see the advantages learning the specifics of your grill. Reading the manual is key. Generally, you should not use water to clean the pellet smokers, so keep your hose pipe far away. These smokers have digital controllers, a motorized auger, a fan and an igniter rod for the fire pot. These parts will get destroyed if they come into contact with water. You should gently dry scrub the dirt off these parts, making sure not to disassemble any parts. Cleaning the thermostat will also prove essential; otherwise, it may read temperatures inaccurately.
Maintaining Exterior Components:
If you are concerned about the shine on its exterior, always use dish soap, warm water and a scrubbing sponge to clean it. Also, avoid metal brushes or steel wool. Remove stubborn stains by scrubbing using diluted ammonia or vinegar. And you can remove the water spots using unsweetened club soda.
Lubricate your motor and fans for optimal use. This will help your smoker to work better, longer. Note that you should not store your grill for long idle periods. Doing so can cause the structure to warp and mold to form under the grill cover, which of course can render the entire grill unusable or inefficient.
What to Look Forward to?
The zest for barbequing is growing every year with more and more BBQ lovers venturing into the mystery of the myth-laden empire of smoking. We have spent years encouraging the outdoor cooking buffs to embrace pellet smokers, and until now, our efforts have brought about fruitful results.
As new manufacturers are getting into the market to cater to the growing need for pellet smokers, they are coming up with unique features to help them stand out from their competitors. This is a great advantage for the users, since the competition is pushing for more innovation into the barbecuing industry.
Many new developments are underway and soon will be released in the market. However, some are already with us! So here are some of the biggest things to look forward to while buying your next best pellet smoker.
Wi-Fi control – Pellet grills use electronic circuit boards, which means they can feature a lot more functionalities to facilitate the outdoor experience. Wi-Fi control is already being included in pellet grills, such as in the Green Mountain Grill and Davy Crockett Pellet Grill.
PID Controller– Proportional Integral Derivative Controller is a recent technology that many manufacturers have yet to include in their products. It helps the smoker maintain an accurate and precise temperature while cooking.
Web-based control – this is an idea yet to be implemented and is intended to be an upgrade to the Wi-Fi control feature. The plan is to make it possible to control a smoker's temperature from any place on the planet as long as the smoker is connected to the internet. This will let you set your food and go to work without worries.
Apart from these new inventions in pellet smokers, the most common things to look for while shopping for your smoker include:
Digital temperature controls with temperature as high as 550oF or more
The size of the cooking area and its portability
Inclusion of programmable meat probes to check the actual temperature of your food
Secondary cooking racks
Efficient use of pellets
Direct grilling options
The price – it should reflect the features of the smoker
With the upcoming and already existing new features, you can achieve an easier smoking experience. Always look for features that can help bring out the real taste of food, and give you more control and convenience. Check back with us often because we will always be the first to bring you the newest innovations in grills and smokers.