A pellet grill can be defined as a combination of a smoker and a grill. In wood pellet smokers, the meat is not smoked or grilled with the help of direct flame like a standard grill. This helps in eliminating the problem of flare-ups completely. If you are looking to buy the best wood pellet grill then Camp Chef SmokerPro SE can be a great choice for you. If you'd like to know more about this quality smoker grill, continue reading this Camp Chef SmokePro SE Grill and Smoker review.
Includes
Large Cooking Area
Big hopper for more pellets
Digital temperature control unit
Temperature gauge
Ability to Reach High Temperatures
Automatic pellet auger
Easy cleanout
Removable ash cup
Adjustable smokestack
Key Features
In this part of the Camp Chef SmokerPro SE Pellet Grill and Smoker review, we will see some of its most impressive features.
1. Large Cooking Area:
When it comes to smoking at home for friends and family with ease, you cannot help but arrange a smoker that has a huge cooking area for plenty of foods. Besides, smoking meat takes time. With all this in mind, Camp chef SmokerPro comes with an astounding 429 square inches of cooking area. Use as much space as you need when you need more meat to smoke for parties or family gatherings.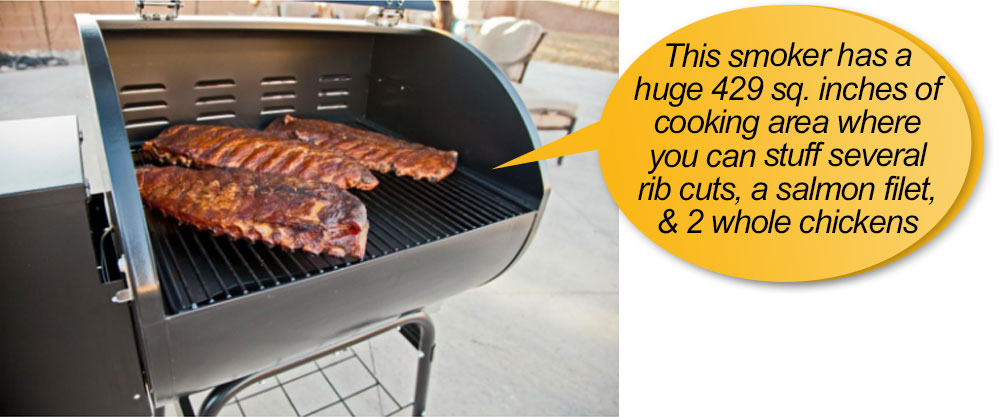 2. Big hopper for more pellets:
The hopper of SmokerPro is spacious enough to house up to 18 pounds of hardwood pellets. That is in proportionate to the large cooking space and this saves you a lot of time in the sense that you do not have to fill it up frequently. Just load it up once and you are good to go for a long grilling session. Besides the hopper is properly sealed for rough weathers.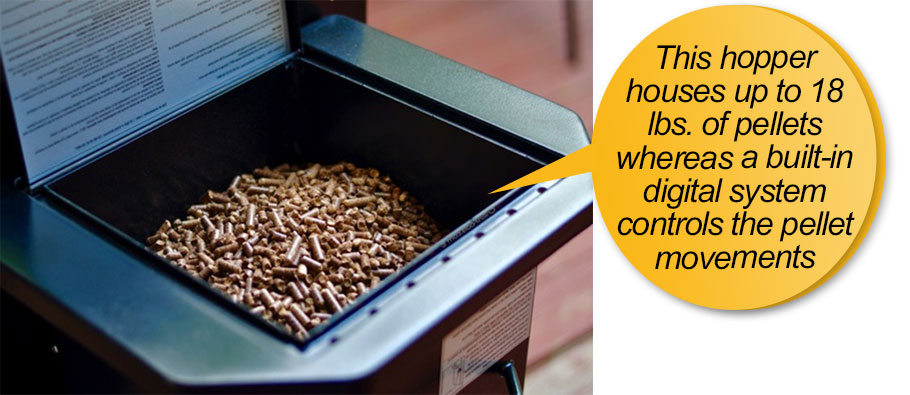 3. Digital temperature control unit:
The Built-in digital sensor gauge controls and internal cooking temperature controls of this unit are awesome. You can take the advantage of "Low" and "High" settings without worrying about grill priming. All you need to do is adjust the temperature and the pellet smoker will automatically maintain it.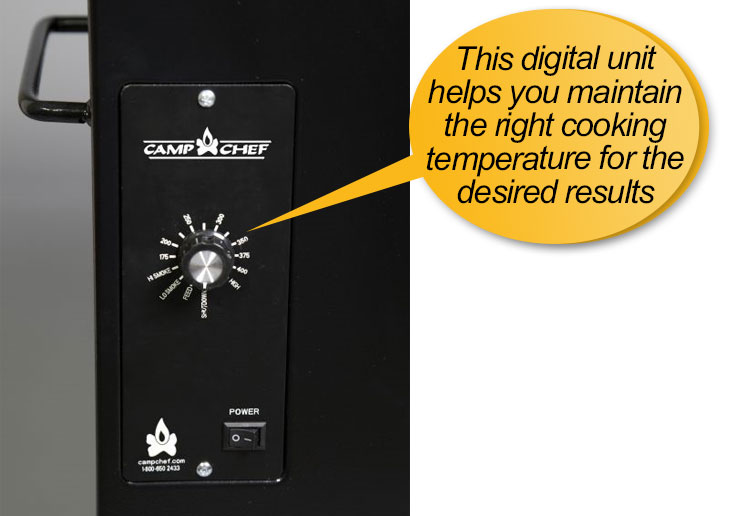 4. Temperature Gauge:
One of the common issues faced by many when smoking or grilling is remaining unsure of the temperature inside the cooking chamber. When you open the cooking chamber, both heat and smoke escape and this can result in significant reduction of its internal temperature. To eliminate this problem, Camp Chef SmokerPro SE Pellet Grill and Smoker comes with a built-in temperature gauge. This allows you to track the internal temperature to make sure that your meat is cooked properly every single time.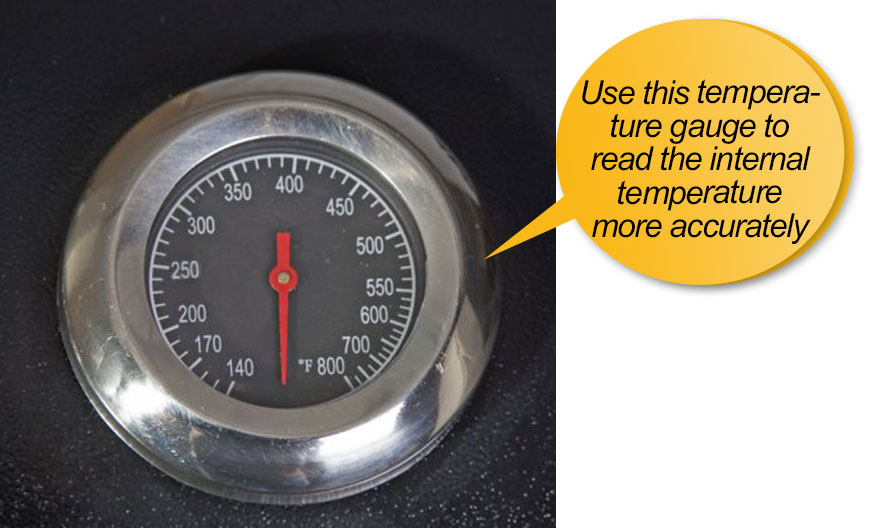 5. Ability to Reach High Temperatures:
This pellet smoker is highly versatile. While there are many barbecue smokers that can smoke meat for you, you will find it difficult to reach the exact temperatures you want. However, this Camp Chef SmokerPro SE can easily reach to temperatures of up to 500 degrees.
6. Automatic pellet auger:
Automatic pellet auger is another convenient feature that intelligently maintains accurate heat inside the cooking chamber by providing just the right amount of pellets inside the firepot. When the optimum temperature is reached, the auger automatically stops channeling pellets.
7. Easy cleanout:
Like any other ideal pellet grill and smoker, this one has a smart easy cleanout design which allows the grease and oil that drip from the meat to drain outside the system into a bucket. You can easily clean this bucket within a minute. If you were worried about cleaning and maintaining your smoker grill, this feature should bring a smile on your face.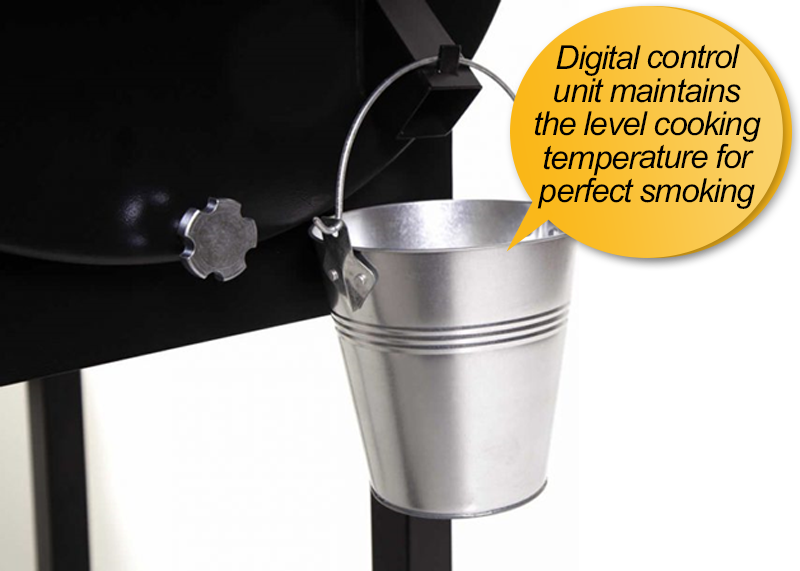 8. Removable ash cup:
Again, this smart smoker has another good news for those who are terrified about cleaning their grills. All the ash stored in the firepot can be removed with this smart feature. You just need to pull a button located on the right side of the smoker. The next thing is to remove the ash cup and dump the ash outside.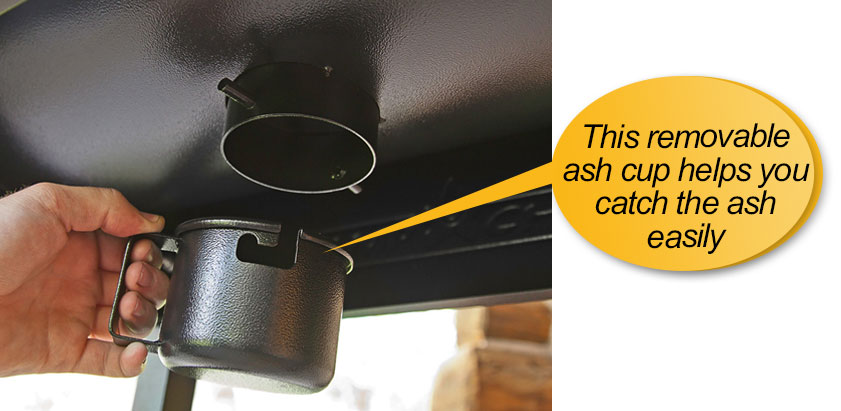 9. Adjustable smokestack:
The smokestack that comes with the smoker is adjustable. Basically, the purpose of this part is to funnel the smoke outside.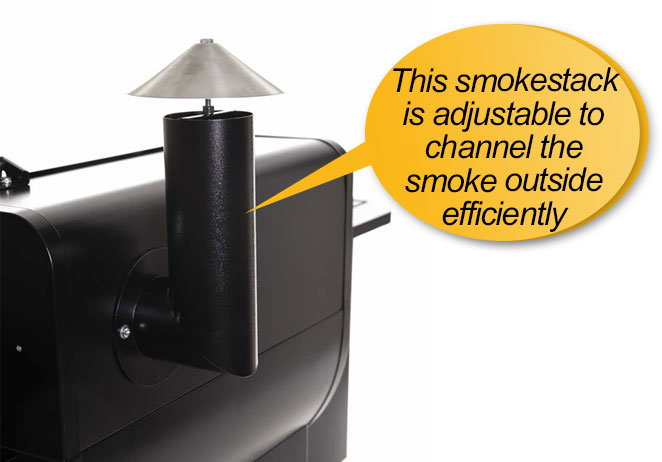 Cleaning and Maintenance
Cleaning and maintenance are two very important aspects of a smoker grill. Both of these aspects should be as simple as possible to ensure flawless functionality over a long period of time without requiring to repair or replace your grill. If you've cleaned pellet smokers in the past then you might know how difficult it is to clean them.
However, the manufacturers have made the cleaning process very simple in this smoker grill. Basically, there are 2 types of dirt that a user deals with while smoking. Firstly the grease and oil for which, as mentioned earlier, the design of this smoker is done in such a way that all the grease and oil drains out of the system into a bucket. Secondly, there is pellet ash, for which the users are provided with an easy access to the burn pot and there is also a trap door with the help of which the unit can be cleaned without getting into the messy grease and ashes. There is also a knob which you can pull to easily empty all the ash on the can.
Pros
Can be used to smoke, grill, bake, barbecue and roast
Heavy-duty steel construction
No problem of gas leaks, uneven cooking, grease flare-ups or fumes
Large cooking area of 429 sq. inches
Can reach temperatures of up to 500 degrees
Digital controls for maintaining the cooking temperature
Built-in sensor gauge controls
<<  Read our review of top 10 Pellet Smokers
Cons
Every product has its advantages and drawbacks, and this Camp Chef grill and smoker is no different. While it is one of the best smoker grills, it has its own weaknesses as well. Let us have a look at them.
Some users have complained that this pellet smoker cannot be used outside on a windy day.
Some of them have also suggested that if you keep its hopper filled with pellets, moisture can damage the pellets and so you won't be able to use them.
Ease of Use
The next part of this Camp Chef SmokerPro SE Pellet Grill and Smoker review is how easy it is to use this smoker. If you ask me, I'll easily give it 4.5 out of 5. When I purchased this unit, I didn't know much about smoking and I never really faced any difficulty with this smoker even during the first couple of days. It has had a huge impact on my smoking skills and now has made me a better smoker. Right from operating to cleaning, everything about this smoker is pretty straightforward and easy to understand.
Warranty Details
The 1-year warranty offered by the manufacturing company is slightly disappointing as other best pellet smoker grills generally carry a 3-year warranty. However, its strong built and durability make up for this.
Value for Money
While the Camp Chef SmokerPro SE Pellet Grill and Smoker is not the cheapest pellet smoker, it is indeed worth every penny you would invest for it. If you want to buy a high-quality pellet smoker that makes the smoking/grilling process easier for you, this pellet smoker is the right one to choose.
Replacement Parts Availability
While it was difficult to find the replacement parts of this smoker during the initial days when it was launched, now you can buy them easily from the brand's official website or other online stores. But you should first know when is the right time to replace this smoker.
My Verdict
There is no denying the fact that the Camp Chef SmokerPro SE is one of the best Camp Chef smokers out there in the market. It has a reasonable price tag and a number of useful features that make it a perfect pick for every smoking or grilling enthusiast.
Final Thoughts
So, that's it folks! I tried to provide you all the information I could with my Camp Chef SmokerPro SE Pellet Grill and Smoker review. Now it's up to you to make the final decision. If you are someone who focuses on quality instead of the cost of the product, you are sure to love this product. Also see other Camp Chef products that my team and I reviewed to identify the best ones from this renowned company.

FAQs
Q: I've heard that the thermometers that generally come with smokers are unreliable. Is the thermometer of this smoker accurate?
A: Yes, its thermometer is pretty accurate. It is generally of between 10 and 15 degrees. But it also depends upon where you are taking the temperature- on the lid, grates or the middle of the smoker.
Q: I am looking to cook beer can chicken in this smoker. Is it possible with respect to the height of this unit?
A: Yes, you can. By offsetting, I myself place 6 of them at once. Also, Camp Chef sells an accessory exclusively for beer can chickens.
Q: How long does the smoker need to reach high temperatures, like 250 or 350 degrees?
A: I can easily reach 250 degrees Celsius within 15-20 minutes and 350 degrees Celsius within 30-40 minutes. But it depends largely on the temperature of the surrounding environment. Nevertheless, the unit is pretty quick in reaching high temperatures.