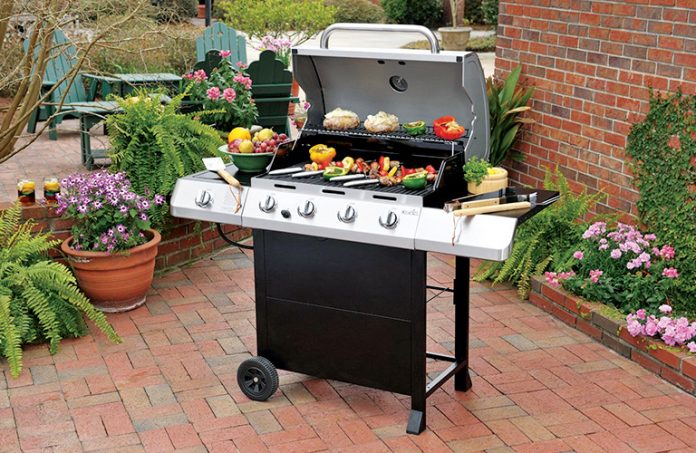 The Char Broil 4 burner grill is the right one for those who are looking for a powerful and functional barbecue grill having a range of features. As you read this char-broil cart style 4-burner gas grill review, you will know more about what this particular charbroil 4 burner grill has to offer and what makes it a powerful and compact device.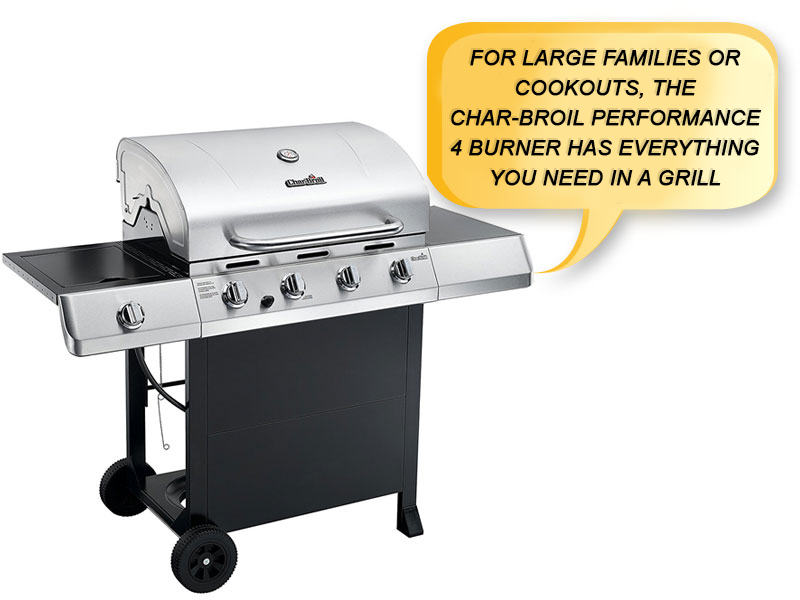 Key Features
The key specifications and features that come with this Char-Broil 463377319 Performance Stainless Steel 4-Burner Gas Grill are as follows:
1. Convective cooking mechanism
With the convective cooking system, indirect cooking and grilling at low temperatures is possible. All you need to do is close the lead for getting low flare-ups and even heat. This grill is engineered to cook in convective style as the heat inside this burner is evenly distributed.
2. Stainless steel porcelain-coated cooking grates
With porcelain coating on this grill's cooking grates, it is easy to clean them. It adds to their rust resistance as well, thus prolonging their lifespan. Much of the taste of the grilling depends on the quality of the grate as well. The heat carried by the metal leaves burn marks on the meats, if the grates are not of good quality it can affect the overall quality of the cooking.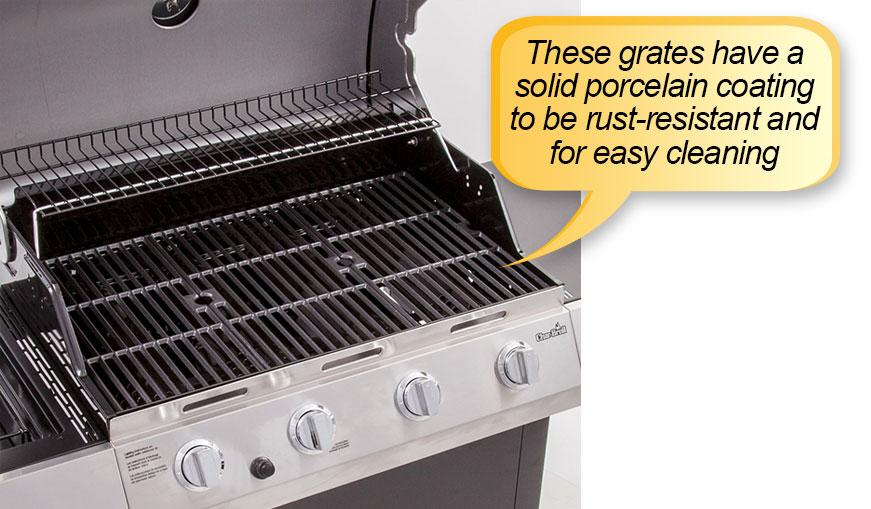 3. Burners made of stainless steel
Four stainless steel burners of this grill can generate up to 36,000 BTU in total. The steel build material helps them withstand high temperature over a long period of time.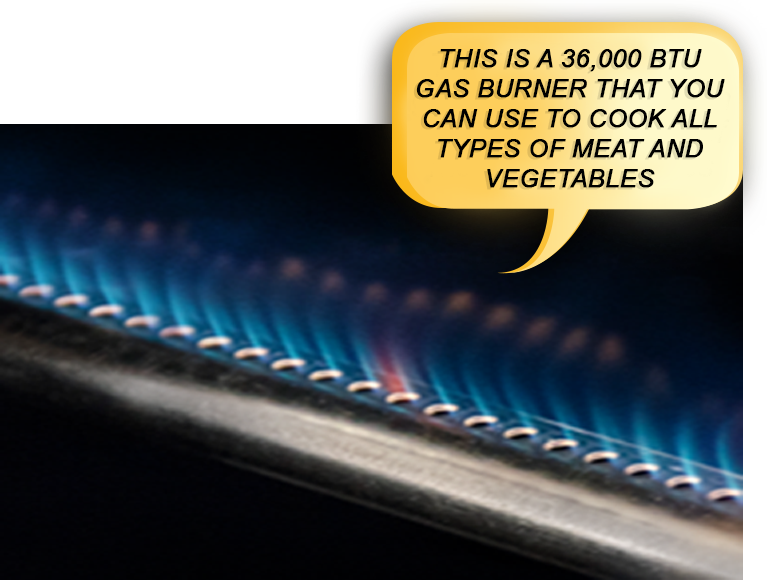 4. Temperature monitoring
With the temperature gauge mounted on the lid, it is easy to monitor the temperature inside the cooking chamber and the pre-heating status. This comes handy if you are after perfect grilling.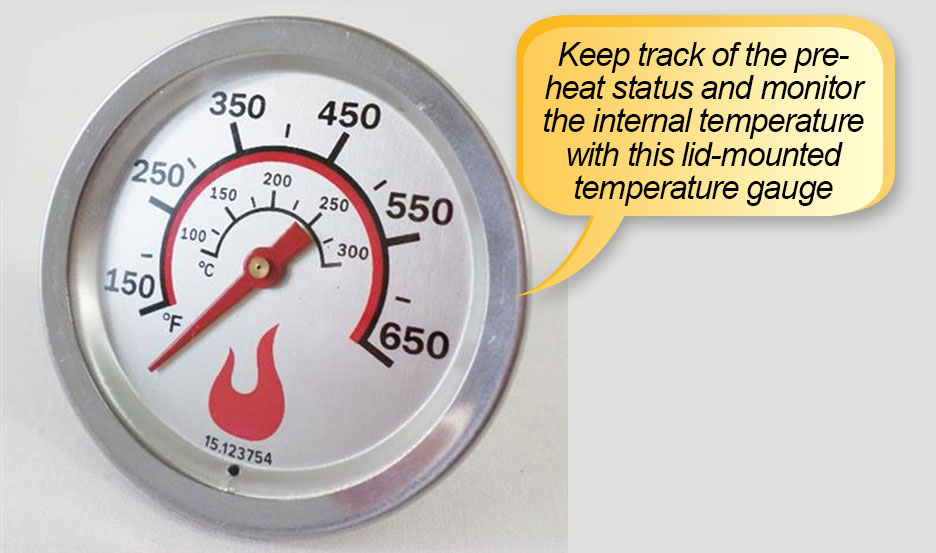 5. Reliable Electronic Igniter
The ignition lighter makes lighting the grill easier, an all gas grill lovers understand this better than anyone.  This grill has reliable Surefire electric ignition technology that allows you to light up the grill just by a push of a button. It literally takes less than a second to start the fire here.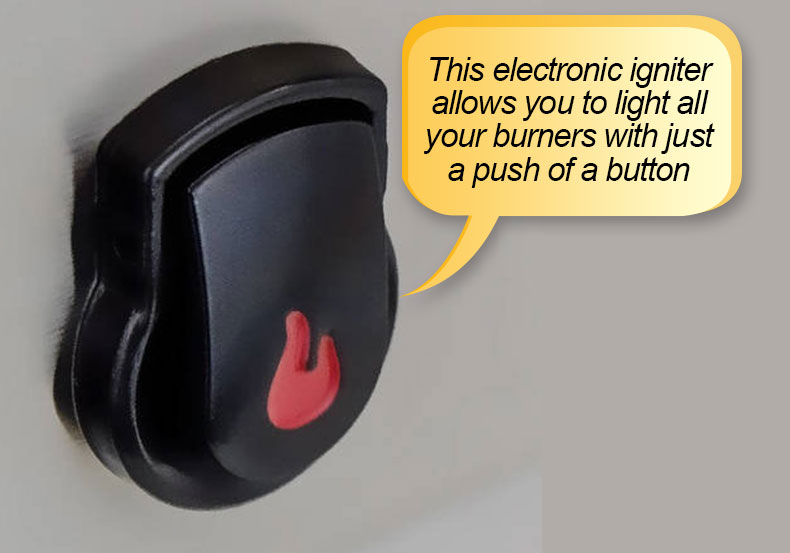 6. Side shelves for warming up additional dishes
Side-burners are provided alongside the main grill so that you can warm up side dishes and sauces as you grill the main dish. This place can also be used as an extra-work space by keeping the lid on it.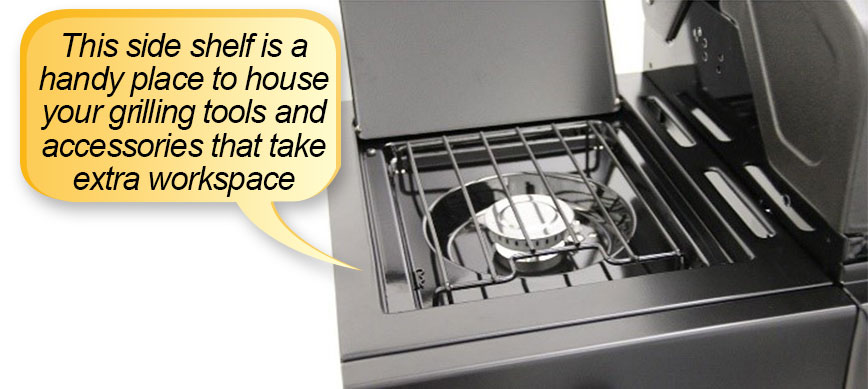 7. Oil and Grease cleanout system and removable grease tray
The Stainless steel grease tray in this grill is wide enough to catch all the oil drips from the grilling meats. It is also removable so that you can take it out and clean outside. As it is made of steel, the cleaning process is very easy.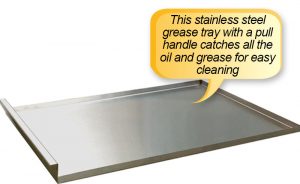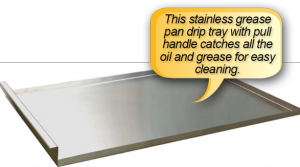 8. Heat tent
Heat tent is placed right above the burners to perform basically two different functions. Firstly, it disperses the heat that comes directly from the burners to ensure even cooking. Secondly, it protects the burners from grease and oil drips.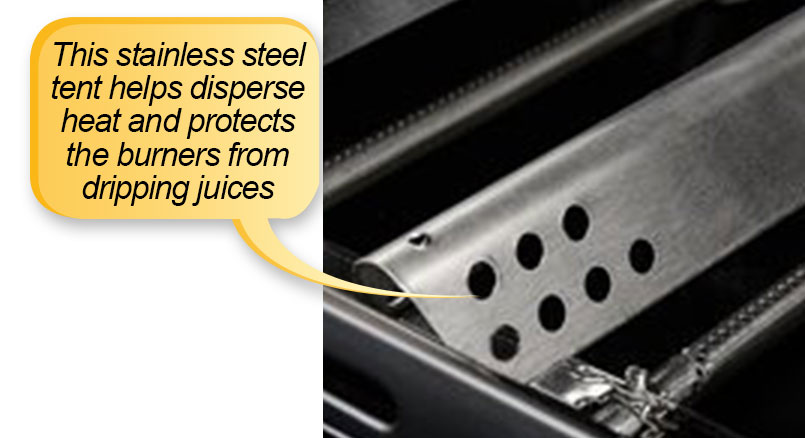 09. Moving the grill and holding it in place
The grill has four wheels that make it easy to move around. Among the four wheels, two of them are locking casters that are used to stabilize the grill once the machine is locked in. So, you will not have to worry about setting it up anywhere in your patio.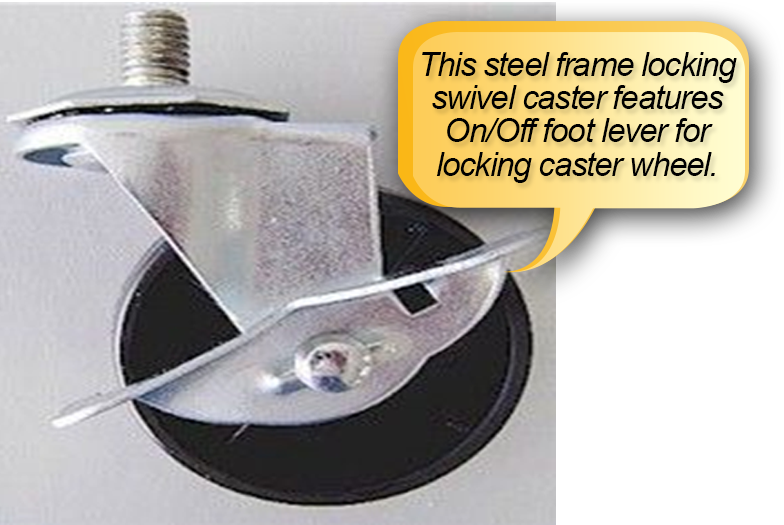 Maintenance and Cleaning
This Char-Broil 463377319 Performance Stainless Steel 4-Burner gas grill's cooking grates are easy to clean due to the porcelain coating on them. Anyone who has used a grill before will understand the value of that. They also rust significantly less. Apart from regular cleaning, the rest of the grill is quite easy to maintain and no special steps are required as far as maintaining Char-Broil 4-Burner goes. However, remember the below-mentioned factors:
There will be brown or black colored accumulations on the grill, which should not be mistaken for paint or smoke. Its interior is never painted at the factory and it should not be painted in the future as well. To clean these areas, a solution of water and detergent is required.
The painted surface of the Char-Broil 4-Burner Gas Grill do not require any special cleaning. Moreover, any oven cleaner or caustic grill cleaner should not be used on the surface. All that is required here is a wash using mild or non-abrasive cleaner.
For the plastic parts, washing them with just warm, soapy water is required. Allow them to dry once that is done. No abrasive or grill cleaner should be used on these areas; else, it will permanently damage the grill.
The stainless steel surface should be cleaned only as per the instructions to maintain the appearance of the grill. For this purpose, use a mild detergent along with warm and soapy water. After every use, wipe the grill using a soft cloth.
For cleaning the grease deposits, the use of an abrasive plastic cleaning pad is advised. But this should only be used along the direction of the brushed finish to avoid any damage. However, this is not meant for areas that have graphics.
Pros
Some of the advantages of using the Char-Broil 463377319 Performance Stainless Steel 4-Burner Gas Grill are:
Inexpensive and value for money
The Char-Broil 4-Burner Gas Grill is a large grill and still, it is an inexpensive one. This feature makes it a value for money product. As compared to its size, the output of heat is also fairly great.
It offers over 425 sq. inches of primary cooking space along with side burner grilling space.
Sturdy and durable design/construction
This Char-Broil 4-Burner Gas Grill has a sturdy construction and if used correctly,  it is guaranteed to last for a long time even with everyday peak usage.
All that a single person needs to do for assembling the Char-Broil 4-Burner Gas Grill is read the manual once, take a screwdriver and get to work. It will not take more than 2 hours to set it up and begin using it. All instructions are elaborately given with the necessary diagrams.
Apart from the standard work-space that this grill and its burners provide, it also has side shelves that are made of metal to offer additional space for working.
As noted above, the grill has 4 wheels with 2 that can be locked. This makes moving it around hassle-free and setting it up at a single place an easy task.
Accurate temperature management
With this grill, there is no need to guess or estimate the temperature, thanks to the accurate temperature gauge of the grill that makes this simple and convenient.
Cons
Although the Char-Broil 4-Burner Gas Grill has many great features and uses, a few disadvantages that come with this grill include:
The construction of the individual parts does take some bending and adjustment fit together.
The exposed back along with the hanging grease trap are an issue for those who have to roll the grill in place before each use, since it can cause spillage quite easily.
Ease of Use
As explained earlier, setting this grill up takes just one person with a screwdriver. It can be done in less than two hours. Taking a single look at the Char-Broil 4-Burner Gas Grill's manual will help you know how to assemble this grill properly.
Its stainless steel control panel and lid make it easy to use and clean. The electric ignition of this grill provides a simple and easy startup. Overall, it is a user-friendly grill for those looking to buy their first long-lasting 4-burner grill.
Warranties
The Char-Broil 4-Burner Gas Grill's burners are covered by a 5-year warranty and the firebox has a 2-year warranty. All of its other parts, including the lid, are under a warranty period of 1 year.
Value for Money
The porcelain coating, extra-work space, easy to maintain and clean, and cooking surface make it a product worth the money spent on it. What adds to the value of this grill is the fact that it consumes very little amount of gas and can work great with natural gas as well- a simple conversion kit is all it takes!
Availability of Replacement Parts
Majority of this grill's parts can be obtained directly from the manufacturing company's website itself. They can also be purchased from any major retail store that sells grills and burners.
Verdict
Overall, the Char-Broil 463377319 Performance Stainless Steel 4-Burner Gas Grill is quite a useful and functional grill for both beginners and advanced users. This amazing grill comes with a host of features, including extra storage and workspace at a reasonable price. For those who want a durable and functional grill that serves many other needs in the kitchen; (or wherever you are looking to grill and cook your favorite meals), this 4-burner grill is one that is worth considering.

FAQ's
Question: Are all the hoses provided with the unit?
The unit comes with everything that is required to begin using it post assembly, except the gas tank. All parts are sent as separate pieces, so assembly is required before using the grill.
Question: Can the unit be converted to be used with a natural gas line?
This grill can not be converted to be used with a natural gas line, It can be operated only with propane gas.
Question: Can charcoal be used with this grill by removing the tank?
This grill is not designed for using charcoal, so such measures should not be taken in order to use charcoal.
Question: How bad are the rust issues with this grill?
The advantage of using quality materials along with porcelain coating is that this grill does not suffer from rust issues, even after years of continuous usage!