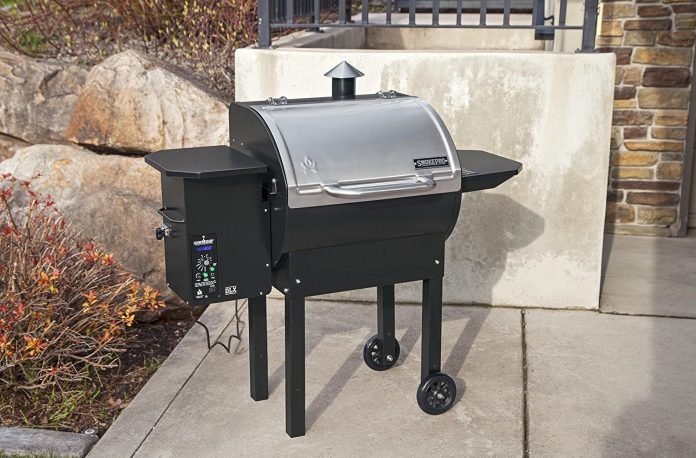 With all the different pellet grill and smoker models available in the market, it can be very difficult to choose the one that will properly fulfill your cooking needs. But if you are looking for an efficient and reasonably priced pellet smoker then I have an excellent option for you. Camp Chef Pellet Grill & Smoker Deluxe is one of the top-rated smoker grills currently available on the market and through this review, I'll let you know the reasons that make this pellet smoker such an amazing product. Before that, I'd like to inform you our team has reviewed a huge number of pellet grills from different brands, including those from Camp Chef, and this one was one of the top products we could not forget to use every now and then.
Includes
Stainless Steel Handle and Lid
Large Capacity Pellet Hopper
Electronic Auto Start Ignition
Built-In Sensor Gauge
Automatic Auger Dispenser
Dual LED Temperature Readout
Clean-Out Ash Can
Key Features
Let us have a look at some of the most impressive features of this wood pellet grill.
1. Stainless Steel Handle and Lid
The handle and lid of this pellet smoker are made of high-quality stainless steel for enhanced durability. Many top quality pellet smoker grills' handles and lids are made of inferior materials, which adversely affect the shelf life of the smokers and the safety while cooking. But with the high-quality built of this smoker, you can rest assured that it'll provide you with a flawless functionality for years to come.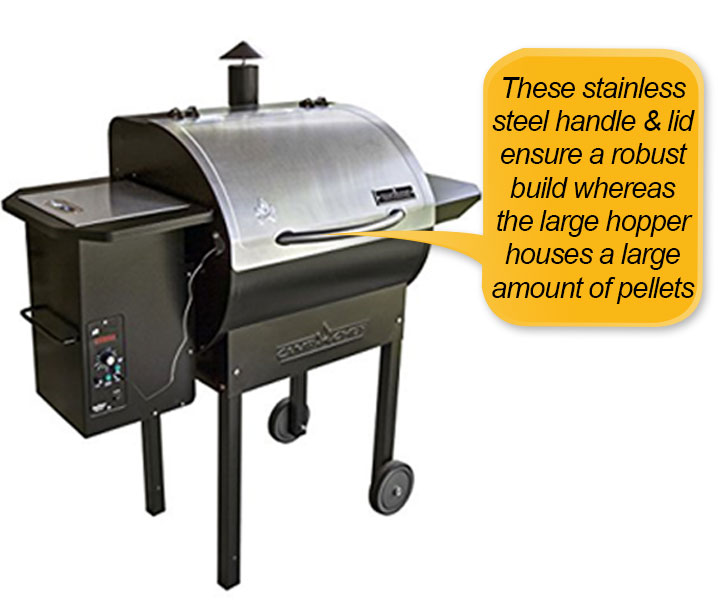 2. Large Capacity Pellet Hopper
The hopper is huge enough to capacitate 18 lbs. of pellets. This means you would not need to worry about pellet supply in the middle of cooking. A large hopper is also a good place for pellet storage.
3. Electronic Auto-Start Ignition
Only those who have gone through the hassle of repeatedly lighting up the grill manually would understand the significance of an electronic auto-start ignition. This reduces the most exhausting part of grilling and smoking. This particular grill has this smart electric auto igniter that repeatedly set the fire without outer interference.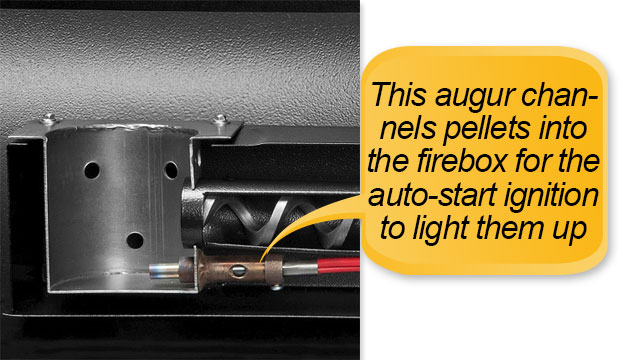 4. Built-in Sensor Gauge
There is no denying the fact that the internal temperature of a smoker plays an important role in the quality of food you will get from it. It is very important to maintain the temperature of the smoker properly for making sure that you always get the desired results. For complete convenience, this smoker has a built-in sensor for accurate reading of temperature to help you know the exact cooking temperature throughout the cooking process. For this purpose, the smoker comes with a stainless steel temperature probe. It is a thermometer that measures the inside and outside temperature of the smoking meat. Just stick it inside the meat and put the plug on the other end inside the port, and you can see the temperature instantly.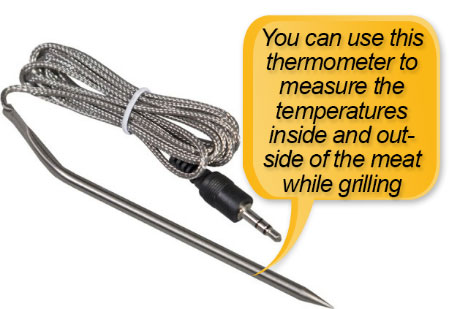 5. Automatic Auger Dispenser
While using this smoker, you don't have to worry about adding pellets in it time and again. It has an automatic auger dispenser for dispensing the required amount of pellets automatically. You can keep the hopper of this smoker loaded with 18 lbs. of pellets and the dispenser will use them whenever required.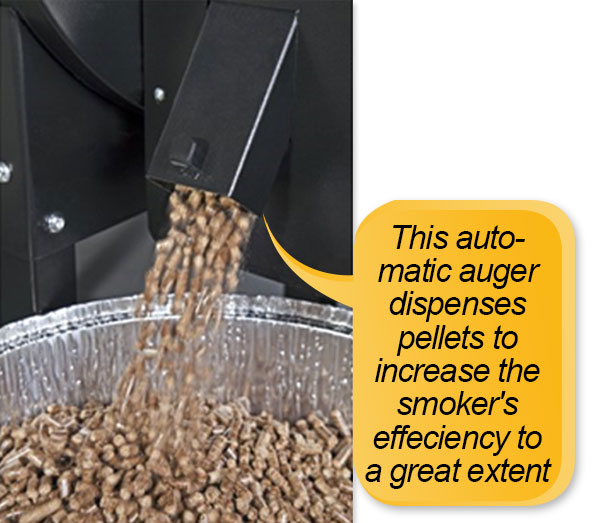 6. Dual LED Temperature Readout
This best barbecue smoker features dual LED temperature readout- one for the internal food temperature and another for the internal cooking chamber temperature. Together, they allow you to have a clear idea about the cooking temperature in order to ensure that you get your desired cooking results.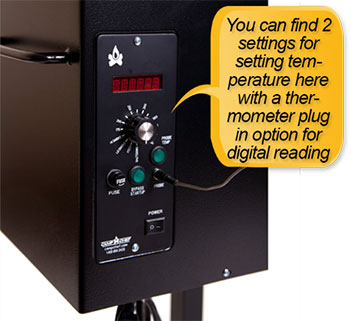 7. Clean-Out Ash
People hate to clean up and this is universal when it comes to using a smoker. It's partly because of the convoluted design in most smokers out there. However, the Camp Chef Pellet Grill & Smoker Deluxe is designed in such a way that all the grease and fat will drain out in a cup located at the bottom of the smoker. This makes it very easy to clean the smoker.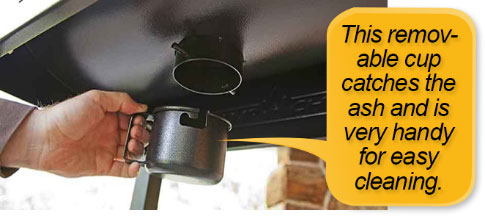 8. Other Convenient Features
Amidst other convenient features, there are solidly built black coated warming rack and leg wheels for durable grilling and portability.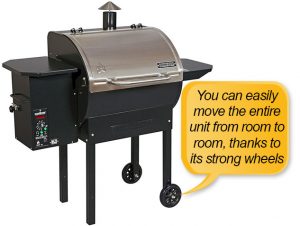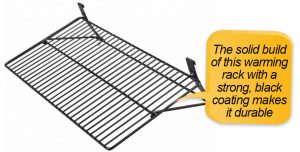 Cleaning & Maintenance
Apart from cooking itself, one of the most important aspects while choosing wood pellet smokers is the cleaning of the unit. The cleaning process of the smoker should be easy and shouldn't consume a lot of time. Camp Chef has done an excellent job of making sure that the cleaning and maintenance of this pellet grill and smoker are simple and quick.
The unit features a grease drainage system to easily eliminate the grease. It also has a knob that you can pull to empty all the collected ash in the smoker's clean-out ash can. Once collected, you can easily throw the ash off to make the cleaning process easier. As a matter of fact, the simple cleaning process of this smoker was the primary reason which encouraged me to buy this smoker and now write this Camp Chef Pellet Grill & Smoker Deluxe review.
Pros
This smoker uses pellets which are more efficient and environment-friendly as compared to charcoal smokers
Can be used for grilling, smoking, barbecuing, baking or roasting
Side shelves of 16" x 12"
Large primary cooking area of about 429 sq. inches and total cooking area of 573 sq. inches
High-quality built
Built-in meat probe
Dual LED temperature readout
Can generate temperatures of up to 400 degrees
Award-winning pellet grill smoker
Hundreds of positive reviews on the internet
Comes with a recipe book
Cons
No tabletop space, but you can buy the front-folding rack from Camp Chef that works perfectly with this pellet smoker
Many buyers have also complained that there is no step-by-step cooking instructions manual
<< Read our review of top 10 Pellet Smokers
Ease of Use
If we talk about its ease of use, I'd say that this pellet grill smoker is not the easiest of the backyard smokers. There is a bit of a learning process involved, especially for understanding the correct temperature on which you need to smoke or grill different types of meat. But this learning process is very important for improving yourself as a smoker. I'd agree that this Camp Chef Pellet Grill & Smoker Deluxe has made me a better smoker. Once you are used to this unit, getting perfect cooking results every single time will be a simple process.
Warranty Details
The smoker comes with a 1-year standard manufacturer's warranty and all the accessories offered by Camp Chef carry a 90-day warranty.
Value for Money
This Camp Chef Pellet Grill and Smoker Deluxe is reasonably priced when you look at the features offered by this unit. It has a number of features to improve your cooking experience, such as it uses pellets, the cleaning is easy and its build quality is excellent. All these reasons make this smoker an excellent value for money product. If you really want your meat to taste delicious and if you are looking to improve yourself as a BBQ chef, then this pellet grill and smoker is sure to provide you with the desired results.
Replacement Parts Availability
You can easily find the replacement parts of this smoker from the official website of Camp Chef. Moreover, you can also search for the parts at other online stores.
My Verdict
I'd urge every individual who is looking to buy a pellet grill and smoker to consider this amazing product from Camp Chef. It is undoubtedly one of the best Camp Chef smokers and has hundreds of positive reviews on the internet. Moreover, it has also won a few awards for its amazing functionality. While I can be wrong in judging this grill smoker, hundreds of buyers and experts cannot be wrong. If you are confused with the pellet smoker grills options available on the market, eliminate the hassle and choose this product.
Final Thoughts on Camp Chef Pellet Grill & Smoker Deluxe
I hope that my Camp Chef Pellet Grill & Smoker Deluxe review introduced you to an amazing pellet grill and smoker and also provided you with detailed information about the features and functionality of this unit. If you still have any questions about this product, use the comments section below to get in touch with me and I'll try to answer them as soon as possible.

FAQs
Q. A buyer has mentioned that the hopper of this unit jams. Is it true?
A. I've been using this unit for over a year now and have never faced any problem of hopper jamming. I simply select the temperature and check it once in every 2-3 hours.
Q. Is this pellet grill and smoker's lid easy to open? Is it very heavy?
A. No, the lid is not very heavy and can be opened easily. Camp Chef has made some amazing changes to the build of their smokers and they are now extremely safe and easy to operate.
Q. Does this smoker need electricity?
A. Yes, it does. You'll be required to connect it to a 120V power source. It needs electricity to not just produce smoke but also for running the temperature control and automatic auger dispenser.