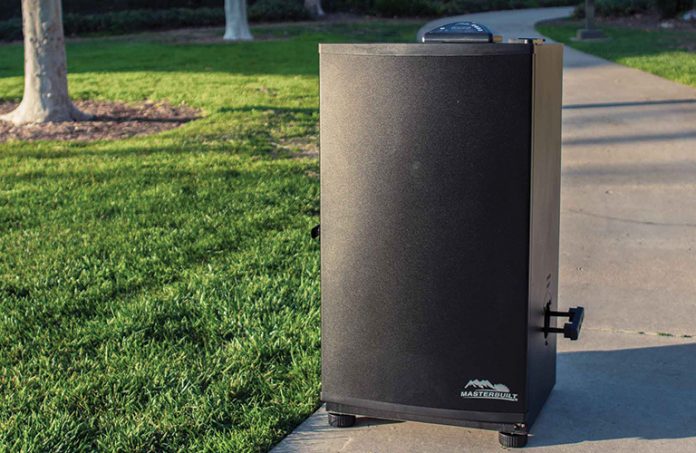 If you are in need of a quality electric smoker that will offer you great value for money and a range of features then Masterbuilt may have one for you. With a large cooking area, ease of use, digital control panel and a lot more, the Masterbuilt 20070910 Electric Smoker has a lot to offer to every smoker and grill lover. Let us go ahead of this Masterbuilt 20070910 Electric Smoker review and see if this smoker is worth your money or not. Also, don't forget to check other Masterbuilt smokers we reviewed right here on Grills Forever.
Includes/Parts
This electric smoker package has the following parts:
Smoker body
Digital control panel
Wood chip holder
Water bowl
4 Cooking Racks
Drip Pan
Grease Tray
Wood Chip Loader
2 Adjustable screw legs, pre-assembled
Air damper, pre-assembled
Door, pre-assembled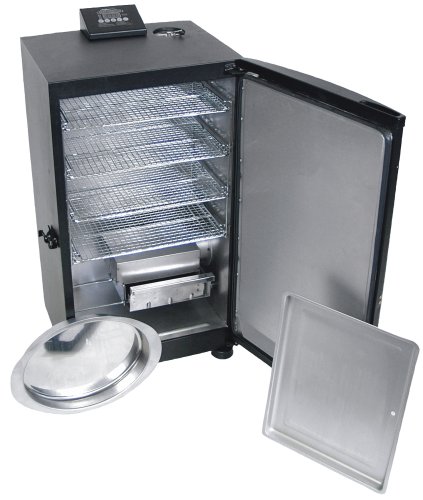 Key Features
Let's discuss a few key features this Masterbuilt electric smoker comes with:
1. Thermostatic construction with energy-efficient design
This smoker's heat is not only thermostatically controlled, but its walls are 100% insulated, thus helping in an even and energy-saving cooking. Its inner lining has been specially set up in order to maintain the smoky flavors in meat. All of the heat and flavors stay inside the cooker and never escapes, which helps the meat get cooked and smoked evenly.
2. Large cooking area with 4 chrome coated cooking racks
Masterbuilt 20070910 Electric Smoker comes with over 730 square inches of cooking area, spread over 4 racks that are chrome-coated for added durability over a long period of time. With this grill you can cook enough amount of foods in once cooking session for a decently sized party in your yard.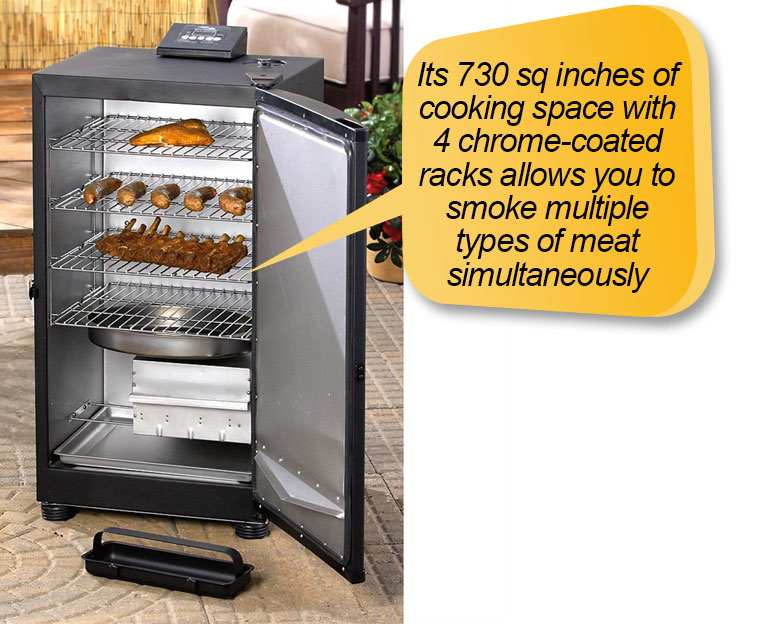 3. Digital control center and effective damper
With a convenient push button, Masterbuilt 20070910 Electric Smoker can be started easily without any complicated or lengthy procedures. Its digital control panel lets you set the temperature anywhere between 100 and 275 degrees Fahrenheit. This precise control helps you maintain the temperature at the required level and thus get the best cooking results. It has a 24-hour timer as well as an automatic shut-off feature so that you never have dry or overcooked food.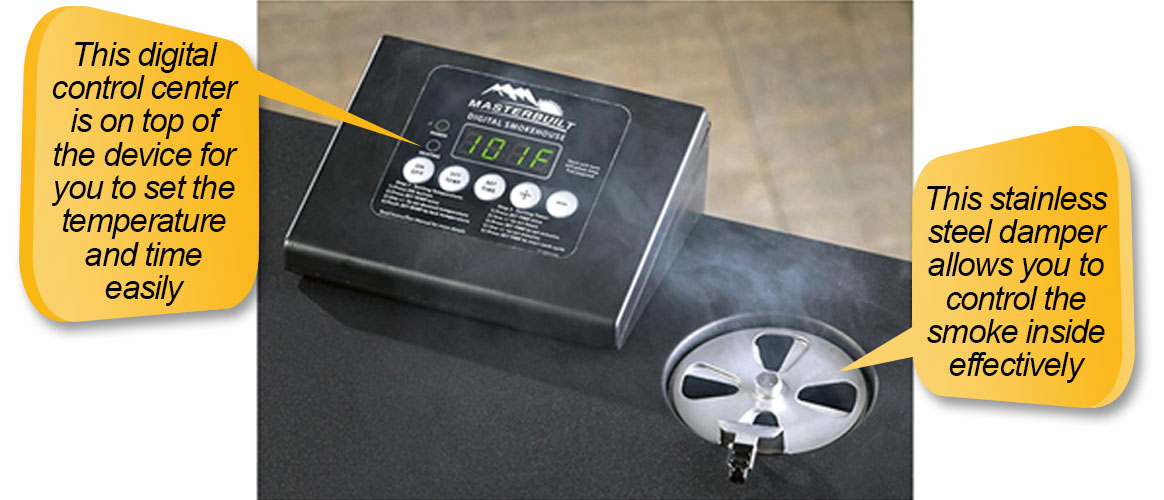 4. Powerful heating element:
The unit has a built in 800 watt heating element that is capable of generating enough heat for grilling and smoking any kind of meat conveniently.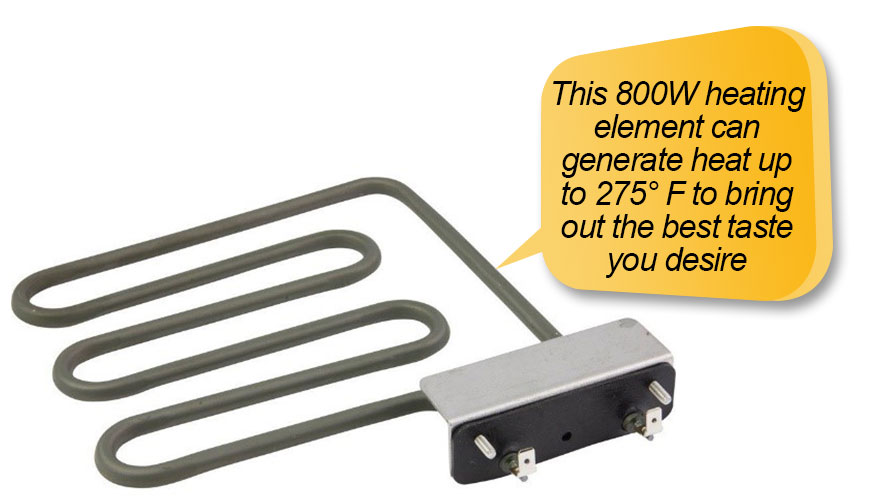 5. Wood chip loading system
Along with the easily adjustable digital controls, it also has a wood chip loading system. Using this, operation becomes much smoother and you can get the desired quality of smoky flavor in your meat with ease. It can be easily used with beef, turkey, seafood and chicken alike.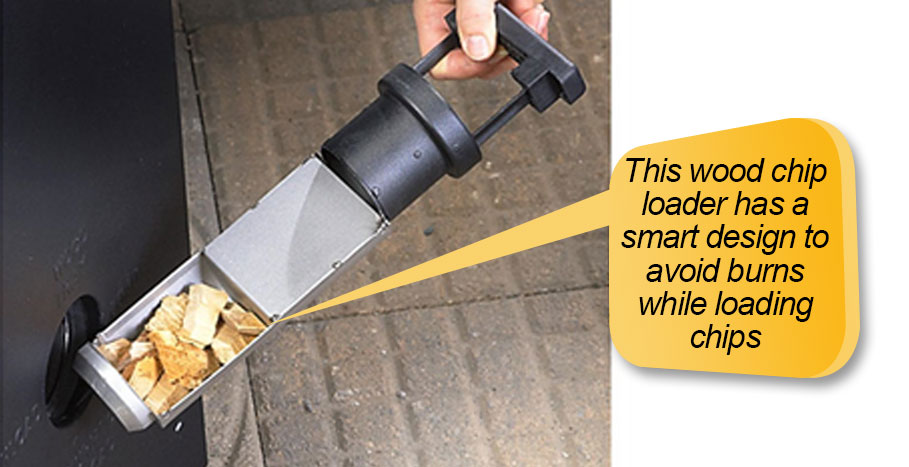 6. Durable water bowl
Water is essential in a smoker for adding moisture and even heat to the meat making them tender and delicious. This smoker comes with a stainless steel water bowl.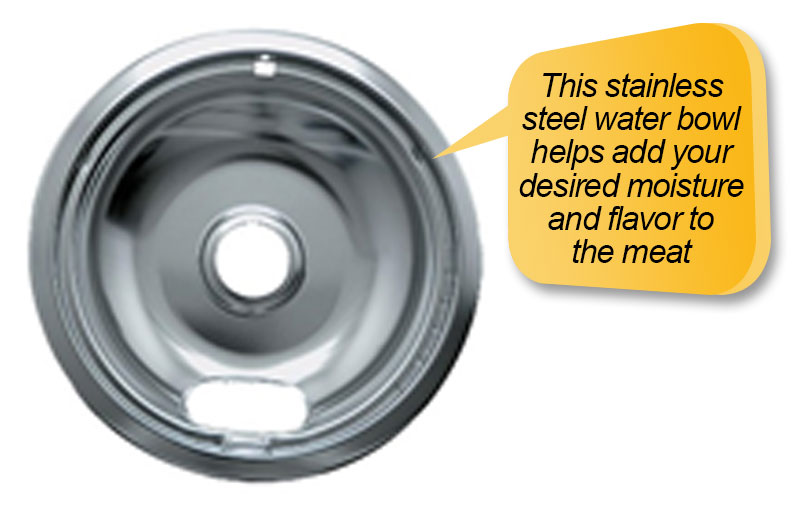 7. Added drip pan and grease tray for easy cleaning
There is a drip pan located at the bottom of the smoker so that all the grease and oil drips on it and it has a tiny little hole in it so that the grease drains down inside a grease dray below it which you can later remove the drip pan and clean it easily. It is a well-built no-rust equipment that you can use for years.


8. A single smoker to take care of all smoking needs of a family
If you are looking for a fully insulate smoker that maintains temperature efficiently using less energy and takes care of the needs of your entire family, you can go for this smoker.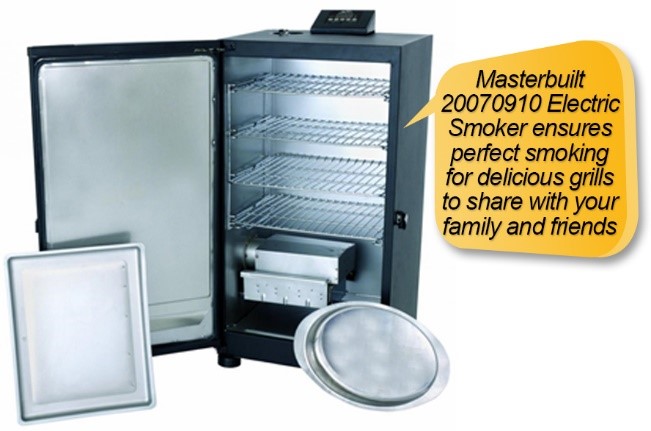 Maintenance and Cleaning
It is essential that you check out all guidelines prior to attempting any cleaning or maintenance tasks on the Masterbuilt 20070910 30-Inch Black Electric Digital Smoker.
Before performing any storing or cleaning task, the unit should be unplugged and cooled down.
To clean the cooking racks, drip tray and the water bowl, use any mild dish detergent and then rinse and dry them thoroughly.
To clean the wood chip holder and loader, regularly remove the residues, dust and ash stuck there.
The exterior and interior of this smoker can be wiped with just a damp cloth. It is recommended that no cleaning agents must be used here. Once done, ensure that the smoker is dried thoroughly. The internal seam and the door seal have to be cleaned after every use to keep them in perfect working condition.
Pros
Some of the main reasons that make this particular smoker by Masterbuilt better than other electric smokers are:
Digital control panels for precise temperature control and cooking
This smoker has a simple push button control panel that includes all temperature settings, thus allowing you to set it at any value between 100 and 275 degrees Fahrenheit. These settings are also highly consistent so that you always get the desired results. The streamlined controls along with LED display of it make it easy to be used at any time, even under bright sunlight.
Always get the results you expected
What makes Masterbuilt 20070910 different from other electric smokers is that it will always give you perfectly cooked meat. The automatic shut-off feature, 24-hour timer and 100% insulated walls will help you get delicious meat that is never dry or overcooked.
Easy cooking and grilling
With more than 730 square inches of cooking surface, this Masterbuilt electric smoker can be used for feeding a large group of people. It has an easy-to-use wood chip loader on its side where you can add as many wood chips as desired. Its four interior smoking racks have more than enough room for jerky, fish, chicken, ham and sausages.
Great for both novice and advanced users
What makes this Masterbuilt electric smoker great for novice users is that they just need to follow a few basic instructions in order to make full use of its all functions.
Spicing up the barbecue with your favorite flavors and beverages
With the Masterbuilt 20070910 Electric Smoker, you can pour anything ranging from juice and vinegar to whatever you like on the removable water pan for adding different flavors to your menu. With the adjustable air damper, you can control the smoke levels and get the right intensity of flavors you desire.
Easy and hassle-free cleanup
Its removable drip tray catches all drippings without failing, thus making cleaning it up easier.
Cons
While the Masterbuilt 20070910 30-Inch Black Electric Digital Smoker has a lot of great features, it is essential that you know the downsides of it before purchasing. Some areas where this electric smoker lacks its specialty are listed below.
Despite the durable Masterbuilt smoker construction, it still lacks durability on its shelf brackets. These can come off quite easily when pulled out.
Though the Masterbuilt 20070910 30-Inch Black Electric Digital Smoker is easy to use for novices, they will not be able to learn everything after reading the instruction manual, as it does not elaborate all the necessary things properly.
The edges of the spill shield are quite sharp, so one needs to be careful about that.
Ease of Use
Assembling the Masterbuilt 20070910 30-Inch Black Electric Digital Smoker is quite simple. Users just need to read the instructions that come with the package. Its digital panel further makes it easier to use, as everything is controllable from the streamlined controls and LED screen. It offers a range of consistent temperatures which make cooking at a specific setting a simpler task.
Warranties
Masterbuilt provides a warranty period of up to 90 days if the product is free of any defects. This warranty does not cover the paint finishing, rusting and damages caused by misuse, accident or transportation of the smoker grill.
Value for Money
With all the information given in this review, the Masterbuilt 20070910 30-Inch Black Electric Digital Smoker seems like it is a product worth the money spent on it. While the warranty of it could have been a bit better, Masterbuilt compensates for that with quality customer service and ensuring that you get the most out of your money with a great product and stellar customer support.
Replacement Parts Availability
All the major replacement parts of the Masterbuilt smoker can be purchased from their website. They sell all accessories and parts separately. In case the product is under warranty, you can contact Masterbuilt for replacement if it is covered by the warranty terms.
Verdict
It can be said that the Masterbuilt 20070910 is a product that is worth buying based on everything said about it in this review.

FAQ's
Question: Can its heating element be changed and how much does it cost?
Replacing the heating element of this Masterbuilt smoker is easy and it can be done by the manufacturer itself. In case it is not under warranty, you can also buy it directly from them at a price of $50.
Question: Does the set come with a temperature probe?
Yes, the unit has a thermostat to monitor the internal temperature of the grill. It can be adjusted with the readout on the display at the unit's top. However, there is no independent probe for measuring the temperature of the product being smoked. If that is what you want then a temperature probe will have to be purchased separately.
Question: What should be used along with the smoker- wood chips or wood chunks?
Wood chips along with some pellets can be used after soaking the chips for around 30 minutes to get a steady smoke along with addition of a few dry pellets to roll the smoke quickly. These will burn out quite fast though. Small wood chunks can be used, but they should be 1.5" cubes or lesser so that they fit in the tray.
Question: Can this smoker be used after plugging it in a generator?
This can be safely done as long as the capacity of the generator is not exceeded. If you avoid overtaxing the wattage of the generator by powering several things at once then this smoker would work just fine.