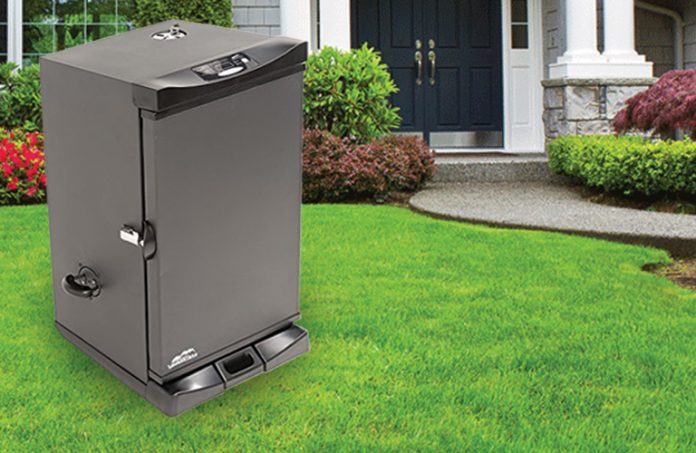 If you are looking for an electric smoker that will not require you to do a lot of work for grilling then you have come to the right place. This review is all about the Masterbuilt 20078715 30-Inch Black Electric Digital Smoker– what makes it a great electric smoker, if it is worth your money or not, the cons of having this 30-inch smoker by Masterbuilt and anything else that you need to know for making an informed decision. Read on to see what features come with this smoker and how it will serve you based on our experience when we reviewed Masterbuilt products.
Key Features
This digital smoker is unlike the regular electric smokers that the present market has to offer, as Masterbuilt has loaded it with a lot of cool features. The most noteworthy ones are listed below:
1. Spacious Cooking Area
Masterbuilt 20078715 30-Inch Black Electric Digital Smoker offers a total cooking area of 721 square inches that is spread across 4 cooking racks. The entire space can be properly used thanks to the separate racks. You can cook more than one kind of food at a time; for instance, chicken, beef, hams, and vegetables. This facility not only helps save time and power but also gives a delicious flavor blend.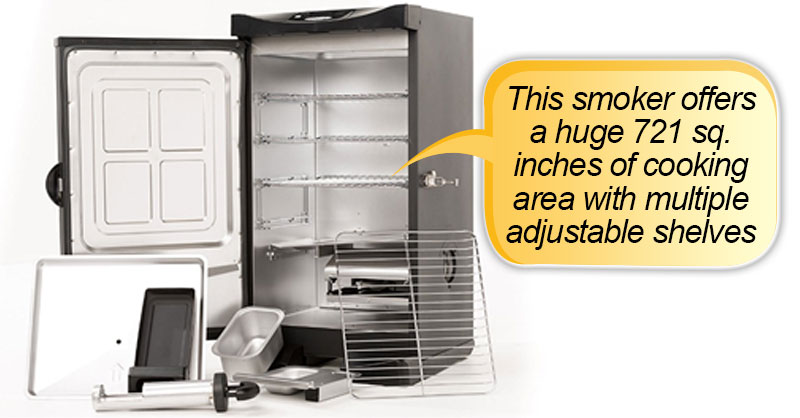 2. Digital Control Panel with LED Display for Precise Temperature Management
This handy control panel makes the Masterbuilt 20078715 one of the most manageable electric smokers in the market. You can conveniently use it from 100 to 275 degrees F with the thermostat temperature control. Besides, one of the biggest upsides of having electric smokers is that you can see and keep track of the temperature and time easily with an intuitive Blue LED Display. Even in sunny days where the display is under the direct sunlight, reading the display will be an easy task.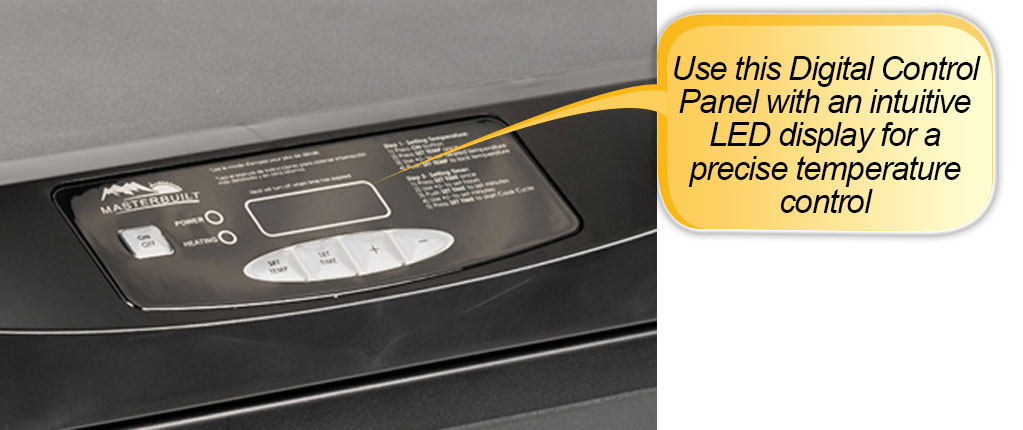 3. Chrome Coated Cooking Racks
Four chrome-coated cooking racks are strong enough to undergo repeated heating and thorough washing without wearing off or catching rust. You can safely smoke your foods on them.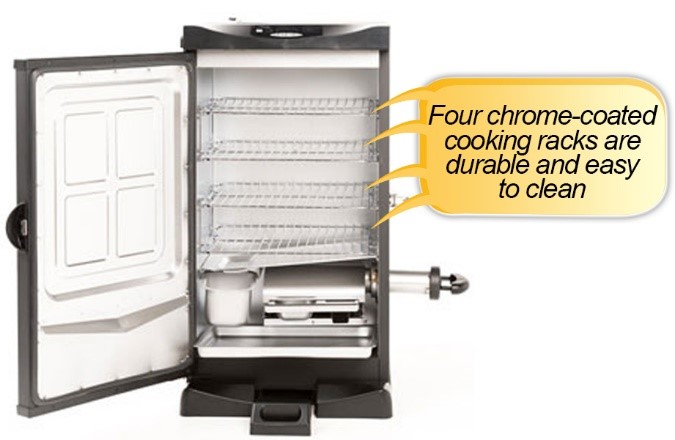 4. Wood Chip Loading System
It smooth-operating side wood chip loader makes adding wood chips quite easier. You do not need to open the main chamber to insert wood chips- just open it from the side and have improved smoke control with your favorite flavor in the food.
5. Front Access Drip Pan
For any smoke, the design should focus on easy cleaning. This smoker's design looks like it follows the right direction. The front access drip pan is located at the bottom of the smoker where all the grease and oil will eventually drip and find a small hole in it for draining into a grease storage pot below.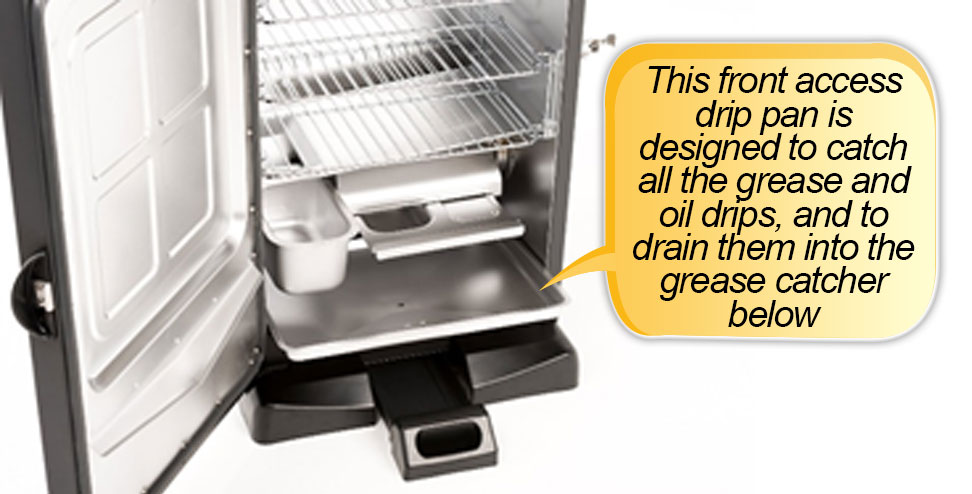 6. Sturdy Construction
The body of the smoker is built of strong heat-resistant material. This is also highly insulated for keeping the heat inside. Due to sturdy construction, it can function even in rough weather.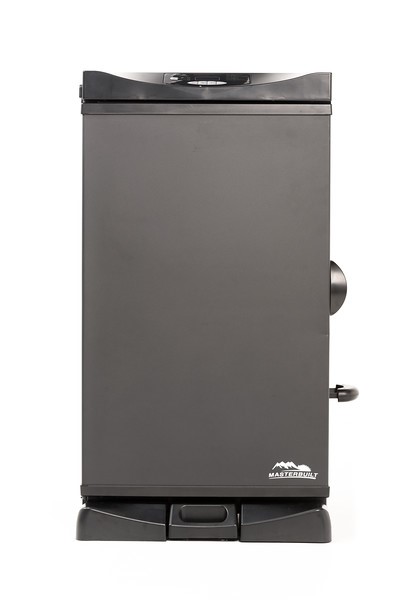 Cleaning & Maintenance
You do not need to perform any complicated procedures or use specialized equipment for cleaning this 30-inch Masterbuilt electric smoker. Before performing such an operation, ensure that the unit has been unplugged and cooled down. Just read and keep the following instructions in mind to clean the Masterbuilt electric smoker.
For cleaning the interior and exterior areas, wipe using nothing more than a simple damp cloth. Do not use any cleaning agents. After wiping, dry them thoroughly prior to use. The door seal, as well as the seams inside, need cleaning after each use, else they will stop working efficiently after a while.
For cleaning the wood chop loader and holder, ensure that you frequently remove any dust and ash that builds up as well as the residues that are left there.
The cooking racks, water bowl and drip tray of it can be cleaned with any mild dish detergent. Once cleaned, it is essential that they are dried and rinsed thoroughly before use.
Pros
As compared to most electric smokers, there are quite a few upsides of having this particular model. Some pros of the Masterbuilt 20078715, 30-Inch Black Electric Digital Smoker you should know about before making a final decision include:
Easy Assembly, Use, and Management
This Masterbuilt 30-inch electric smoker was designed keeping both novice and advanced users in mind. It has easy controls and setup, which make it the ideal smoker for a beginner. Advanced users looking for a finer control on using smokers can do so with its huge range of controls and setups.
With this 30-inch Masterbuilt electric smoker, you need not keep checking your food once every few minutes. Just set it up with the desired food and let the smoker do the rest. Unlike other smokers, it maintains the set temperature with ease that helps you get your meat cooked to perfection.
Precise Temperature Controls and Results That You Want
Not only does its thermostat control work great, but the high-quality construction also helps maintain the desired temperature with ease. The chrome-plated racks along with 800-watt heating element help you get the kind of taste you want and the insulation system maintains the heat to provide you consistent smoking.
Large Cooking Area with Adequate Support
The 4 cooking grills that come together to give you over 721 square inches of cooking area make it ideal to cook for a large number of people. You can even use it to cook and smoke different kinds of food simultaneously. Its spacers and grates are adjustable, and can be removed to incorporate large items, like a turkey or a chicken.
Cons
While the Masterbuilt 2007815, 30-Inch Black Electric Digital Smoker has a lot of great features, there are a few negative sides of having this smoker. The most significant ones are mentioned below:
Harder to Move Around and Transport
This smoker does not have any wheels to make it moving around easier. With a weight of around 50 pounds, it may be a little hard for some users moving it from one place to another.
While the LED panel lets you know the temperature of the smoker, it does not tell the temperature of the food inside, which can only be known with the help of a meat probe that has to be purchased at an extra cost.
Lack of a Remote Control System
Read our review of top 10 Electric Smokers
Ease of Use
The LED controls and precise temperature management of this model make it the perfect smoker for a lazy gourmet lover. It requires minimal cleaning and maintenance, and you will have to give it a thorough cleaning just a few times a year. If you want a user-friendly smoker that is easy to use and does not have too many complicated setup and usage requirements, then this is the product you must choose.
Warranty
This product is guaranteed to be free from any material or workmanship defects for a period of 90 days after the original retail purchase. In order for this warranty to be valid, Masterbuilt 20078715 requires that the product has been used under normal conditions and has gone through a proper assembly. Any paint finishing and rust are not covered under this warranty.
Value for Money
Overall, the Masterbuilt 20078715, 30-Inch Black Electric Digital Smoker can be considered as a value for money product based on the pros and cons of it listed in this review. While there are a few areas where it could be improved upon, it still manages to deliver you your money's worth in the form of excellently smoked meats.
Replacement Parts Availability
Masterbuilt itself manufactures and sells all spare and replacement parts on its websites. You can purchase these either from their website's online shop or from an authorized retailer. Using any non-genuine parts voids the warranty of the Masterbuilt 20078715 30-Inch Black Electric Digital Smoker, so check them properly prior to purchasing and installation.
Verdict
From this review, the Masterbuilt 20078715, 30-Inch Black Electric Digital Smoker does emerge as a product worth your money. It offers you a diverse range of features with precise controls to make grilling an easier task. With this smoker, you can mix up all your favorite types of meat and cook them together without doing a lot of work!
Before buying any smoker, checking out all the available information regarding it is essential for making a good decision. With all the above-mentioned information, you can now judge whether or not the Masterbuilt Electric Smoker is worth your money.
FAQs
Q. What is the lowest temperature setting that the Masterbuilt 20078715 30-Inch Black Electric Digital Smoker can be used with?
A. This smoker does not generate any smoke below the 185-degree temperature level since it is not a cold smoker.
Q. Does this smoker come with a replaceable heating element?
A. Yes, the heating element of this smoker is replaceable. At the back, there is a plate that can be removed to access and replace the heating element whenever needed. All you need to do is take off the 6 Philips Head Screws that are there to hold it in place. In case the smoker has warranty, it is advisable that you get replacement from Materbuilt support only.
Q. Is the unit insulated enough to be used in cold weathers?
A. The unit is insulated enough to ensure that the outside weather has little or no effect on it. You can use it and get the same results in both hot and cold weathers.
Q. Is the smoker weather-resistant?
A. No,  it may be damaged if the plug gets wet. In order to protect it from the rain when stored, ensure that it is covered with a good quality cover.