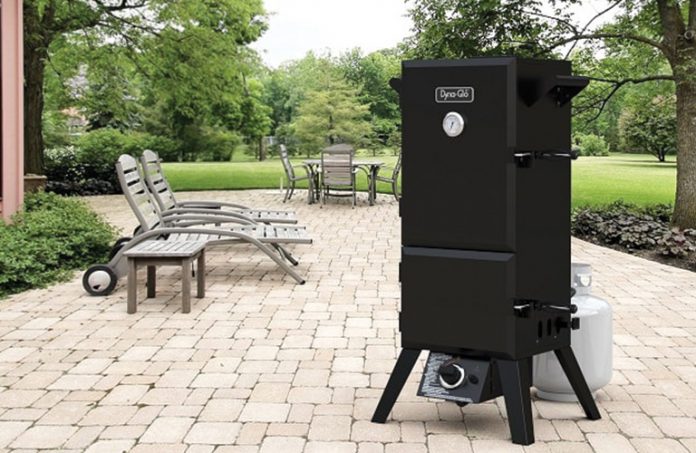 When I was looking to buy a perfect smoker for me, it was a large number of positive reviews that made me buy this Smoke Hollow 44241G2 Vertical LP Gas Smoker. There were also some negative Smoke Hollow smoker reviews; but overall, the number of positive reviews was far greater than the negative ones. And trust me, I am pretty glad that I made this decision. Go through this Smoke Hollow 44241G2 Gas Smoker review to know more about my experience with one of the best Smoke Hollow smokers available in the market.
Includes
Cooking Unit
5 Cooking Grids
Water Pan
2 Wood Chip Pans
Smoke Chimney
Key Features
Two 12,000 BTU Stainless Steel Tubular Burners
Dual Wooden Pans and Push buttonPiezoelectric Ignition
Powder Coated Steel Sheet Metal Construction
Five Chrome Plated Steel Cooking Grates
Porcelain Coated Water Pan
Temperature Maintenance
Easy Assembly
1. Two 12,000 BTU Stainless Steel Tubular Burners
For any smoker, the burner is the vital part. The design of a burner/s directly impacts the overall cooking process. This amazing smoker sports two powerful tubular burners that are designed for high performance and they do it very well even when the entire unit is packed with meats.

2. Dual Wooden Pans and Push Button Piezoelectric Ignition
Unlike other gas smokers, this smoker features dual wooden pans (boxes). You can easily fill both the boxes with chips and can burn them one after another. You can let the chips in the first box burn completely and then ignite the ones in the second box. Together, the boxes can provide you with 3 hours of smoke without needing any manual interference. On the other hand, the red push piezoelectric ignition button offers the simplest way to light the fire.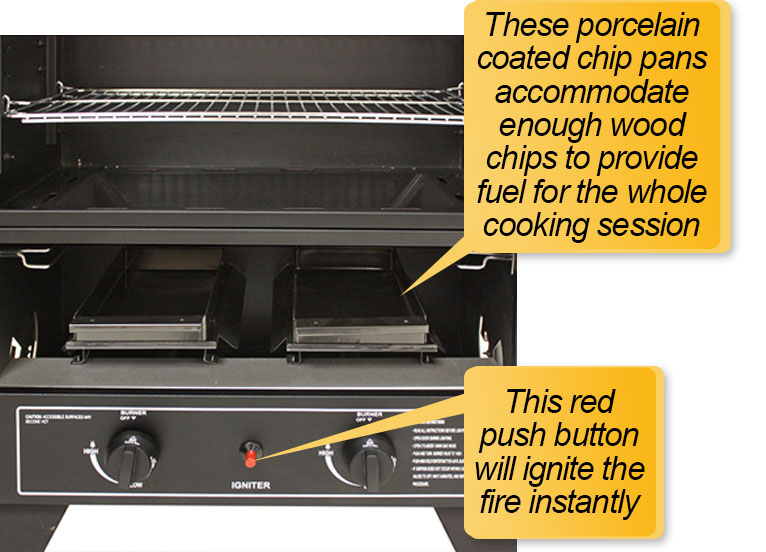 3. Powder Coated Steel Sheet Metal Construction
Its powder coated steel sheet metal construction makes it durable and strong. It can withstand rough weather and extreme temperature as well.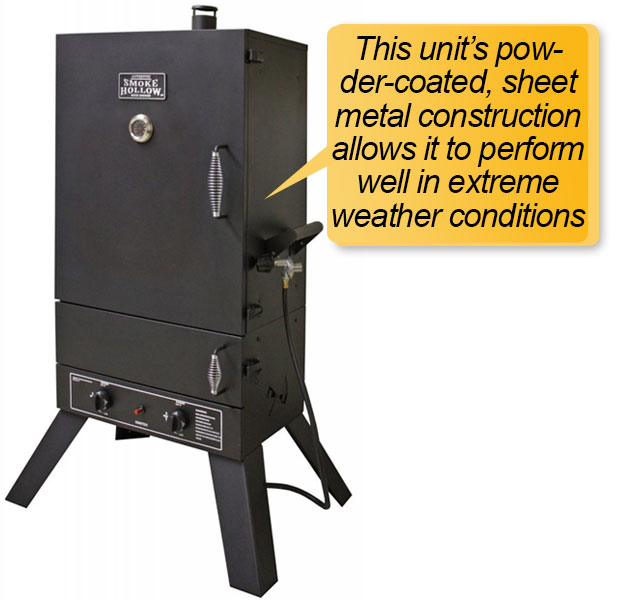 4. Five Chrome Plated Steel Cooking Grates
Cooking grates are vulnerable to not only heat, but also to grease and liquid fat that are easily stuck with them even after the smoking is done. So cleaning requires rubbing and repeated heating may cause substantial damage to the grates unless they are plated with strong substances. Chrome is an ideal coating material. This smoker has five chrome-plated grates that include a sausage Hanger, a rib rack and a couple of jerky grids as you can see in the picture.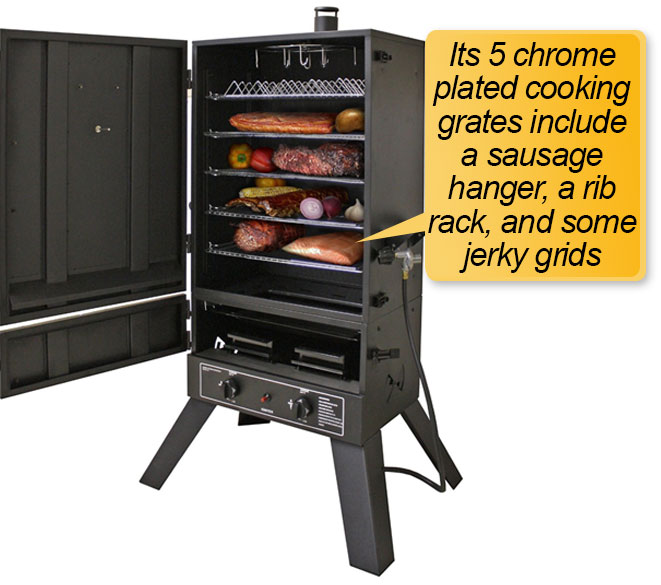 5. Porcelain Coated Water Pan
The water pan inside the smoker is porcelain coated for durability. It ensures better performance and adds more moisture inside the frame. Both the doors of this gas grill are welded and this double door system is responsible for enhanced moisture and heat control offered by this smoker. This allows the meat to maintain the delicious juices and enable even cooking without drying.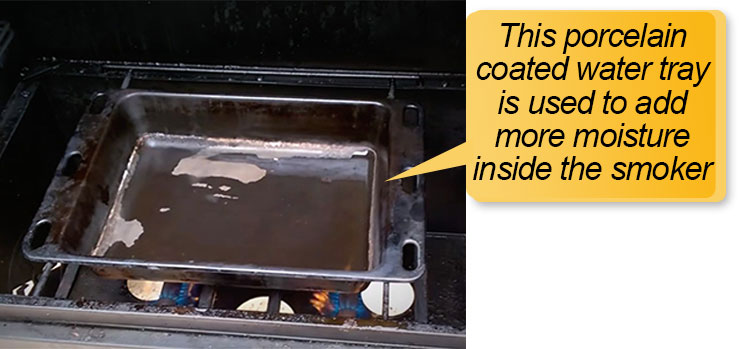 6. Temperature Maintenance
If you compare this vertical LP gas smoker with a charcoal smoker, the former is a lot better at maintaining the temperature. The only thing that matters a lot for using this smoker is the experience you have, as you'll be working on two burners that are made from stainless steel and independently controlled. Once you get used to using them, it'll be much easier for you to smoke meat with this smoker.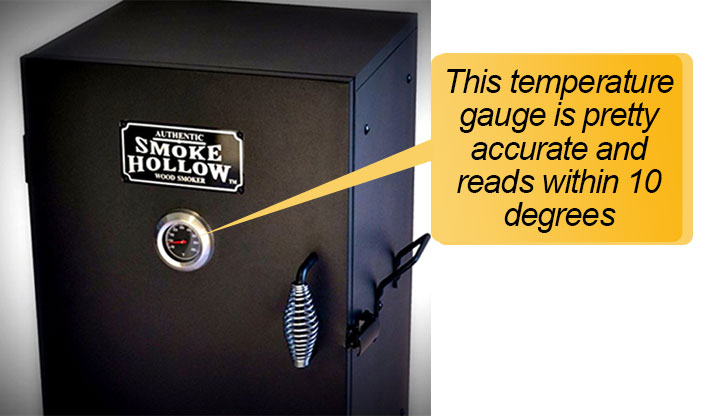 7. Easy Assembly
The 44-inch smoker is wider than most of the other propane smokers currently available in the market. With such a large build, I thought that its assembly will take a lot of time. However, it only took me about an hour to assemble this smoker. While there are a couple of parts that can frustrate you while assembling it, the whole assembly process is overall pretty straightforward and simple.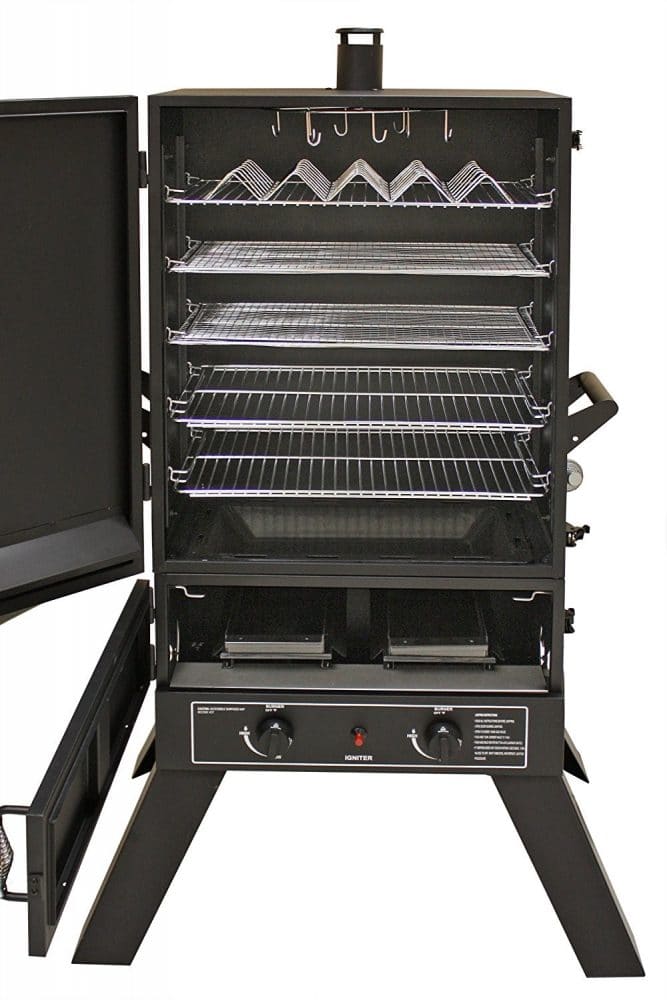 Cleaning & Maintenance
The top smoker grills are the ones that offer a number of features to make the smoking process easier for you. Both cleaning and maintenance play a major role in this process. Smoke Hollow 44241G2 delivers ash-free combustion to make sure that cleaning this smoker is easy and quick. Moreover, as there is no ash, the smoker requires less cleaning as compared to other smokers that deliver ash-filled combustion.
Pros
Let us have a look at some of the most beneficial pros that make this smoker one of the top-rated smoker grills.
Durable steel built
Huge cooking area
Assembly is pretty simple
Easy to use
Does an excellent job of maintaining the temperature
Maintains the moisture in food and cooks evenly
Cons
Just like every other impressive product, this Smoke Hollow 44241G2 also comes with a few weaknesses.
The smoker is excellent for cooking large pieces of meat, but a lot of energy is wasted when used for cooking smaller pieces
The unit is heavy after the assembly and can be very difficult to move. Thus, you'll be required to have a place designated for this smoker
Sealing of the door is not very good and small amount of smoke leaks
Ease of Use
As mentioned above, the smoker is pretty simple to assemble. It also comes with a detailed instructional guide which makes the processes a lot easier, especially if you are using a smoker for the very first time. The smokers' ability to maintain the desired level of temperature makes the entire process of smoking pretty simple and allows you to focus on other chores while smoking. Even though its size is large, the unit is very easy to clean. This is an excellent choice for beginners who are looking to learn how to cook or smoke good food.
Warranty Details
Just like the other top smoker grills, Smoke Hollow 44241G2 comes with a 1-year manufacturer's warranty. And this is a word of honor from the manufacturing company. Follow their instruction and trust me, you will find no problem.
Value for Money
While the Smoke Hollow 44241G2 is not the cheapest of propane gas smokers, its special features, like the ease of use, easy cleaning and user-friendliness make a great job of justifying its price tag. It is rightly said that you need to invest some money if you want to buy a high-quality product. And if you are looking to buy an efficient gas smoker, it is very important to look at the features offered by the smoker rather than only focusing on its cost. I am very happy that I made the right decision of investing in a great product and I am sure you will be happy with the purchase as well.
Availability of Replacement Parts
Next part of this Smoke Hollow 44241G2 Gas Smoker review is the availability of its replacement parts. Smoke Hollow is a known name in the world of smokers and its replacement parts are much easier to find than the smokers of other brands. If you ever need a replacement part for this smoker, you can search online or you can also visit the official website of Smoke Hollow.
My Verdict
There is no denying the fact that the Smoke Hollow 44241G2 is an excellent gas smoker. With such a large capacity, it is amazing to see the perfect results delivered by this smoker every single time. Most of the other Smoke Hollow smoker reviews online also agree with this opinion. However, it is generally recommended for large capacity cooking. Also, make sure you have designated a particular space for this smoker, as it can be very inconvenient to move the smoker once it is assembled.
Final Thoughts
I hope that this Smoke Hollow 44241G2 Gas Smoker review provided you with an overview of how amazing this vertical LP gas smoker is. It is easy to use, durable, efficient, and reasonably priced for all the features it offers, making it one of the best gas smokers available on the market. However, you can also check out our Smoke Hollow smoker reviews to find your best option. If you have any queries about this smoker, feel free to use the comments section below.

FAQs
Q. Can this smoker be used as a charcoal smoker?
A. No, the walls of this smoker are not as thick as required for charcoal smoking.
Q. Is this smoker good for briskets? If yes, how many briskets can be placed in it at a time?
A. Yes, this smoker is perfect for brisket. Many users have smoked as many as 6 briskets in it at a time. But make sure that you smoke the brisket long enough to ensure that the final results are delicious.
Q. Is it necessary to open the cooking chamber for adding water in this smoker?
A. Yes, you'll be required to open the main cooking chamber for adding water. But you can always fill the water to the brim to eliminate the need for opening the chamber while smoking.