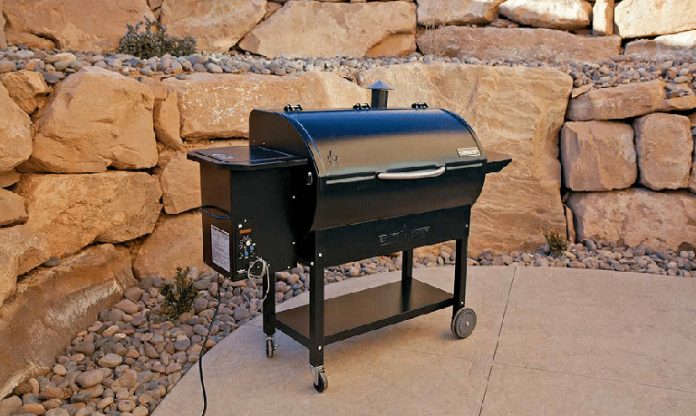 If you are looking for ways to enhance your open-air cooking experience then Camp Chef SmokePro LUX,  the largest and the newest pellet grill smoker from Camp Chef can be your best bet. This has been loaded with rich features that make the entire smoking process much more convenient for the users. Steady temperature and smoke is offered by the innovative digital temperature chip thereby offering a consistency in cooking.
If cleanup is what you are bothered about, then fret not as the Ash Can Cleanout System that is patented in this unit can prove out to be a boon to the users. This digital smoker has been designed innovatively. This Vesta Award Winning pellet grill offers slow and low smoking. Gather your friends and family for a barbecue party as the grilling area offered is extra-large. This pellet grill offers better flavor when used along Camp Chef pellets. Read this Camp Chef SmokePro LUX review to know more about this grilling unit.
Accessories
Camp Chef SmokePro LUX Pellet Grill unit
Recipe booklet
Instruction Manual
Key Features
Auto-start ignition
Dual temperature readout
Automatic Auger for consistent heat management
Large capacity pellet hopper and built-in pellet dispenser
Internal food temperature measurement with stainless steel probe
Smart smoke technology
Ash Cup Cleanout System: Ash cleaning was never this easy
Grease Management System: easy solution to a tough problem
Locking castor wheel for stable mobility
1. Auto-start ignition
Setting fire to the wood or any kind of fuel during smoking is probably the most tiresome task that everyone hates. This is why everyone appreciates the technology of auto-start ignition. Being one of the front liner smoker makers, Camp Chef did not miss to introduce auto-ignition system in this advanced smoker. It is pretty efficient as an automatic igniter and does the job really well.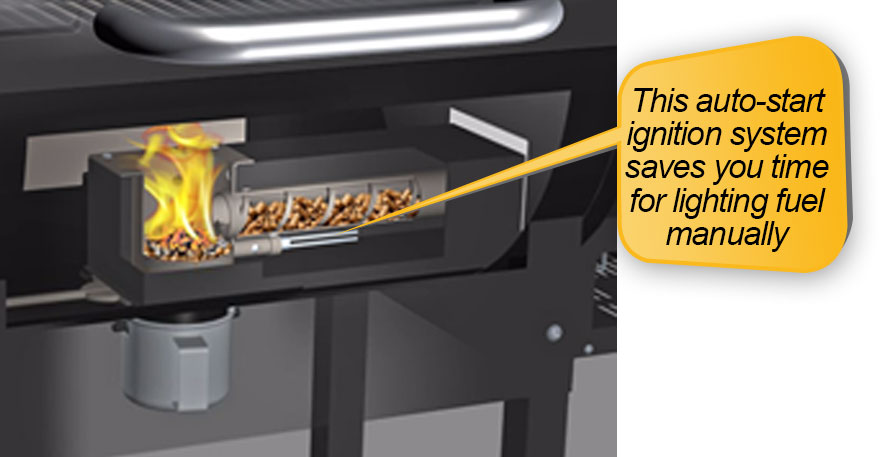 2. Dual LED temperature readout
Digital temperature readout has several positive aspects. One of them is accuracy. Although the accuracy partly depends on the heat thermometer and its position, the digital readout would show exactly what signal the thermometer is. You can toggle between the 160º F to 500º F temperature range for slow smoking to grilling, which is ideal for items like brisket.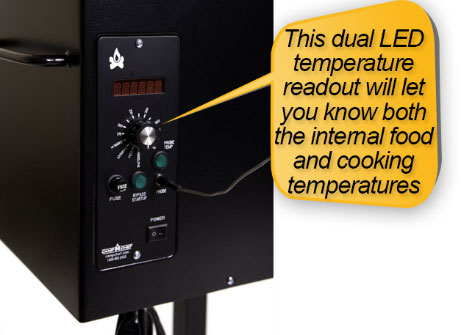 3. Automatic Auger for consistent heat management
Old days of manual fuelling for smoking meat are gone. The automatic auger system in this smoker efficiently channels pellets inside the firepot without your manual efforts. The powerful fan and auto-ignition system create the right amount of smoke and heat inside the cooking chamber. The auger is operated by the digital control unit where you set the temperature.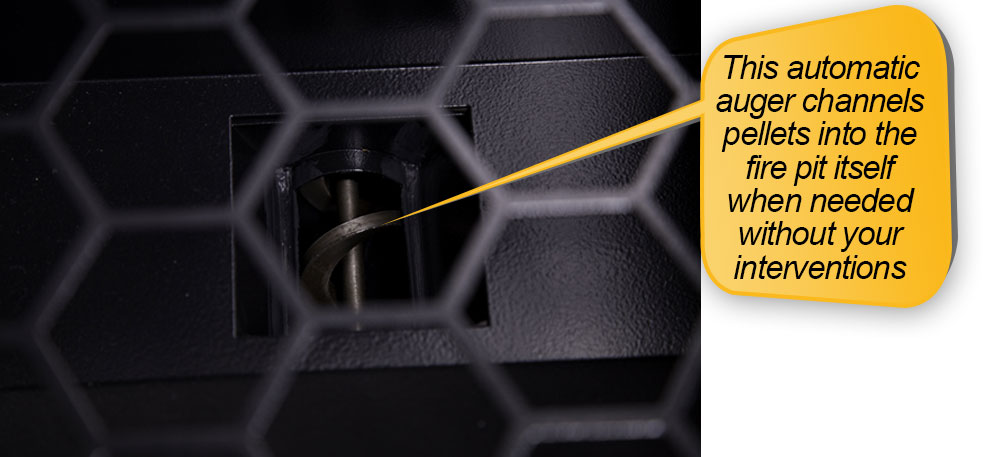 4. Large capacity pellet hopper and built-in pellet dispenser
The built-in pellet dispenser attached to the large capacity pellet hopper is highly convenient for pellet cleaning from the hopper. This way you can change the pellets several times within a single cooking session. Meanwhile, the hopper size is the largest made by Camp Chef as model LUX stands for the biggest size they build in the smoker line. We actually noticed this fact when we did our review of the top 10 Camp Chef smokers. So enjoy as much smoke for as long as you wish with as many different flavors you want.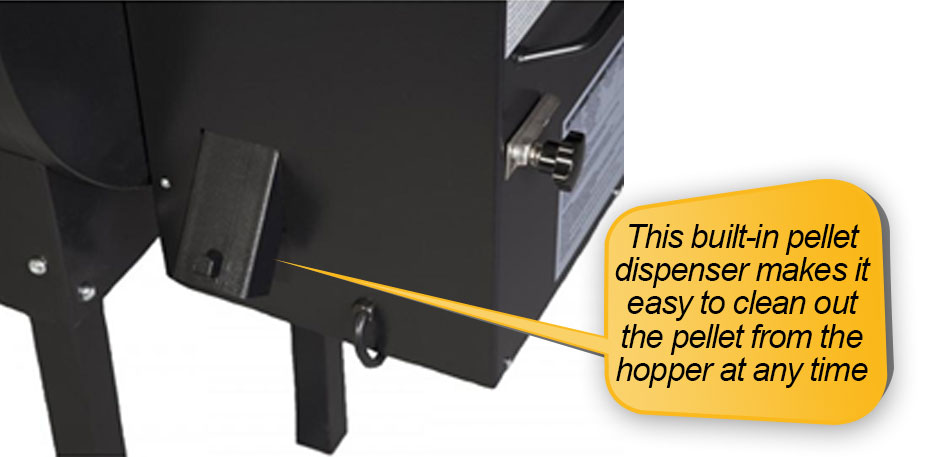 5. Internal food temperature measurement with stainless steel probe
Learning about the inside meat temperature is vital to the smoking process. If you do not want to burn your meat or take them out under-cooked, this stainless steel probe will help you learn the exact inside temperature of the food.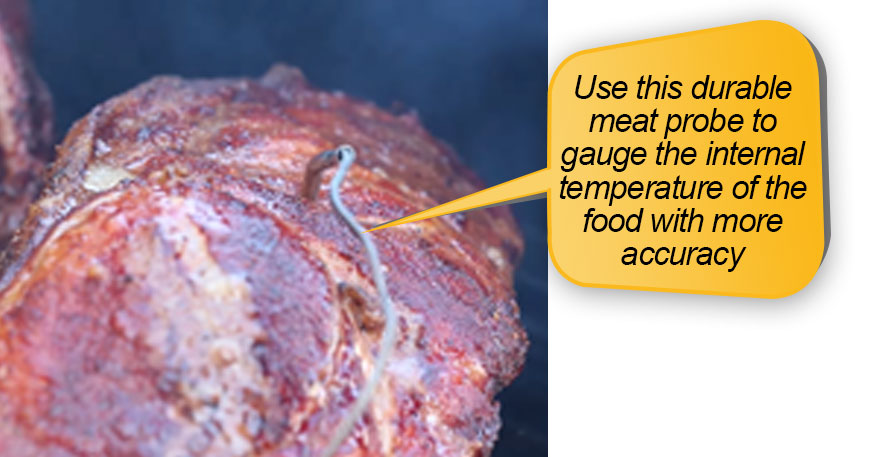 6. Smart Smoke Technology
It comes with the famous Smart Smoke Technology where the automatic auger and built-in fan consistently produce even heat and smoke distribution for convection-style cooking. This makes the meat softer and juicer and tastier.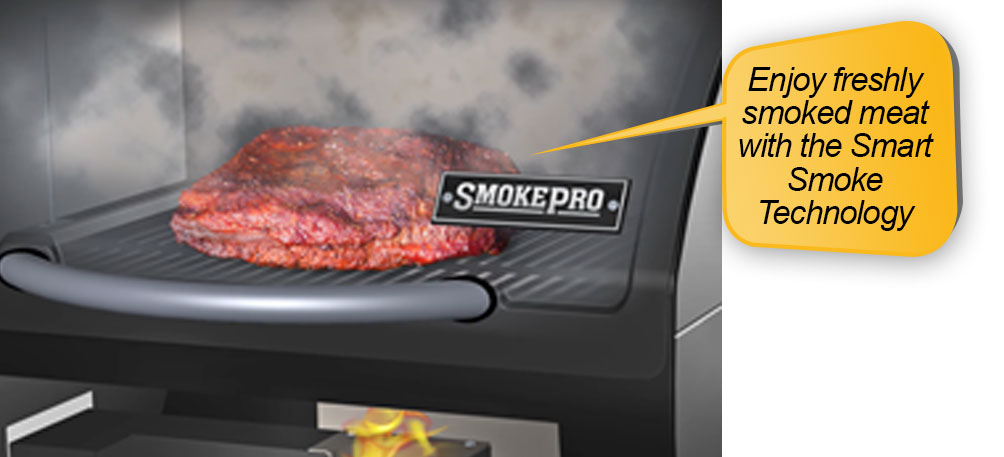 7. Ash Cup Cleanout System: Ash cleaning was never this easy
Burnt pellets produce ash. You get almost a cup full of ash per 1 kilogram pellets. The smoker has this amazingly easy option to clean out the ash by using this ash cup located at the bottom of the fire pot.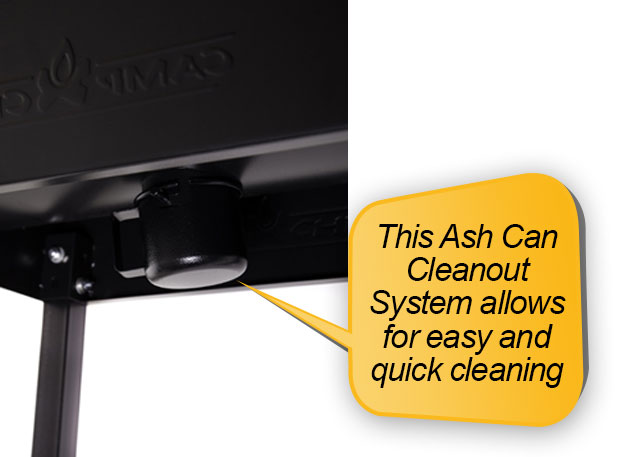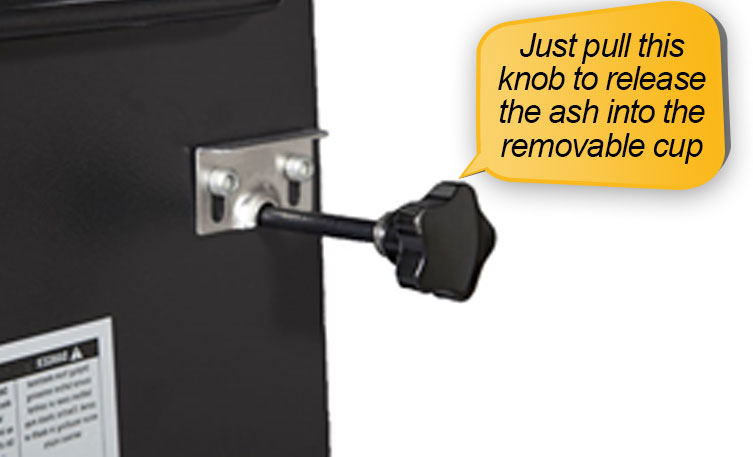 8. Grease Management System: Easy solution to a tough problem
Grease and oil are the inevitable results of smoking and grilling. They make it a hell of a job to clean the smoker if the design is not smart enough. This smoker has a design that makes all the grease and dripping oil drain out into an outside bucket.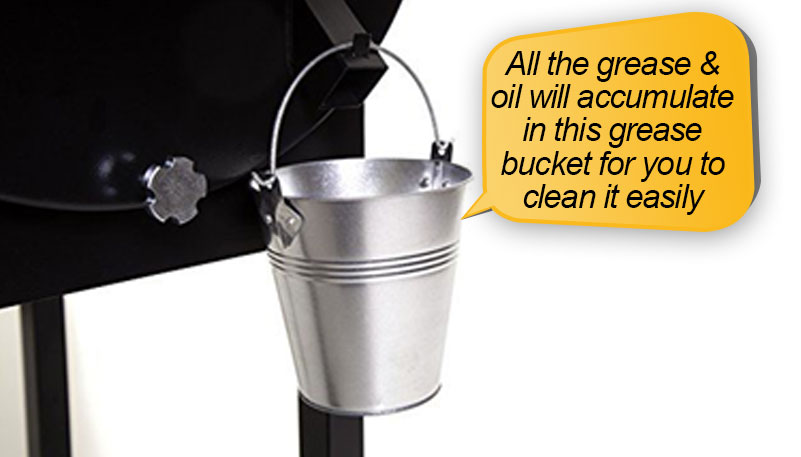 9. Locking castor wheels for stable mobility
The smoker comes with four wheels. Two of the castors have locking features that will allow you to set the cooking unit on any rough surface. Once you lock the wheels, off you go without worrying about stability.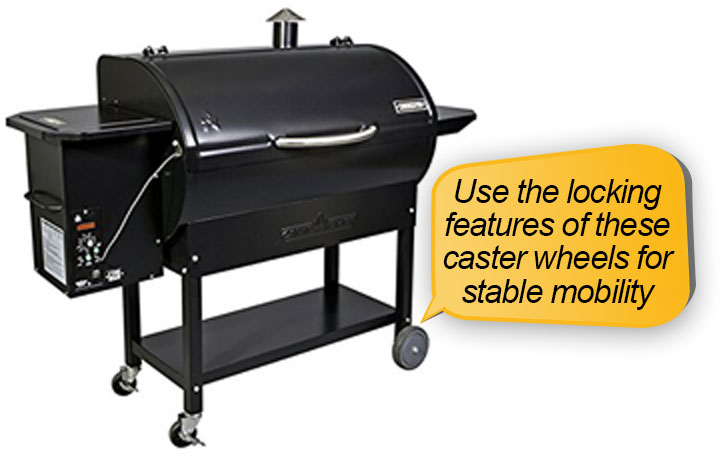 Cleaning and Maintenance
Cleaning and maintenance are vital for a smoker grill. These aspects are flawlessly maintained in this smoker with its special cleaning features mentioned above. If you've previous experience in cleaning a smoker, you must understand how difficult it is to clean it. Usually, there are 2 dirt types that you have to deal with while smoking with a pellet smoker. The first one includes grease and oil and this smoker design is crafted in a way that allows all the oil and grease drain out of the machine into an outside bucket. The second type of dirt is pellet ash. This smoker design includes a durable and user-friendly cleaning process for that too. Here, you are provided with a simple access to the firepot where there is a trap door as well. Use it to take the ash out and dump it in the bin. You also have a knob in the system. Pulling the knob will empty all the ash on the can.
Pros
Easy cleaning and maintenance
Auto-start ignition
Easy internal food temperature measurement
Slow smoking to grilling options
Additional warming rack
Digital controls
Large grilling area
<<Read our review of top 10 Pellet Smokers
Ease of Use
This device is easy to use and the manual comes with clear instructions. The electronic controls aid in the process, making cooking much more convenient. The probes for temperature measurement eliminate the need for having an additional device for monitoring. The cleanout mechanism makes it possible to clean the system without any hassles. This adds to the ease of usage of the device.
Warranty Details
The warranty over the product can be activated by registering at the official website of the manufacturer. Warranty is offered over the components of the grill except for the finish and the paint to be free from any defect in workmanship or material for a period of one year from the date of purchase. The accessories are also warranted from defects for a period of 90 days from the date of purchase. The receipt of purchase has to be produced for availing services or replacement in the future.
Value for Money
This product definitely offers features worth every penny that you pay for this unit. It is worth indulging in this grill as it offers you a host of features and promotes cooking in a convenient manner.
Replacement Parts Availability
The manufacturer offers replacement parts for the product. The service center has to be contacted in case any replacement is being sought. The replacement parts are also sold by reputed sellers.
My Verdict and Final Thoughts
If you are looking for a motivation to cook delicious recipes, then the Camp Chef SmokePro LUX Pellet Grill is what you need to purchase. This product offers a lot of features that make the process of cooking much more convenient. The device operates effectively without any swings in the temperature. The patented clean out system avoids issues associated with clean up. The large grilling area and the additional warming shelf makes this a treat to the users. The large utility shelf, rolling caster wheels and the side shelf add to the convenience of the users. In addition, accessories can be purchased for this device for enhancing cooking experience. Indulge in slow and low smoke cooking with this amazing device. This is certainly a rewarding deal.

FAQs
Q: What gauge metal has been employed for designing this grill?
A: There is a variation in the construction. Few parts are 18 gauge and few are 16.
Q. How long would a pellet load last when used at a temperature of 250 degrees?
A: When the outside temperature is decent and with no wind, one can use this grill for 12 to 14 hours. If the temperature is quite warm outside, then the pellet load will last for a longer time.
Q. What is the height of the area of cooking from lid to the grill? Can it fit a large turkey?
A: The area is somewhere around 9 7/8". Yes. A turkey can fit into this grill without any hassles.
Q. Can the flavor of pellets be changed? Are there any issues in doing so?
A: The pellet hopper door helps in switching the flavor of pellets easily. You do not have to wait until the already existing load burns out. The built-in hopper clean-out system helps in switching pellets. You can use Alder pellets once and switch to Hickory next. This implies that you do not have to waste pellets anymore.