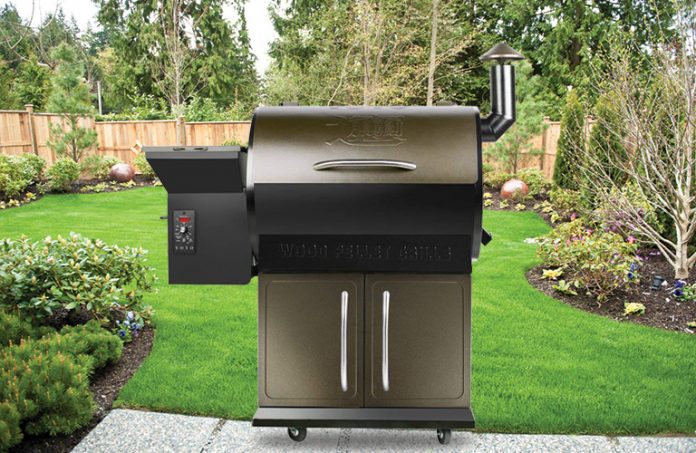 If you are looking for a functional yet inexpensive grill, then you need to take a look at the amazing features offered by the YOYO 684 Wood Pellet Grill. This garden essential grill has been designed with a lot of consideration. You will barely find other grills offering BQ tricks that are being offered in this grill. This has been designed keeping both fashion and functionality in mind. Wood granules are employed as fuel in this grill. This helps you add the flavor that you desire to your food. Cast iron and porcelain materials are employed for the grills. These ensure that your food does not absorb flavors that are undesirable. Read this YOYO 684 Wood Pellet Grill review further to know more about the amazing features offered to the users with this grill.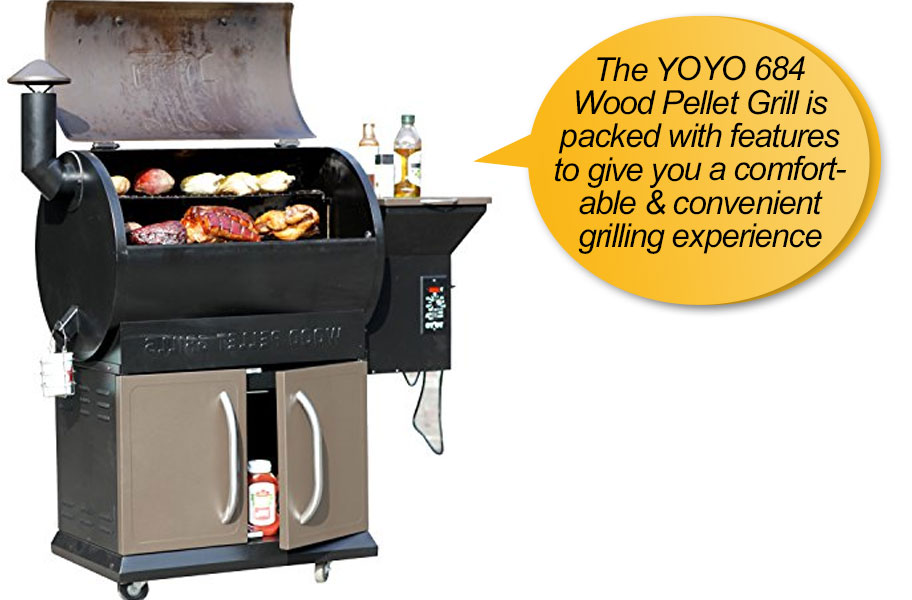 Accessories
YOYO 684 Wood Pellet Grill body
Tool kit for assembling the unit
Key Features
Digital thermostat controller and large pellet hopper
Automatic auger and electric auto-ignition
684 square inch grilling area houses bronze coated grill
The 5200 cubic inch cabinet with 2 doors
Robust stainless steel handle
Easy clean out with smart cup holder
Classic Chimney
1. Digital Thermostat controller and large pellet hopper
Yo Yo 684 model comes with this digital Thermostat controller with which you can easily regulate the temperature of the cooking chamber. Basically, this is an automatic system which automatically increase or decrease the temperature level based on your input temperature level. Another key feature of this grill is that it has a sufficiently large pellet hopper. Because of the large size hopper you will not have to refill the pellet in the middle of cooking. It can house up to 20 lb. pellets, similar to that of the Louisiana Grills Country Smoker Whole Hog. This means one refill will last several moderate grilling sessions.

2. Automatic auger and electric auto-ignition
The auger in this grill is automatic, this means it will channel pellets to the fire pot automatically as per the temperature level you set through digital thermostat controller. Meanwhile, the electric auto-ignition will automatically set fire to the pellets.

3.  684 square inch grilling area houses bronze coated grill
Grilling area of a good grill should be wide enough to comfortably grill enough amount of foods you want. This cooking unit offers sufficient space for your foods to be grilled at the optimum temperature. A large cooking area is also easy to clean. On the other hand, this place houses bronze coated high quality grilling grates. Due to their solid build quality they offer fantastic service and easy cleaning.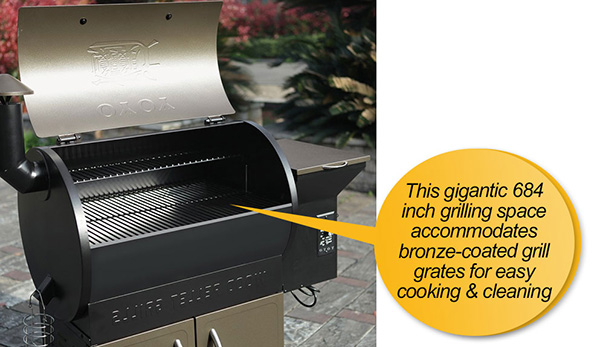 4. The 5200 cubic inch cabinet with 2 doors
The cabinet of this grill is also proportionately huge. This place is perfect for storing all cooking accessories and grilling tools. This comes real handy when you are grilling as keeping all the accessories in one place always helps. Besides, the 2-door system cabinet opening makes it easy to operate. It also has swivel wheels for easy movement of the whole unit. So, you will not need to worry about the weight for the thing you put in it.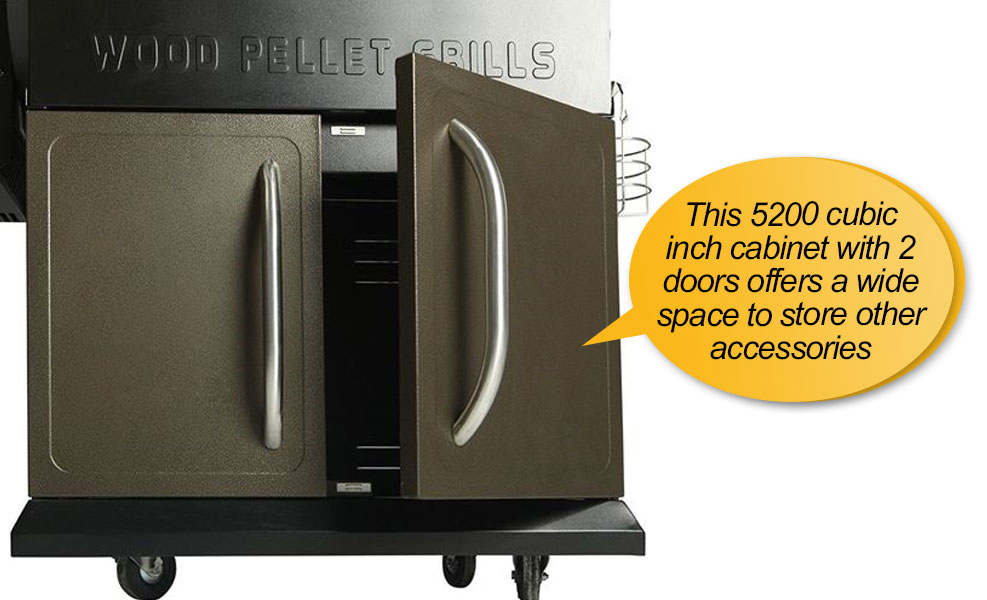 5. Robust stainless steel handle
The handle in this grill is made of stainless steel for added strength and durability. Due to their superior build quality it is comfortable to handle them. The look and feel are though yet smooth. This part also enhances the aesthetic side of the grilling unit.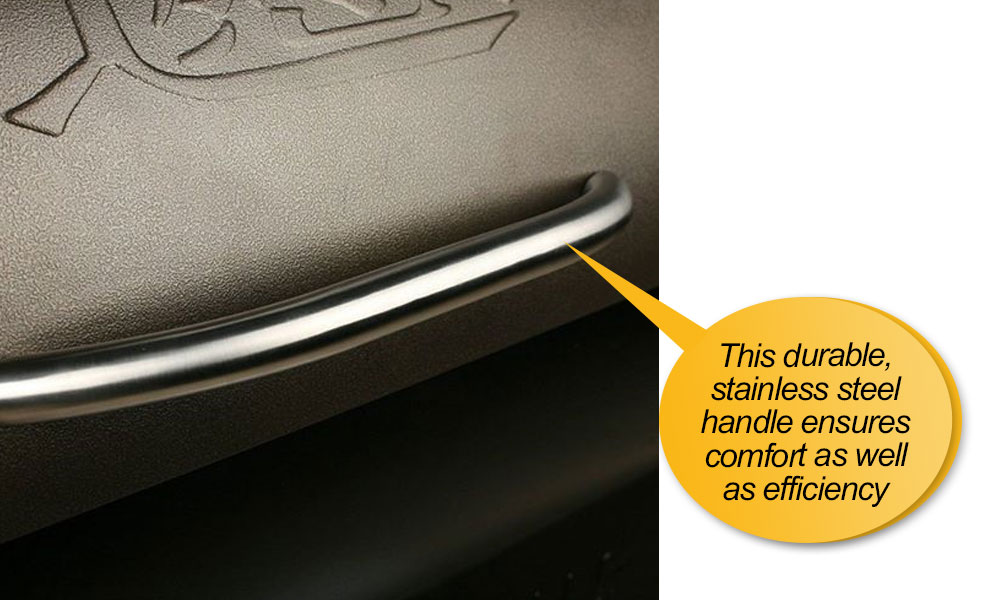 6. Easy clean out with smart cup holder
Not every grilling system comes with advanced level grease and fat management system. This grill does. It sports a design that allows all the grease and oil dripped from the meat drain out where you can put a cup to catch them. This makes it easy to clean.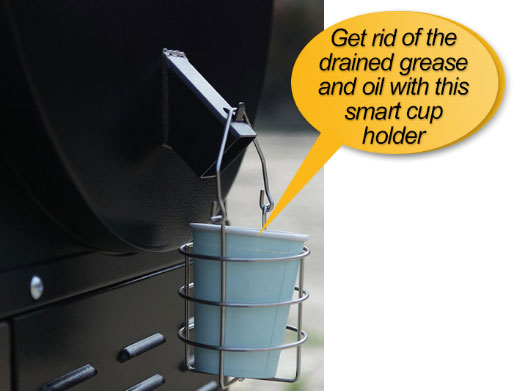 7. Classic Chimney
Smoke chimney is an important part of any grilling system. Proper position can ensures right amount of smokes getting funneled out. The chimney on this smoker is perfectly positioned. It also has a top lid to protect it from water drip.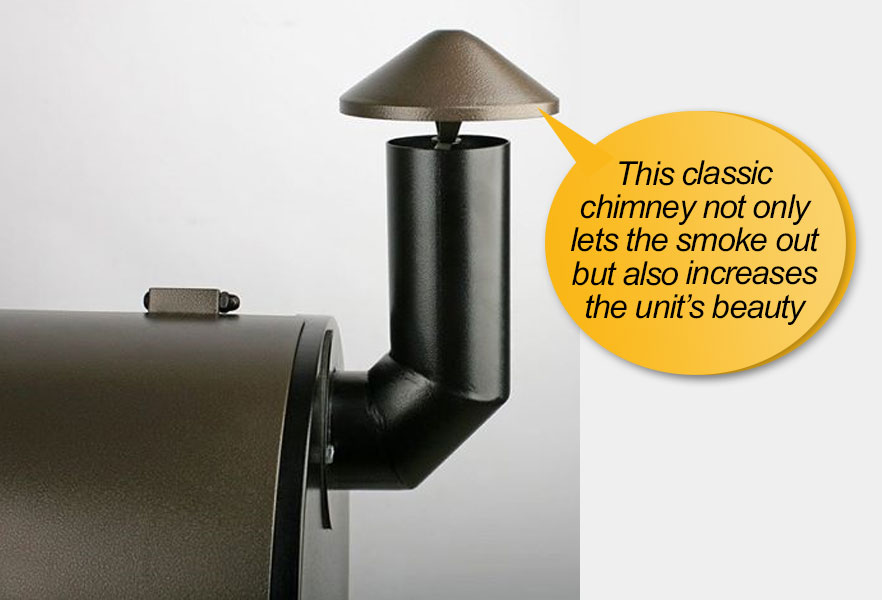 Cleaning & Maintenance
The YOYO 684 Wood Pellet Grill features a well-designed oil collector and easy ash disposal unit. This ensures that you do not have to dirty your hands for cleaning this grill. Safe and easy cleaning is offered by this grill. Maintenance is easy and would ensure that your grill would last for a long time with little efforts put in.
Pros
Easy assembly
Offers 6 in 1 advantage: grill, smoke, roast, bake, braise and BBQ
Easy ash disposal owing to removable grids
Complete control over the grilling temperature
Wide area for grilling
Portable unit
Digital control system
Easy to assemble
Cons
Instructions have to be followed carefully while assembling the unit
The grill consumes time to attain the peak temperature
Ease of Use
This grill is easy to setup and use. All you need is thirty minutes to complete the installation process. You need to have patience while assembling the unit or else you may end up struggling to put everything together. The operation of this grill is easy owing to the digital controls offered. The cleanup is easy thereby making the usage quite convenient.
Read our review of top 10 Pellet Smokers
 Warranty details
The sturdy parts used in the construction of this grill ensures that it lasts for several years. Maintain the receipt of purchase for availing warranty on this grill. A three-year warranty is offered over the grill body which is really great. A little bit of maintenance and cleaning can make this last for a long time without posing any hassles.
Value for money – Does It worth It?
This grill is definitely worth investing in if you are looking for a grill that offers all modern features and a sleek design without costing much. A three-year warranty further ensures that you are not investing in a grill with cheap features or parts. Investing in this grill would not prove out to be a deal breaker.
Replacement parts availability
The replacement parts for this grill are offered by the manufacturer. You can purchase the parts from reputed sellers who sell the product.
My Verdict and Final Thoughts
The YOYO 684 Wood Pellet Grill features an innovative and simple design. It offers multiple options when it comes to fuel. The digital temperature control offers you option to create various cooking possibilities. An LED digital system offers the users an option to vary the temperature from 180 to 475 degrees Fahrenheit. It is easy to employ the features. You do not really have to be a pro at handling a grill to use this unit. The usage is convenient. Simple adjustments permit you to set the right temperature while cooking your favorite dish. A large grilling area is offered with this grill which is an added bonus to the users. The six in one cooking advantage is what is the attractive feature of this grill apart from other features being offered to the users. Set of instructions are offered to the users for easy installation. You just need to follow them to setup the grill in less than thirty minutes. You can also take a look at the video tutorials if you find reading the instruction manual difficult. If you looking for a grill that offers amazing features without costing you a lot, then this grill is the best option for you.

Frequently Asked Questions
Q. What are the dimensions of the grilling area? Can I cook a turkey in it?
A. The dimensions are 25.9"x19.3''. An additional warming rack is offered that offers you space to cook what you desire. The surface offered for grilling is large.
Q. What if I am not able to set up the device properly?
A. The package comes with simple instructions for installation which anybody can follow. If you have a difficulty in following them, then you can take a look at the video tutorials. Just following the steps in the video would be sufficient to help you set up the grill within 30 minutes. You can always contact the manufacturers for support if you have any queries.
Q. Is this grill easy to use?
A. Yes. The digital controls make the entire process quite simple. All you need to do is to load the wooden pellets into the hopper and set the temperature that you wish to employ for cooking your favorite dish. This should not be hard for you to accomplish. The settings are quite simple to follow. Read the instruction manual to know further about the digital controls and how to vary the temperature.
Q. Do I need to frequently charge the pellets in the hopper?
A. This grill features a large capacity pellet hopper. This implies that there is more smoking and less filling. All you need to do is charge the pellets and forget about the rest. Focus more on cooking than bother about the fuel charging on a frequent basis.