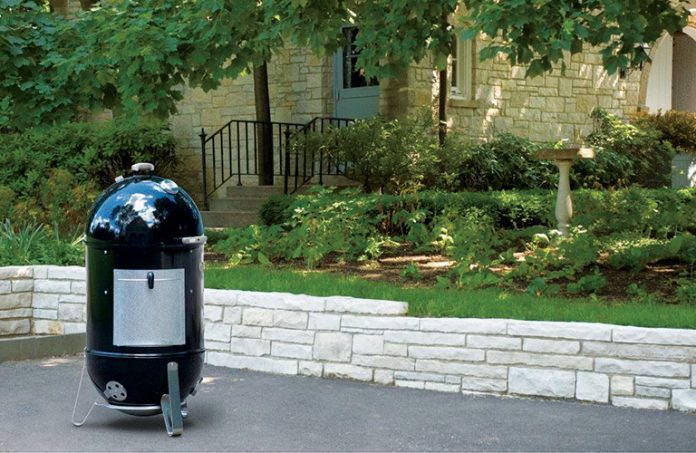 With a large cooking space and a host of other features, the Weber 731001 Smokey Mountain is a product that many consider as one of the best in the market regardless of what any review says about it. However, it may not be the right way to make an informed choice and you should not certainly follow it. For smoky food lovers, the Weber Smokey Mountain has a lot to offer. We've done our research on many Weber smokers and grills to find the best that this brand has to offer and let us now go ahead to see if the smoker is all that it claims to be.
Includes
In the box of the Weber 731001 Smokey Mountain package, you will find the following contents:
Plated-steel cooking grates (2)
Porcelain enameled lid and bowl
Porcelain enameled water pan
Form fitting smoker cover
Porcelain enameled charcoal chamber
Silicone temperature grommet
Steel charcoal grate
Key Features
1. Durable and Strong Construction
The lid as well as the bowl of this smokey mountain smoker have been made using porcelain enamel, which not only adds to their durability, but also helps in achieving a high degree of heat retention.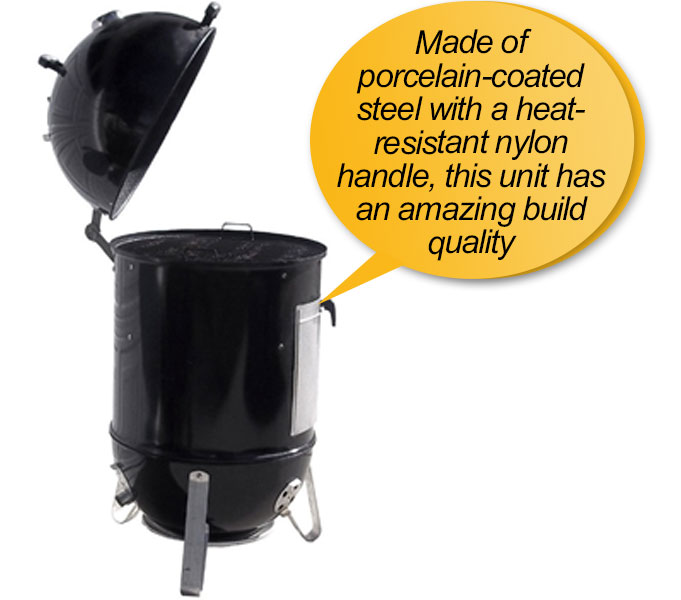 2. Plated-Steel Cooking Grates
Cooking grates should be of high quality as they are the only thing that comes directly in touch with the food. This smoker has well-built cooking grates which will not wear off even after repeated use over a long period of time.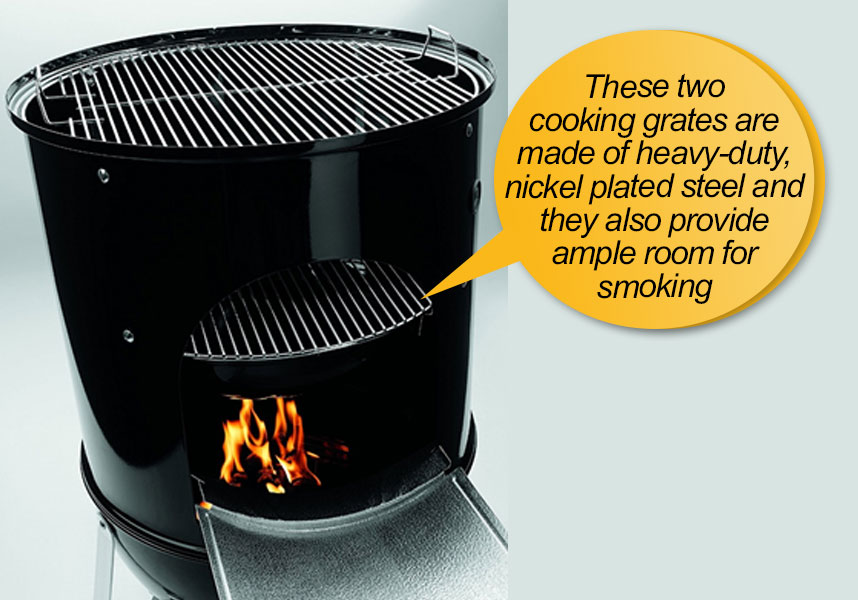 3. Large Cooking Area
It has 2 plated steel cooking grates, which give you a total cooking space of over 726 square inches. You can put your turkey on the upper grate and the ham on the lower. There is plenty of space for all of your grilling needs.

4. Multiple Dampers for Greater Heat Control
It has a total of 4 dampers with rust-resistant qualities- 1 on the top and 3 at the bottom, each equipped with a set of air vents.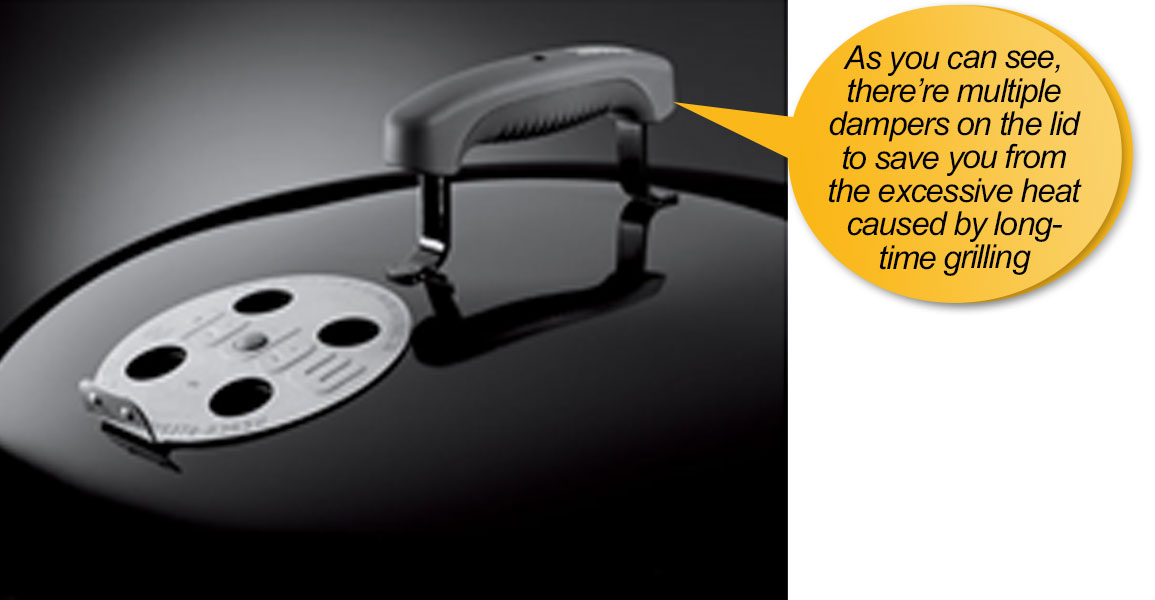 5. Built-In Thermometer for Easy Temperature Reading
A built-in thermometer comes handy when you are after perfect grilling. This smoker has added lid mounted thermometer for easy temperature measurement. You do not need an extra gadget for gauging the temperature.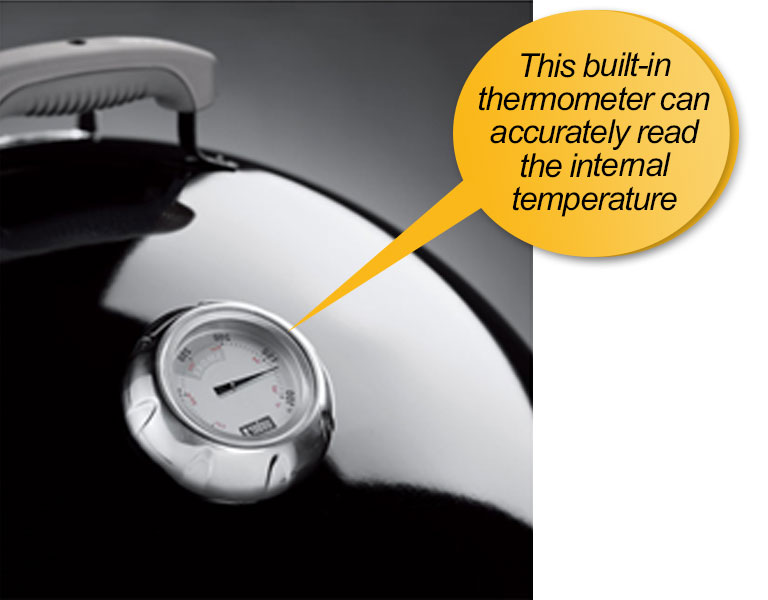 6. Aluminized Steel Rapid Fire Chimney Starter
The aluminized steel chimney starter that comes with the smoker makes it easy to set fire to the coal. Coals are notorious when you are trying to light them up. Weber has made the lighting process easy with its aluminized steel rapid fire chimney starter.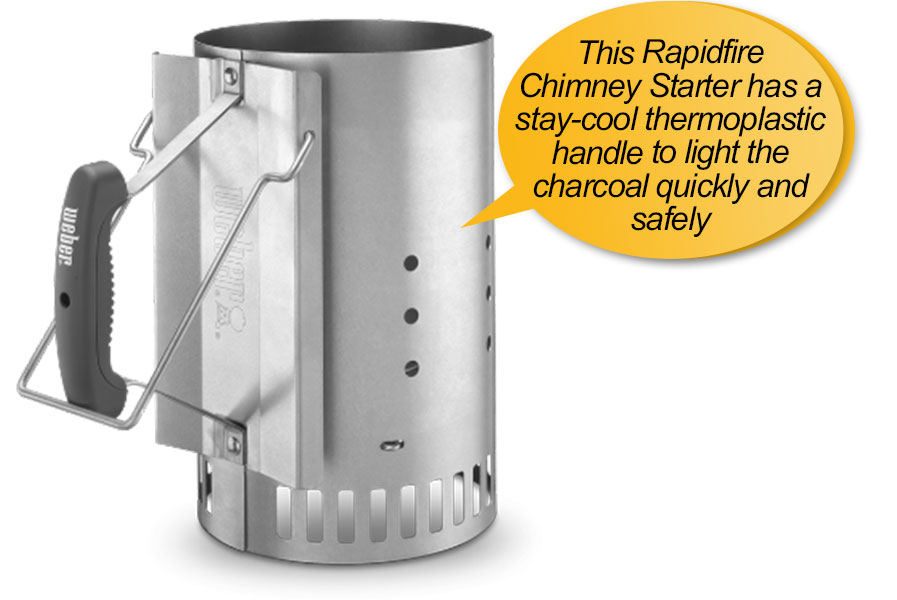 7. Spacious Charcoal Chamber
Being a charcoal smoker it has bottom fuel chamber for storing charcoal. There is a round shaped ring inside of which the charcoals are placed and lit. Because of the design, the heat from the charcoal goes directly upward into the cooking chamber.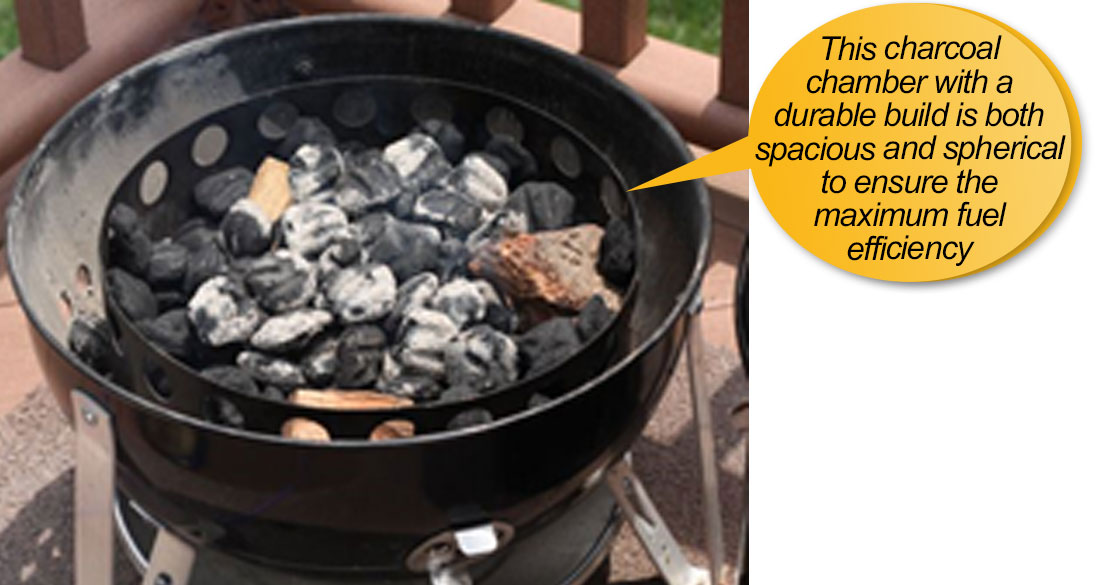 8. Porcelain-Enameled Water Pan
There is a water pan inside the smoker for adding moisture to the meat while grilling. This keeps the meat moist and tender throughout the smoking session adding an authentic taste to it. The water also cuts down the cooking time as it raises the temperature up.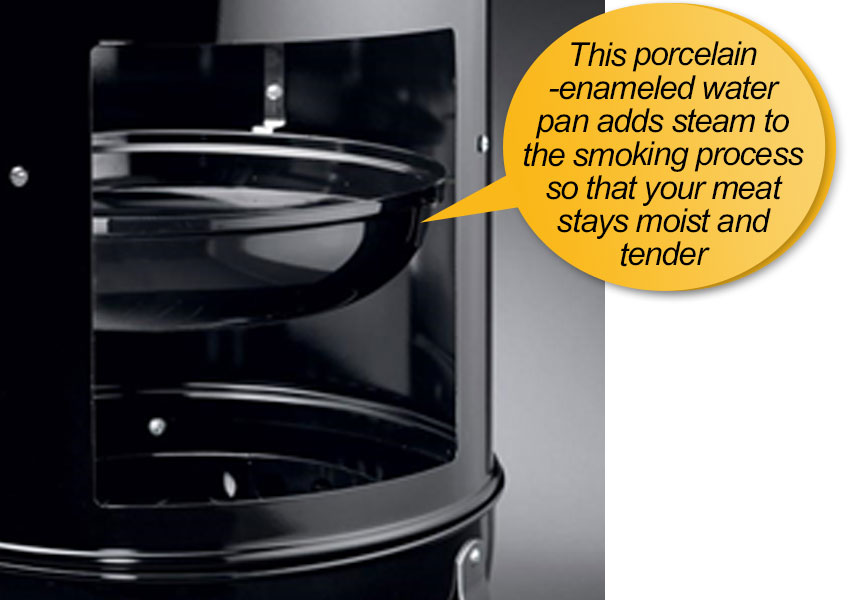 9. Rust-Resistant Fuel Door
The rust-resistant fuel door is another useful feature of this smoker. You can use this door to add coal. The water bowl can also be reached through this door. So you can actually add water through this door as well.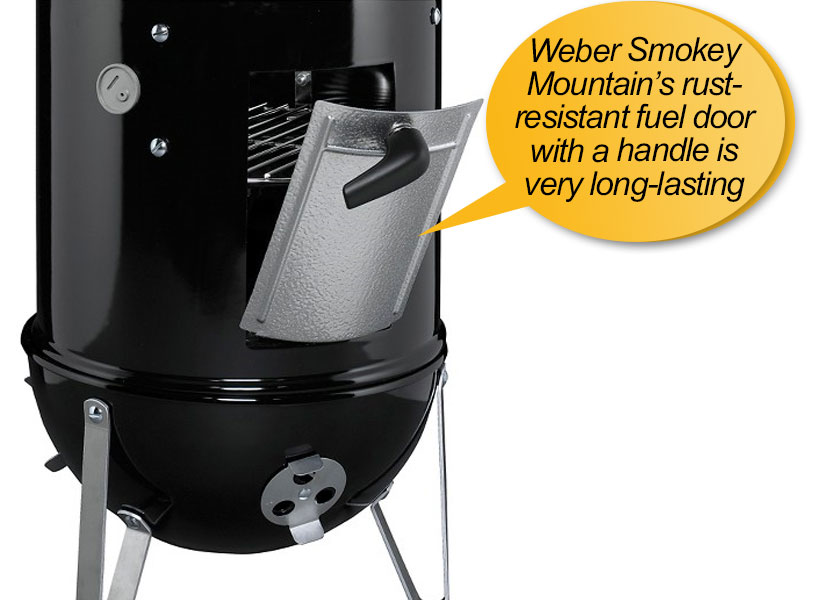 10. Easy and Comfortable Handling and Added Accessories
The lid has 2 handles that are made of glass-reinforced nylon. This makes the grill easier to handle. The handle is also heat-resistant, so you would not be worrying about removing it during cooking. The lid, on the other hand, is designed in such a way that it would catch rainwater at its bottom edge if left unprotected during the rains. This is why Weber has added a useful smoker cover with the package. So if you are not using it, you can protect it from sunlight, rain, and dust by that cover.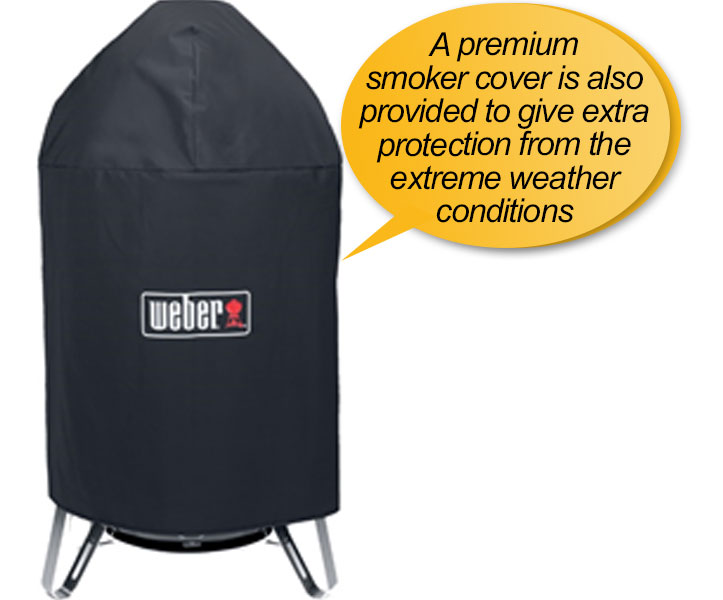 Cleaning & Maintenance
This part of the review includes information about how you can clean and maintain the Weber 731001 Smokey Mountain. One of the biggest advantages that both advanced and beginner users find in this grill is that it has a simple cleaning and maintenance method. You need to regularly remove ash from your smokey mountain smoker and the steps are mentioned below:
Cool down the smoker and ensure that the coals are extinguished.
Once you remove the cooking grates and charcoal, get rid of the ashes.
Wash the smoker thoroughly using a mild detergent along with water. Before using, rinse it with clear water and dry.
You do not need to wash the cooking grates every time you use the Weber 731001 Smokey Mountain. All that is required is getting rid of the residues stuck on it. In order to do that, just use a grill brush or aluminum foil, followed by wiping off with paper towels.
Ash deposits in the coal could cause the grill to have a lesser temperature than expected. If it happens then to remove the ash, first open the bottom vents, stir the coals so that the accumulated ash around them is dislodged and then close the vents before you begin using it again. So you just need to remember these simple instructions to keep the Weber 731001 Smokey Mountain at its peak performance.
Pros
The advantages of having the Weber Smokey Mountain 22 inch are as follows:
A great smoker offering you the ability to make your favorite smoke-flavored dishes in the comfort of your home

The Weber 731001 Smokey Mountain is amongst the most affordable ones that you will find in the market. you can use it with any wood depending on the flavor you desire, right from Apple to Hickory and many others. It is simple to use, which makes it a must-have for any food lover, no matter how advanced or novice he may be at using a smoker grill.

Easy to assemble

Having a quick look at the instructions is all you will need to do in order to assemble the Weber 731001 Smokey Mountain after opening the box. It is simple with no complicated instructions or tools and does not take over 20 minutes. A wrench, socket, and screwdriver are all you need to get started with it.

Improved design to make adding charcoal easier
In order to make it easier for you to add new charcoal or wood chunks with the water pan present, Weber has improved the conventional design of this smokey mountain,. It now comes with wider doors that makes this task easier. Additionally, the door latch now has a lever-like handle and it is also spring loaded, which makes it more secure.
Better temperature tracking with the built-in thermometer
In order to keep costs as minimal as possible, one of the best additions has been made to this charcoal smoker in the form of a built-in thermometer. This will help you save the costs of buying an extra thermostat or thermometer.
More cleanliness and better management
The bottom part has an ash catcher pan, which makes it easier to sweep off the stray ashes and keep the surface clean at all times.
Read our review of top 10 Charcoal Smokers
Cons
Despite all the advantages you have read so far, there are a few downsides of having the Weber 731001 Smokey Mountain, which include:
Inaccurate temperature gauge
The temperature gauge of this smokey mountain cooker is not as accurate as one in a smoker or cooker should be. It is hard to have the right range, which can actually yield almost disastrous results while cooking meat.
Lack of proper packaging and shipping when purchased online
When purchased online, the smoker may not be properly packed by the manufacturer, which can cause a few dents and damages during the shipping process.
No proper instructions in the box

Although assembling the cooker/smoker is quite easy, there are no proper instructions provided in the box. Thus, you may have to seek the help of an online guide if you are a novice user.
Ease of Use
What sets the smokey mountain series apart from the rest of the smokers available in the market is how easy they are to assemble and use. Setting up the Weber 731001 Smokey Mountain is just a 20 minutes job with no complicated procedures involved. Once set up, grilling and smoking using it are relatively simple tasks without any hassle.
Warranties
The warranty breakdown of the smokey mountain smoker, as given by Weber, goes as follows:
Center ring, lid, and the bowl: 10 years+ no rust/burn through
One-Touch™ Cleaning Mechanism: 5 years+ no rust/burn through
Plastic components: 5 years, excluding any discoloration and fading
All other parts: 2 years
Value for Money
At such a price tag, the smokey mountain is amongst the most affordable smokers that you will find in the market. With a large cooking area, quality construction and various functionalities, there is nothing more that you could ask for in a cooker/smoker, which makes the Weber 731001 Smokey Mountain a great product that is worth the price.
Replacement Parts Availability
The best and most convenient way to get some parts for your grill smoker is to contact Weber.  They have all replacement parts and can be bought through the Weber website. The interface also lets you search the parts you need as per your model type, number, and requirements.
Verdict
Thus, considering everything that has been said about the Weber 731001 Smokey Mountain in this review, there is no doubt that this product is worth the price and one that every smoky-grilled meat lover must have. A simple interface with high functionality makes it the perfect blend for any advanced or novice grill user.
With numerous positive customer reviews and a history of customer satisfaction, Weber has delivered an excellent smoker-cum-cooker-cum-grill with this Smokey Mountain.  If delicious meat with the right smoky flavor is what you want every time, then this grill is exactly what you need!

FAQs
Question: Do we need to burn the smoker before the meat is put on it?
There is no cleaning, burning or seasoning required. However, if you want to coat it with a smoky texture, just put in some country bacon and let it smoke until the bacon falls apart.
Question: Can the smoker be used like a regular grill?
Yes. Remove the middle section to turn it into a tailgate size grill in order to do that. While using it like this, pay attention to the amount of coal used, as this brings the grate much closer to the coals.
Question: What is the depth of the lid and what is the height of something that has to stand at the top grate?
Approximately, the lid is around 20" deep and can easily fit a whole turkey.
Question: Tell me more about the temperature control of this grill?

All you need to have is a basic understanding of the airflow vent's opening and closing, along with how it affects the temperature.