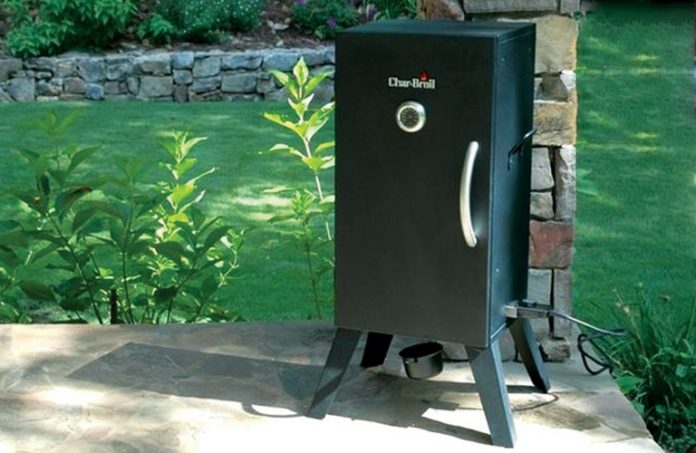 For the lovers of a smoky BBQ, the Char Broil Vertical Gas Smoker is one of the perfect things to have. With adjustable dampers and removable pans, the char broil vertical smoker is easy to use, and comes with a host of features that make it just the right BBQ for any need or occasion. With a large smoking chamber, double door design and multiple racks, the char broil vertical gas smoker does come across as just the perfect smoker for any kind of food. As you read on, you will know more about this char broil vertical gas smoker in the detailed Char broil vertical gas smoker review.
Accessories
Some of the key accessories that come with this char broil gas grill include:
5 steel cooking grates, chrome plated
2 jerky, 2 standard and 1 rib racks
Grate (on the top) to warm marinades and sauces
Key Features
A short review of the features of this char broil gas smoker is as follows:
1.Large cooking area
This is a giant smoker with almost six hundred square inch of cooking area. The entire space is divided by three cooking grid shelves, so you can actually put several types of meats at the same time. With this smoker at home you no longer have to worry about running out of smoked foods in a BBQ party.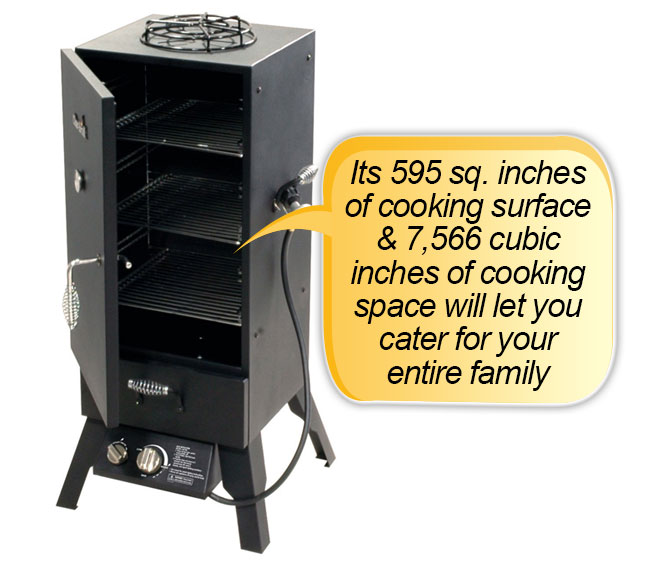 2. Simple temperature control
This smoker features a very easy temperature controlling option. These knobs set fire to the burner less than a second. You can also use them to set temperature levels. With this simple temperature control unit you cannot go wrong with smoking your meats.
3. Adjustable steel damper and top grate
In order to better control the grill's temperature, there is a well-built damper on top of the smoker. This damper can be opened to burn it hotter, and partially closed to cool the grill. One distinctive utility that it has, unlike other char broil smokers, is the presence of a grate on its top that can be used to warm marinades or sauces during the preparation of your food.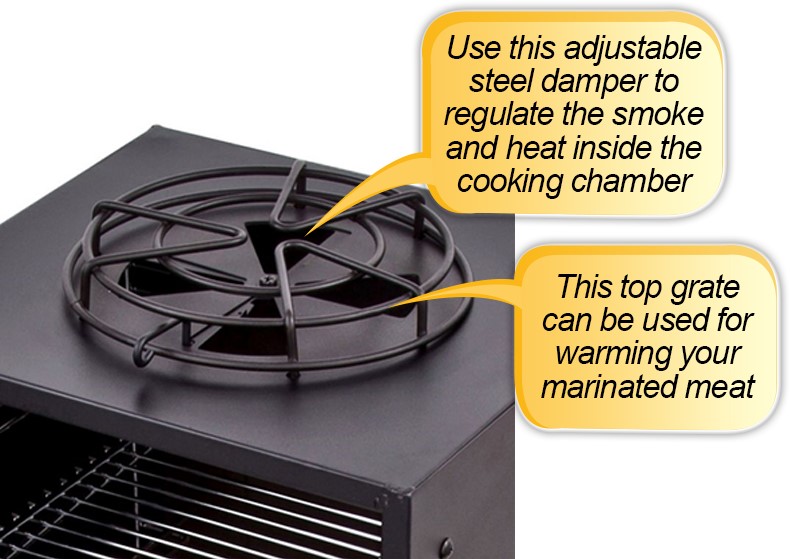 4. Chrome plated cooking grates and Cool Touch handles
Cooking grates of this smoker are chrome plated for extra durability and easy cleaning. They not only look premium, you can feel their quality once you have them in your hands. Moreover, this smoker unit has three Cool Touch handles for easy and safe operation. They are designed in a way that they do not get heated during cooking, so you can safely use them with your bare hands.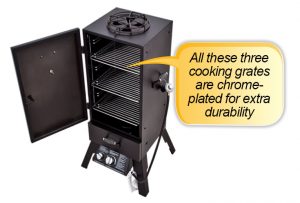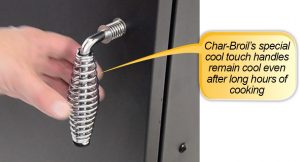 5. Unique water and wood chip pan design
The unique water and wood chip pan design of this smoker is a result of years of planning based on hundreds of customer feedback. You can put wood chips and water separately or together using this tray. It nicely slides inside the cooker above the heating element.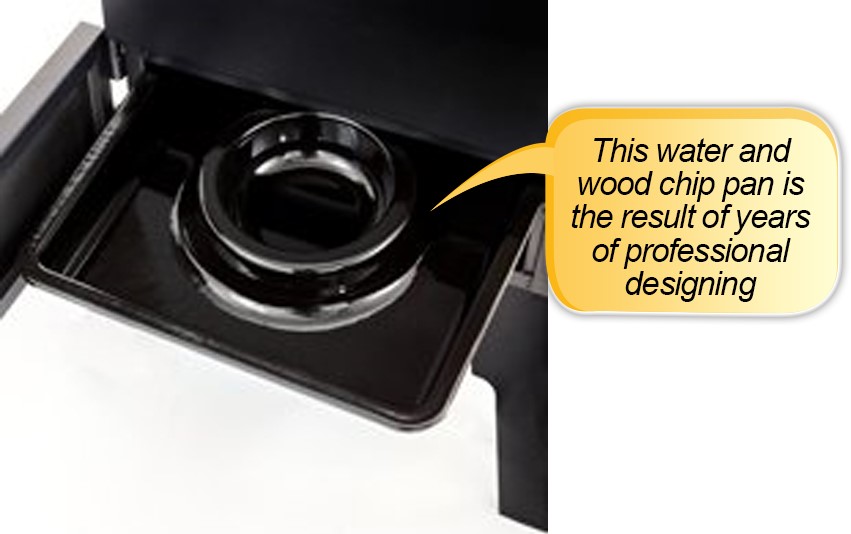 6.Durable LPG propane regulator
A standard LPG propane regulator is added to the smoker package. So you do not have to buy it from outside. It is a durable regulator and will last for years if not damaged from outside.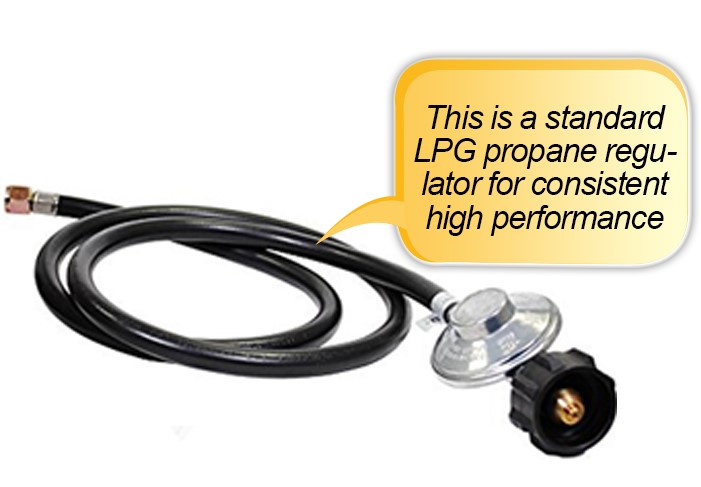 7. Dual doors
The dual door design of this smoker makes it easy to operate. The doors seal the smoke inside tightly so that the flavor remains intact. Simple dual door design makes it a very handy smoking machine.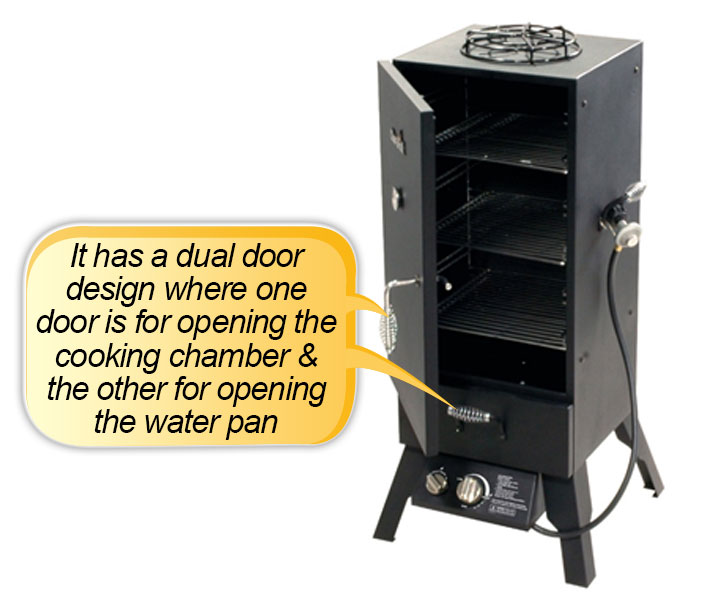 8. Consistent heat for better smoke experience
Another cool feature of this machine is that it can generate consistent heat throughout the cooking session. A gas fuelled smoker can easily maintain consistent heat and this smoker does the job really well.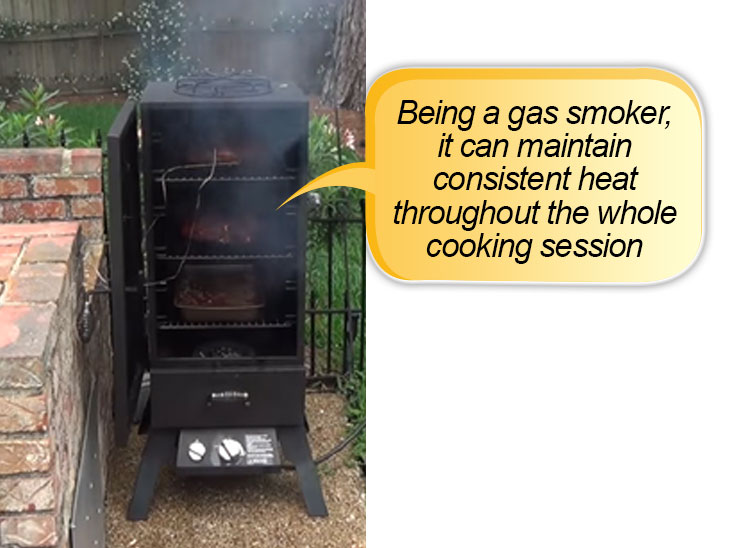 Cleaning & Maintenance
Before cleaning, the first thing that users need to be aware of is that the interiors of the grill are not painted, and the black or brown grease accumulation should not be mistaken for paint. To clean the char broil gas smoker thoroughly, keep the following points in mind:
To clean the interiors, either use a grill cleaner along with a scrub brush, or a solution of water and detergent. This is suitable for the inside of the lid as well as the bottom. After cleaning, allow it to dry. Oven cleaners or caustic grills should not be used on the painted surfaces.
For the plastic parts, wash them using warm soapy water, and then wipe them dry. No abrasive cleaners or concentrated grill cleaning product should be used on the plastic parts.
The painted surfaces can be cleaned using a mild detergent, or any non-abrasive cleaner with soapy water. Then wipe them dry using a soft and non-abrasive cloth.
The stainless steel surfaces need to maintain high-quality appearance, and the best way to ensure that is to use a mild detergent and warm soapy water to wash them with. After each use, wipe them dry using a soft cloth. For surfaces that have grease deposits, an abrasive plastic cleaning pad may be required.
Pros
Once you know how to correctly configure and use a vertical smoker, there are many advantages that come along with it. These include:
It is quite simple to use, even for those who are using a smoker-grill for the first time. Lighting the burner is quite an easy task, with a hole on its side to help you see if it is lit or not.
It comes with a double door design, which allows you to easily access wood and water without losing any heat in the cooking chamber.
One of the best things about this vertical smoker is that there is a lot of room in it, with multiple slots for several racks.
Supportive and sturdy design
The legs of the grill are sturdy and supportive, and it is overall a solid structure.
For those users who are looking to buy their first smoker, it is not only an easy to use one but also inexpensive.
Economical gas consumption
The grill uses very little gas, and using it at any temperature is not any problem.
The temperatures and the smoke amounts can be controlled independent of each other.
Cons
While a review of the above information may make it sound like the best char broil vertical gas smoker the market has, there are still some cons to this piece, including:
There is no bottom vent in the smoker, which, unlike an enclosed vent, does not account for a more efficient heat control.
Despite its capacity, the smoker only comes with 3 racks, and any extra ones that are required have to be purchased.
While it is not difficult to learn how to use a char broil smoker, its setup is entirely the opposite- which is not only complex, but also time consuming. A number of nuts and screws can be tough and will require a screwdriver and socket wrench.
If you do not use a water pan with it, it will turn hot, even at the lowest settings.
The thermometer, as noticed by some users, is inaccurate by a margin of 30 to 50 degrees.
Read our review of top 10 Gas Smokers
User Friendliness
The hardest part in figuring out how to best make use of this particular vertical smoker is its assembly- it does not come with a manual in the package, and add to that its complicated assembly process and its users have quite a challenge in front of themselves. However, once that is done (with an expert's help or from the manufacturer), the rest is not that hard.
It has separate controls for temperature and the smoker, which makes it all even simpler and efficient. Users have to be careful while pulling out the racks though- they have no stops.
Warranty
The Char broil vertical gas smoker comes with a 1-year warranty that covers the entire set of grill parts, beginning form the date of purchase. The manufacturer provides any form of technical support and assistance that may be required beyond this period as well. This warranty is valid on those smokers that are purchased online as well.
Value for money
With a durable construction, 1-year warranty, sufficient cooking & additional space as well as a host of other functions, this vertical smoker is a must have. It is surely a value for money product, which will give you more than what you pay for in terms of functionality and durability.
Replacement parts availability
Most replacement parts for the smoker in this review can be purchased from the manufacturer's website- all you need to do is visit the Parts section and enter the particular char broil vertical gas smoker model you are using. This includes specific parts burners, grates and grids as well as general accessories like ignition module, side panels and so on. It is recommended that users purchase replacement parts that are genuine and made by Char Grill.
Verdict
Overall, the three key benefits that come with this grill are its ease of use, price and the varying ranges of independently controlled smoke & temperature. On the other hand, the work involved in setting it up may be considered as a downside. However, overall, this is a very sturdy and useful model, and is one that anyone looking to buy their first vertical gas smoker can consider. Upon review, one can easily conclude that this Char Broil Vertical Gas smoker has a lot to offer.
Thus, in the end, it is quite safe to say that while this is a great model for beginners, any advanced/novice 'griller' will probably require a better model that has more features. Despite of its flaws, the Char Broil vertical gas smoker does manage to live up to most expectations, and will deliver a better than average performance in grilling your favorite food.

Frequently Asked Questions
Q. The product did not come with a manual, how can I get the requisite information regarding troubleshooting and setting it up?
A. The manual for this smoker is available on the Char Broil website and on Amazon as well.
Q. What is the warranty period for this grill when purchased online?
A. As confirmed by the manufacturer, all the grill parts are covered by a warranty of one year.
Q. Are the smokers in the grill provided with sufficient ventilation?
A. The smokers are vented on the top, and this is adjustable as well.
Q. What kind of covers fit this particular model, and where can these be purchased from?
A. The manufacturer, Char Broil, itself makes a cover that is designed exactly for this model.
Q. On an average, how long will its propane tank last?
A. On a temperature around the 225-degree range, the tank will last approximately 4 hours.
Q. Can the grill be used along with a home-gas line?
A. No, since the Char broil vertical gas smoker is a propane gas unit, and not a natural gas grill.