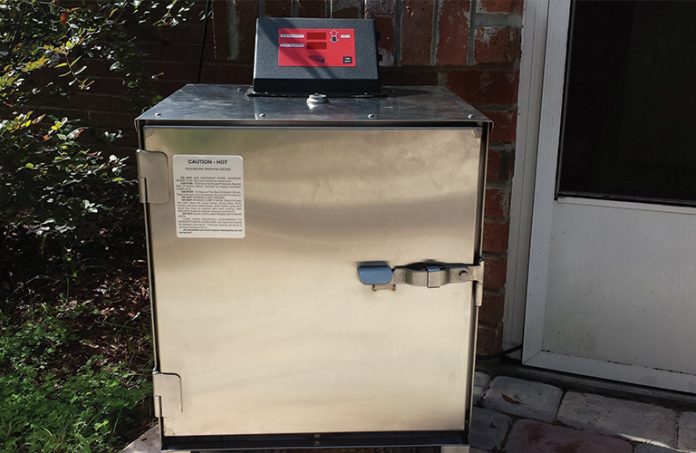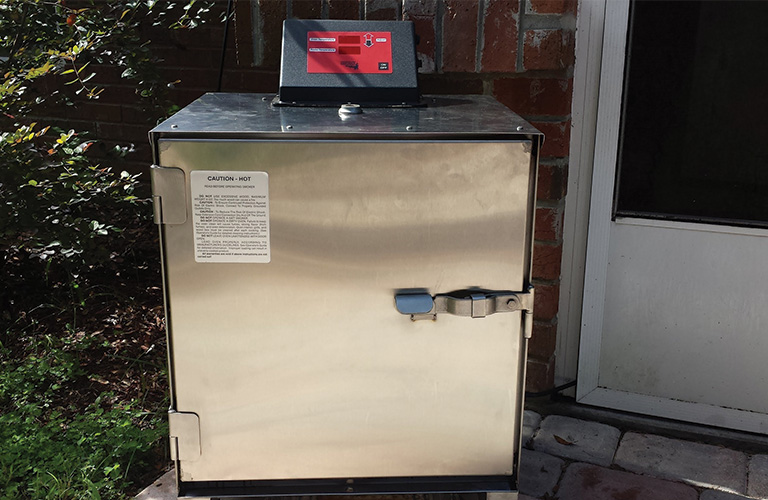 There are many advantages of having an electric smoker that even the best of charcoal or gas smokers cannot offer. For those who are hardcore gourmet lovers and looking for the best electric smokers in the market, the Cookshack Smokette Elite Electric BBQ Smoker must be an option. There are a number of electric smoker reviews for some of the best electric smoker grills on the market, but how well does this particular electric BBQ smoker fare among all of them? Let us go ahead and try to figure it out with this thorough Cookshack Smoker review.
Includes
It is essential that you read the contents of the Cookshack Smokette Elite Electric BBQ Smoker package before you begin using it. The following things come with it:
5 Pounds of Hickory Smoking Wood
Aluminum Drip Pan
Operator's Manual
Smoking at Home (Cookbook)
Meat Probe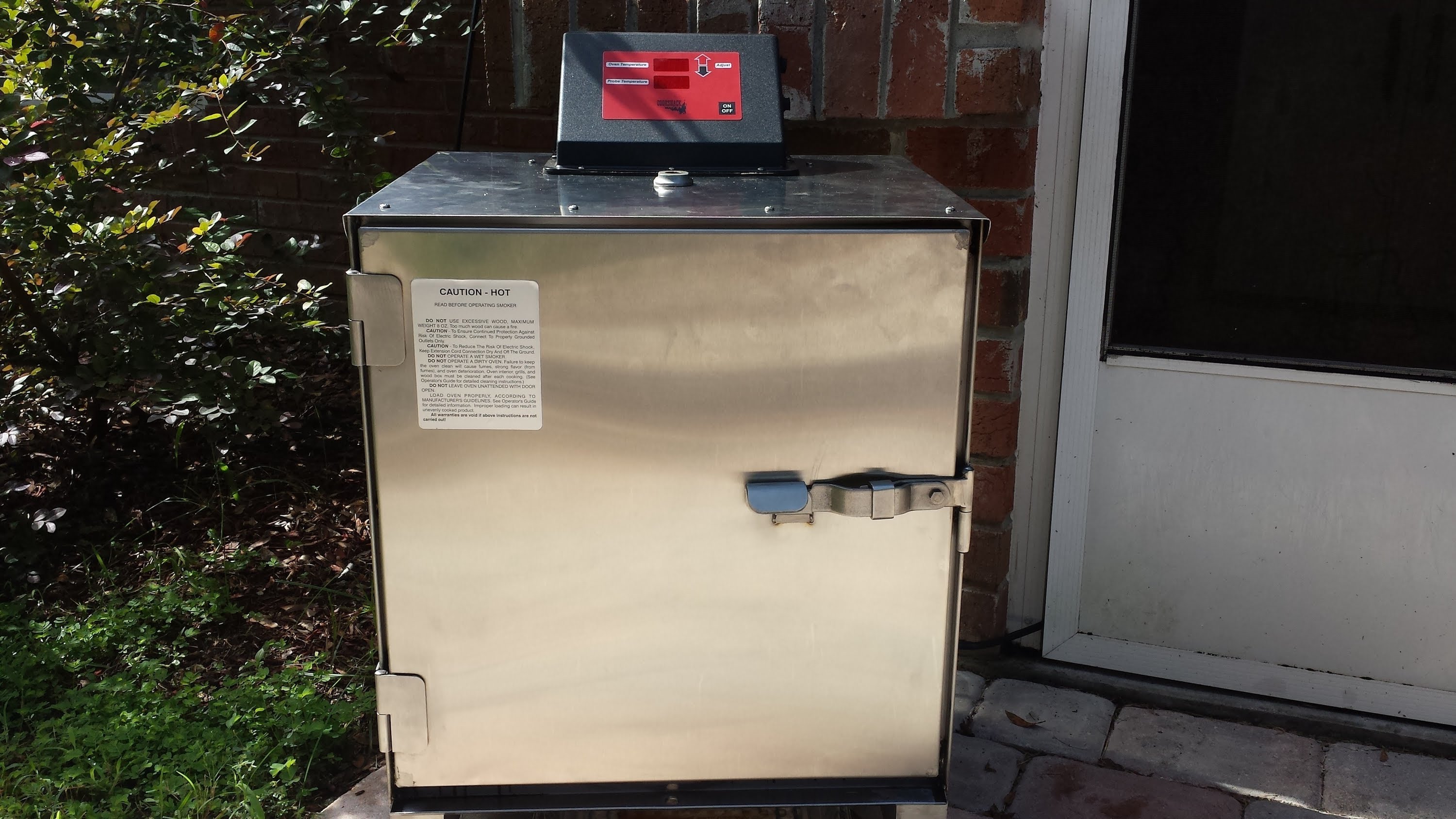 Key Features
Some of the features of the Cookshack Smokette Elite Electric BBQ Smoker worth noticing include:
1. Quality Construction
Unlike cheap electric smokers, Cookshack tries to deliver quality construction to its smokers, and this one is no different. This model's exterior and interior parts are made of double walled stainless steel. It has an 850-degree Fiber-Glass Insulation to protect the outer walls from getting heated.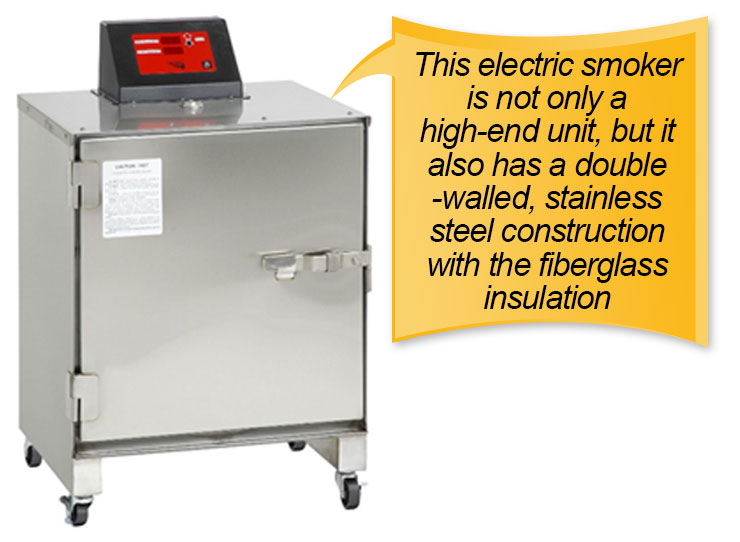 2. Large Capacity and Cooking Area
With dimensions of 20.5″x17.75:x31.625″, this smoker offers a cooking capacity in the 20-to 25-pound range. It beats some of the top electric smokers of this segment. It has a total cooking area of 504 square inches equally divided between 2 nickel-plated grills.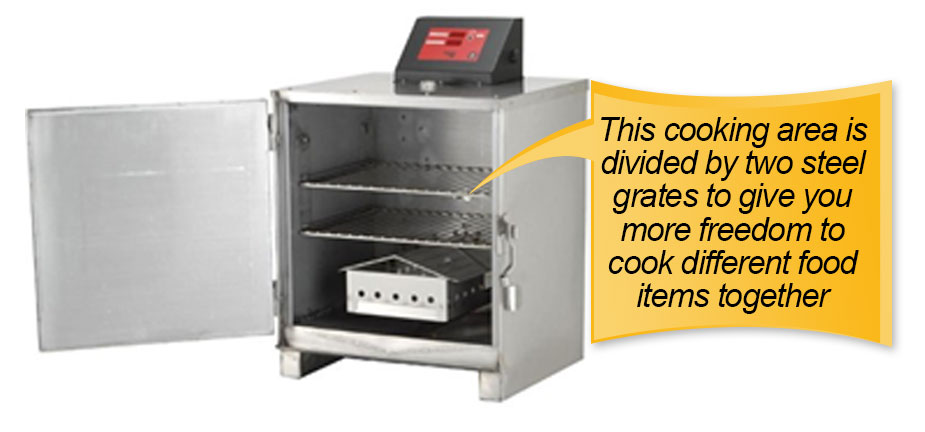 3. Wide Temperature Range and Control with Digital Controller
One of the essential features you should note from this Cookshack Smoker review is the temperature range of the Cookshack Smokette Elite Electric BBQ Smoker, which is from 100 to 300 degrees. It also has a digital temperature control to aid in precise temperature control.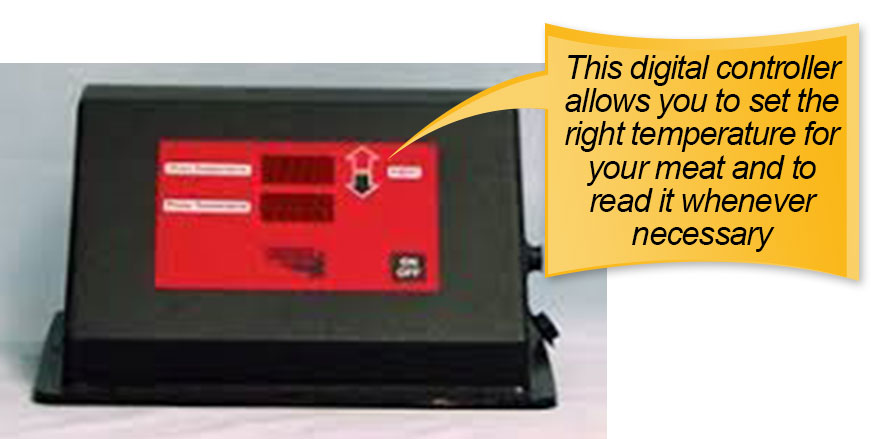 4. Adjustable Stainless Steel Cooking Grids
There are two durable cooking grids placed inside the cooking chamber. These grids are adjustable as well, so you can remove the upper part if you need an extra space for your turkey.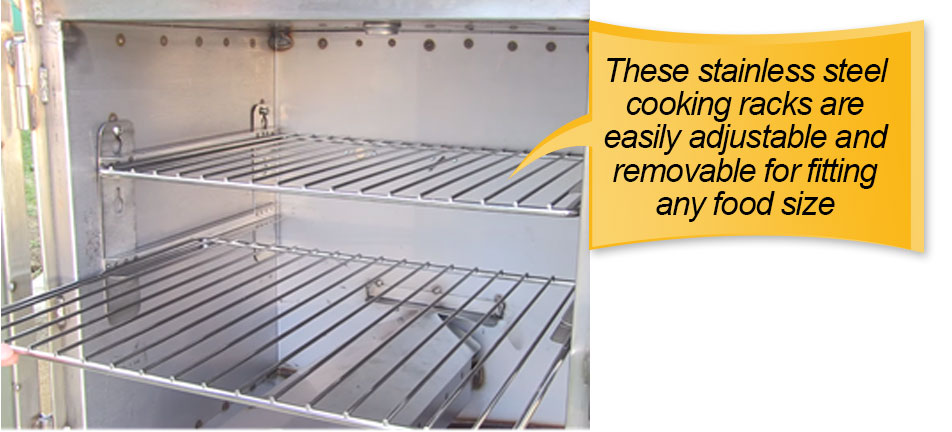 5.  750-Watt Electric Heating Element
Another positive feature of this smart smoker is its powerful heating element. It has enough power to generate up to 300 degrees. You can smoke all kinds of meat using this much heat. It is of premium build, so no worries about its longevity. There is a heat sensor attached to it, so you will get consistent heat throughout the cooking time.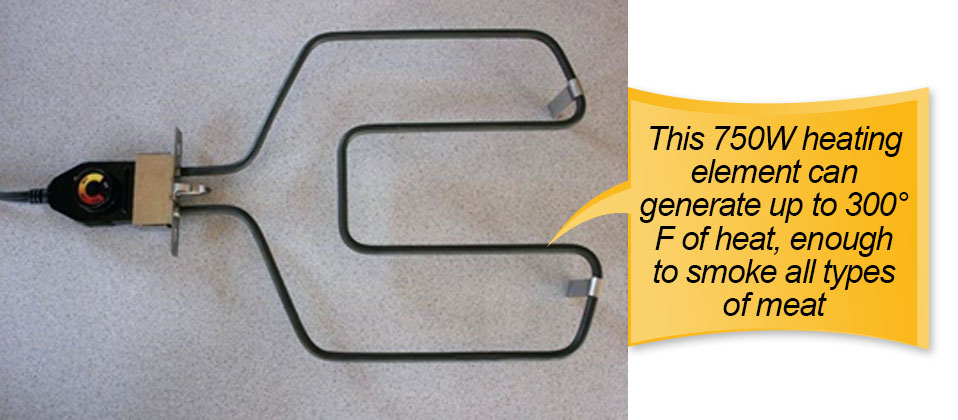 6. Easy Access Smoker Box
Smoking without woods is impossible. Smoke from solid wood enhances the flavor of the meat as well as adding to it. You can use different kinds of wood chunks or chips in the easy access smoker box.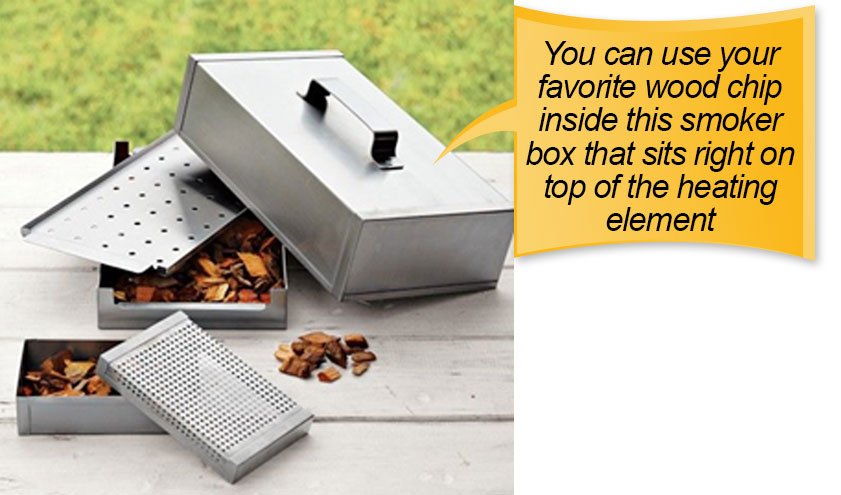 7. Large Capacity Removable External Drip Pan and Cold Smoking Baffle
An extra drip pan comes with the unit to catch the grease and oil that drip down from the meats. This is a friendly feature for easy cleaning. You can take out the drip pan and clean the grease easily. You also get a cold smoking baffle with the smoker package for cold smoking foods.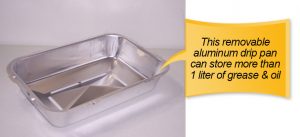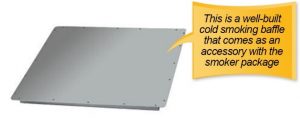 8. Meat Temperature Probe
Meat temperature probe is used to measure the internal heat level of the smoking meat. It is essential to learn the inside temperature if you are going for the perfect smoking experience. This meat probe is designed to do the job efficiently, and it does that.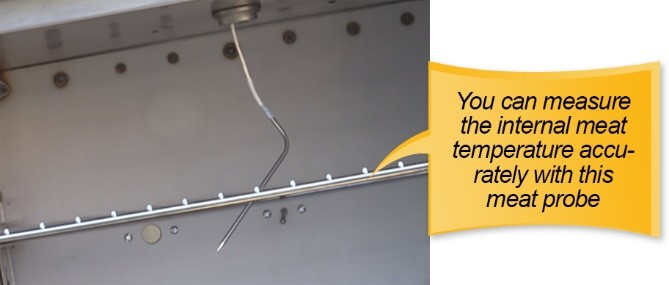 9. Durable Lockable Castors for Portability and Stable Adjustment
Cookshack Smokette Elite Electric smoker did not skip the castors, which adds another positive key feature to this smart smoking machine. The castors have built-in locking feature as well, so you will be able to fit them anywhere firmly.

Cleaning & Maintenance
In order to clean the Cookshack Smokette Elite Electric BBQ Smoker, remember the following instructions:
Disconnect the smoker and let it cool.
Remove its racks and grills, then scrape and wash using water and soap. Its rack and grills can be washed using a dishwasher, but any caustic cleaners should not be used.
Remove the ash and wood remnants by taking off the foil's cover.
Remove the grease inside with cloths or paper towels. Then empty the drippings and replace the drip pan.
Scrape out any scale and lose grease from its walls using a scraper with flat edges. At the end, replace the grills and rack.
It is essential that the bottom of the oven is clean and the foil is changed after every cooking. Any leftover grease present in the smoker's interior should be removed. The drain hole at the bottom must be opened all the time. In case it is plugged then its bottom may fill up with grease and become a fire hazard, so beware of that. A few steps that must be kept in mind from a maintenance point of view include:
Regularly check the wire and the electrical plug of it for any damage or wear on it.
After every 5 or 6 months, pour two drops of oil on the hinge pins to avoid any binding.
Keep a check on its casters for any free movement.
Pros
Some of the major positives of having the Cookshack Smokette Elite Electric BBQ Smoker include:
High Quality Construction
Majority of the top rated electric smokers come with a stainless steel construction, but CookShack takes it to the next level. The overall quality of the construction that this grill has makes it sturdy, tough and lets it function without any complaints even after taking multiple hits.
Load and Forget
If you asked users about what is the most important thing they could wish in an electric smoker, then the simplicity of use would come first. No one wants to spend hours for using a smoker- and this is exactly what it helps you avoid. There are no complicated steps in using this particular electric smoker.  All you need to do is load, set the time and start smoking.
Hassle-Free Portability
If you are looking for an electric smoker grill that you can take anywhere around the house then this is the perfect one. With wheels to comfortably move it anywhere without any hassles and locks to set it in one place, this grill has it all!
Smoking Wood to Get You Started
Unlike other top rated electric smokers, it comes with 5 pounds of Hickory Smoking Wood that ensures you can start grilling right from the moment you get the package.
Cons
Although we have covered all the major benefits and features of the Cookshack Smokette Elite Electric BBQ Smoker in this Cookshack Smoker review, there are few downsides to having it as well. These include:
Not Suitable for Large Parties
While it comes with a 25-pound capacity, it still won't be enough if you want to cook for a larger party at once.
Extra Costs
A few accessories, like a storage cart, rib racks, covers, etc. are essential, and should have been a part of the package. However, they are not and buying them means an added cost.
Ease of Use
In case you do not know how to use an electric smoker then there is no reason to worry, as the Cookshack Smokette Elite Electric BBQ Smoker is quite easy to assemble and you just need to read the basic instructions. With hassle-free maintenance and easy-cleaning, it is easily among the most user-friendly smokers in the market.
Warranty
It is essential that you read the Cookshack Smokette Elite Electric BBQ Smoker warranty conditions before purchasing to get an idea of what is covered and what is not. The labor and parts are covered under warranty for the 1st 90 days after purchase, and the rest of the 2-year warranty is just for the parts. This can be availed only after prior inspection by Cookshack or its agents.
Value for Money
Overall, with a range of features and ease of use, Cookshack does manage to deliver a value for money product. If you are looking to get a BBQ smoker that offers complete value for money and lets you cook and smoke your favorite meats with ease, this is a product worth considering. Yes, we are assuring you based on our vast experience with numerous electric smokers from reputable brands such as George Foreman, Char-Broil, Masterbuilt, and many more.
Replacement Parts Availability
One of the things that makes Cookshack a great manufacturer is the fact that it offers every replacement part for separate purchase on its website. You can find any accessory or replacement part you need online or at your local dealer's store.
Verdict
Thus, overall this one is a solid and durable option. After reading all the information about Cookshack Smokette Elite Electric BBQ Smoker in this review, one thing is clear- if you can afford to pay an initial cost for a quality smoker and barbecue then this is the one you must go for. It offers you a range of functionalities that make cooking your favorite food a delight and a simple process!

FAQs
Question: Can an extra rack be added on it and use it as a dehydrator to cook jerky?
Ans: The smoker is set up for 2 racks. There are a number of accessories you can get on its website and make the required changes.
Question: Is any seasoning required before using the grill? If yes, how should it be done?
Ans: Breaking the grill is important prior to putting in the first meat. Put 2-3 pieces or 6 ounces of wood chunks in the box and then put the heating element. Remember to never have over 6 ounces of wood in the smoker. Once it is set, the smoker should be left properly to smoke without any meat for at least 4 hours at a temperature of 275 degrees Fahrenheit.
Question: Is there any proper shutdown procedure to be followed?
Ans: To shut it down, first turn the oven to the off position and then remove its plug from the socket/outlet. After that, allow the oven to cool down for some time. Once it cools down, take out the wood box carefully from the oven and then douse its contents using water. It is essential that this procedure is followed in order to avoid it from turning into a fire hazard.
Question: What is the process that needs to be followed for obtaining replacement or repairs under warranty?
Ans: In case you feel that there are any manufacturing or workmanship defects while the product is under warranty, then contact Cookshack.  They will inspect and decide if any replacement or repair is necessary and if the must do it on their own. Using it improperly or servicing from an unauthorized agent could void the warranty, thus Cookshack will not be liable for any damages or accidents.