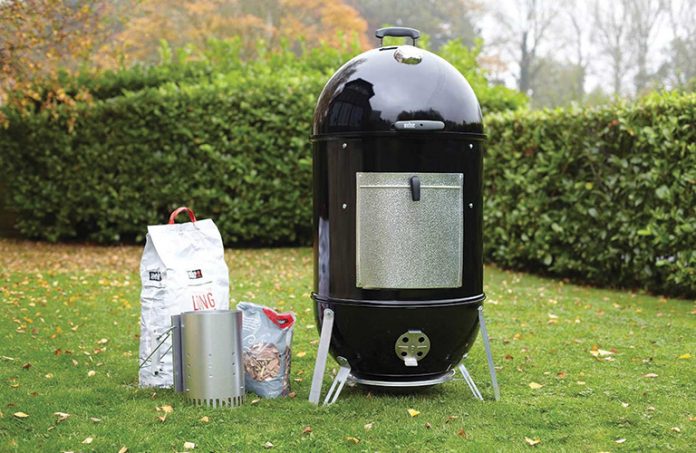 If you are searching for the best charcoal smoker that the market has to offer, you might have already seen that numerous products are claiming to be the best. However, the Weber 721001 Smokey Mountain Cooker is a product that is different from the rest, which is what this review is all about. This is not just a product that looks great, but it also has a lot to offer. Read on this Weber 721001 Smokey Mountain 18-Inch Charcoal Smoker review to know more as to what Weber offers you with this Weber 18 Inch Smoker and if it is worth the money you will spend on it. We've also especially reviewed and tested other Weber smokers and grills so you know which one might fit your individual needs.
Key Features
Some of the most distinctive features of this Weber 18 Inch Smoker that Weber offers you include:
1. Dimensions
The dimensions of this smokey mountain cooker are-
Height: 41 inches
Width: 19 inches
Depth: 21 inches
2. Plated Steel Cooking Grates
It has 2 plated steel cooking grates along with a steel charcoal grate. All of them are porcelain-enameled for added durability. This high-quality coating material saves them from high temperature for a long period of time.
3. Porcelain-Enameled Bowl and Lid and Stainless Steel Damper
The lid and bowl of this Weber 18 Inch smoker are porcelain enameled, premium-grade US steel for heat retention. This Weber Smokey Mountain smoker has multiple dampers located different parts of the body. The dampers are rust-resistant and made of aluminum. During cooking the gas pressure of the cooking chamber can be controlled by the damper placed on top of the lid. They come handy when you are not using the temperature control unit.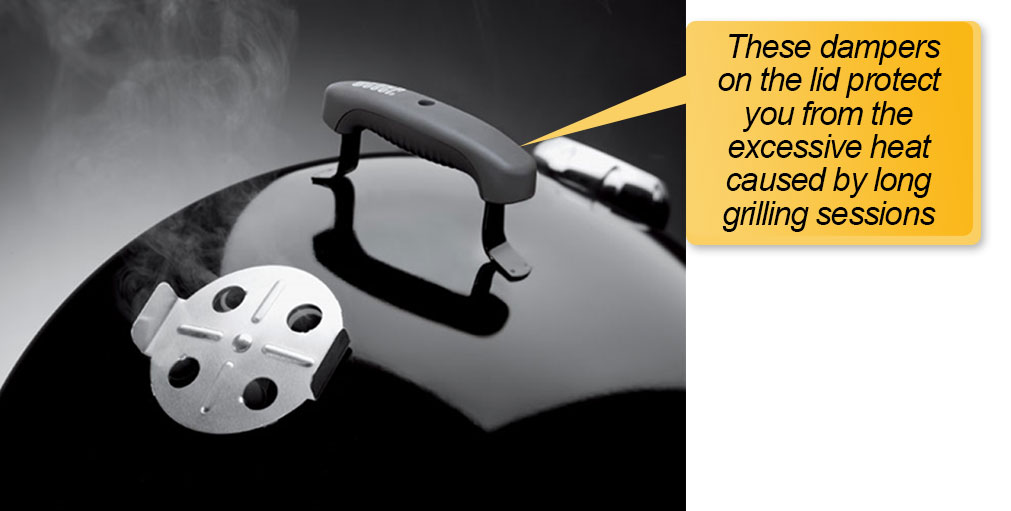 4. Built-In Thermometer for Easy Temperature Control
This grill comes with a lid-mounted built-in temperature gauge. You can read the temperature of the cooking chamber inside the cooking chamber using this thermometer. It is nicely built for long-lasting performance.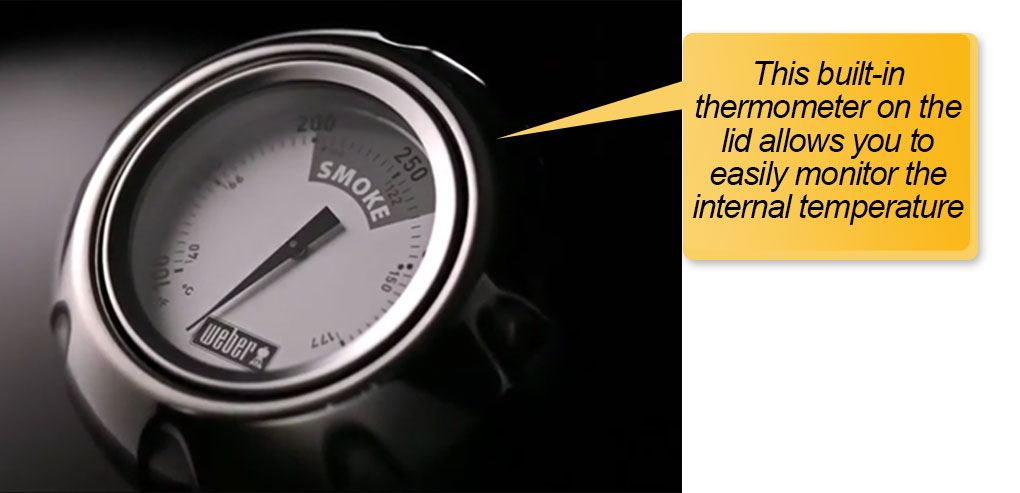 5. Cooking Area
The Weber 721001 smokey mountain smoker has a total cooking area of 481 square inches. There are two separate cooking grates for cooking a full-size turkey on the top and a giant ham in the bottom simultaneously. There is enough space for plenty of meat to smoke.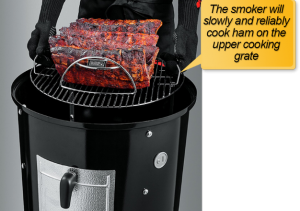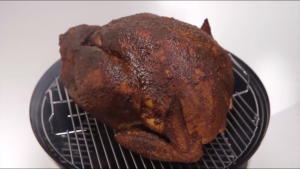 6. Rust-Resistant Aluminum Fuel Door
For longer cooks, you are going to need to add more charcoal and this door will help you do that safely. This way you would not have to go through opening up the whole system to add extra fuel.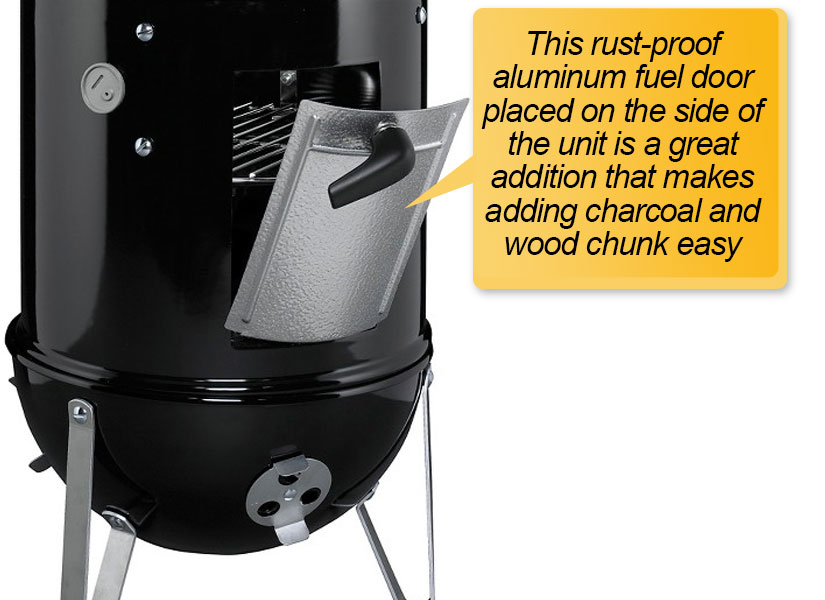 7. Rust-Resistant Water Pan
In the middle section of the smoker, you will find a big water pan which is porcelain-enameled water pan. During grilling adding water will enhance the flavor and moisture of the food.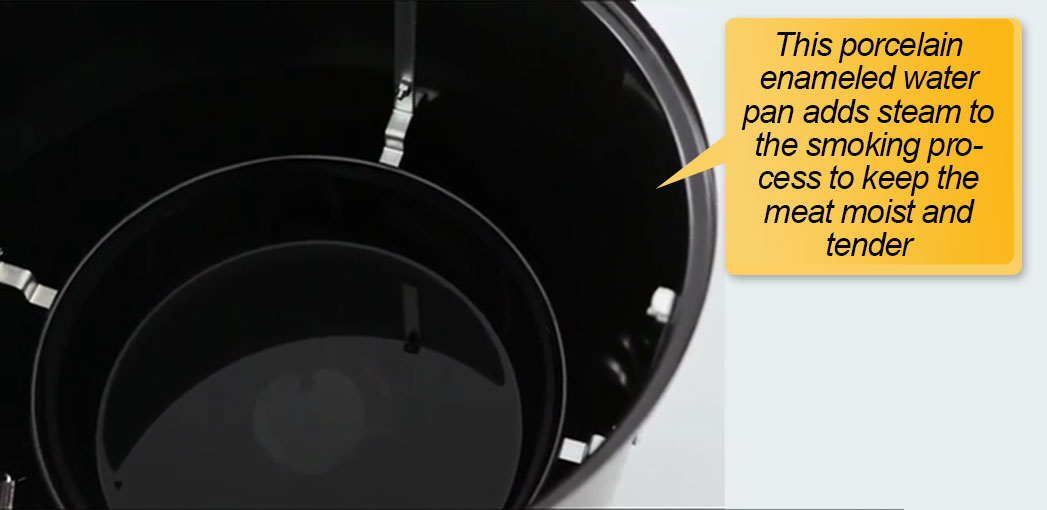 8. Aluminized Steel Rapid Fire Chimney Starter
Rapid fire chimney starter is added as an accessory with this Weber 18 Inch smoker which will help you easily add fire to the charcoal. Lighting fire is always exhausting if you try it manually. This chimney starter works like magic and saves you time and energy.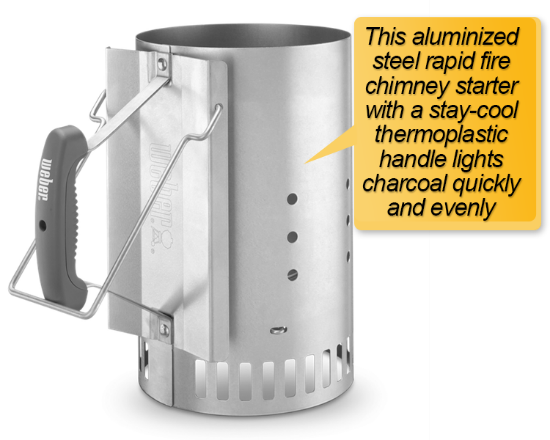 9. Durable and Effective Charcoal Holder Design
This smoker has an intelligent ring-shaped charcoal holder design. The job of this part is to hold the burning charcoal to generate the heat upward. For that, it needs enough oxygen input. There are enough holes in the body of this holder, which allow the oxygen get in and burn the coals.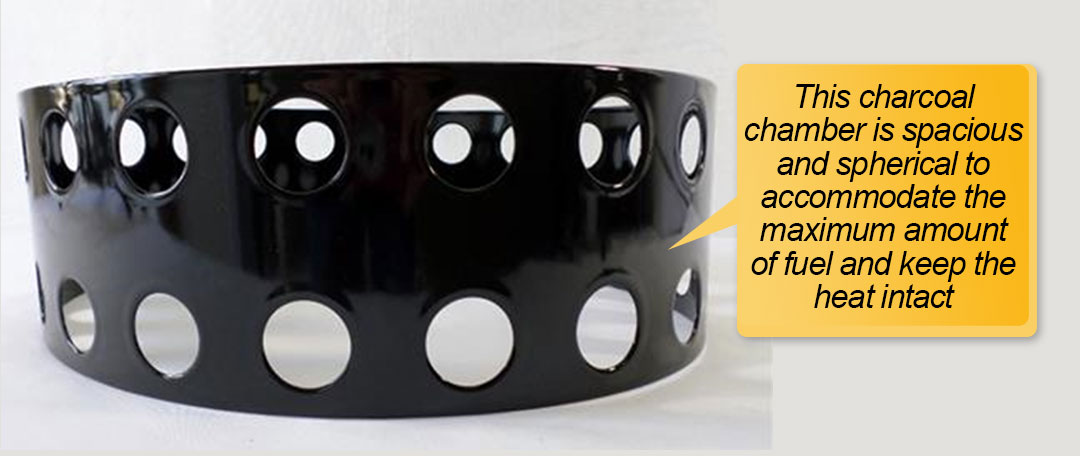 10. Portability
This Smokey Mountain smoker unit is portable. It is also quite easy to assemble and pack, which means that you can take it anywhere you want. It only has three major parts that need to be properly taken care of and the rest is simpler than you can ever imagine.
Cleaning & Maintenance
One of the best features of the Weber 721001 Smokey Mountain Cooker 18-Inch Charcoal Smoker is that maintaining and cleaning it are very easy. With just one thorough cleaning a year, you can extend its life to almost three years. This is quite simple to do:
First, ensure that the coals are extinguished and the smoker is cool.
Remove the charcoal and cooking grates, and then remove the ashes.
Wash the smoker using nothing more than some mild detergent with water. Once done, rinse it using clear water and then wipe it dry.
The cooking grate does not need to be washed after every use. For regular maintenance, just get rid of any residues that are on it using crumpled aluminum foil or grill brush, and then wipe it off using some paper towels. In case the temperature of this Weber 18 Inch smoker is less than expected, it might have happened due to the presence of ash in and around the coals. To resolve that, open up the vents at the bottom and stir the coals so that any accumulated ash around them can be dislodged.
Pros
The smokey mountain 18 by Weber is surely a great product and as you may have read above, it comes with a host of features. Some of the benefits of using it as your preferred smoker include:
Authentic smokehouse flavors at the comfort of your home
This Weber smokey mountain smoker is undoubtedly one of the best smokers to cook the best smoky-flavored foods at your own home. Its charcoal smoker is a simple and efficient way to get the most of smokehouse flavors anywhere you want. The water pan with porcelain enamel helps you keep the meat tender and moist by adding steam to the smoking.
Easy temperature management
There is a durable thermometer that is built in its lid which makes it easy to measure the smoker's temperature as you cook in it.
High-quality and durable cooking grates
The cooking grates of this Weber 18 Inch smoker are made of heavy-duty plated steel, which provides you with more than sufficient room for making a roast as well as smoking ribs all at the same time. It comes with a total cooking area of 481 square inches.
Easy and simple maintenance
As you read earlier, the Weber 721001 Smokey Mountain Cooker 18-Inch Charcoal Smoker just requires one thorough cleaning each year to help you prolong its life as long as three years. Apart from that, no hassle of regular cleaning is needed. Even the occasional cleaning is simplified with the ash catcher pan and the separable parts.
Convenient handling and more
This smoker has heat-resistant handles made of nylon. It also has a storage cover which makes it easier to use and move around.
Read our review of top 10 Charcoal Smokers
Cons
There are a few downsides of having the Weber 721001 Smokey Mountain Cooker 18-Inch Charcoal Smoker that you must be informed about. These include:
Thermometer is not as efficient as expected
This smoker has a thermometer at the lid, but it is not as efficient as required. It is off by around 10 to 20 degrees approximately.
While the grill may have been designed to make it easy to move around and carry, the lack of any side handles makes this quite an inconvenient process.

User Friendliness of this Weber 18 Inch Smoker
With just three major parts, using and moving around this grill is a simple task. Assembling the Weber 721001 Smokey Mountain Cooker 18-Inch Charcoal Smoker is also not hard and taking a look at the instructions is all you need to do for getting it done in less than 20 minutes. The only tools required during this process include a socket or wrench and a flat-head screwdriver. There are no complicated steps involved in its usage and with precise temperature control, it is made even easier.
Warranty Details
Weber has done a fantastic job of offering a long-term warranty for this Weber 18 Inch Smoker. Aside from all those advantages, you have read so far in this review, it also provides a 10-year warranty! The details of this warranty go as follows:
Center ring, bowl, and lid: 10 years of warranty
Plastic components and the One-Touch™ System: 5 years of warranty
All other parts: 2 years of warranty
Apart from that, all of these parts are also covered under the no burn/rust through guarantees.
Value for Money
Everything listed in this review of the Weber 721001 Smokey Mountain Cooker 18-Inch Charcoal Smoker sums up to tell you that it is a great product at the price it is offered. A highly functional and easy-to-use smoker with a 10-year warranty are all crucial factors that make it worth the money you have to pay for it.
Replacement Parts Availability
Apart from the 10-year warranty, Weber also offers all replacement parts and accessories on its website. If there is any defect or damage, you can buy the requisite parts from Weber. You can also contact Weber for free assistance in case your product is still under warranty.
Verdict
Thus, it is quite safe to say that the 721001 Smokey Mountain Cooker 18-Inch Charcoal Smoker is a product that delivers what it promises, and it is worth your money and effort. It works as good as it looks and it is undoubtedly amongst the highest quality products from Weber.
For those who are looking to get a quality smoker with a trusted brand name, this particular one by Weber should come across as the right choice. This Weber 18 Inch smoker is a highly durable model with a host of functionalities. It will definitely give you your money's worth for years to come.
FAQs
Question: Can it be used with wood and charcoal?
Ans: While it is being used with the smoking configuration, you must cook only with charcoal, since it will hold the fire for the requisite duration. Wood can be added only for smoking the dish. You can use any kind of wood depending on the smoking flavor required, and it is better to use chunks in place of chips.
Question: Is its thermometer accurate, and what is the alternative if it isn't?
Ans: Its thermometer is off by 10 to 20 degrees. In order to get a better reading, you can either go for a wireless thermostat or any other quality thermometer placed a few inches away from the cooking surface to get a more accurate reading.
Question: What are the capacities of the 18.5 and 22.5 inch cookers and which one is better?
Ans: It depends on the usage and the requirements of the user as to which is a better option. The 18.5 is sufficient for cooking around 7 chickens or 6 spare ribs without a rack or 6 small butts. The 18.5 is perfect for 4 people- go for the higher one in case you have more than 4-5 people to cook for.
Question: Is the smoker's upper part separable from the bottom to clean the charcoal pan? Can the pan be lifted out?
Ans: Yes, this can be done since these three are separate pieces. The middle tube can be lifted from the bottom to gain easier access. The gate across the bottom on which the fire ring is placed can be removed. However, the only drawback here is that there are no handles on the middle tube, so lifting is a bit harder. This can be taken care of by getting a pair of cabinet handles that can be installed without drilling any holes.