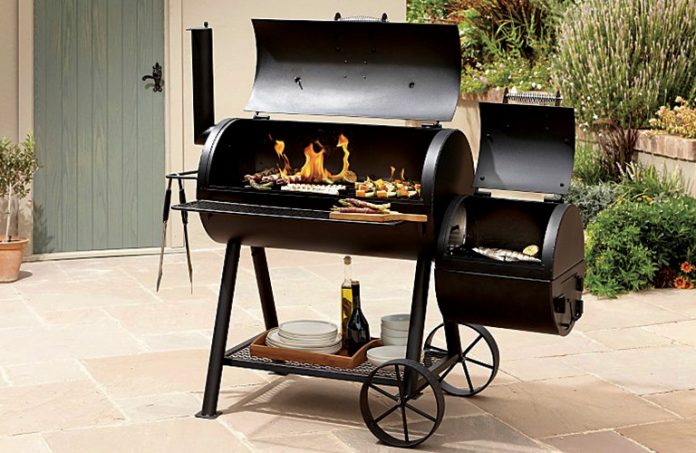 For the lovers of smoked foods, an offset smoker is a must have. If you are looking for a mid-sized smoker then the Char-Broil American Gourmet Offset Smokeris a model that you must consider. This Char-Broil American Gourmet Offset Smoker review will help you make an informed decision. As you read ahead, you will learn about the best and the worst things about having offset smokers, and if this model is worth your money or not.
Key Features
Let us discuss the key features that this offset smoker grill comes with:
1. Temperature gauge
Maintaining optimum temperature is a must if you want great taste. This smoker's lid-mounted gauge lets you keep track of the temperature inside your smoker. It is fairly accurate with simple reading. You just need to have a glance to know exact temperature inside.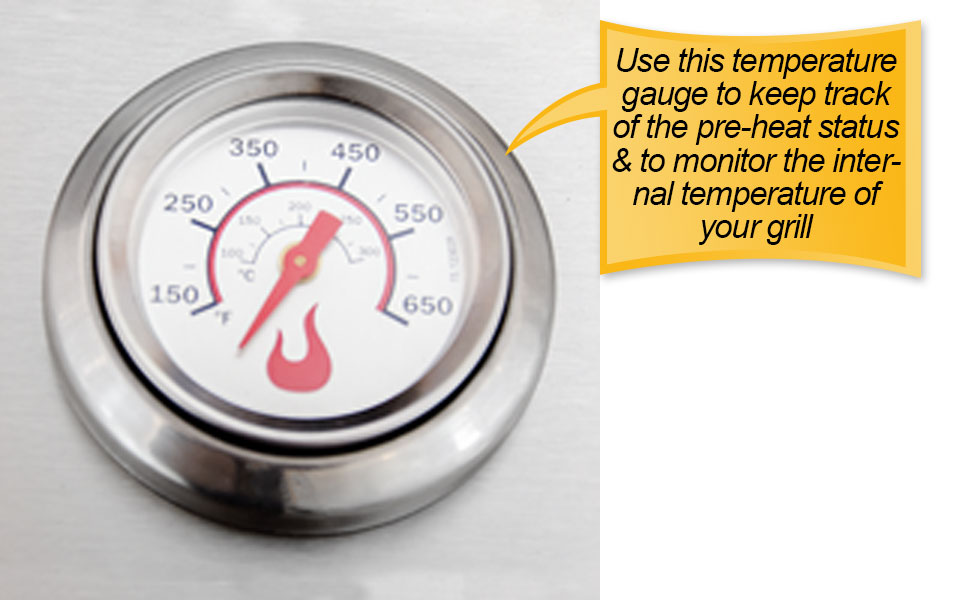 2. Spacious cooking chamber
The cooking chamber of this smoker is large enough to house enough amount of foods for a decently sized party. Bigger cooking chamber ensures better taste as there is more space for smokes to play around.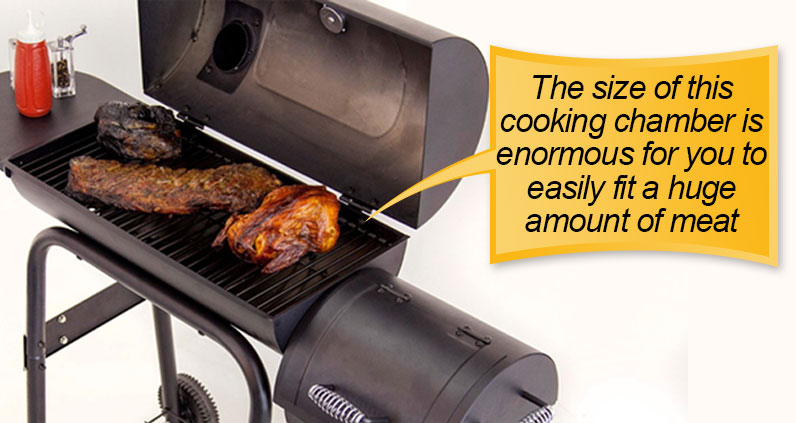 3. An easy-to-clean door
The firebox of this smoker can be easily cleaned off the leftover ash through the convenient design of the door, making it an easy and quick cleaning job. This door also channels air to pass inside that is required for proper burning.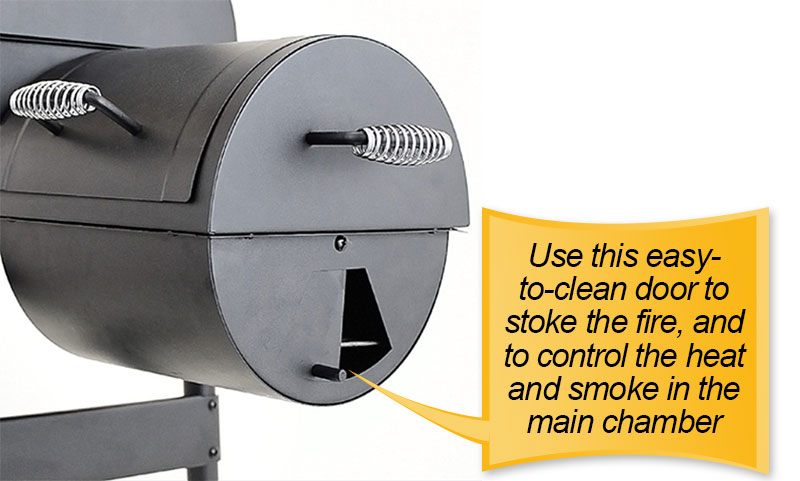 4. Cool Touch Handle
Its door and grill handles never heat up when in use, so you can keep your fingers and hands safe from the heat. The design of the handles are done in a clever way to keep them cool even after long hours of cooking.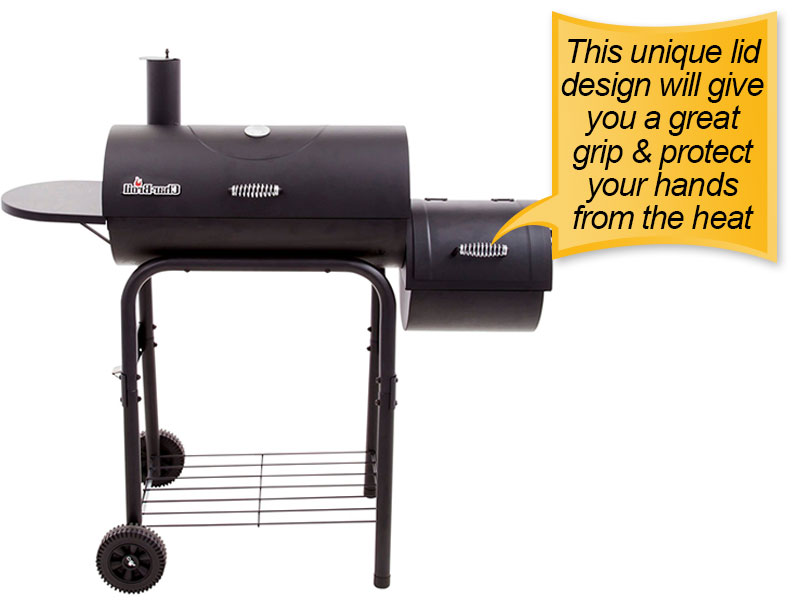 5. Coated grates for easier cleaning and durability
The cooking grates are porcelain coated, which makes them quite easy to clean as well as resistant to rust. The quality of grates matters a lot when it comes to smoking. Repeated cooking leave them covered with charred grease and fat. If not made of solid and tough materials they can easily wear off. In this smoker we found the grates satisfactory.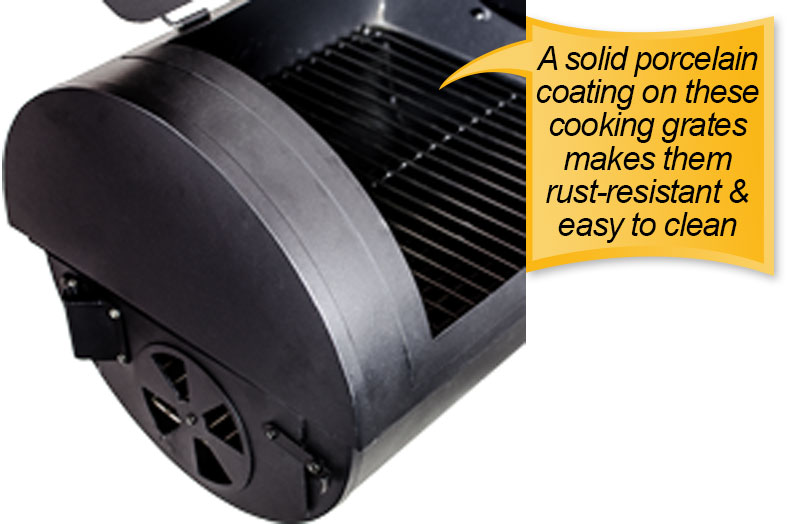 6. Storage rack and a side shelf
Its storage rack is a handy place for placing extra charcoal and utensils, while you can place cooking accessories and grilling tools on the side-shelf. The designers of this smoker understood the importance of extra space during smoking. This option makes the smoker a way more user friendly.
7. Smokestack
The smokestack, which is a vertical pipe with adjustable dampers, makes the heat and smoke regulation more efficient. It is black coated and durable enough to last through rough weather without rusting.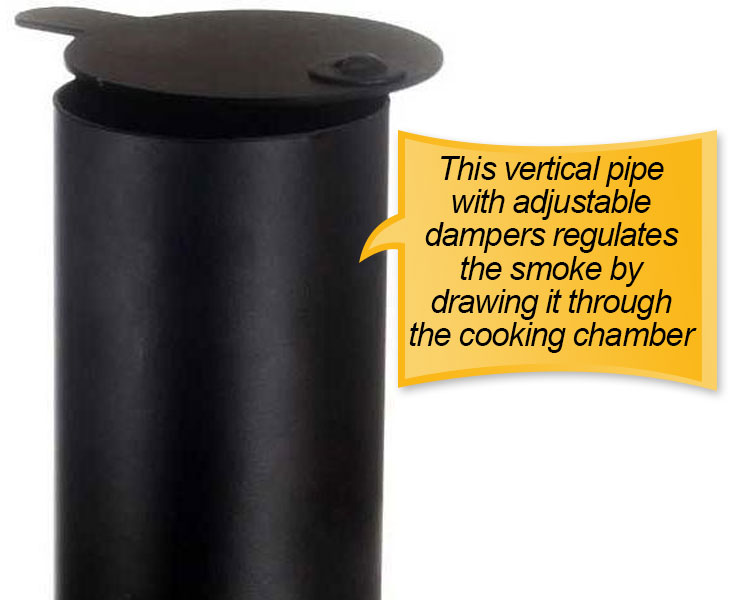 8. Easy mobility
This smoker has wheels under it for portability. The wheels are made of a combination of durable plastic and metal making it strong enough to take heavy load.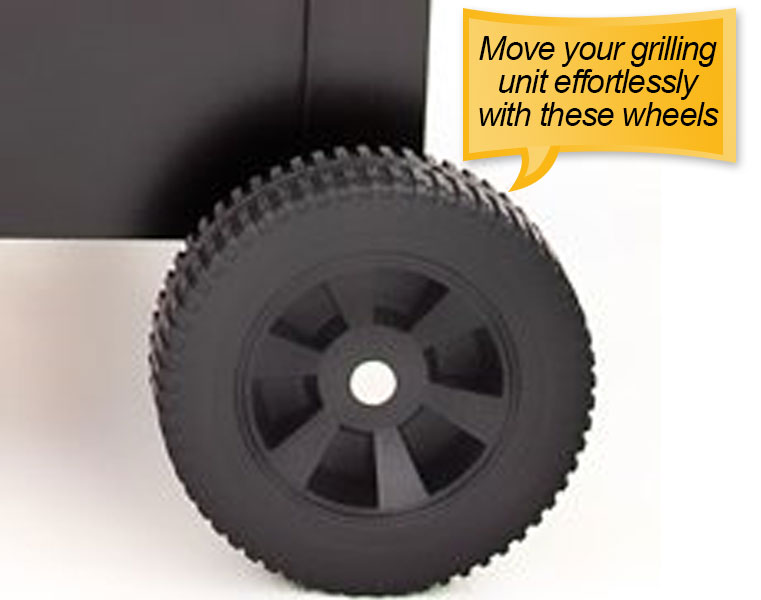 Maintenance and Cleaning
Before you begin using the Char-Broil American Gourmet Offset Smoker, it is advised that you must read the manual for getting proper instructions. For instance, it suggests that prior to the first use, you should light a fire that will help clear out any chemicals and toxins present inside the smoker. The door and cooking area can be easily cleaned and any ash can be removed with the built-in damper. Remember the following factors for getting a long-term service from it:
It is essential that the grill is cleaned regularly, especially after each use. The major reasons of grill fires are food and grill deposits at the bottom, which is why you should remove them from inside the grill and the cooking grate after every use.
Cleaning should be done after every use using a grill brush once the grill cools down. The grill should not be 'burned off' because this may cause permanent damage.
Its plastic parts must be cleaned using warm, soapy water. Then it must be dried through wiping. Degreasers, abrasive cleaners and other strong products should not be used, as these could cause damage/failure.
Its porcelain surface has a composition that is similar to glass, which makes cleaning it relatively easier. Any residue can be wiped away using a solution of water or baking soda or even a mild glass cleaner. For the stubborn stains, a non-abrasive scouring powder is enough.
Pros
Extremely affordable There are not many affordable smokers out there and this one, being offered for less than $100, is the perfect buy if that is what you are looking for!
An all-in-one unit Being a combination of a BBQ, offset smoker and a charcoal grill in a single unit, the need of buying any other appliance for these three functions is eliminated.
Easy to use and maintain As mentioned before, cleaning the Char-Broil American Gourmet Offset Smoker is quite easy, especially because of its clean-out door that allows ash to be removed easily and the built-in damper as well.
Simple to use For novice smokers or BBQ fans, learning how to use an offset smoker may seem like a complicated task. But it is not so with this particular model. It is quite easy to setup and use as compared to other offset smokers.
Side shelves for secondary storage Its side shelf is a useful and handy feature for keeping the utensils you will be using most often with this grill.
Cons
Extra work if wood is being used If you want to use wood as the preferred fuel in place of charcoal, you will have to cut or split it in smaller pieces.
Limited cooking surface Despite the 288-square inch cooking area, the entire surface may be small for some users.
Not compatible with a combination grill If you are looking for a smoker that connects with your grill then this is not the model for you since it is a separate smoker model
Read our review of top 10 Charcoal smokers
Ease of Use/ User Friendliness
This is one of the best offset grills for those American gourmet lovers who are still beginners in making their own smoky or grilled food. Assembling it will not take you more than one hour and it is just a matter of lighting an initial fire for cleaning before you can begin using it to make the perfect food for yourself and large gatherings. In case any additional instructions for using the grill are required then these can be obtained from the user manual that is available at the manufacturer's website.
Warranties
This durable offset smoker is covered by a one-year warranty, which includes all of the parts of it. This warranty begins from the day of the purchase.
Value for Money
With a price tag under $80, this smoker offers a great value for money. As compared to the rest of the entry-level smokers in the market, buying the Char Broil American Gourmet Offset Smoker is a better choice, especially for those who are new to the world of American Gourmet. While there are a few entry-level smokers and grills out there, none of them offers such a high level of durability and functionality.
Replacement Parts Availability
Any replacement parts that may be required for this smoker can be easily purchased from the manufacturer's website and from Amazon as well. Apart from those extra parts, some additional items, like wood chips and smoker boxes are provided by Char Broil.
Verdict
After reading all the important factors of this smoker, one thing is quite clear- the Char Broil American Gourmet Offset Smoke is a product that comes with a host of features for the gourmet lovers. Apart from the setup, the rest of the grill's usage is quite simple. Moreover, both beginners and advanced users will find this quite a useful product. Keeping in mind the price tag, this smoker does offer a lot as compared to other smoker grills. Thus, if you are looking for a sturdy, functional and durable grill then this review is a proof that the Char-Broil American Gourmet Offset Smoker is an option you must consider.
Before making any final choice, knowing thoroughly about a product is quite important and this review was all about it. As you now know what this grill offers and what it does not, making the right choice as a gourmet lover should be an easier task for you!
FAQ's
Question: What is the height of the cooking surface from the ground?
Its height is approximately 36 to 40 inches, and can be used by those who have back problems or cannot stand for a long time, since it can be operated while sitting as well.
Question: How easy it is to clean this offset smoker and what are the best ways to remove charcoal dust?
Cleaning this smoker is quite an easy task. In order to remove charcoal dust, line it using aluminum foil and then pick it up when done to decrease the cleaning work required. In case there are too much charcoal dust deposits, lay down the smoker on its side and the spray using a hose.
Question: Does this grill face problems like rusting after prolonged use?
Long-term users of this grill have reported that there are no such problems associated with it even after a long usage period. In order to ensure that there is no deposit of rust, it is essential to thoroughly clean the smoker after each use and dry it well prior to storing.
Question: What should be done before using it for the very first time?
Before you use this grill smoker for the first time, it is essential to light a fire in order to clean out the chemicals and toxins from it. When this is done, there will be a strong odor emanating from it. It will be an indicator of its internal surface being cleaned from industrial toxins and chemicals.
Question: Can the food debris and other dirt in the grill be burned off for cleaning?
The major cause of grease fires is deposited food debris and dirt in the burner. For cleaning these, it is advised that you do not try to burn them off at high temperatures. This will increase the temperature inside the grill and could permanently damage it.