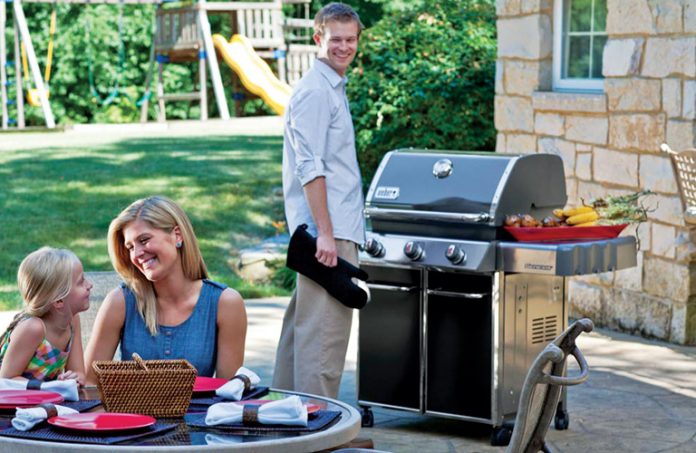 Weber is famous for manufacturing quality grills, and this review is all about the Weber 61052001 Genesis II E-330 Grill; what it offers, where it lacks and if this grill does manage to live up to expectations of the users. The Weber 61052001 Genesis II E-330 3-Burner Liquid Propane Grill is what Weber claims to be an innovation that has been created through forward-thinking. With full heat control, two extra tables and an excellent gas grill system, the Weber Genesis series has delivered it all until now. Let us go ahead and see if the latest Weber Genesis E-330 gas grill lives up to expectations that other Weber grills and smokers are able to do.
Key Features
Some of the most distinctive features of the Weber Genesis E-330 include:
1. Cooking Fuel Versatility
With this Genesis II 61052001, E-330 3-Burner Liquid Propane Grill, you are not stuck with using only one type of fuel. It can work with liquid propane as well as natural gas. If you are looking to use natural gas then a 10-foot flexible hose is also included for you in the package. So enjoy the freedom of choosing more than one type of fuel with this smoker.
2. Weber's Very Own Gas Grilling Mechanism
Weber claims to have spent a lot of effort in perfecting this model's effectiveness and this is actually quite visible. With its mighty 3 burners that deliver an excellent performance right from the first use, an evenly heated surface and precision controls, getting perfectly cooked meat is not hard at all.
3. Efficient and Durable Cook-Box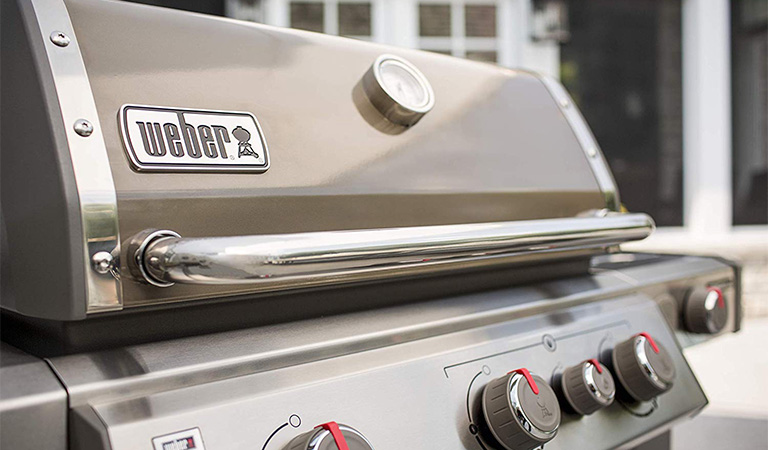 The cook-box of it has burner tubes and cooking grates, and it is made of cast aluminum. It not only makes the Weber genesis e-330 gas grill require less maintenance but also adds to its durability and helps the grill to withstand any amounts of heat. This, coupled together with the shroud allows for proper heat circulation which helps you get an even cooking both during indirect and direct heating.
4. Fuel Gauge and Built-In Thermometers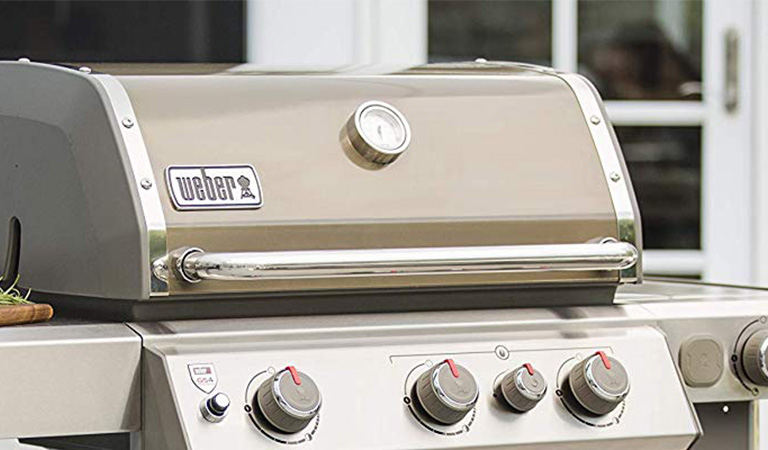 The Weber genesis e-330's fuel gauge helps you know exactly how much fuel is left and if you need to add more. With the built-in temperature monitor, you can always keep track of the internal temperature to cook your meat at the right temperature with the right flavor.
5. Front Mounted Knobs

For easy temperature control, you have three front-mounted knobs that are super easy to operate. Just light the fire and set the temperature using these knobs. They will accurately guide the burners for you.
6. Maximum Heat with Maximum Grill Space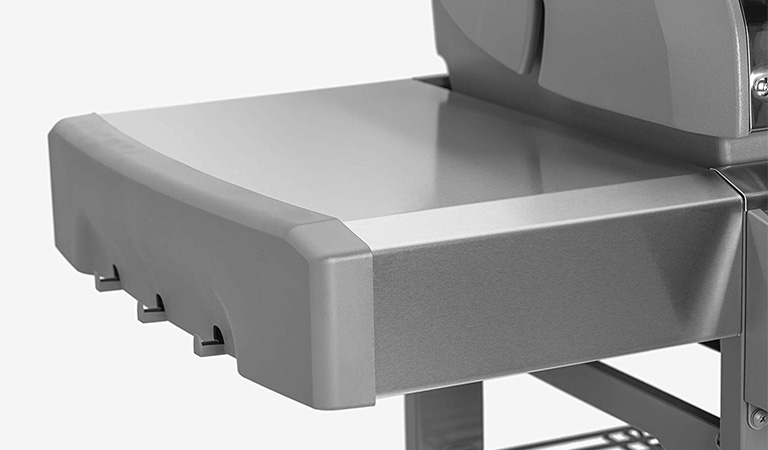 With a side burner and sear station, you can easily have maximum heating without compromising on the grilling space. With the high-powered burner, you can increase the heat to the desired level for searing. The flush-mounted side burner lets you grill as well as do other tasks on the side. The grill comes with a primary cooking area of 513 square inches along with a 156 square inch warming rack.
7. Spacious Interior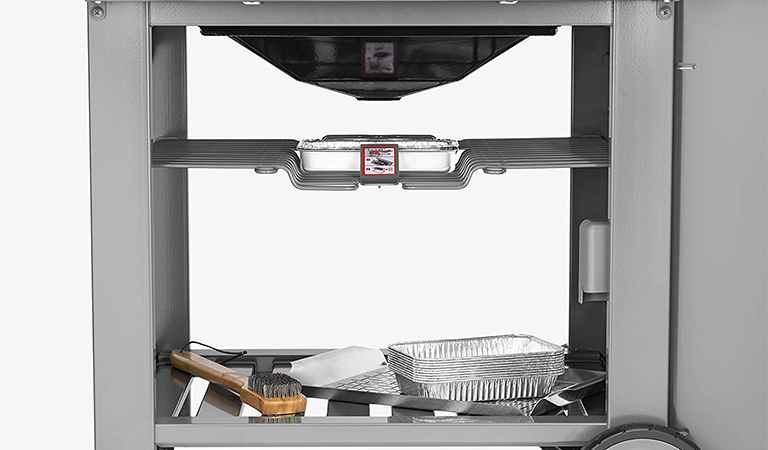 Space is always welcome when it comes to grilling as there are plenty of things you have to deal with while grilling. This grill has enough space inside its gas compartment that sits right below the burners where you can put all your necessities so that you do not have to look for them elsewhere while grilling.
8. Front Locking and Back Locking Casters for Easy Portability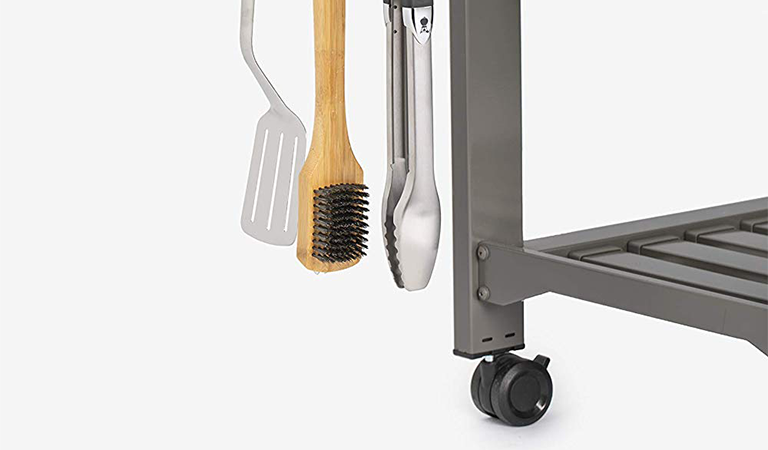 Portability is an added feature if you plan to move your grilling unit around and change cooking place frequently. This model is excellent for portability as a good quality cart style casters are added for the purpose. Once you lock the casters this thing will sit tight.
Cleaning & Maintenance
Maintaining and cleaning the Weber genesis e-330 gas grill is quite easy. The cooking grates are incredibly easy to clean and all that the burner tubes require is a gentle brushing using any standard stainless-steel brush. The flavorizer bars can also be cleaned with a similar type of brush, while the catch pan and grease tray can be simply removed, emptied and replaced to put them back to use.
Pros
The advantages you might get with any product are an important part of its review. For the Weber Genesis 61052001 E-330, the following are the major ones:
Large cooking area
In total, you will get a cooking area of 669 square inches with the Weber grill genesis 330. This is divided between 513 square inches of the primary cooking area and 156 square inches of the secondary cooking area.
Stainless steel for the burner tube and cooking grates
The burner tube, as well as the cooking grates of this model, are both made of stainless steel. This makes them more durable, easier to clean and retain as well. They can also withstand moisture, including that present in natural gas.
Simple use and management
With conveniently placed knobs, temperature and fuel gauges, managing and keeping track of the temperature and knowing when it is time for a cylinder replacement are quite easy. Lighting the grill and making use of its various features are not much hard. You just need to take a look at a few basic instructions of the Weber Genesis E-330 before you start cooking your favorite food.
Precise heat management
Every burner has its own controls that can help you grill using both indirect and direct methods. Burners are adequately spaced so as to provide heat on the complete cooking grate. Moreover, each valve has a set of numerous control settings to help you tune the levels as per your specific requirements.
Even grilling and quick heating
With the stainless steel construction, the Weber Genesis E-330 heats quite fast and helps cook meat evenly from all sides.
Read our review of top 10 Gas Smokers
Cons
Although Weber Genesis II 61052001 E-330 is full of some great features, it has some downsides as well, including:
Propane gas and the associated hassle
In case you do not want to use natural gas or are unable to get a natural gas line, using the propane gas cylinder (sold separately) may be a hassle, especially if you are a frequent user of the Weber grill genesis 330. You will need a backup cylinder and the associated replacement can be a bit costly.
Assembly issues – Even though assembly does not involve a lot of steps, it may be hard to understand for a beginner and could take some time.
Ease of Use
One of the best things about the Weber Genesis E-330 that you will read in any review is that it is simple to use- the knobs are positioned at the right place, the starter works great at all times and cleaning it is quick and simple. All you need to do for lighting it is adjust the knobs as per your requirement and push a button. The indicators are fairly accurate and readable, which makes managing the right temperature quite convenient. With compatibility with natural gas, you can get rid of the hassle of replacing the propane gas tank as well.
Warranty Details
A breakdown of the warranties offered with the Weber Genesis E-330, including the parts made of stainless steel is as follows:
Cook box and the Lid Assembly: 10 years, no burn or rust through (2 years on the paint excluding any discoloration or fading)
Burner tubes (stainless steel): 10 years, no burn/rust through
Stainless steel flavorizer bars and cooking grates: 5 years, no burn or rust-through
Cast Iron Cooking Grates with Porcelain Enameled: 5 years, no rust/burn through
All other parts: 2 years
Value for Money
While this may not be the least expensive grill in the market, it is the best one for the reasonable price it offers. You can get the Weber genesis e 330 with durable construction backed by a 10-year warranty. Moreover, you probably already know that a gas grill is healthier than its charcoal counterpart. If you grill quite frequently or are looking for a grill for serving a large number of people, this grill is the one that you must consider to get every penny's worth.
Replacement Parts Availability
The replacement and spare parts are where you get the benefit of going with a trusted name like Weber. All of its major spare parts, accessories and replacement parts can be purchased directly from the Weber website or other authorized retail stores, like amazon without any hassle!
Verdict
There are many grills on the market at a lower price that may have a review or two praising them, but none will give you the value for money the way Weber Genesis II E-330 gas grill will. If you want a durable cooking grill that will last for years to come, is easy to use, is backed by a good customer support service and warranty, and offers you the worth of every penny spent, then this is the one that you must go for.
Weber is known for providing quality grilling solutions and this one surely lives up to those expectations. Having a large cooking area coupled together with ease of use and numerous functionalities, this is a grill made for the true lovers of grilling and cooking!

FAQs
Question: How well do the outside colors of the grill hold up?
Ans: Apart from any warranties that are offered, the colors of the grill will hold up as long as they are taken care of. Cover it when not in use and clean it using non-abrasive cleansers, and the color will not fade or wear off for years to come.
Question: Can the grill be used without the side shelf?
Ans: The grill can be assembled and used without the side shelf, and this will not affect the performance at all. The gas section is self-contained and it works without any issues apart from the open-screw holds.
Question: Are the in-box instructions and equipment for assembly adequate?Ans: For novice users, there may not be adequate instructions in the box, so additional manuals that contain all relevant information can be downloaded from the Weber site. The provided wrench is also not suitable for beginners and a socket wrench will be more handy and useful during the assembly process.