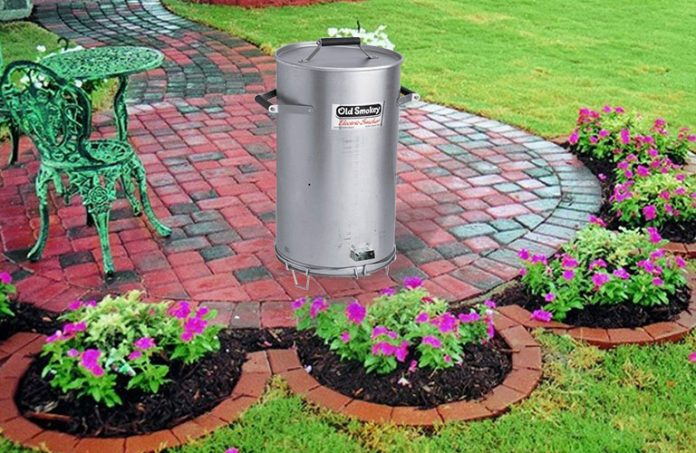 Old Smokey Electric Smoker is a product that has been around on the market since 1953 and this review is dedicated to it. For those who are wondering about which features are there in the best electric smokers, Old Smokey tries to provide an answer. At first, it may not look like a product with the best heat capacity, but it surely makes up for that with an effective insulation and the cheap price that you have to pay for it as compared to other electric smokers. So let's see what the Old Smokey Electric Smoker has to offer.
Includes
It is essential that users carefully check the contents of the Old Smokey Electric Smoker prior purchasing. Following are the parts that are included in the package:
Bottom grill
Top grill
Chip Tray
Drip Pan
Side handles (2)
Top Handle
Grease Absorbing Granules
Lid hanging Cup
Heat and cord control
Instruction book
Lid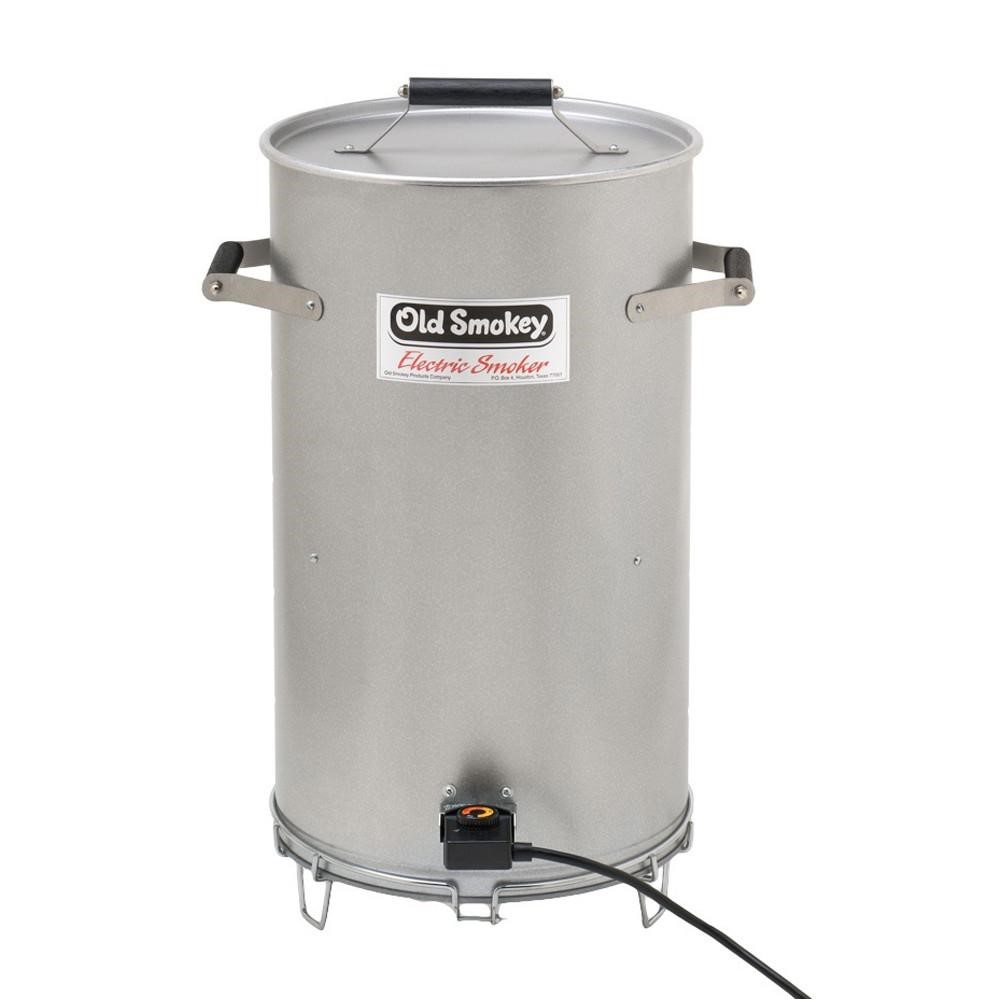 Key Features
Some of the key features of this electric smoker are:
1. Effective Heating Mechanism
The best part about the construction of this electric smoker is that it is made using aluminized steel. This steel, coupled together with a 1250 watt heating element and a thermostatic controller helps you provide the right temperature and heat to the meat you are trying to cook. Unlike other top rated electric smokers, it does not have any digital readings but can be dialed from Off to High and any other points in between.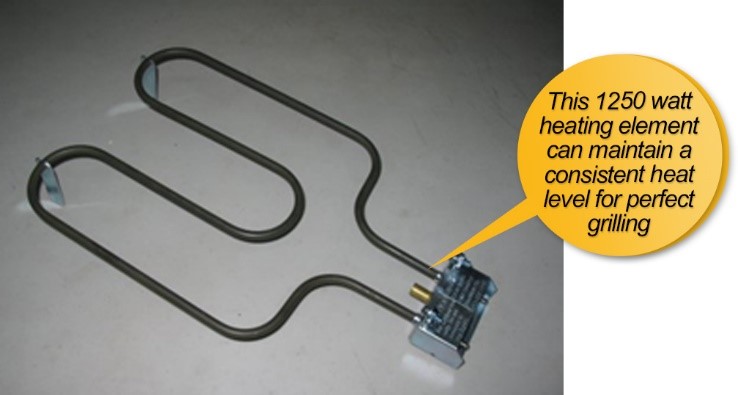 2. Effective Heat Thermostat for Complete Temperature Control
An advanced heat thermostat is added to the smoker to help you regulate and execute a variety of cooking time settings and styles. Once you set the temperature on this kit, you no longer have to worry about the heating. This kit will digitally control the inside temperature of the grill using its advanced sensors and heat regulator.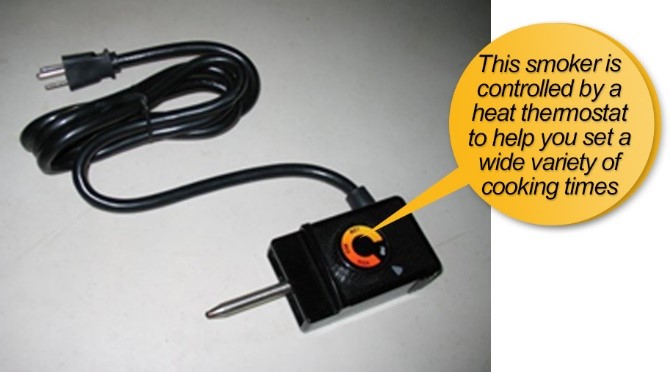 3. Get Your Favorite Smoke Flavor with Ease
Atop the heating element is the wood chip tray where you can put wood chips to get the desired smoke flavor. Its top seals quite firmly that helps keep the flavor and smoke inside. So you do not lose the genuine flavor of the meat.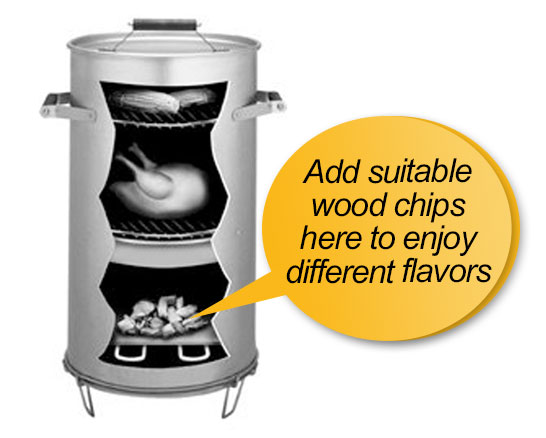 4. Requires No Water
Simila to other electric smokers, it does not need any water! It has a sealed lid to keep in the juices, so there is no need to add extra water. You do not need to add any water to its drip pan.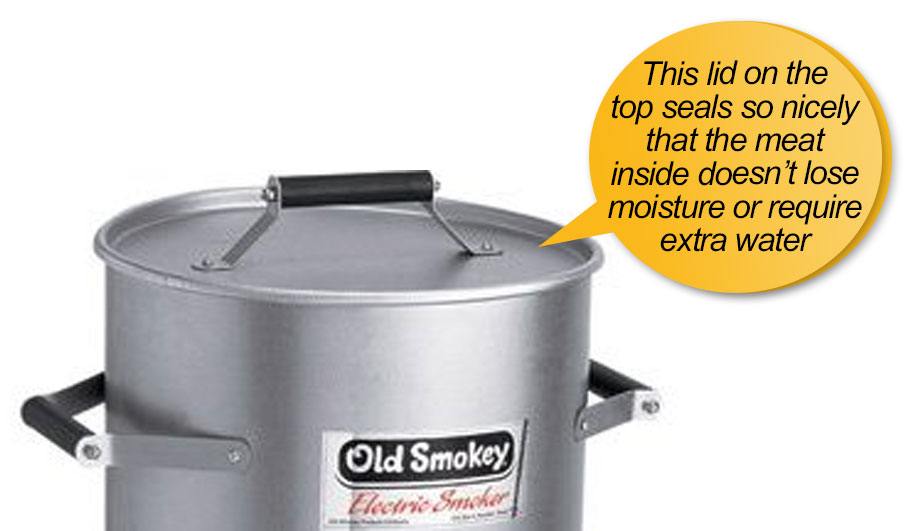 5. Fireproof, Heat-Resistant Handles
Handles of a smoker are very important as these are the things we directly touch during cooking. Safety is a vital issue here. This smoker has fireproof handles that are padded with heat-resistant materials. No matter how long you cook, you can always lift the lid holding the handles safely.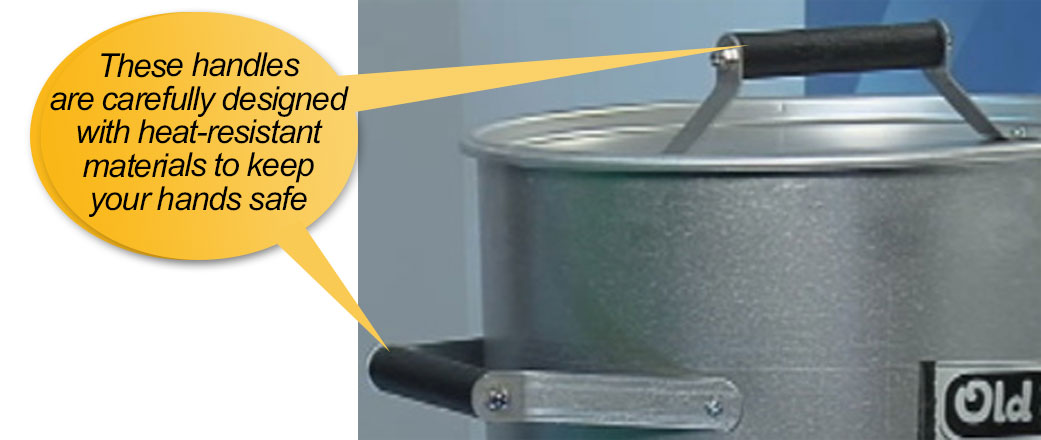 6. Durable Bottom Cooking Grate
This is the grill you put your meats on for smoking. It has convenient lift handles for setting it right in place. It is a durable stainless steel grid, so you don't have to worry about its quality and durability. You can easily wash it with normal detergent.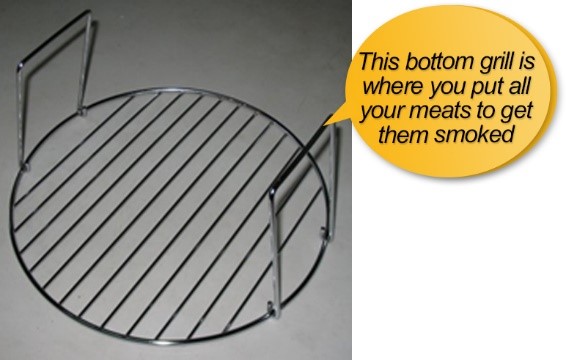 7. Easy Installation and Removal of Grills
One of the best features that make this electric meat smoker convenient to use is inserting or removing its grills is easy. It has two grills, upper and lower, with diameters of 14.5" and 12.5" respectively. Each of these has handles to make inserting and removing them an easier task. The tight sealing of the lids helps the food to not dry out and turn out great every single time.
Cleaning & Maintenance  
One thing you will read in every pellet or charcoal smoker review is that how complicated it can be to maintain and clean it. The best thing about having electric smokers is that they require no cleaning or regular maintenance, since they do not make use of any charcoal or propane gas. All you need to do for cleaning this grill is make use of a pressure washer. In case you do not have one, then just pour in a bit of water with some lemon or vinegar on the drip pan and start the smoker. Once condensation is built up, turn off the smoker. Now wear a thick pair of gloves and use a wire brush to clean it.
Pros
Some of the best features of the Old Smokey Electric Smoker are as follows:
Handy and Convenient to Use
The entire design and construction of the Old Smokey Electric Smoker have been done keeping the users' comfort and ease of use in mind. Its racks come with folding handles that make it easier for you to turn them down and simplify insertion/removal. Its weight is around 25 pounds that adds to its portability.
With other smokers, there come a lot of instructions that you have to read time and again. But with the Old Smokey Electric Smoker, nothing like this is needed. All you need to do is plug in the smoker/grill and start using it!
With a 15" inch diameter and two grills, you get a lot of cooking and grilling space with it. It can be used to cook and grill for a large crowd with ease. It even has additional racks for keeping the cooked food separately.
Its design ensures that the heat is evenly distributed to give you the best cooking results. Juices inside fall back on the meat as it is cooked and this adds to the flavor. The sealed lid, apart from helping in enhancing the flavor, does not let any juice fall out, thus ensuring that minimal cleaning is required.
Even the top-rated charcoal grills have their limitations, such as they can only be used indoors. But you can use electric smokers anywhere you want.
Cons
Until now, you have only read the good sides of having the Old Smokey Electric Smoker in this review. However, even the best smokers have their own sets of flaws and the Old Smokey is no exception.
Gets Extremely Hot When in Use
Old Smokey Electric Smoker gets extremely hot when it is used, which means that you need to be careful while operating it. Read all the instructions that came along with this electric smokers' manual carefully and ensure that kids stay away from it.
Precise Temperature Management Is Tricky
Without any digital thermometers and temperature settings, it is a little complex to know what the present temperature of it exactly. You can get an electric thermometer installed by the manufacturer, but that will incur an added cost.
Ease of Use
One of the best things about this smoker is that it requires minimal assembly and all the necessary instructions are provided in the box. Using it is also very simple- just plug in and start. What makes it one of the best smoker grills available in the market is how precise and easy the temperature management is in this electric smoker as compared to other charcoal and gas smokers.
Warranty 
Old Smokey Electric Smoker is covered by a 1-year warranty. The warranty is limited to any defects regarding the workmanship and its materials, making it important to check regularly for any damage or defects. This warranty only includes replacement or repair of the defective parts. Normal wear and tear, damage due to improper use and rust are not covered under it.
Value for Money
If you are looking for the best electric smoker in the market then this must be one of the most popular choices in the under $200 range. While there are many smoker grills that claim to be the best, the Old Smokey Electric Smoker does what it promises- quality grilling and smoking with ease and convenience, delivering you every penny's worth.
Replacement Parts Availability
If you need any replacement parts or additional accessories, you can get them quite easily from the manufacturing company's website. They have all accessories, spare and replacement parts available for sale separately.
Verdict
Overall, this review sums up to a simple fact- the Old Smokey Electric Smoker is a quality product. Those looking forward to making delicious food and get the most of their bucks can consider buying it. Despite some initial costs for setting it up, it manages to live up to all expectations and there is no reason why you should not go for it if a good quality electric smoker at an affordable rate is what you want.

FAQs
Question: How hot will this smoker's outside get and how to remove the racks from the unit?
Ans: The outside structure of the smoker is made of metal, which means it will get extremely hot. So it is advisable that you keep your kids away from it. When removing racks, you will need a pair of hot pads or potholders.
Question: Can steak be smoked without any injection of fluid?
Ans: Yes. In order to do that, just put the wood chips directly on the square steel plate that was supplied with it, and put it over the heating element. Cook the meat on the grill at high setting above the drip pan. Avoid overcooking by using a meat thermometer.
Question: Can wood chunks be used in place of chips?
Ans: Yes, wood chunks of different sizes can be used to get the same results. But never burn them to ashes, so the remains that are left can be added to the smoke as you grill using charcoal briquettes.
Question: What would happen if it rained on the unit?
Ans: This smoker can be used while it is wet, but this affects the cooking time a bit. You will need a meat thermometer to keep track of the cooking in such a condition.