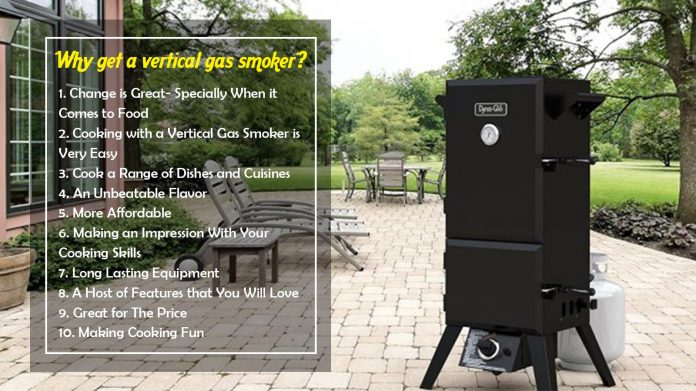 You probably can live without having a vertical gas smoker- but you cannot just keep having leftover casserole or that Turkey the entire week- not after you have had a taste of fine American Gourmet once. After that, you will have realized what real food should taste like, and this is something that you can only get by having your own gas smoker.
So if you want to get rid of those same old recipes, make something that really makes a meal worth and have the meal of your life every time you cook- then a gas smoker is what you need. Let us now go ahead and see what are some of the biggest benefits that will push you to buy a vertical gas smoker today!
Change is Great- Especially When it Comes to Food
Change can be fun, and when it comes to food, it can be deliciously better than anything else that you have been eating until now. You will be able to cook the salmon or roast in a completely different and tasty way. With a gas smoker, it will be possible for you to add new flavors to your meat to make a completely new dish. You can infuse flavors into meats, poultry, fish and even wild game- all by just using a different flavor of wood chips. Some of the flavors that you can add or mix to get your own custom taste include those like mesquite, hickory and applewood among others.
Contrary to what it may sound like, using and making delicious meals with a vertical gas smoker is so easy- even if you have never used one before. Add the water (or do not if it is not needed), keep in the food you want to cook and start at the desired setting and the cooking begins! No need for any complex maneuvers or recipes.
Cook a Range of Dishes and Cuisines
Using a vertical gas smoker, you can make a range of dishes and cuisines. For instance, Brinkmann smoker can be converted into a grill that is around the height of your waist, which makes it ideal for cooking hamburgers, grilling some corn on the cob or pizza or many other things when you are not using it to smoke your new catch.
An Unbeatable Flavor
Smoked fishes and meat are extremely delicious and even healthier than other cooking methods. When you smoke them, the process enhances the tanginess that BBQ sauce or that special rub you used on it has. With smoked fish, you get the right amount of saltiness in it, along with a sweet & sour tinge of BBQ sauce. You can even do the same with venison jerky or your special homemade beef.
More Affordable
While smoked salmon is extremely expensive, finding smoked venison is impossible altogether! However, if you have your own vertical gas smoker, then you can save on a lot of money by catching your salmon or elk/deer and then smoking it on your own! Any items that are already smoked in the store will cost a lot more than those that are not prepared yet, so smoking food on your own is guaranteed to save you a big amount of money!
Making an Impression With Your Cooking Skills
Yes- a man who can cook will always be appreciated, but any woman that knows her way around a smoker will be even more amazing. You could be trying to do something nice for your spouse, impress a date, your friends, family or your boss- using a vertical smoker for creating the perfect meal is one of the best things that you can do. In fact, smoked trout, salmon or even jerky given in the form of a gift is something that will be quite appreciated.
Long Lasting Equipment
With chrome porcelain-coated water pans, grates coated with chrome and heavy-gauge steel used in the overall construction, you can be sure of getting a lot of years of service without any major problems.
A Host of Features that You Will Love
With dual insulated and functional doors, the operation of a gas smoker is quite convenient, for it also provides easy access to the food and water pans, along with the adjustable vents. Along with that, the ignition is integrated into it, which can be used to start the powerful burner. If you go in for a smoker with a large cooking space, then you can cook for a large number of people at a time, and all of this will come occupying less space due to the vertical design.
Great for The Price
You can easily get a long-lasting and functional smoker at a great price, that will double up as a grill and make delicious food every time!
Making Cooking Fun
With a gas smoker, making your own food will be the most fun it can ever be. Cooking is an integral part of our lives, and doing it outdoors with a vertical gas smoker is one way to make it really enjoyable!
Thus, a vertical gas smoker is not just a piece of cooking equipment- but a lifestyle change. Buy one now to turn your meals delicious, healthy and fun to prepare, and Grills Forever is here to help you with that!