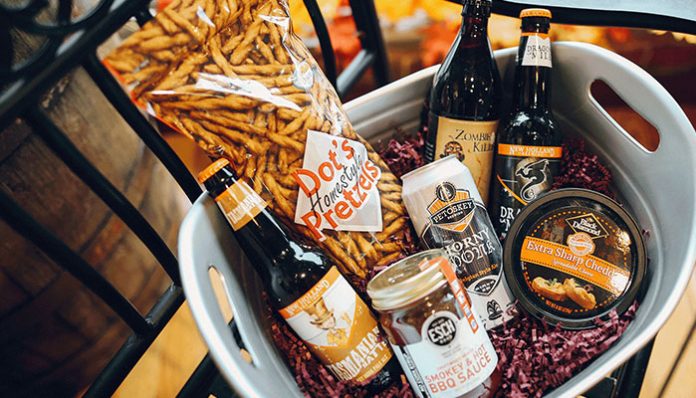 It's very clear that it can be very difficult to touch a man's heart with gifts. But when BBQ and snacks are in the picture, no single man can't get their inner self touched. Since the easiest way to get to a man's heart is through his stomach, getting them perfect BBQ and snack gift baskets is a surefire way to get them delighted. Grills Forever happily gives you the top 13 gift basket ideas for families to help you find your way to his heart!
This is a perfect gift basket to spice up your backyard grilling and make it even more appealing. Art of Appreciation Gift Baskets offers everything needed to make a perfect barbecue, including grill rubs, specialty sauces, marinades, snack foods and grilling tools. With a variety of flavors to be tried out, your man or dad will be grilling all-round the festivity season. This gift basket allows you to include your custom best wishes during checkout. Included in the basket is Jack Daniels Liquid Pack Marinade, restaurant style BBQ sauce, long handle barbecue spatula plus many more accessories to make the barbecuing experience unforgettable one.

Price Disclaimer
This is a perfect grilling gift set for any festival and occasion that lets you grill on the go, regardless of where the party is. Is tin bucket is actually a grill that's complete with air vents, racks plus handles for easier portability. This gift will not only be suitable for a Christmas party, but you can use it for years on beach outings, tailgate parties or at the backyard. The gift basket includes Blazing Blends Steak Sauce, Blazing Blends Kansas City Style Rub, Louisiana Hot Sauce, wine Aged oak wood smoke chips plus many other gift items to make a barbecuing session a success.
Looking for an ultimate movie gift box around the corner? How about letting your movie aficionados choose their movie! This gift box features the Red Box Gift Card suitable for up to 6 movie rentals and come with snack favorites for a theatre experience. Also featured in the gift box are 2 bowls of microwave pop up popcorns, Skittle candies, Twizzlers licorice, Classic Hershey Bar, Oreo Cookies and many more theatre experience necessities. When complete, the gift box is 11" by 9" by 17" and comes topped with movie reel handmade bow.
This is a perfect gift basket for those who have coffee connoisseurs at home. The gift basket is equipped with everything needed for a perfect dunk and savor experience. The gift basket also comes handy as I can be used as a handy storage at home, office or den. You'll receive the gift basket with every item hand crafted, wrapped and tied with bow ready for delivery as a gift. Included in the basket is a travel coffee mug with a lid, Bali's best espresso coffee candy, Beth's chocolate chip cookies, Almond Hazelnut Biscotti and many more goodies for a perfect nibbling experience.
California Delicious Starbucks Coffee Morning Gift Box is a perfect gift on the go for coffee enthusiasts. The gift box features a brilliant red colored mug to match the perfect festival red theme. The gift box comes complete with 4 different varieties of Starbucks coffee, a Starbucks instant coffee, plus a cherry walnut and chocolate spiced biscotti. This gift box will get your coffee connoisseurs going and occupied every day, even after the festival is over.

Price Disclaimer
Most people love milk chocolate and there's no better way to deliver this love to chocolate enthusiasts other than through Godiva Chocolate Gift Basket. Godiva milk chocolate is very popular around the globe due to its superbly rich smoothness. Included in the basket are chocolate almonds, chocolate cashews, caramel truffles, cacao chocolate bars, Godiva signature chocolate biscuits plus many exquisite milk chocolate gift items.
This BBQ grilling plank gift basket has been specially hand crafted as a perfect gift for those that are extremely hard to impress with gifts. This gift basket will have any BBQ buffs and backyard grilling enthusiasts delighted. The gift basket comes with a 15X7 cedar grilling plank, silicone basting brush, long handled turning and cutting spatula, pot holders, Blazin Blends Steakhouse Style Steak and chop seasonings plus a couple of other BBQ accessories for a delightful barbecuing experience.
If you have a BBQ lover who likes to tread in the path of professional BBQ masters, then Kosmos Q secret Backyard BBQ Gift Basket is the perfect gift to get them for any BBQ Party. Kosmos Q is widely used and preferred in most leading barbecuing contests around the globe. This gift basket comes with 1 bottle of the Kosmos Famous BBQ sauce, 1 Dirty Bird Rub shaker, 2 Kosmos drink coasters, 2 Kosmos Q koozie and several other handy BBQ gift items for a splendid barbecuing experience. Send this gift basket to your BBQ enthusiasts and let them feel as a professional BBQ expert.
When you have a BBQ lover who likes to practice their barbecuing expertise at the backyard, then you know exactly what gift to get them for BBQ Party. This is the best BBQ gift basket and features 11 piece set of spices and sauces. When you get them this gift basket, they'll find all the rubs and sauces that make the Kosmos Q a leader in BBQ specialty. This gift basket is perfect for ribs, pulled pork, brisket, steaks, hamburgers, grilled chicken, you name it! It simply brings out the buff in your BBQ lover.
This is a perfect gift basket for men who just can't enough of their grilling habits. The Gift Basket Village King of The Grill comprises of a beautifully woven basket full of a man's favorites. Featured in the basket are beer can chicken roaster, balsamic caramelized onion spread, smoky fig and roasted garlic spread, farmhouse onion burger mix and many more gift items to get a barbecuing session more enjoyable for him. This backyard grill BBQ basket is all he'll always remember throughout an entire grilling season. The perfect marinades and rubs will make him fire up his grill any time a chance is at hand.
With these wonderful gift boxes and baskets ready to be delivered, you can have every BBQ and food buff sorted out when the opportune moment is just around the corner.