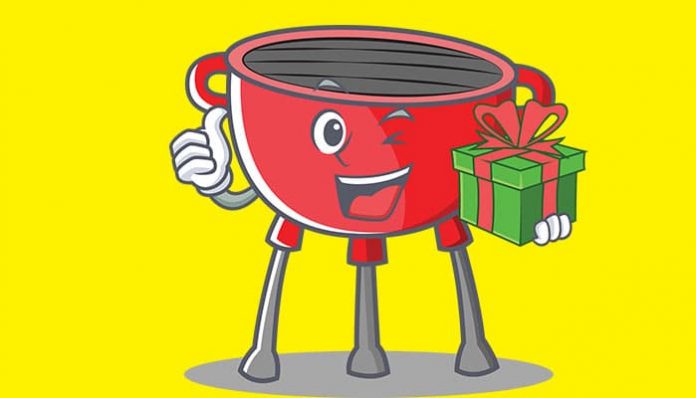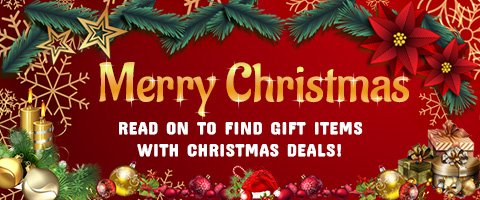 It can be somewhat difficult to find a perfect gift for men. But for those dads who can't get enough of their outdoor cooking (which dad doesn't!), there are great tools and accessories for bar, kitchen, and grill that make perfect gift ideas for a Father's Day. You can help him make his fun moments adorable with a perfect gift arriving just in time. Grills Forever believes you can consider one or more of these 15 unique cooking gifts under $15 for your dad or mom who cherishes outdoor cooking!
When everyone's gathered at home for the Christmas holiday and can't wait to get a bite of a steak, it can be annoying to work with a slow burning charcoal. Weber 741 Rapidfire Chimney Starter lets you start the charcoal instantly. You don't have to spend much time waiting for your coal to be ready. Simply load the extra-large canister with coal, light it up and set the canister over the flame. Within minutes your coal will be red hot and ready to roast delicious steaks and barbeques.
Any festival or party can turn out to be a nightmare if you happen to eat an undercooked grilled food. Whether grilling over charcoal or gas, the best method of knowing if your barbecue is cooked to appropriate internal temperature is by testing with a reliable and accurate thermometer. Weber 6492 Original Instant Read Thermometer presents a surefire way of getting perfectly grilled foods during the party.
Apart from just ensuring the food is grilled to the right internal temperatures, you have to make it as palatable as the festival itself. The slender probe tip of this thermometer prevents creating huge holes in your steaks so the meat can retain the juices where they should be. It's one of the most unique cooking gifts since it can be used on any type of food and facilitates grilling and cooking. Your food turns out to be extra delicious and juicy.
When the food is sizzling hot after cooking, handling it with bare hands can result to unpleasant burns that can ruin your festive mood. Bear Paws lets you handle the food with ease. After grilling your food, you'd want to stabilize it when lifting, cutting or shredding. That's exactly what Original Bear Paws Pulled Pork Shredder Claws are for. And you can also use it to hold your watermelons as well and are dishwasher safe.
Not only an evenly cooked food is appealing to the mouth, but it also attracts your eyes. Platinum Grilling BBQ Oven Sheets keeps your grilled food from falling in between the grates so it can be cooked evenly. It's the best choice for BBQ enthusiasts because it allows the cook to maintain flavor and taste consistency when cooking, something that's very important for the parties. It's a perfect choice for fish, chicken, burgers, steaks, pizza, shrimps and even vegetables and fruits. You can also check out our BBQ gift basket ideas for any BBQ lovers.
With the high-quality Rome marshmallow forks, any roasting experience at the backyard fire pit can certainly be made exhilarating. The roasting set includes 8 forks of 22 inches long with flamboyant wood handles to make it a perfect set for marshmallow roasters during the BBQ party. Don't just roast your marshmallows, make the roasting session a delightful event with this marshmallow roasting set.
With time, your grill grates get clogged with food debris that can affect the quality of your barbecue. Weber 6494 12-inch 3 sided grill brush, therefore, is a must-have equipment for cleaning the grill grates. The usually hard-to-reach sections between cooking grate rods as well as the edges of cooking grates can be cleaned easily with this grill brush. It's made of stainless steel bristles which are thick enough plus an ergonomic handle so you can have it around as every other festival hits the corner.
Even after grilling a perfect barbecue for your festival gathering, how you handle it and get it to the mouth is still a concern. With the Estilo 18 Piece Stainless Steel BBQ Tool Set, you'll have everything needed to enjoy your bites. The set includes a slotted spatula, barbecue fork, basting brush, tongs, 4 skewers, all-purpose knife, grill brush and 8 corn holders for a wonderful barbecue eating experience.
Making a perfect burger stuffed with favorite flavors during the family gathering can be a little difficult. But with the 3-in-1 Cuisinart stuffed burger press, you can do it in only 3 simple steps. This burger press is also a perfect gift for those who love regular burger patties. Regardless of the type of burger you love, this 3-in-1 burger press has you covered. Its ergonomic design makes it a perfect for dads who want a perfect stuffed burger made with less effort in no time.
The barbecuing experience during the festival gathering doesn't have to be stressful. Cave Tools Pulled Pork Shredder Claws present a faster shredding of a large pork chunk within 3 minutes. Its ergonomic handles make it perfect for lifting hot meat chunks in the kitchen. There'll be no more dropping a sizzling hot piece of turkey on the floor. You need your hands to be free from burns for the whole festivity period ahead of you. Cave Tools just makes it possible.
A perfect festival gathering needs a perfect fully flavored grilled barbecue. There's no better way to achieve that if not using pure wood BBQ smoking chips. Jack Daniel's BBQ Smoking Chips are derived from the white oak whiskey barrels to give the chips a perfect flavor and color. By using these wood BBQ smoking chips, they'll add a distinctive flavor of Jack Daniel's aged whiskey to your food, whether cooked on charcoal grills, gas or electric smokers. You'll finally get to enjoy a fully flavored and satisfying grilled barbecue for a remarkable festivity.
There's nothing as annoying as to set your teeth on a tantalizing steak only to realize it's undercooked. Habor Digital Meat Thermometer makes it easier to determine the internal temperature of your grilled food to ensure that it is well cooked and delicious for an appealing bite. It comes with a 15-minute auto shutoff feature and a large digital LCD display for reading temperatures on a Fahrenheit and Celsius scale. Its extensive temperature range makes it suitable for chicken, meat, BBQ, grilling, smoker, candy plus many others.
Grilling is an art and with it, you have to bring out the full natural flavor of your cooked food. There's no better way of doing it other than with the Char-Broil Cast Iron Smoker Box. This smoker box lets the wooden chips smolder instead of flaming so as to add the natural wood flavor to your food. It's a perfect choice for any occasion and is suitable for use with charcoal, electric, or gas grills. You can even consider gifting a portable smoker if you think it'd be the right decision.
A perfect celebration can easily be ruined with burns on your hands when lifting or flipping hot food on the grill. The DRAGONN Locking Kitchen Tongs are built with an ergonomic design and are 12" long to let you flip or lift sizzling hot food from a safe distance without risks of burns. Its handles are stylish and non-slip to offer a perfect grip and comfort for maximized safety. It has a unique and simple locking mechanism so you can close the tongs to save more space in your drawer during storage.
When you can't withstand frequent burns even when using ergonomic and safe tongs, its time you consider heat resistant cooking gloves in the mix. The TTLIFE BBQ Grilling Cooking Gloves can withstand an extreme heat of up to 932oF, making it a perfect choice for protecting your hands. Simply slip in your hands and be ready to grab hot pans and pots from the oven, flip food on the grill or even shift burning logs in a campfire. They have a non-slip palm for firm grip, offering unsurpassed flexibility and comfort.
With these top 15 unique cooking gifts under $15, it becomes much easier to choose the perfect one for dads and moms who can't get enough of their outdoor cooking fun. They make a perfect gift idea, especially for any festival around the corner.