Read on our review to know which of our top 10 products have special Halloween discounts
One day, I was walking through my neighborhood: it was a rather hot summer day and I was out enjoying the scenery. And that is when the smell of delicious BBQ smacked me dead across the face like a hot, heavy brick launched from a automated crane. My neighbors were grilling on their front lawn, the smell was so alluring and the BBQ looked so good that I could not help ask them what they were cooking.
Well, the question led to conversation, and ultimately to a free BBQ tasting. I was so impressed by the quality of the food when I tasted it, the perfection of the sear marks, and the ease of cooking that I decided my life would not be complete without a gas smoker! And the ease of cooking was also amazing. I mean, we held a whole conversation while the smoker was working its magic, and my neighbors invited me inside their house without a worry that their meat would burn on the grill. This actually removed the confusion in my mind about which smoker type I should buy.
If you are looking for probably the most authentic tasting BBQ food, ease of use, and the "set it and forget it" feature, then a gas smoker is for you! I have to say, since I started using gas smokers, I have fallen in love and I will always keep a gas smoker handy!
Why Should You Trust Us to Get the Best Gas Smoker?
There are a lot of BBQ review sites out there on the web. And all of them will make the claim that they are the BBQ authority and that they are experts when it comes to getting the most accurate and honest information available. What a lot of those sites will not tell you is that they get paid to write positive reviews for certain products, or that they are endorsed by certain manufacturers.
The worst thing is if you search for the best gas smoker review on Google, you will see most of the so-called smoking & BBQing experts are mixing gas smokers with gas grills.
Ridiculous! If they do not know what is the difference between a smoker and a grill then the question remains that are they really BBQ experts???
And what is accurate and honest information, you may ask. I often wonder what they mean by that myself, because a lot of the information these sites post are based on other reviews by other websites that claim to do the same thing they do. But in reality, they also get their information from other questionable review sites. It's the blind leading the blind!
We personally test out each product, before we review it.
At Grills Forever, we can offer you the most informative and in-depth reviews because write from first-hand experience! There are only three of us, but we pride ourselves in cooking and eating great quality BBQ! So when we review a gas smoker, you can rest assured we put our hard earned money, time, meats, and tastebuds on the line for you!
Who are Gas Smokers For?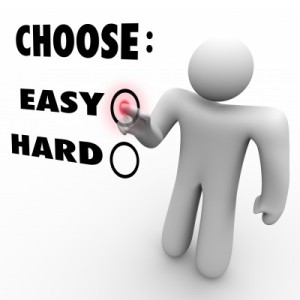 Some people find it tiresome, laboring over the grill for the whole time that they are cooking their meat, making sure to flip it every so often. And I am sure that all of us have gotten distracted in the process of grilling, forced to attend to something else, only to return to charred BBQ that is barely recognizable. You were probably wondering, isn't there an easier way?
Well, my friend, indeed there is. Gas smokers are great because they are very easy to use and offer a Set It and Forget It feature so that all you have to do is insert your wood chips (if applicable), set the desired cooking temperature and timer, throw your meats in the smoker, and let it cook!
You might consider getting the best gas smoker if:
If You Need "Set It and Forget It" Feature
You are looking for a less involved grilling experience while still getting that authentic BBQ taste that we all love! With the best gas smoker out there, there is little maintenance that needs to be done. All you need to do is set the temperature, set your timer and insert your meats. The smoker takes care of the rest!
If You Love Authentic Wood Smoke Flavor
Gas smokers produce arguably the most authentic wood flavored taste that you can get from your backyard. They include a woodchip tray which allows you to insert flavored wood chips of your choice! This can really take your BBQ to the next level!
If You are Fed Up With Long Grilling Sessions
Another benefit of having the best gas smoker is that meat does not take an extremely long time to cook. Of course, it depends on what type of meat you are cooking, but typically a grilling session with the best gas smoker will not last more than a couple of hours.
The only warning I would offer when it comes to gas smokers is that, if you are thinking about participating in grilling competitions, gas smokers may not be the best purchasing option: They are too easy to grill with.
Factors to Consider When Selecting the Best Gas Smoker
Once you are convinced that you can no longer live without a gas smoker and you know the best smoking tips, the next step is determining which one you want. And everyone wants to get the most "bang for their buck". When you shop around, you will find that some cheap gas smokers will include features that the best gas smoker will not and vice versa. It is ideal to know your need when you are out for shopping.
But the most important features to consider when you are shopping for a new gas smoker are:
Capacity
The capacity of your gas smoker determines what you can cook. If you mainly grill hamburgers or filets, then grilling area may not be as important. But, if you like to do it big like me, you want to ensure your smoker is spacious with adjustable racks.
Dependability
You want the best gas smoker on the market that is going to offer you consistency: when it comes to using a gas smoker, you want to be able to "set it and forget it", knowing that when the timer goes off, your meats will be thoroughly and evenly cooked every time.
Price
Like I said, there are some gas smokers out there, whether cheap or expensive, that will share some of the same features. That is why reviews are helpful: they weed through the sales points manufacturers want to get across and offer genuine feedback on the product.
Materials
You want a well-constructed smoker that will cut back on smoke and grease leakage. Make sure the cabinet captures and maintains the heat, smoke and humidity, because these three factors are the recipe for great BBQ!
Easy to Clean
When you are shopping for the best gas smoker as per your needs, you want to make sure that it is easy to clean. Check for features like removable racks and a grease pan. Certain grilling racks are also non-stick and dishwasher-safe, which is convenient!
The Burner
Determine what type of fuel you will want to use for your gas smoker beforehand. Another consideration when it comes to the burner is its size proportionate to the cabinet of the gas smoker for even heating. You also want to make sure that the burner is not too exposed to outside forces.
How We Picked And Tested Gas Smokers
The way we see it, there is only one way to pick our grills and smokers, and that way is hand-picking.
Here at Grills Forever, we take pride in personally testing out every smoker that we review. Not only does it force us to eat some of the best BBQ around, but it also lets us provide you guys with genuine reviews and accurate information. Again, we do not get paid to do what we do, so our focus is on serving our readers the best way that we can!
We do not just search the web and look up reviews for some of the most popular smokers on the market. At first, we try to understand the products published on Amazon. If we find it good then we contact the verified purchased persons and request them if we can test his/her smoker.
You understand, it is not possible for us to purchase all those smokers from our pocket!!! This process of trial and error has turned us from grilling novices to grilling experts, and we are here to provide you with our expertise.
You can rest assured that if it is a smoker worth mentioning, we have bought it, grilled with it, and tested it to the greatest extent! We bust our butts and fill our guts testing and reviewing the greatest of the great and the latest smokers on the market. This is our passion and the quality BBQ we get to eat is the only benefit we need.
And because it is our passion, we go to just about any extent to get our job done right! Even when I was testing the Weber Genesis 6531001 E-330 (which belonged to one of my uncles), I was so excited to get this smoker home that I could not even wait for my friends to help me carry this 181 lbs monster from the car to the house. And in the process of unloading it, my heart dropped because the box almost fell out the car, but I was able to catch it and had not problems with smoker, thankfully!
Camp Chef SMV24
Check It on Amazon
The Camp Chef Smoker 24' Smoke Vault (SMV24) made our list of gas smokers, coming in at No. 1! But before we get into the review of this superb gas smoker, we understand that everyone has a No. 1 Pick. So, you may be thinking what makes this one special?
And the cool part is that you don't just have to take our word for it! The Camp Chef Smoke Vault is one of the most demanded gas smokers in the market, gaining a 4.5 out of 5 rating by buyers on Amazon.com. Customers have nothing but positive things to say about this gas smoker and neither do we. The trend has already been set; we are just letting you know what you are missing out on!
So Why Is It Our No 1 Pick?
The extensive grilling space on this smoker is great, and additional brackets for adjustable racks let you easily expand the grilling space of this smoker even more! I have successfully used this smoker to arrange a 20-person party and had no complaints when it came to the quality of the BBQ!
Another great feature that I really like when it comes to the Camp Chef Smoker 24" Smoke Vault is its allowance of both types of fuel (propane and natural gas), which really improves your fuel diversity. It is a luxury that only Camp Chef offers!
This gas smoker also features a protected burner drum that makes sure the heat source is applied evenly and consistently. This is a feature offered by only about 40% of the gas smokers on the market!
Another thing I loved about this smoker is its wide temperature range, from 160° F to 400° F. While this feature is typical of gas smokers, what is not typical is the degree of temperature consistency that this smoker offers within that range. From my experience, almost 90% of normal budget smokers cannot keep a consistent temperature. With its heavy-gauge improved steel, Camp Chef Smoker 24″ Smoke Vault (SMV24) stands alone in the No. 1 spot!
While the matchless snap-ignition system is available in about 80% of the gas smokers on the market today, the perfect combination of luxurious features that this gas smoker offers is what really makes the Camp Chef 24" Smoke Vault something special!
And all of this is wrapped up in one excellent package for around $250!
Camp Chef Smoker 24″ Smoke Vault (SMV24) Review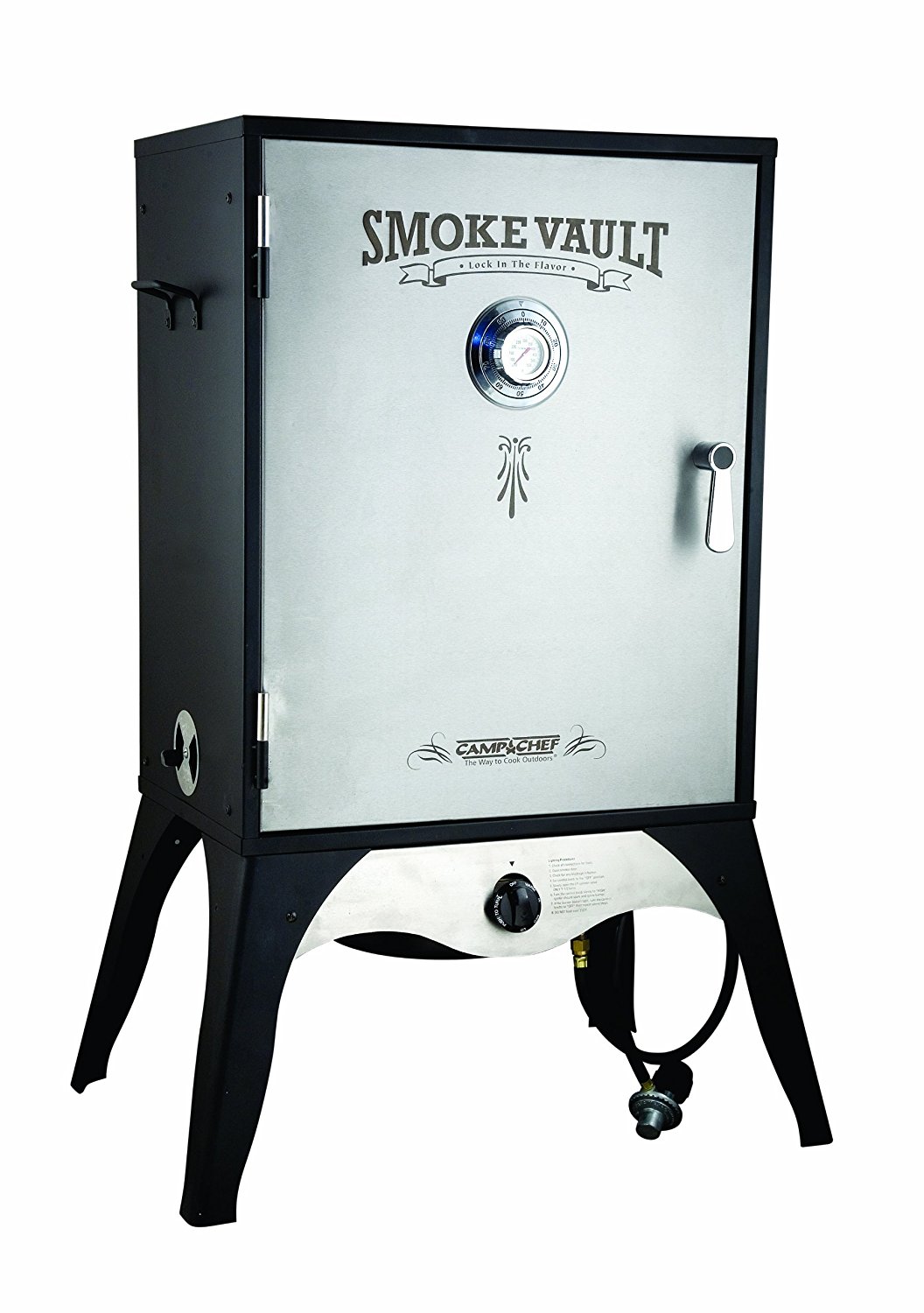 It is no surprise that a Camp Chef gas smoker made the top of our list: they have been manufacturing great quality grills and smokers for over 25 years! And with the 24" Smoke Vault, Camp Chef has proven that hard work pays off!
When we were cooking with this smoker, we loved, first, the fact that the gas smoker was so cheap, and second, the sheer number of features that the grill comes with! And when we tasted the after-product, we were blown away! We knew our BBQ was good, but damn!
Large Grilling Capacity
They did not mention the 24 inches in the name of this gas smoker for no reason: this gas smoker is perfect for any occasion and can accommodate anything from long slabs of ribs to whole packer briskets. The smoker comes with two standard, adjustable smoking racks and a jerky smoking rack (which has a finer grilling grid for smaller items like onion slices or shrimp) and additional rack brackets so you can expand the grilling space if necessary.
Ventilation
When smoking meat with gas smokers, proper ventilation is important in maintaining the convection currency within the smoker cabinet. Again, the Camp Chef Smoker 24" Smoke Vault does not disappoint: it offers 3 damper vents (one on the top of the smoker, and one on either side of the smoker cabinet) that help regulate the internal temperature and even out the heating distribution.
Ignition
That is right, a push to start ignition feature. You may be wondering: are we still talking about the best gas smoker, or a new luxury brand car? The design shows Camp Chef's dedication to the convenience of their customers.
Easy To Clean
And speaking of convenience, this gas smoker is very easy to clean. The chrome-plated grilling racks can easily be removed and thrown in the dishwasher, along with the water pan and porcelain base tray!
Temperature Control
We cannot forget to talk about the excellent temperature control that this smoker offers. In addition to the damper vents, the Camp Chef 24" Smoke Vault also has a protected burner drum that ensures the heat source operates in a protected environment. This, along with the well-sealed smoker cabinet, ensures that temperature consistency and even heat distribution are maintained. Finally, the door thermometer displays the internal temperature of the smoker.
Pros
Removeable water pan and base tray
Expandable Grilling Space
Competitive Price Point
Excellent Temperature Control
Protected Burner Drum
Cons
Again, this is a superb gas smoker. The proof is in the Amazon reviews and in the fact that it made our No. 1 Picks! Especially for this competitive price point, the Camp Chef Smoker 24" Smoke Vault is the best gas smoker on the market! The only concern we had was that this gas smoker is a little heavy, weighing about 75 pounds, and does not come with wheels. But the quality of this gas smoker trumps all. Portability is a small price to pay for such a great BBQ!
Before I jump into the review, let me tell you why Dyna-Glo is our favorite budget pick.
Why is it Our Budget Pick?
Dyna-Glo DGY784BDP
Check It on Amazon
When considering the Dyna-Glo DGY784BDP 36″ Vertical LP Gas Smoker, we also considered two other low priced smokers and tested them simultaneously. In the running were the Char-Broil Vertical Gas Smoker, which we also review later, and the Cuisinart COS-244 Vertical 36" Propane Smoker.
All of these smokers had some great qualities and features: the Char-Broil Vertical Gas Smoker, for example, offers great grilling space, a top warming rack, electronic ignition and great temperature control, while the Cuisinart COS-244 had decent grilling space as well, and dual doors so that you can maintain heat while loading the wood chip tray.
But we also found that the Char-Broil Vertical Gas Smoker had an unnecessarily complex setup process and the thermometer that measured the internal smoker temperature was not always accurate. Also, the Cuisinart COS-244 has a combination tray which serves as a water pan, wood chip try, and drip pan all in one: this was a big mistake, making loading woodchips while cooking very difficult. Additionally, the insulation on this smoker is not the best, the internal temperature of the smoker is also subject to the weather, so if you live in a cold area and are hoping to grill in winter, be ready to crank this thing up all the way!
For under $200, the Dyna-Glo performed extremely well, and I would compare the cooking quality of this smoker to the higher-end models that cost about $1500. It's just that great! Some of the things I liked about this smoker inlcude:
The great design quality. Even with some of the high-end smokers, you will not get the design quality that this smoker offers with its dual-door smoker cabinet! The beauty in having two doors on your smoker cabinet is simple, you will not lose any smoke or heat when you need to add more wood chips or remove drip tray!
The electronic ignition with the "push button" feature has made this smoker much more user-friendly! While auto ignition is a common feature offered by many high-end smokers, I was still enthralled to find it on this low priced Dyna-Glo gas smoker.
The cast iron burner and well insulated smoker cabinet are sufficient when it comes to maintaining a consistent internal cooking temperature, regardless of the outside weather conditions. I mean, we have tested this smoker when it was snowing and there was little effect on the interior of the smoker cabinet! This was quite impressive for a low budget smoker. And though I did end up having problem with the accuracy of the built-in thermometer after about 4 months of use, I used a wireless thermometer to resolve it.
Dyna-Glo DGY784BDP 36″ Vertical LP Gas Smoker Review
As I said, the CSA-certified Dyna-Glo DGY784BDP 36″ Vertical LP Gas Smoker, when pitted against the Char-Broil Vertical Gas Smoker and the Cuisinart COS-244 Vertical 36" Propane Smoker, is a superior gas smoker! While they all shared some of the same luxuries, Dyna-Glo out-performed these competing smokers with some of the following features:
Dual-Door Design
Dyna-Glo offers its users a very functional dual-door design with this gas smoker. This dual-door design is especially helpful when you want to full up your woodchip tray or refill your water pan while the smoker is still cooking your meats: the bottom door of the smoker allows direct access to these features without having to open the top door. This means that no heat, humidity or smoker will be released from the smoker cabinet, so your meats will remain evenly cooked and tender.
Large Grilling Area
The Dyna-Glo DGY784BDP 36″ Vertical LP Gas Smoker also offers a very big grilling area. Its vertical construction includes four adjustable steel wire racks which offer a total grilling space of 784 sq. inches. Especially for a gas smoker at this price, this smoker has very good grilling space and can accommodate all the meat you want to smoke, from steaks to whole ribs slabs.
Temperature Dial Control
The temperature dial control, coupled with the thermostat display on the front of the smoker cabinet, allows you to effectively monitor and control the internal temperature of your smoker. Control is always a very important feature in the best gas smoker because it ensures that your meat comes out the way you want it!
Wood Chip and Water Bowl
The separate wood chip tray and water bowl also helped set this gas smoker above the Cuisinart COS-244. The separation of the wood chip tray and water bowl makes the process of cleanup easier and makes sure that your wood chips do not get too damp, preventing them from generating the maximum amount of smoke.
Three sliding dampers
Whereas the Char-Broil Vertical Gas Smoker only has one damper vent, the Dyna-Glo DGY784BDP 36″ Vertical LP Gas Smoker offers three damper vents: one on the top of the smoker and one on either side of the smoker cabinet. The damper vents are important because they promote the heat convection and ensure even heating in the in the smoker cabinet. While the vertical construction of the smoker takes advantage of the fact that heat naturally rises, the dampers are still essential in the convection process.
Pros
Wood chip tray and water bowl
Temperature control features
Damper vents
Large Grilling Area
Dual-Door Design
Cons
Instruction manual is not good
Some reported missing parts
Though this grill is not too expensive, I feel like Dyna-Glo was being a little cheap by not including a grill cover. Also, while my model came with all the necessary parts for assembly, there are quite a few people who received their product with missing screws. So just be diligent when it comes to inspecting your purchase, but overall this is the best gas smoker at this price range.
Masterbuilt 20051316
Check It on Amazon
When we were researching gas smokers, we noticed that traditional gas smokers lack some important features that really bring convenience to the grilling experience, like auto temperature control, tank fuel level indicator, an auto shutoff feature if the flame is extinguished, etc. So we did some more digging and found this newly released smoker: Masterbuilt 20051316 Thermotemp X-Large Propane Smoker.
And what we found in this smoker is everything we recognized as lacking in other traditional smokers. It was as if this smoker was released as a direct answer to my concerns! But, do not take my word for it, just take a look at some of the features on this monster!
What made this smoker the most advanced one?
The newly-designed, thermostat-controlled temperature and temperature sensors which control the burner, eliminating the need to manually adjust the temperature as you do with traditional propane smokers. No lie, while I was smoking my meats with this gas smoker, I went to sleep without a worry in the world because these temperature control features work that well! Also, no electricity is required for the auto-ignition.
The safety valve included in this smoker shuts the burner off if the flame gets extinguished. I really loved this safety feature and was surprised to find it on this particular smoker because most gas smokers, even at the $1,000 mark, do not include this feature.
Fuel level indicator – This lovely feature indicates the amount of propane that is left in the gas tank. Traditionally, you would have to buy an indicator separately for propane tanks, but this advanced Masterbuilt 20051316 smoker has one in-built for your convenience!
A true "set it and forget it" smoker, the Masterbuilt 20051316 uses its thermostat to control the burner and maintain the desired cooking temperature! This grill is truly at the intersection of outdoors grilling and technology. With so many necessary features, it is hard to go wrong!
Masterbuilt 20051316 Thermotemp X-Large Propane Smoker Review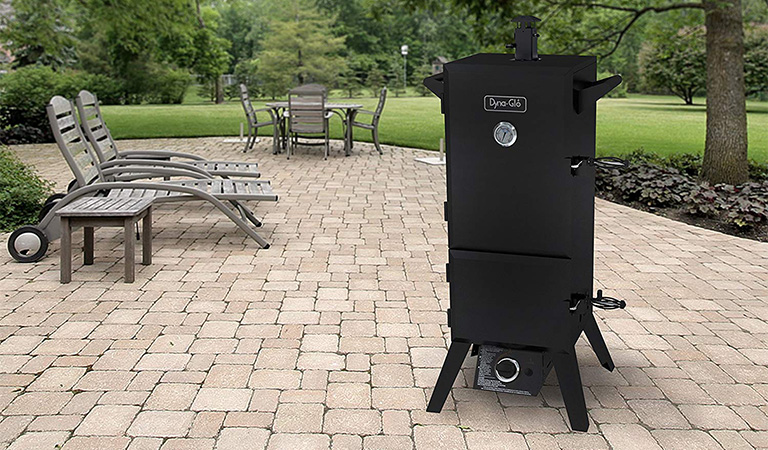 When cooking with the Masterbuilt 20051316 Thermotemp X-Large Propane Smoker, we really enjoyed all of the features that the gas smoker has to offer, and it was as if we were hardly grilling at all! Masterbuilt made this gas smoker so that you can really set your meats on the grill, input your wood chips, set the temperature, and let it cook on its own! So without further adieu, let's get a more in-depth look at what this smoker has to offer:
Patent-Pending Temperature Control
With this gas smoker, Masterbuilt implemented its very own, thermostat controlled temperature control system which makes sure that your gas smoker maintains consistent heating conditions for the duration of your cooking session. But how does it work? The gas smoker features a thermostat with temperature sensors which throttle and control the burner to maintain the set internal temperature.
Safety Valve
The Masterbuilt 20051316 Thermotemp X-Large Propane Smoker has also exceeded expectations with its safety valve system. If your gas smoker gets too hot, Masterbuilt has also built into their Masterbuilt 20051316 Thermotemp X-Large Propane Smoker a safety valve system which will extinguish the burner to avoid safety concerns. So if you are a rather forgetful person, this Masterbuilt smoker has your back!
Fuel Level Gauge
Another very useful feature that this gas smoker offers is its fuel level gauge, which is a display on the smoker cabinet that indicates how much propane is left in your tank. So no more shaking the canister around, trying to see if there is anything left inside. Just look at the gauge!
Dual-Door Design
Temperature consistency was obviously a huge consideration of the designers who made this grill, which is undoubtedly a great thing because it makes sure that your meats are thoroughly and evenly cooked! The dual-door design allows you to add wood chips to your gas smoker during cooking, without causing loss of heat or smoke within the cabinet.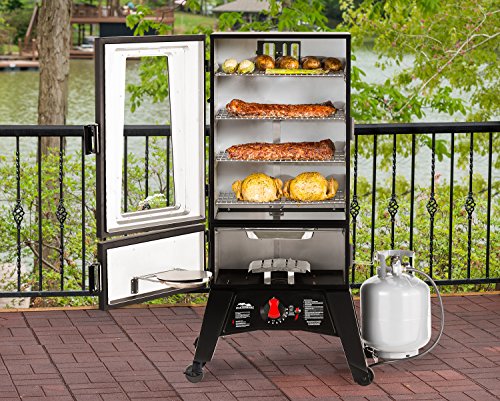 Extensive Grilling Space
This grill also offers extensive grilling space! With four smoking racks and 965 sq. inches of space, it's going to be hard to run out of room! No matter the occasion or the size of the meats you are cooking, this Masterbuilt 20051316 Thermotemp X-Large Propane Smoker will undoubtedly be able to handle whatever you throw at it!
Pros
Patent-Pending Temperature Control System
Dual Door Design
Front View Window
Safety Valve
Fuel Level Gauge
Cons
Slightly bigger viewing window
Racks could be sturdier
Another thing that we noticed with this smoker is that the racks did not seem as though they could control the heavy meats we were cooking. While the racks did not break, I would be happier if they seemed sturdier. I would have also liked to see a full-size viewing window, but I understand the attempt to make the smoker look more sleek. All in all, this is a great smoker! None of these issues actually affected the quality of the BBQ and everything worked out great!
Char-Broil The Big Easy
Check It on Amazon
The Char-Broil Big Easy TRU-Infrared Smoker, Roaster & Grill is another great gas smoker, but I would not have felt right, as a smoker enthusiast, picking a combination grill as our No. 1 gas smoker. Furthermore, the Char-Broil Big Easy TRU-Infrared Smoker does not offer as large a grill size as our No. 1 Pick: the Camp Chef SMV24. Perhaps had this been a dedicated smoker with slightly more grilling space, this Char-Broil 3-in-1 could have been a contender for the No. 1 spot. Still, if you enjoy the 3-in-1 experience of a smoker, roaster and grill, then this model will definitely not disappoint!
What does this grill/smoker/roast have to offer, you may ask… Well, let's take a look!
Decent Grilling Space
The Char-Broil Big Easy TRU-Infrared Smoker, Roaster & Grill can hold up to 25 lbs of meat, and offers 180 sq. inches of grilling space. While this is not the most impressive grilling space offered on the market, it does get the job done! This Char-Broil smoker has two conjoined racks for easy drop-in functionality.
Infrared Heating System
The key feature of this all-in-one grill is its one-of-a-kind Infrared Heating System. This Char-Broil grill model heats your meat via the inner wall which radiates natural infrared heat. The heat then escapes out of the top of the smoker before drying out your meats. The infrared heating system ensures that your food is cooked evenly since the infrared heat can easily penetrate the meat, and keeps your meats juicy and tender without the need for a water pan. Furthermore, you will not have to worry about a flame flaring up or charring your meats!
Woodchip Tray
This smoker also offers an internal wood chip tray that can hold up to about a half pound of wood pellets. Whether you prefer a more mesquite flavor, a more hickory flavor, or a combination of the two for your meats, you can easily input the wood chips in the tray before grilling and give your meats an authentic BBQ taste!
No Air Dampers or Water Pans Needed
Another great thing about this model smoker is that it does not require air dampers or water pans. The reason for this is in large part to the infrared heating system. The lack of a water pan also means that there is less cleanup and less maintenance that needs to be done at the end of your grilling session (a concept also known as more relaxation time)! And who does not love that?
Pros
Infrared heating system
Woodchip tray
No water pan needed
Intuitive rack design
No more charred meats
Cons
No temperature control
Wood chips burn quickly
The cons to this grill are not too bad at all: though there is no digital temperature display, the knob does accurately indicate the temperature and secondary work space can always be created with a make-shit table. The important part is that this grill serves up consistent, succulent BBQ! A great beginner's smoker to be used with some beginner's tips!
Because of the infrared heating system, this 3-in-1 model does not have a temperature control mechanism and sometimes the wood chips will burn up quickly. But if necessary, you can remove the tray and replenish the wood chips since the grill heats up quickly. This is a great smoker, and may have made No 1. if it had larger grill space and were a dedicated smoker.
6 Other Gas Smokers We Found Good
We have ranked these according to their performance.
Verdict
As stated, this grill is up there in price but you are getting what you pay for: great quality! Also, the assembly can be daunting for beginners, but once you get this smoker fired up, you will have no regrets!