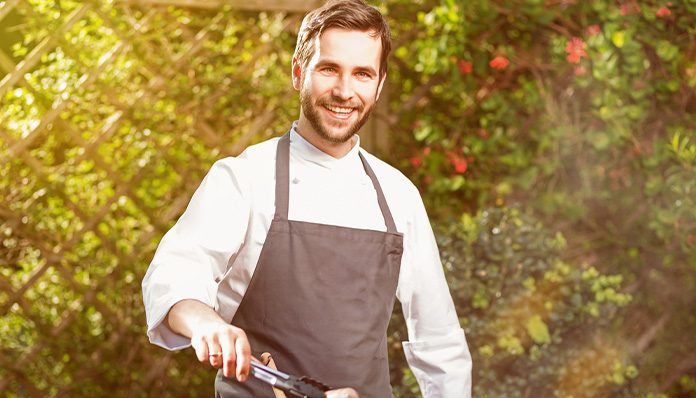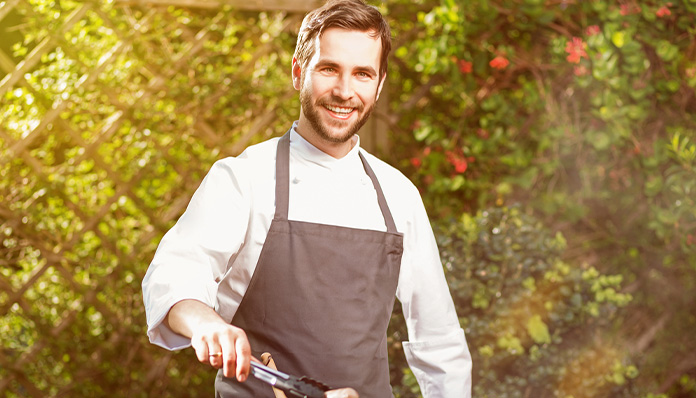 Cooking over a grill can be a dangerous pastime. Flying grease and sharp objects pose a serious risk for even the most seasoned grill master. Protect yourself with our favorite grilling aprons for men that combine the utility of a toolbelt with hard-wearing durability. Here are 12 great aprons for guys.
1. Chef Works Unisex Portland Bib Apron
The denim fabric offers both the rugged durability of your favorite pair of jeans and the casual, laid back vibe you want to project when grilling for your friends and family.
It features a wide front pocket for holding all your grilling tools and an additional pocket on the chest for your cell phone, so you have it on hand to snap pictures of your fantastic grilling recipes.
2. Alex and Tav Whose Apron
With washed canvas and cowhide accent pockets, you can't get more masculine than the Alex and Tav Whose Apron which is one of the best men's aprons on the market.
The apron is available in the stonewash and khaki and features five separate pockets for holding all your tools and phone, while the water-repellent canvas protects you from grease and water.
3. Hudson Durable Goods Professional Chefs Apron
Designed for hospitality professionals, the Hudson Durable Goods Professional Chefs apron is as much at home in front of a grill as it is in a professional kitchen.
Constructed from breathable but durable 10-ounce cotton, this apron has a thick chest and bottom hems and double-stitched pockets for added structural stability. It features stylish gun metal grommets and rivet detailing, and has a towel loop and four pockets, including a large "kangaroo" style pouch to keep the essentials.
4. Ergodyne Arsenal 16 Pocket Apron
For the man who loves his grilling accessories, the Ergodyne Arsenal 16 pocket BBQ apron proves that you can never have too many pockets.
Made from 14-ounce heavy-duty canvas to be resistant to wear and tear, the Ergodyne Arsenal is ergonomically designed with balanced pocket distribution and adjustable neck and waist straps that connect in the back for better stability.
5. ThinkGeek Tactical Molle Apron
To protect and serve…burgers. ThinkGeek's tactical grill apron is the ideal gift for any grill sergeant with a flair for the creativity.
It features multiple pockets for all your grilling essentials, including space for your all-important condiments and bottle opener. The apron is constructed from 100 percent cotton and is completely machine washable and has an adjustable side strap so you can find the best fit.
6. Outset Leather Grill Apron
For a timeless classic masculine style, you can't beat the look and feel of genuine leather. But the Outset Leather Grill apron is more than just a fashion statement.
The brown leather exterior protects against hot splattering grease from the grill while the flame-retardant interior lining offers more heavy-duty protection from potential grill burns. Two large front pockets offer basic storage and an adjustable neck strap makes it suitable for grill chefs of all heights.
7. Under NY Sky Cross-Back Apron
Handcrafted with care and precision, the Under NY Sky apron is a simple design executed with style and attention to detail. The apron offers full coverage from neck to knees but features a clever split front detail to give you more mobility while cooking.
Made from hard-wearing but lightweight 10-ounce denim and reinforced with leather panels, it also features stylish anti-rust hardware fasteners and an ergonomic cross-back design to keep you comfortable.
8. Twig and Bones Canvas and Leather Apron
For lovers of minimalist design, this apron offers sleek design elements with subtle textural details including an adjustable leather neck strap, contrast stitching and vintage brass hardware.
Constructed from durable 16-ounce duck canvas in a soft neutral fawn color, the Twig and Bones apron is the perfect blend of masculine style and functionality.
9. ReadyWares Waxed Canvas Tool Apron
Though this was created predominantly with the handyman in mind–with 12 different sized pockets, as well as two hammer loops–it is also ideal for grill chefs who want to have all their grilling tools on hand all the time.
The 20-ounce waxed canvas offers water-resistant protection against spills that are an inevitable part of backyard grilling, while padded shoulder straps are fully adjustable for the most comfortable fit.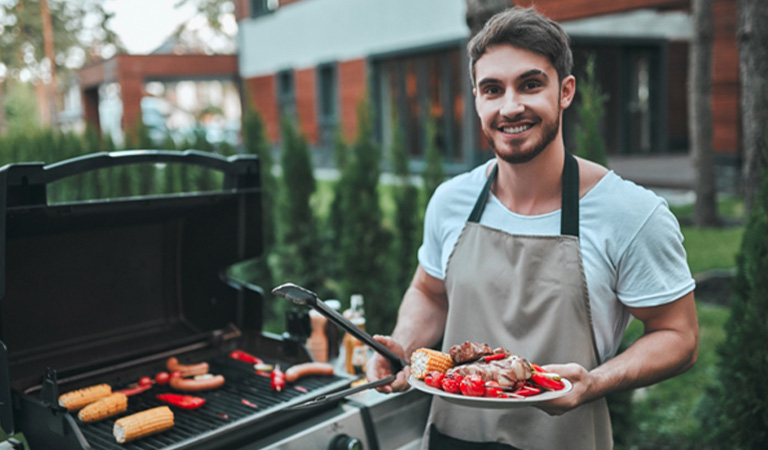 10. Team Sports America Grilling Apron
If you're a sports fan and a fan of tailgate grilling, this is the apron for you. The Team Sports America Grilling aprons can be customized to show your love for your favorite sports team with bold team colors and your team's logo displayed proudly across your chest.
Made from heavy-duty canvas, it can withstand many seasons of tailgate parties and outdoor grilling sessions on your portable grill. It features five pockets for tools and rope cord for your towel, as well as a built-in insulated holder for your beverage and all-important retractable bottle opener.
11. TRVR Premium Apron
The TRVR Premium apron combines the easy movement of waxed cotton canvas with the rugged utility of genuine leather. The durable canvas is designed to keep you clean and dry while cooking, and the apron also features five different sized leather pockets plus two leather loops for holding your important grilling equipment.
Adjustable leather straps let you find a custom fit and high-end brass hardware adds a stylish finishing touch.
12. ARWARK Brave Professional Cooking Apron
For the man who needs to listen to his favorite tunes while grilling, the ARWARK Brave Professional Cooking apron features a unique leather headphones loop to keep your music gear clear of the grill.
The simple black design features a double-stitched chest and front pockets for grill accessories as well as a large "kangaroo" pouch for protecting larger items. The cross-back straps offer optimal comfort and solid brass hardware keeps you looking stylish.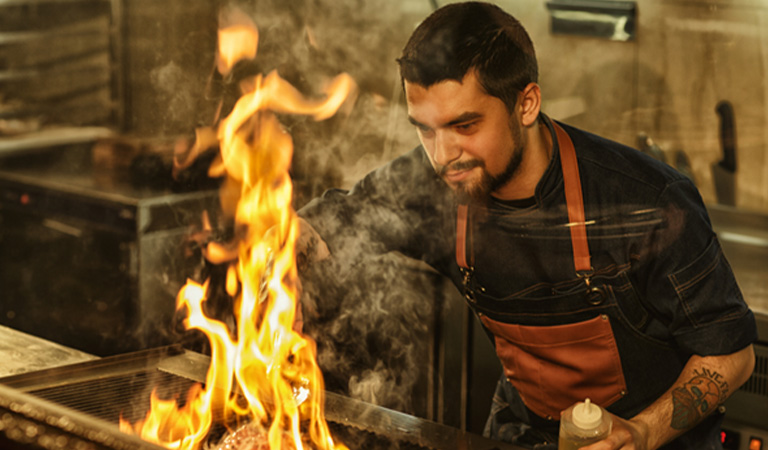 Final Thoughts
Protect yourself and your clothes from spitting grease and grill burn with an apron explicitly designed for the man who loves to cook outdoors. Try one of these grilling apron for man that are the perfect combination of utility and style, so you can look sharp while you grill your favorite recipes.