6 Major Types of Grills: Which One You Want?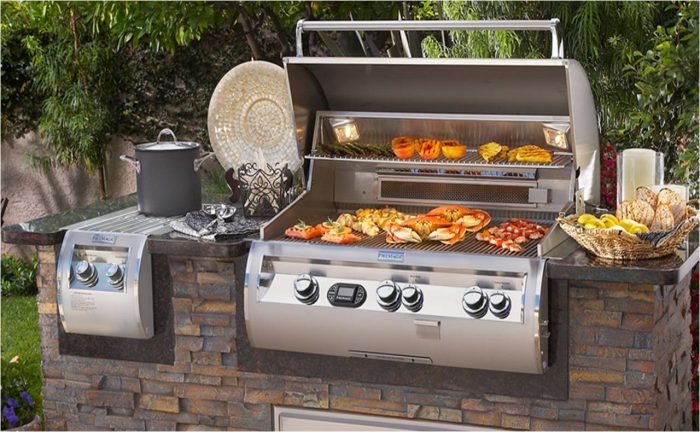 If you are new to the world of grilling, the number of ways in which different types of grills are categorized can easily confuse you. They can be differentiated on the basis of the fuel they use, for instance charcoal, gas, wood, etc. They can also be differentiated on the basis of the particular regions where they are used, like Southeast Asian grills or South American grills.
But if you ask any good and experienced barbecuer, they would agree that the best way to distinguish the best grill is checking out its fire configuration and the place where the food is placed for cooking. These things actually determine the total grilling time and the temperature required for grilling. Thoroughly understanding these variables and then being able to control them appropriately will allow you to become a grill master.
So, let us have a look at 6 major types of grills, what are they used for and the food items that are best suited for those grills.
1. Open Grills
These are the simplest among other types of grills. They have a stone or metal box with wood, charcoal or propane below the food which is positioned right above the fire. You can also get a grill grate optionally.
Includes– European and North American table grills, Italian fogolars, parrillas of South America, Balkan mangal, sate grill from Indonesia, bucket grills from Asia, and flat-top grills from Australia.
Used for– These grills are used for direct grilling at high temperatures.
Best Suited Foods– Tender, small and food items that can be cooked quickly, like kebabs, chops, steaks, sates, vegetables, fillets, etc.
2. Covered Grill
A covered grill is not much different from an open grill. The only difference is that it has a tall lid which you can lift up and lower down. While this cover might only sound like a minor upgrade from an open grill, it allows you to add two different types of live-fire cooking options- 1. smoking and 2. indirect grilling.
Includes– Gas grill, kettle grill, and large steel drum grills.
Used for– Direct grilling of thick or large foods, smoking and indirect grilling.
Best Suited Foods– Thick steaks, like tuna, beef, veal chops and double-thick pork. Fattier or larger pieces of meat, like whole ducks and chickens, back ribs, pork shoulder, etc.
3. Vessel Grill
Vessel grills have thick and deep walls that feature ceramic grills and food is cooked by the heat coming from the side walls and the direct heat coming from coal. These grills are sometimes used to cook with food directly placed on the walls, like breads or on the spit placed in the firebox rather than the grill grate.
Includes– Iran and India's tandoor, cookers of kamado-style, like Green Egg and Komodo Kamado.
Used for– Roasting at high heat. If you are using a kamado cooker, then they are used for grilling, smoking, roasting and cooking.
Best Suited Foods– Flat breads, like the Indian naan which is cooked directly on the hot walls of such grills. Chicken, kebabs, fish steaks, paneer cheese, small lambs and peppers that are cooked on the grills spit.
4. Rotisserie Grill
Rotisserie grills are the ones that add motion to the static grilling process. The gentle circular rotation of the food through the turnspit evens the cooking, melts the fat, basts meat and adds brown color to the exterior of the food. Foods that are roasted in these grills are crispy outside and succulent inside.
Includes– Rotisseries of Germany and Tuscany that use wood, the gas-based French rotisseries, charcoal-based chicken wing rotisseries of Singapore and Malaysia and also the infrared rotisseries that are found in a number of modern American gas-based grills. It is also worth mentioning that in the Middle East, Eastern Mediterranean and some other places, a vertical spit rotisserie is used for making shawarma, doner and gyro.
Used for– They combine indirect and direct heating together. In indirect grilling, the food is cooked by placing it next to the fire but not directly over the fire, which is the method used in direct heating.
Best Suited Foods– Fatty and/or cylindrical foods, like chicken wings, whole chickens, whole hogs, rib roasts and ducks.
5. Smoker
While smoking is a method that has been used for ages to cook and preserve food, a smoker as a portable barbecue grill is comparatively a newer invention which happened in the 20th century in North America.
Includes– The barrel smokers of Texas, North American, European and Chinese upright box smokers and water smokers, and the North American sawdust/pellet smokers.
Used for– Smoking and indirect smoking at low to moderate temperatures with the help of wood smoke.
Best Suited Foods– Conventionally used for tough meat cuts, like ribs and brisket.
6. Campfire Style and Open Pit Grills
Initially, grilling was not done with the help of a grill but with the help of a campfire. This traditional method is still very popular, especially in America.
Includes– Brazilian fogo de chao and Argentinean asado where meat is roasted on the stake next to fire. The salmon bakes of Pacific Northwest, planked shad of Connecticut, roasting of marshmallows for making American s'mores.
Used for– Roasting at radiant heat.
Best Suited Foods– Goat, whole lamb, salmon, pig and beef ribs rack.



These are the major types of grills from all over the world. You can choose one from the list after understanding your requirements, budget and available space.


Tags: types of grills


Categorised in: Blog